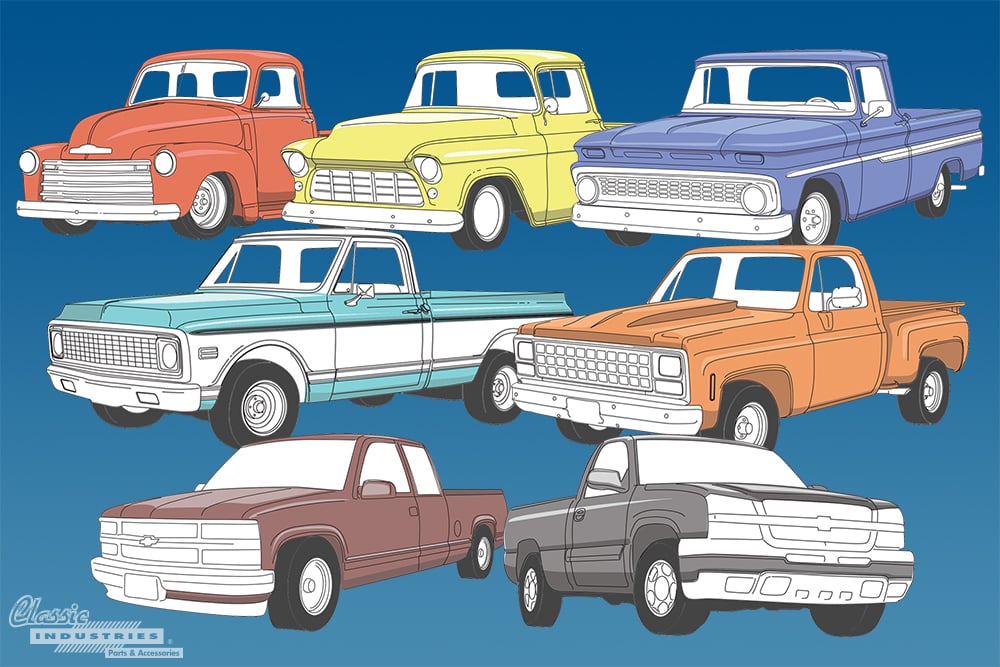 Over the course of six decades from 1947 to 2007, Chevrolet trucks went through many changes. The most substantial of these changes serve as the dividing lines between Chevy truck generations. If you're a classic truck enthusiast, you're probably able to spot these body style cues and recall the corresponding model year ranges, but those who are new to classic trucks may not be so well-versed. With this in mind, we put together a clear and concise visual guide to 1947-13 Chevy truck generations.
The side-profile photos used in this article are courtesy of Chevrolet (CC 3.0).
1947-1955 Chevy Advance Design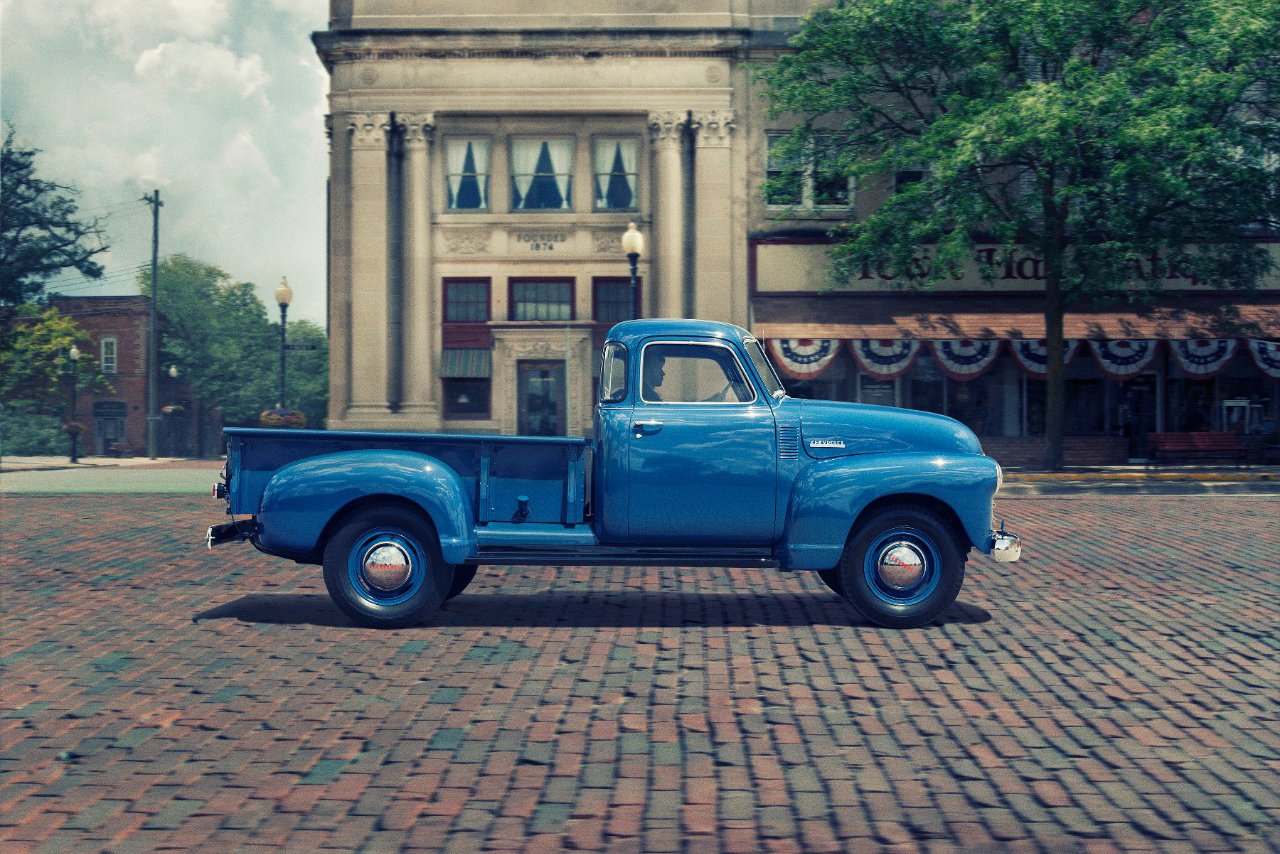 The first of the Chevy truck generations we'll discuss is known as the Advance Design. This was GM's first postwar truck platform, and is usually listed as 1947-55 1st Series.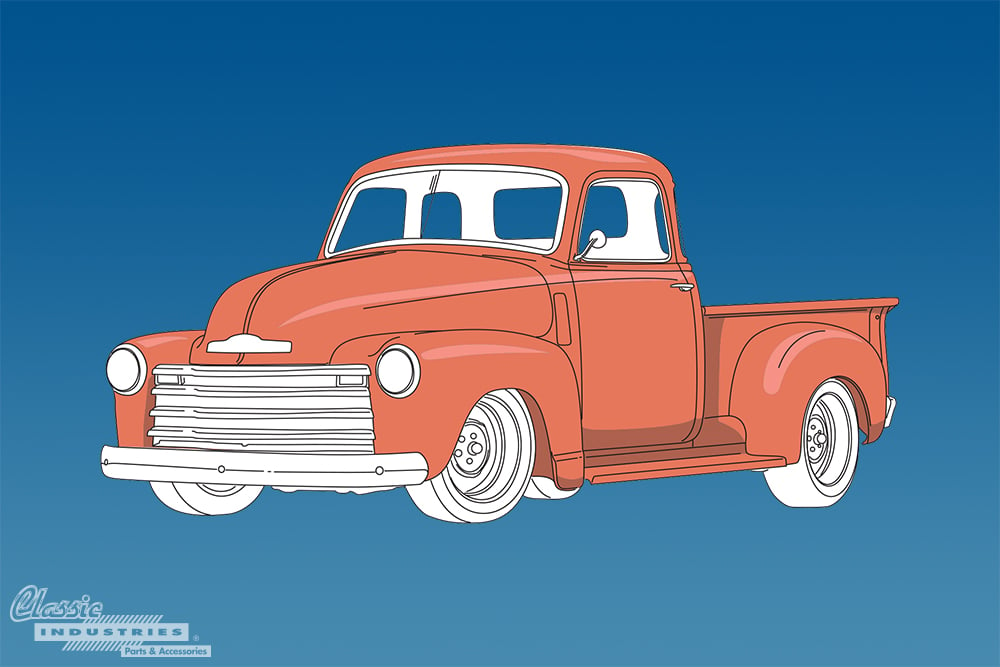 • 1947-53 models featured a horizontal bar grille design, 2-piece windshields, with angle-topped bed sides.
• 1950 saw the introduction of modern tubular shocks.
• 1951 saw the introduction of door vent windows.
• 1954-55 models received rounded tail lamps, a crosstype bull nose grille, a 1-piece curved windshield, a redesigned dashboard, and a deeper bed with fl at-topped bed sides.
• Chevrolet 1955 1st series models were the last to be offered with 6-volt electronics. GMC continued to offer 12-volt electronics as an option.
1955-1959 Chevy Task Force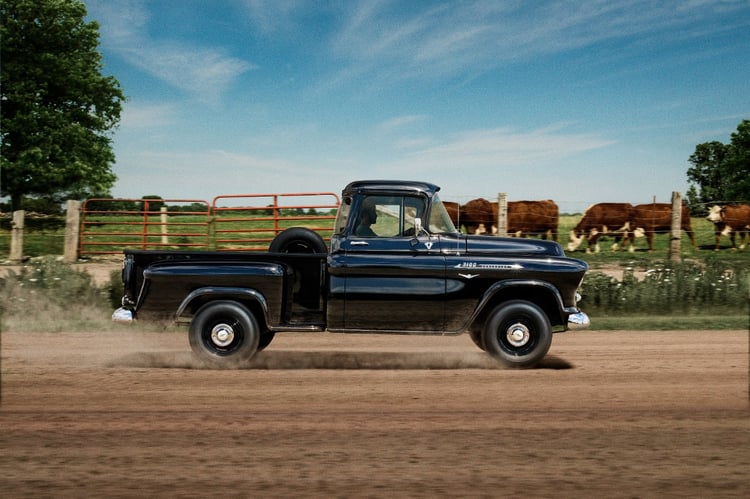 As Chevrolet tooled up for the "Task Force" platform, some factories continued to produce the earlier design as the 1955 1st Series, while the new design was produced as the 1955 2nd Series.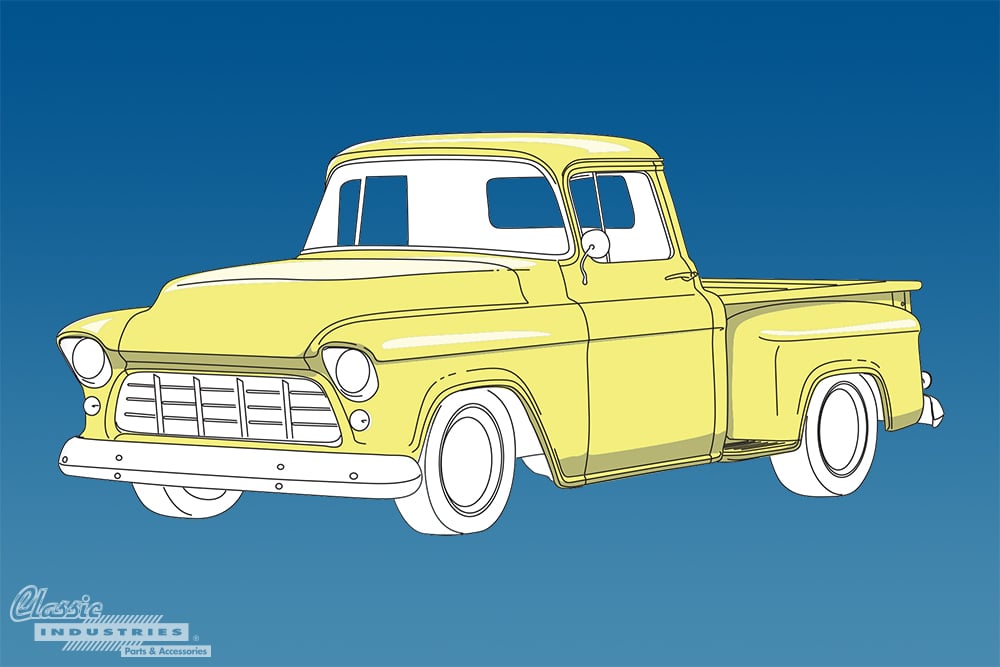 • 1955 was the first year for the optional 265ci Small Block V8.
• 1955 2nd Series Models featured a wrap-around windshield.
• The rare and desirable fiberglass-bed Chevrolet Cameo pickup is offered from 1955-58. 1958 trucks introduced dual headlamps.
• Fleetside pickups replaced the Cameo in late 1958.
1960-1966 Chevy C/K Series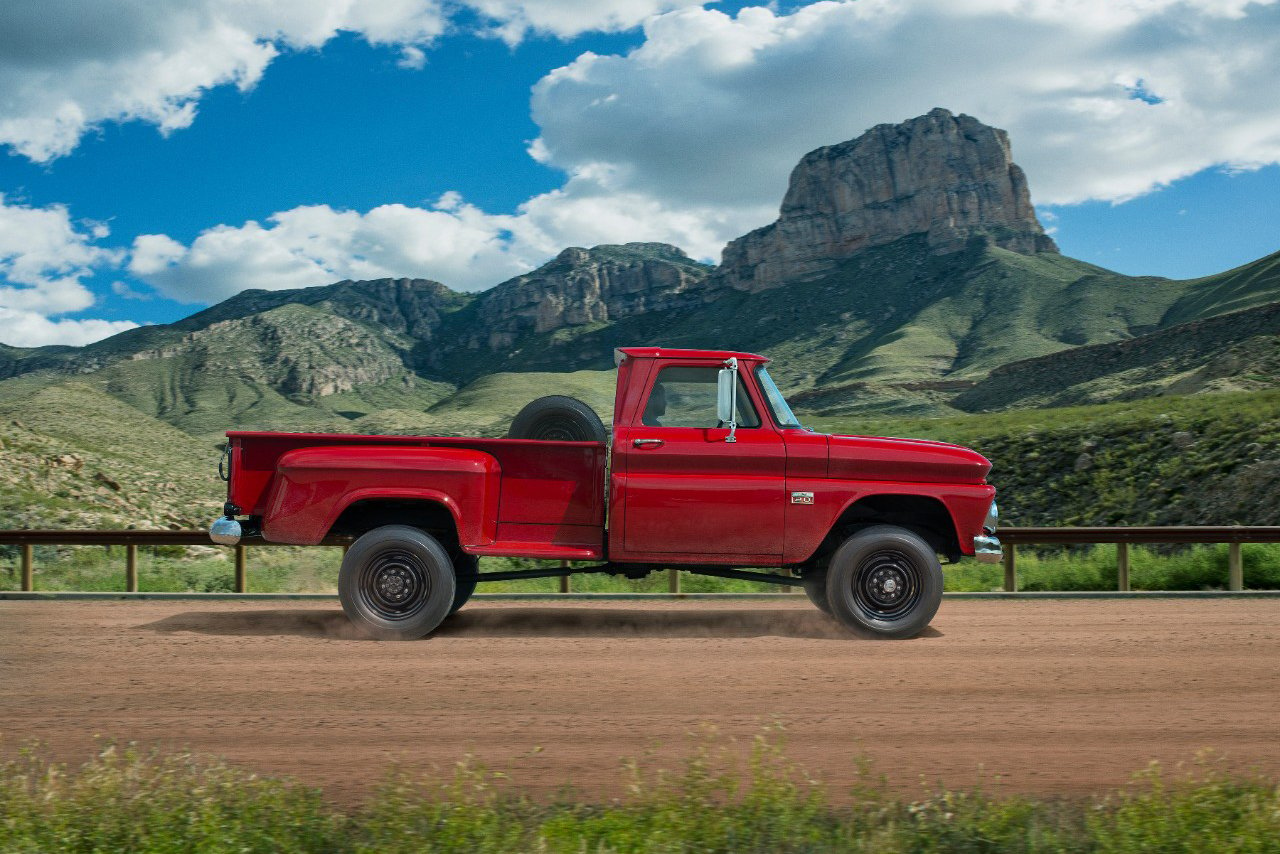 The 1960 redesign featured a drop-center ladder frame, which allowed the cab to sit lower. It also marked the introduction of the C/K designations for Chevrolet, "C" for 2-wheel drive models, "K" for 4-wheel drive models. A more sophisticated suspension design provided a more car-like ride.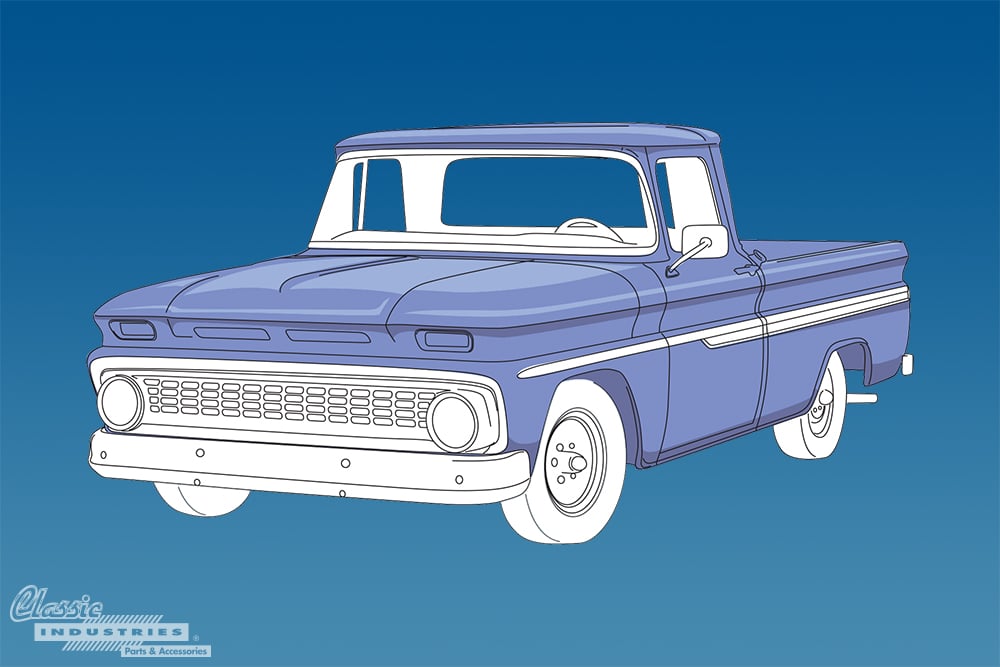 • Series 10, 20, 30, and 40 (C or K) were badged as "Apache", etc.
• Series 50 and 60 series trucks were badged as "Viking."
• The largest 70, 80, and 90 series models were badged as "Spartan", etc.
• Chevrolet trucks were available with smooth Fleetside" or fendered "Stepside" beds. GMC called these "Wideside" and "Fenderside."
• 1960-62 models used a torsion bar front suspension and a coil spring rear suspension.
• 1963-66 models upgraded to a coil spring front suspension.
• 1964-66 models changed to a flat windshield design.
• 1966 introduced the 327ci V8 and Turbo-Hydramatic (TH) transmission.
1967-1972 Chevy C/K Series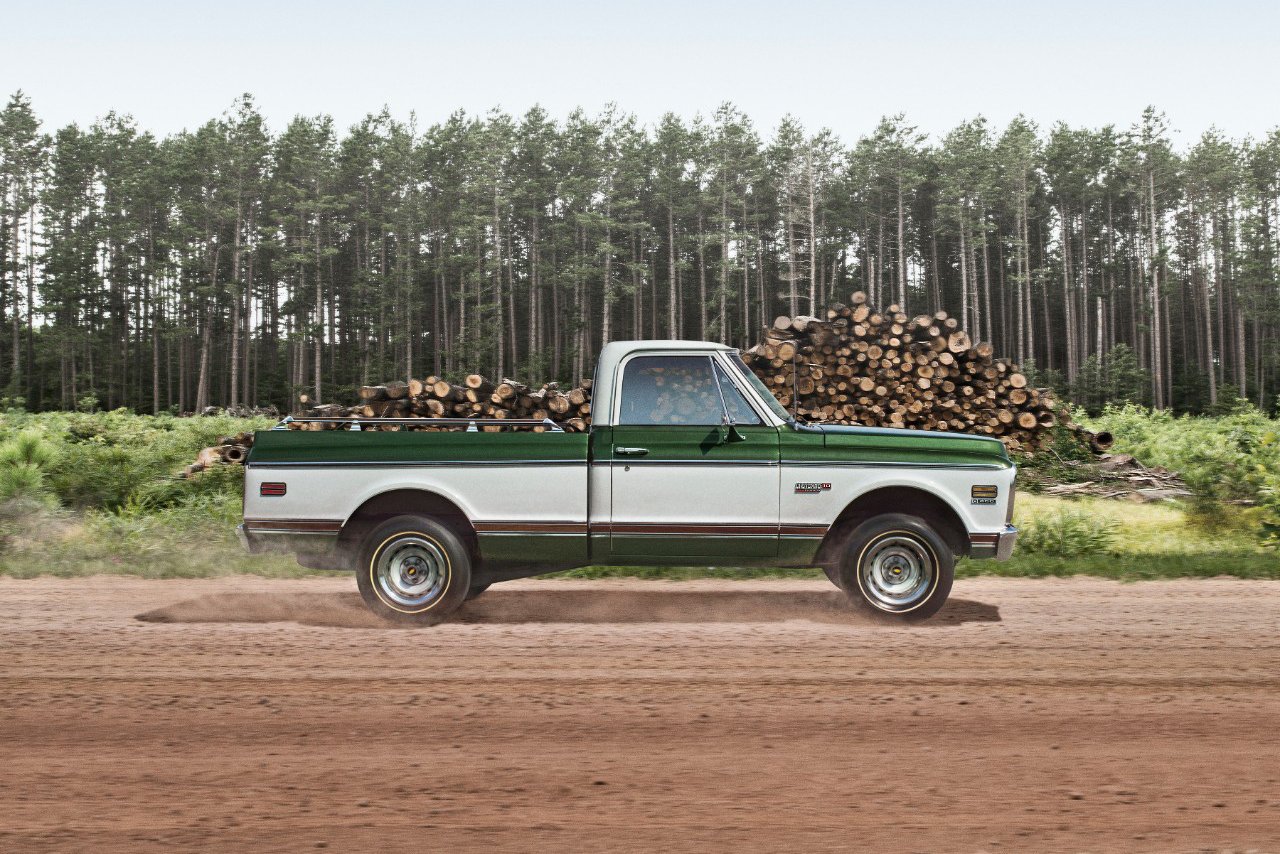 The 1967-72 Chevrolet and GMC trucks were dubbed "Action Line." Most models in this truck generation were built with coil spring rear suspension. All 1967-72 four-wheel drive trucks had leaf springs on both axles.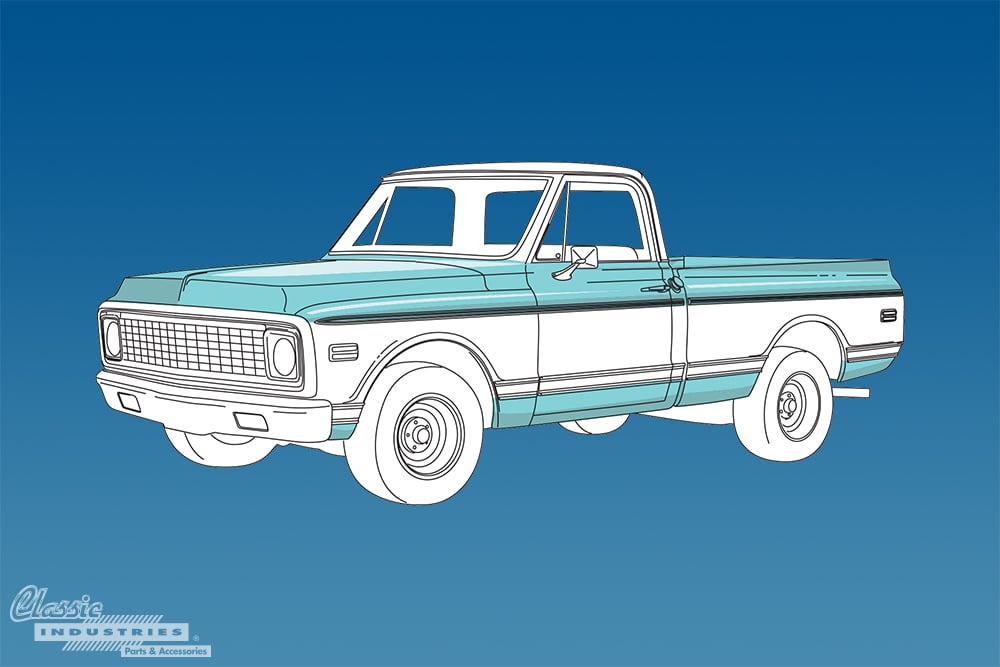 • 1967 was the last model year without side markers.
• In 1968, a 50th Anniversary package for Chevrolet trucks featured a distinctive white-gold-white paint scheme.
• The Longhorn 3/4 ton trucks debuted in 1968, adding an extra 6" to the bed.
• The short wheelbase K5 Blazer debuted in 1969 along with the GMC version, known as the Jimmy.
• For 1970, the 396ci big block V8 was enlarged to 402ci, yet still sold as a 396.
• 1971 introduced the Cheyenne comfort trim package for Chevrolet and the Sierra package for GMC.
• 1971 brought front disc brakes on all light-duty trucks.
1973-1986 Chevy C/K, 1987-1991 Chevy R/V Series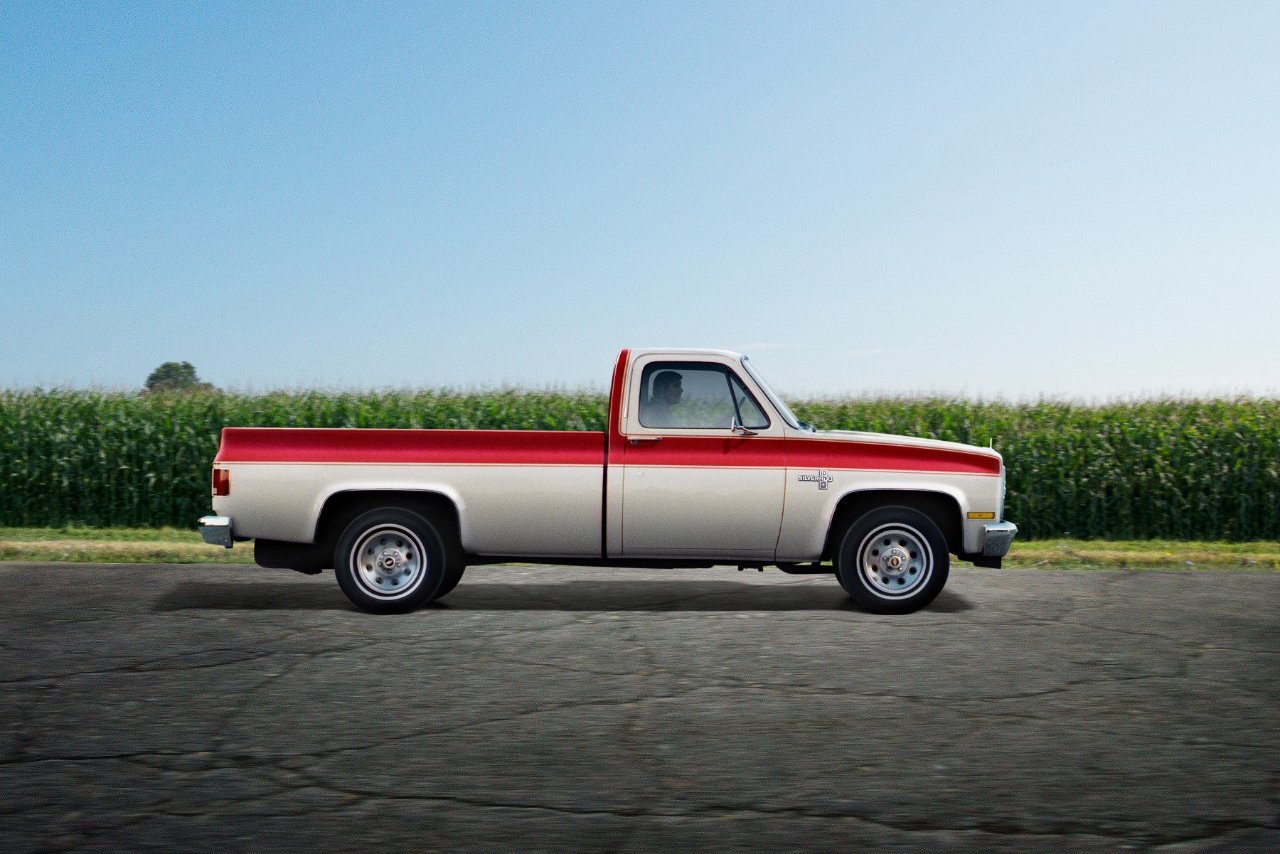 For 1973, Chevrolet and GMC trucks were tested in a wind tunnel and designed for better aerodynamics. The wheelbase was extended and a dual rear wheel option was offered on one-ton pickups. Some enthusiasts refer to this generation as the "Square Body" Chevy truck.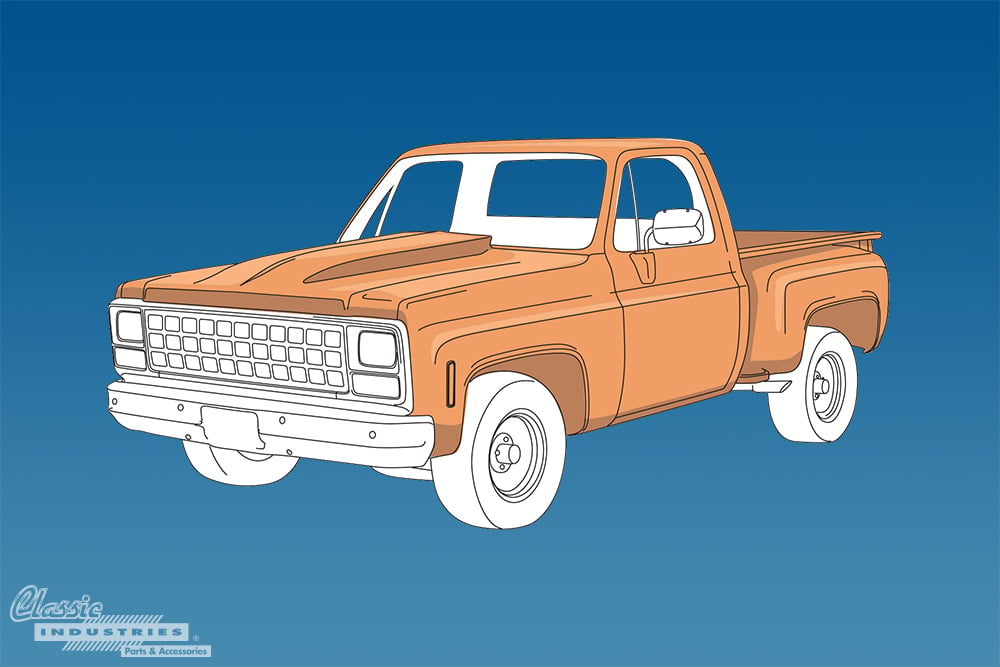 • An all-new carbon steel ladder frame designed with a "drop center" was introduced.
• The fuel tank was moved outboard of the frame rails beneath the cab floor to offer up to 40 gallons of fuel capacity.
• 1973 introduced the Crew Cab option with the choice of 3+3 seating or lockable storage in the rear cab.
• Two-wheel drive trucks used independent front suspension.
• Power windows and locks were offered as an option in 1977.
• 1978 introduced the first diesel engines.
• For 1987, the C/K designation was changed to R/V to distinguish these trucks from the upcoming GMT400 generation.
1988-1998 Chevy C/K Series (GMT400)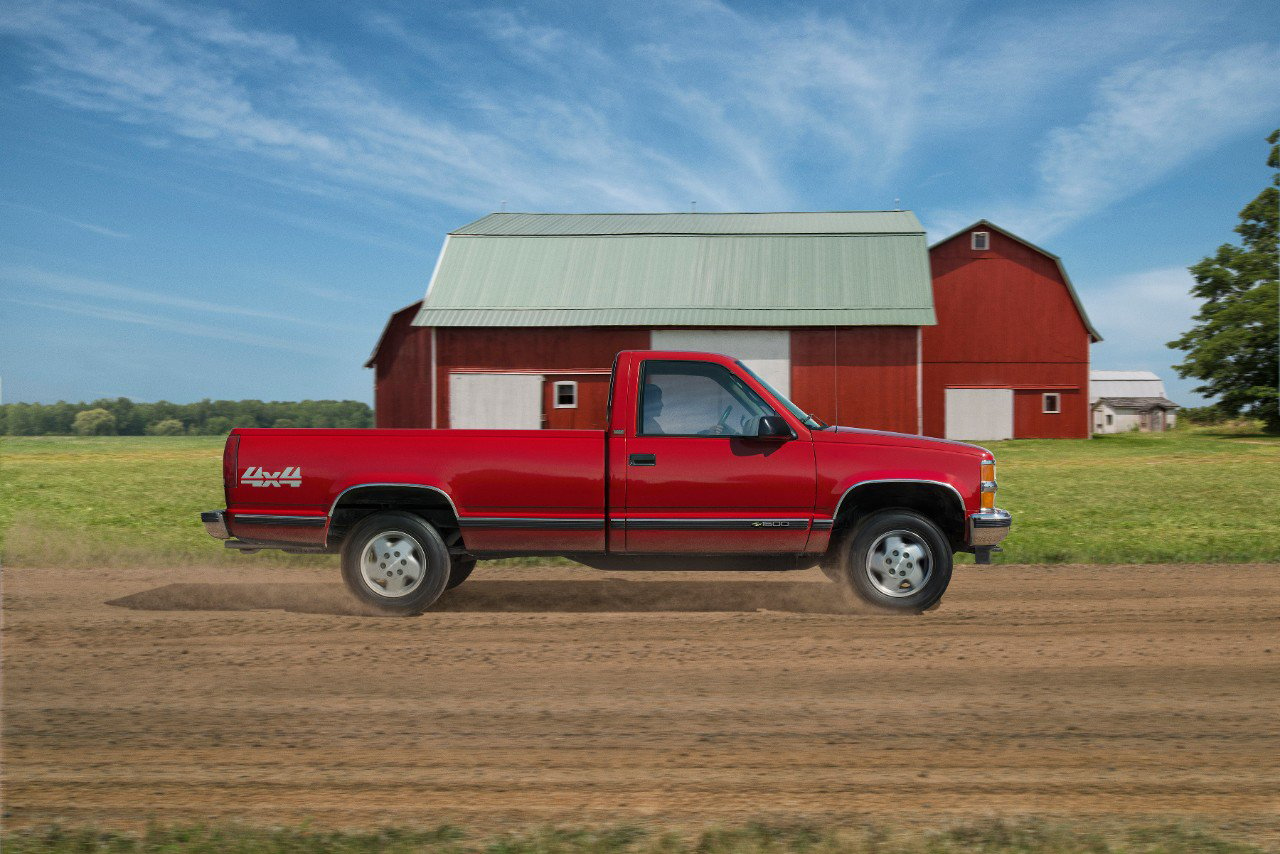 All 4th generation C/K trucks, including four-wheel drive models, received independent front suspension. This Chevy truck generation was officially designated GMT400, but some enthusiasts refer to it as "OBS," short for Old Body Style.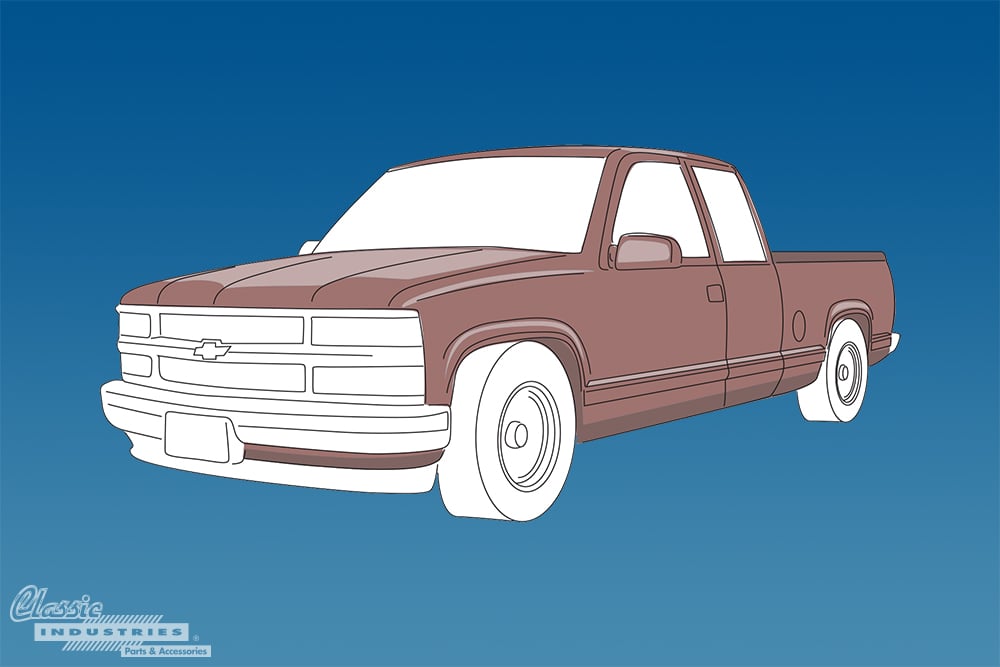 • From 1990-93, a performance model called 454SS was offered with a 454ci V8, sport suspension, and quick ratio steering.
• An updated fascia debuted along with the mandated center high-mount stoplight.
• A turbo-diesel was made available beginning in 1992.
• Vortec V8s debuted in 1995 with high-flow cylinder heads, new camshaft, roller valve lifters, and higher compression for increased power and efficiency.
1999-2007 Chevy Silverado (GMT800)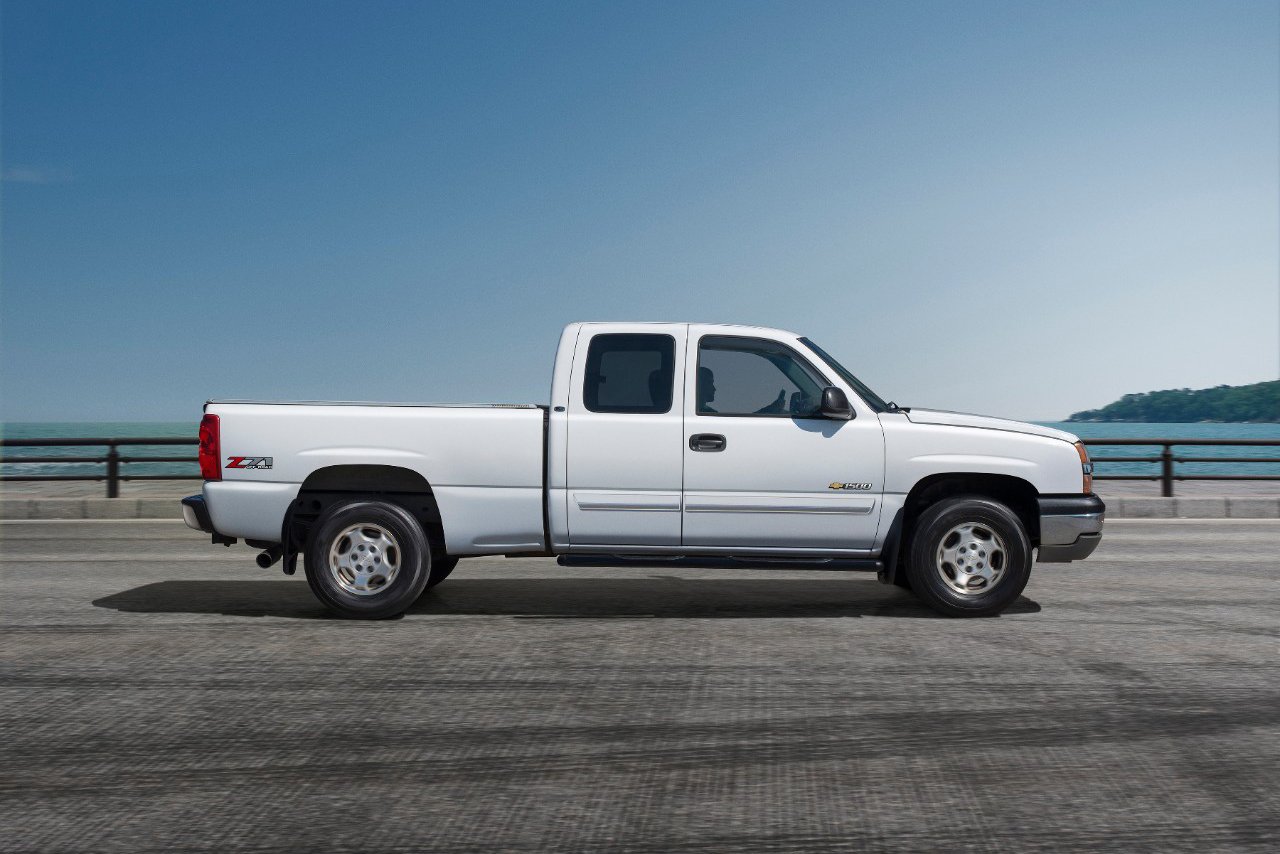 GM dropped the C/K designations for 1999, opting for Silverado for Chevrolet and Sierra for GMC, referring to the platform as GMT800. Some enthusiasts call this Chevy truck generation "NBS," short for New Body Style. Shortly before the next generation (GMT900) was released for the 2007 model year, General Motors began selling outgoing GMT800 models under the name "Silverado Classic."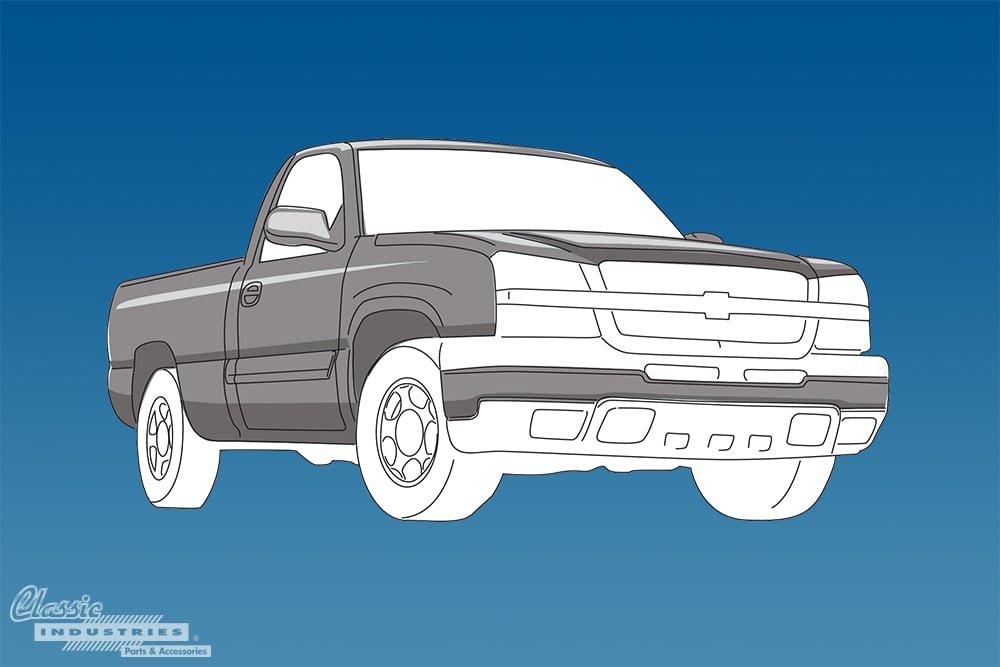 • Chevrolet models received a new fascia and revised tail lamps in 2003.
• GMC offered an upscale trim level called Denali in 2001.
• 2001-05 Denali models offered a Quadrasteer 4-wheel steering option.
• Beginning in 2003, Chevrolet offered a Silverado SS high performance pickup. In 2006, an Intimidator SS was offered in honor of the late Dale Earnhardt.
• A gasoline/electric hybrid was offered beginning in 2004.
2007-2013 Chevy Silverado & GMC Sierra (GMT900)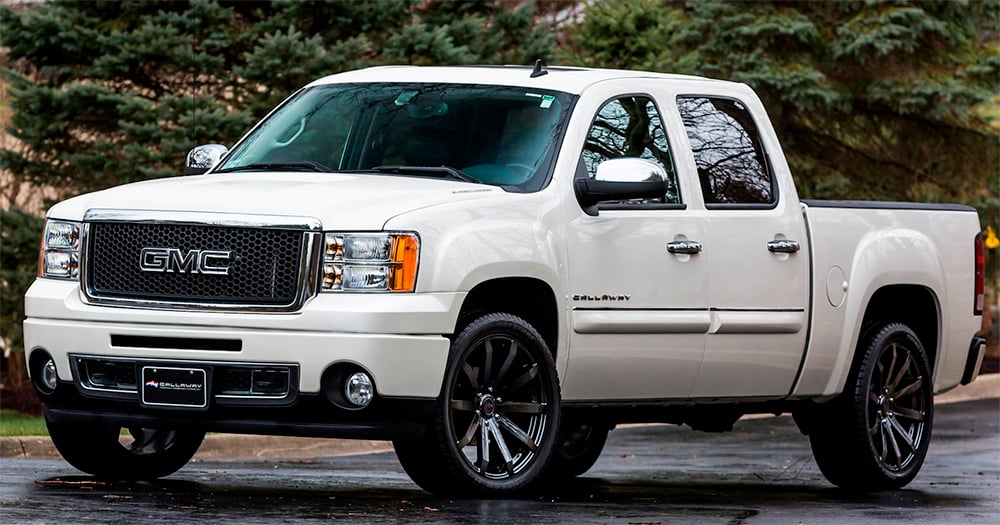 Photo courtesy of Mecum Auctions LLC
The GMT900 series trucks are the most popular and widely used trucks for businesses with employees that drive more than 100,000+ miles. With such a great proving ground of real world data and statistics to draw from, the GMT900 trucks are considered the most reliable Silverados and Sierras that GM has ever produced.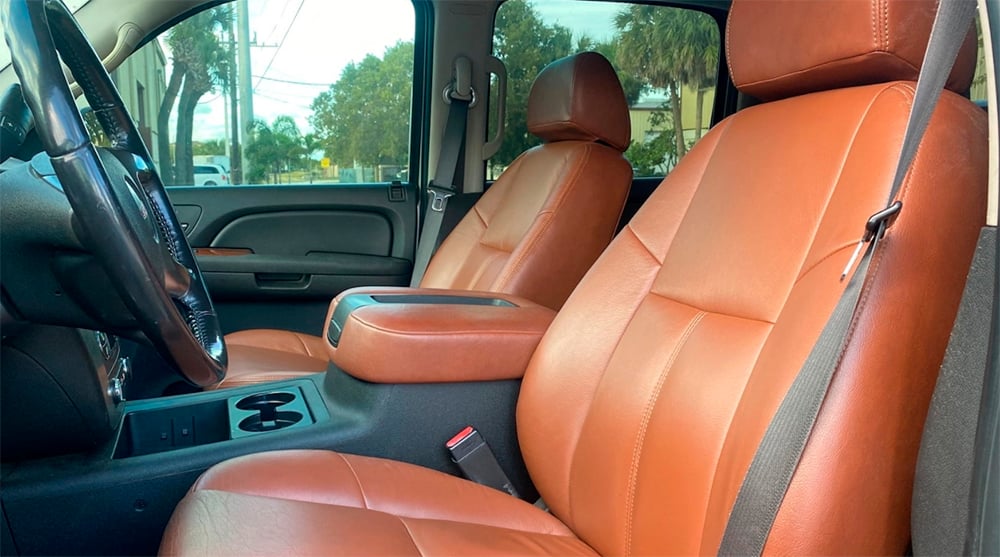 Photo courtesy of Mecum Auctions LLC
• In an effort to improve fuel economy, aerodynamic efficiency was stressed with the GMT900.

• GM increased the rake of the windshield to 57 degrees and decreased body panel gaps to improve airflow.
• Two available V8 engines were equipped with Active Fuel Management (AFM), a feature that deactivated four cylinders when the engine wasn't under load. The 5.3L and 6.0L V8's had AFM. The 4.3L, 4.8L, and 6.2L V8's did not have AFM.
• The GMT900 had a fully boxed frame with a three-inch wider front track and a one-inch wider rear track; torsional rigidity of the chassis improved 234-percent as a result of these changes.
• In concert with the addition of a Hotchkis rear suspension system, having a wider, stiffer chassis improved the truck's ride quality and handling characteristics.
• Goals for enhancing the interior included making it quieter, more spacious, more refined, more comfortable, and offering more storage compartments, which GM accomplished in all areas.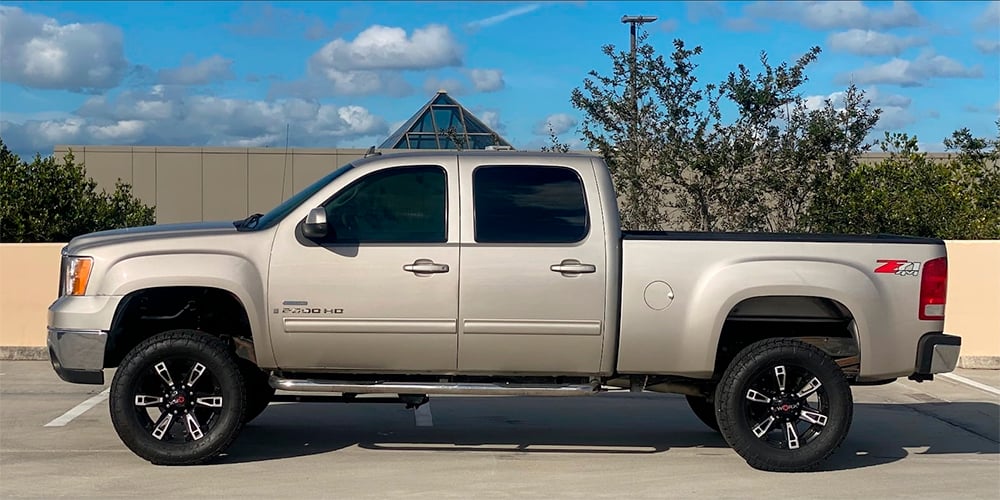 Photo courtesy of Mecum Auctions LLC
How to Identify a Specific Year Chevy Truck
This quick reference guide to Chevy truck generations should help you narrow down the year range of any GM truck you see, but what if you need to know the exact year? We can help with that. Check out our detailed guides below, which list the changes between each year of 1947-1972 Chevy trucks:
Need Chevy Truck Parts & Accessories?
If you already own a classic Chevy truck, Classic Industries can help you find the parts and accessories you need to restore or maintain it. Click the button below for a full-color Chevy truck parts catalog.