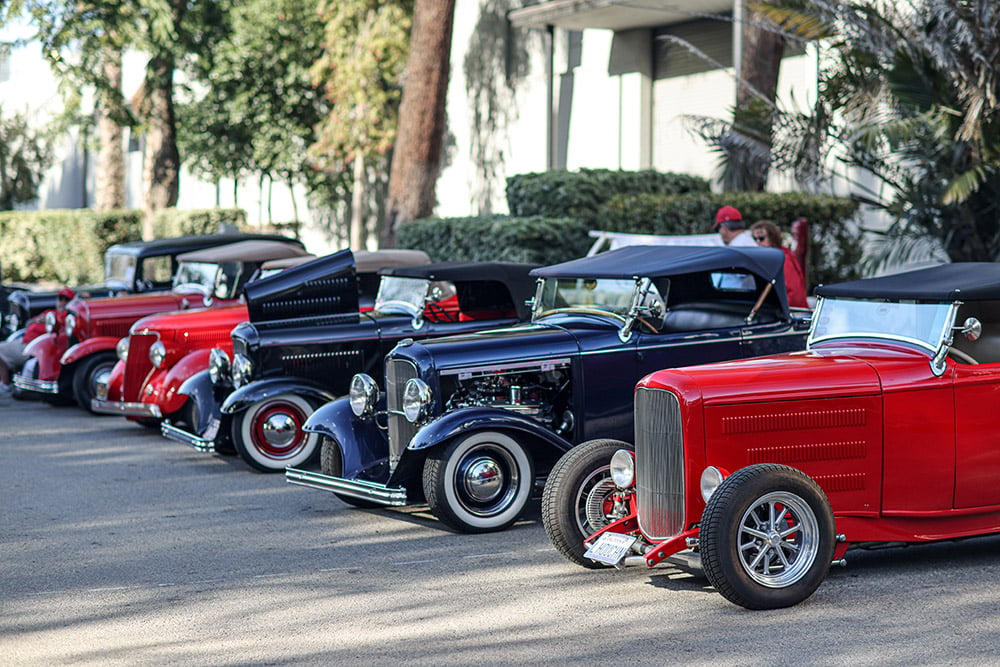 If you didn't attend or participate in the 73rd O'Reilly Auto Parts Grand National Roadster Show, you missed out big time! The GNRS is one of the oldest and most phenomenal classic car shows in the world. It's held in California, which is considered by many to be mecca for the automobile, at the Pomona Fairplex. There are two top prizes awarded at this prestigious event. The nation's top roadsters vying for the America's Most Beautiful Roadster (AMBR) prize were sublime. Non-roadster vehicles competing for the Al Slonaker Memorial Award were rolling, running works of art. All of the cars and trucks at the event would be held in high esteem in any car geeks garage, or the envy of any motorhead on the planet.
The 73rd Grand National Roadster Show
The Grand National Roadster Show comes at the end of January or early February each year to welcome all of us gearheads to a new year of glorious auto shows and events. Some of us have been wrenching on our autos over the winter. There are certainly also some intrepid mountain women and men who enjoy the great outdoors skiing, snowboarding, or maybe even ice fishing for the weeks' dinners. Others have been watching too much pro football (as if that's even possible). The glory of being able to go to a ginormous indoor/outdoor car show after the winter's hibernation is almost magical. It's as if spring has sprung a month and a half early. Participants' vehicles get polished up and runnin' right just in time for the big event. Automotive aftermarket companies planning on making a big splash at the GNRS with new products get organized and head west.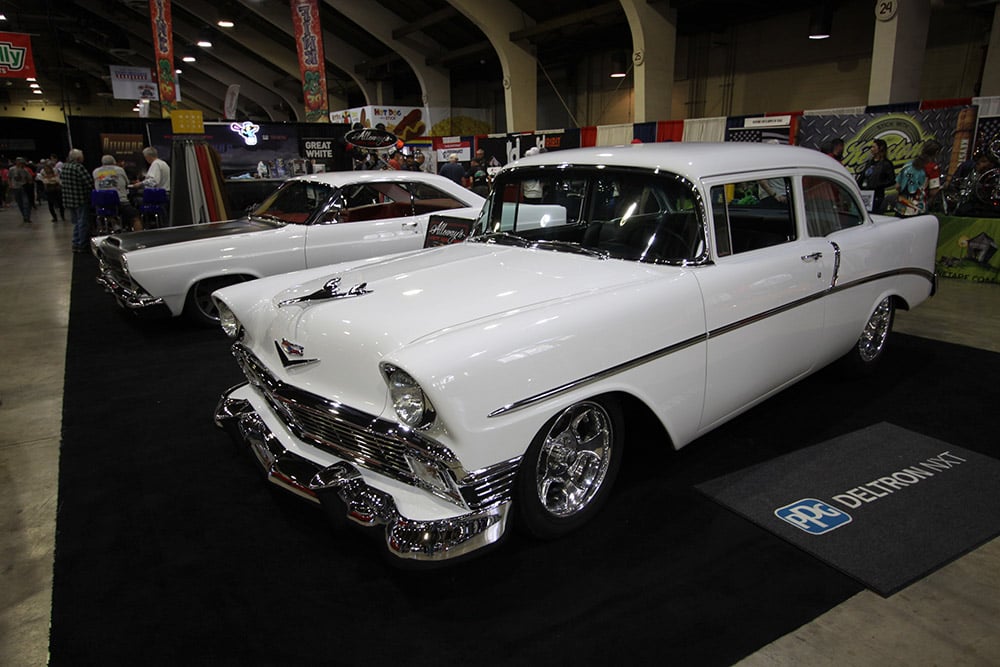 Above & below: Alloway's Hot Rod Shop had two brilliant white muscle machines they had created on display, a 1956 Chevrolet Bel Air and a 1967 Ford Fairlane that purports to have a Ford Boss 429 mill within the engine bay. Sweet!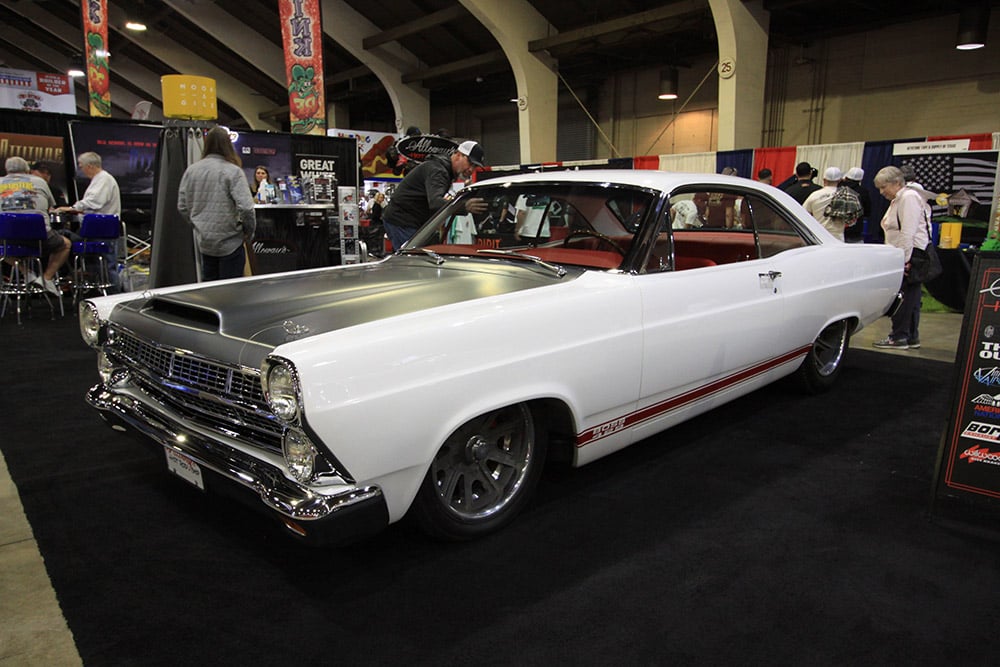 In this brave new post-Covid world, the 2023 GNRS was much more than just a breath of fresh and newly normal air. It was an epic automotive event. Should you be averse to huge crowds, the best day to go to a three-day car show like the GNRS, is to sneak off from work somehow and show up on Friday. You'll get the best photos that way. You also get more time to catch up with friendships at the event when it's not quite so busy.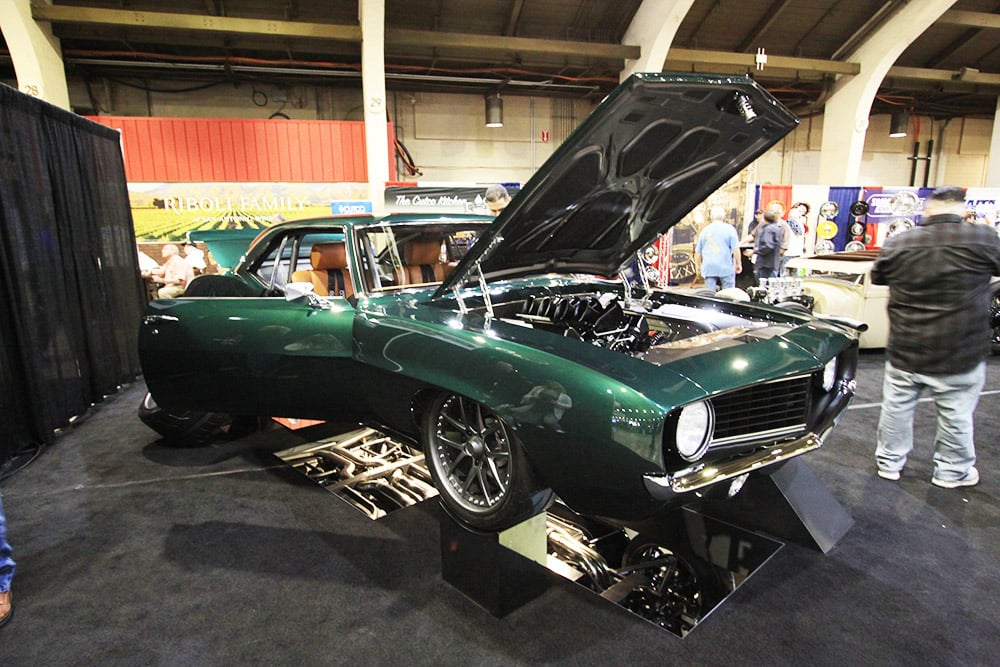 Above & two below: Scott & Karen Hodges own this super nice restomod 1969 Camaro. Born Vintage Hot Rods built the Camaro. There's a custom tube chassis with Heidt's IRS. Jimmy T Custom Paint performed the body and paintwork. Ron Mangus custom trimmed the interior. There's a built LS7 engine backed by a Tremec T56 six-speed manual trans. The Custom Savini Wheels are the perfect rolling stock for this racy pony car.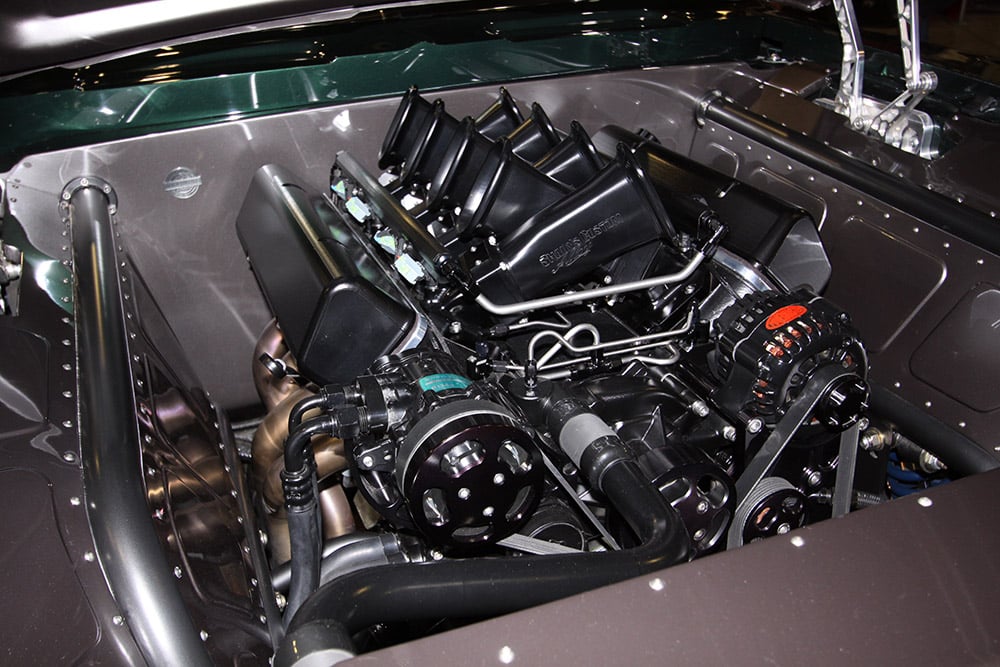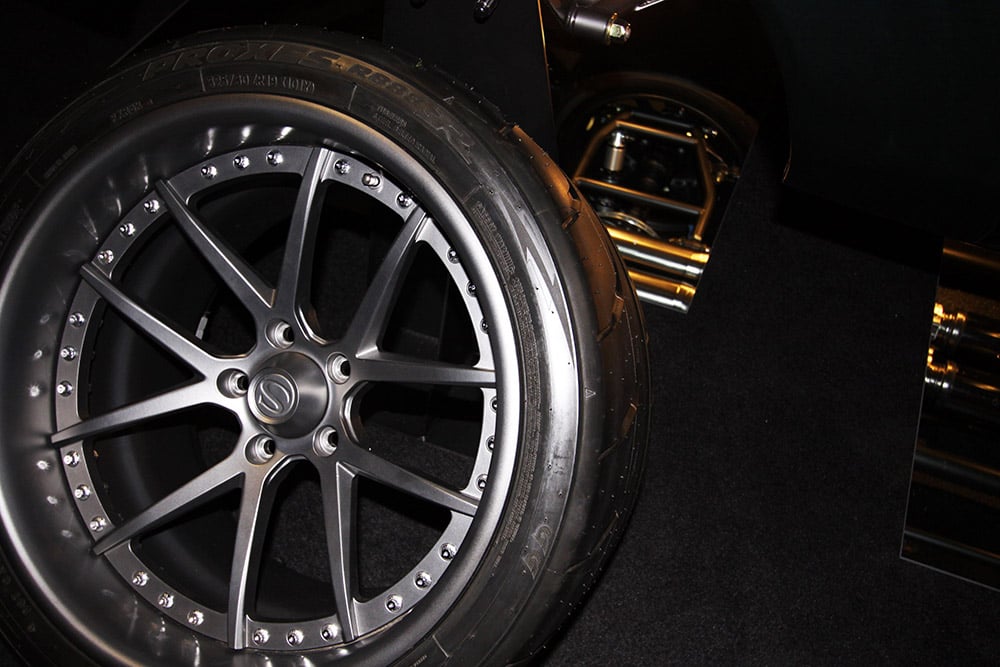 Above & below: Pop's 1972 Chevy C-10 is owned by Tom McWeeney.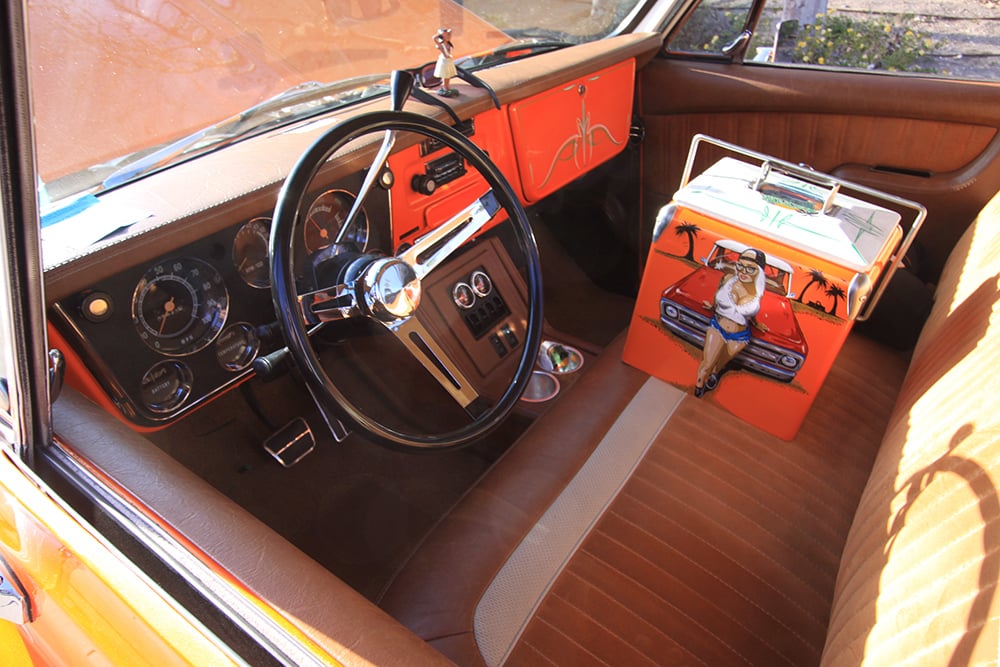 Above & below: Gilbert Lara's 1965 Chevrolet C-10 pickup is laying frame. There's a cool baby stroller in the truck's bed, too.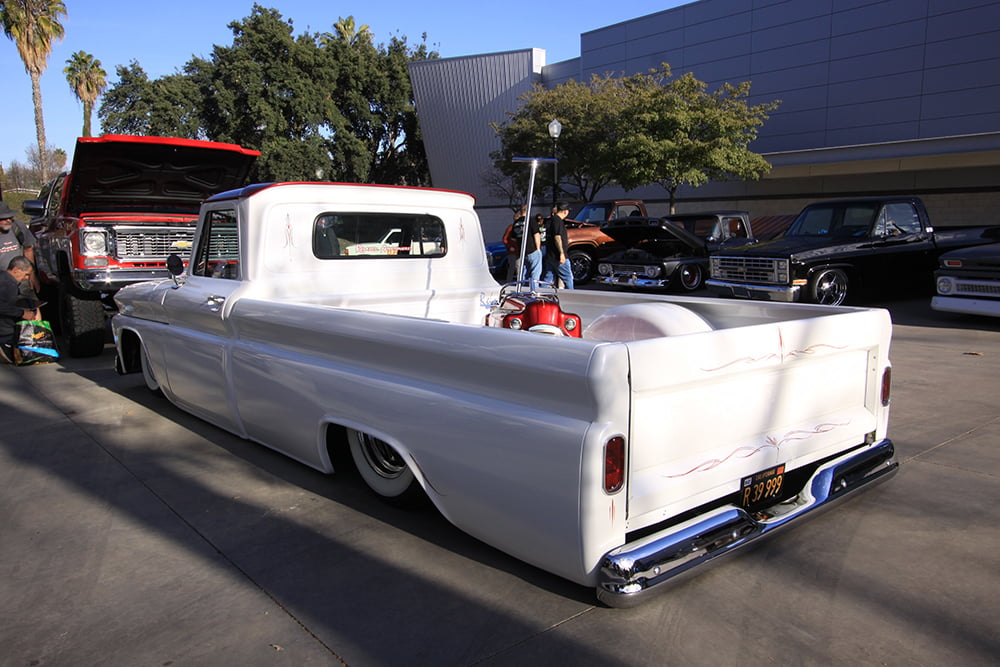 Above & below: "Bad Bump" is owned by Don Richards. It's a 1972 Pro-Street Ford F-100 that has a blown 545-cubic inch V8 Ford engine. The mill's fed by a Holley Super Sniper fuel-injection system. A TCI Ford C6 automatic transmission handles the shifting duties. The rolling stock is from Curtis Speed Equipment. Cambra Speed built the truck. Osmar Mata laid down the paint job.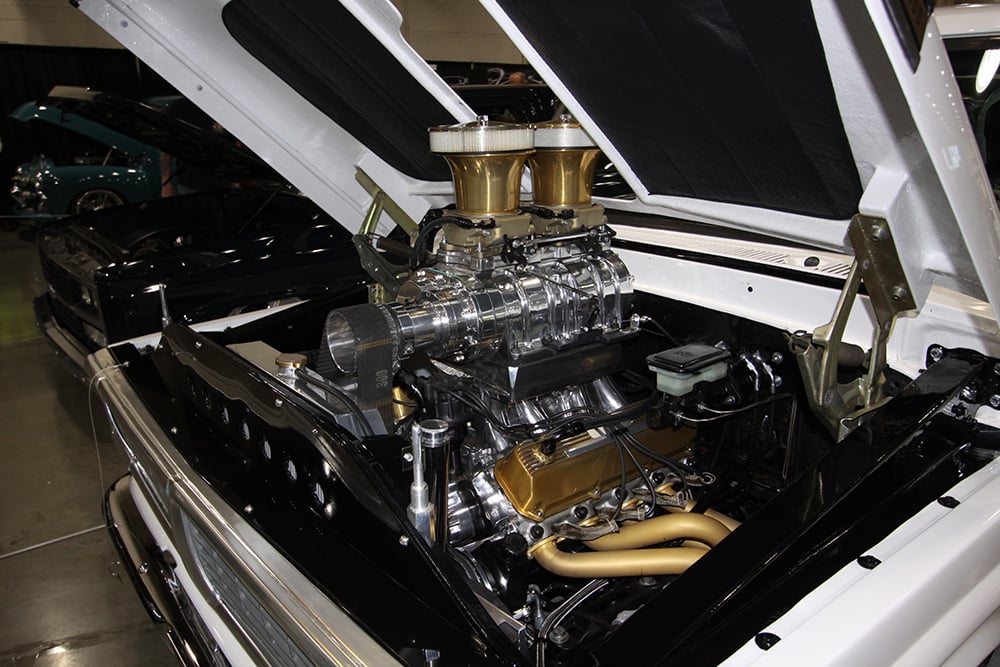 Above: Andy Sapien, of Hacienda Heights, CA, owns this superlative 1964 Buick Riviera. It was classified as a Lowrider Custom - Mild at the show. In the background is a 1973 Chevrolet Caprice, that is owned by Alex Vallejo, also from Hacienda Heights. The Caprice was in the Lowrider Custom - Semi - 1970-Current classification at the event. The Caprice is named "Green with Envy."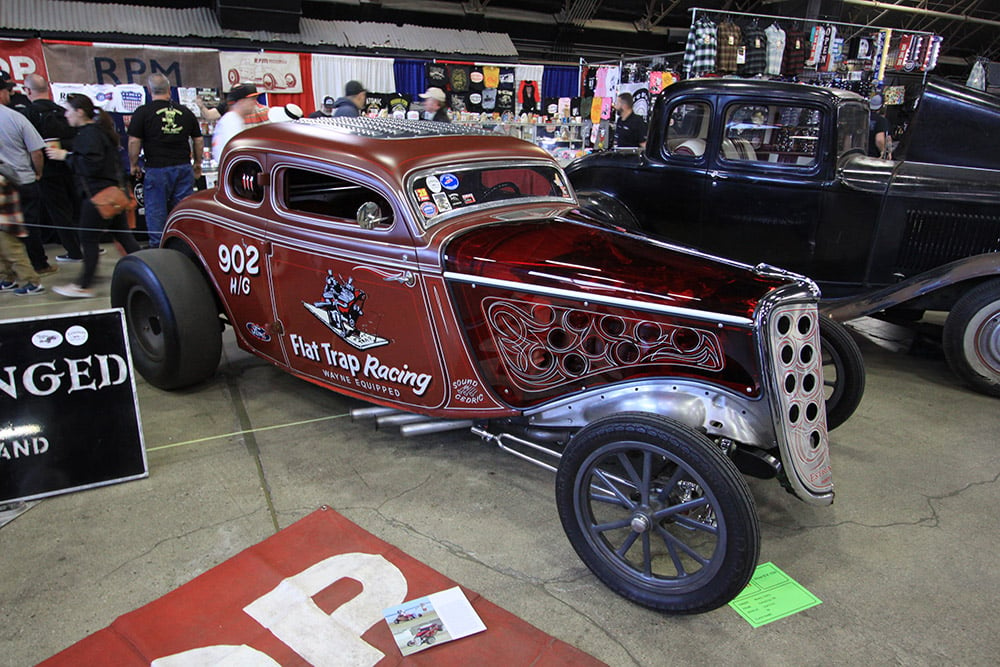 Above & Below: Famous automotive journalist, Gray Baskerville (RIP), invented the term Suede to define street rods and hot rods that were painted in flat or satin gray or oxide red primer. One of the buildings of the Grand National Roadster Show is affectionately named the Suede Palace, after Mr. Baskerville's cleverly coined term. The 1934 Ford five-window coupe above sports both a suede red oxide primer paint scheme with a white pinstriped, red translucent plexiglass hood. Also within the Suede Palace was an expertly channeled and chopped 1932 Ford three-window coupe, that even had lightening holes drilled in the chassis. Wow!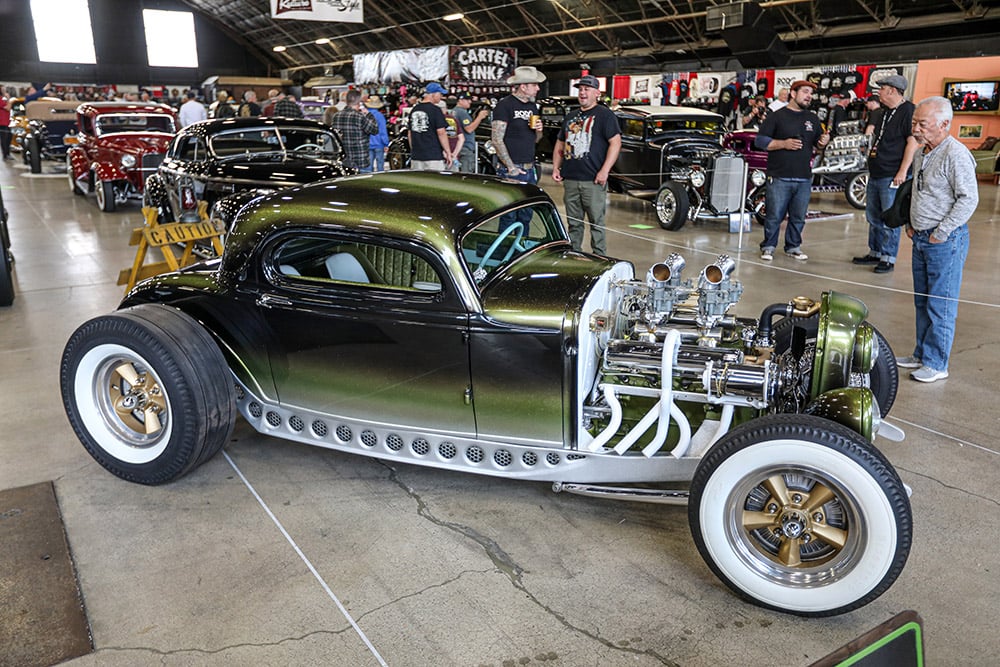 And the Winners Are ...
Seven designers, experts, and builders comprised the judging panel that selected the "most beautiful" roadster. For 2023, the AMBR award went to designer, fabricator, and owner Jack Chisenhall and his shop in San Antonio, Texas. His 1932 Ford roadster was over 30 years in the making. In the late '80's, automotive artist and journalist Thom Taylor rendered the "Champ Deuce" that was inspired by a Dodge-powered Indy car campaigned by racer Tony Cappana and hot-rodder Jackie Howerton. Chisenhall and crew crafted the beauteous street rod, before transferring the body prep and paintwork to Darryl Hollenbeck and team in California. Sid Chavers then trimmed the roadster top and crafted the cockpit. Roy Brizio and Brizio Street Rods performed final assembly.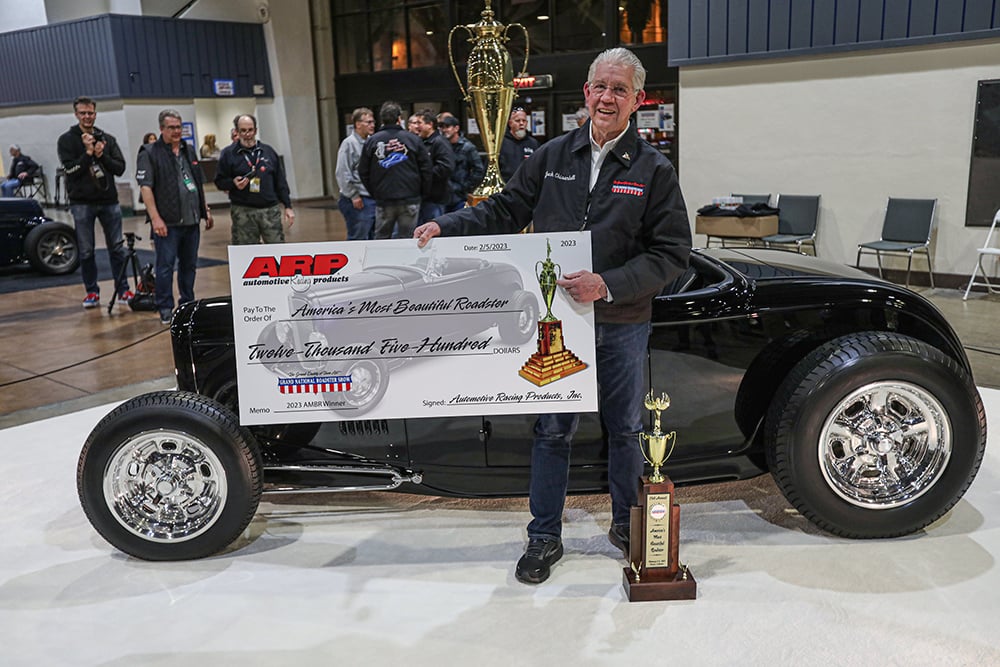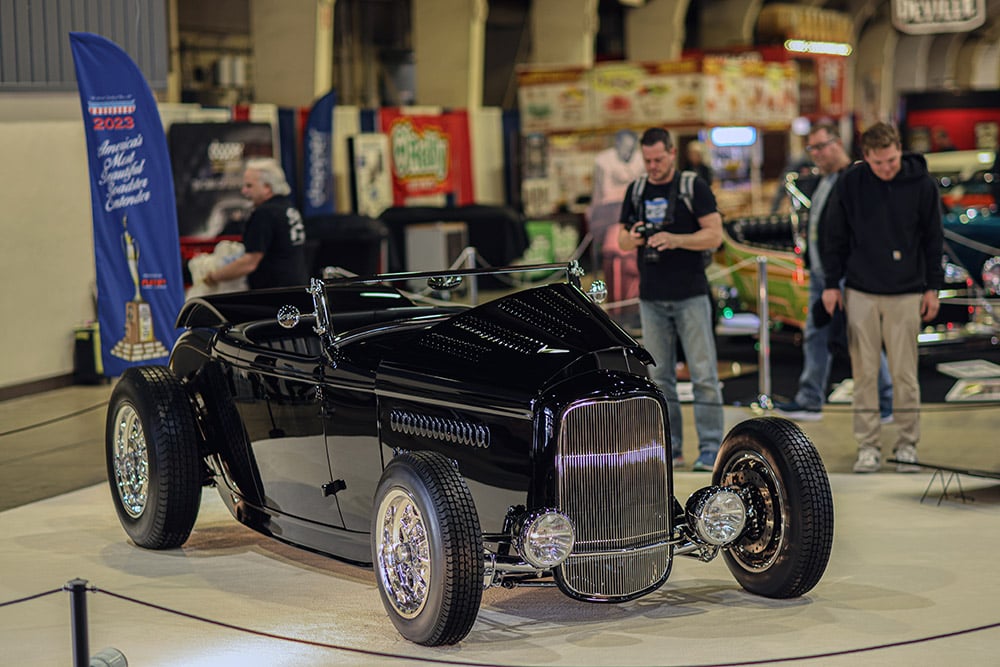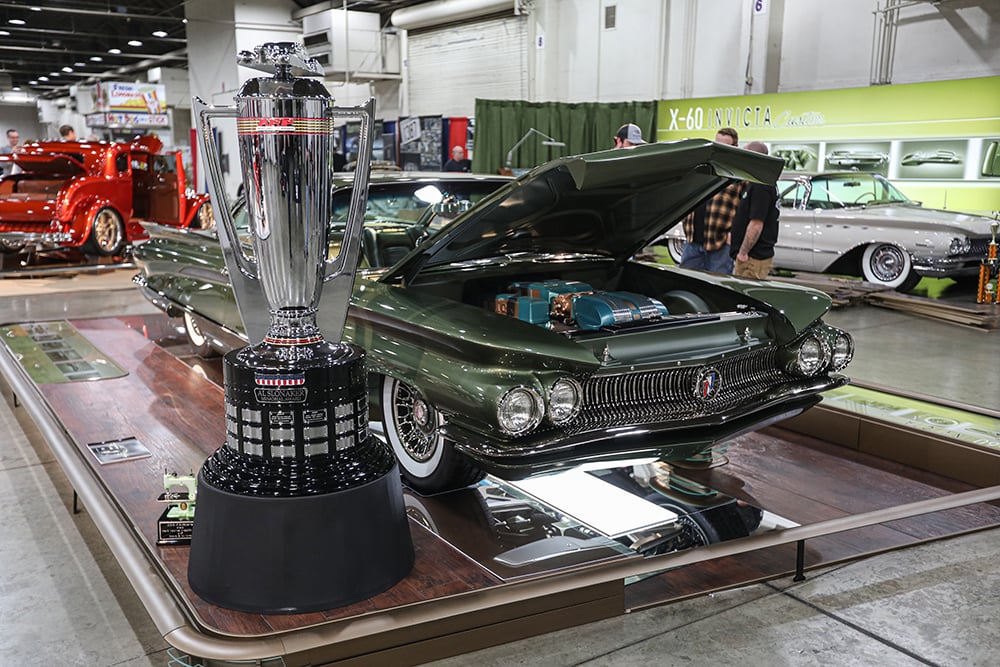 Al and Mary Slonaker founded the Grand National Roadster Show in 1949. In honor of the couple, the Al Slonaker Memorial Award has been given to the most superlative non-roadster at each year's GNRS since 1974. For 2023, George and Angela Eliacostas won the esteemed etching in the Slonaker trophy and a $12,500 check for their 1960 Buick Invicta Custom, which was built by CAL Automotive Creations (shown above).
More of Our Favorites at GNRS 2023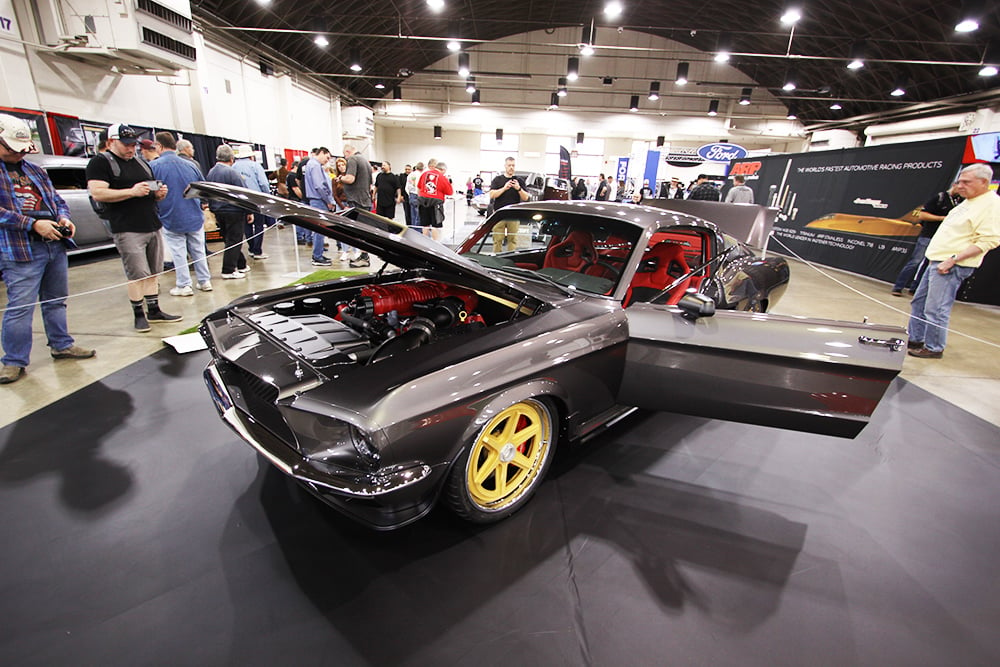 Above & two below: Danny Shaffer, of Bakersfield, CA, owns this restomodded 1967 Mustang fastback. There's a Ford GT500 5.4-liter supercharged engine backed by a Tremec T56 six-speed transmission. Ironworks Speed and Kustom shop built Danny's pony car that he calls "DS500R." Gabes Interior trimmed the custom interior. Cotati Speed Shop performed the beautiful body and paintwork. The custom one-off wheels are by EVOD. Dakota Digital provides accurate instrumentation for this road rocket, which rides on Michelin Tires and has Wilwood 14" disc brakes for precise and swift stopping power.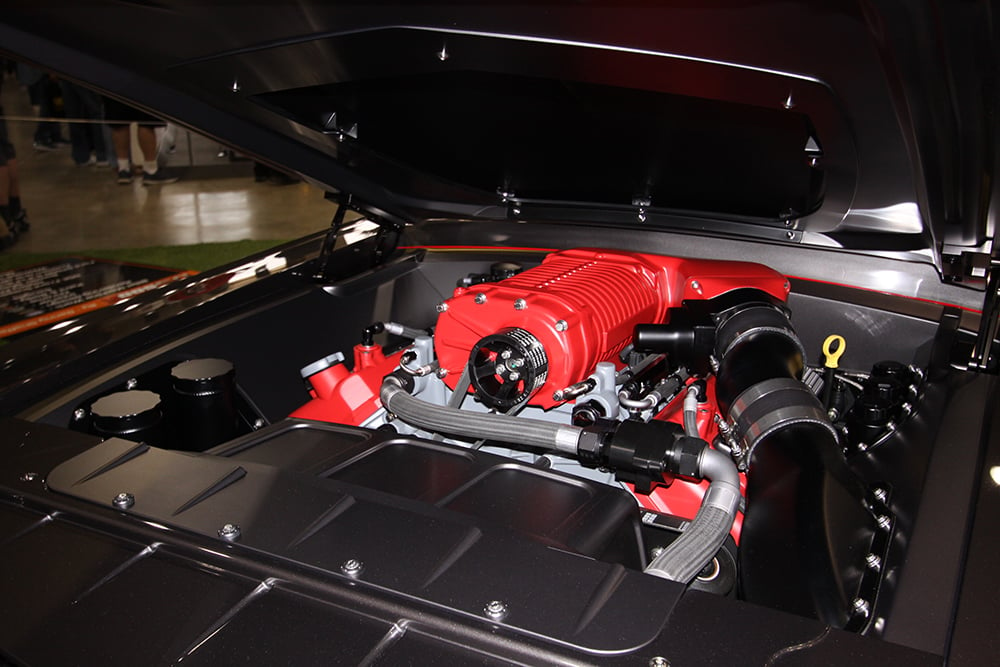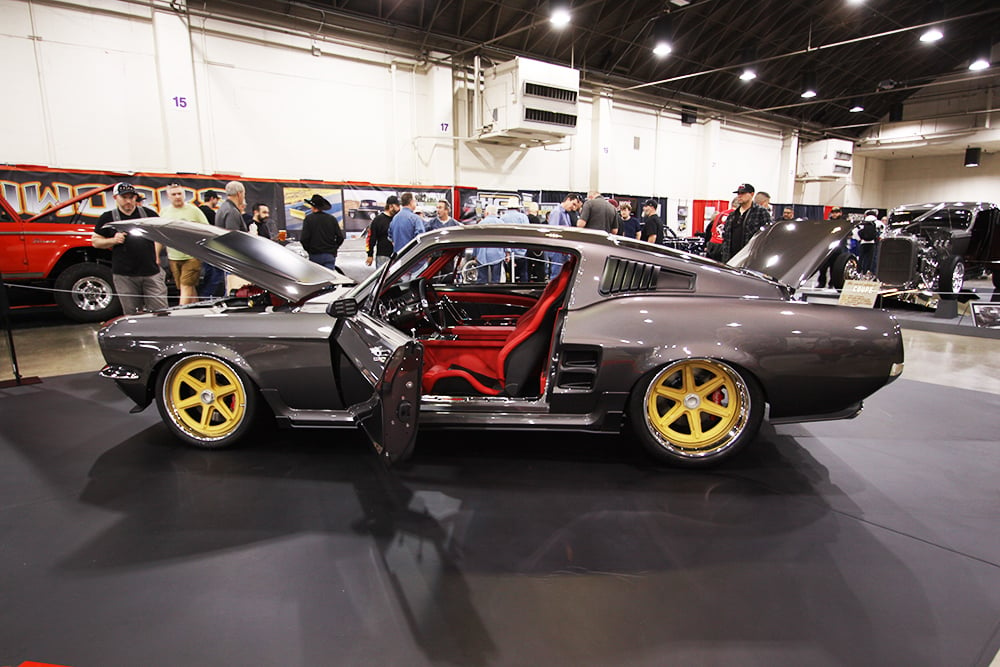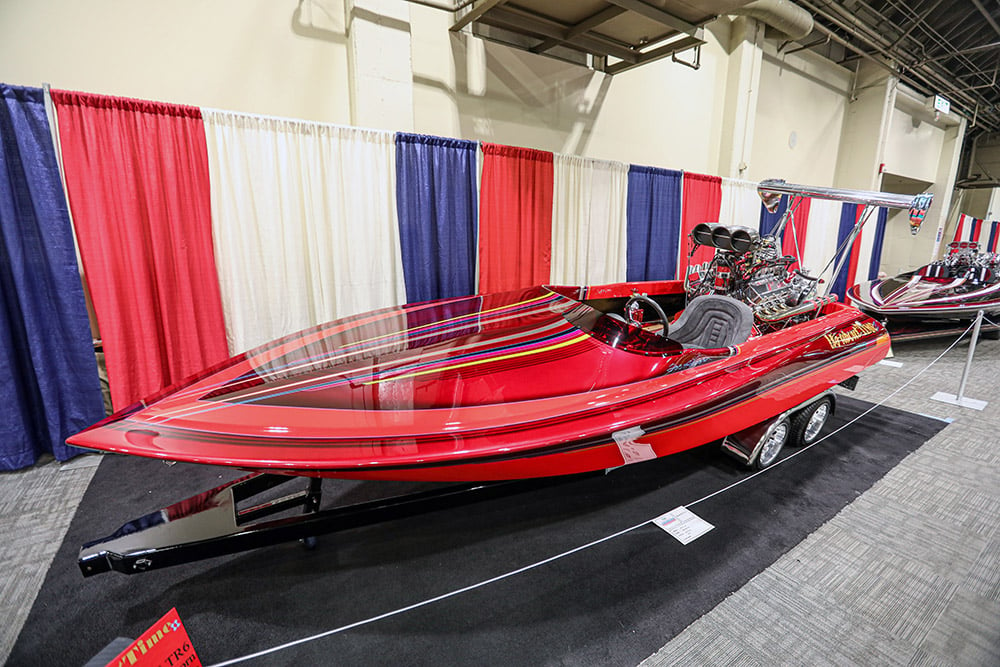 Above: There were even a gaggle of drag show ski boats on display. Groovy!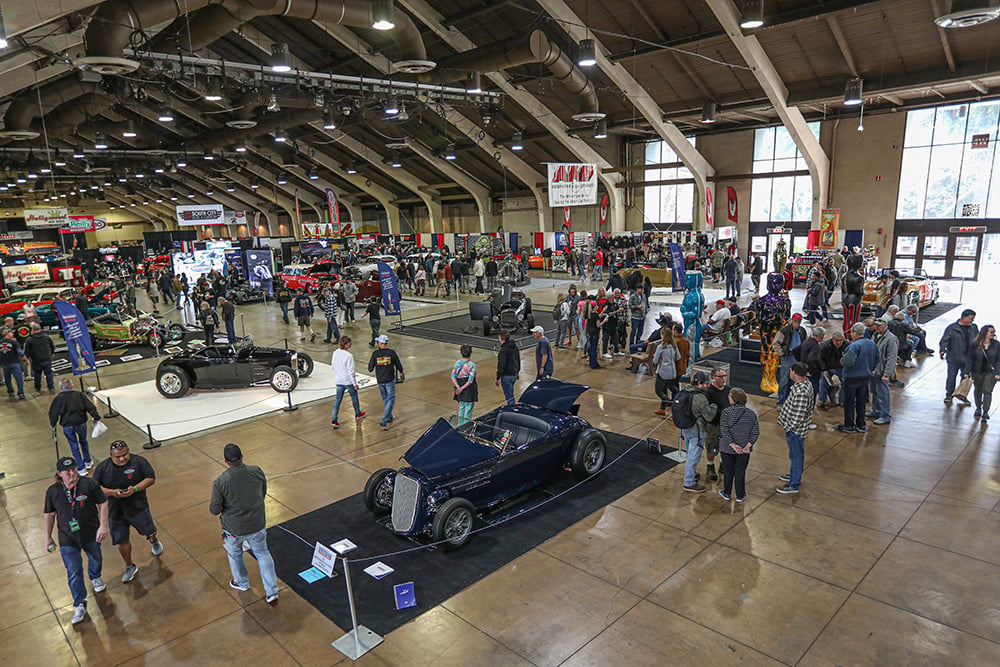 Above: Here's a wide angle shot of Building 4, where the GNRS AMBR contenders were on display.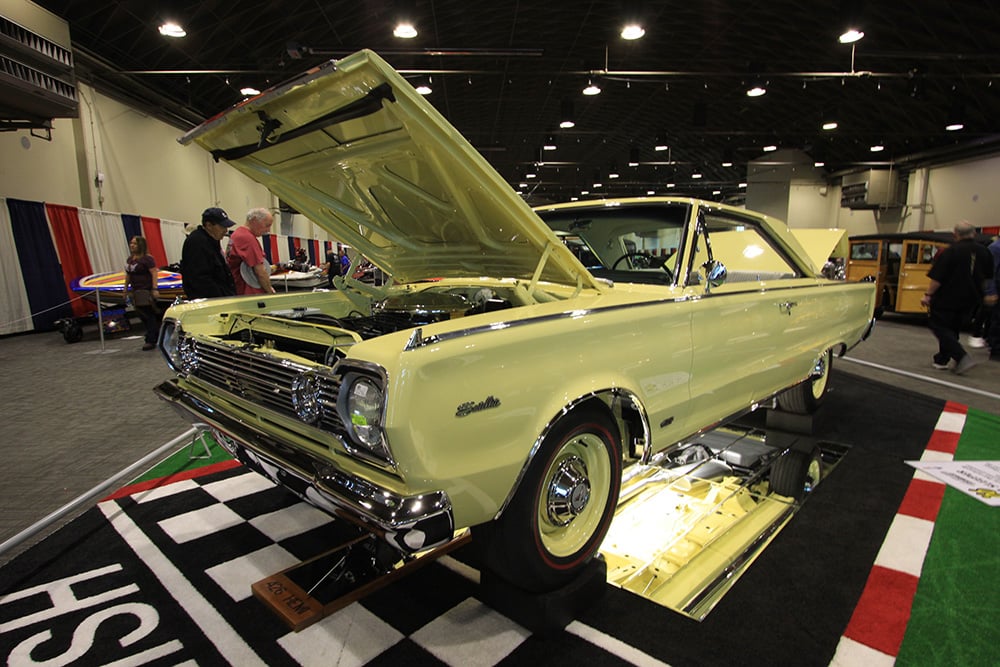 Above & Below: Purchased new in Ukiah, CA in July of 1966, Les Shank and Janice Shank-Sutherland are the only owners of this 1966 Plymouth Satellite that has a 426-cubic inch V8 Hemi engine and is backed by a 727 TorqueFlite automatic transmission.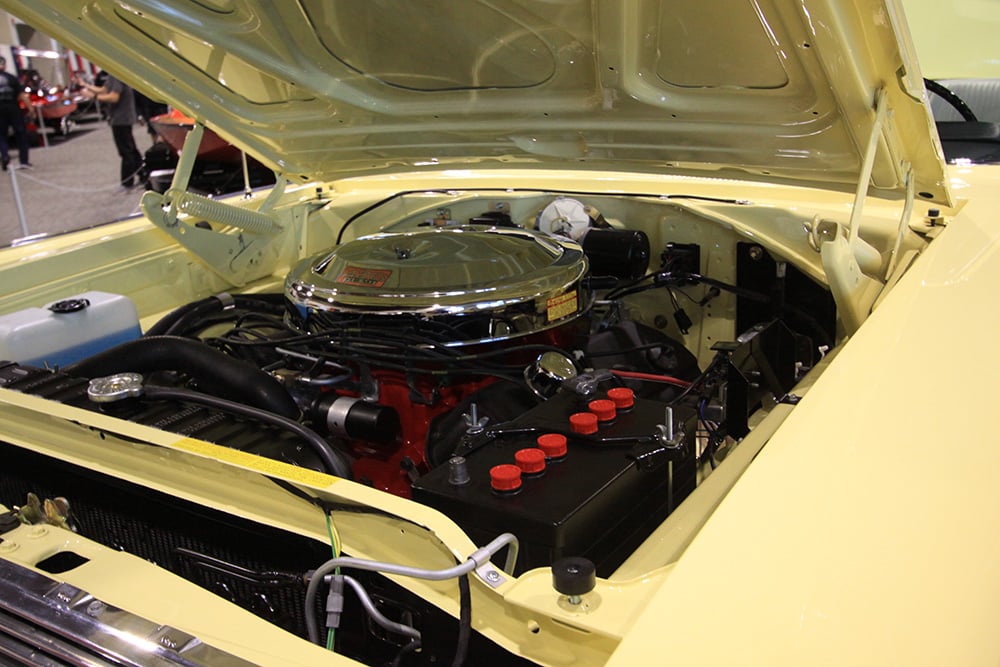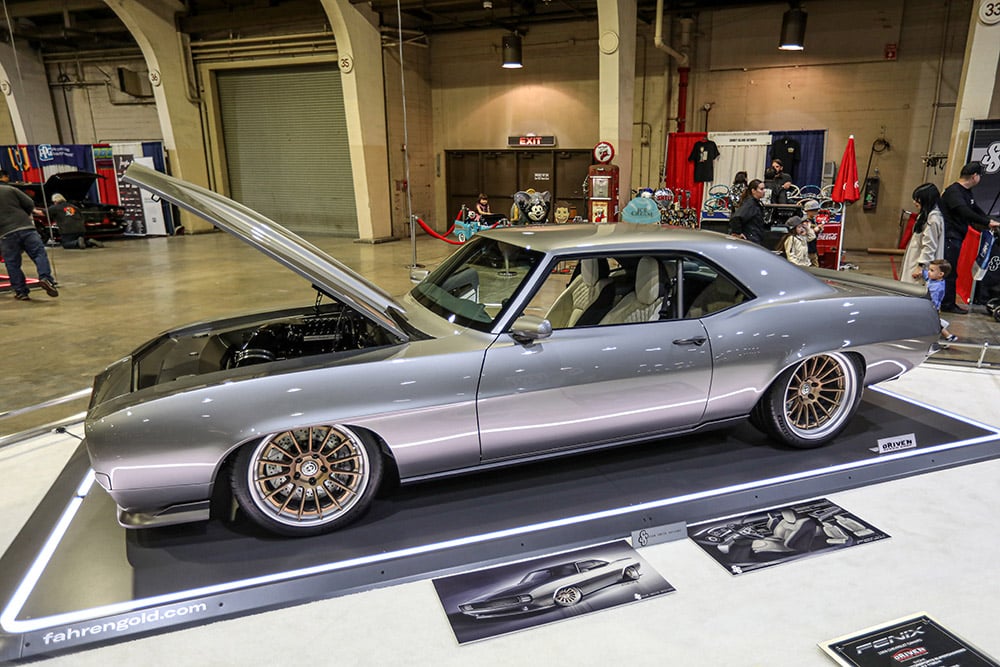 Above: Michael Shields owns "Fenix", a 1969 Chevrolet Camaro restomod that is built by Driven Speed Shop. Fenix has a Roadster Shop Fast Track chassis and is equipped with HRE wheels. The engine powering this beauty is a Wegner Motorsports supercharged 427 LS7 that makes 1,180 horsepower and is backed by a Tremec T56 Magnum six-speed manual transmission from RPM.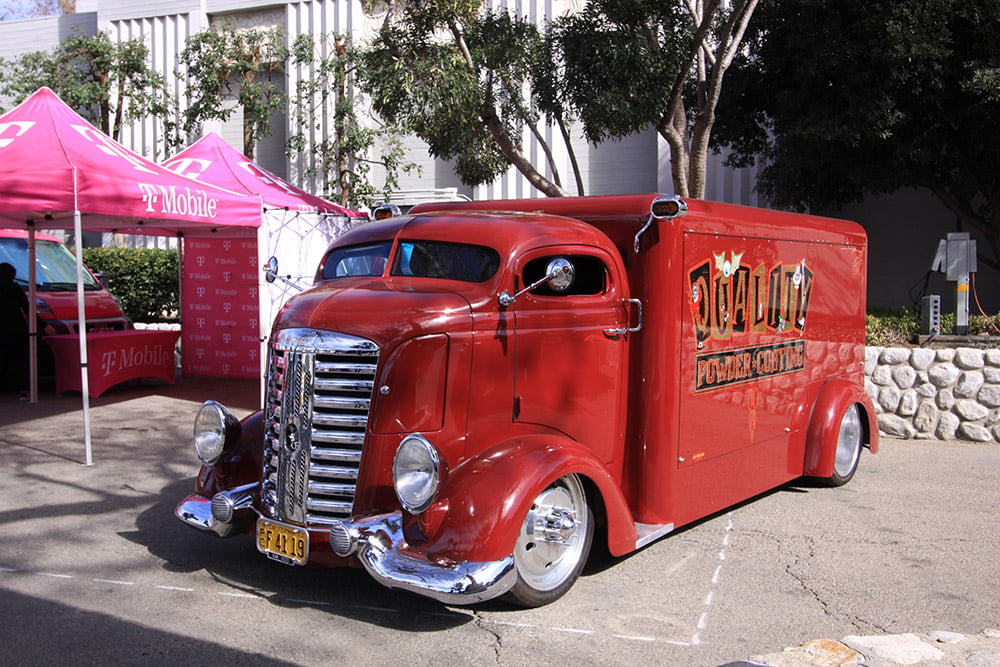 Above & below: Check out Shawn Killion's 1939 GMC COE. The COE emblem is a Big Daddy Ed Roth Rat Fink. Can you dig it?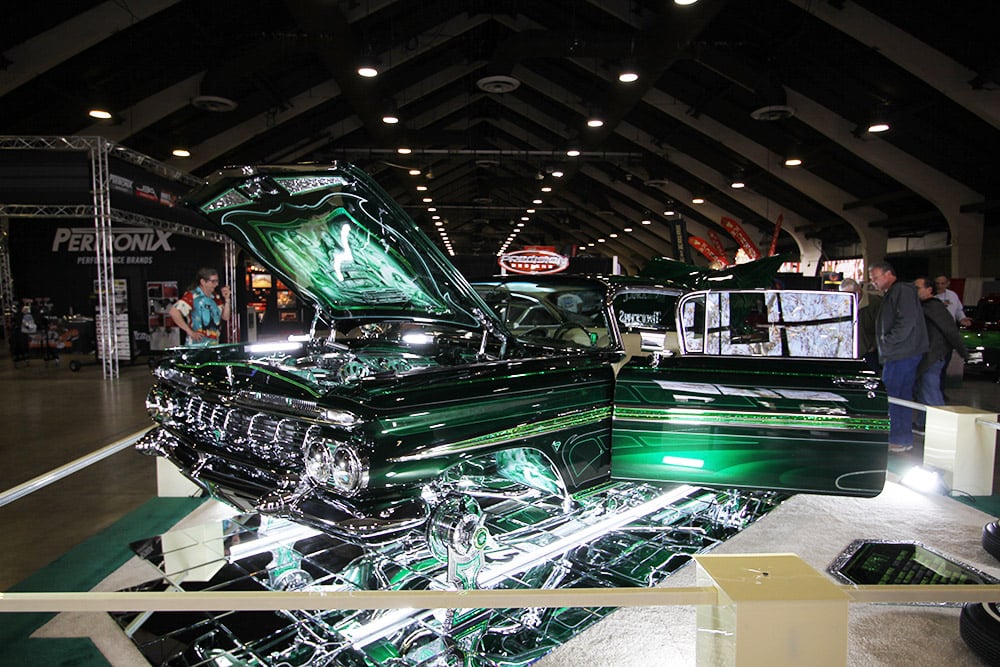 Above & below: "Krypto 9" was built by C & C Customs. It is a highly customized 1959 Impala lowrider. The airbrushed artwork on the underside of Krypto 9's hood reads "Redwood City Climate Best by Government Test."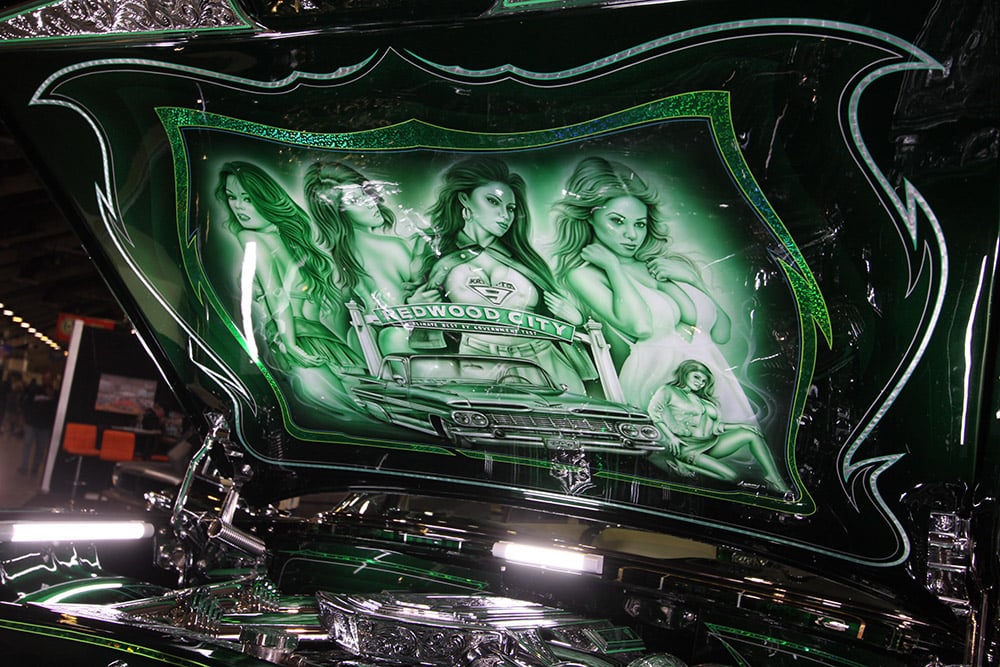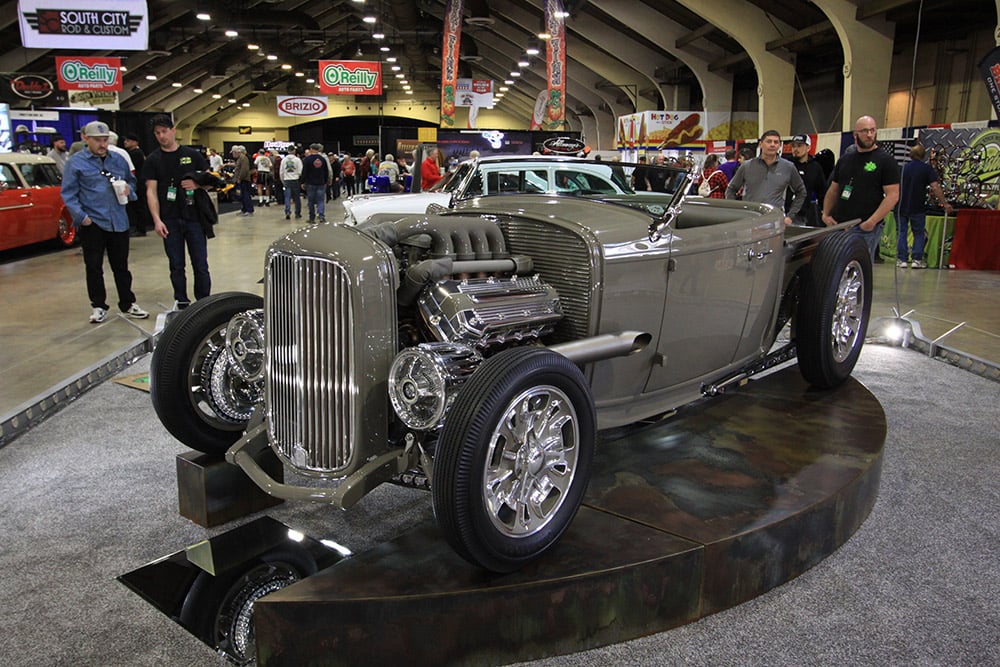 Above & two below: This AMBR contender is a 1932 Ford roadster pickup that is owned by John Sutherland, of Pekin, Illinois. There's a turbocharger housed within each headlight bucket that feeds a 5.0-liter Ford Coyote V8 engine. The Coyote mill is backed by a Ford C6 automatic transmission. Pro builder, Nichols Paint and Fab, of Watseka, Illinois, crafted the roadster pickup. The RPU was painted a custom mix of Blown Head Gasket Gray by Nichols. The wheels are also designed by Nichols Paint and Fab. The rear end is a Winters Quick Change with a rear suspension that is a custom Nichols built cantilever design (all photos courtesy of the author and Kahn Media).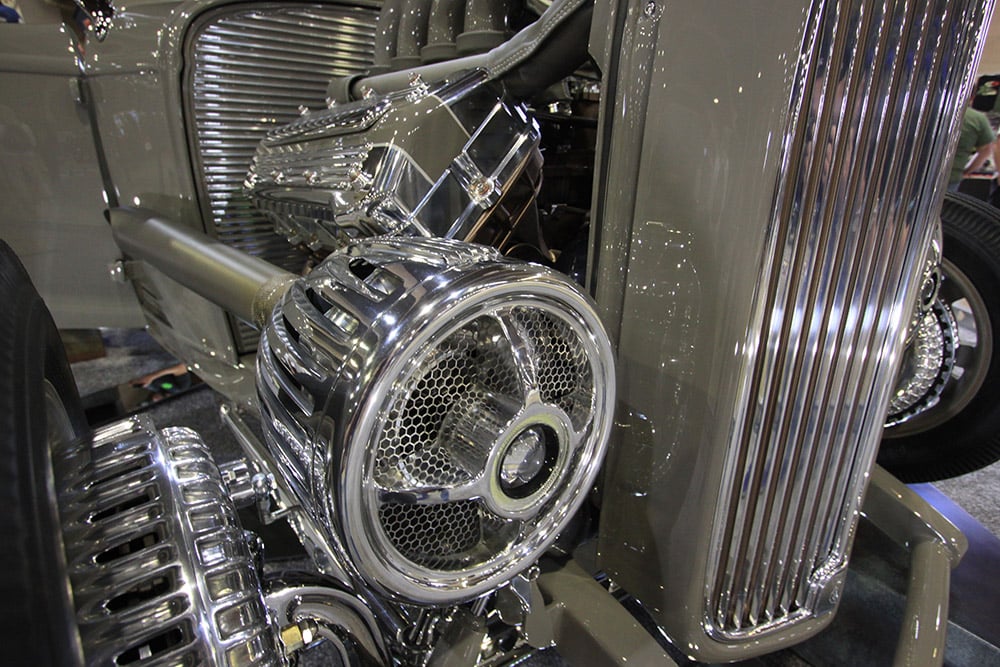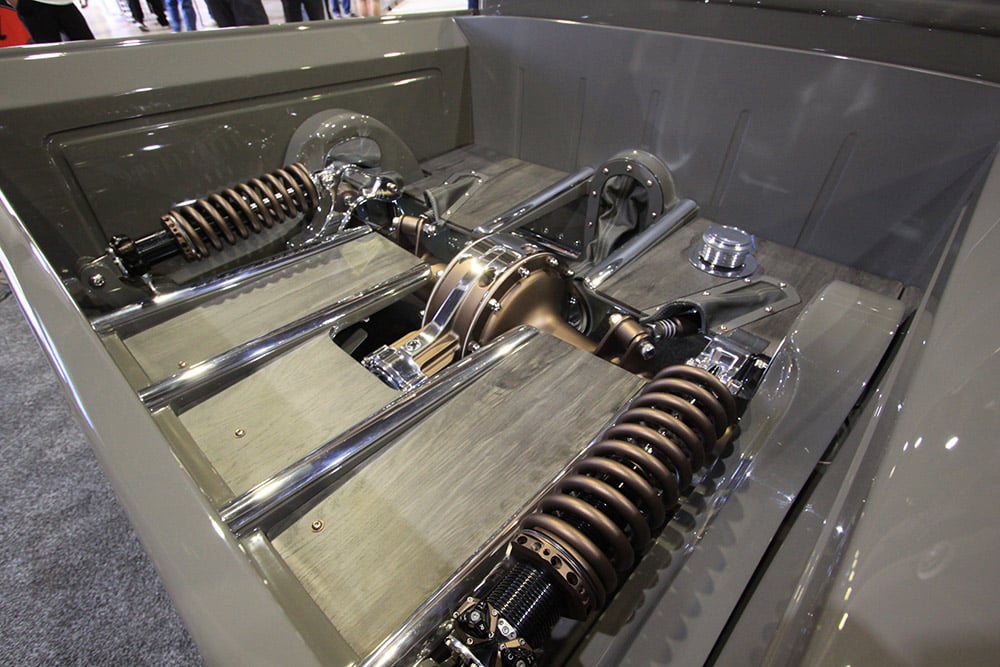 At the culmination of this audacious show, on Sunday, over 600 individual awards were presented to some very talented car and truck builders/owners. With the Grand National Roadster Show in the books for 2023, the year is off to another great automotive enthusiast start. For a list of all the award winners for the 2023 Grand National Roadster Show and information on the 2024 GNRS, visit: rodshows.com/grand-national.
Shop @ Classic Industries for American Muscle/Pony Car & Truck Components
Should you, your family, and friends need some must-have restoration, performance, and accessory parts to finish your American muscle machine, there's a great chance that you will find just what you need at Classic Industries. You can search on the Classic Industries website, in addition to shopping from one of the many enormous vehicle catalogs that are available both in print and in pdf format. Simply click the button below to find the catalog(s) that you need. Of course, if you can make next year's GNRS, you'll be glad you did.