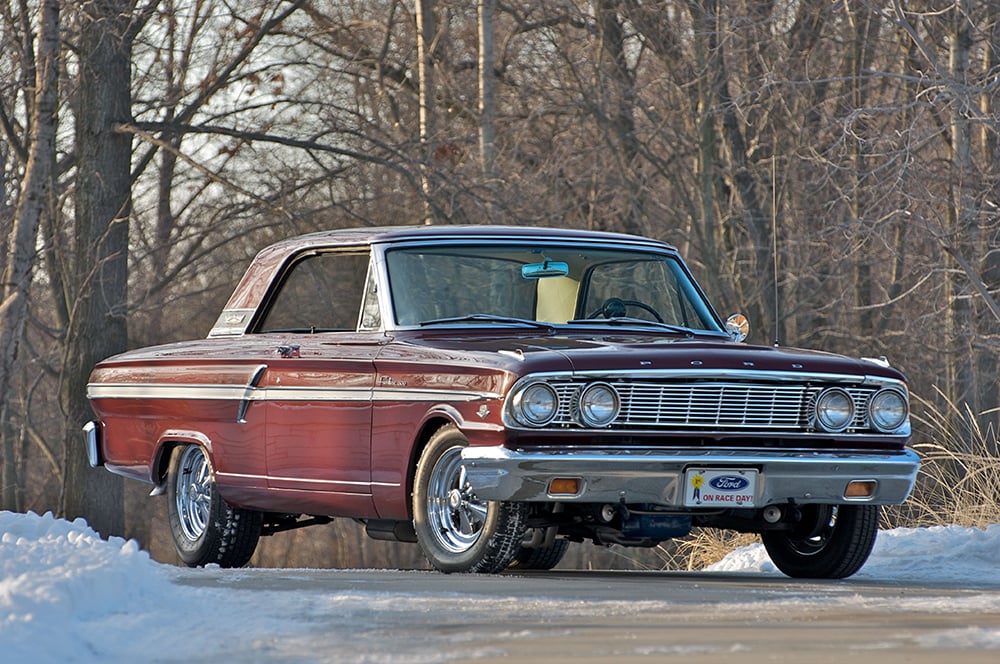 Photos courtesy of Mecum Auctions, Inc.
The lead photo is of a fourth generation 1964 Ford Fairlane "Baby Bolt" hardtop that has just 9,200 original miles. The Baby Bolt has the same 289 CI small-block V8 with 271-horsepower that powers the K-code Mustangs. This Fairlane is ready for some drag racing, as it's equipped with a four-speed manual trans, Detroit Locker rear end, tow hooks, Sun Super Tach, and gauges. The car has all its original sheet metal and wears almost all its original Burgundy paint.
What's in a name? In the case of the Ford Fairlane, quite a bit. Ford Motor Company Founder Henry Ford and wife Clara lived in an estate on Fair Lane near Dearborn, Michigan. Ford produced the Fairlane from 1955-1970. In this article, we'll look back at Ford Fairlane history across six generations.
Ford Fairlane History
First Generation: 1955-1956 Ford Fairlane
The Fairlane replaced the Crestline as the premium full-sized Ford automobile in 1955. That first year there were six distinct Fairlane models available. All six had the signature stainless steel side molding. The body styles included two- and four-door sedans, a two- and four-door hardtop, a two-door hardtop, and a two-door convertible. Available engines were one straight six and three V8s, backed by either a three-speed Fordomatic or a three-speed manual transmission.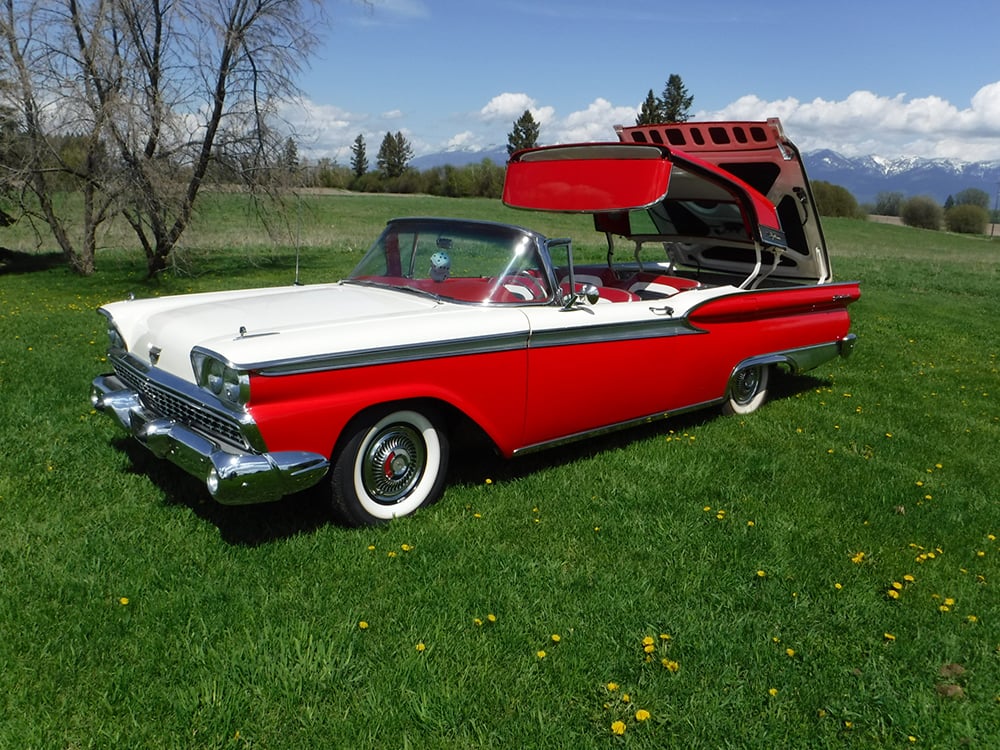 Whether its metal and glass convertible top is being raised or lowered, watching a 1959 Fairlane 500 Skyliner performing this hydraulic, electrical, and mechanical operation is entertaining to say the least. This Skyliner is also equipped with a 352 CI V8, an automatic transmission, power steering, power brakes, and air conditioning.
Second Generation: 1957-1959 Ford Fairlane
Lower, longer, wider, and even sleeker – all of these attributes applied to the newly styled 1957 Fairlane. A two-door hardtop convertible, hydraulically controlled, sold well and also used most of the available trunk space when lowered for top down motoring, was introduced. The entry level Custom line had a shorter wheelbase, while the top-level model was coined the Fairlane 500. The 352-ci Police Interceptor V8 engine became available in 1958, as did the three-speed Cruise-O-Matic transmission. According to Motor Trend magazine, "The '57 Chevy is such a classic-car icon it's hard to believe 1957 marked the first time since 1935 that Chevrolet didn't produce the best-selling car in America. Ford did, moving 28,454 more Customs, Fairlanes, and Crown Victorias, than Chevy did One-Fifties, Two-Tens, Bel Airs, and Del Rays."
By mid-1959, the new top-of-the line Fairlane was called the Galaxie. Badging for the car included both a Fairlane 500 and a Galaxie emblem.
Third Generation: 1960-1961 Ford Fairlane
Ford made exterior styling changes to the Fairlane models both years. The Galaxie was still top dog, while the Fairlane 500 became the midrange model akin to the Chevrolet Bel Air. The Fairlane was the entry level, no frills model and was strong in the fleet sales arena with police municipalities and taxicab companies. Since the Big 3 domestic car companies were all embroiled in the horsepower wars, Ford made the big-block 390-cubic inch V8 available to the full-size Fairlane lineup in 1961.
Fourth Generation: 1962-1965 Ford Fairlane
In 1962, Ford did some model maneuvering with its lineup. The Galaxie sped away as Ford's full-size machine. The Fairlanes moved smaller into the midsize space, parked in the void between the little Falcon in the compact spot, and the spacious Galaxie. Consequently, the Fairlane became a unibody car, like the Falcon, in which the body and frame are considered one piece or a monocoque. In addition, Ford added a torque box at each corner of the monocoque to add strength to the frame and to smooth out the ride. This was done, since many of the Fairlane models were equipped with powerful V8 engines. Having that extra structure improved the ride quality and road holding characteristics of the unibody Fairlane.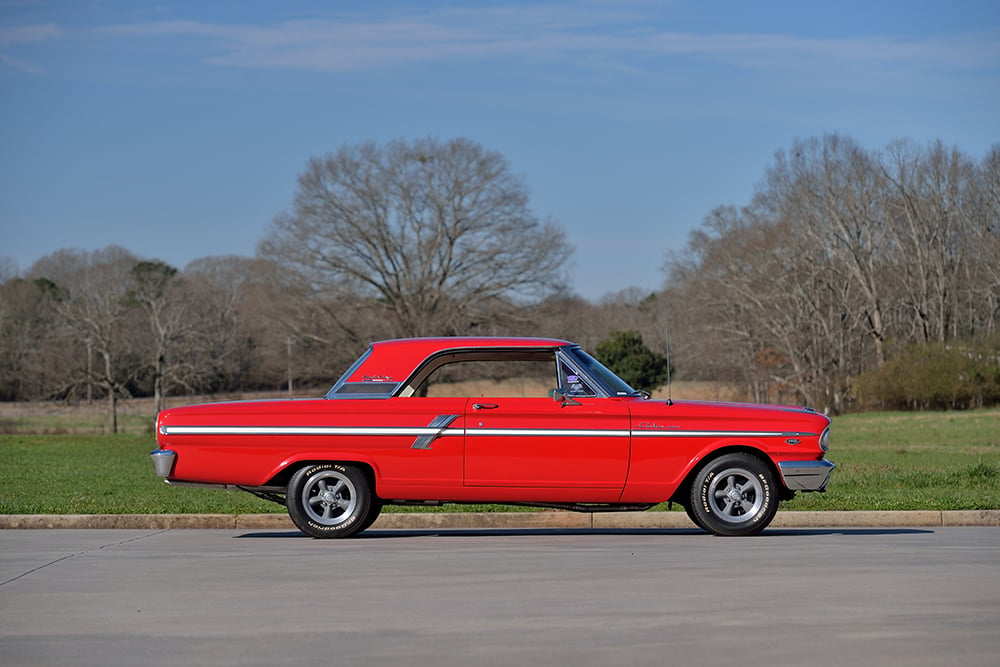 The stance of this 1964 Fairlane 500 sports coupe is made perfect with the addition of four American Racing Torq-Thrust D wheels, wrapped with BFGoodrich Radial T/A rubber. Power comes from a 289 ci small-block V8, which is backed by a four-speed manual transmission.
Four body styles were available in the fourth generation. A four-door station wagon, a four-door sedan, a two-door sedan, and a sporty two-door coupe. Two six-cylinder mills and four V8's rounded out the engine offerings, while a Ford-O-Matic two-speed, a Cruise-O-Matic three-speed, a three-speed manual, and a four-speed manual were the available transmissions.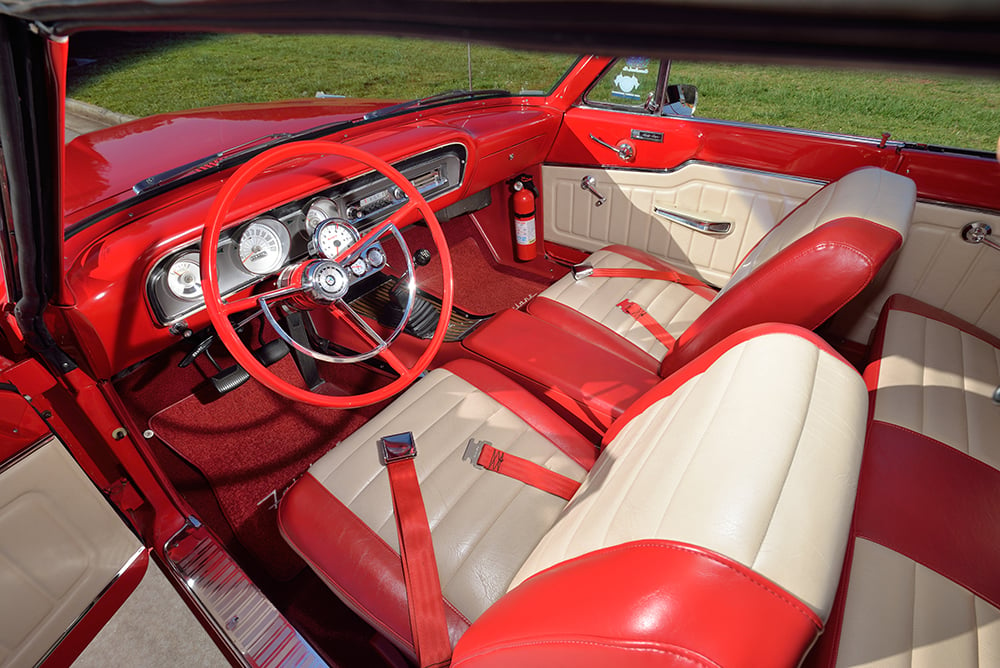 Replete with an aftermarket tach, some other necessary gauges, a fire extinguisher, and a four-speed manual transmission, the interior of this fourth generation 1964 Fairlane 500 sports coupe appears to be all business and even more fun.
During this generation of the Fairlane, Ford built 100 Fairlane Thunderbolt NHRA Super Stock drag racers for the 1964 season. They dominated that year and secured the Super Stock championship for Ford.
Fifth Generation: 1966-1967 Ford Fairlane
With vertically stacked headlights, the 1966 Fairlane design changed to emulate the full-size Fords. A 200 ci straight-six and three V8's were the available powerplants for this generation, a 289 Challenger V8, a 390 Thunderbird V8, and a 427 Cobra V8. One three-speed automatic, the Cruise-O-Matic and two manuals, a three-speed or four-speed could be selected for shifting duties.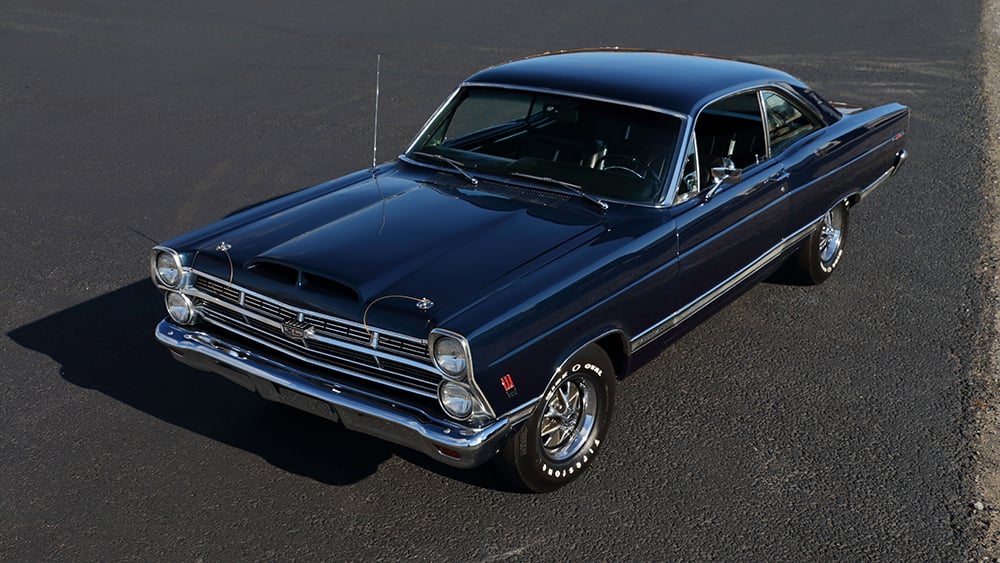 When you have a fifth generation 1967 Ford Fairlane 500XL that has an R-code 427 CI V8 and is backed by a four-speed manual transmission, you're going to need some great radial tires to keep you going in the right direction, especially if you have a tendency of steering with the steering wheel and the accelerator pedal (if you catch our drift). The seductive looking 427 engine photo is just below. Two four barrel carbs top that intake manifold. Outstanding!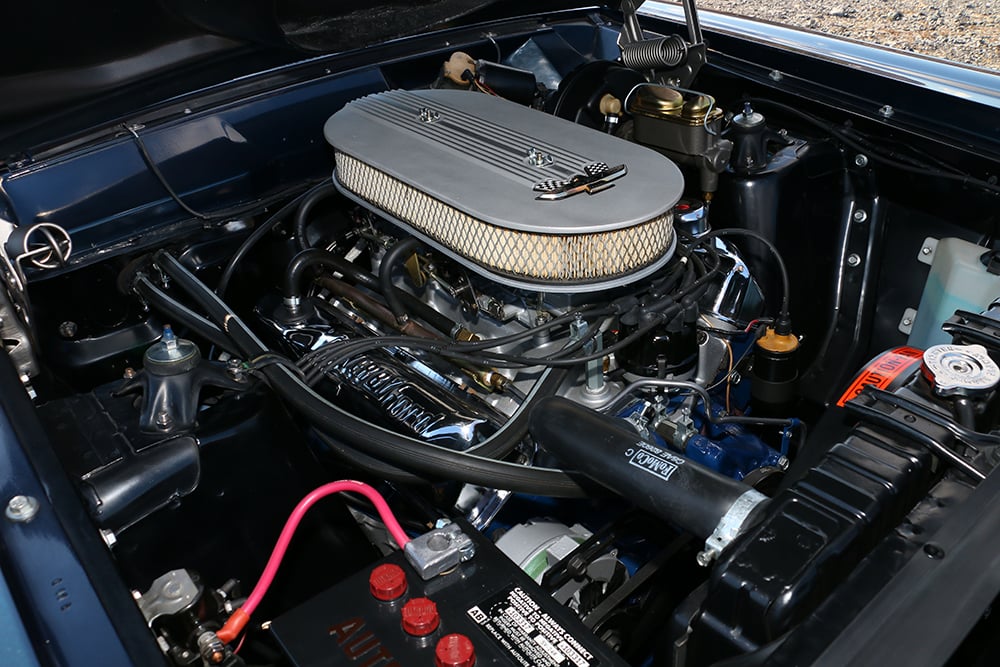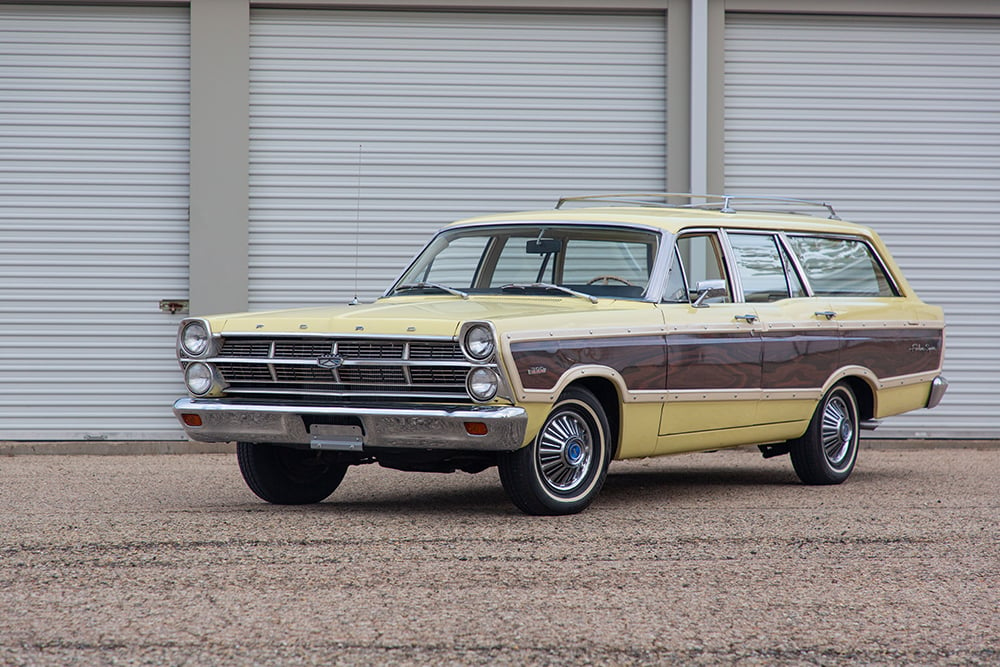 Here's a fifth generation 1967 Fairlane Country Squire wagon that is believed to have just 66,000 miles. A 390 CI big-block V8 and three-speed automatic transmission propels the Country Squire in effortless style and grace.
Sixth Generation: 1968-1969 Ford Fairlane
Dimensions and exterior styling changed once again for these two years. The headlights went horizontal. The car grew four inches in length and gained 200 pounds. A fastback Sportsroof model was made available for the Fairlane 500 level and for the new top of the line Torino, the new luxury badge for Ford's intermediate lineup.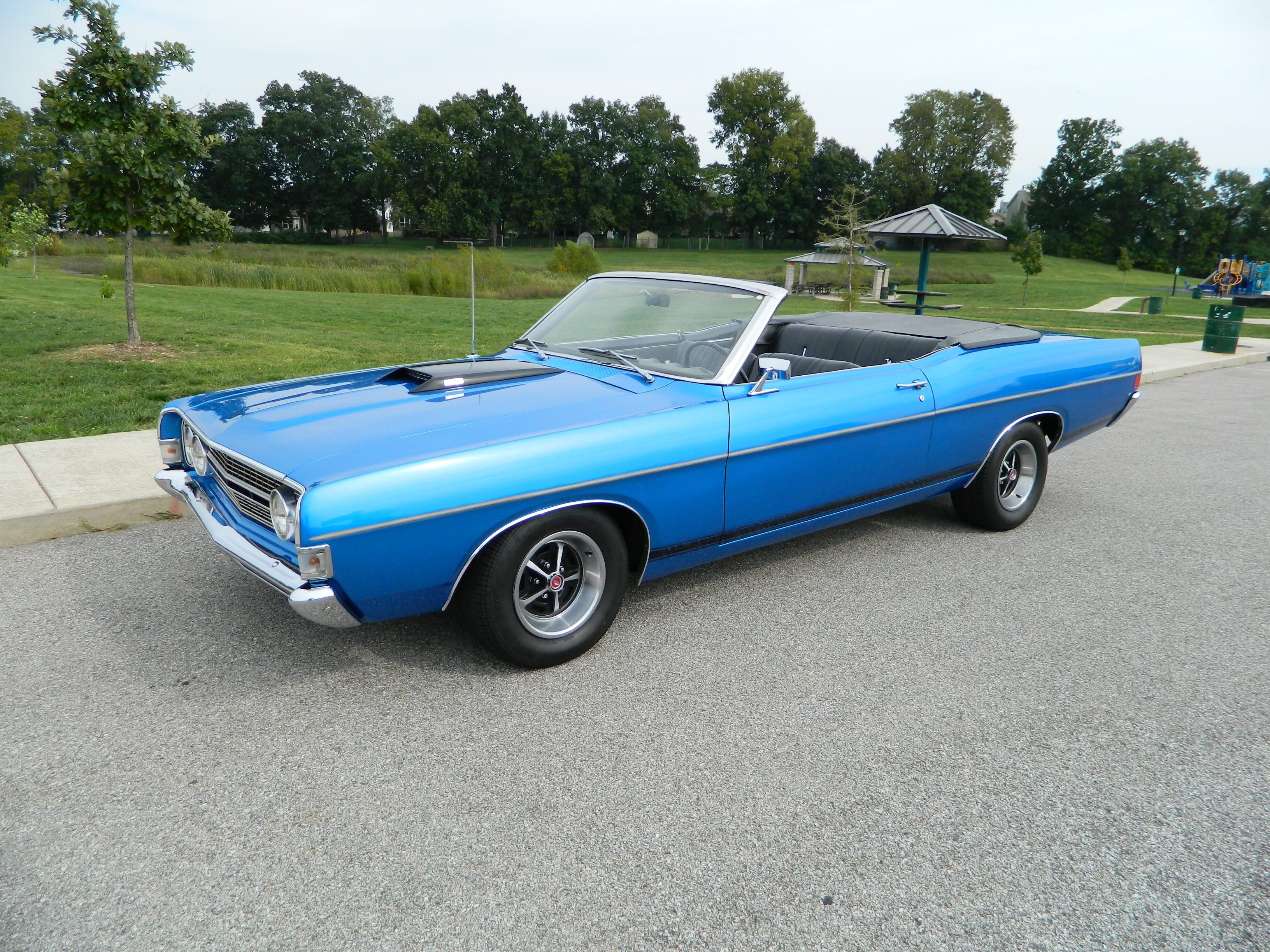 A medium blue hued sixth generation 1968 Fairlane 500 convertible, equipped with a 302 CI V8 and an automatic transmission, is an especially nice vehicle for top-down or top-up cruising.
Seventh Generation: 1970 Ford Fairlane
Exterior styling changed to rounder and more aerodynamic for this, the last year of the Fairlane 500. The luxury and sporty Torino went on to have its own series of models for the next several years, just as the Galaxie did in 1959. Throughout its 15-year production run, the Ford Fairlane was a sales, engineering, design, and performance tour de force.
More Ford History Articles
If you love classic Ford vehicles, check out some of our articles about the history of other Ford models:
Need Ford Fairlane Restoration Parts?
Whether you're restoring or restomodding your Fairlane, there are plenty of parts available to help you in the process at Classic Industries. Simply follow this link to Shop Ford Fairlane 1955-1970 Parts.