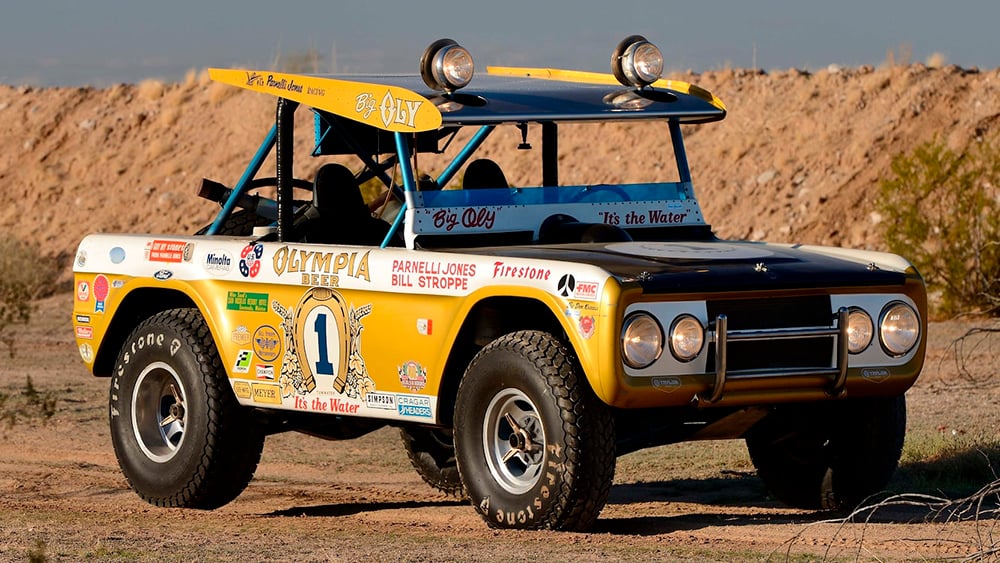 Photos courtesy of Mecum Auctions, Inc.
The 1969 Ford Bronco in the lead photo is affectionately named "Big Oly" for obvious reasons. Drivers Parnelli Jones and Bill Stroppe won with Big Oly in the 1971 Baja 1000, the 1972 Baja 1000, the 1973 Baja 500, and the 1973 Mint 400. The Bronco was built to Parnelli Jones' specs of being stronger, lighter, and faster. With its chrome moly tubed space frame and fiberglass and aluminum bodywork, Big Oly has a dry weight of 2,620 pounds. The go fast part is achieved with a 351 CI Ford Windsor V8 that makes 390 horses on high-octane racing fuel. Giddy up!
Before the professional sports acronym G.O.A.T. meant Greatest Of All Time it was the internal project name of the Ford Bronco and stood for "Goes Over Any Terrain." Having the advantage of looking through the 20/20 lens of hindsight that project code name was very apropos. If you also had some pretty sharp individuals like Lee Iacocca and Donald Frey intimately involved with the project, there was a pretty great chance that G.O.A.T. would be successful. History tells us that these are the very same two Ford employees who developed and created the magnificent Mustang behind Henry Ford II's back. They also assisted Carroll Shelby with the Ford GT40 program that enabled Ford to beat every automotive manufacturer, including Ferrari, at the 1966 24 Hours of Le Mans endurance race, and also in 1967, 1968, and 1969.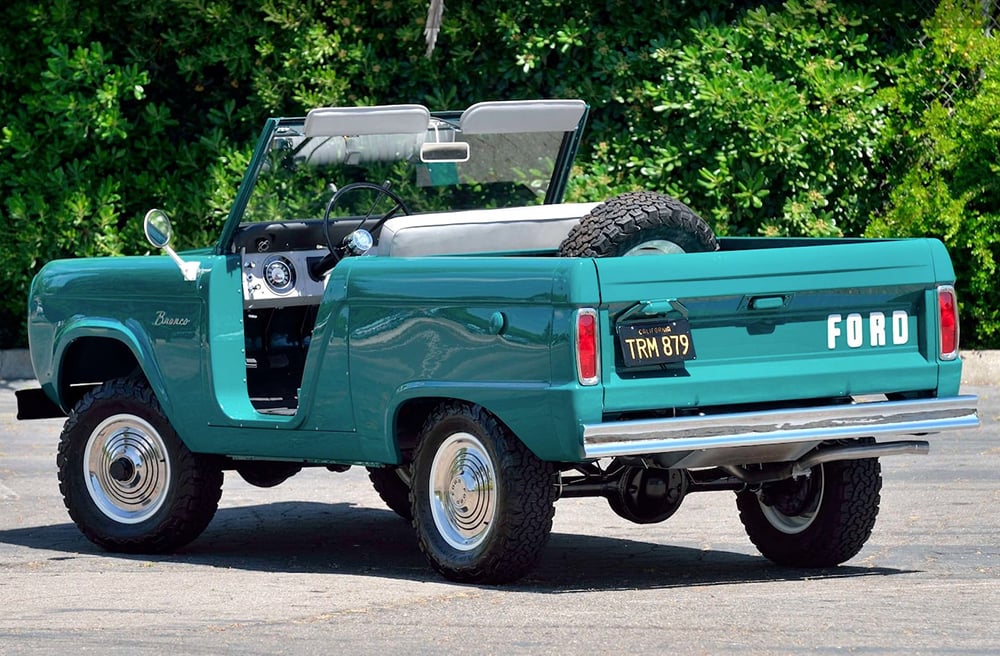 This 1966 Bronco U13 roadster is one of 4,090 produced that year. With body and paintwork by Jim Lunsford of the Black Hawk Museum in Danville, California, a frame-off nut and bolt restoration was completed in 2018. The Bronco's powered by its original, rebuilt 170-cubic inch straight-six cylinder engine that makes 105-horsepower.
After Ford hit such a towering home run with the Mustang, they wished to recreate the magic with another sporty vehicle. Ford market research showed that people were snapping up surplus World War II Jeeps and using them for off road escapades. Jeeps were pretty crude, utilitarian vehicles. Ford's designers and engineers wanted to create a vehicle that had every bit of the performance comportment of the Jeep, but offered much more in terms of creature comfort and even style. With the envisioning of the Bronco, Ford's team also coined the term of an all-new automotive category, the "sports-utility vehicle" or SUV for short.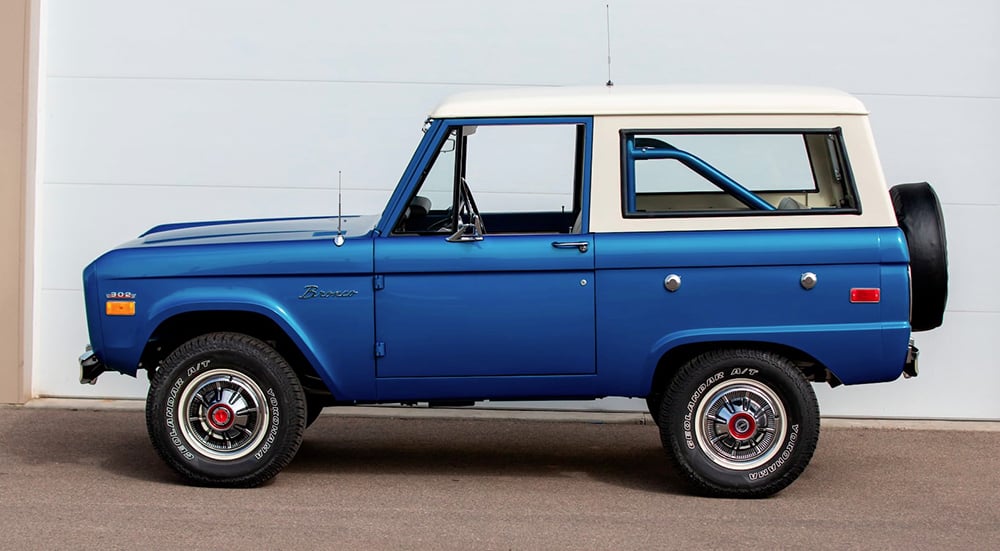 Someone honored this 1971 Bronco with a rotisserie nut and bolt body-off restoration, returning it to stock form. The 302 CI V8 engine has an Edelbrock intake manifold and four-barrel carburetor, as well as coated headers. It's backed by a column-shifted three-speed manual transmission.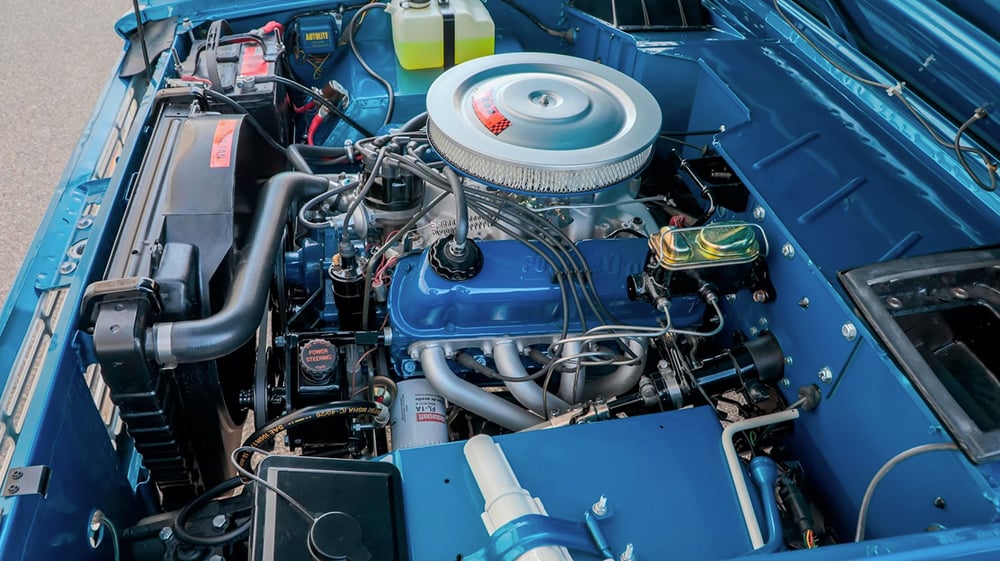 First generation (1966-1977)
In terms of wheelbase at least, the first generation of the Bronco was short indeed. At the start, the Bronco had its own body on ladder frame design with just a 92-inch wheelbase. In comparison, this measures a scant two inches longer than the 1962-1967 Shelby Cobra two-seater sports car and three inches shorter than the 1966 Ford GT40 Mk II two-seat race car that won at Le Mans, the 24 Hours of Daytona, and the 12 Hours of Sebring in 1966.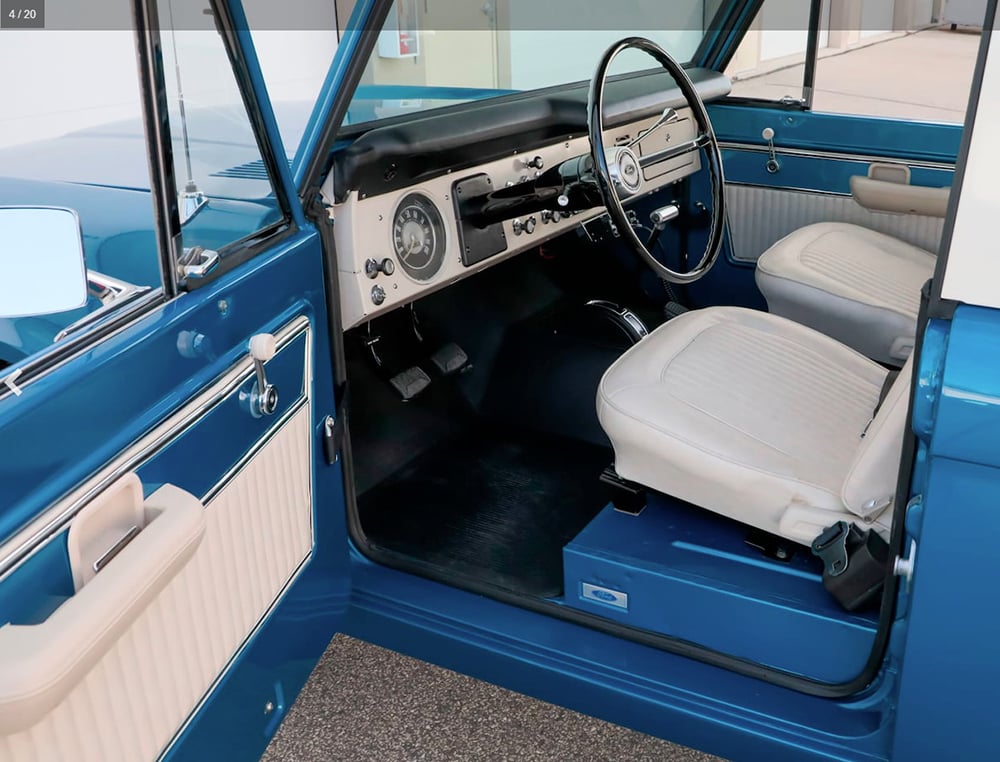 The interior is white, while the roll bar is painted blue. The paintwork wears its original color combination, but this time with base/clear coats of BASF glasurit paint.
Though diminutive in size, the Bronco was long on looks and performance. It was built to compete with the Jeep CJ-5, the Toyota Land Cruiser, and the International Harvester Scout.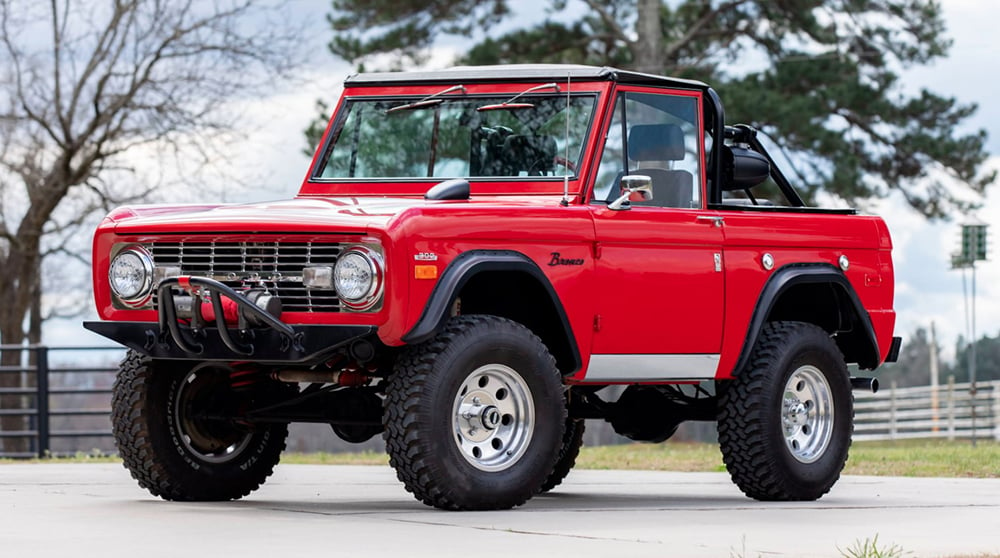 Having a 12-inch lift and wearing 35-inch tires, this 1971 Bronco sports a 302 CI V8. The engine has Holley fuel-injection, and is backed by a three-speed automatic transmission. A bikini top, winch, and hood tach completes the package that screams off road mayhem or on road urban street menace with style aplenty.
By September of 1965, the 1966 Bronco first became available in Ford dealer showrooms. The world's first SUV was initially powered by a straight-six engine with 105-horsepower, which was transferred through a three-speed manual column shift transmission. Equipped with part-time four-wheel drive, one could choose from three body styles: a roadster, a hardtop, or a pickup.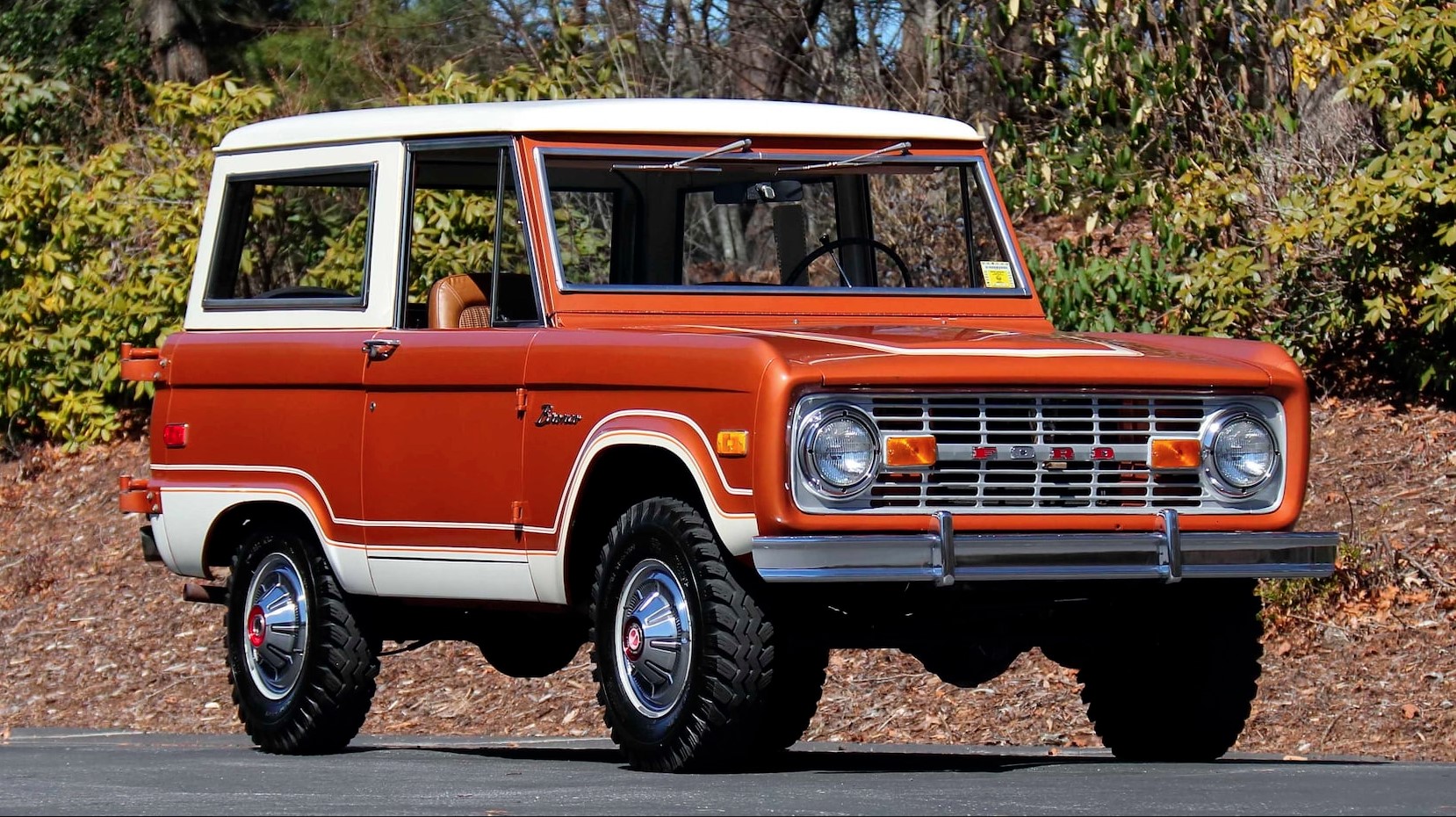 Believe it or not, here's a 1975 Bronco that is unrestored and has 3,150 original miles. The Bronco has its matching numbers 302 CI V8 engine and three-speed column shift manual transmission. Original Hot Ginger metallic paint adorns the exterior and elements of the interior.
By March of 1966, a 289-cubic inch V8 engine that made 200-horsepower became available. Ford enlarged the 289 to 302 cubic inches and made that the V8 powerplant throughout the Bronco's first generation from the 1969 model year onward. A 200 CI inline six supplanted the 170 cubed six in 1973 as the standard offering through to 1977 as well.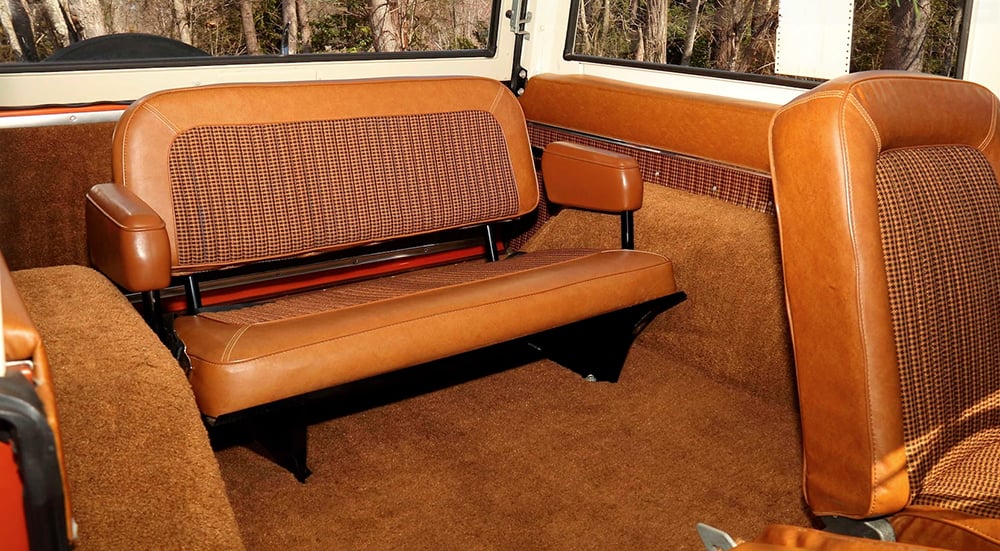 The Ginger interior with plaid accents appears factory new, as does the rest of this pristine, time capsule 4x4!
As a result of consumer demand, a three-speed automatic became optionally available from the 1973 model year forward.
Second generation (1978-1979)
Since the Bronco's competitive playmates were all full-size SUV beasts, Ford decided to enter the fray with a full-size Bronco of its own. Based upon the F-100 truck chassis, but a foot shortened, the second gen Bronco was a foot longer than its predecessor, now measuring 104 inches. The engine choices were limited to V8's these two years. Ford had a 351 with a two-barrel carburetor producing 156-horsepower in 1978 and 158-horsepower with 262 ft.-lbs. of torque for 1979. Or you could choose a 400 CI mill that made similar horsepower and a bit more torque at 277 ft.-lbs. There were two four-speed manual transmissions offered and the heavy-duty C6 three-speed automatic.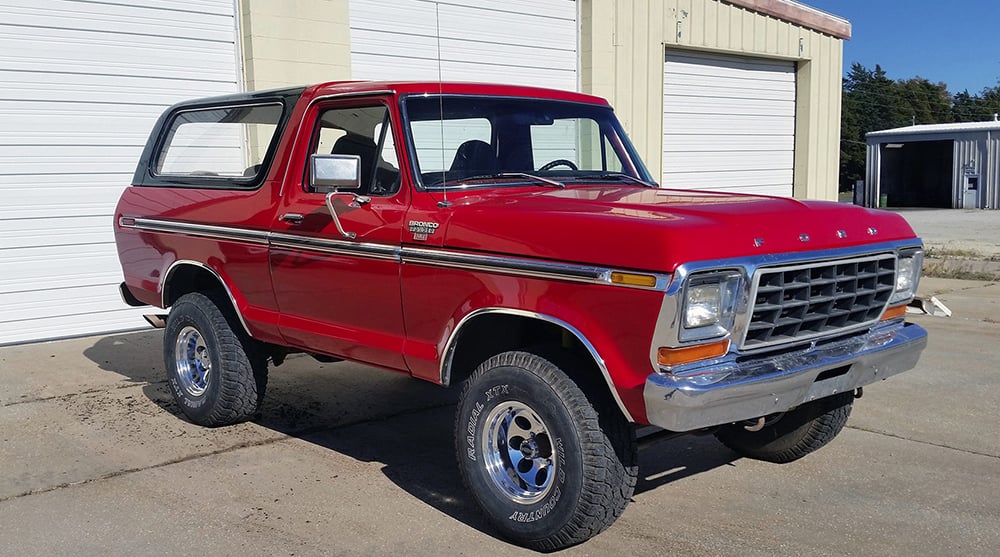 1978 was the first year of the larger, second generation Bronco. This one is powered by a rebuilt 400 CI V8 engine and is backed by a four-speed manual transmission.
Third generation (1980-1986)
Though the third gen Bronco had the same length wheelbase, it had an all-new chassis with both transfer cases replaced by a New Process 208 version. A Dana 400 front axle with Ford's Twin Traction Beam (TTB) independent front suspension and the legendary Ford nine-inch axle attached with leaf springs in the rear was the new foundation.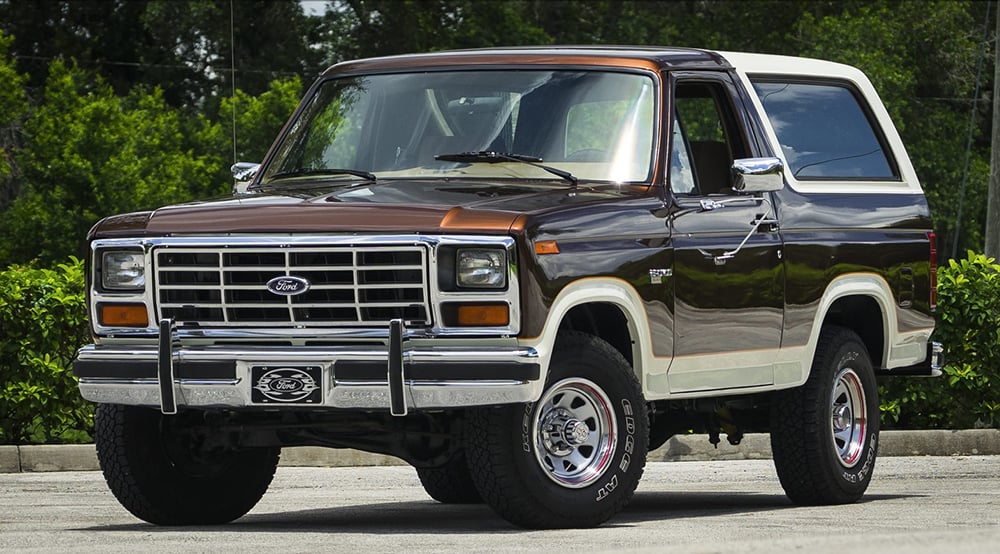 This Eddie Bauer edition, third generation 1986 Bronco is believed to have 13,500 original miles. The SUV has air conditioning, power steering, power brakes, power windows, power door locks, a tilt steering column, an upgraded AM/FM/CD stereo, and an automatic transmission. It's powered by a 5.8-liter high output V8 engine.
Fourth generation (1987-1991)
The fourth gen Bronco shared the front fascia of the F-Series Ford pickup. A new interior included a redesigned: steering wheel, door panels, dashboard and controls, instrument panels, and more comfortable front seats. At this time, Ford owned 50-percent of Mazda. So, they utilized a five-speed manual transmission from Mazda's parts bin as one of the transmission offerings for backing the 300 CI inline-six offered for this generation Bronco. Back again was the 302 V8 from the first generation. Ford also provided the 351 Windsor V8 during these years.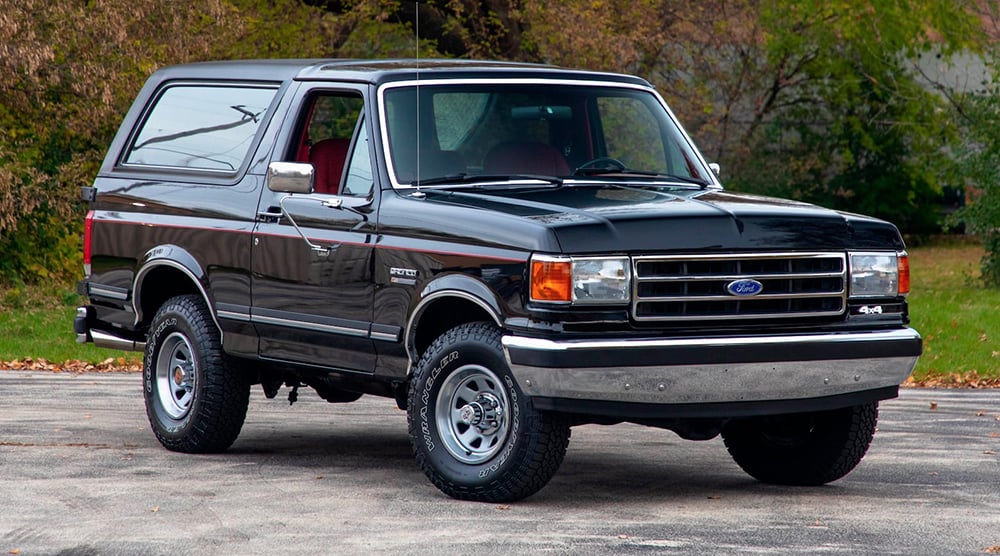 Wearing its original rare color combination of black exterior over red interior, this unrestored 1990 fourth generation Bronco has a 5.8-liter V8 and an automatic transmission. The factory air conditioning has been upgraded with R134A refrigerant by Advance Auto Air.
Fifth generation (1992-1996)
Following the design theme of the ninth-generation Ford F-150, the fifth generation Bronco received a facelift, with a slightly rounded more aerodynamic front, a larger grille, headlights, and front bumper.
Ford discontinued the Bronco after 1996, replacing it with the four-door Expedition in 1997 to better compete with the Chevrolet and GMC Suburban and the Chevy Tahoe / GMC Yukon.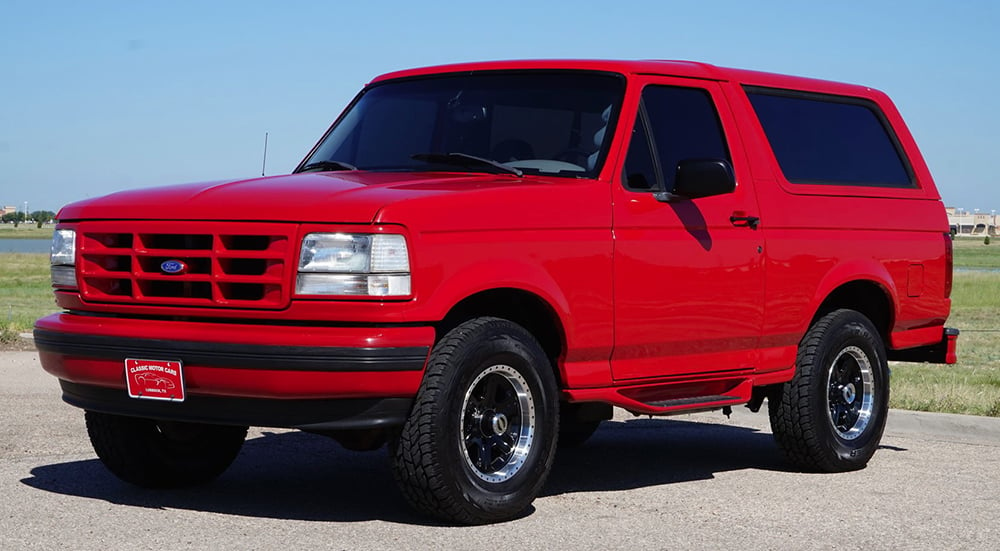 Renovated with Bright Red PPG paint and a new gray cloth interior, this 1995 fifth generation Bronco has a Ford 302, electronic fuel injected V8 engine, automatic transmission, and air conditioning. We like it!
As proof of the Bronco's enduring appeal, sixth generation two-door and four-door Broncos are coming out this year from the Ford Motor Company (2021)! If you have a 1st gen, 2nd gen, 3rd gen, 4th gen, or 5th gen Ford Bronco, Classic Industries has the parts that you need to get the project finished. With the help of Classic Industries, the Bronco "Goes Over Any Terrain" (G.O.A.T)! Simply follow this link to Shop Ford Bronco 1966-1996 Parts.