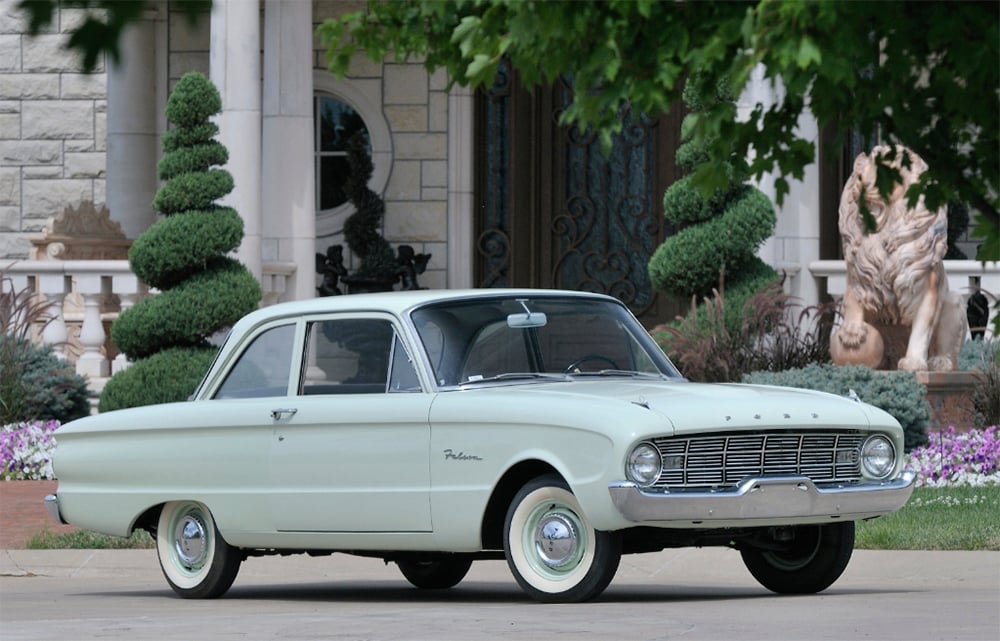 Photos courtesy of Mecum Auctions, Inc.
The Ford Falcon was introduced on September 2, 1959, a full month ahead of its American foes, the Chevrolet Corvair and the Plymouth Valiant. Ford's extensive market research is what led to the Falcon's promising creation. Read on as we take a look back through Ford Falcon history, and learn how it influenced the development of other popular models such as the Mustang.
Ford Falcon History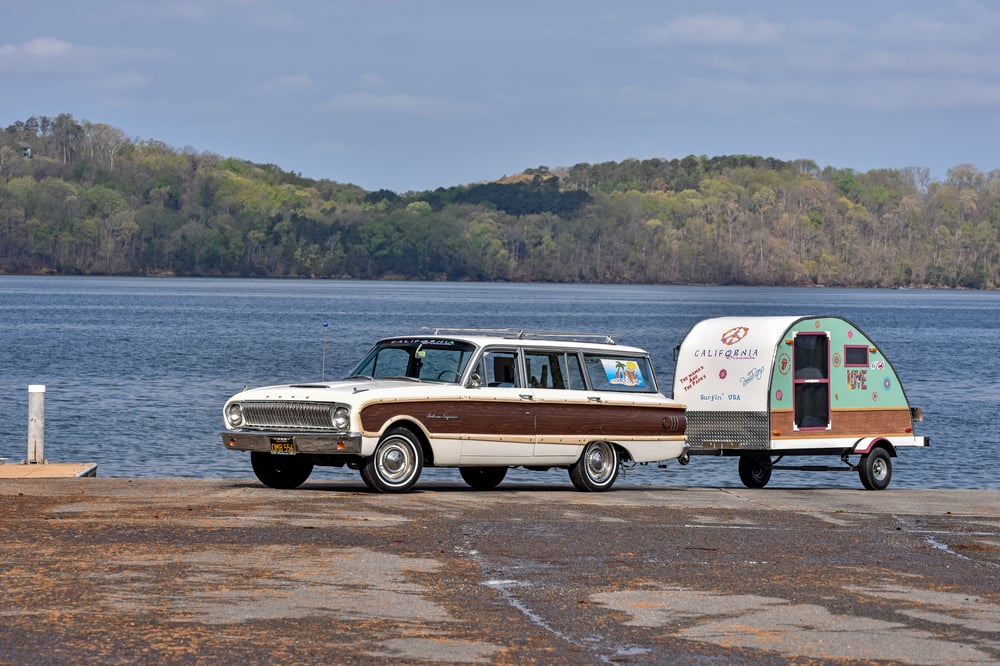 This California black license plate 1962 Ford Falcon Squire station wagon is powered by a 200 ci straight-six engine. It was sold with the teardrop trailer at the Mecum Monterey Auction in 2016.
After buying one of the "bigger is always better" gas-guzzling American automobiles of the 1950's for a first car, families were interested in purchasing a more economical and smaller second car. Rather than have all those consumers purchasing German Volkswagens and Japanese Toyotas, the Big Three domestic car companies were determined to keep customers buying American.
Ford executives were so keen about the Falcon's sales prospects that they forecast 650,000 units would be sold in its first full year of production. Though it didn't achieve that lofty goal, a solid 456,703 Falcons were sold by the end of 1960. Falcon was Ford's best-selling automobile that year.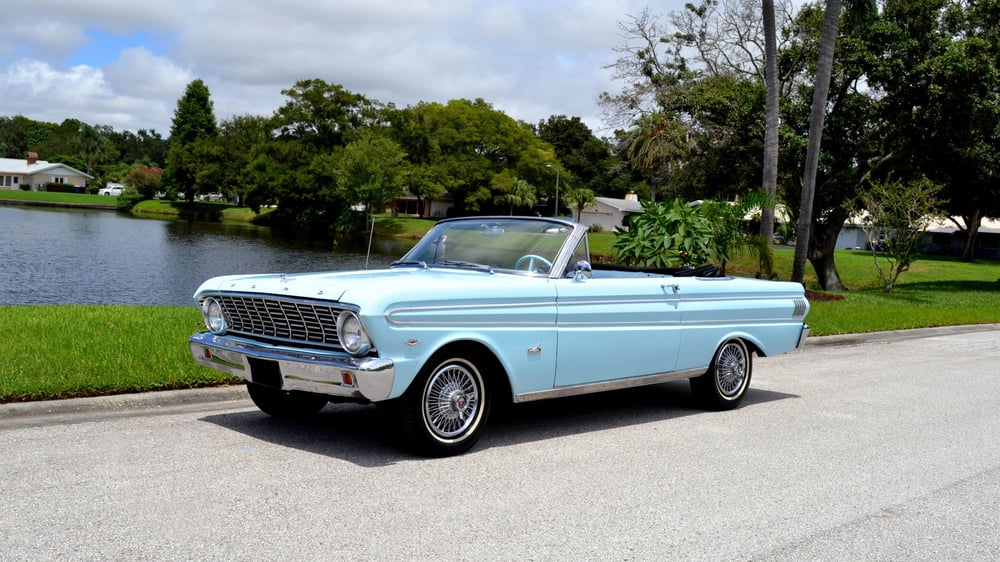 This powder blue 1964 Ford Falcon convertible sports a 260 ci V8, power steering, and an automatic transmission.
A 144 cubic inch straight-six cylinder engine powered all 1960 Falcons. Customers could purchase a four-door sedan, a two-door station wagon, a two-door sedan, a four-door station wagon, or a Falcon Ranchero pickup. The six-cylinder engine achieved a thrifty 25 to 30 miles per gallon in fuel consumption, but was low on power. Ford solved this by adding another six to the engine mix in 1961 that had a larger, longer stroke, displaced 170 ci, and upped the horsepower to 101 from 90. In successive years, Ford added another straight six of 200 ci, a 260 ci V8, which was a bit later replaced by a 289 V8, and then superseded by a 302 ci V8 at the end of its history.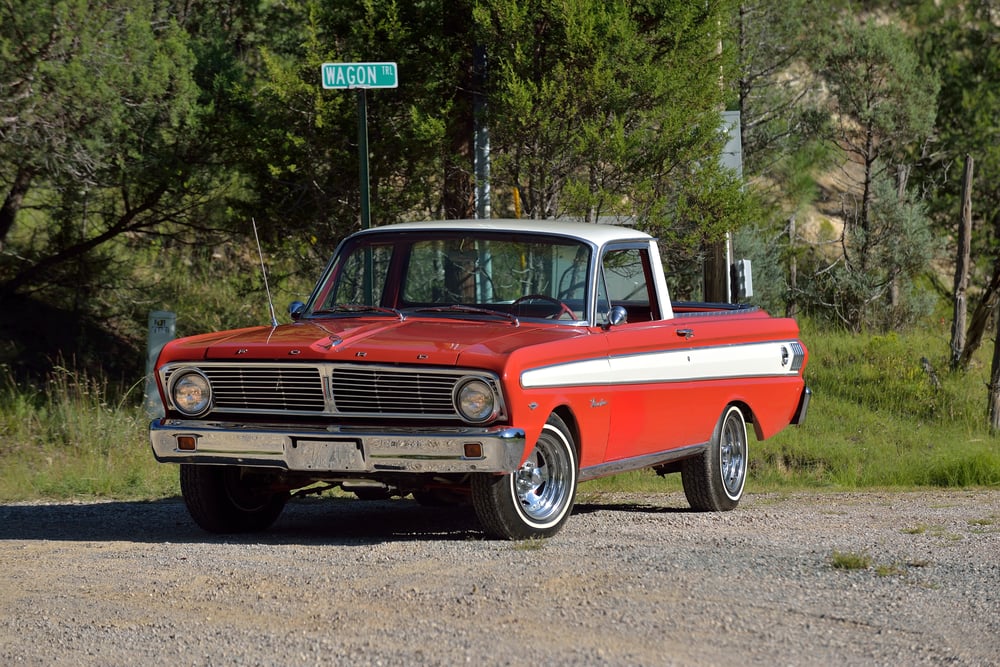 From 1960-1965, the Ford Ranchero was a compact car. This one is a 1965 Ford Falcon Ranchero that is powered by a 289 ci V8 and backed by an automatic transmission.
The Falcon is of unibody construction, in which the body and frame structure are considered one piece. This makes for a nice compact package that offers great road handling and safety benefits, since unibody cars are lower to the ground and have more safety crumple zones incorporated into the car's construction than body on frame automobiles.
Ford Falcon Generations
During the American Ford Falcon's 10.5 years of history, there were 3.5 distinct generations of the model. The 1st generation spanned 1960-1963. The 2nd generation occurred from 1964-1965. Years 1966-1970 were the 3rd generation. Ford used the Falcon name for the low priced, mid-size Ford Fairlane, which created a subseries just in 1970, hence the ½ or .5 designation for this last, brief iteration of the Ford (Fairlane) Falcon.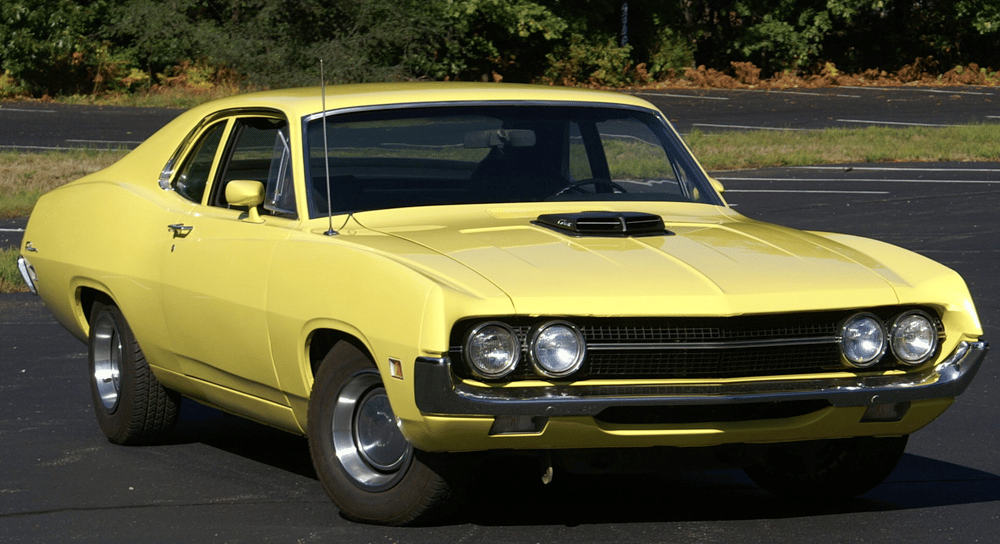 This 1970.5 Ford Fairlane Falcon is one of 90 produced with a 429-4V SCJ Ram Air engine and the drag pack. Just 52 were equipped with four-speed manual transmissions like this one.
The Falcon & The Mustang
As most know, the 2nd generation Falcon was the unibody basis for the famous Ford Mustang. The 1964.5-1965 Mustang and 2nd generation Falcon share virtually all of their chassis components. Regrettably, the Mustang stole much of the Falcon's market share and galloped away with it. The American Ford Falcon went out of production after 1970½.
More Ford History Articles
Fans of classic Ford vehicles should be sure to check out some of our articles about the history of other Ford models:
Looking for Ford Falcon Restoration Parts?
If you own a Ford Falcon, you can get many of the restoration and maintenance parts you need from Classic Industries. Simply follow this link to Shop Ford Falcon 1960-1970 Parts.