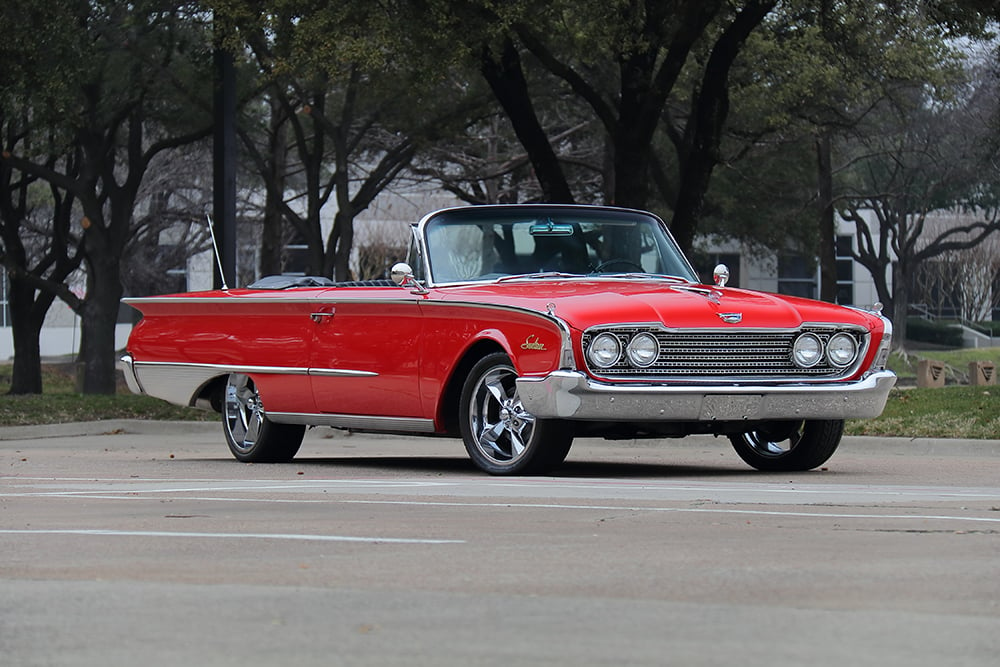 Photos courtesy of Mecum Auctions, Inc.
Ford's marketing team named the full-size Ford the Galaxie. This was an effort to capture some interest in the car with an association to the Space Race that held the attention of the U.S. during the 1950s and 1960s. For the 1959 model of the full-size Fairlane 500, the top of the line Galaxie name was added. The Fairlane models moved to an intermediate platform in 1962. Galaxie now encompassed the full-sized Ford offerings. Read on as we examine Ford Galaxie history across four generations from 1959-1974.
Ford Galaxie History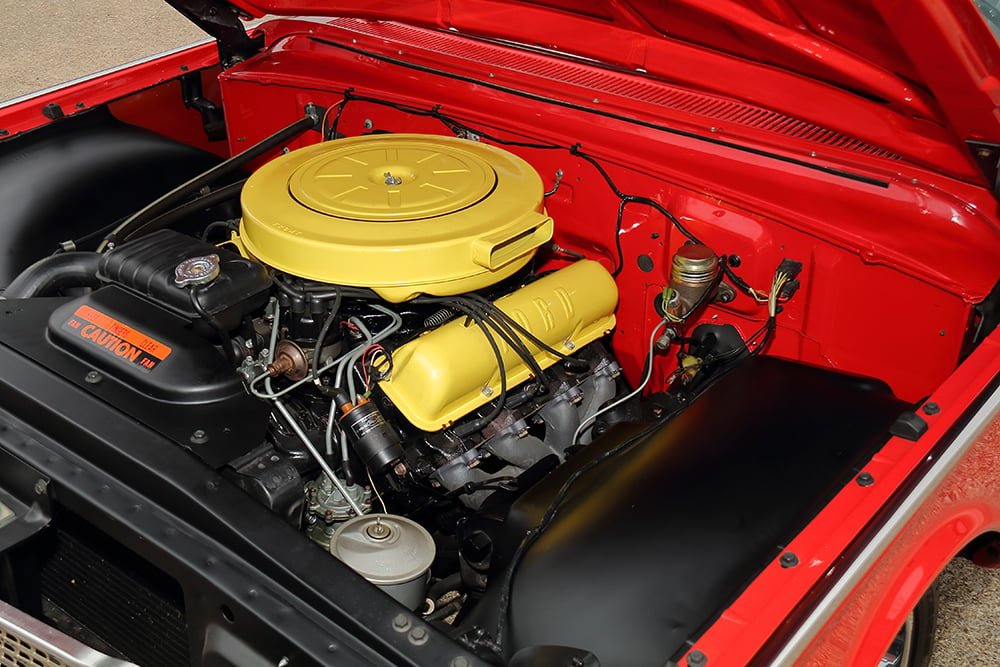 The lead photo is of a second generation, 1960 Ford Galaxie Sunliner convertible that is powered by a 352-cubic inch V8 engine that is topped by a four-barrel carburetor and backed by an automatic transmission.
First Generation: 1959 Ford Galaxie
As with other cars from the period, the 1959 Galaxie was adorned with stainless steel and chrome, could come with optional two-tone paint, and had exterior styling and interior trim that evoked the aforementioned Space Race. Especially with the lights on, the large round taillights looked like red-hot rocket after burners. If you selected the top of the line 352-cubic inch V8, you had 300 horses at the ready. Step on the go pedal, and it felt and sounded like you were in a rocket.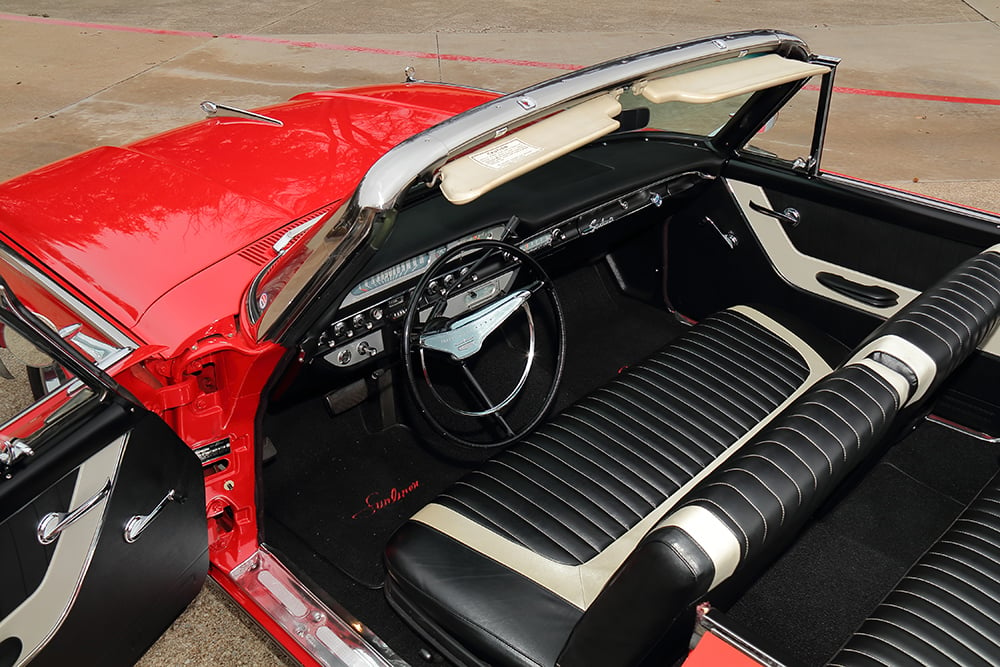 This Sunliner has a power convertible top, a tinted windshield, a split bench front seat, and a pushbutton AM radio. What more could you ask for from a convertible on a sunny day?
If you wanted to enjoy top down motoring, there were two choices: a Sunliner convertible or a Skyliner that had a retractable hardtop. The Skyliner was a mid-1950s feat of engineering, with hydraulic arms and electrical switches, wiring, and components operating this complicated, large, and heavy retractable steel and rear windshield glass roof. Mind you, the roof didn't fold. It merely dropped into the trunk, taking away the vast majority of space in the process. Also available were a two-door sedan, a four-door sedan, a two-door hardtop, and a four-door hardtop.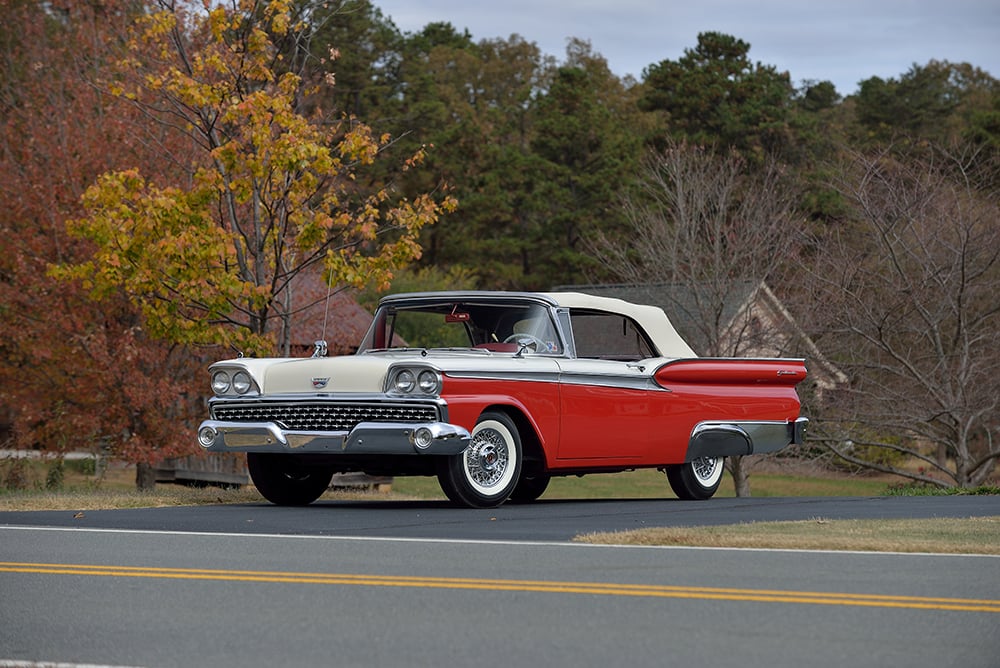 This first generation 1959 Ford Fairlane 500 Galaxie Sunliner convertible runs super fine with a 292 CI V8 engine. It's an excellent example of a "square-design" Ford with the quad headlights and rectangular grille.
Galaxie engine choices included one straight six, three Y-block V8s, and two FE series V8s. Customers could back those engines with a two-speed automatic transmission, a three-speed auto, or a three-speed manual trans. The wheelbase was 118 inches, and had an overall length of 208 inches and width of 76.8 inches.
Second Generation: 1960-1964 Ford Galaxie
With a 119-inch wheelbase and 81.5 inches in width, the Galaxie grew a bit larger in its second generation. More modern engines replaced the earlier generation mills. A 289 small block Windsor V8 made the 272-ci Y-block a goner. New big-block V8s were added to the top of the available engine food chain, in the form of 390-, 406-, and 427-cubic inch FE series V8 powerplants. Exterior styling changed dramatically in 1960, again in 1961, a bit more subtly in 1962, and then with merely some new trim pieces and some very minor updates to the 1963 model. Ford gave the 1964 Galaxie's exterior a more carved and sculpted silhouette.
Despite this second generation 1961 Galaxie 500 Starliner having mag wheels, it's a bit of a sleeper in appearance. There's a 482 CI, 605-horsepower V8 that's backed by a six-speed manual transmission lurking beneath the hood.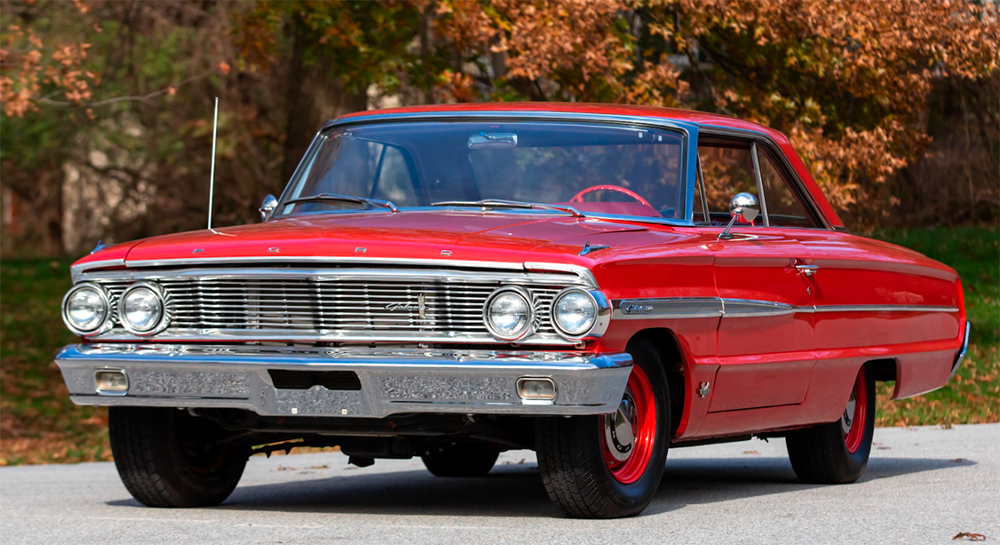 Here's a second generation 1964 Galaxie 500 that has its original 427 CI V8 and four-speed manual transmission. It's one of 2,450 factory R-codes manufactured in 1964.

Third Generation: 1965-1968 Ford Galaxie
For the mid-1960s, vertically stacked headlights were definitely a styling theme for several car companies. The 1965 Pontiac GTO had them, so did the all-newly styled Galaxie. Ford named the top model Galaxies the Galaxie 500 LTD and the Galaxie 500 XL. They replaced the 223-ci straight six with a modern six, the all-new 240-ci engine, while the 352-ci V8 received a four-barrel carburetor and a dual exhaust system.
The 1965 Galaxie interior received a new gauge cluster. Ford engineers also revamped the car's suspension system by replacing the rear leaf springs with a more modern three-link system that entailed the use of coil springs, which resulted in better handling and an improved ride. The model now utilized two keys, a square one for the ignition and front doors and a round one for the glove box and trunk.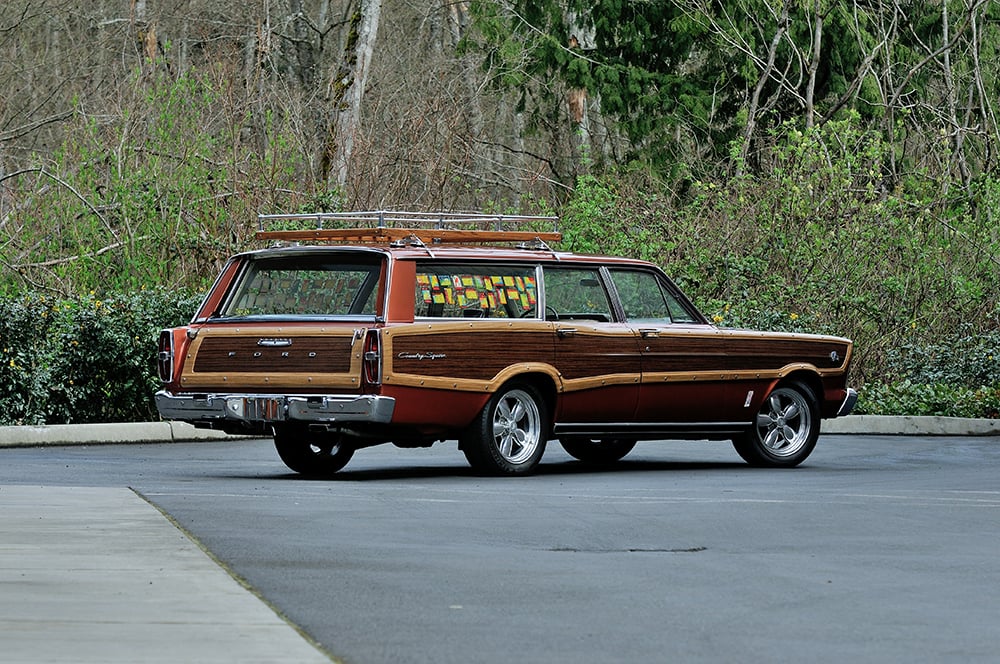 With its aftermarket American Racing wheels, a luggage rack on the roof, and faux wood Country Squire cladding, this third generation 1966 Galaxie Country Squire nine-passenger station wagon appears ready to go on a surfing safari. Cowabunga!
Ford stylists' introduced a major bend to the center of the 1967 Galaxie's grille, which made it look less boxy and more streamlined than the 1966's nose. Engineers introduced a dual brake master cylinder system that year, which was a huge safety enhancement for all Galaxies from that model year on.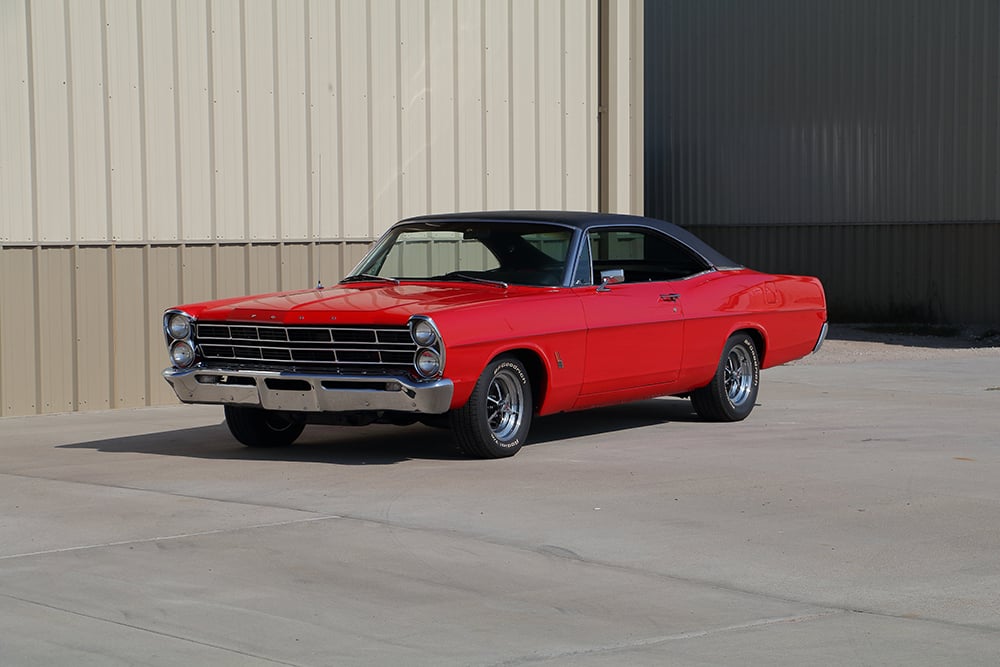 Some astute restoration professional performed a spectacular renovation of this third generation 1967 Ford Galaxie 500. The body's laser straight, while the fit and finish is sublime. It's powered by a 428 CI V8 that's topped with three deuces (carbs), and backed by a four-speed manual transmission. Sweet!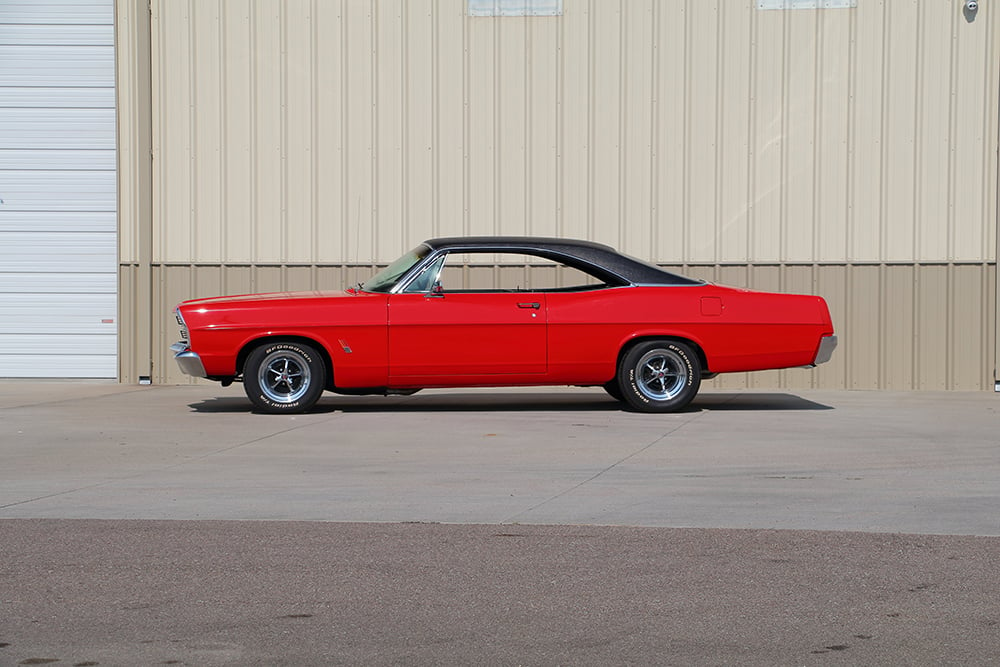 By 1968, the ever-popular vertically stacked headlights looked dated. Ford stylists put the lights back in a horizontal arrangement and also offered a hidden headlight option on some models.
Fourth Generation: 1969-1974 Ford Galaxie
In this generation of the Galaxie, the overall length of the model increased a smidge under an inch. Available engines included: 240 (six-cylinder), 302 V8, 351 V8, 390 V8, 400 V8, 429 V8, and a 460 V8. The 1969 Galaxie had a new chassis that had a 121-inch wheelbase. Hideaway headlights continued to be available on some of the models.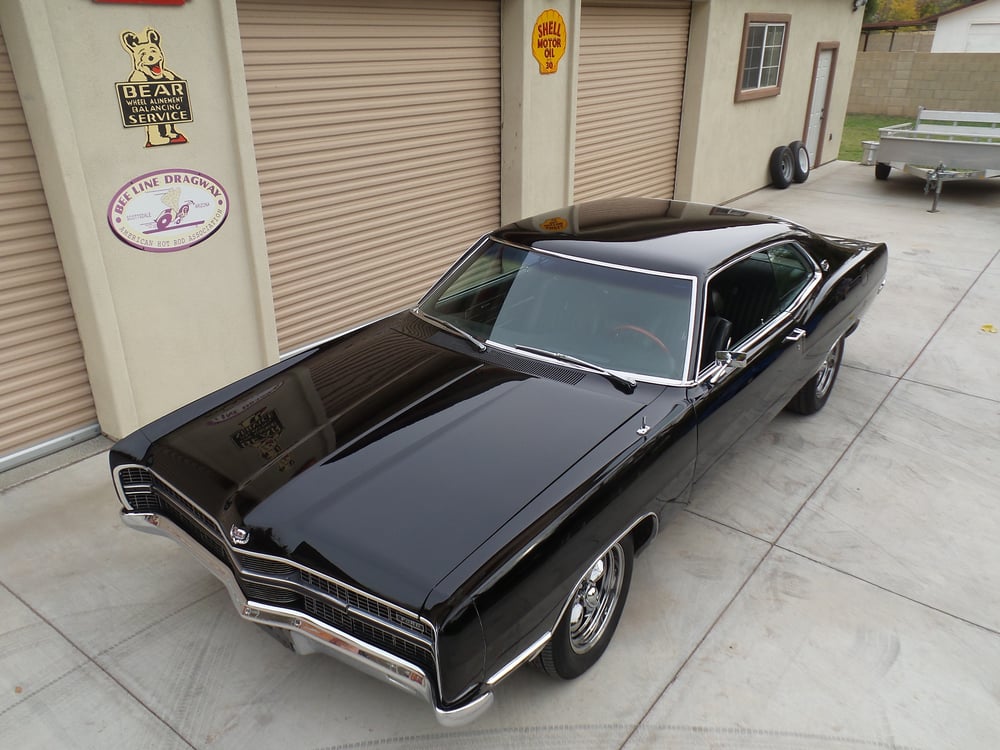 This fourth generation 1969 Ford Galaxie XL sports hideaway headlights, has a 429 CI big block V8 under the hood, and is backed by a four-speed manual trans.
From 1968-1978, full-size Fords and Mercurys were the second best selling Ford models to the venerable Ford Model T. Over those years, approximately 7.85 million cars were sold.
For the balance of years in this the fourth and last generation of the Galaxie, minor exterior styling changes occurred from 1970 through 1974. By the end of the 1974 model year, the Galaxie name faded and was fazed out at the same time that Ford promoted the more luxurious LTD as its mainstream full-size automobile. It's almost as if the Galaxie moniker fell into a black hole in space never to return.
More Ford History Articles
If you love Ford classic cars and trucks, check out some of our historical articles about other Ford models:
Need Ford Galaxie Restoration Parts?
If you have a Galaxie, there's quite a great chance that you'll find all the parts you need at Classic Industries. Simply follow this link to Shop Ford Galaxie 1959-1974 Parts.