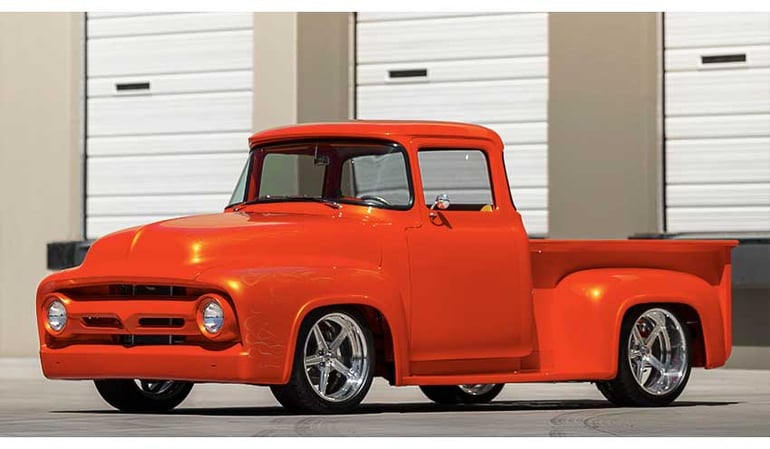 The Ford Motor Company first produced a pickup truck in 1917. The truck was called a Ford Model TT. It differed from the Model T passenger car by having a heavier frame and rear axle, which gave the truck a hauling capacity of one US ton (2,000 pounds). Ever since then, Ford has been building world-renowned pickup trucks, including the F-1, F-100, and bestselling F-150. Read on as we look back at Ford truck history from the early years through the modern F-Series.
Ford Truck History
1928-1931 Ford Truck History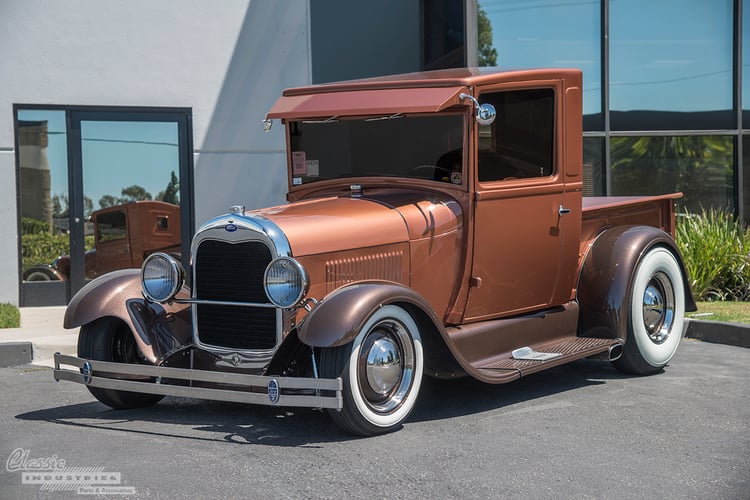 We photographed this Classic Industries customer's hot-rodded 1928 Ford Model AA outside our Retail Showroom in California. Click here to read our article about it.
The Model AA truck replaced the TT in 1928. Accordingly, the Model BB Ford truck replaced the Model AA in 1932, just as the Model B passenger car replaced the Model A passenger car in 1932. Ford also came out with the Ford Model 18 passenger car in 1932. This vehicle had the famous and innovative flathead V8 engine. Though both the TT and the AA trucks were only available with inline four-cylinder engines, the Model BB was available either with a four-cylinder engine as standard or the company's new flathead V8 mill as an option.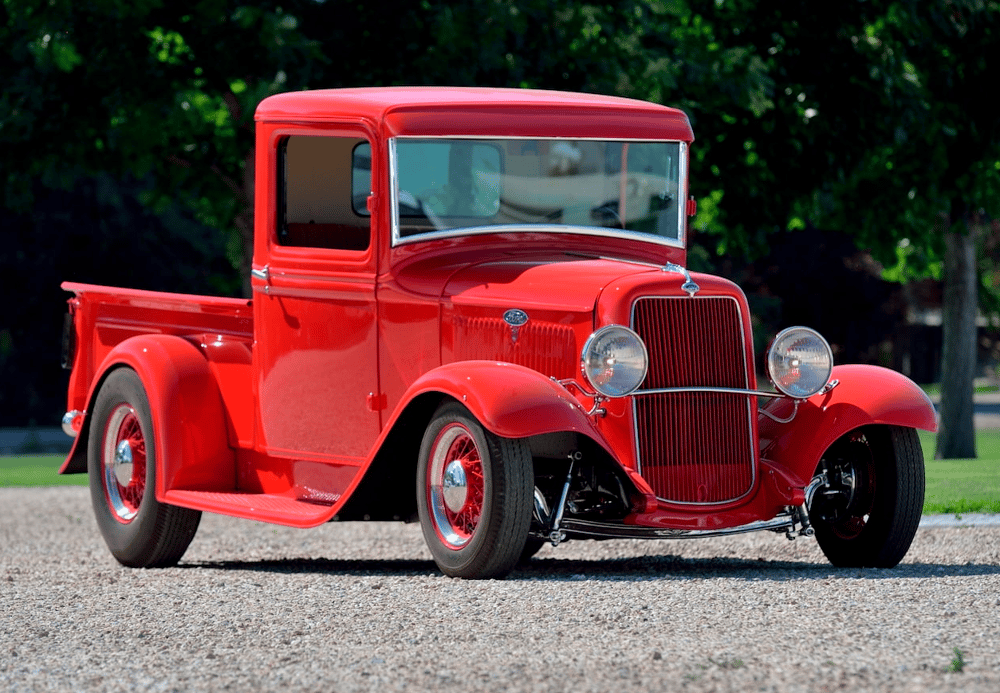 Photos courtesy of Mecum Auctions, Inc.
Can Am Champion, Trans Am Champion and famous Indy Car winning driver George Follmer, commissioned a no expense spared build of this 1934 Ford Model BB 1/2-ton pickup truck.
As automotive historians and auto enthusiasts know quite well, the Ford flathead V8 helped in no small way to usher in hot rodding, street rodding, and indeed the whole realm of automotive enthusiasm in the U.S. in the '30s, '40s, and into the present day. Here was a lightweight and potent engine with a small footprint that could be built to the hilt with some aftermarket hot rod parts, once those aftermarket companies came into existence mind you, like Edelbrock, Hilborn, Winfield, Stromberg, Isky, and etc. Shade tree mechanics and professional wrenches alike would then go to town with their creativity, blood, sweat, money, and tears to build some pretty sweet cars and trucks from junkyard car parts and new components.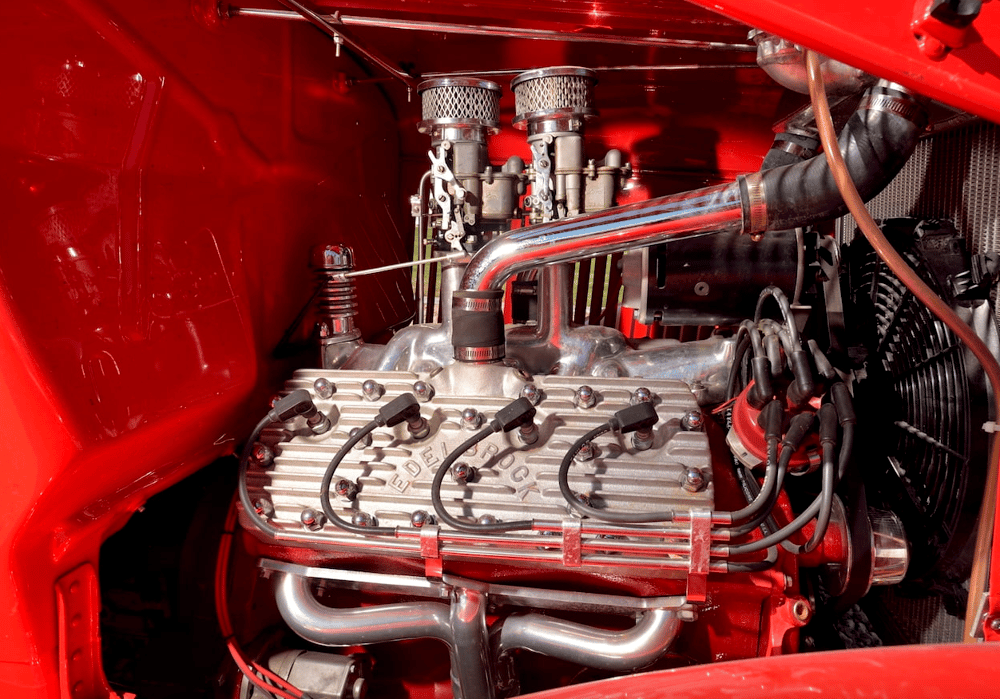 The Model BB truck is powered by a flathead V8 that has an Edelbrock aluminum intake manifold and heads, Sanderson headers, and an aluminum radiator with electric fan.
Enter Classic Industries. We now stock the restoration and performance parts and accessories you need to help you with your Ford Truck project for the 1932 Model BB to the best selling Ford F-150's through the 2017 model year.
1932-41 & 1946-47 Ford Truck History
From 1932-1939, Ford trucks were all car-based trucks that all had truck grilles that were distinct from the Ford passenger car grilles that changed every year. In 1940 and '41 Ford trucks had the same grilles and front fenders as their auto siblings.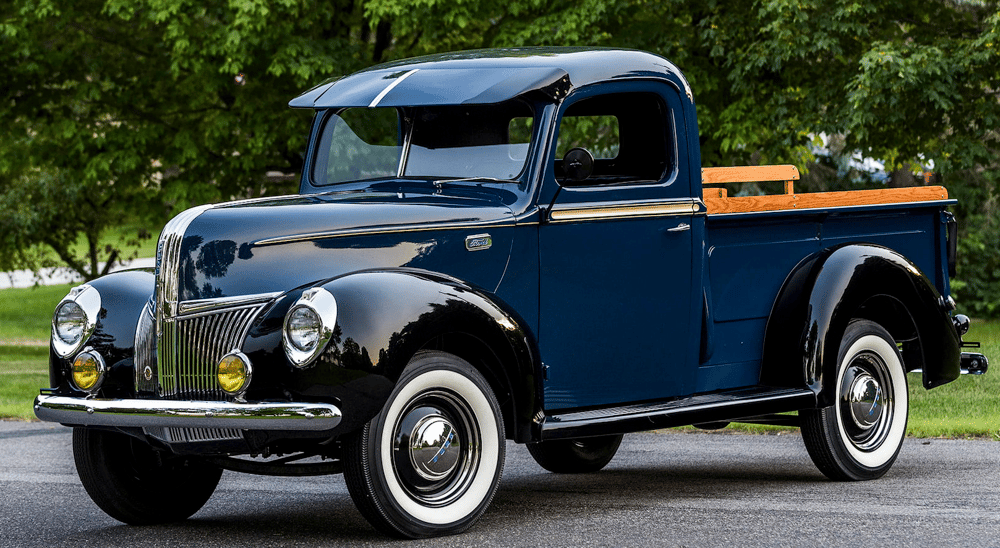 This 1941 Ford pickup received a comprehensive frame-off restoration. The pickup was refinished in its original Ford Blue with black fenders and is powered by a 221-cubic inch flathead V8 engine that produces 85-horsepower.
Production of commercial vehicles ceased from 1942-1945 for the Ford Motor Company (and other American vehicle manufacturers), in support of producing vehicles and machinery to assist in the war effort and winning WWII.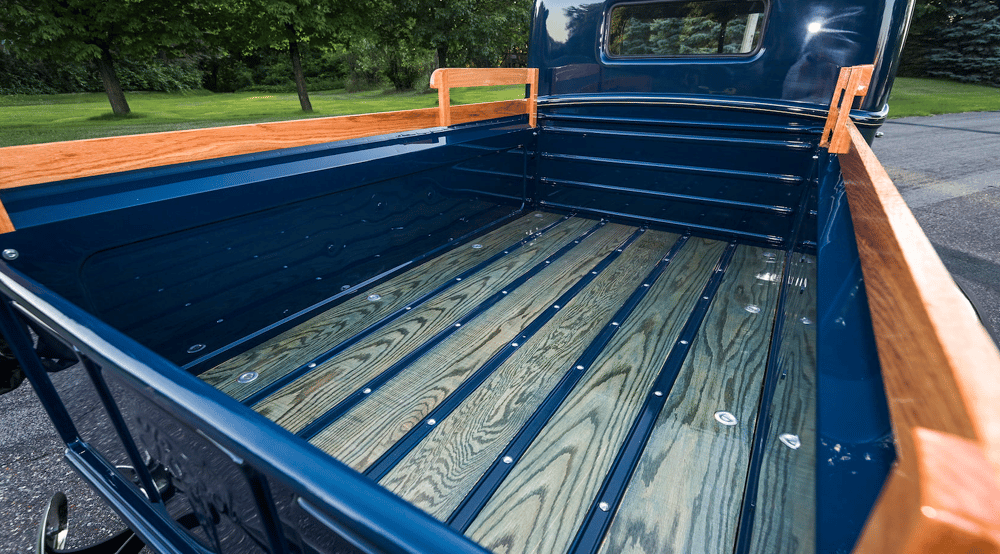 A wood plank floor and wood box rails finish off the bed of the 1941 pickup nicely.
After the end of the war, Ford gradually resumed production of civilian vehicles. 1946 and 1947 model year trucks remained virtually identical to their 1941 predecessors.
1948-1952 Ford Truck History - 1st Generation F-Series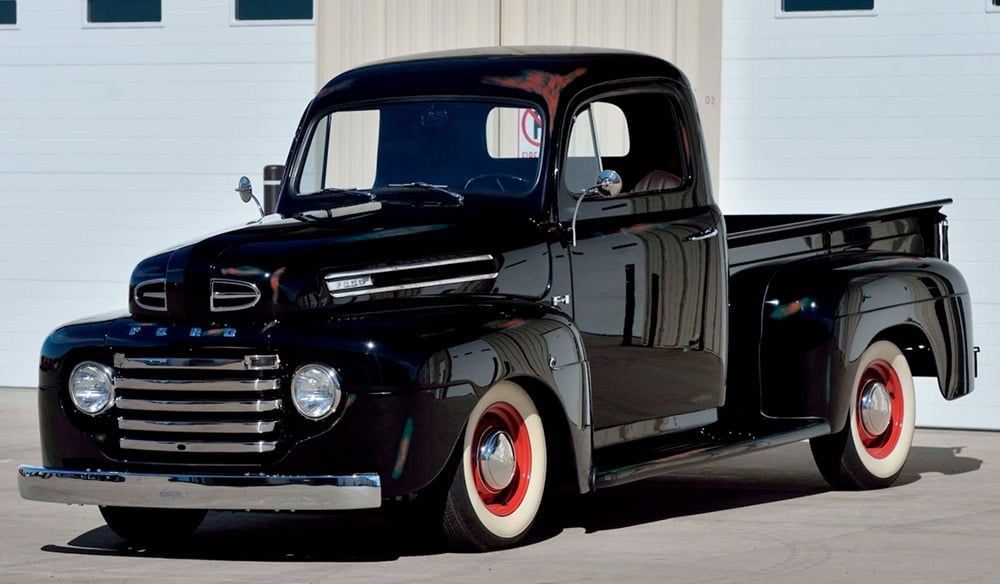 In 1948, the F-series featured a distinctive 5-bar grille and recessed headlamps, as seen on the example above. This '48 Ford F-1 resto-mod build is equipped with a Flathead V8, dual Stromberg carburetors, and MSD ignition.
The first-generation F-series pickup, also known as the Bonus-Built, replaced the pre-WWII car-based trucks. These new Ford trucks had eight different weight hauling classifications in pickup, cab-over engine (COE), panel truck, conventional truck, and school bus chassis body styles. Models were designated the F-1, F-2, F-3, and so on through the heavy-duty F-8.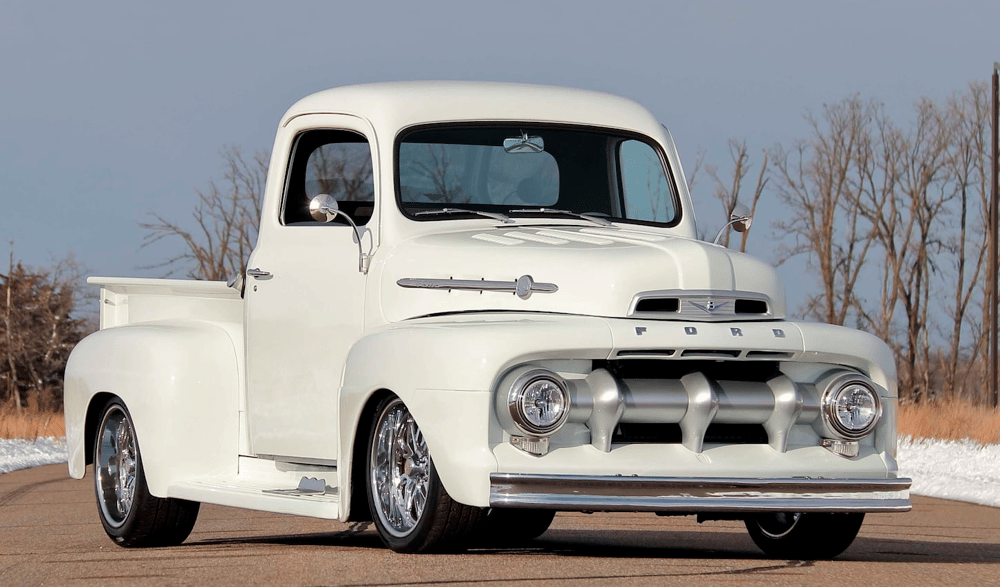 This almost snow white all-steel first of the F-Series is a 1952 Ford F-1. Power comes from a Ford 351 CI Windsor V8 that has been machined to accept the better breathing 351 Cleveland cylinder heads. Chrome 18-inch staggered US Mag Rambler wheels give the F-1 a perfect street rod stance.
1953-1956 Ford Truck History - 2nd Generation F-Series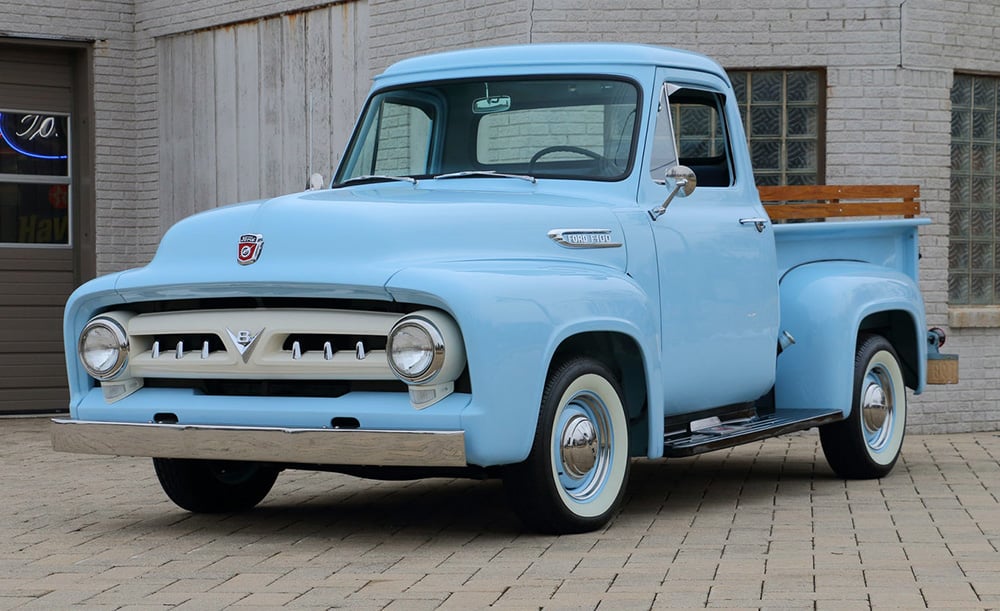 After a full frame-off restoration, this 1953 F-100 is truly beautiful. It features a 239ci Flathead V8 engine, 3-speed column-shift transmission, Glacier Blue paint, and wood bed rails.
Change meant improvements in three areas for the second generation F-Series: an updated chassis, increased dimensions for the cab, and better engines. The half-ton F-1 became known as the F-100, while the F-2 and F-3 became the ¾-ton F-250. The one-ton F-4 was named the F-350. In essence, three digits after the dash continue to be how Ford trucks are named to this day.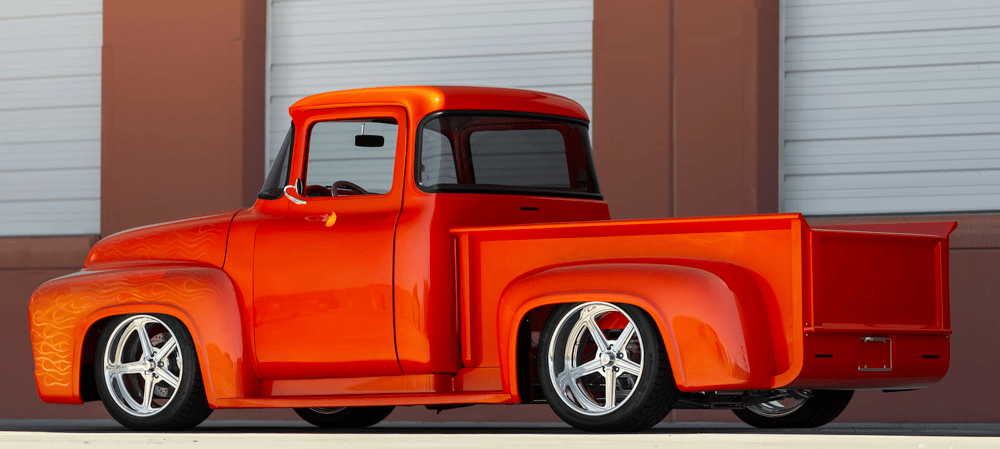 The above second-generation 1956 Ford F-100 wears a resplendent House of Kolor Ultra Orange Pearl base coat with Ultra Orange Pearl and Egyptian Gold Pearl flames, artfully applied by Jimmy Hartman from Oxnard, California's Hog Wild Creations.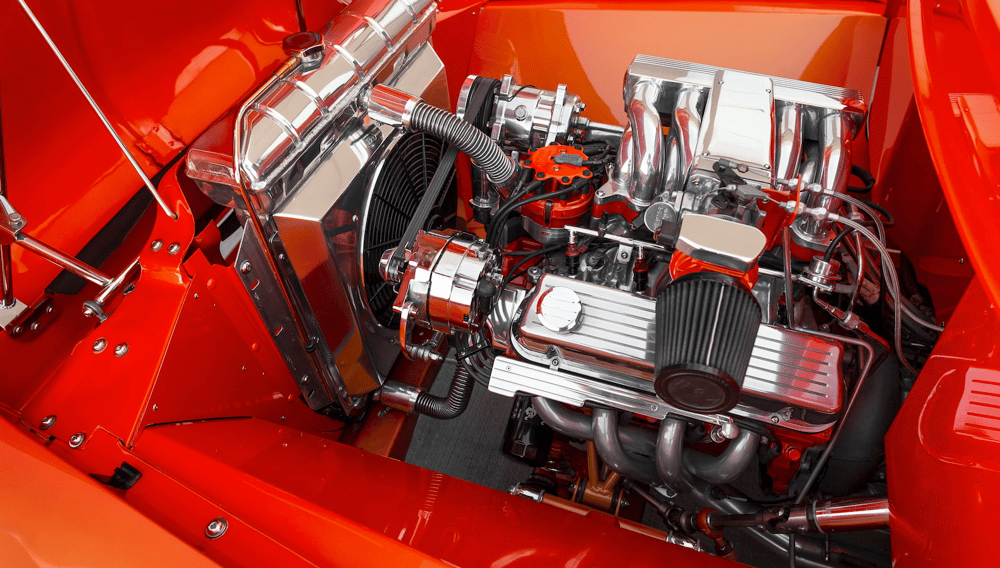 A Ford 351-cubic inch Windsor V8, assembled by Granatelli Performance, powers the '56 F-100. The engine features electronic fuel injection, custom headers and exhaust system with Flowmaster mufflers, and is backed by a Ford E40D automatic transmission with overdrive.
The 1953-1956 F-100's all have the same hoods, inner fenders, radiator supports, doors, and cabs. But the plot thickens for the 1956 Effie. It has a redesigned dashboard, an optional panoramic, larger rear windscreen, and different doors, offered seat belts as an option, and received a wraparound front windshield. The greenhouse grew in the '56, which gave the interior a more open feel and gave the driver a more commanding view.
1957-1960 Ford Truck History - 3rd Generation F-Series
With integrated front fenders and a new Styleside bed, the third generation Ford pickup now had a smooth appearance fore and aft. A tilt forward cab C-Series also replaced the discontinued cab-over F-Series. Ford also began in-house production of four-wheel-drive pickups.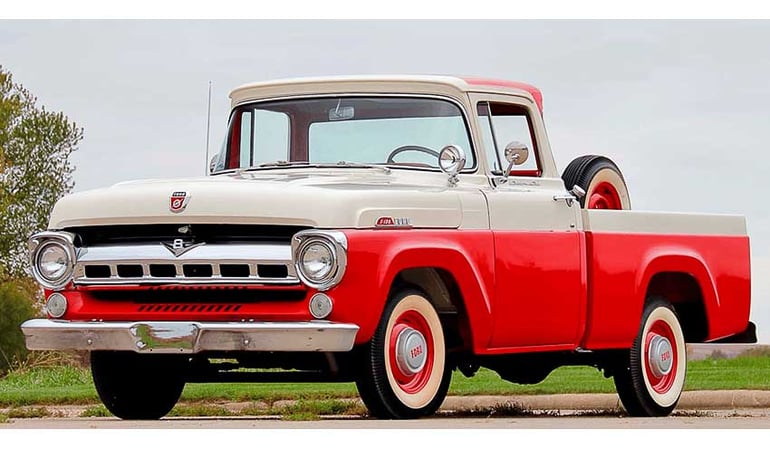 This third generation, 1957 F-100 pickup is powered by a 292-cubic inch Thunderbird V8 engine and rolls stylishly strong on Firestone wide whitewall tires. It was part of the Carl Kelchen Collection until Mr. Kelchen donated the pickup and auctioned it at the Mecum Indy 2020 sale with the proceeds going to benefit Curing Kids Cancer.
1961-1966 Ford Truck History - 4th Generation F-Series
Big changes occurred with the Ford truck's fourth iteration, both in the design and engineering areas of the truck. From 1961-1963, Ford produced both a traditional cab and separate bed pickup truck, in addition to an integrated optional unibody design with the bed and cab as one flowing piece. After the 1963 model year, Ford 86-ed the unpopular unibody designed pickup.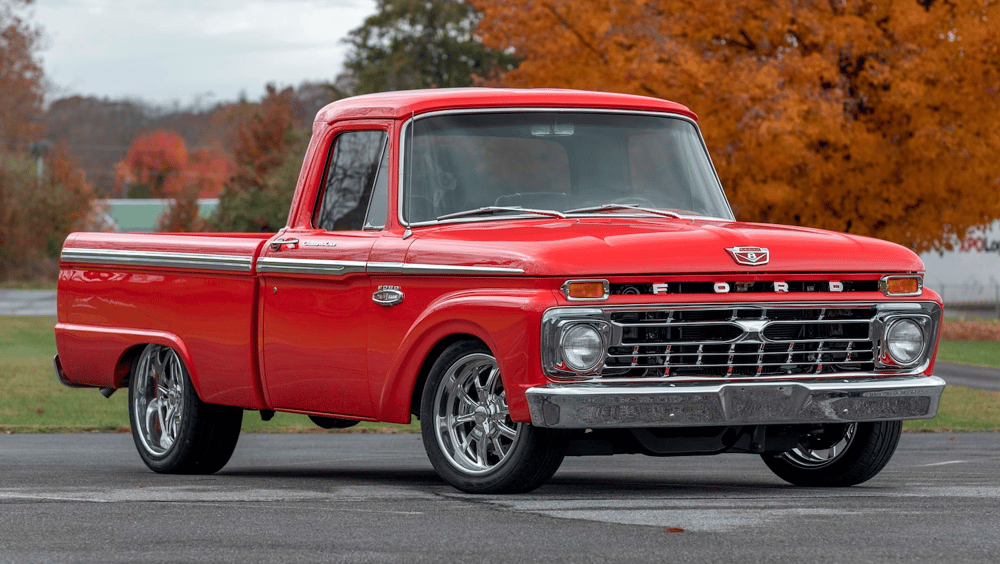 Morgan-McClure Motorsports performed a comprehensive renovation on this third generation 1966 F-100 pickup. A T10 four-speed manual transmission backs the Thunderbird 427 CI V-8 engine that is topped by two four-barrel carburetors. Thankfully, there's also plenty of stop for this get up and go pickup, with Wilwood disc brakes at all four corners.
For the 1965 pickup, a dramatic mid-year redesign made its way to the truck's suspension system. A completely new chassis, which incorporated Ford's "Twin I-Beam" front suspension, found a home in the frame and would continue on until 1996 on the F-150 and until 2016 for the F-250/350 4x2. The Ranger name appeared for the first time for Ford pickups, as it was used for the high-level styling package. This is the second occurrence of the Ranger name for Ford vehicles, since it was first used for the standard model of the Ford Edsel in the mid-1950's.
1967-1972 Ford Truck History - 5th Generation F-Series
Still plusher trim levels were introduced for Ford's trucks for these years. More engine choices became available, the cab's greenhouse glass became more expansive, and the exterior of the truck grew a bit as well.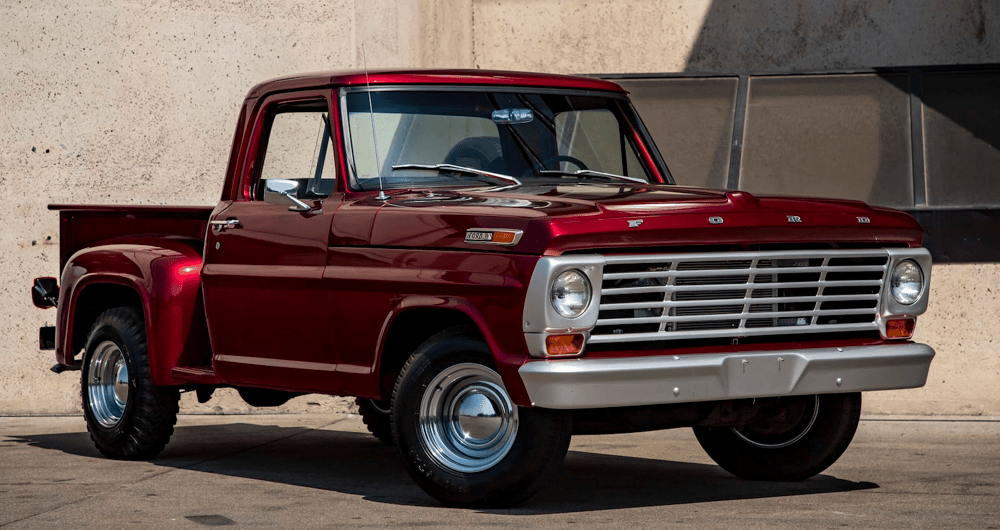 The Candy Apple Red paint on this fourth generation 1967 F-100 is so well wrought, the truck almost looks like it's a Die Cast model. There's a 302 CI mill under the hood with an automatic transmission and a Vintage Air HVAC system attached as well.
1973-1979 Ford Truck History - 6th Generation F-Series
A double wall bed, front disc brakes, an increased use of galvanized, rust-resistant steel, and increased cabin dimensions are all hallmarks of the 1973-1979 Ford trucks. Slotted between the F-100 and the F-250, the famous Ford F-150 was born in 1975.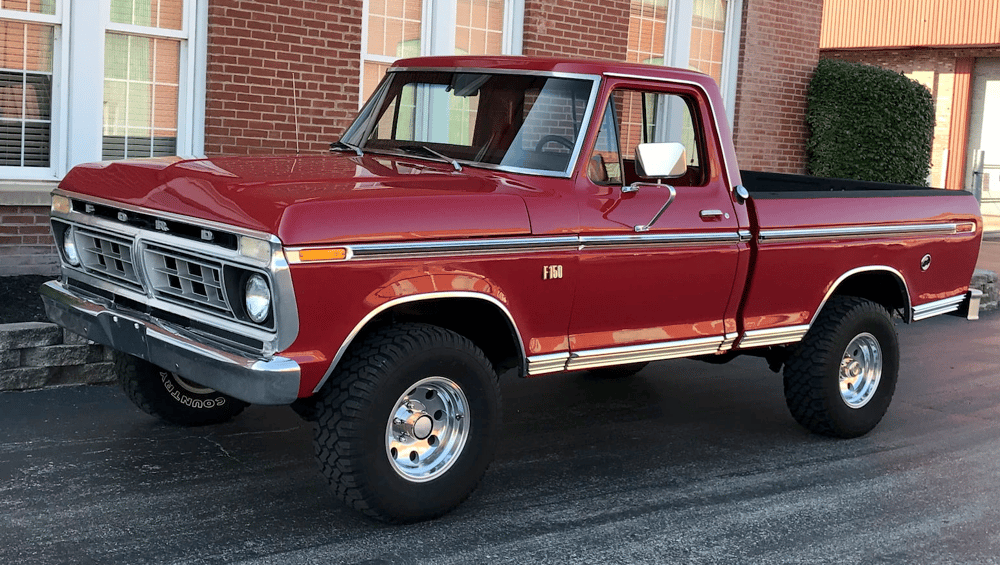 This sixth generation 1976 F-150 4x4 pickup is equipped with a 360 CI V8 engine, an automatic transmission, power steering, power brakes, and alloy wheels.
On higher trim package models, square headlamps replaced round lights on the 1978 pickups, such as Ranger and Lariat. In 1979, those rectangular headlamps became standard equipment.
1980-1986 Ford Truck History - 7th Generation F-Series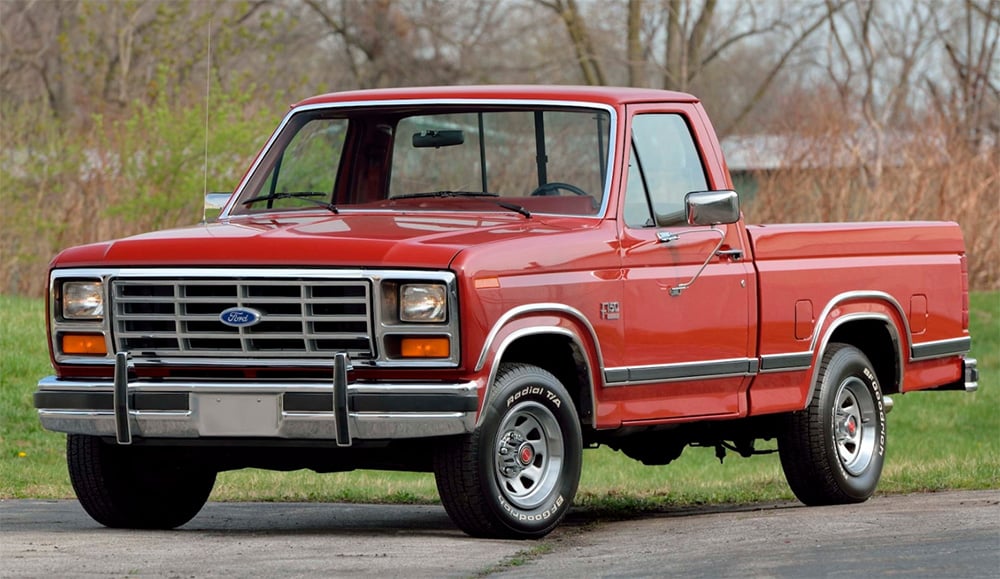 This nicely-preserved example of a 1986 Ford F-150 features the XLT Lariat package, a fuel-injected 5.0L V8, and 4-speed automatic transmission with overdrive. It sold in a Mecum auction with less than 28,000 original miles.
In 1986, Ford redesigned the F-series from the ground up, creating a new chassis and new body style. It featured squared-off body lines and rectangular headlamps, but also improved aerodynamics for better fuel economy. Several powertrains were available during the seventh-gen, including a 3.8L V6 and 4.2L V8 that were only available for a few years. Fuel injection was added to the 5.0L V8 in 1986, an industry-leading change for American trucks.
1987-1991 Ford Truck History - 8th Generation F-Series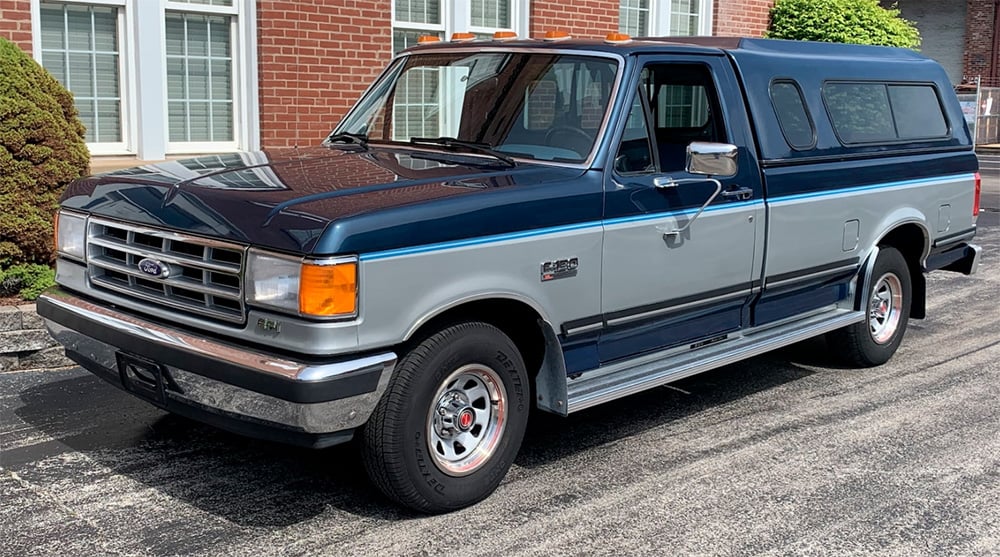 In 1987, Ford converted the 4.9L inline-6 to fuel injection, and this '87 F-150 features that updated powertrain. It also has a distinctive two-tone paint scheme and matching fiberglass camper shell.
The 1987-91 F-series used the same cab as the previous generation, but changed the front end design and interior. Ford's transition from carburetors to fuel injection continued during this generation, and the F-150 soon became the first American truck sold without any carbureted engine options. In 1987, Ford introduced the Super Duty line, but that designation was only applied to heavy-duty chassis cab models (not the F-250 or F-350).
1992-1997 Ford Truck History - 9th Generation F-Series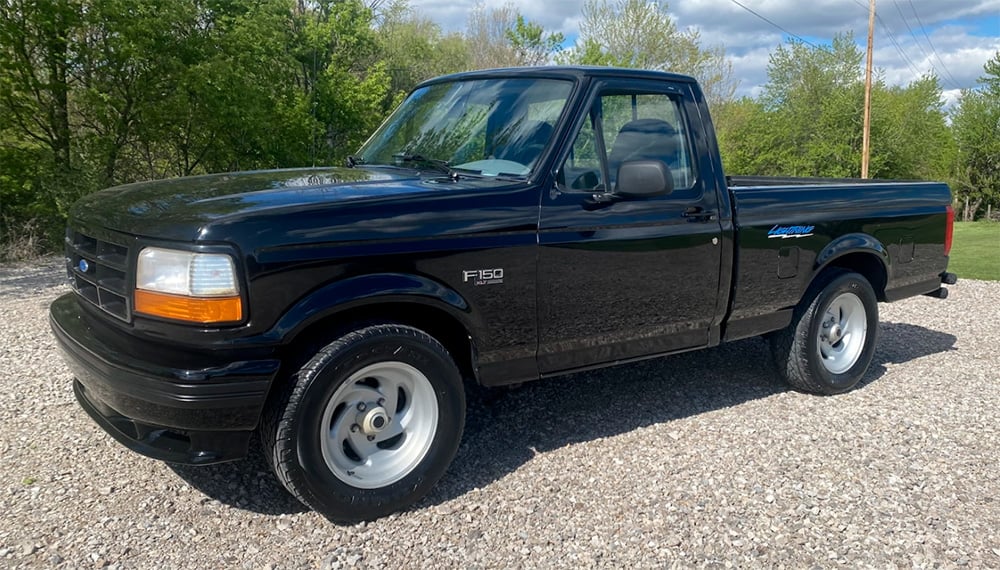 One special variant of the 9th-gen F-Series was the F-150 SVT Lightning, which was offered from 1993 through 1995 and intended to compete with Chevrolet's Silverado 454SS. This '94 Lightning features its original 5.8L Windsor V8, 17-inch aluminum wheels, front air dam, and color-matched bumpers.
Ford introduced the ninth-gen F-series in 1992. Like the eighth-gen, these trucks still used the 1980-86 cab and chassis, but with substantial changes to the hood, headlamps, grille, and interior. A FlareSide bed became available once again, now with a sleeker modernized look.
1998-Present Ford Trucks - 10th Generation F-Series and Beyond
The 10th-gen F-150 brought more development of the F-150 platform and its variants, such as this 2004 SVT Lightning. The second-generation Lightning was offered from 1999-2004 and was powered by a supercharged 5.4L Triton V8.
As Ford entered the 21st century, its F-series trucks have come into the lives of millions upon millions of consumers. As of 2021, the Ford F-series has remained America's best selling vehicle series for 39 consecutive years and the best selling truck for 44 years. This present-day success is all thanks to a long history of building high-quality, dependable pickup trucks.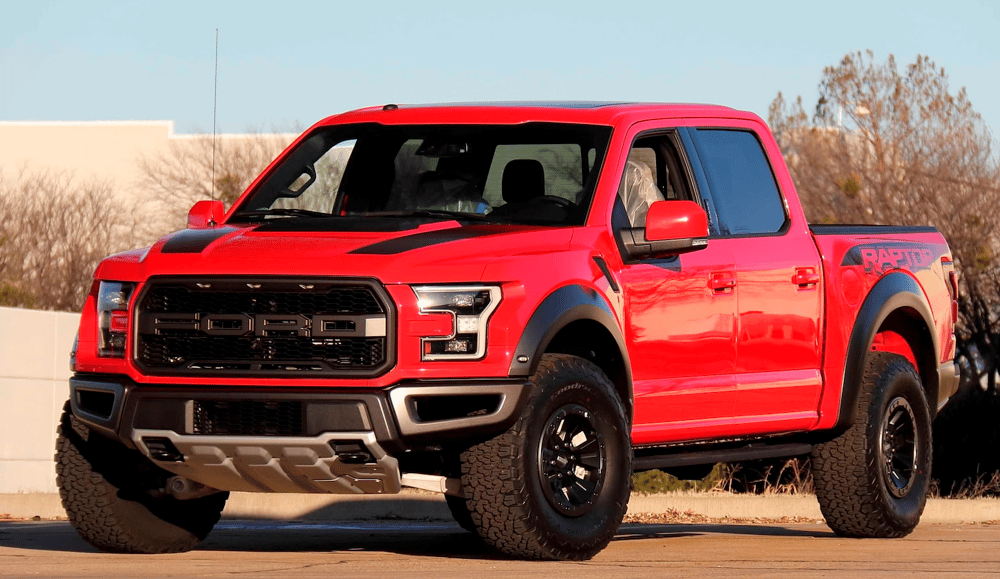 Having just 85 miles showing on the odometer, it's time to go driving. This thirteenth generation 2017 F-150 Raptor has a twin turbocharged 3.5L/450 HP EcoBoost V6 engine and is backed by a 10-speed automatic transmission.
Need Ford Truck Parts?
Whether you have a 2017 Ford Raptor, a first year Ford Ranger from 1965, a first year of the F-150 from 1975, a stylish car-based pickup from 1940, or any other Ford truck from that entire span of time (1932-2017), there are bound to be a bunch of must-have parts that you'll find at Classic Industries. Simply follow this link to Shop Ford Truck Parts 1932-2017.