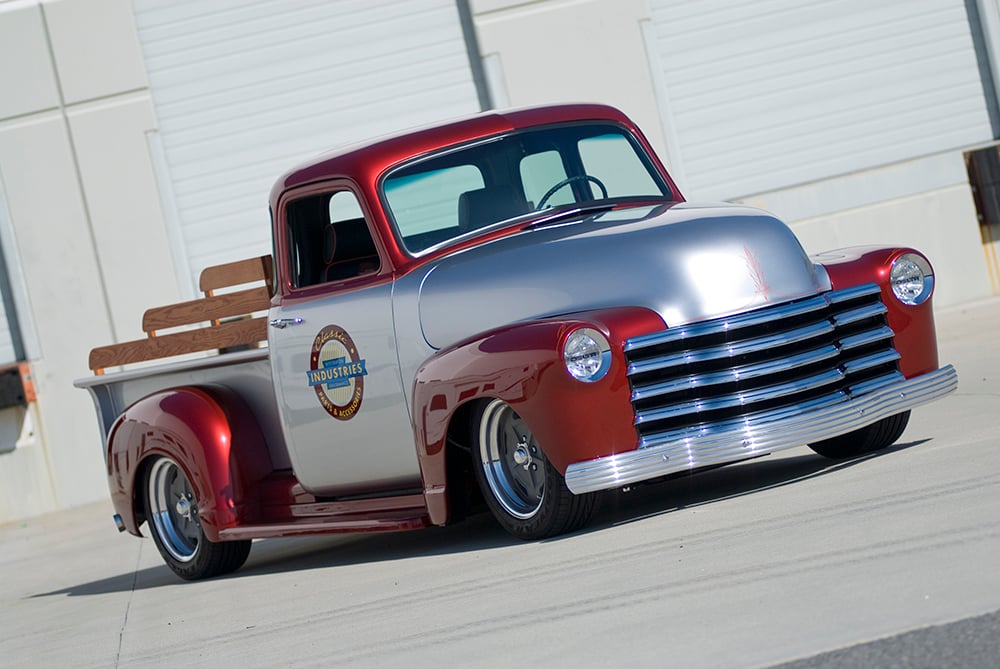 Our '53 truck was not a typical restoration project for Classic Industries; it is a completely new vehicle. Although we didn't have to deal with the notorious rust and body rot that makes trouble for most restoration projects, we did pound, bend, and stretch the new sheetmetal to fit into our plans for a custom parts hauler.
This project was unique. Rather than hiring a professional shop to build the truck, it was built by employees at Classic Industries, enthusiasts who wrench and pound on their own projects. We needed a place for our employees to work on this project, so we built a 5,000 square foot "Tech Center". The tech center is a state-of-the-art shop with Burr-King grinders, Bend Pak lifts, Auto Twirler body rotisserie, Gearwrench hand tools, Ingersoll Rand compressor and tools, Island Clean Air downdraft units, Iwata spray guns, and Miller Electric welding equipment.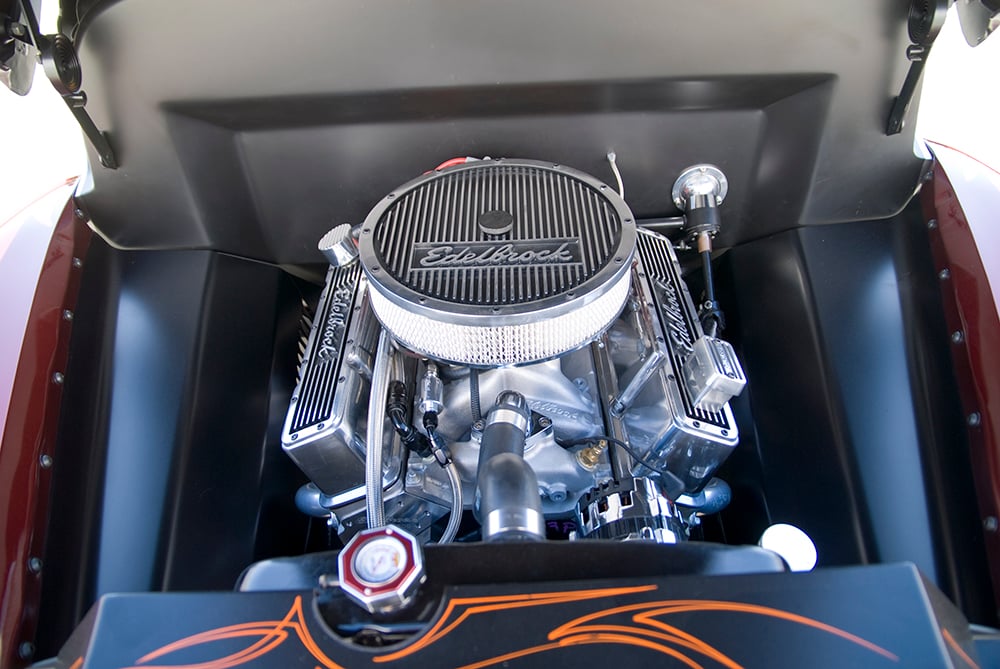 With the Tech Center completed in November, it was time to start building the truck. We turned to Jaime Seymour to pen the concept with our signature two-tone color scheme of burgundy on silver. Employees from every department came in on the project. Edgar Soler was pulled from the Showroom to be the project manager who promptly enlisted the help of Call Center employees Jason Poling and Christian Carrillo and also grabbed Keith Pittman from Returns to be the main builders. These guys weren't the only ones involved in the project though. We brought in even more employees for specific tasks as we needed them. Freddie Ruiz from the Marketing and Research department and Byron Stewart from the Call Center handled the woodwork for the truck. Then Bret Dethlefsen from the Marketing and Research department and Regina Rowlett from our accounting department brought in her husband Lance for body prep and paint and Edd Stevens from Tech helped with assembly. That wasn't all. We brought in even more employees when necessary.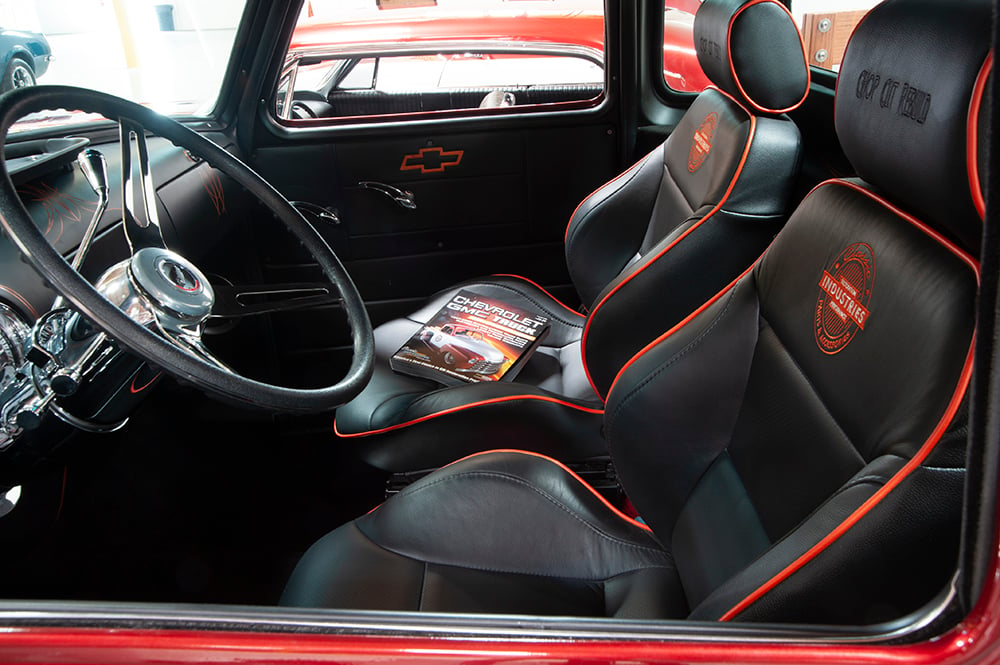 We started with a Total Cost Involved Chassis, bolted on some SSBC Force 10 Brakes with a remote reservoir, and then mounted a GM Performance Parts ZZ383 engine. We couldn't leave our crate motor stock for long, so we bolted up an Edelbrock intake and valve-train. An MSD ignition handles the spark. Fuel is supplied from the polished Mooneyes fuel tank in the bed. We then strung up our ZZ383 with some Zoops goodies. We backed the powerplant to a B&M 700R4 transmission, which routes power to a Moser rear end, turning our signature American Racing Salt Flat wheels wrapped in Toyo rubber. The exhaust blasts through a set of Doug's Headers and out through the rear fenders courtesy of a Magnaflow system with Race Pro mufflers.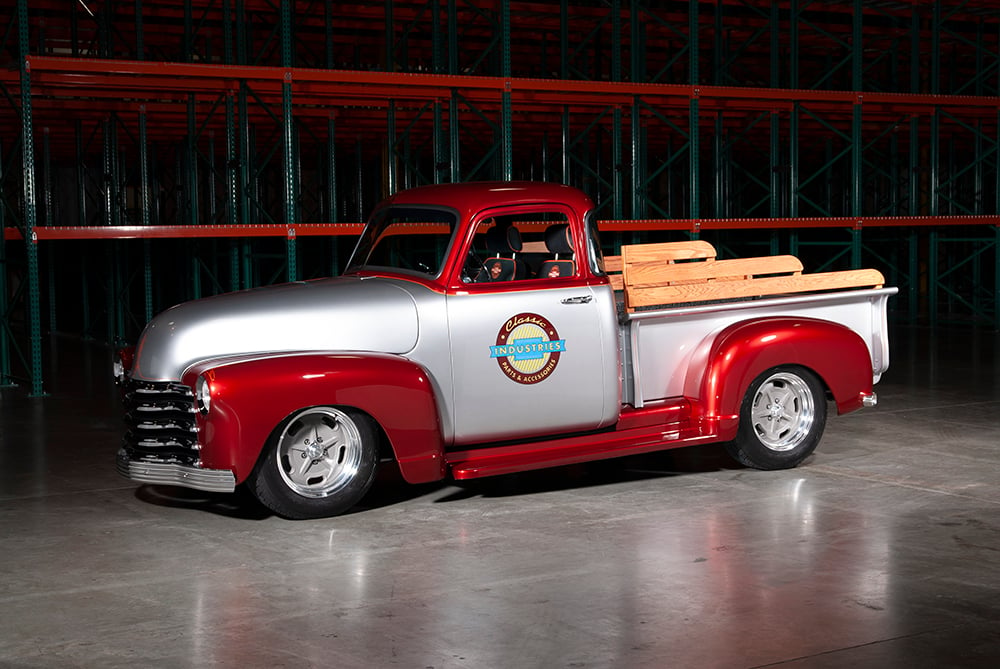 Next, we added a new reproduction '53 truck body from our catalog to the chassis. Since we're a company of car guys, and because this wasn't a restoration, we went wild with body mods. We frenched in the headlights with parts from Delta Tech, leaded the seams, installed a clean one-piece hood, installed a hidden latch tailgate. A custom dash and a console were all fitted to the '53 body. Then we finished the underside and the bedsides with a durable coating of Al's Liner. We continued our mods and fitted our truck with a Briz bumper from the Chevys of the 40's, which sits tight up against the grill and fenders. After getting the body together, we sprayed the truck with House of Kolor paint and then called in Jeff Styles to pen the pinstriping. Once the paint was laid down, System One and Surf City Garage added a lustrous mirror-finish gloss to the paint.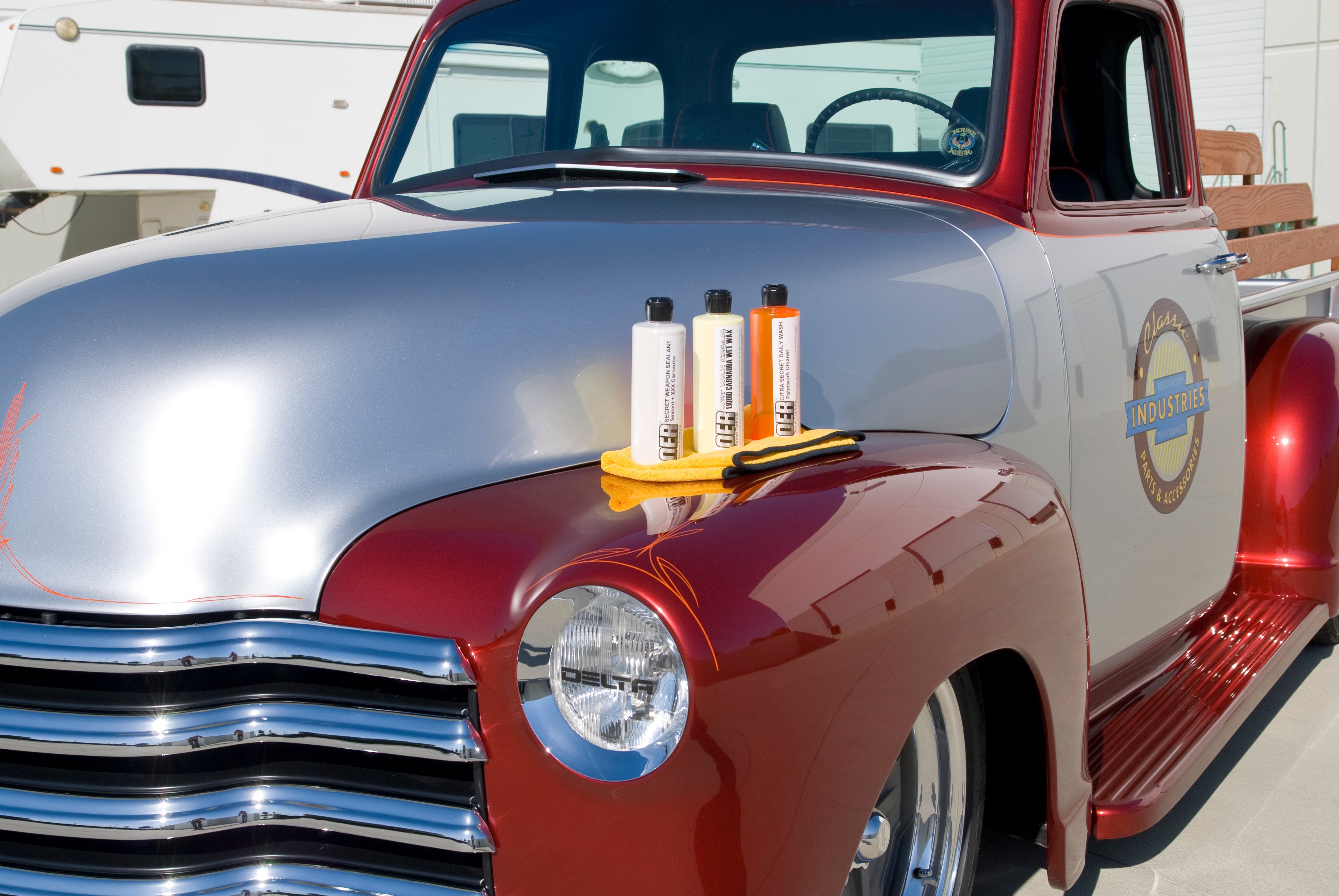 To keep unwanted noise down inside the cab, we installed Hushmat sound deadener panels. Creating a comfortable place to sit inside the cab is a set of ProCar seats with custom embroidered covers from Distinctive Industries mounted on custom seat brackets and above an ididit tilt column. Sound is pumped through a Sony Xplod sound system with a custom speaker box hidden behind the seats. A custom center console hides a pair of cupholders. Fully modernized with power windows, the glass rides up and down on an Electric Life power window kit and uses handles from Clayton Machine works. Because of our experience with Painless Wiring in previous projects, electricity is routed through a Painless Wiring harness.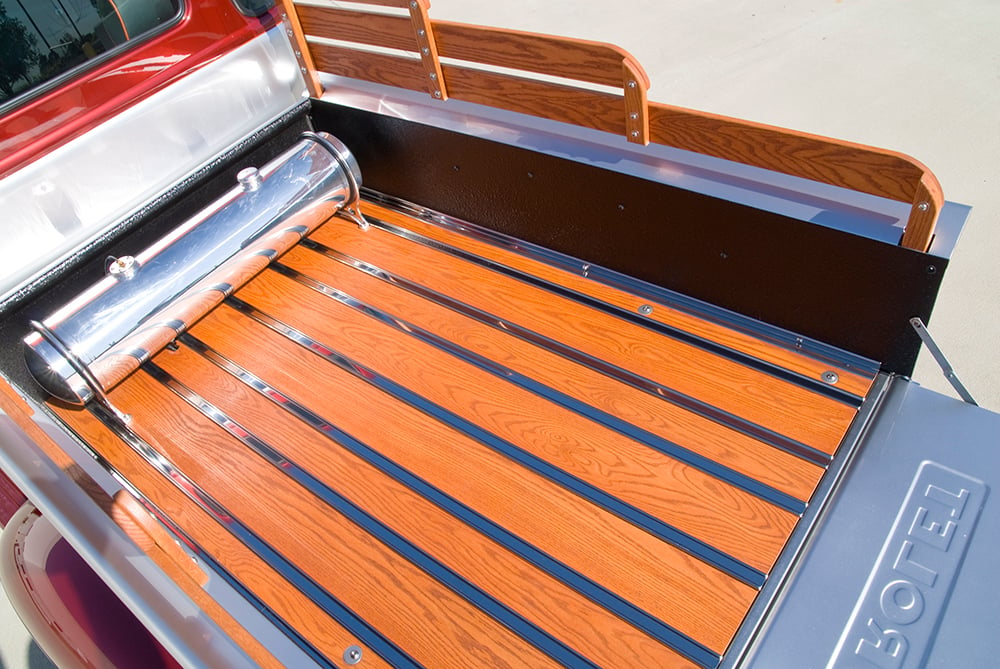 This build wasn't without its difficulties. As so often happens with projects like this, the deadline was moved up. We worked even harder in order to make the unveiling at the Pismo Beach Classic Car Show June 20-22. Another challenge to our build were the cameras that followed our build on Speed Channel's hit series Chop Cut Rebuild. Dan Woods and the crew would come in a couple days each week to catch the progress we had made while host Dan Woods would assist with that week's tasks. We loved being on TV and had a lot of fun working with the crew, but sometimes the process would interrupt workflow and made it hard to meet our deadlines. We're thrilled to say that after so many long nights and seemingly endless days, we had the truck completed and fired it up, right on schedule. It was great to hear that ZZ383 roar to life for the first time, a moment 6 months in the making.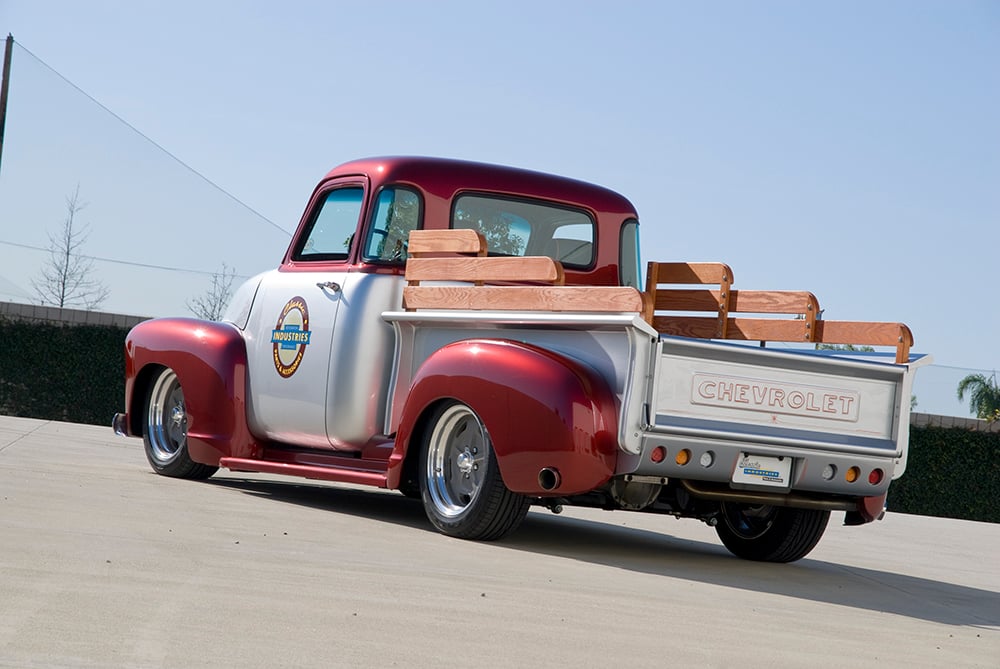 So, what's next for the Tech Center and Classic Industries?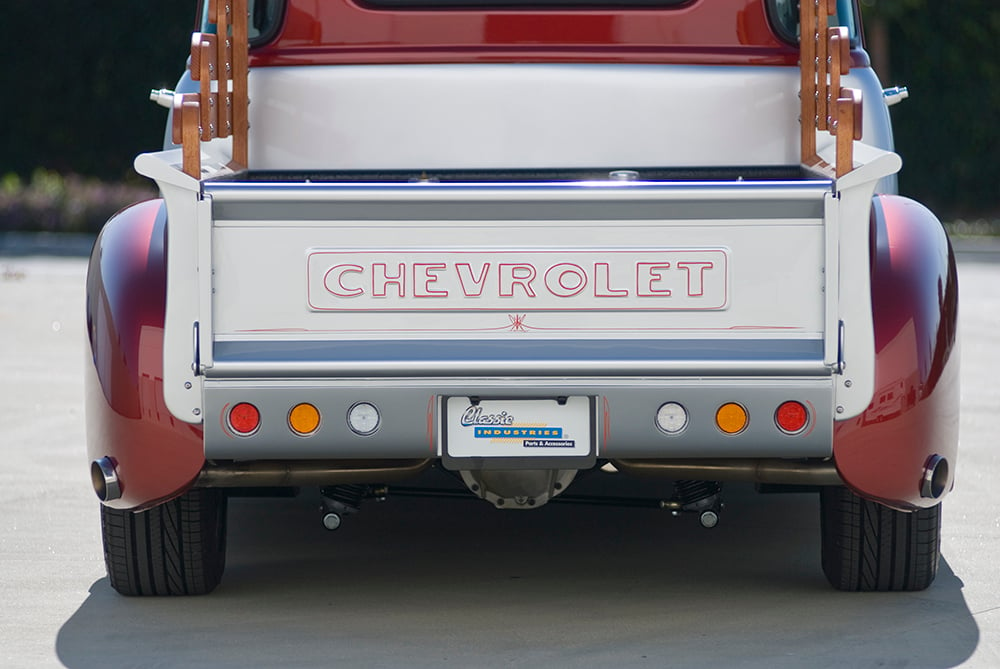 Well, after this challenge it's too overwhelming to think about the next project, but never say never, because there have been rumors about starting another project soon!