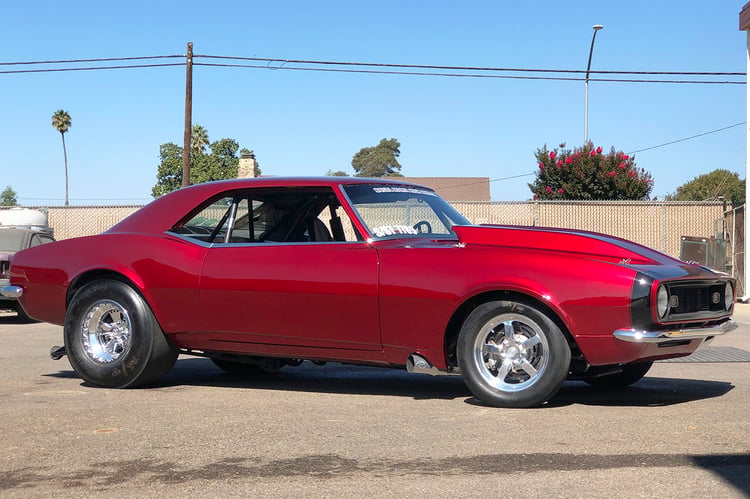 Classic car enthusiasts are definitely not a dying breed. For evidence of this fact, look no further than the Santa Maria High School Race Team and the passionate students who built this 1968 Camaro drag car. The SMHS Race Team is an after-school program in Santa Maria, California, where high-schoolers have a unique opportunity to learn how to build and maintain race cars. The program is funded entirely by students, with the exception of donations from sponsors. Classic Industries is proud to have provided restoration parts for this build. Read on as we delve into the details of this '68 Camaro, and how it has evolved into a 565ci big-block-powered, 9-second speed machine.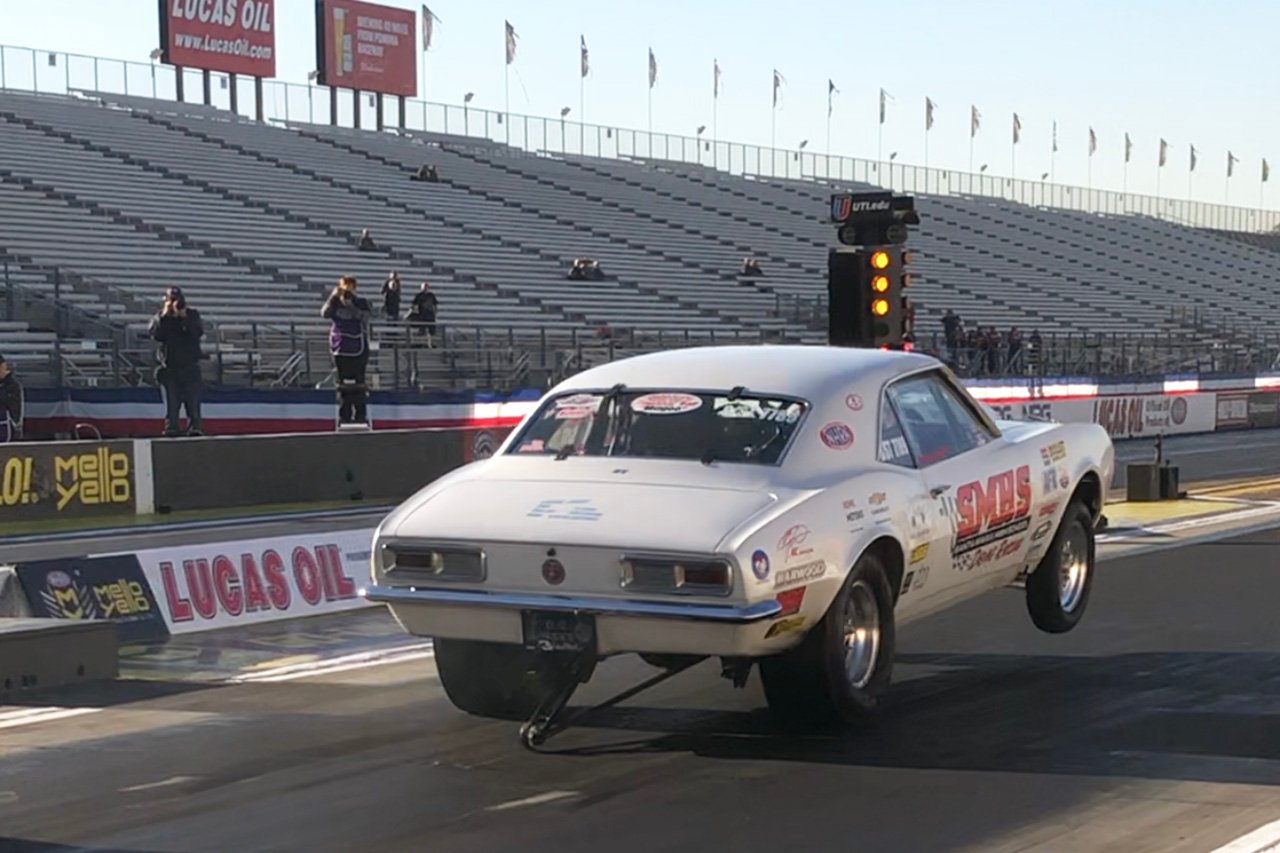 To learn all about this Camaro, we spoke to SMHS Race Team coach Matt Almaguer, who also teaches auto shop classes at the high school. The Race Team was established in 2007, but he took the helm in 2017.
Almaguer told us that the story of this '68 Camaro drag car began nine years ago, when its previous owner, Ken Lindsey, passed away. Lindsey's wife agreed to sell the car to the program, since she knew Ken would have been happy to see the kids using it. Since then, it has been gradually rebuilt from bumper to bumper. Until recently, it was painted white, as seen in the photo above.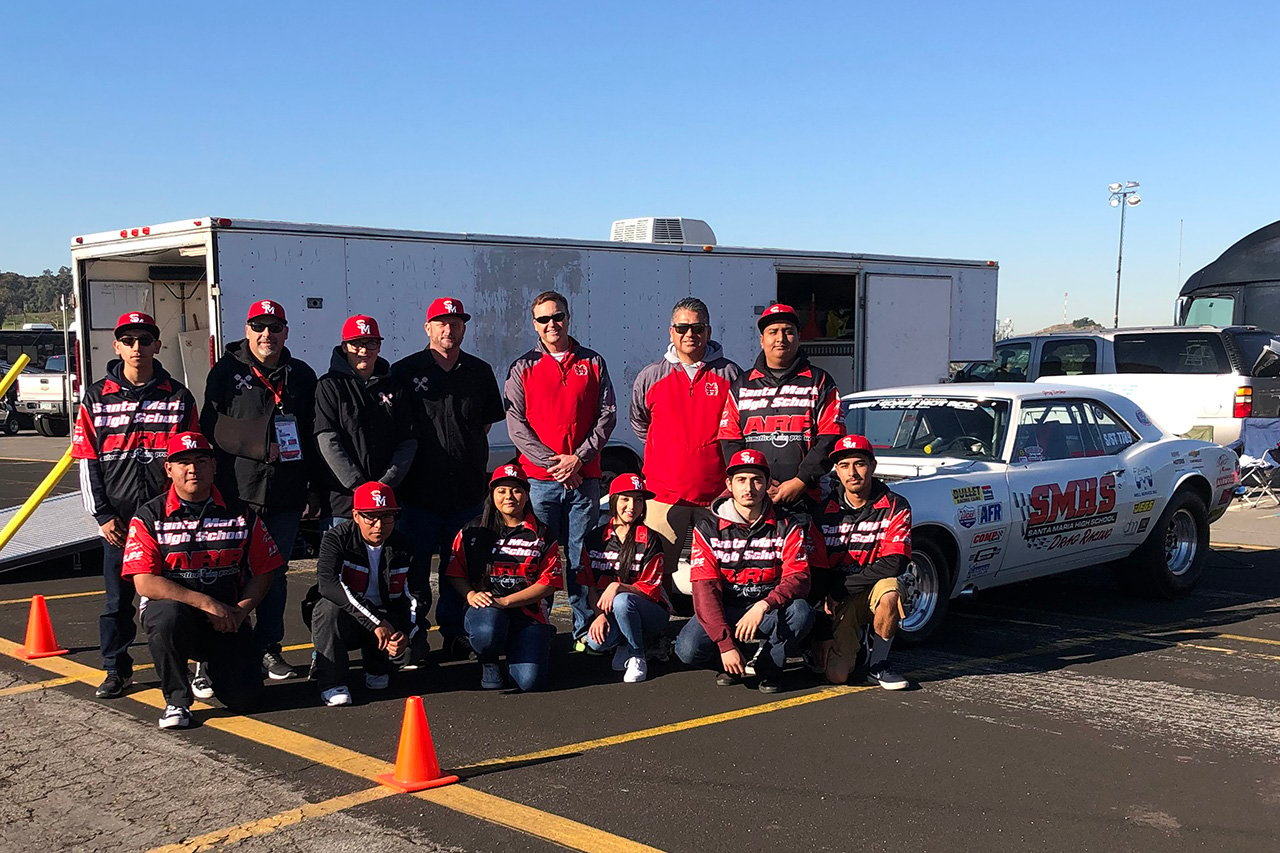 All of the work on the car has been performed by students, although Almaguer oversees critical jobs. There are typically about ten students enrolled in the Race Team at any given time, and these young men and women are responsible for every nut and bolt on the car.

Recently, the Camaro received an exterior makeover, with new custom red paint applied to its body panels by Fusion Auto Body. As pictured above, race team members worked in shifts to sand and prep the car's body before paint was sprayed.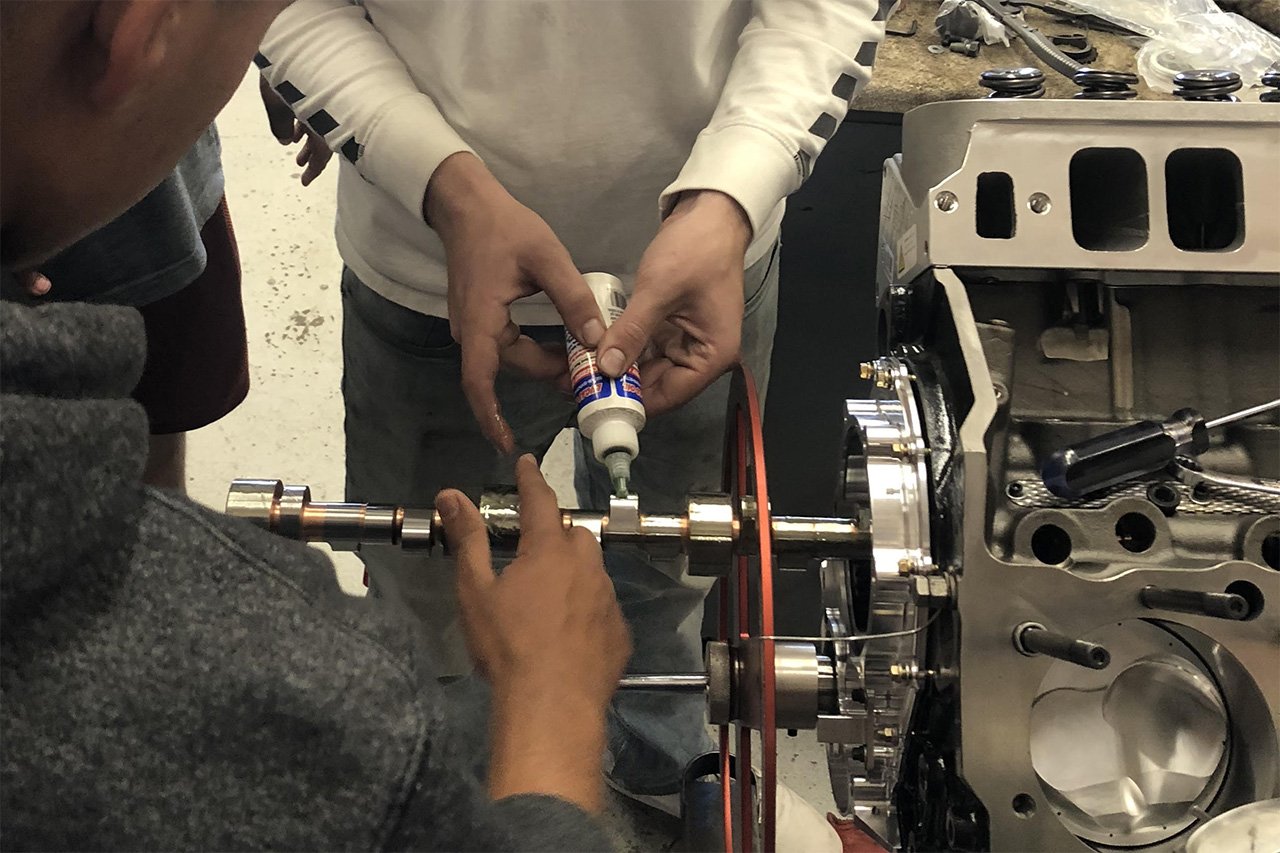 The 565ci big block Chevy engine was also built by the students. It produces more than 1,000 horsepower, and features the following components:
Dart Machinery BBC "Big M" block
AFR custom CNC heads
Cometic ML head gaskets
Manley Performance crank and H-beam rods
Wiseco Q16 Professional Series pistons
Milodon oil pan, pump, and pickup
RCD Engineering gear drive
Bullet Racing custom solid-roller camshaft
Comp Cams Magnum rockers
Crower Hippo lifters and custom-length pushrods
Holley Track Warrior intake and Dominator 3-circuit 1150 carburetor
MSD 6AL ignition with two-step and billet distributor
Custom Lemon Headers with slip-on collectors and "Lemon Bomb" mufflers
ARP fasteners throughout
Lucas Racing Oil 20W50
VP Racing Q15 fuel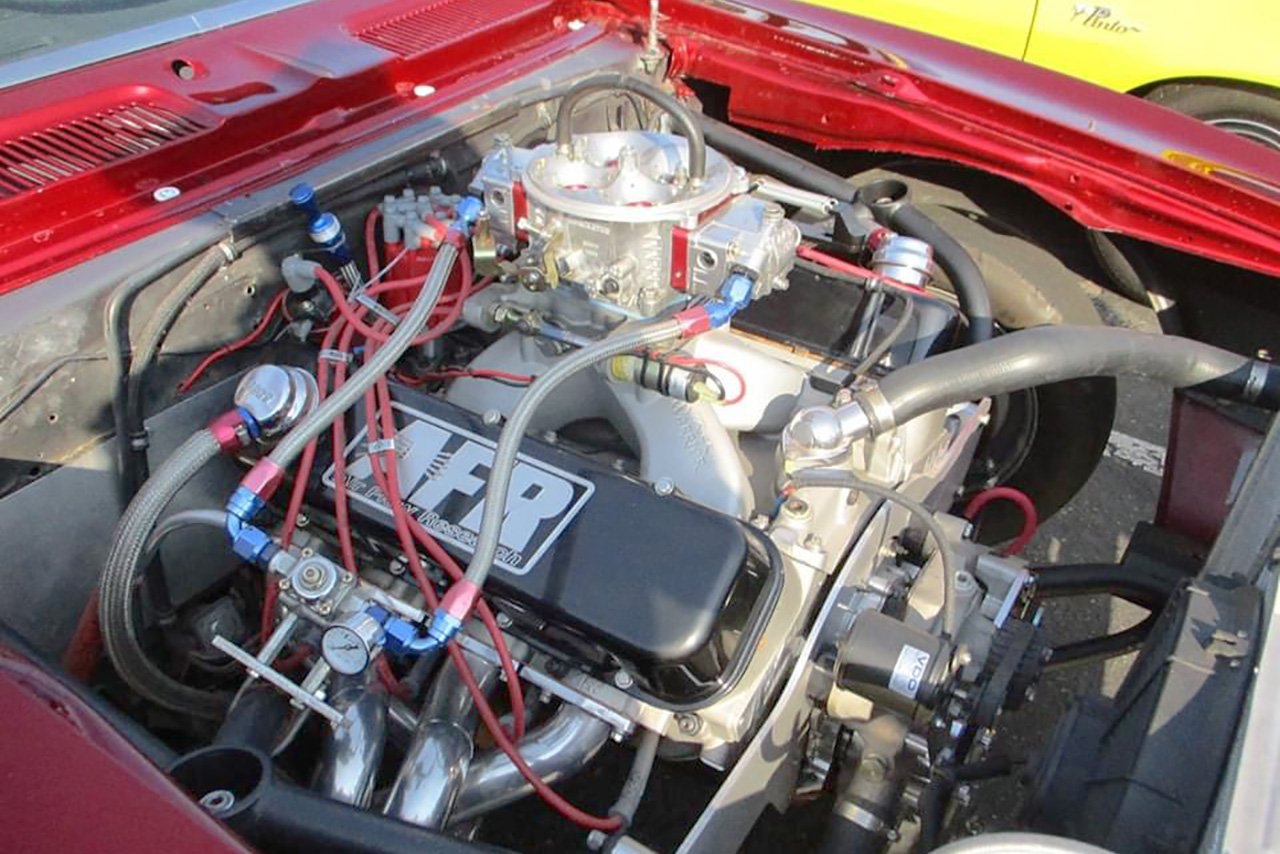 The powertrain was completed with a custom-built two-piece BTE Powerglide transmission with billet trans brake, Just-in-Time XL trans brake release, custom 9-inch converter, and M&M Transmission shifter. It also has a Tom's Differentials billet third member, 40-spline axles, and a K&R Performance Engineering electrical delay box.

The modified chassis was reinforced with a chromoly roll cage welded by Josh Davis and Greg Lewis, as well as a Calvert Racing Suspension wheelie bar. It features an Alston front clip, VeriShock double-adjustable front shocks, AFCO double-adjustable rear shocks, 15x5 and 15x12-inch RC Components wheels, and Mickey Thompson drag slicks. Wilwood front and rear disc brakes, master cylinder, and prop valve allow the Camaro to stop safely after every pass.
Classic Industries provided several parts to finish this build, including bumpers, bumper brackets, door and trunk seals, chrome trim, and fender emblems.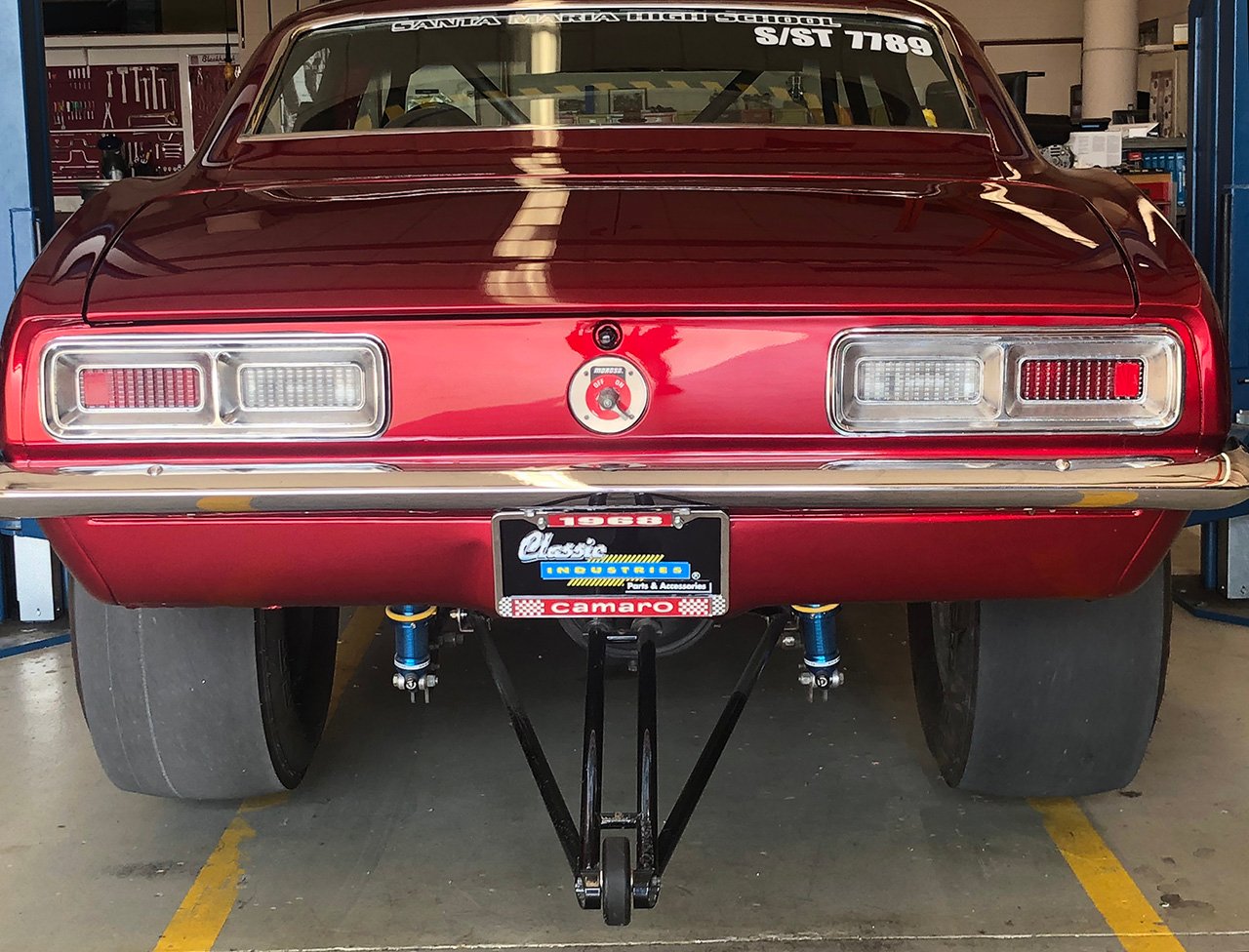 The SMHS Race Team didn't just build this Camaro drag car to look cool — they built it to win races, and it has done just that. In November 2019, they claimed the first ever D/Gas class win at an ANRA Event at Famoso Speedway. In February 2020, they made history by becoming the first ever all-high-school team to compete in an NHRA National Event at Pomona Winternationals. They intend to keep racing and racking up wins. They also hope to build a Super Comp dragster in the future, and acquire enough points to take both cars to at at least one NHRA National event every year.
Almaguer told us that the Camaro's fastest run so far was 9.54 seconds @ 131mph, but he believes it should be capable of times as low as 9.1 to 8.9 seconds under ideal circumstances.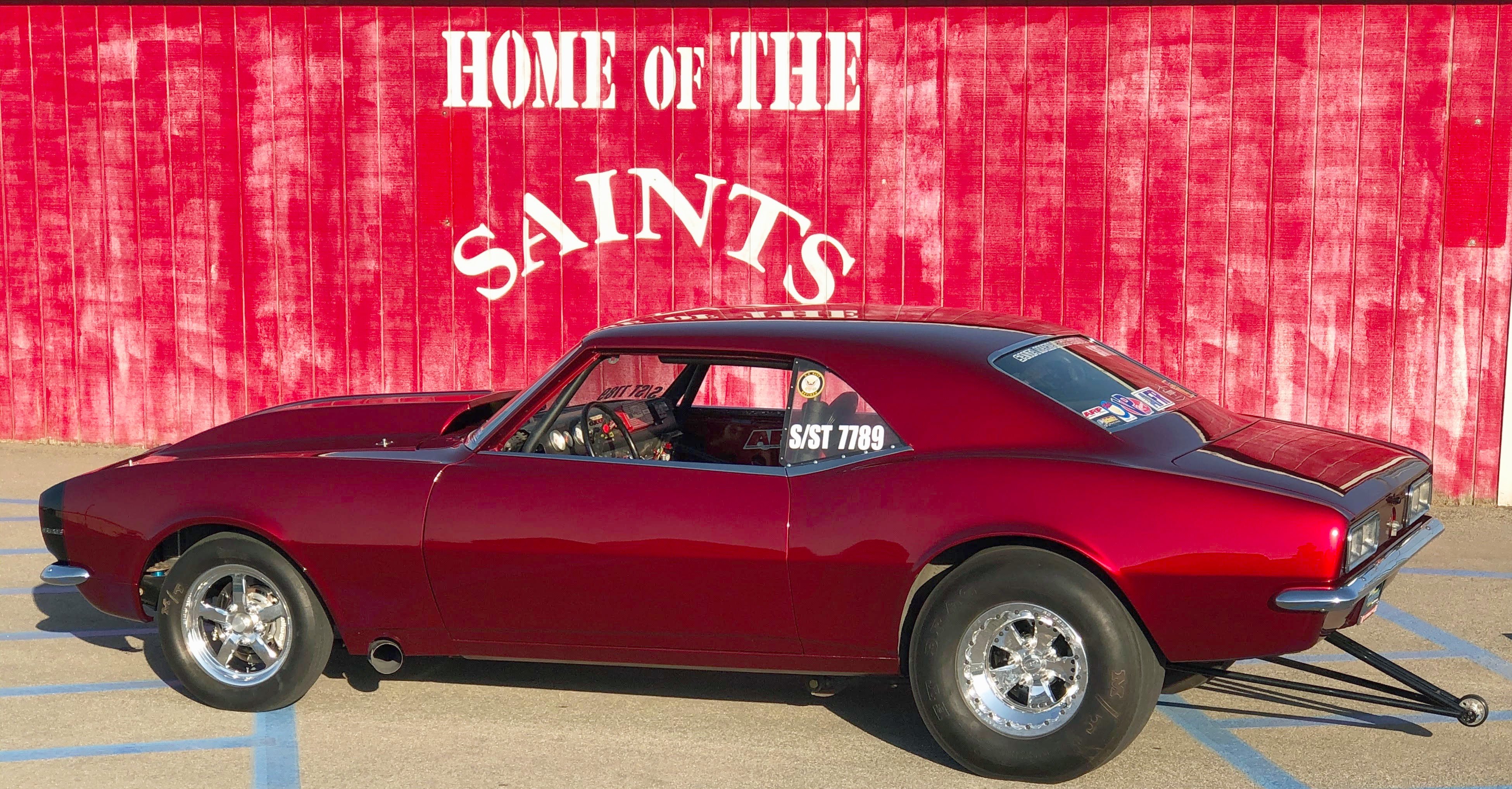 The SMHS Race Team 1968 Camaro drag car is certainly an impressive vehicle, but we're more impressed by the students who created it. Under Almaguer's mentorship, they've learned to love racing and working on classic cars, and they'll be able to walk away from this program with valuable knowledge and experience. If that doesn't put a smile on your face, we're not sure what will.
Almaguer would like to give special thanks to the following people and companies:
Allen Johnson Performance Engines (AJPE)
Justin Beily of Famco Development
Elton Shaffer of Trojan Petroleum
Scott Fisher of Fisher Pump
Marcos Lemon of Fusion Auto Body
Ashley Evans of AC Designs for vinyl
Kurt Hinkle of EngineTech Machine
Home Motors Chevrolet
JE Pistons
Past and present SMHS Race Team members and everyone who has helped raise funds
All of the sponsors and brands listed above for supporting the program
If you're reading this article and working on a Camaro project car of your own, be sure to check out the Classic Industries Camaro restoration parts catalog. Click the button below for a free, full-color Camaro parts catalog.