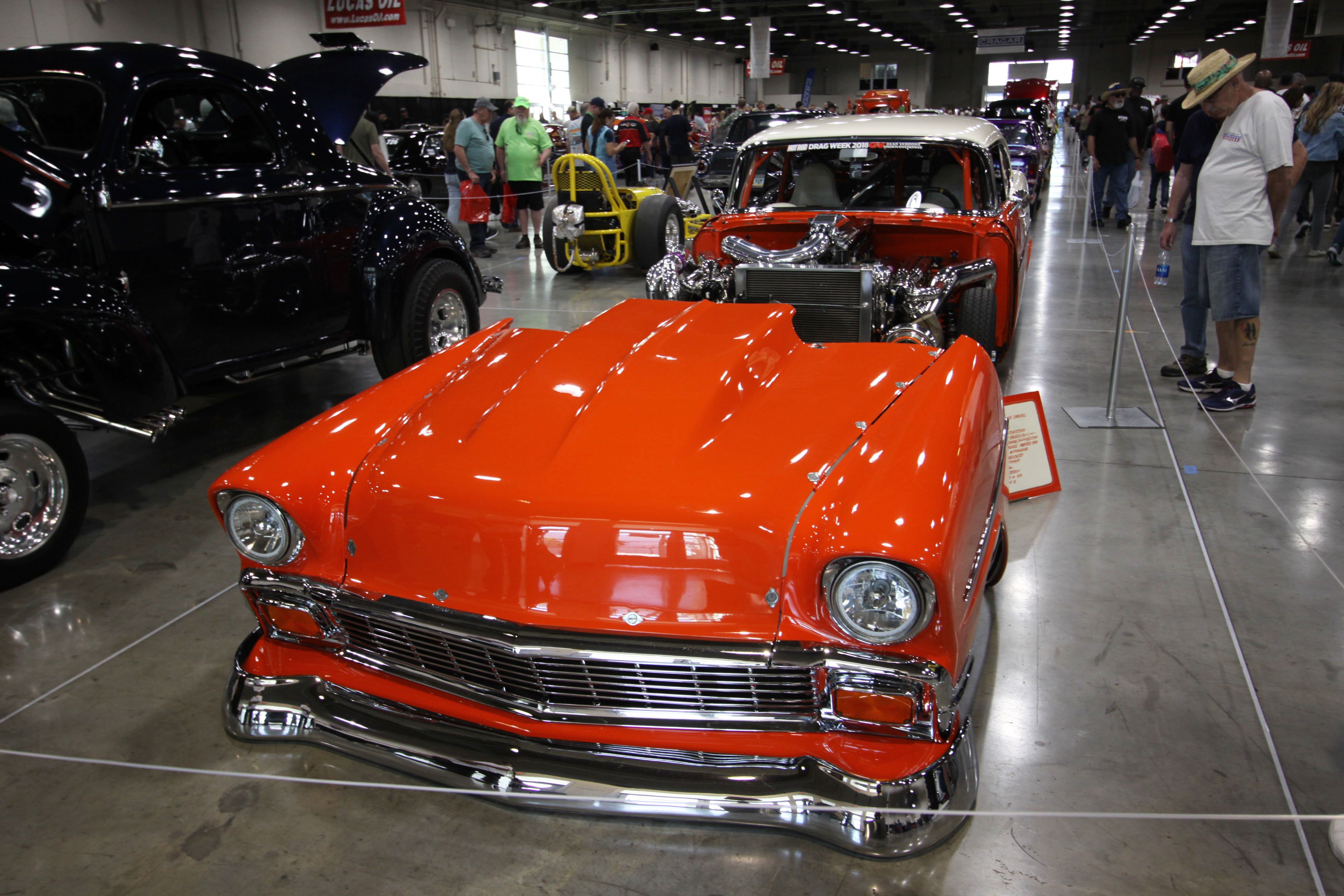 Having been held 71 times, the Grand National Roadster Show is the world's longest-running indoor car show. Classic Industries has been a part of this venerable event on several occasions, most recently for the show that was held Friday, January 24 through Sunday, January 26. Over the three days, 50,000 fans witnessed first hand the more than 490 world-class muscle cars, roadsters, hot rods and customs inside the several buildings at the Pomona, California Fairplex. Especially on show-Saturday, there were also well over 700 cool cars and trucks that drove in carrying more muscle car mavens and hot rod heroes that graced the outdoor landscape of the L.A. County Fairgrounds.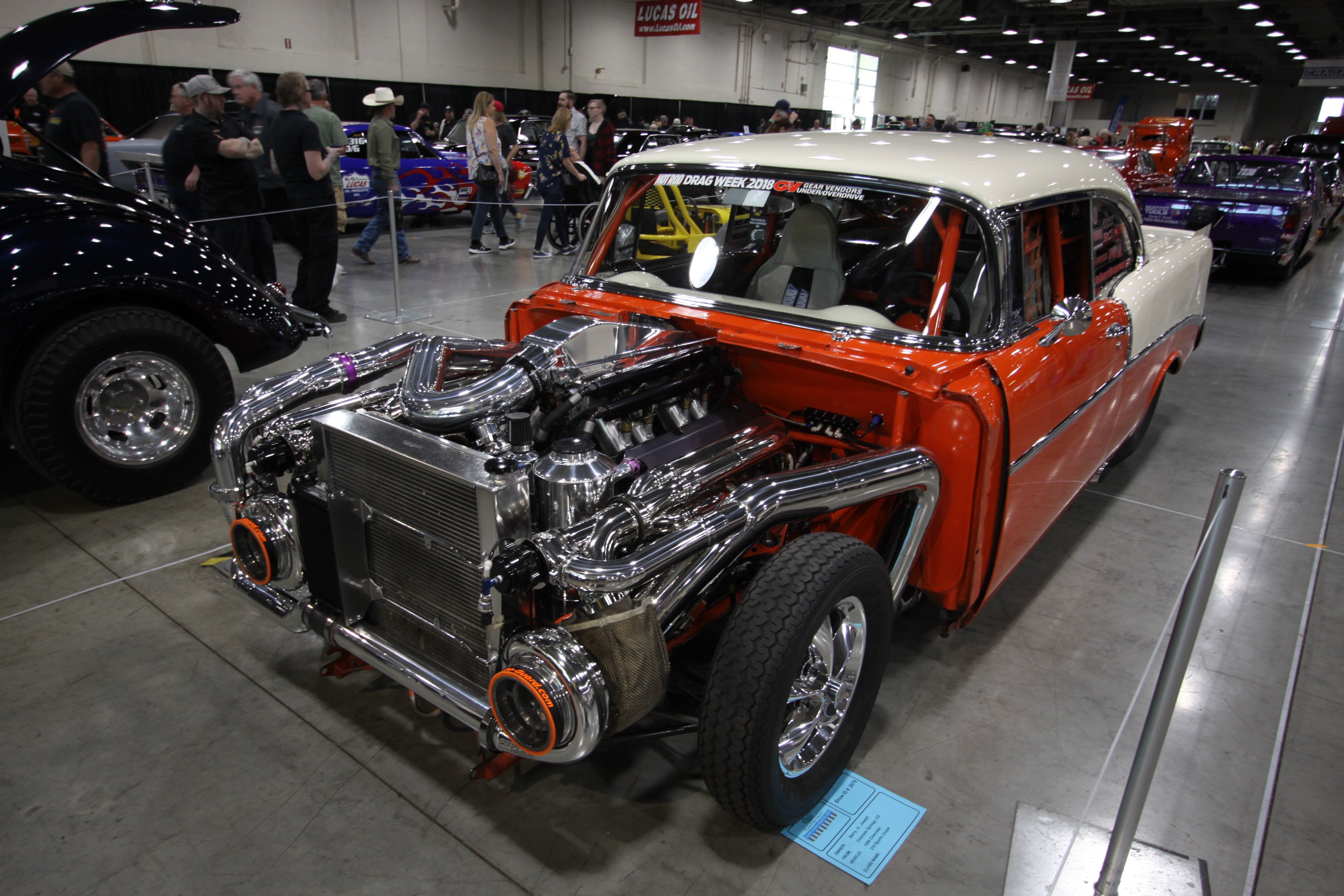 "Creamsickle" is owned by Joe Barry, of Colorado Springs, CO. His dragster is known as the World's Quickest and Fastest all-steel body 1956 Chevy Sport Coupe (first two photos). Look at that engine!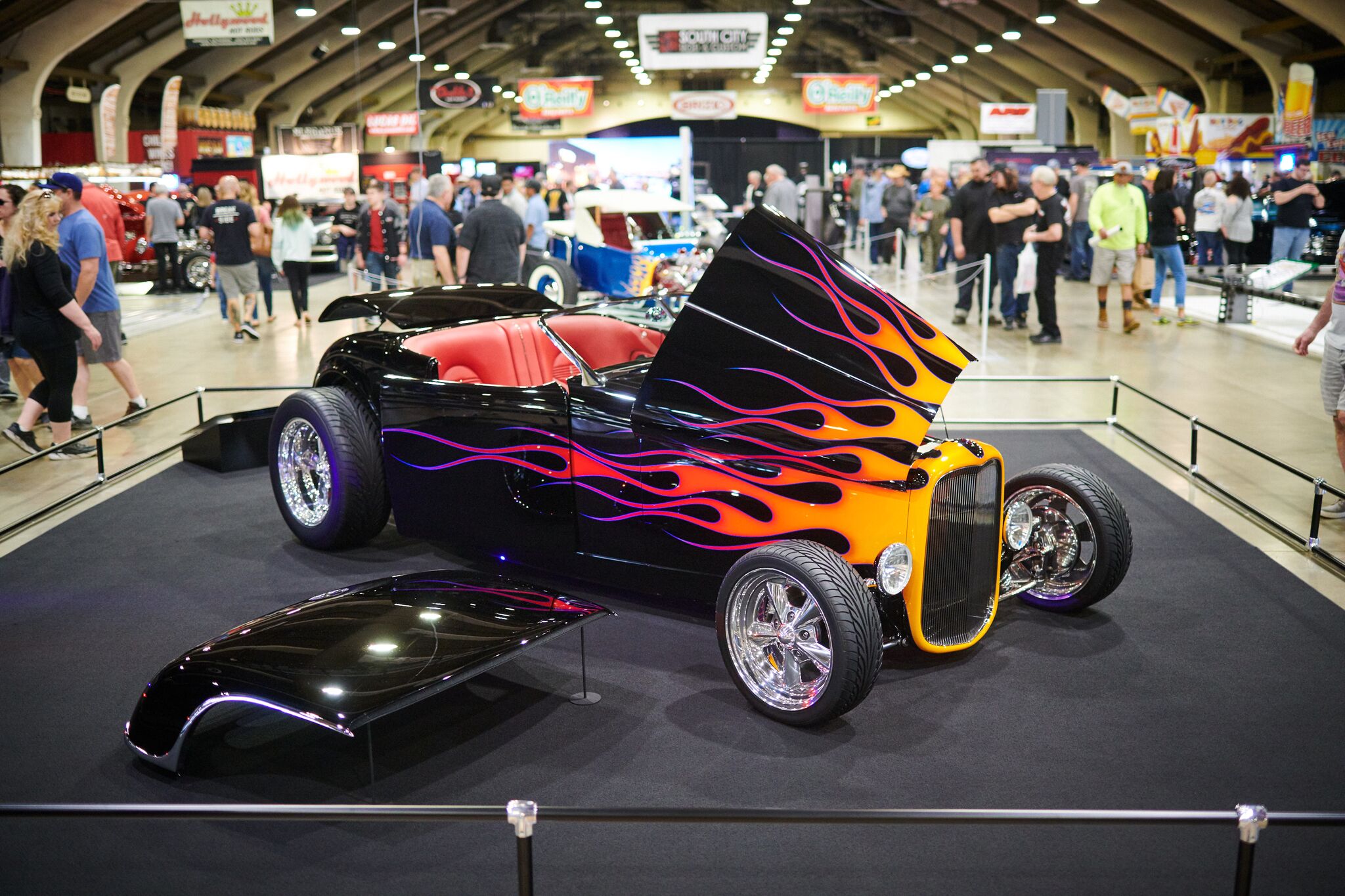 AMBR Winner 2020: "'32 Kugel Muroc No.4", owned by Monte Belsham. Photo Courtesy of Rod Shows & Kahn Media
This event is one of Classic Industries absolute favorites for several reasons. First of all, it's the first huge indoor car show of the year, and it's held in January. Gearheads, car dudettes and dudes have been in hibernation mode in the winter, with no car shows inside or outside to attend. All that pent up yearning for the great vintage and newer muscle machines that we all love, build and buy can be satiated by attending or participating in the Grand National Roadster Show. Being held at the Pomona Fairplex in Southern California since 2004, there's always pretty much an absolute certainty that the weather's going to be pristine the entire event. That was indeed the case this year.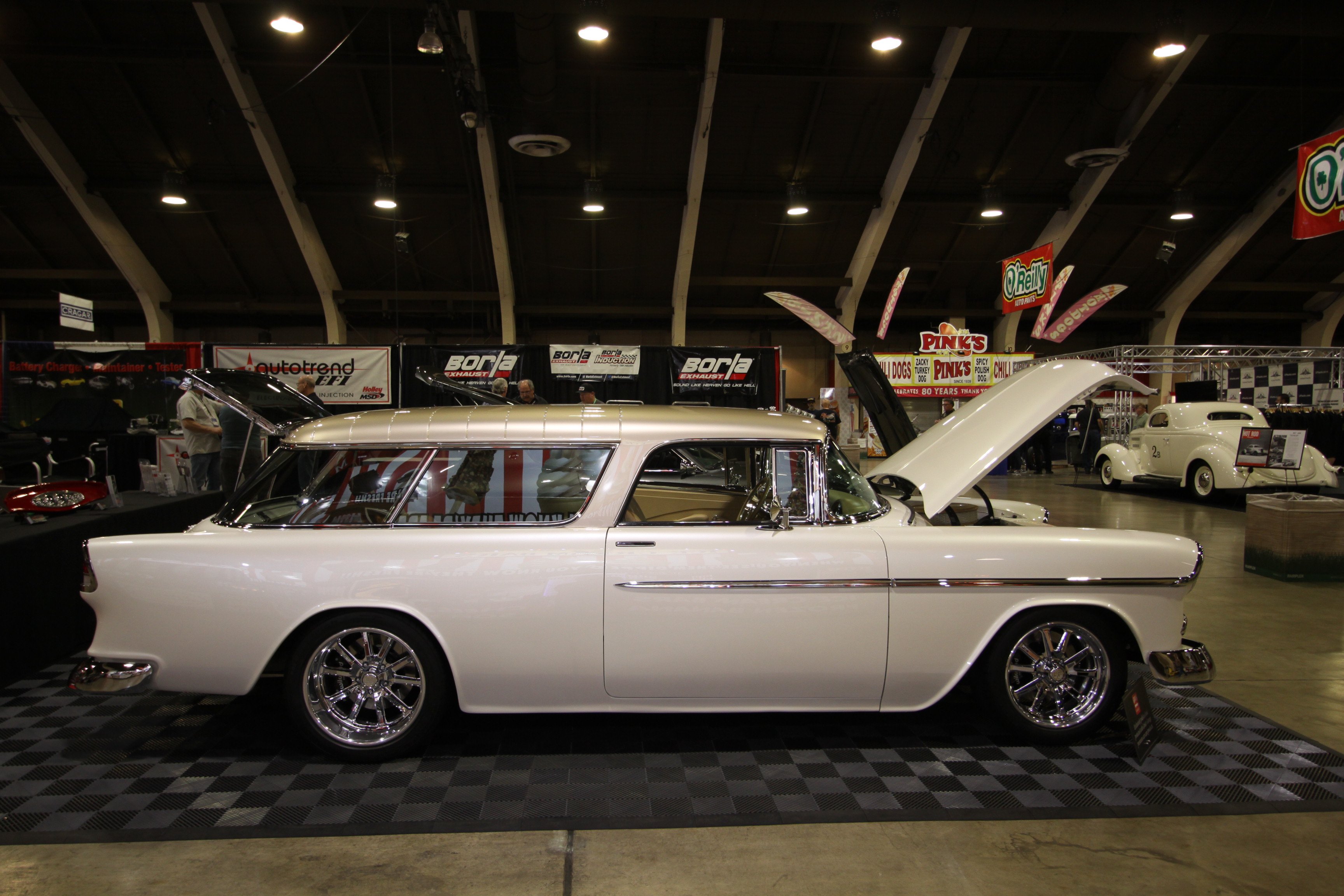 1955 Chevy Nomad, owned by Larry Brager of Watsonville, CA (interior of Nomad below)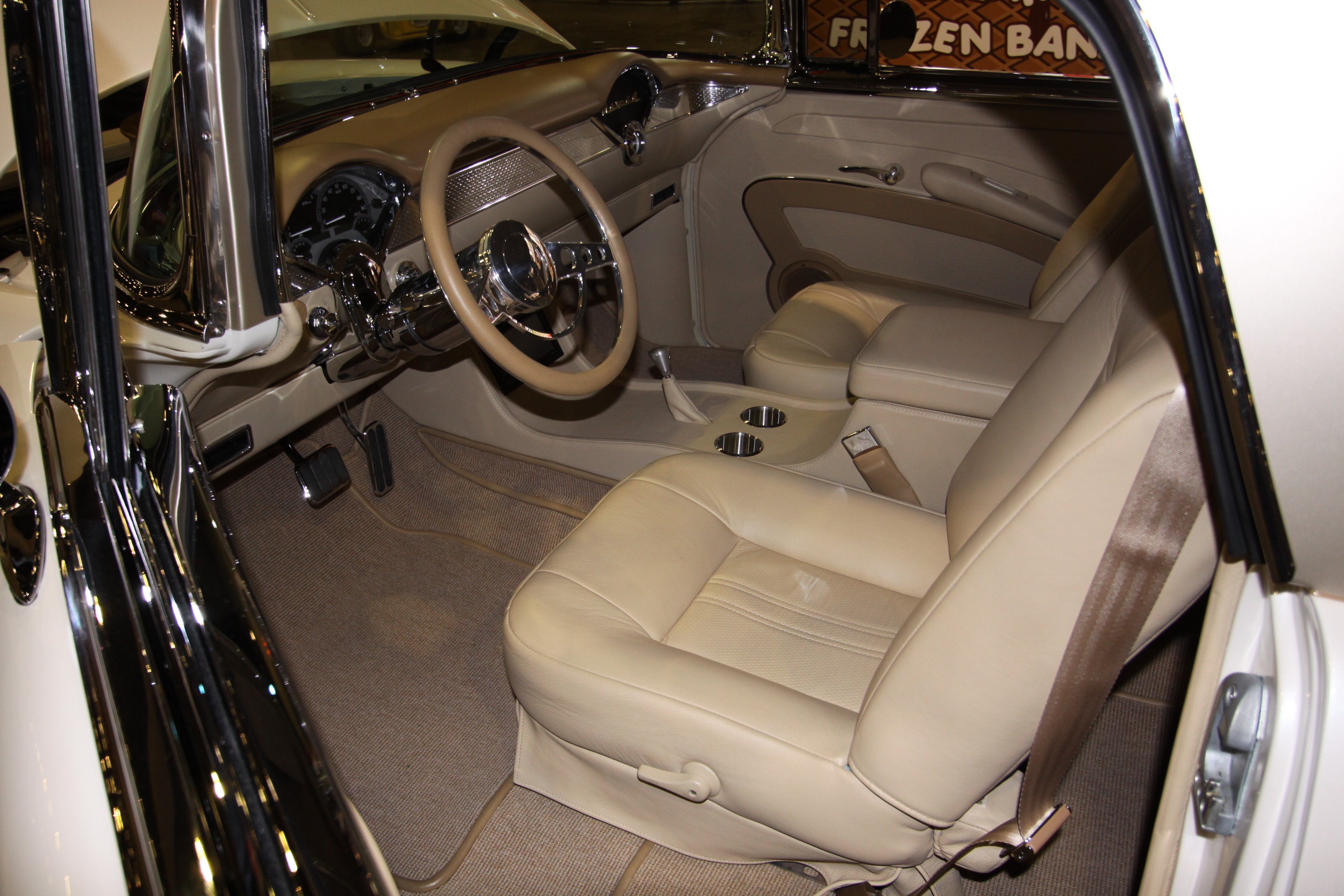 Secondly, no matter whether you're into '50's customs, Dry Lakes hot rods, show worthy roadsters, coupes, sedans, muscle machines and/or woody wagons from the '20's, '30's, '40's, '50's, '60's, '70's or even the 1980's, you'll find an abundance of awesome autos to capture your imagination. Heck, Ford even had a nice display of new automobiles in the Fairplex's building 6.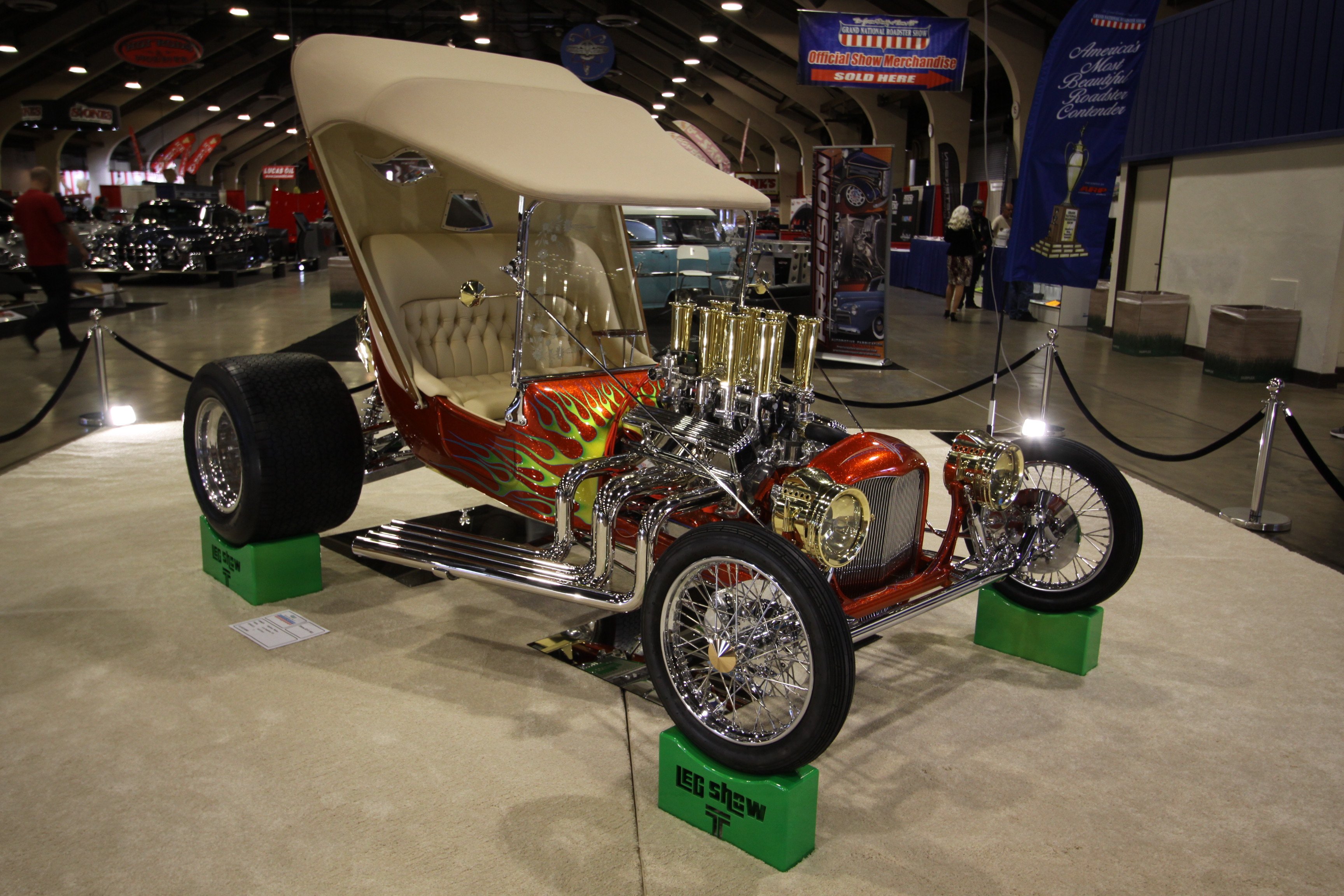 The "Leg Show T" first appeared on the cover (and inside) of Rod & Custom magazine back in the day. It's currently owned by Walter and Thenia Sigsbey and sports a Jaguar IRS, among countless other niceties. Ron Mangus stitched the custom interior, while Dan Gogh performed the perfect paintwork, with pinstripes by Rhythm.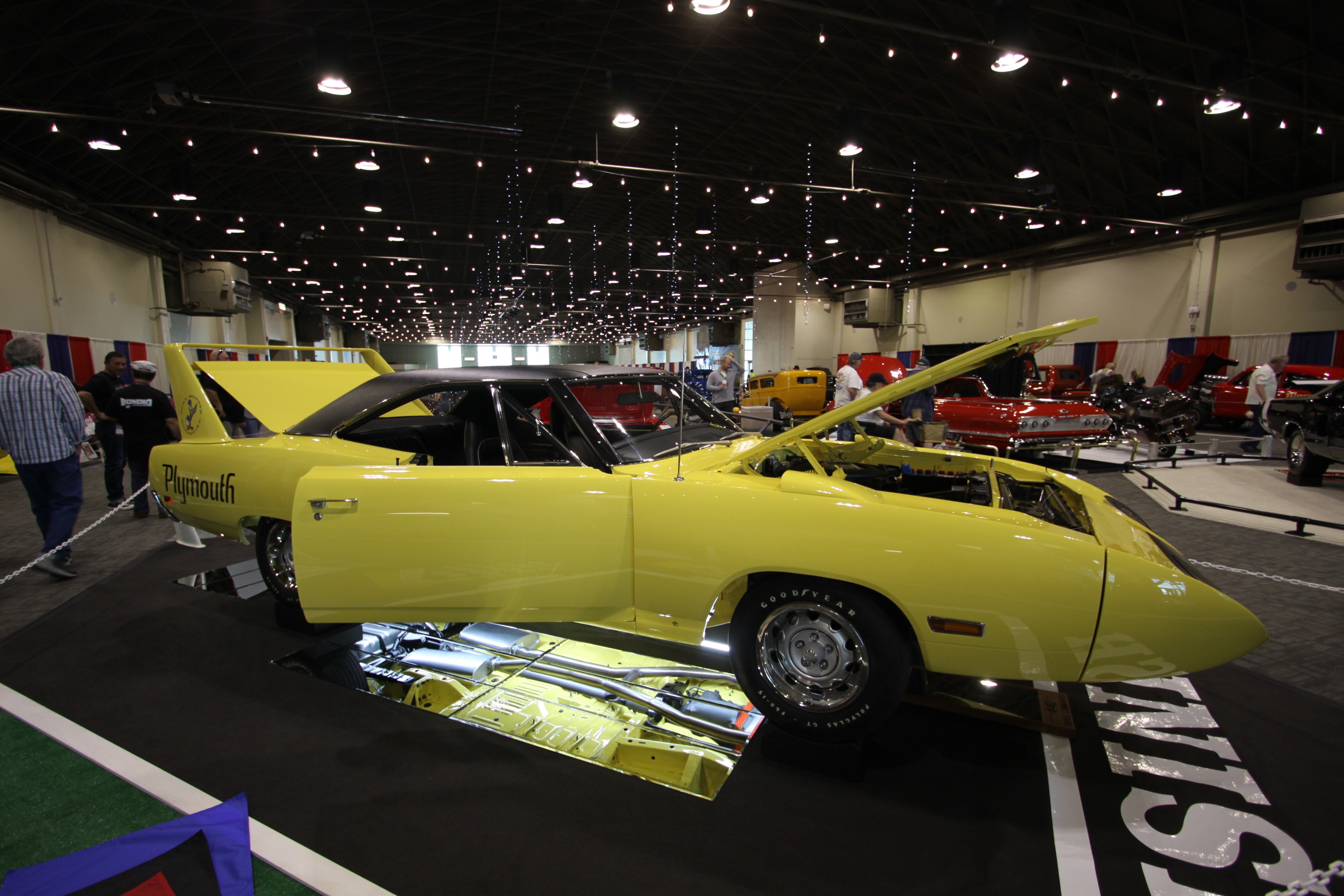 Janice Sutherland owns this "oh my goodness gracious" 1970 Plymouth Superbird. Stay tuned for a full feature article coming soon.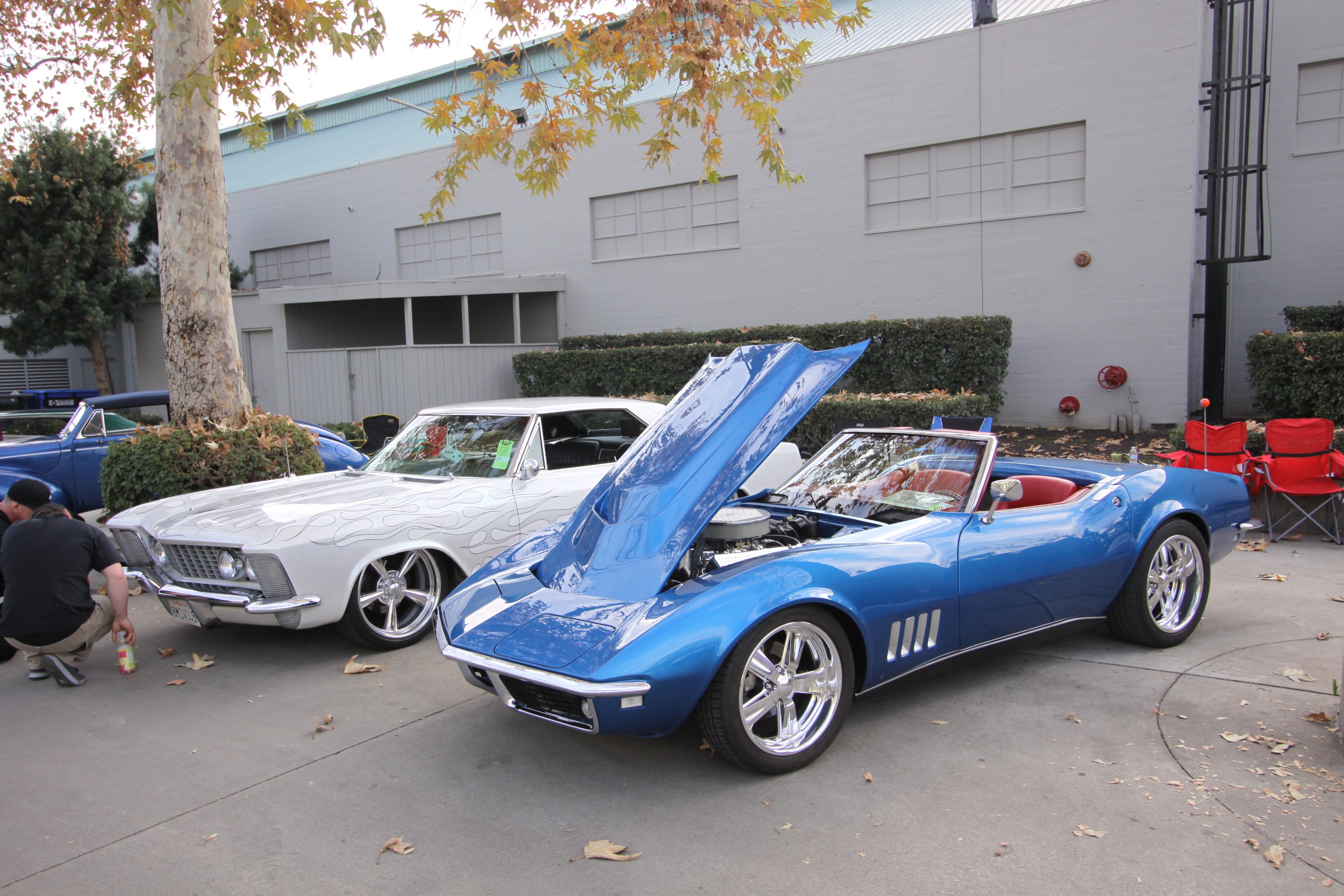 Thirdly, the amount of automotive enthusiasm and positive vibe in one place is contagious. If you're a bit bummed that your muscle car project's not further along than it is you'll get a jolt of positive automotive adrenaline at this great and cool car show. In addition to all of the automotive finery to see, there were automotive pin stripers showing their skill in building 4, as well as the annual auto pin stripers art auction taking place in the same building on Saturday and Sunday, with the money raised for Teen Challenge in memory of Nicole Meguiar, the late daughter of Meguiar's Polish's Barry Meguiar. The pinstripe art auction raised a solid $50,000 for Teen Challenge.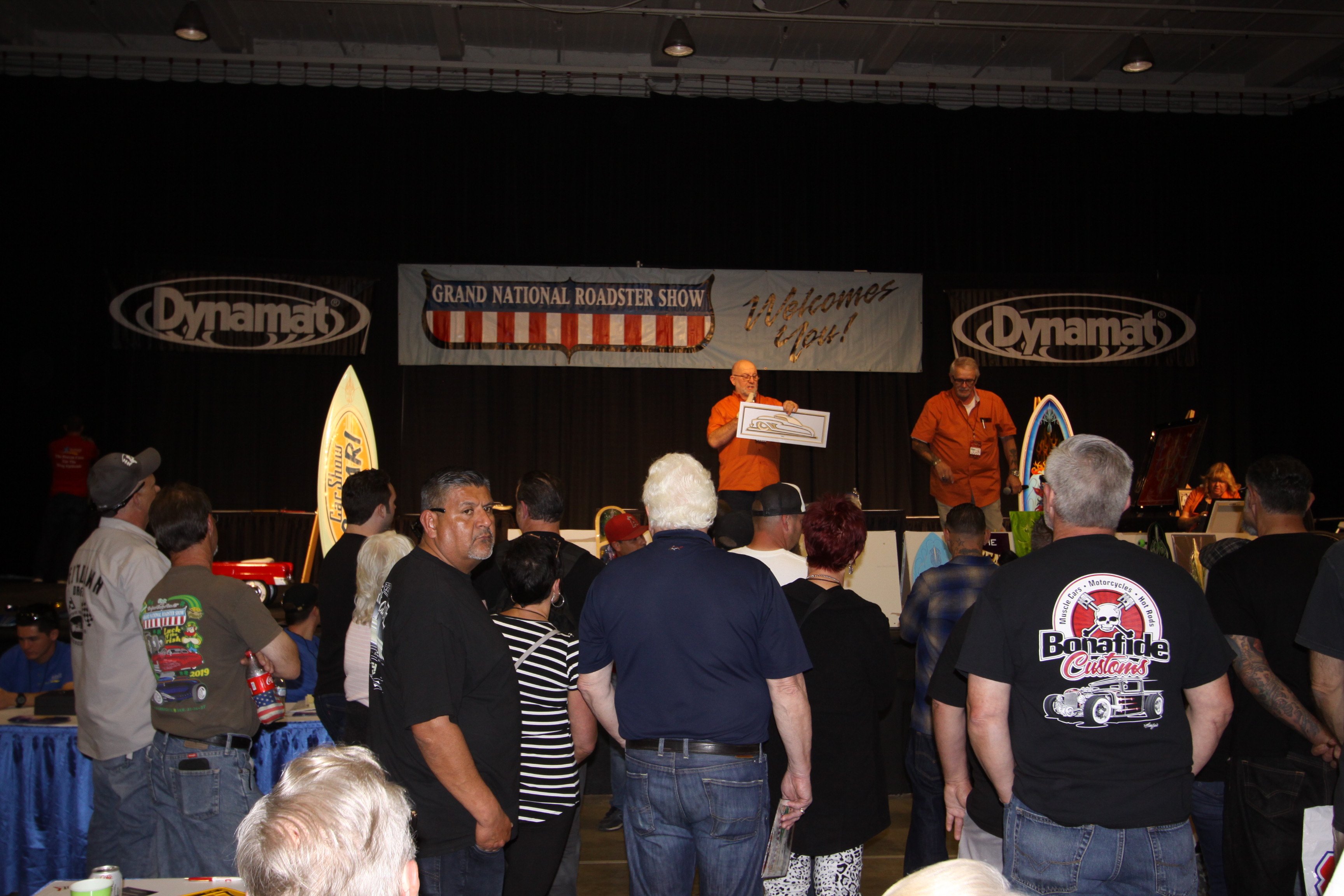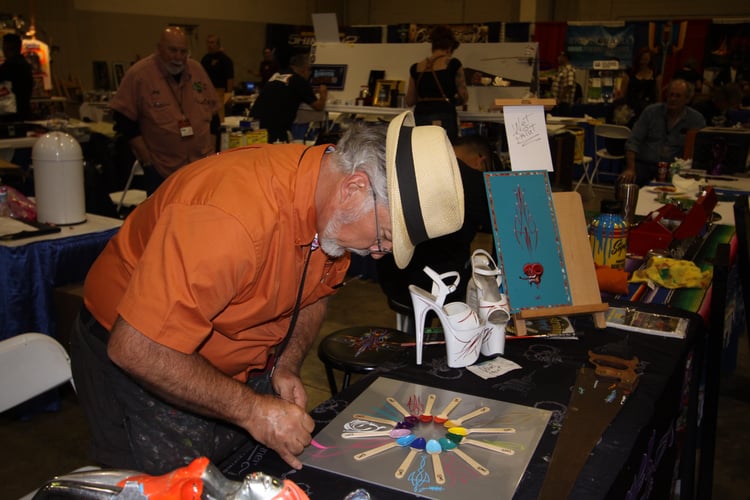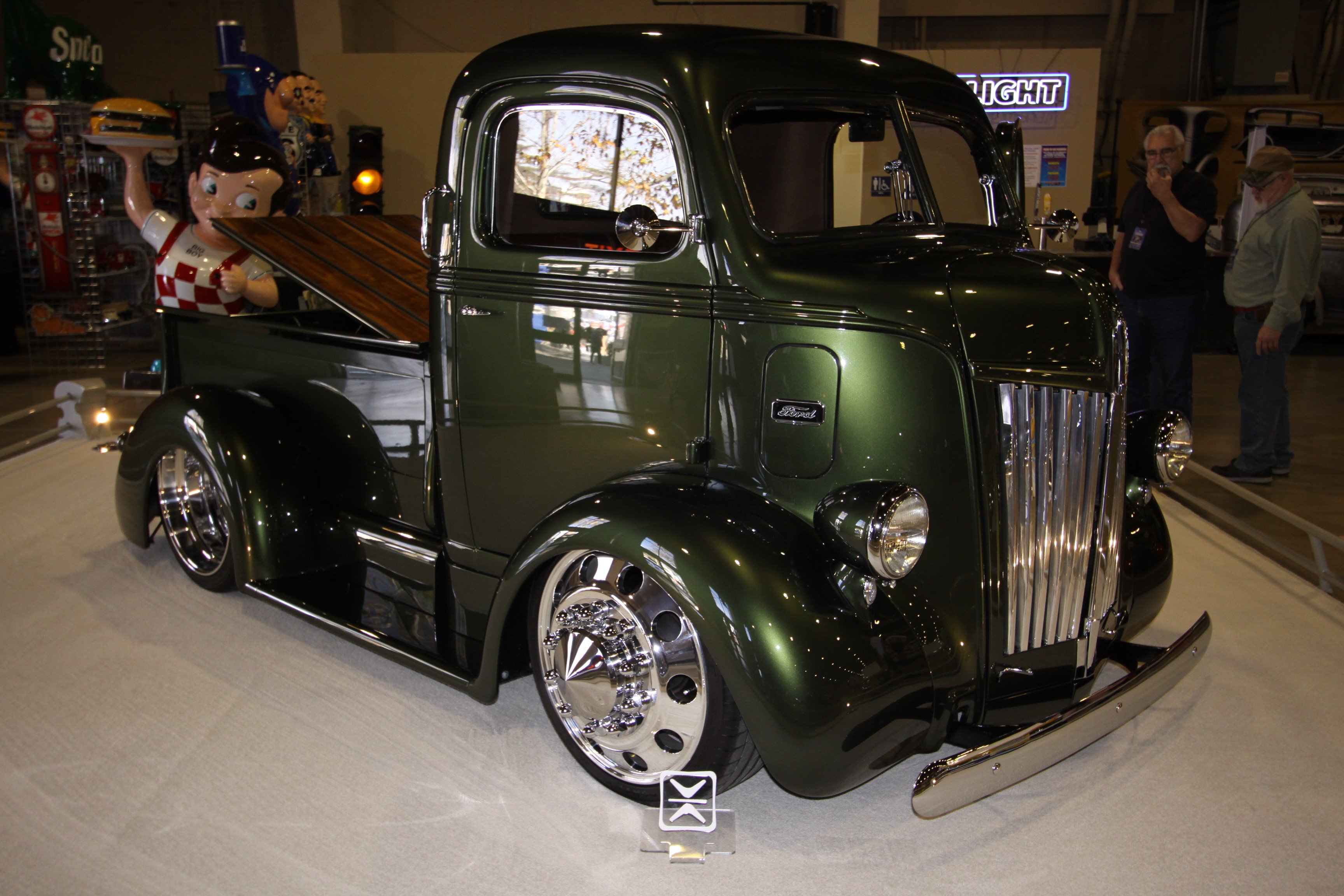 This 1947 Ford COE (Cab Over Engine) truck is called Fiascoe. It's owned by Jeff & Jaime Chambers and built by Standley Bros. Hot Rods. The rig rides smooth thanks to an Accuair E-level suspension and gets motoring thanks to a 383 cubic inch V8 Chevy stroker mill backed by a 700R4 automatic trans.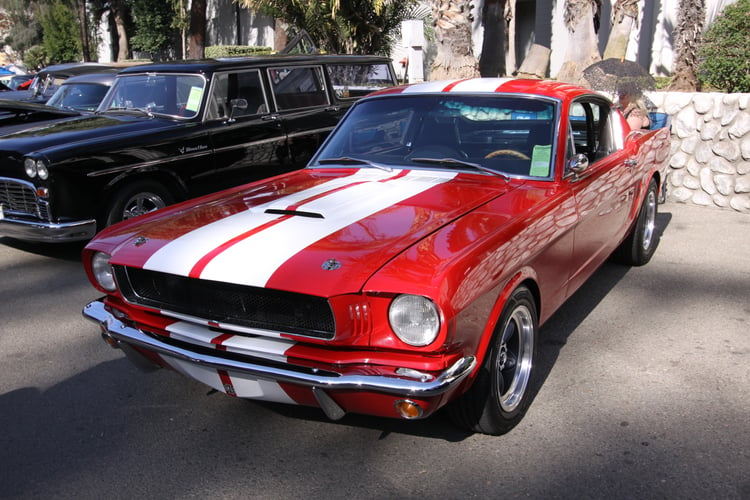 Mike Yaklyvich is the current caretaker of this very well turned out 1965 Ford Mustang with the GT350 custom touches and a glove box door signed by Mr. Carroll Shelby (see interior photo below).
Of course, if you're missing some key components for your build, there's also plenty of trusted automotive aftermarket companies on hand. The Classic industries booth was in building 5. We gave away American muscle car parts catalogs to a multitude of people throughout the three days of the event.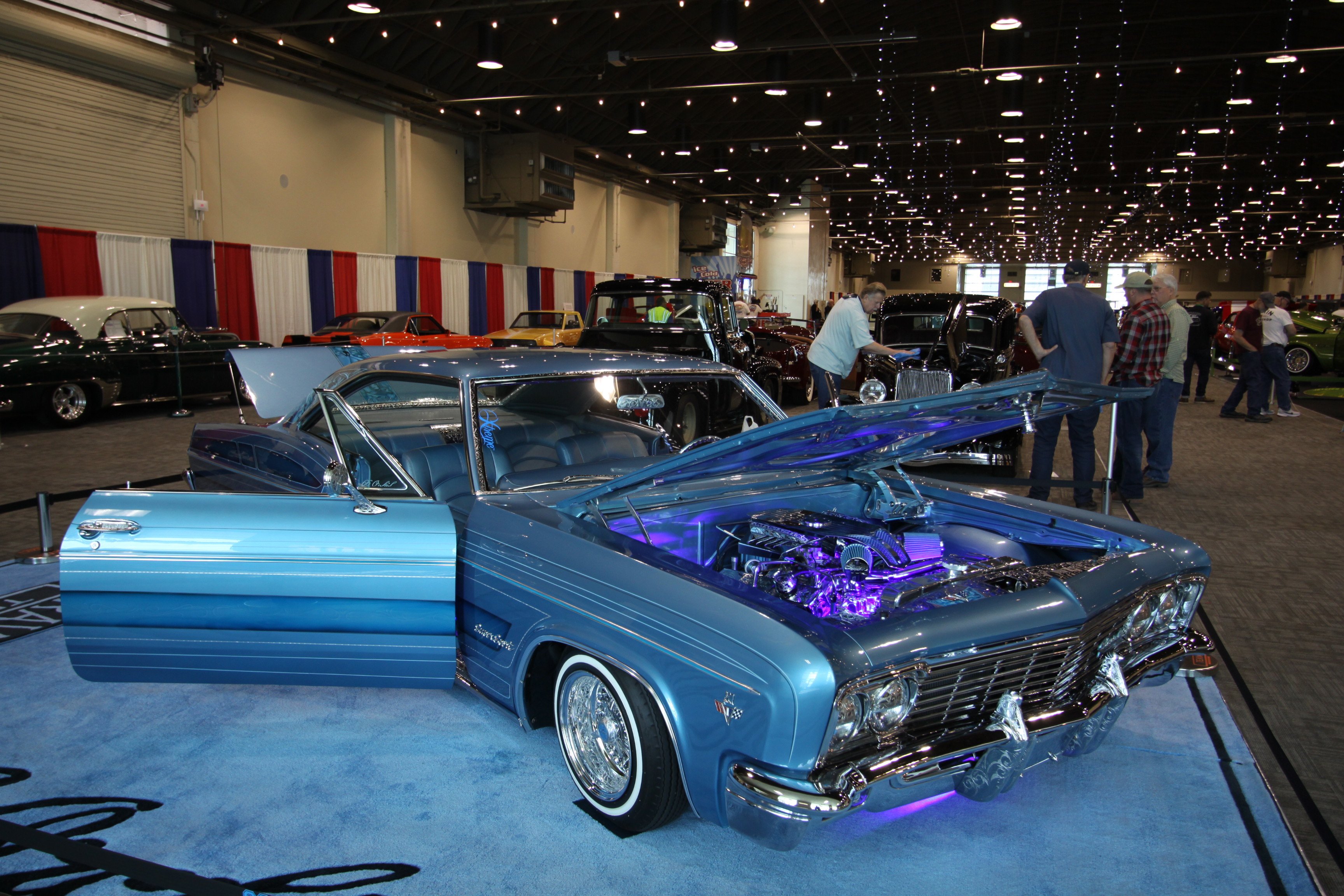 Michael Robles, of Covina, CA, displayed his exceptionally well wrought 1966 Chevy Impala Lowrider, named The Orchid. Check out the engine shot just below.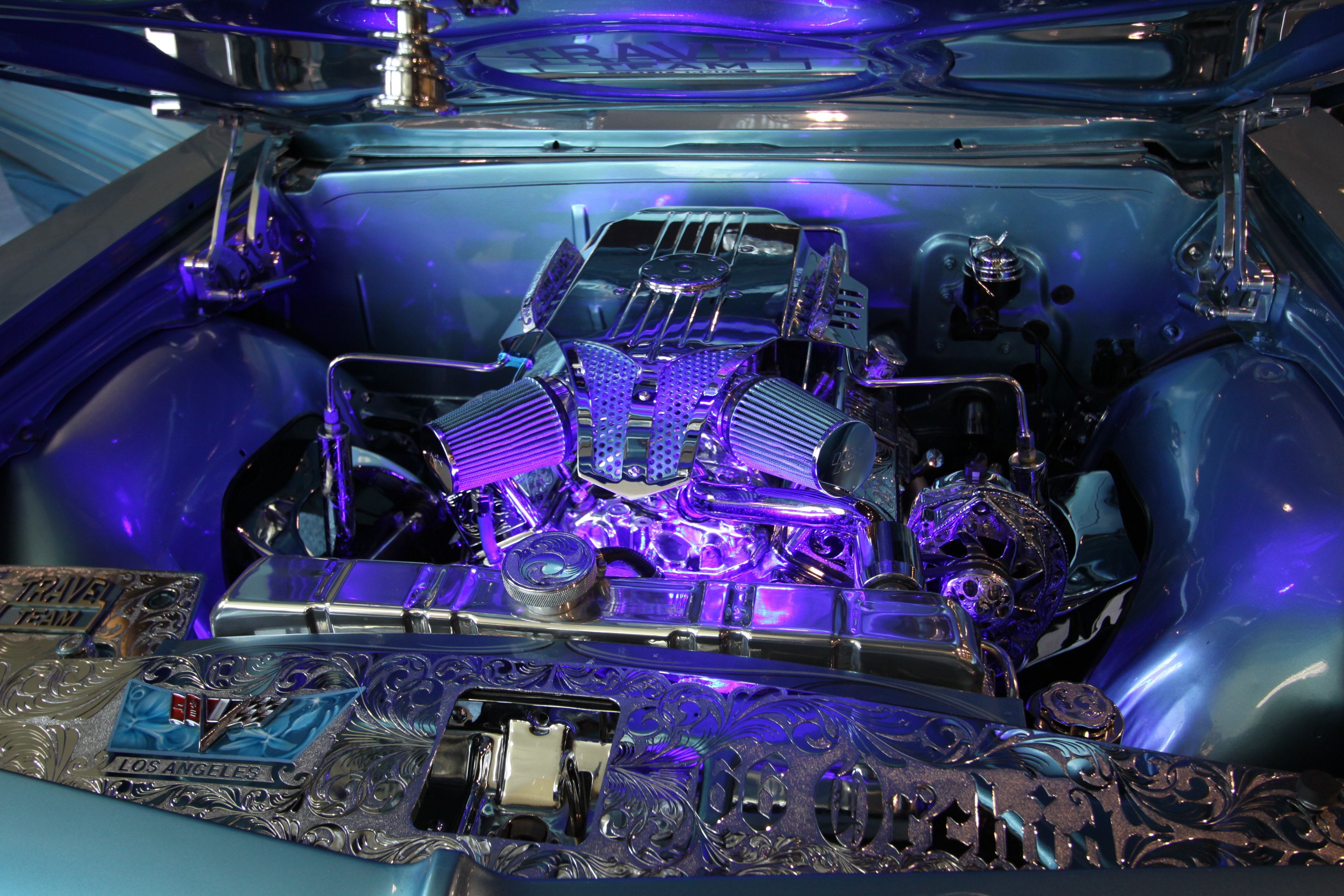 There are many more reasons to go to the Grand National Roadster Show, held every year in the latter part of January at the Pomona Fairplex. One of the most prestigious awards in the automotive world is America's Most Beautiful Roadster, which is presented to the best "open" hot rod in the United States of America. This year's AMBR winner was a 1932 Ford Roadster, named "'32 Kugel Muroc No.4", which is owned by Monte Belsham and built by Jerry Kugel. The roadster beat 9 other contenders, earning the $12,500 prize provided by ARP Fasteners and also became immortalized on the AMBR award's 9.5-foot tall perpetual trophy alongside other legendary roadster builders like Andy Brizio, Roy Brizio, Chip Foose, Troy Ladd and Boyd Coddington.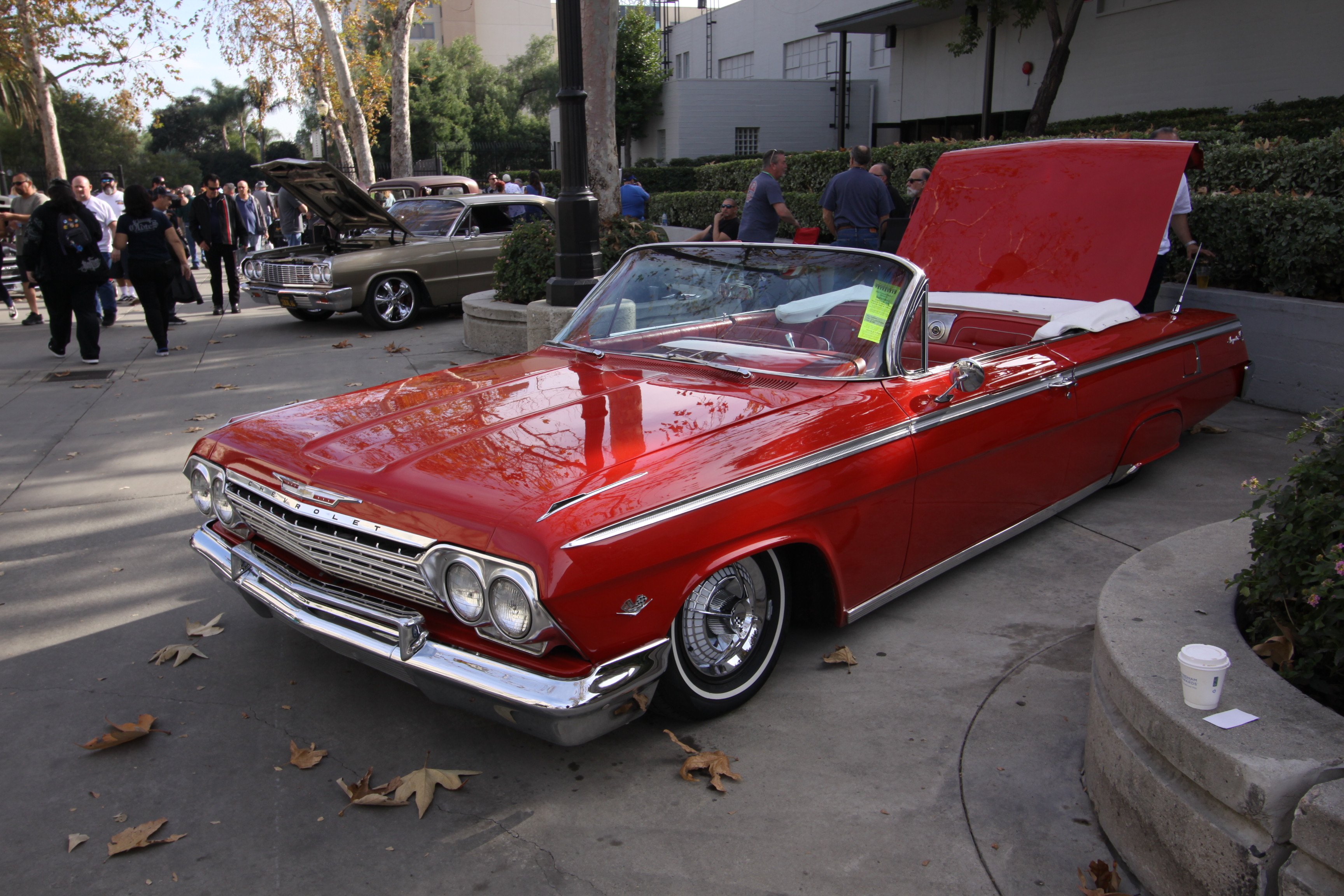 Rito Guzman cruised to the Grand National Roadster Show in his bright red 1962 Chevrolet Impala convertible. With temperatures in the low 70s, it was a perfect day for having the top down on Saturday.
Robert Zahabi, of Sun Valley, CA, kindly showed the appreciative crowd his 1970 Dodge Challenger that was entered in the 1965 to 1979 Street Touring classification of the 2020 GNRS. Check out the way cool custom interior below.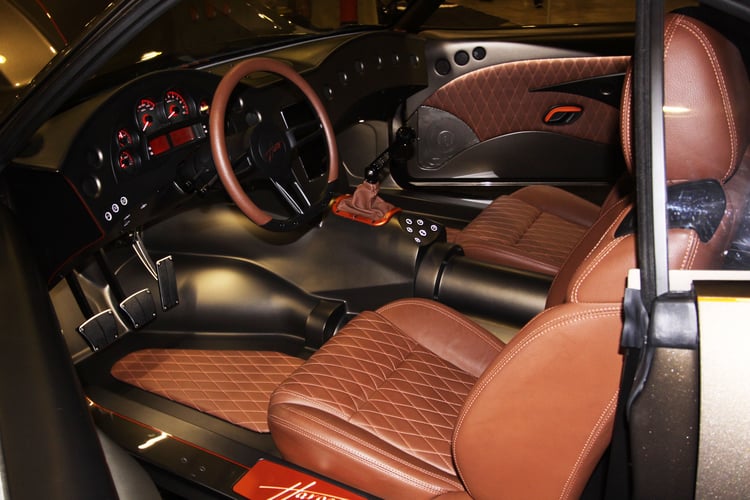 Mr. Belsham's AMBR winning 1932 Ford roadster is one of ten fender less, "highboy" roadsters created by famous hot rod builder and custom street rod/hot rod suspension pioneer Jerry Kugel, who also owns Kugel Komponents. Mr. Kugel originally built the car for Nick Barron. The car was modified and painted by Sqeeg's Kustoms. It's presently powered by a Hilborn stack fuel injection system atop an LS1 mill and backed by a GM 4L60-E automatic transmission.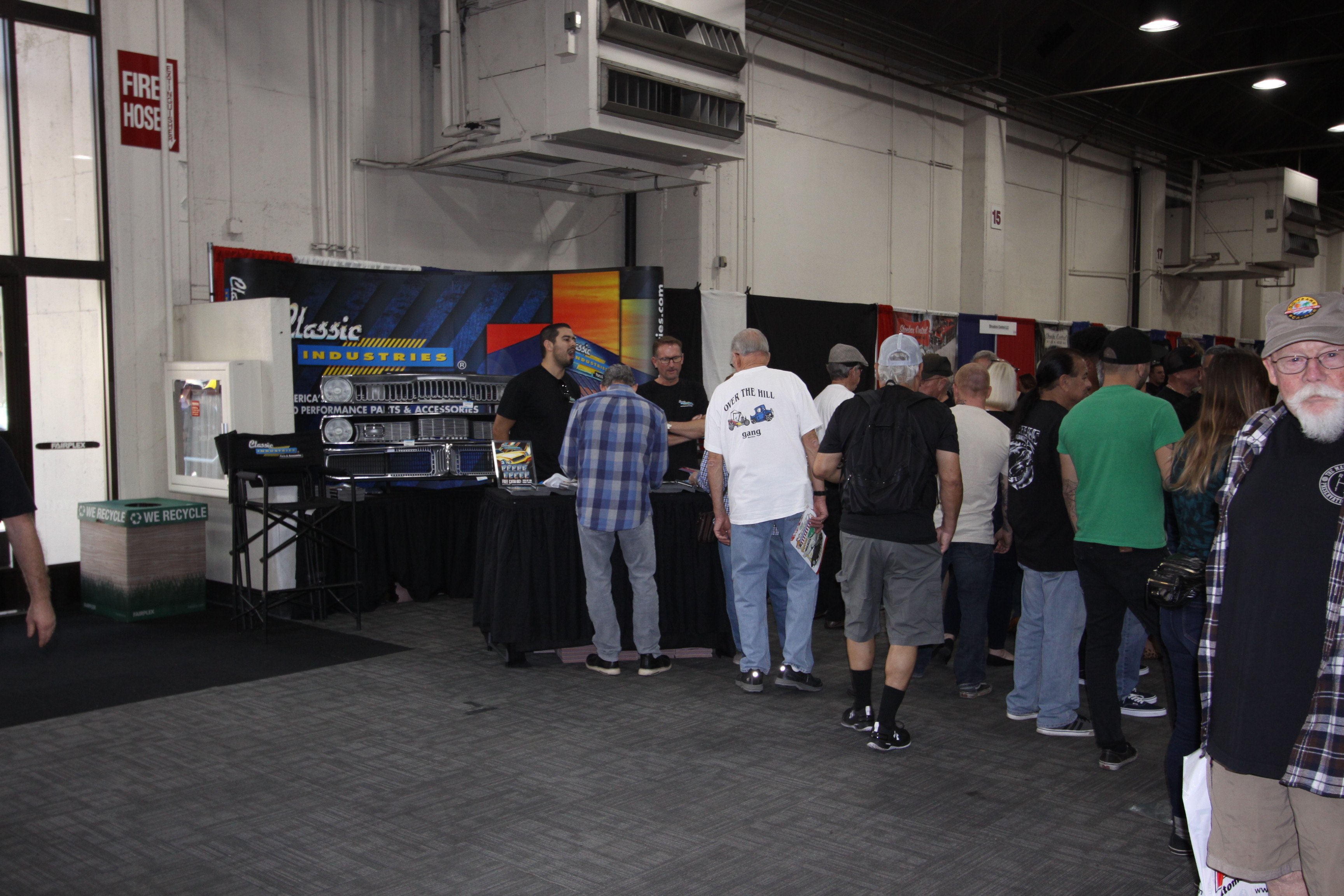 Throughout the Grand National Roadster Show the Classic Industries booth was a popular destination for the thousands of spectators and participants that made the 2020 GNRS yet another great success. We gave away a ton of free American muscle car parts catalogs to appreciating customers.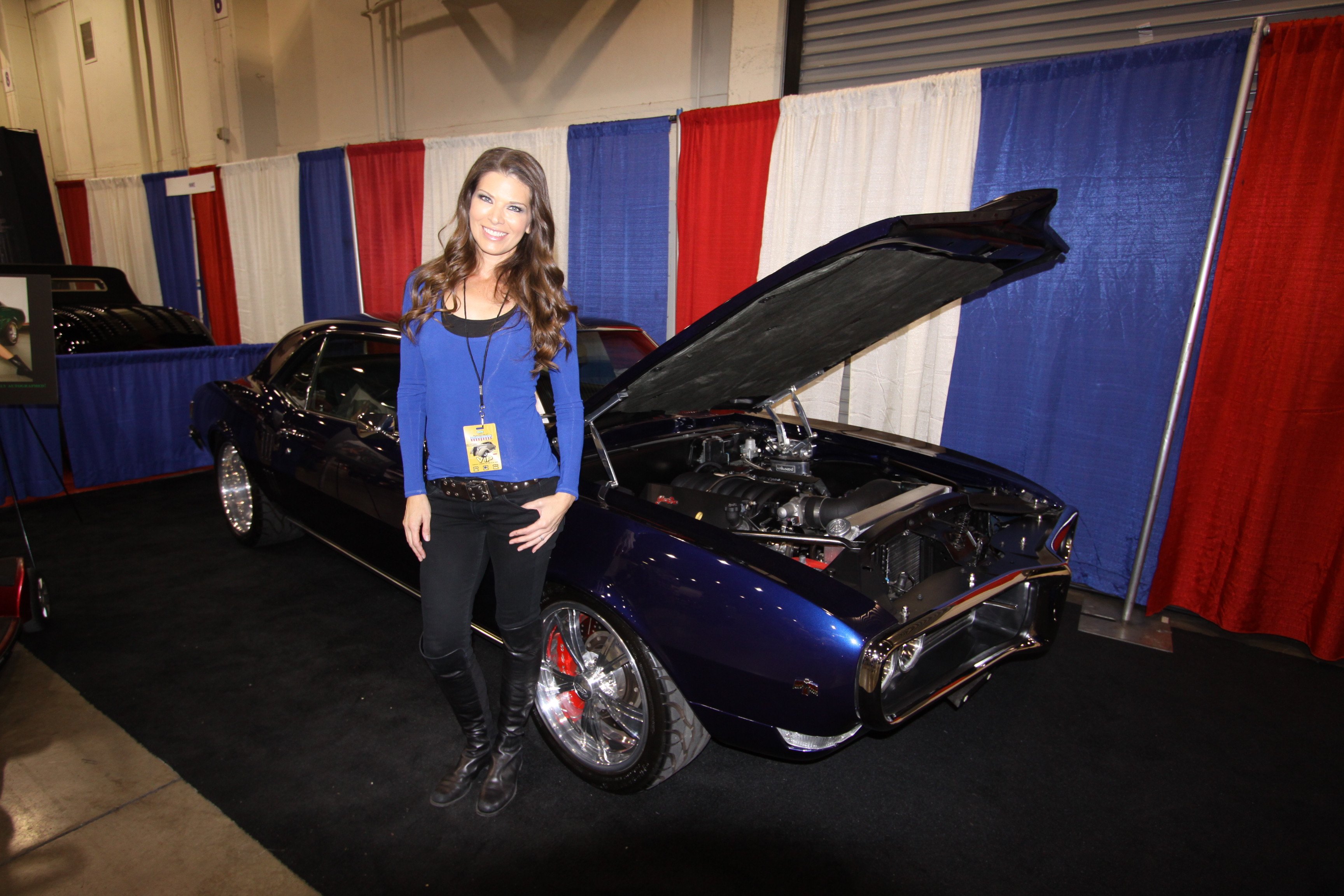 Overhaulin', that popular television show that films pro builder Chip Foose and his team of automotive craftswomen and craftsmen doing what they do best is thankfully filming another season this year. One of the show's hosts and crew members, AJ, was at the show with her 1968 Firebird. Her smile is incandescent!
ARP Fasteners also sponsored the Al Slonaker Memorial Award and increased the prize purse to $12,500. Al Slonaker, with his wife Mary, founded the Grand National Roadster Show at the Oakland Exhibition Center in 1949. Since 1974, the Al Slonaker Memorial Award has been presented to the best non-roadster vehicle at the show each year. This year's recipients were Ron and Vicki Ernsberger, for their 1936 Willys Model 77 coupe.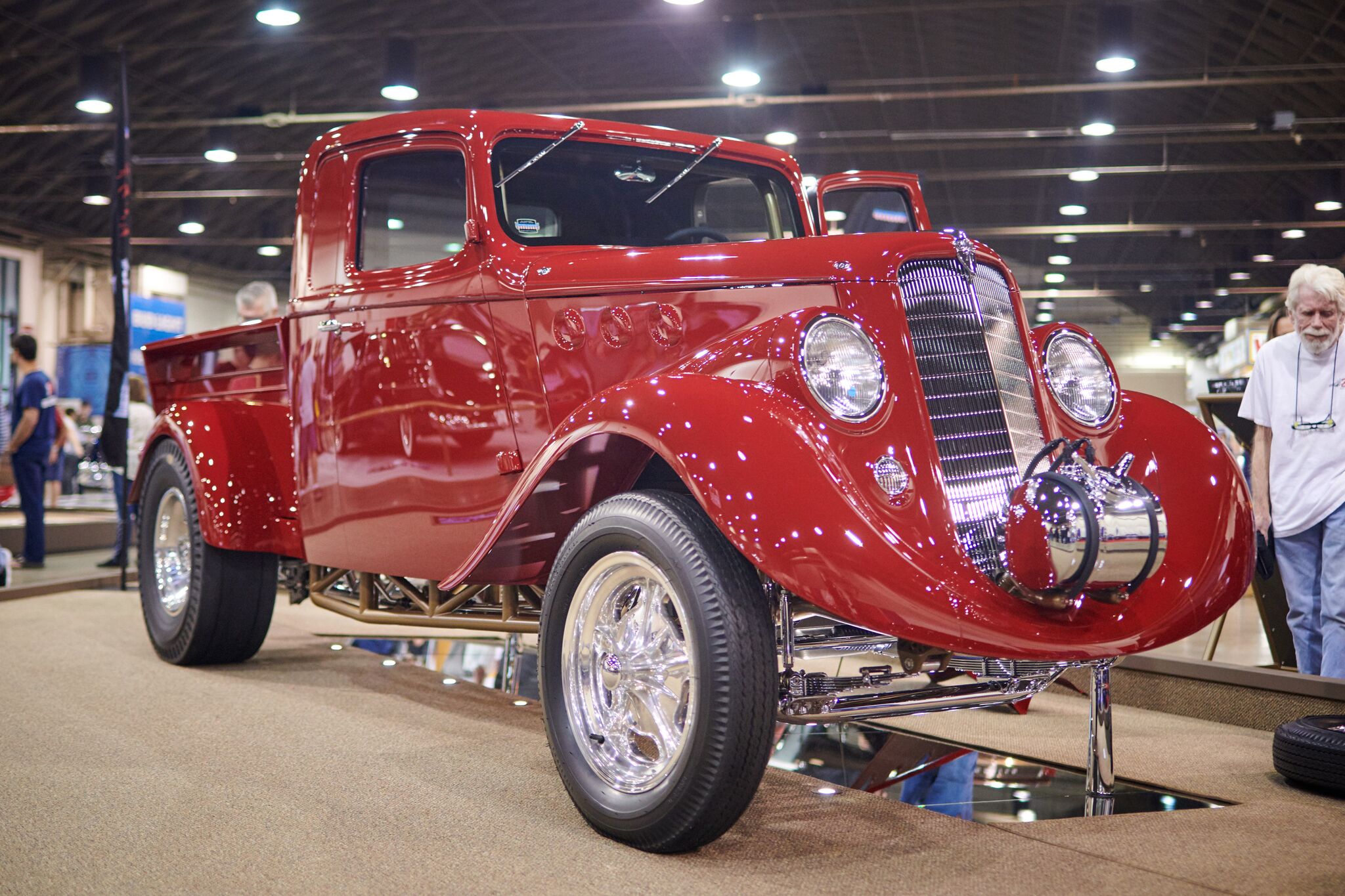 The Al Slonaker Award winning Willys Model 77 coupe is just above. Photo courtesy of Rod Shows and Kahn Media.
The Willys sports a PPG Rosso Mugello Ferrari Red paint job with 6 coats of clear over two coats of Prancing Horse Red hued paint. The Refinery by Adam Krause lavishly laid down the lustrous award-winning paintwork. The coupe has a 498-cubic inch Arias V6 Hemi engine that is backed by a Tremec TKO 5-speed manual trans.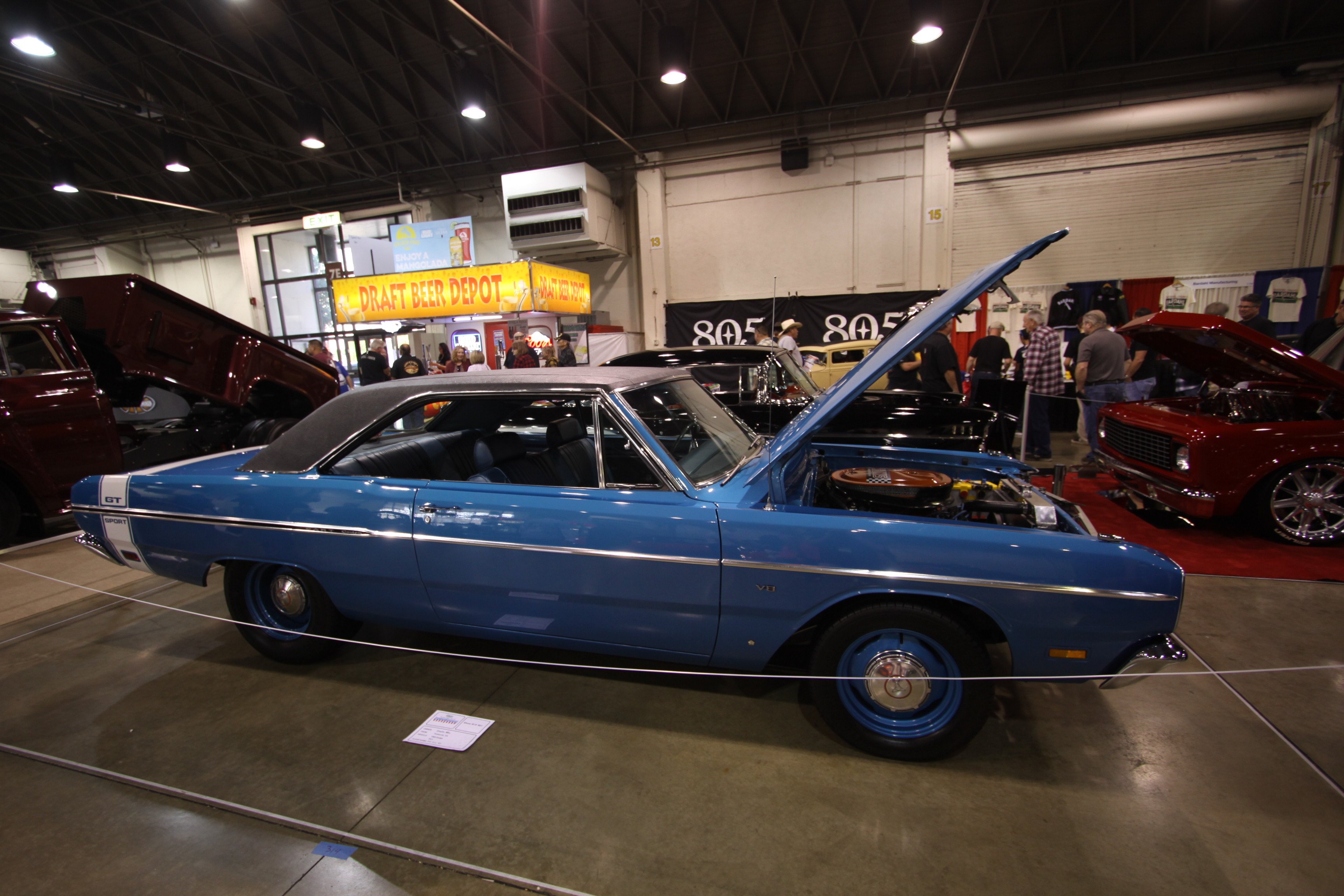 Mike Dingillo, of Temecula, CA owns this 1969 Dodge Dart. The car's powered by a Dodge 440 c.i. V8 Max Wedge Six Pack. The Six Pack refers to the three, two barrel carburetors that feed air and fuel into this massive big block V8 in the lightweight A-body chassis. In other words, this Dart has plenty of go power, which belies its somewhat sleeper appearance (apart from the tail stripe). The photo of the Max Wedge engine is just below.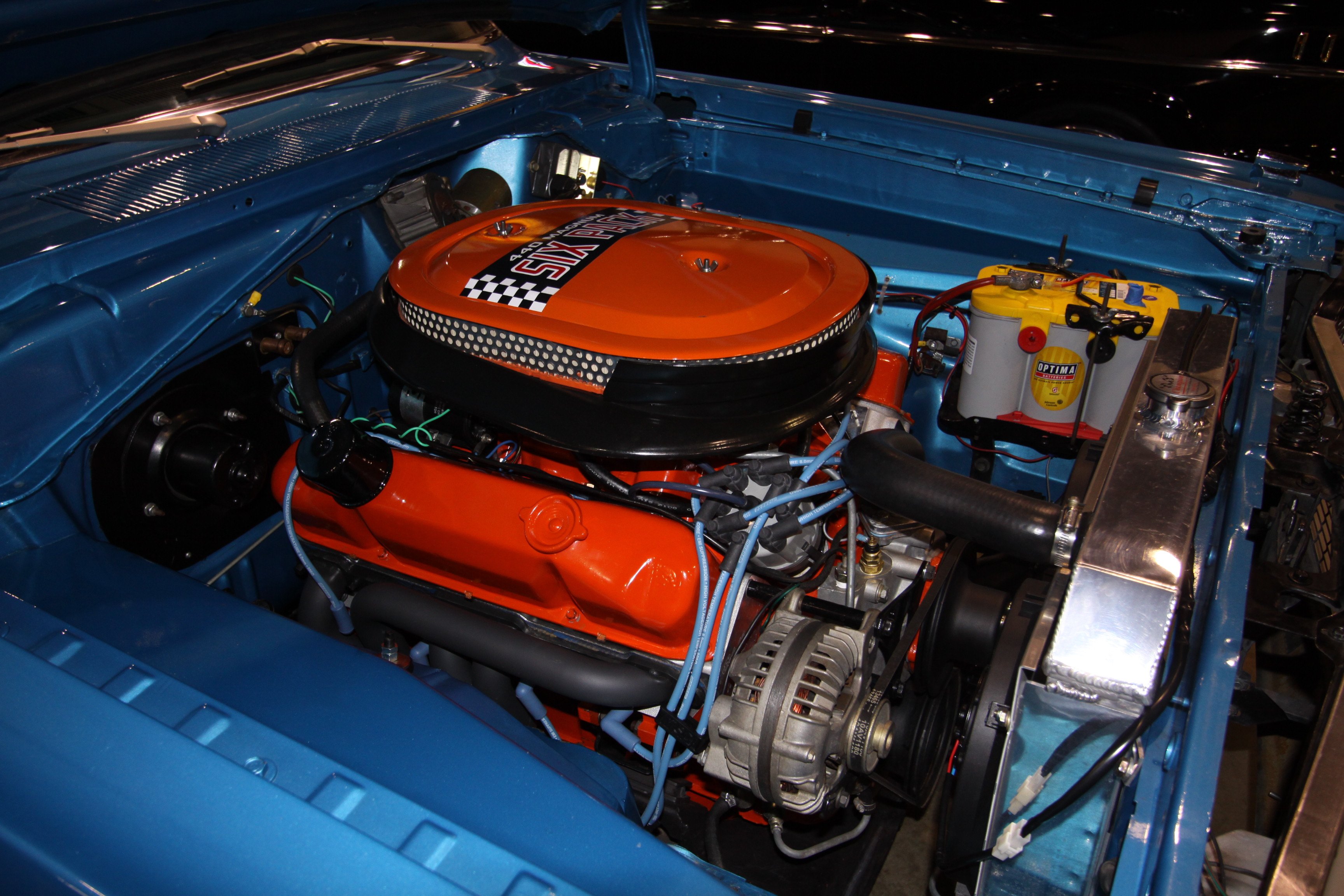 All told over 600 individual awards were presented during the closing ceremonies of the GNRS on Sunday afternoon. But to think that the show is just about garnering awards for those lucky home-build hobbyists and the pro custom car shops, that's not the case.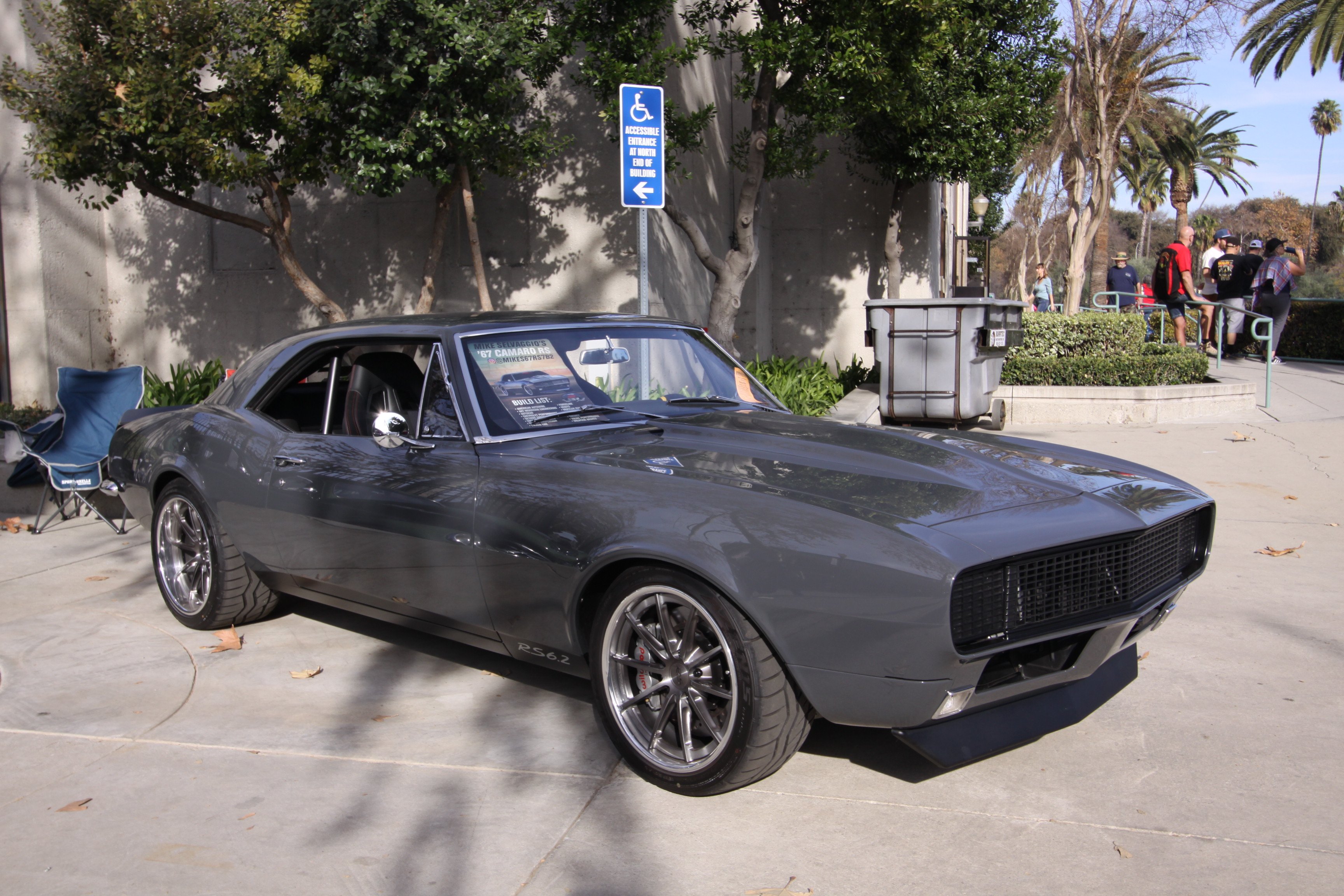 Mike Selvaggio's 1967 Camaro RS is the epitome of a proper Pro Touring restomod. Well done, Mr. Selvaggio!
In building 9, the GNRS presented a special exhibit called "Drag Racing Then and Now", presented by Lucas Oil and sponsored by Cragar Wheel. This curated display had a gathering of some of the most important dragsters throughout drag racing history.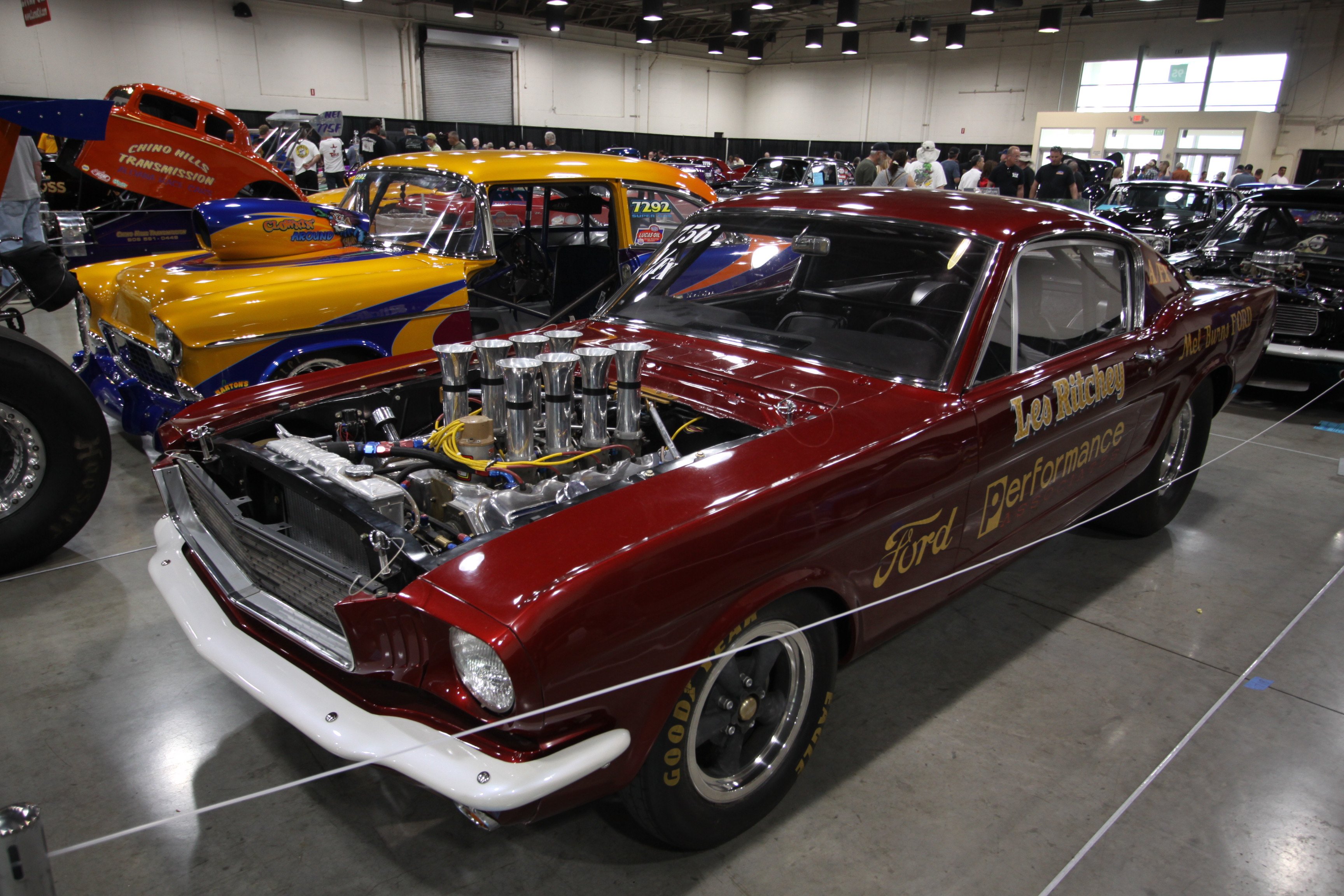 Larry Knapp, of Pinon Hills, CA, is the current owner of this famous Les Ritchey Ford Performance 1965 Mustang fastback drag racing machine.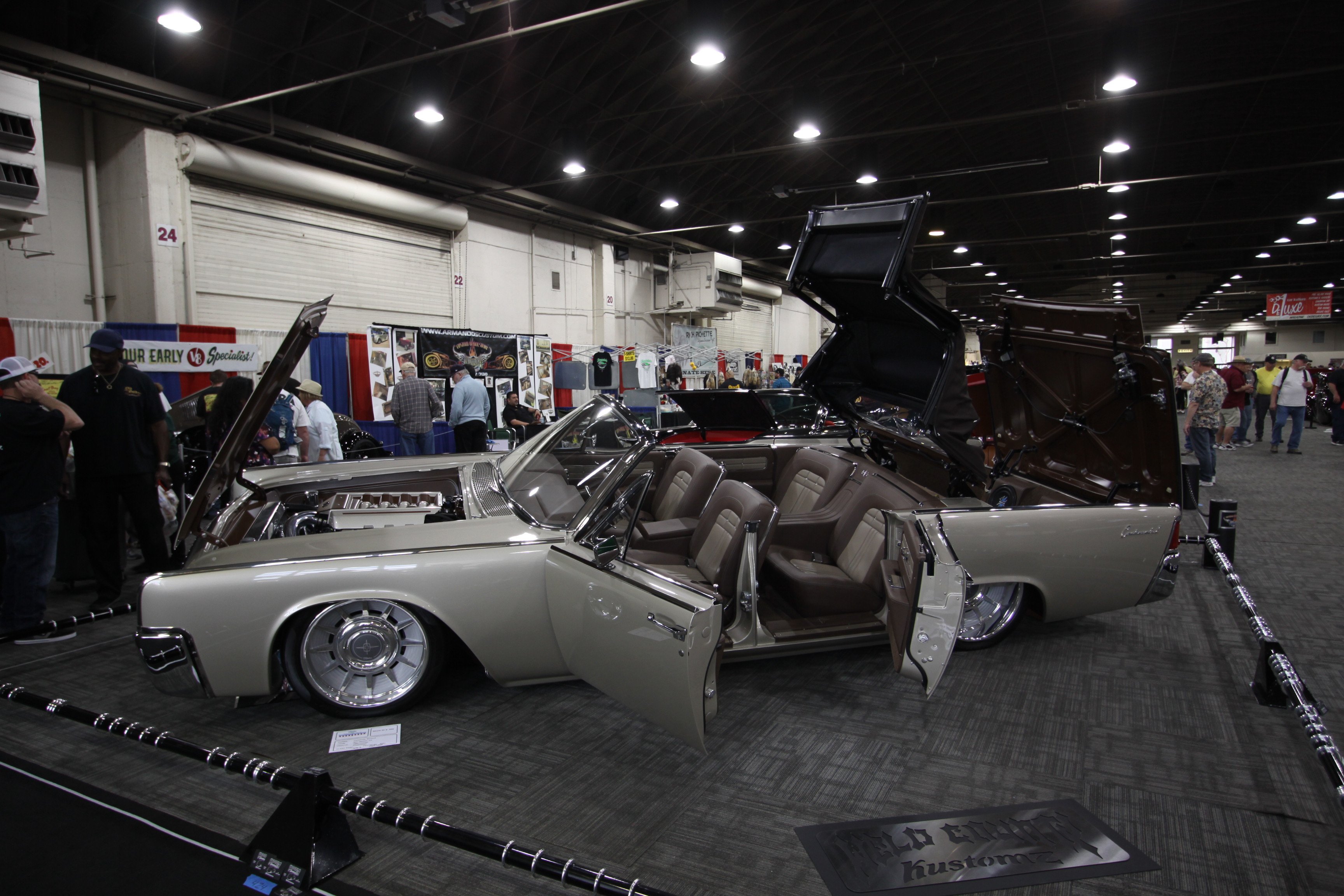 San Jacinto, CA is home for Richard Fairservis and his super nice 1962 Lincoln Continental. The Lincoln received an impeccable restomod renovation.
Dave Kindig, host of Bitchin' Rides and owner of Kindig-it Design, won the "Builder of the Year" award for his custom creations that have graced the boulevards and car shows for several decades. Many other celebrities, who are also automotive enthusiasts, were part of the 2020 Grand National Roadster Show. AJ, one of the hosts of Chip Foose's Overhaulin' television show was signing autographs. Mike Ness of Social Distortion displayed a 1954 Chevrolet. Michael Anthony of Van Halen and Billy Gibbons of ZZ Top were also in attendance.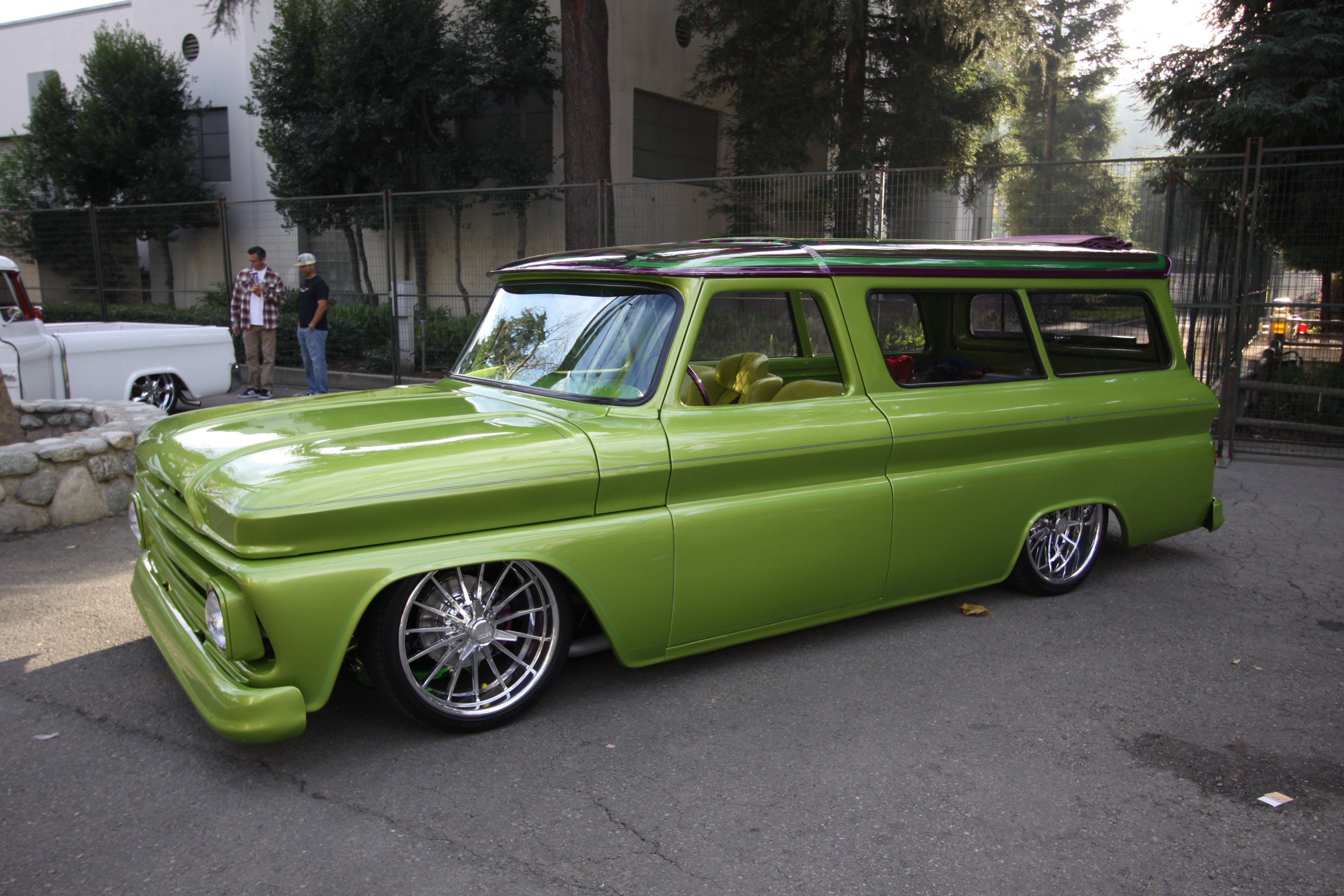 The owner of this sublime Suburban had the child seat upholstered in the same material (see the photo just below).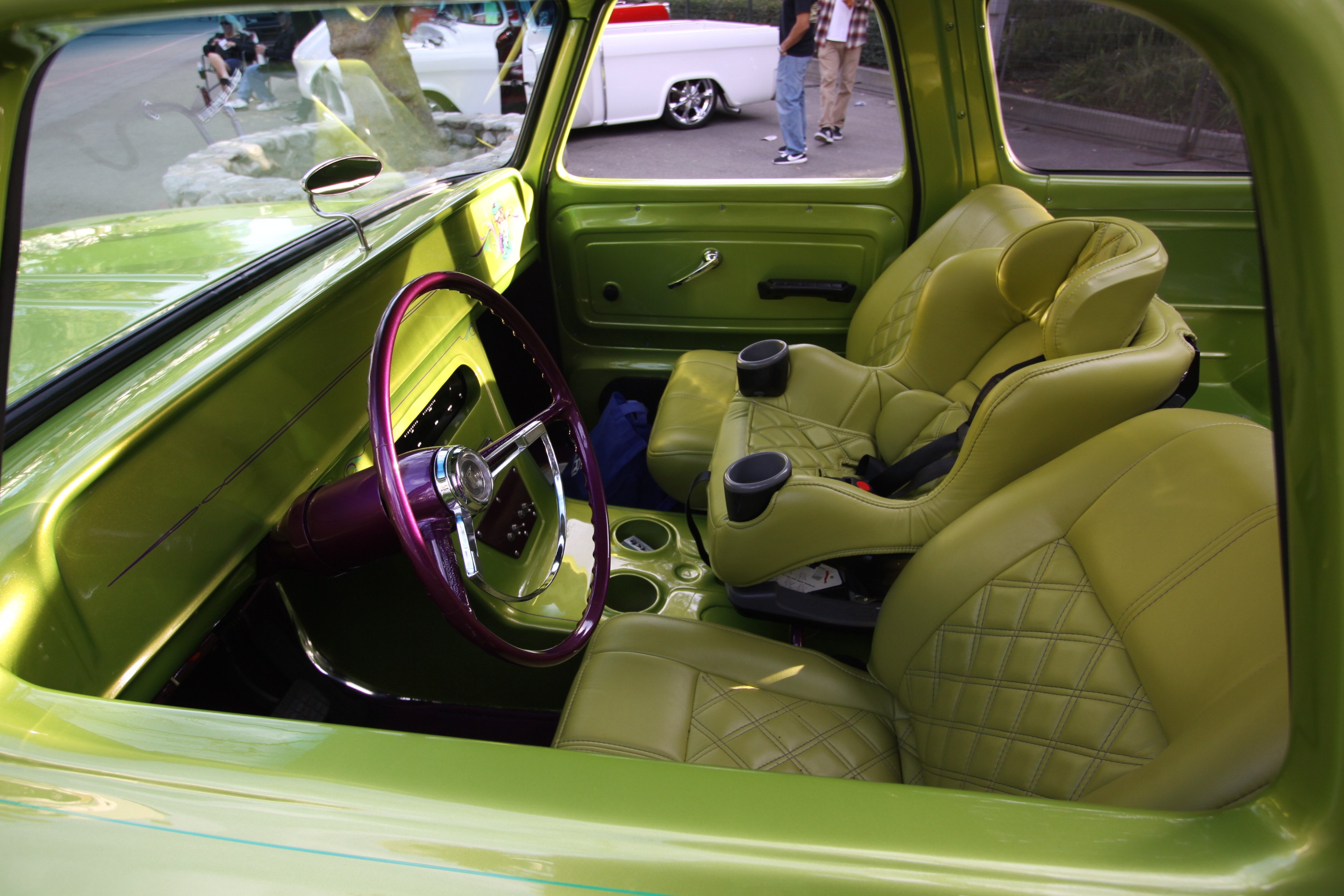 As the longest running indoor car show in the world, the Grand National Roadster Show is steeped in history. What keeps it going and growing strong every year is the fact that it's presented in the epicenter for the automobile -- Southern California. Equally important, the show's producers, Rod Shows, always bring an extremely well-curated mix of many different sorts of vintage, classic, muscle, restomod, sports, custom and exotic vehicles together, all to be displayed and/or driven in from different parts of California, the U.S. and indeed the world. We spoke with countless folks the entire event, who flew in from disparate parts of the globe to either be an exhibiting participant or a spectating fan. If you'd like to plan a visit to Southern California for next year's event, and/or to get a full list of the Grand National Roadster Show 2020 award winners, please visit Rod Shows. If you're so fired up from reading about this event or from participating in the show as a fan or exhibitor, and you'd like to get your project vehicle finished, click the banner below to get your free catalog.
We look forward to seeing you at next year's Grand National Roadster Show!