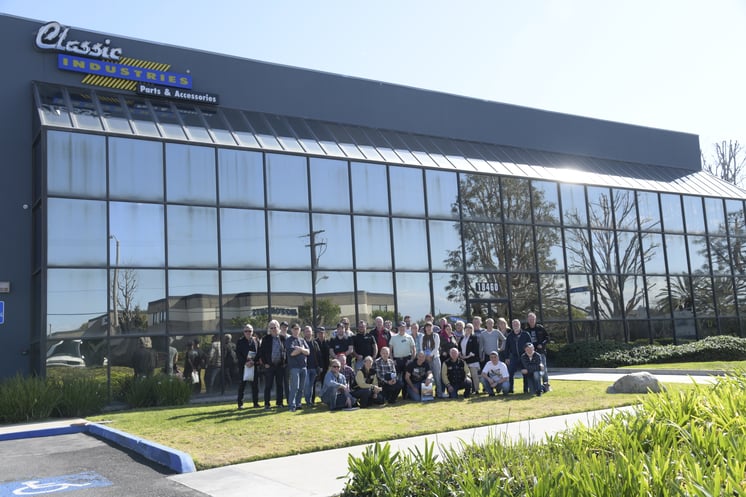 Vintage American cars are really big in Sweden. We learned just how popular our muscle machines and cruising land yachts from the 1950s, 1960s and 1970s are when forty or so avid American car enthusiasts from Sweden visited Classic Industries last Monday. Every year Bilsport Classic Magazine, a Swedish publication, hosts a week-long trip to California to visit various prominent car shows, swap meets, famous professional build shops, and vintage car companies in the Golden State.
We've known for many years that working on old cars, owning them, and appreciating classic cars brings people together. Having our like-minded acquaintances from Sweden visit us, drink some coffee, and purchase items from the Classic Industries showroom, really brought that notion home.
From talking briefly with the guide and host of this weeklong auto-themed trip, Lasse Theander, and conferring with several Classic Industries co-workers, we learned that one of the biggest classic American car shows in the world is held in Sweden. It's called Power Big Meet. The show began in 1978. The car meet drew its biggest crowd in 2007 for the 30th gathering. More recently, in 2014, there were 17,000 cars and 200,000 fans that showed up.
Back here in California, in spite of intermittent rain, the Swedish travelers had already been to the Long Beach High Performance Swap Meet on Sunday, February 9, and dropped in on famous pro builder and all-around great guy Chip Foose and the Overhaulin' crew Monday morning before coming to meet us.
Later this week, the classic American car loving Swedes will travel to San Francisco to meet Roy Brizio, of Roy Brizio Street Rods. Mr. Brizio is another mega-famous professional American street rod, hot rod and classic car builder, who you probably already know of. They then will be going to the 66th Sacramento Autorama, a car show that has evolved to be known as "The Custom Car Capitol of the World." It's the other great custom, rod and American muscle car show produced by Rod Shows (also the producers of the Grand National Roadster Show).
The Classic Industries crew could have spent the entire day trading car stories with our new gearhead friends from Sweden, but alas there were orders to take and parts to ship all over the world, so we had to say our goodbyes and let the Swedes visit other destinations in California that keep our great classic American cars alive, driving and thriving.
If you're in need of some classic American restoration or performance car parts, get a free catalog by following the banner link below.
Classic Industries hopes to see the American gearhead Swedes again next year, too!