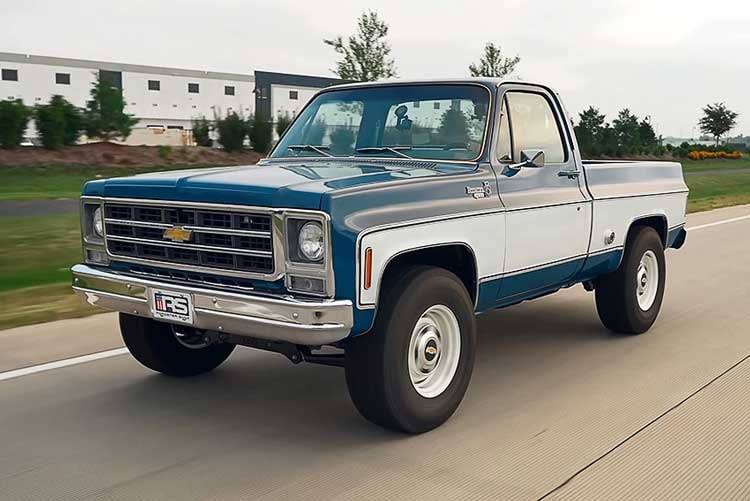 The concept of a "restomod" is essentially a fusion of old and new components, taking the best of both worlds to create a vehicle that drives like a modern car but has all the appeal of a classic. Roadster Shop's latest in-house project, a 1979 Chevy C10 nicknamed Ole Blue, is a beautiful example of a high-end restomod. By pairing a completely new chassis and Chevrolet drivetrain with the timeless body and interior of this '79 Chevy, the company created what they call "a new truck wrapped in an old truck."
Roadster Shop's Legend Series Chevy C10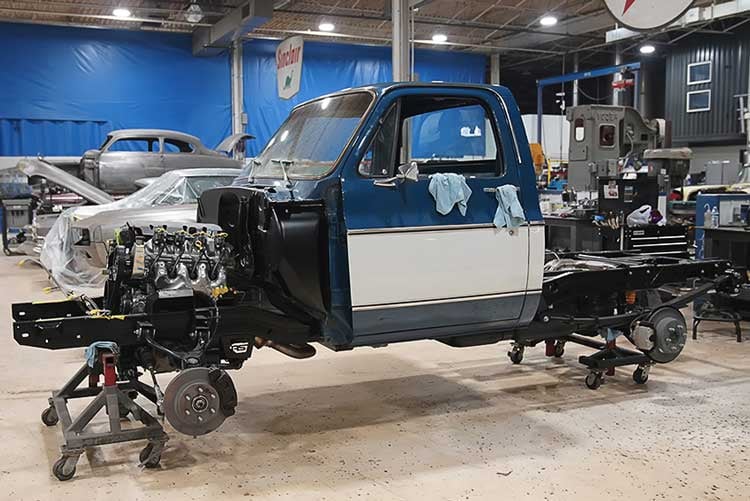 Ole Blue is the first production-ready example of Roadster Shop's Legend Series platform, a complete ready-to-run chassis with independent front suspension, four-wheel disc brakes, a 455hp LT1 V8 engine, and an 8-speed automatic transmission. It even has helper bags in the rear for towing, and a new core support up front that includes mounts for the battery, cooling system, and airbox.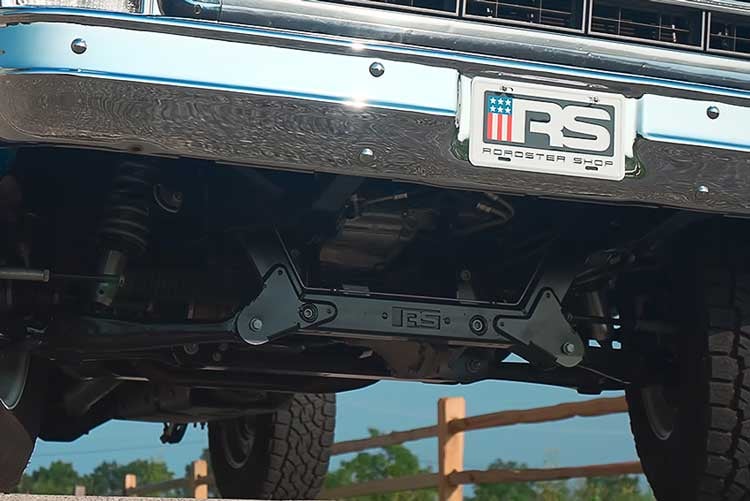 Why independent front suspension? Roadster Shop admits that a solid front axle is still preferable for hardcore off-roaders and rock crawlers, but they say this IFS setup is far more comfortable and compliant for day-to-day use around town and on the highway.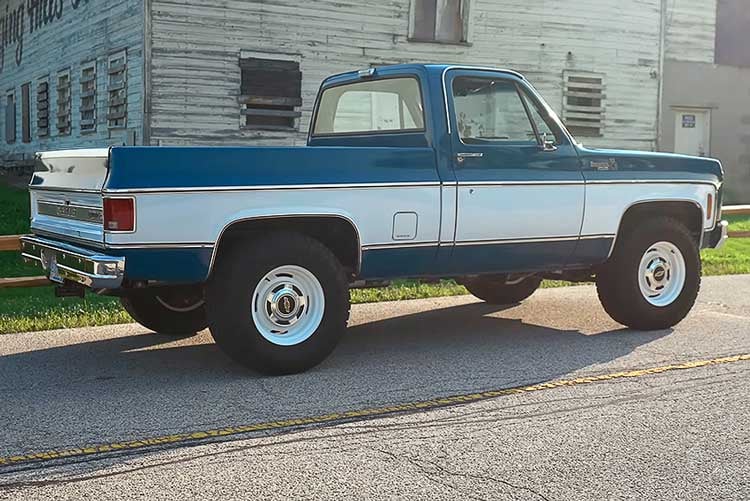 Factory off-the-shelf GM components were used as much as possible throughout the build. This maintains the reliability of a brand new GM truck, and makes it easier to source replacement parts in the future.
Ole Blue is riding on 17-inch Billet Specialties wheels that were designed to clear the four-wheel disc brakes and accept original Chevrolet hubcaps. These wheels tie in nicely to the factory style (but not quite factory) look of this C10. They're wrapped in 34.5-inch Nitto all terrain tires.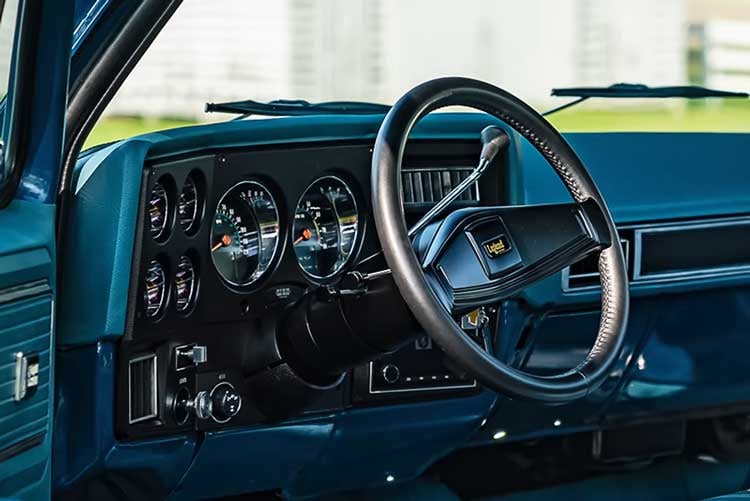 This '79 C10's interior is almost entirely factory-spec, with the most notable exception being the two-spoke wheel from Lokar wrapped in leather and covered in 3D-printed Roadster Shop Legend Series trim. It also has a few other common restomod amenities, such as Dakota Digital gauges, Vintage Air A/C, and an aftermarket stereo. Other components like the carpet, dash pad, and door panels are original-style parts.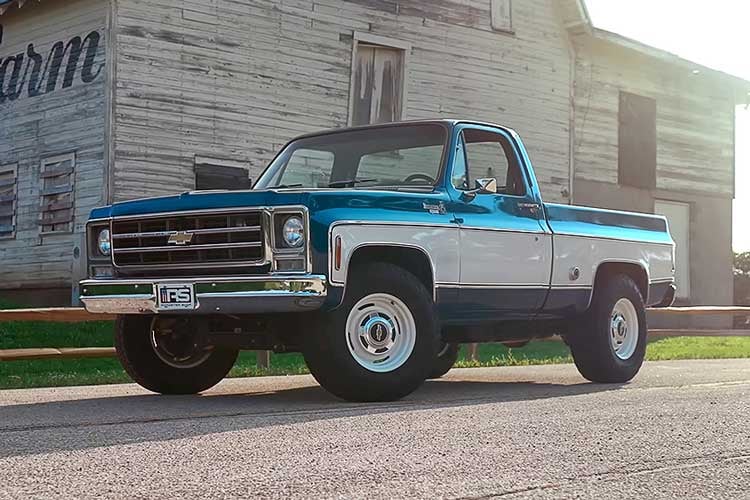 "You've got to kinda pinch yourself sometimes," co-owner Jeremy Gerber remarked with a laugh, "and remember that you're driving in a truck from 1979. This chassis, and the drivetrain, and some of the neat little upgrades in the interior, they make you forget all the old truck stuff — except for the cool factor!"
Check out the video below from Roadster Shop's YouTube channel for a closer look at this very cool squarebody Chevy restomod project.
Looking for Factory-Style GM Truck Restoration Parts?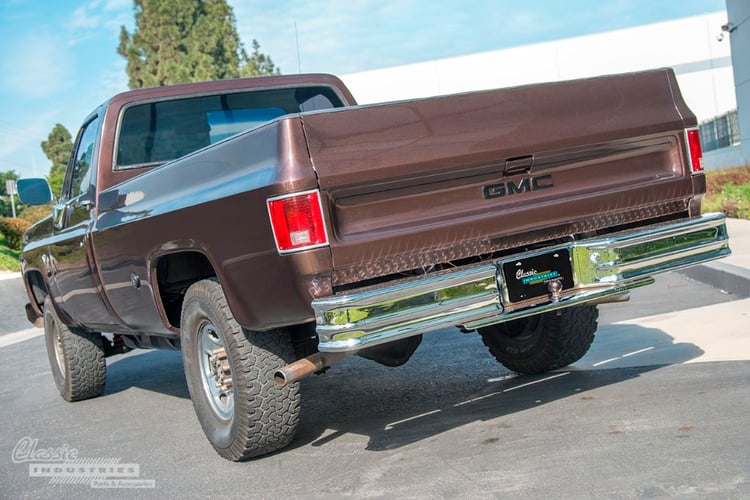 Whether you're building a frame-off restomod like Ole Blue or simply cleaning up your old project truck to get it running again, Classic Industries can help. We have thousands of original-style restoration parts for Chevrolet and GMC trucks. Browse our selection of GM truck parts online, or click the button below to get a free full-color restoration parts catalog.
Article by Patrick McCarthy
Senior Automotive Editor
Classic Industries