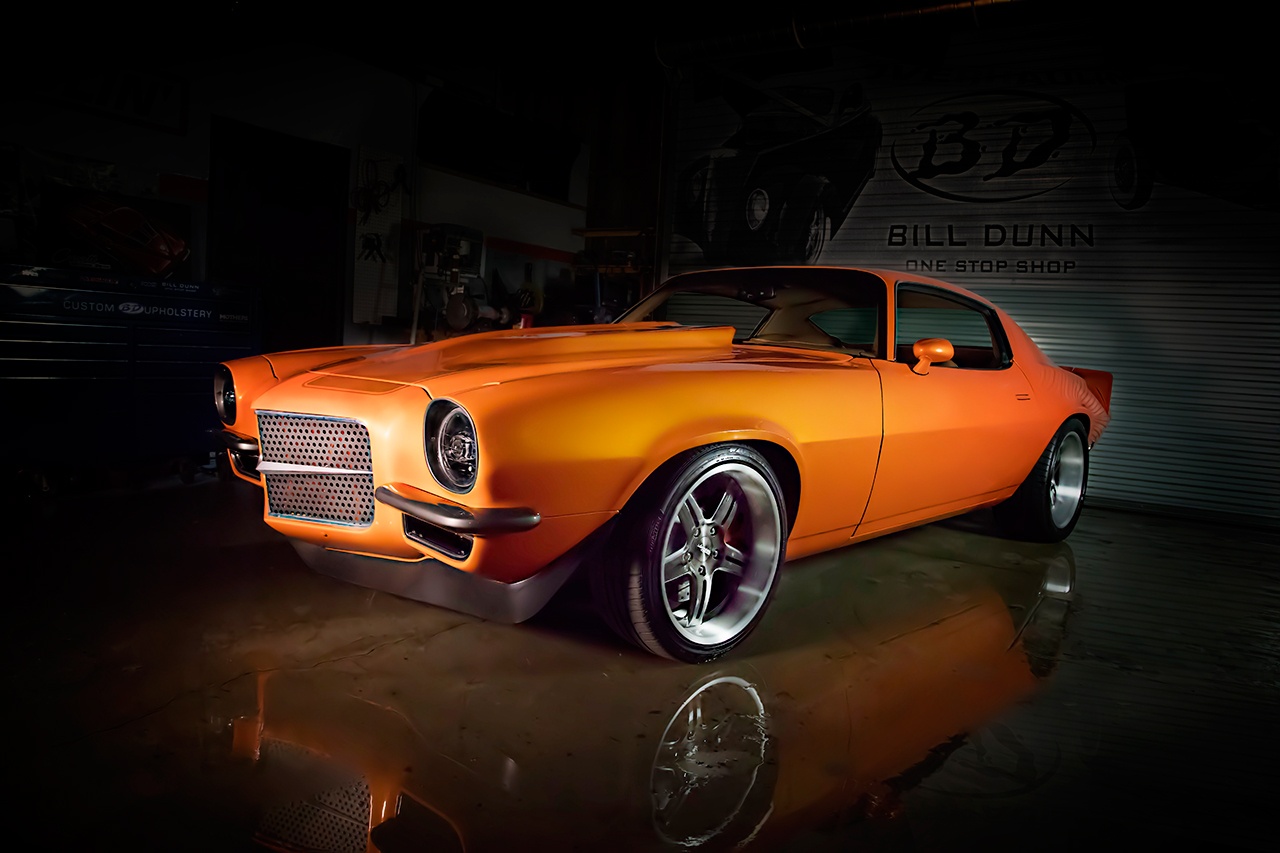 Here at Classic Industries, we always love to see our parts go to good use, whether they're on simple daily-driven projects or on far more elaborate show-stopping builds. The car seen here is most certainly in the latter category. Every inch of this 1971 Camaro has been restored, upgraded, or customized in some way.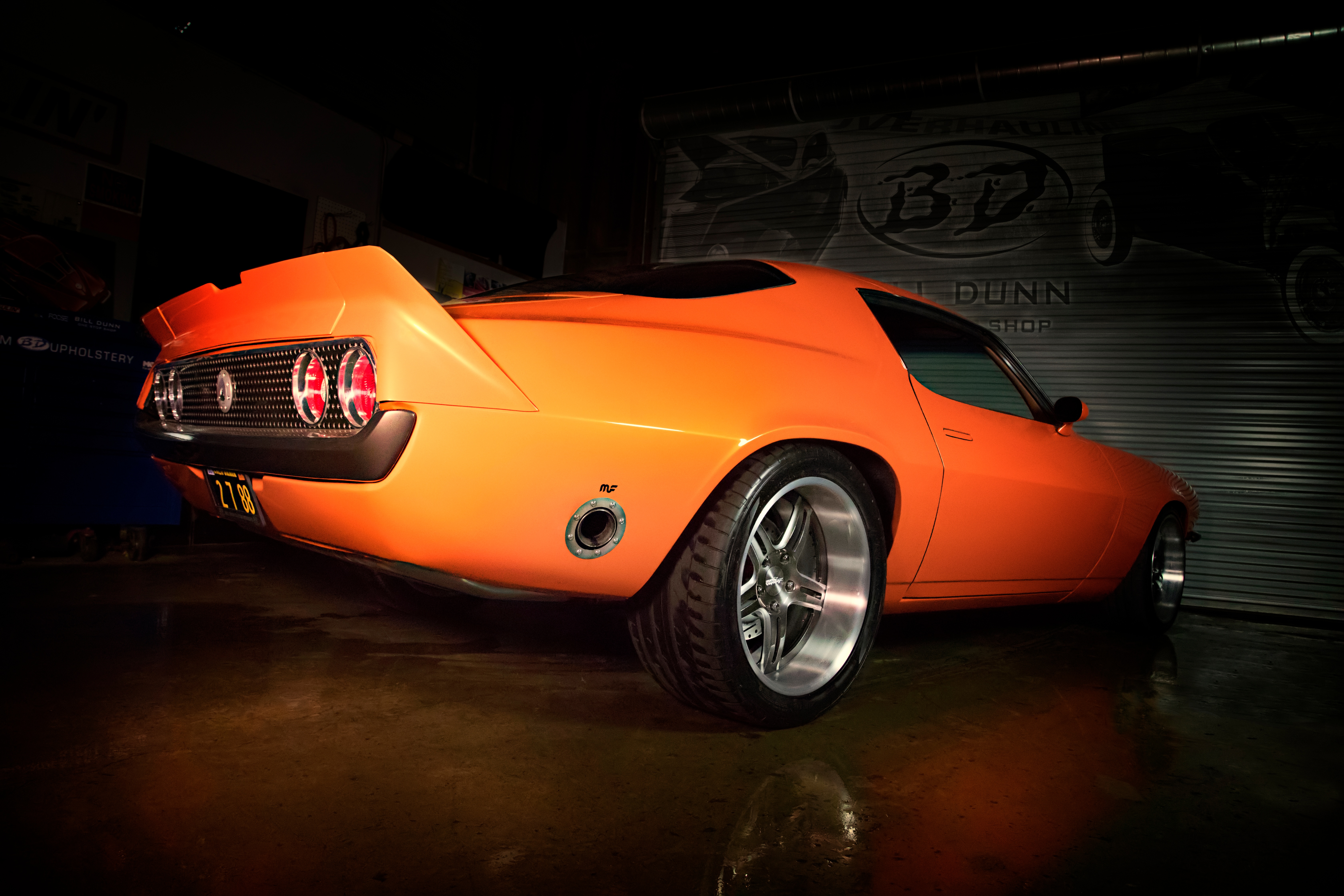 This bright orange Camaro was built to be displayed at the 2017 SEMA Show. It was featured prominently in the Magnaflow booth outside the Las Vegas Convention Center, and unsurprisingly, it attracted lots of attention during the show.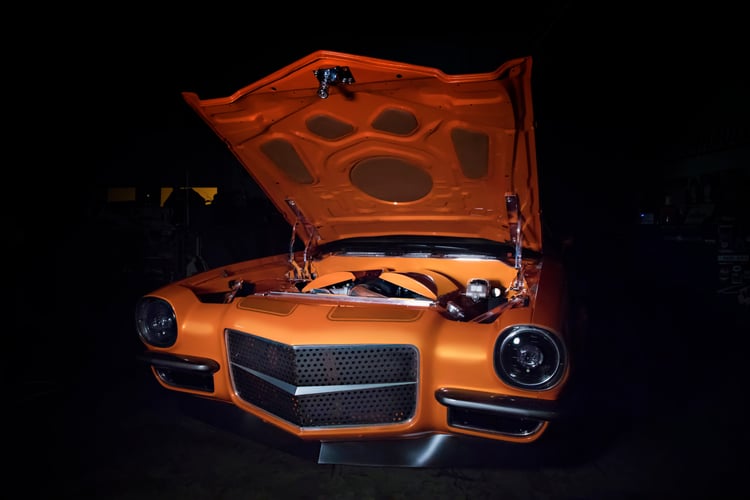 The extensive build of this '71 Camaro was orchestrated and completed by Bill Dunn One Stop Shop, a hot rod and custom shop just down the street from our Classic Industries Retail Showroom in Huntington Beach, California. We were proud to contribute quite a few parts to the project (more on that below) and our proximity to the BD shop made it easy for the crew to stop by and pick up what they needed.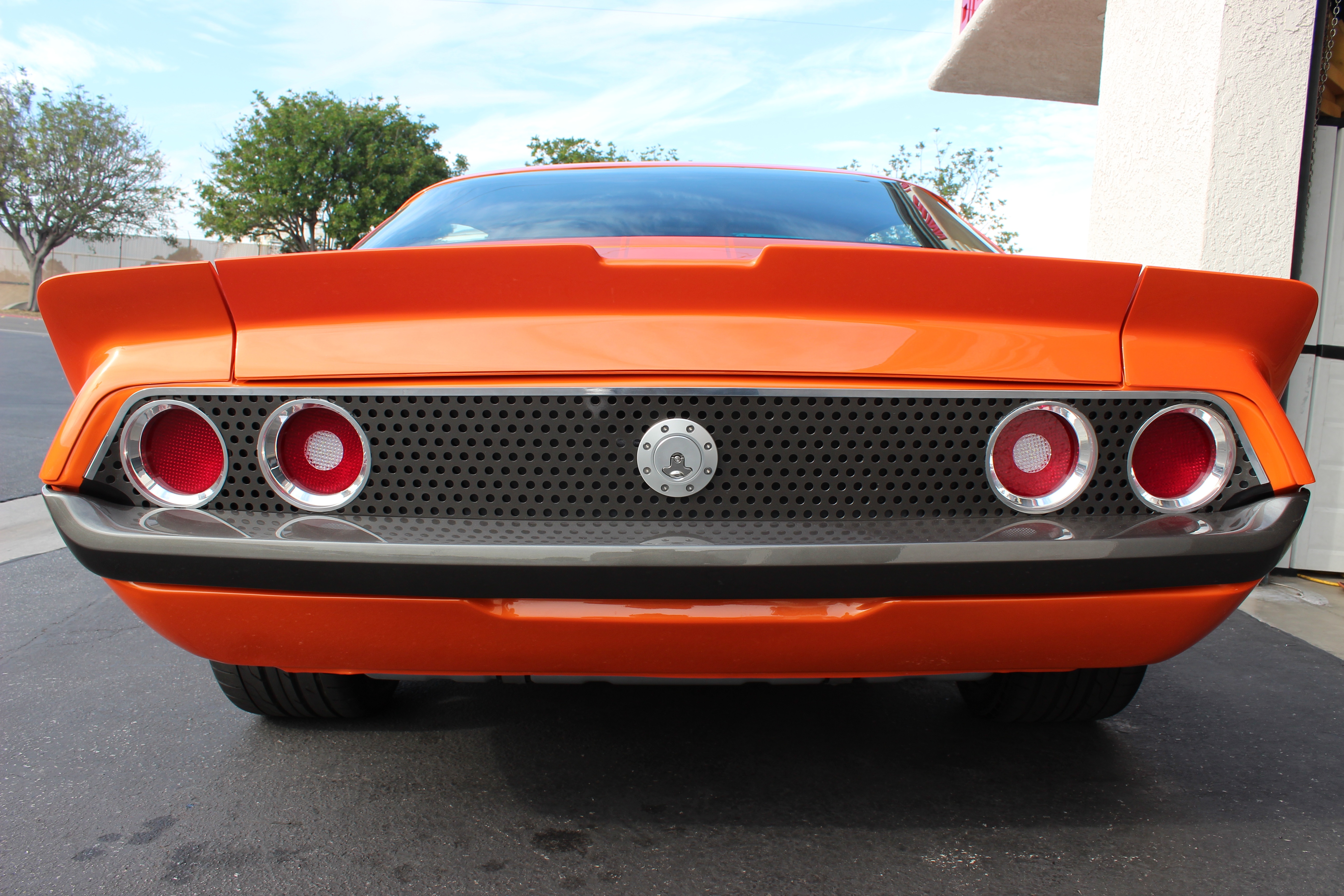 The build team began the restoration work by stripping the car down to its bare frame for a complete frame-off restoration. The frame was cleaned up and painted at Prukop's Auto Body, a paint and body specialist in Huntington Beach.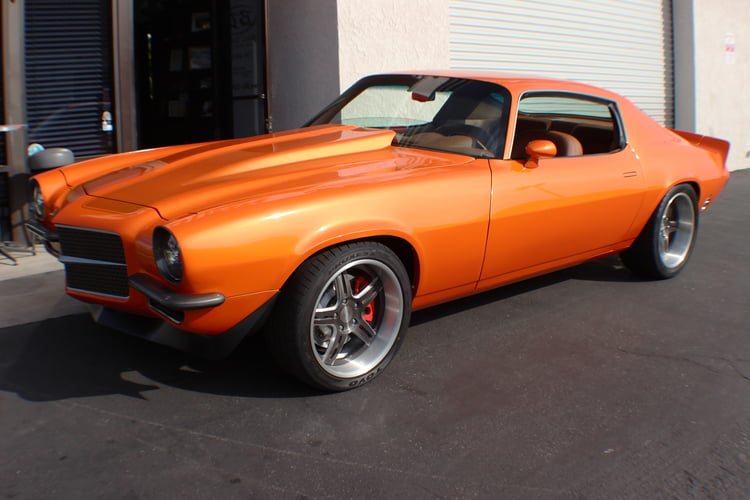 New body panels from Classic Industries were fitted to the chassis, and Prukop's sprayed the whole body in a vivid orange, specifically House of Kolor Tangelo Pearl. Reproduction front and rear bumpers were also sourced from our catalog, and powdercoated charcoal metallic at Primo Powder Coating and Sandblasting. A custom sheetmetal grill was fabricated by the Bill Dunn team for a distinctive look. To finish off the exterior, new headlamps, park lamps, taillamps, trim, and weatherstripping were ordered from the CI catalog and installed, along with flush-mounted glass from Fesler.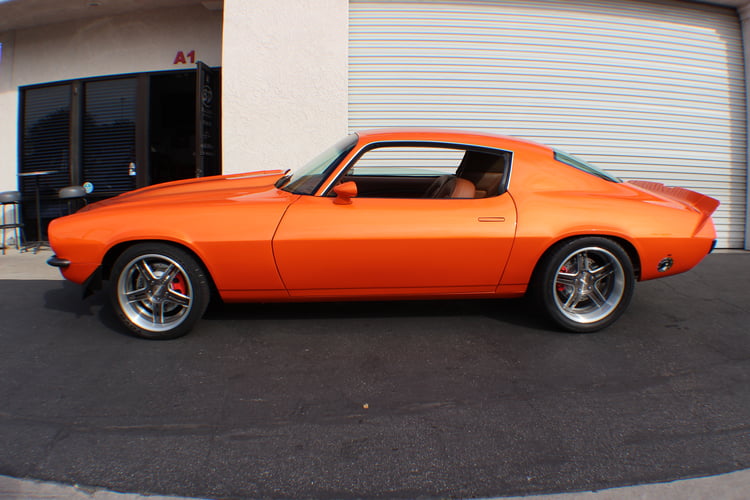 Back at Bill Dunn One Stop Shop, a 430hp LS3 crate motor was bolted up to a 4L60E automatic transmission, and installed under the hood. The engine and transmission were both provided by Guaranty Chevrolet Performance. J&S Gear built the car's rear end to handle the newfound power. A BeCool radiator, Tanks Inc. fuel system, Magnaflow exhaust, and paint-matched dress-up covers topped off the drivetrain. Cooling for the passengers is provided by a Restomod Air A/C system.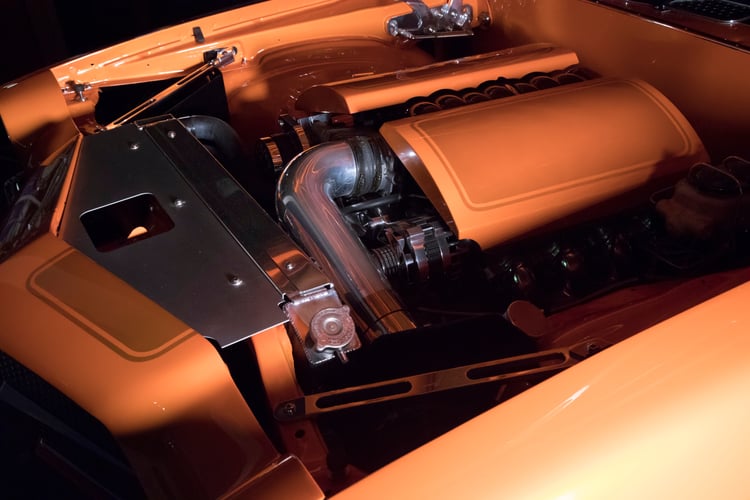 The gorgeous leather interior was also done in-house at Bill Dunn One Stop Shop using materials from Romero's Upholstery Supply.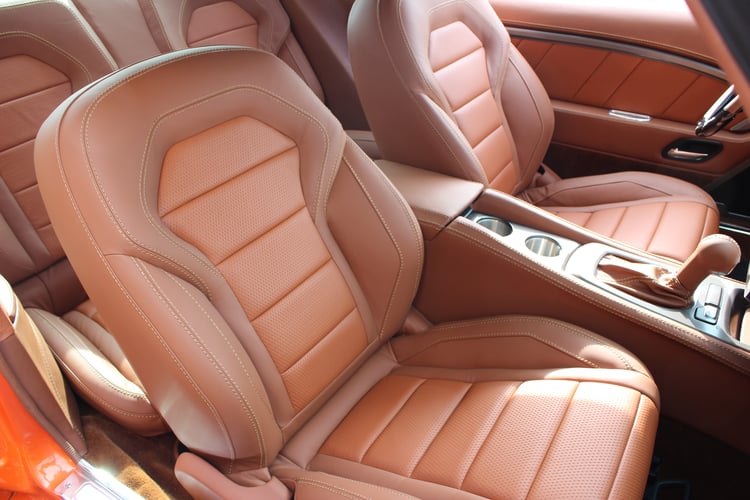 A few of the interior parts were sourced from Classic Industries, namely the modern-style fiberglass door panels, rear seat shelf, kick panels, and sail panels. A gauge cluster from Dakota Digital, steering column from Ididit, and stereo system from PowerBass finished off the show-quality interior.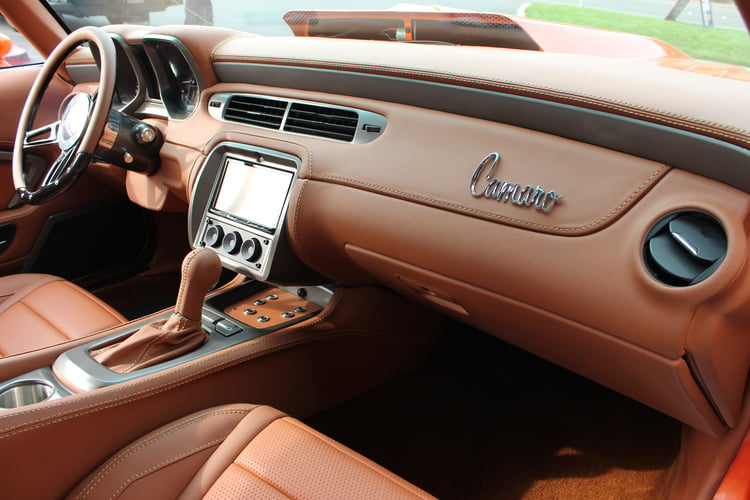 This 1971 Camaro rides on Classic Performance Products (CPP) suspension with CPP disc brakes on all four corners. A set of American Legend Pro-Touring Series 3-piece forged billet wheels wrapped in Toyo Proxes tires finished off the build. The Detailing Pros in Huntington Beach got the car all cleaned up and ready, and then it was off to SEMA.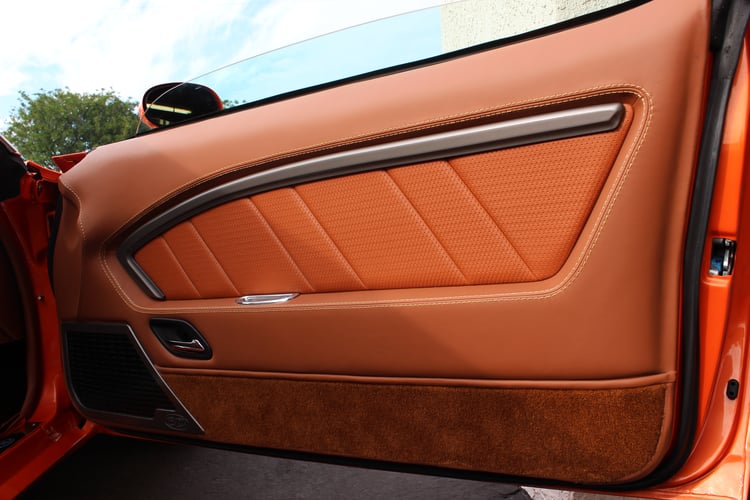 We're blown away by the results of this build, and we couldn't be happier to be a part of it. Bill Dunn One Stop Shop and several other local businesses in Huntington Beach did their part to make this project a reality, and the crowds of onlookers at SEMA showed that all their hard work was worth it in the end.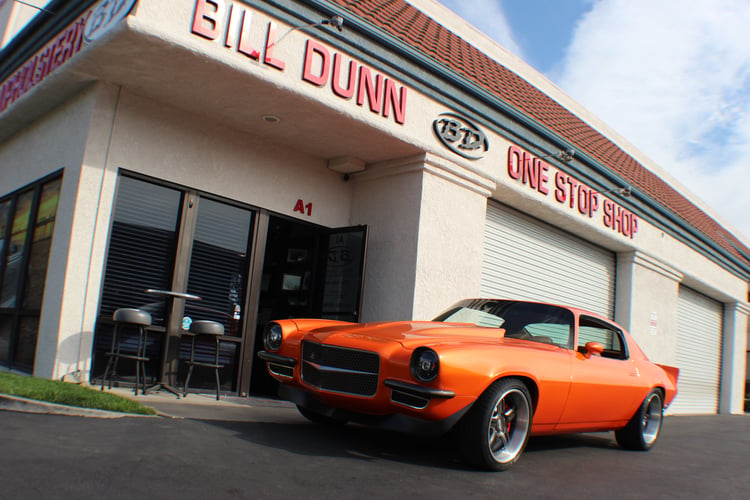 If you've got a Camaro restoration project, Classic Industries has the parts you need to complete it. Our extensive full-color Camaro parts catalog is available free of charge -- just click the button below to get one now.