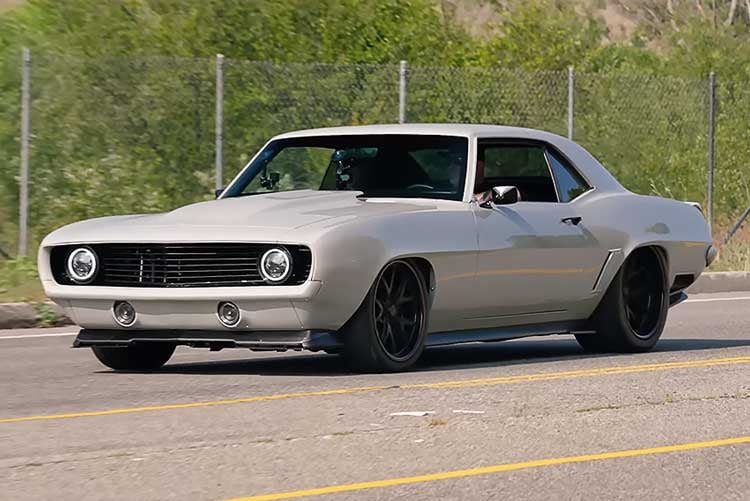 What do you get when you transplant the supercharged 6.2L heart of a C7 Corvette Z06 into a 1969 Camaro? The answer is a vehicle that's capable of melting a set of 13-inch-wide rear tires in the blink of an eye. Pair that with high-performance coilover suspension, big brakes, custom bodywork, carbon fiber accents, and black leather upholstery, and you've got a show-stopping build on your hands. In a new video, YouTube channel AutotopiaLA takes a closer look at this awesome pro-touring 1969 Camaro built by Lakeside Speed & Shine in Arizona.
The LT4-Powered 1969 Camaro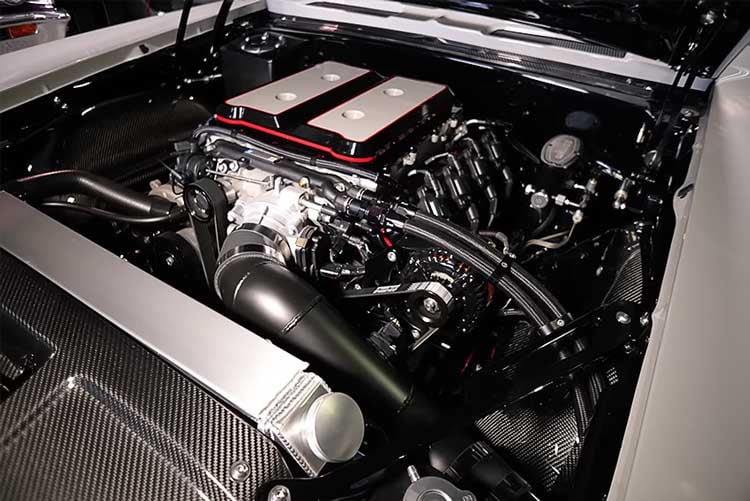 In the video, Jim from Lakeside Speed & Shine explains that the owner of this Camaro brought it in for a simple paint job, but after realizing that the engine had to come out anyway, decided to swap in a newer fuel-injected V8. Due to supply chain issues, Jim couldn't find the LS3 the customer wanted, but he did find something even better: a 650-horsepower supercharged LT4 from a C7 Corvette Z06, complete with a dry sump oil system. It's upgraded with a custom exhaust, smaller pulley, and tune for approximately 700 horsepower, and is paired with a 4L75e automatic transmission and 9-inch Currie rear end.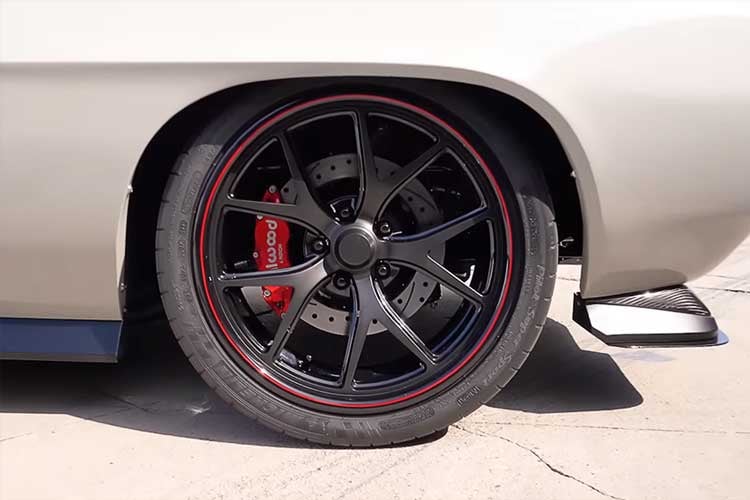 In order to keep all that power under control, Jim's team added a set of 19x9 and 20x12-inch Schott SL65 wheels wrapped in Michelin Pilot Super Sport tires. These custom-finished wheels frame a set of red Wilwood disc brakes with drilled and slotted rotors. The Camaro rides on a complete TCI front and rear suspension kit with Ridetech coilovers and a 4-link.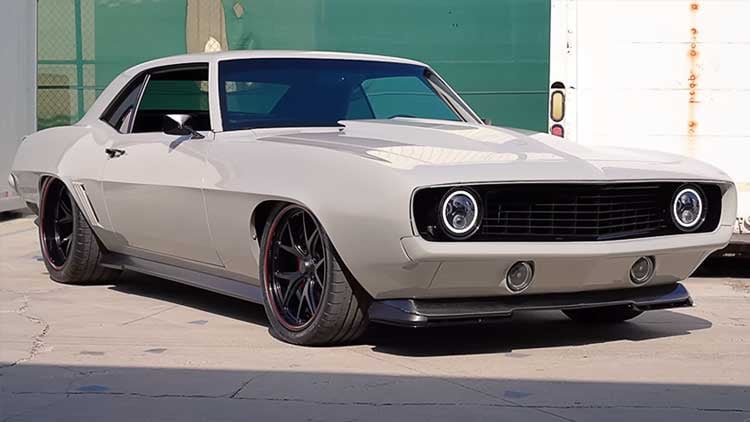 The Lakeside team spent an immense amount of time on bodywork, shaping the body panels to accentuate creases and fabricating custom side skirts and sheet metal accents on the Anvil carbon fiber front splitter. The car has quite a few carbon fiber components; some (such as the rear bumper) are painted to maintain a subtle appearance, while others (such as the door handles) are left exposed. The color is a custom mix based on Porsche Chalk white with a hint of iron brown.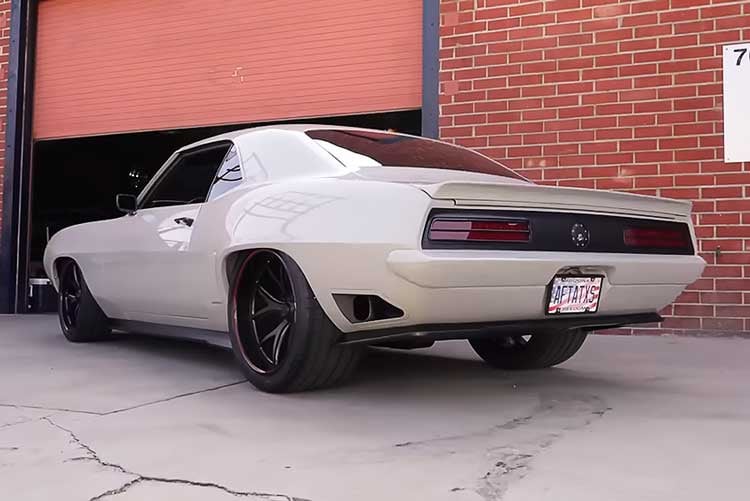 One of the most unique elements of this build is Lakeside's custom-fabricated side-exit exhaust, which is integrated into flush-mounted panels behind each rear wheel. Lighting has also been upgraded with Dapper projector headlamps and fog lamps as well as Eddie Motorsports tail lamps.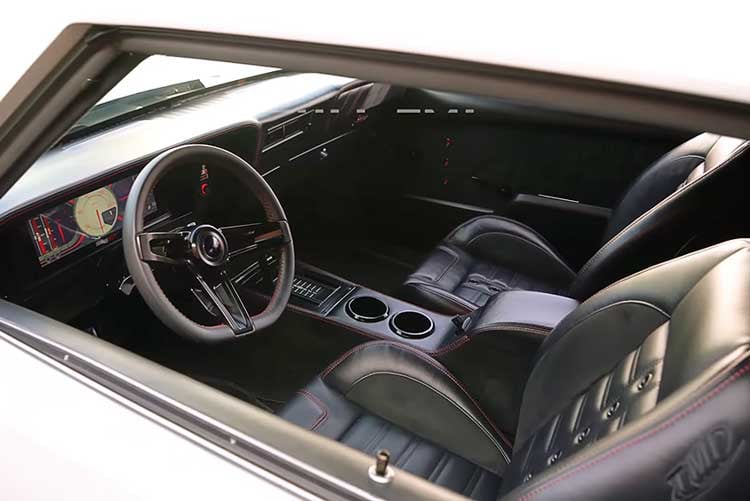 The Camaro's interior features TMI black leather seats and a TMI waterfall center console that has been modified to accept the horseshoe shifter. Red stitching accents are found throughout, matching the red on the wheels and brake calipers.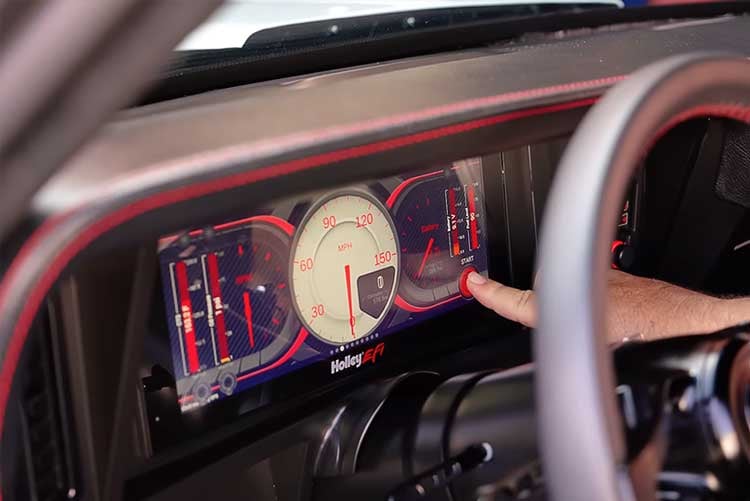 The gauge cluster has been completely replaced with a Holley touchscreen unit that even includes a built-in start button. Since the 1969 Camaro dash pad has a central notch for the clock, Lakeside used a 1969 Nova dash pad instead to accommodate this wide touchscreen.
This Camaro turned out incredible, both in terms of performance and aesthetics. Check out the full AutotopiaLA video below for even more details and footage of the car lighting up its rear tires.
Looking for Camaro Restoration & Performance Parts?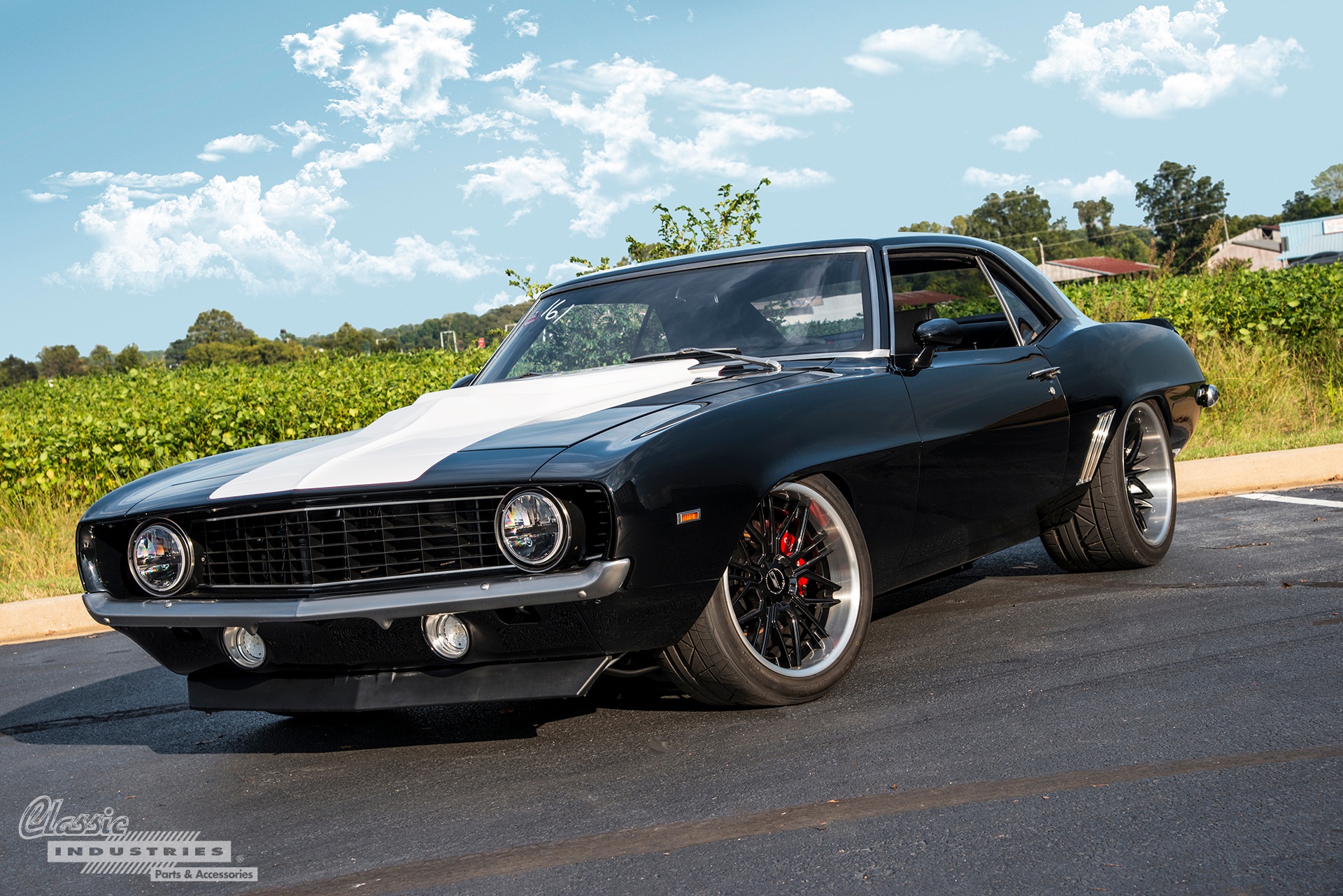 Whether you're interested in an original-style restoration down to every last nut and bolt, or you want a show-stopping modern pro-tourer, Classic Industries has the parts and accessories you need for your classic Camaro. Click here to browse our parts online, or click the button below to get a free full-color Camaro parts catalog.