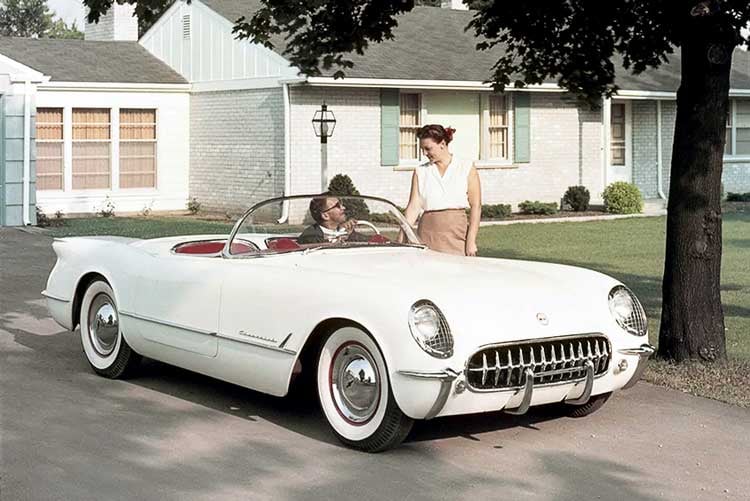 General Motors car designer Harley Earl unveiled a two-seater 1951 LeSabre concept car at Watkins Glen racetrack in upstate New York in 1951. While watching the field of British and Italian sports cars careening around the track on that fateful day, Mr. Earl realized that American car companies weren't designing, engineering, and building anything like those fast, stylish, lightweight, and stunning vehicles that were flying around the track with such grace and ability. American cars, and even his elegant two-seat LeSabre, seemed ponderously large and heavy in comparison to the lithe European machines. So, Harley quietly began a project that would eventually lead to the creation of one of America's most legendary cars: the Chevrolet Corvette. In this article, we'll take a look at Corvette generations from the 1953 C1 through the 2020 C8, as well as some of the incremental changes that kept the Corvette a world-famous machine.
The lead photo of a 1953 Corvette C1 is courtesy of the GM Media Archives. All other photos are published with permission from Mecum Auctions.
The Precursor to All Corvette Generations: Harley Earl's "Project Opel"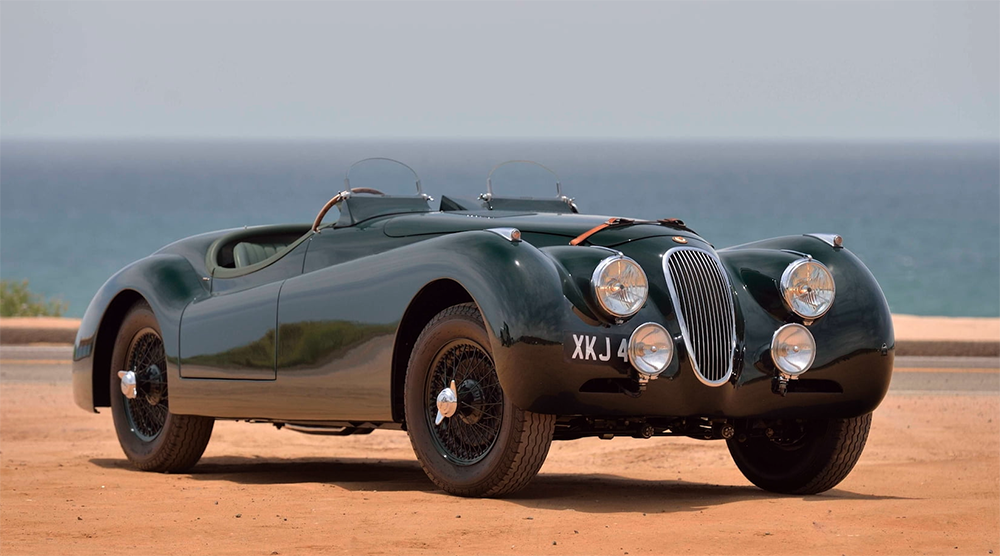 Above: Harley Earl's chief design inspiration for the Corvette was the British Jaguar XK120 roadster that was produced from 1948 through 1954. The above example is a 1951 model with RHD. British sports cars like this superlative example started being imported to the U.S. in the mid-1940's right after WWII.
Harley Earl's secret pet project was code-named "Project Opel." At the GM Motorama, held at New York's Waldorf Astoria Hotel on January 17, 1953, GM premiered a fiberglass bodied, two-seat roadster, the likes of which were unheard of by any other American automobile manufacturer. The curvaceous, European-styling-influenced Corvette was such a hit that six months later the Polo White exterior with Sportsman Red interior vehicle came into production.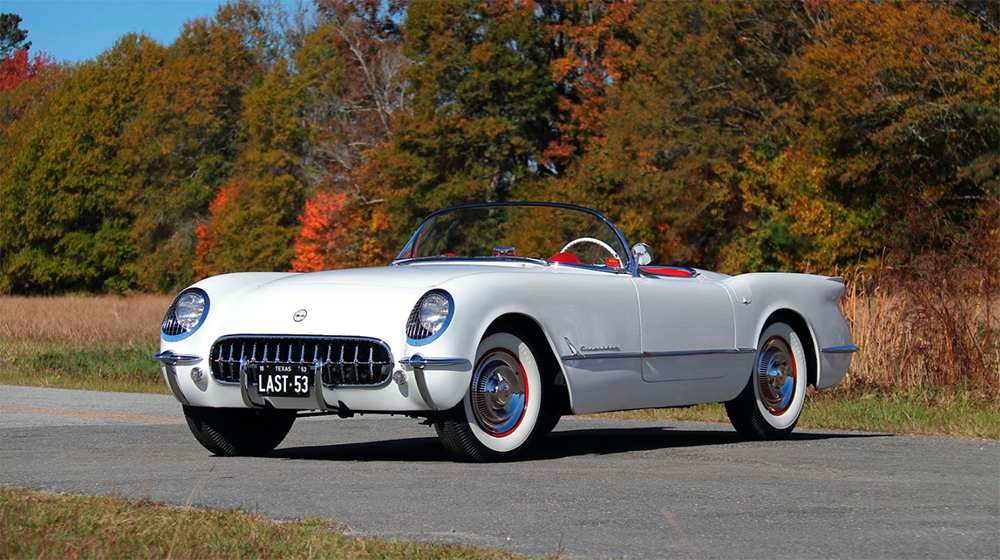 Above: The license plate on this 1953 Corvette C1 reads "LAST 53". Built on Christmas Eve in 1953, December 24, it's the 300th and last 1953 Corvette produced. Wow!
A mere 300 cars were produced in that first year, all powered by a 235-cubic inch "Blue Flame" straight-six engine that produced 150-horsepower with three Carter one-barrel carburetors attached to an aluminum intake manifold, with all engines backed by two-speed Powerglide automatic transmissions, and all wearing that Polo White painted fiberglass body over the bright red accented interior.
First-Generation Corvette: C1 (1953-1962)
The Corvette name is derived from a small, highly maneuverable Naval war ship, which is fitting for these nimble (when first produced) and now fast, stylish, and very competent street and race cars. Classic Industries now offers Corvette Generations C1 through C6 restoration and performance parts! Let's take a closer look at America's Sports Car, starting at the beginning.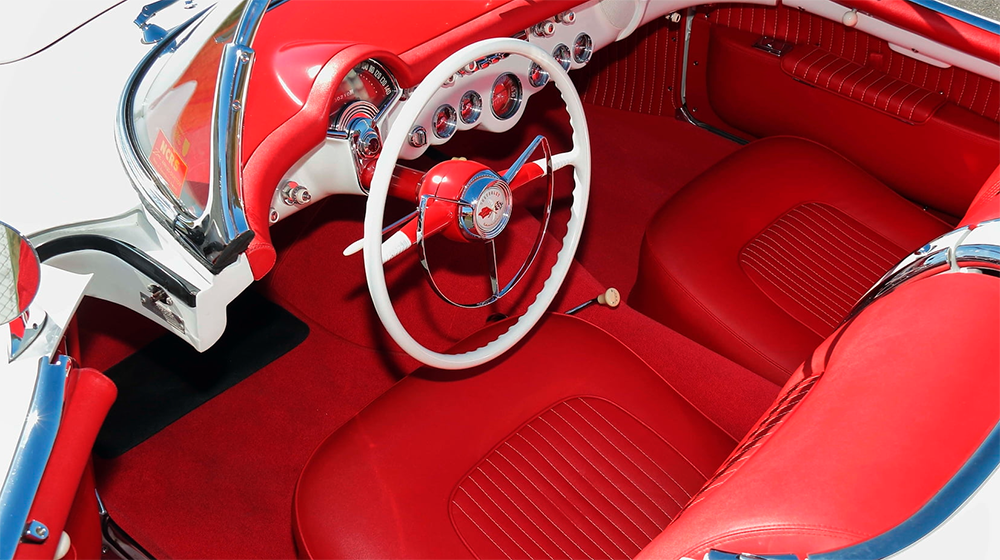 Chevrolet made continuous improvements to the Corvette in its first generation. In 1955, the 265-cubic inch small block V8 became available for the sports car. By 1956, the Corvette could only be powered by a V8.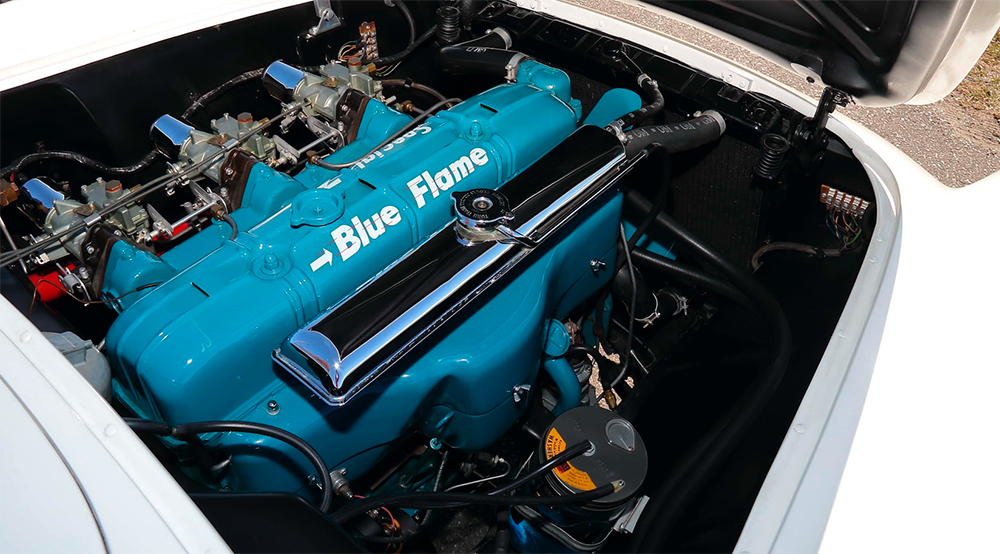 With the last year of the first generation C1, 1962, Corvette shoppers could choose from several 327 V8 engine variants, including a four-barrel carb topped 340-horsepower, 327-cubic inch V8 or pumping 360 horses from a solid lifter, Rochester mechanical fuel injection equipped 327.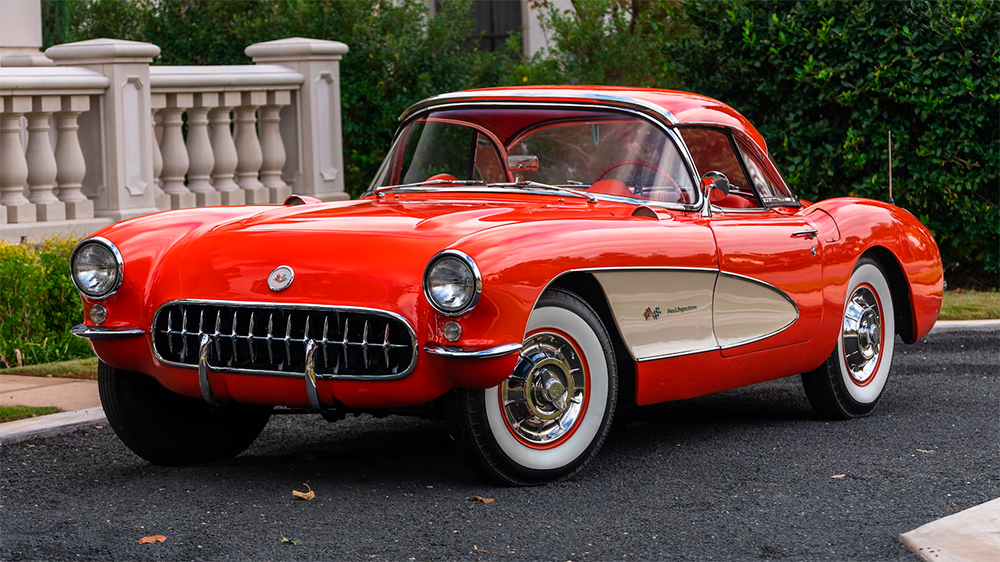 Above: The mechanically fuel-injected 283-cubic inch V8 engine in the 1957 Corvette produced a magnificent 283-horsepower. That one horsepower to one cubic inch displacement ratio was a remarkable feat of engineering back in the day. Check out the Rochester mechanical fuel injection system atop the 1957 283's powerplant just below.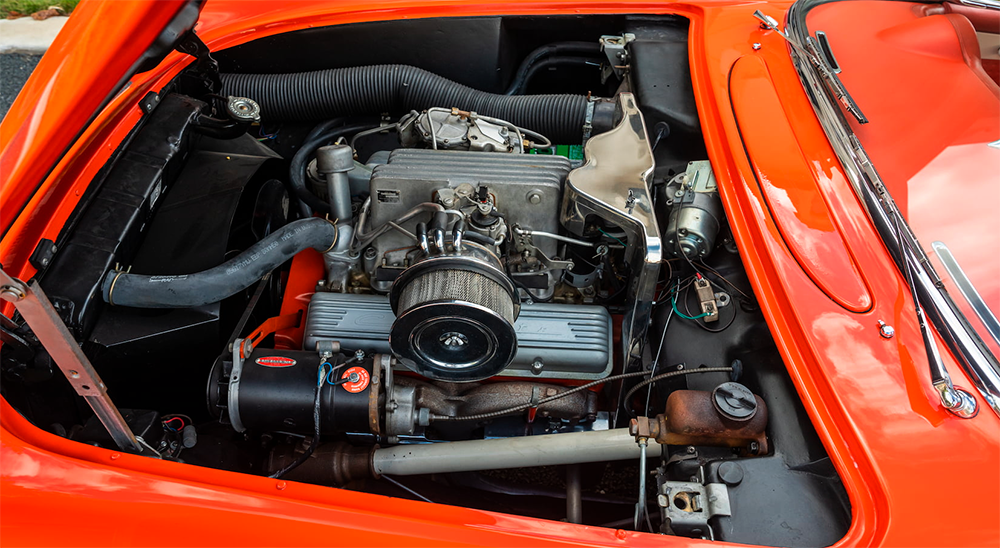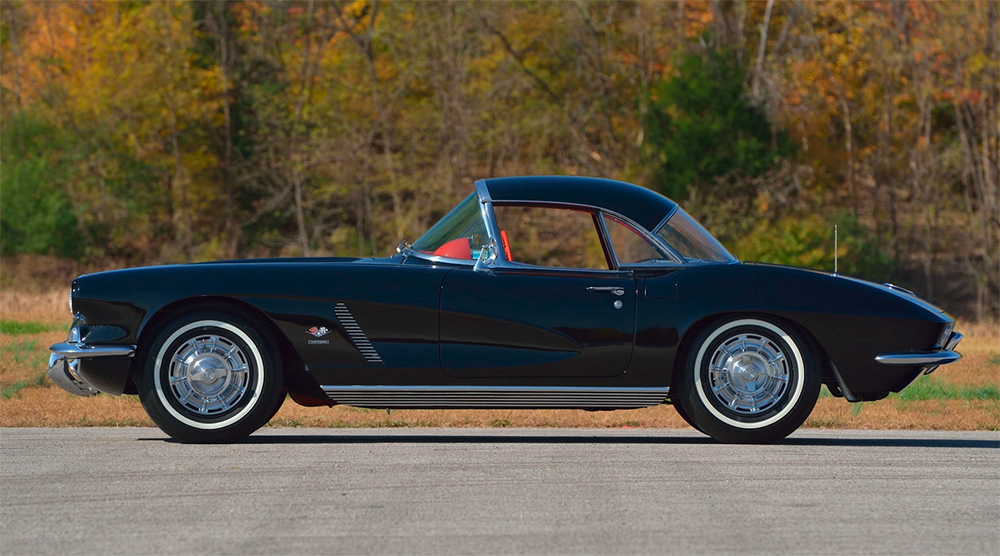 Above: The 1962 Corvette coupe produces a whopping 360 horsepower from a mechanically fuel-injected 327-cubic inch small block V8. The '62 convertible below makes 340-horsepower from its four-barrel carb topped 327. Both of these babies wear their optional removable hardtops.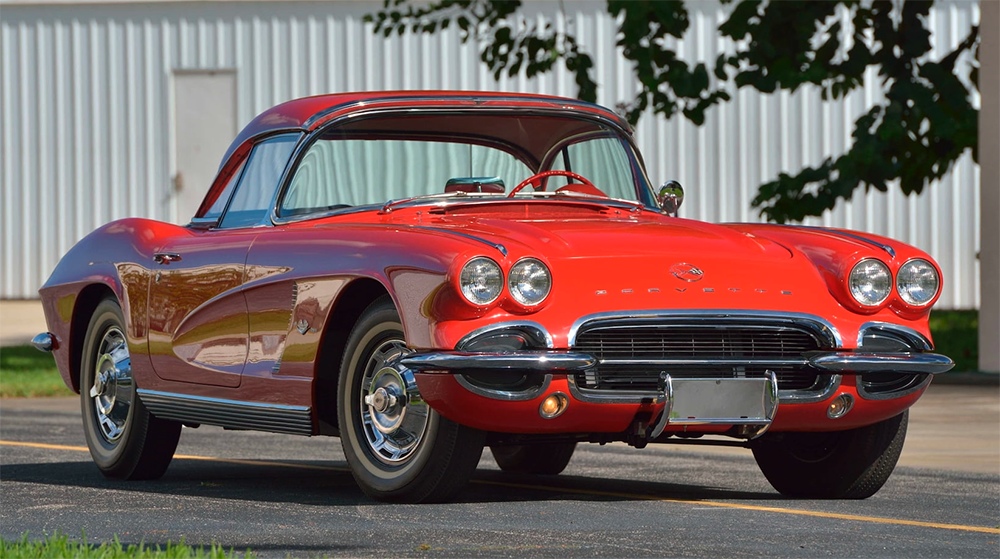 Second-Generation Corvette: C2 (1963-1967)
An all-new coupe fastback body style (including the noteworthy one-year-only split-window for 1963), independent rear suspension, four-wheel disc brakes starting in 1965, more engine options, and deliciously new exterior styling complete with pop-up headlights are all hallmarks of the coming-of-age Corvette in its second generation. With such great engineering advances and its appealing style, the C2 Corvette Sting Ray grows in value and collectability with each passing year.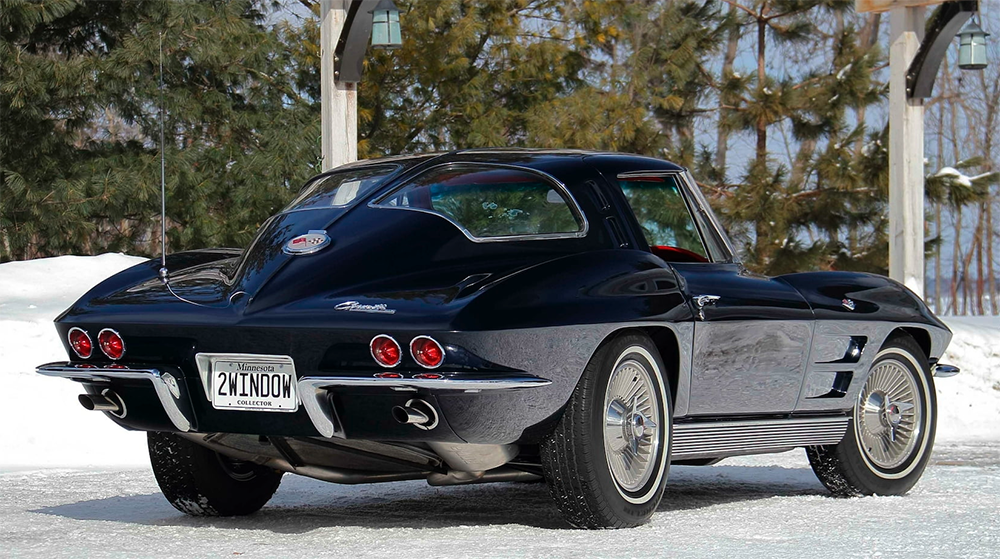 Above and below: The fastback coupe first appeared for the Corvette in 1963. GM's design chief, Bill Mitchell, brought that fabulous one-year-only split window spine design element to the rear window of the '63 Corvette coupe, which helps make the '63 Split Window Corvette one of the most valuable, collectible, and sexy 'Vettes of all time. This one wears Daytona Blue paint over a red interior, which is reportedly one of 10 produced in this rare color combination.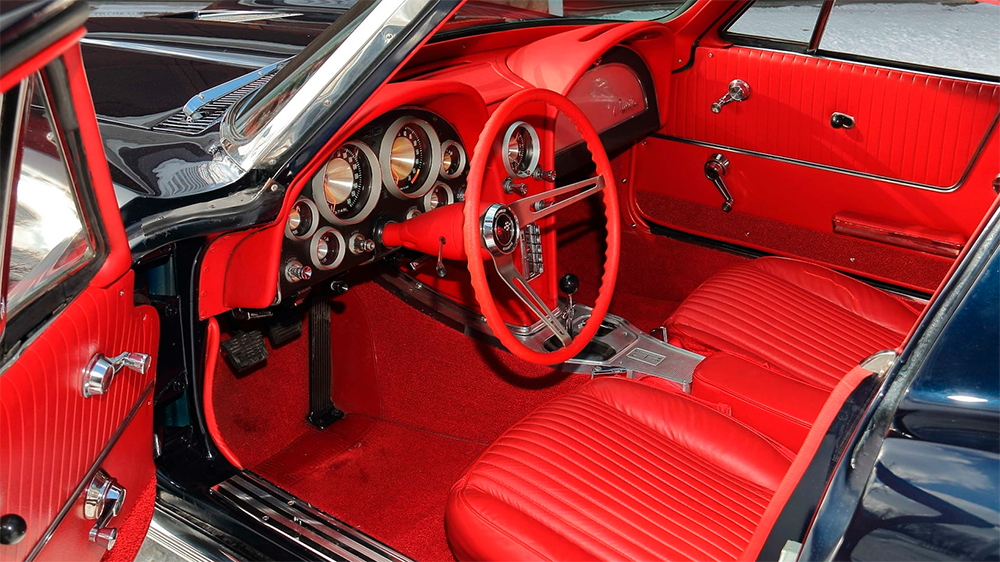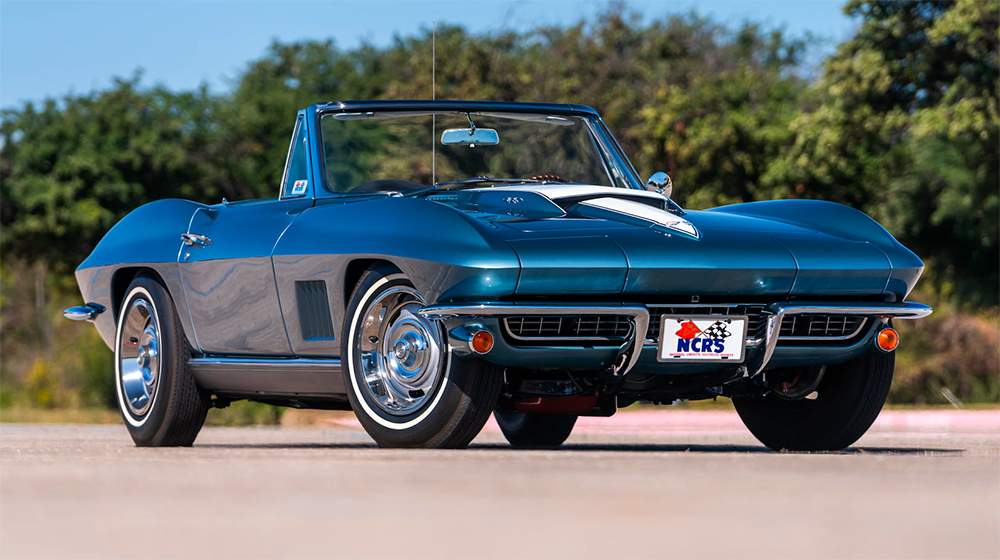 Above: This 1967 Lyndale Blue Corvette convertible sports a white hued interior and a tri-power (read three deuces - two-barrel carbs) feeding a 427-cubic inch big block V8 that makes at least 435-horsepower.
Third-Generation Corvette: C3 (1968-1982)
The third generation Corvette received new exterior and interior styling, while the Sting Ray name went from two words to one - Stingray. A T-top roof option became available with the C3, which made it the first US produced vehicle with that body style. Engine choices ranged from the small block V8 327 and 350 to the big block 427 and 454 (for 1970-74).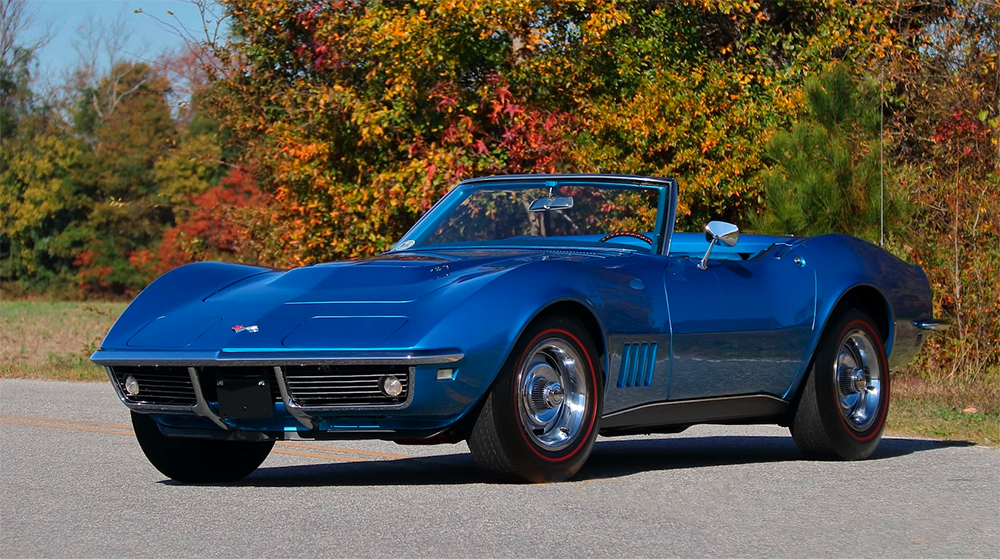 Above and below: Powered by a four-speed manual backed 427-cubic inch big block V8, this 1968 Corvette drop top can scoot.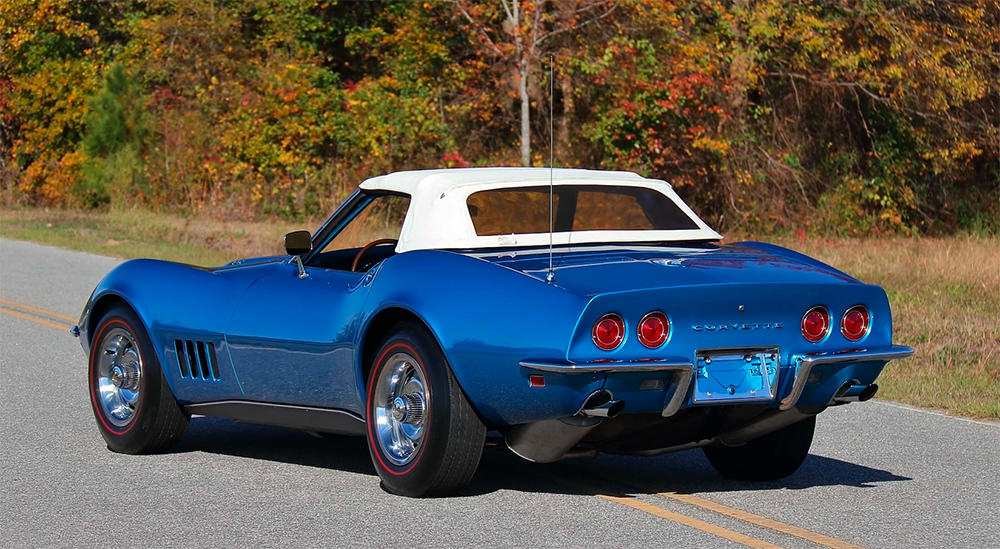 Fourth-Generation Corvette: C4 (1984-1996)
Given the extensive transformation of the C3 to the C4 Corvette, Chevrolet didn't officially produce a 1983 Corvette. There were in fact 43 manufactured with a 1983 VIN, but none were sold to the public. The car had an all-new chassis and was one of the most advanced vehicles on the road during its 12-year run. The 1984 edition of the C4 was produced for 17 months, which isn't like any kind of leap year we've ever heard of.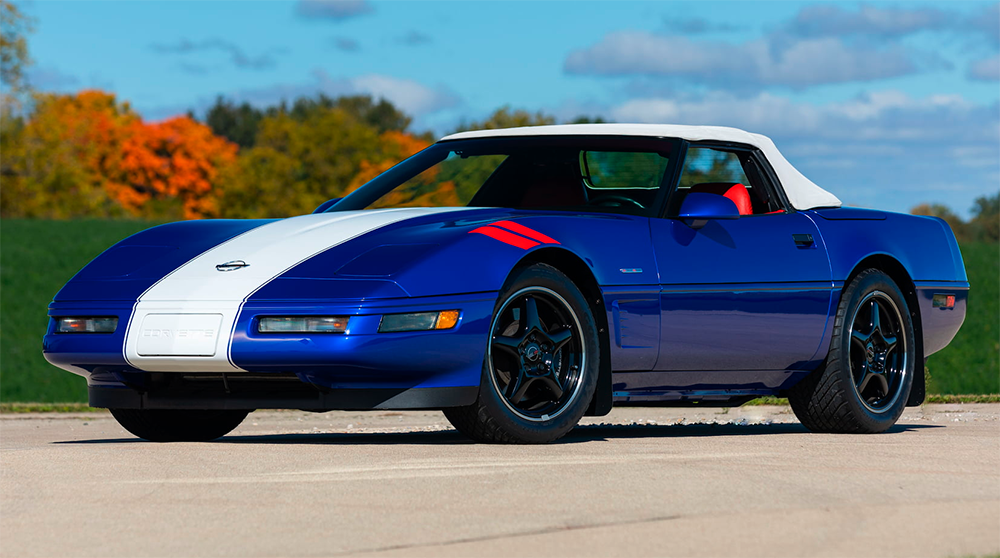 Above: This 1996 Corvette Grand Sport convertible shows a tad over 5,000 miles on its odometer, has the desirable red interior, and Admiral Blue paintwork, and is equipped with a 5.7L/330-horsepower engine.
Fifth-Generation Corvette: C5 (1997-2004)
Chevrolet's team of designers and engineers hit yet another towering home run with the redesign of the C5 Corvette! The boxed, modern chassis now included a rear transaxle, which provided an optimal front to rear weight distribution for the car and vastly improved handling. The sleek and more curvaceous exterior styling wasn't just skin deep either. The famous LS1 engine now powered the Corvette, which greatly helped Chevrolet's return to world class professional endurance racing at Le Mans and American Le Mans endurance contests.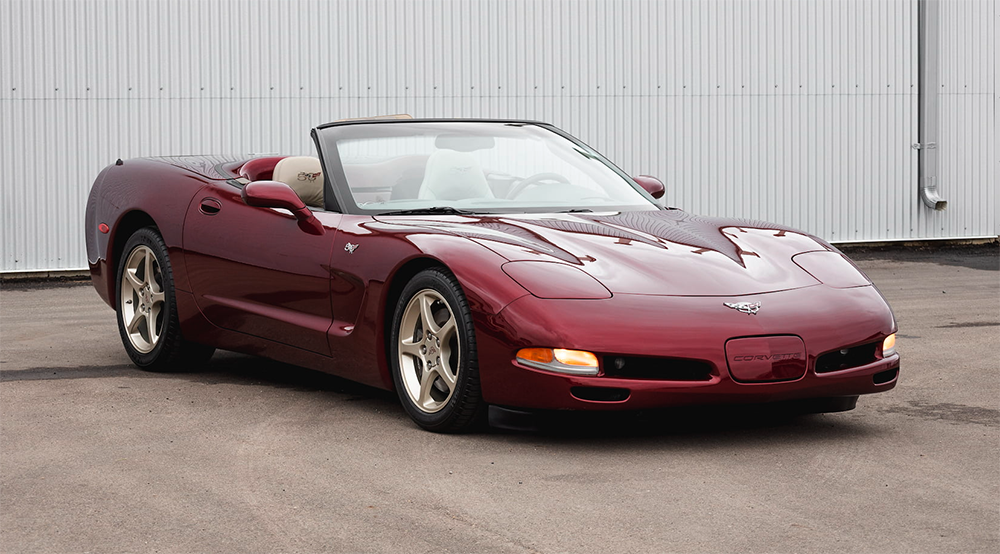 Above: The one of 7,547 50th Anniversary Edition 2003 Corvette convertible model wears the Anniversary Red paint with a Shale hued top and interior. This one has a six-speed manual backing the 5.7L LS1 engine.
Sixth-Generation Corvette: C6 (2005-2013)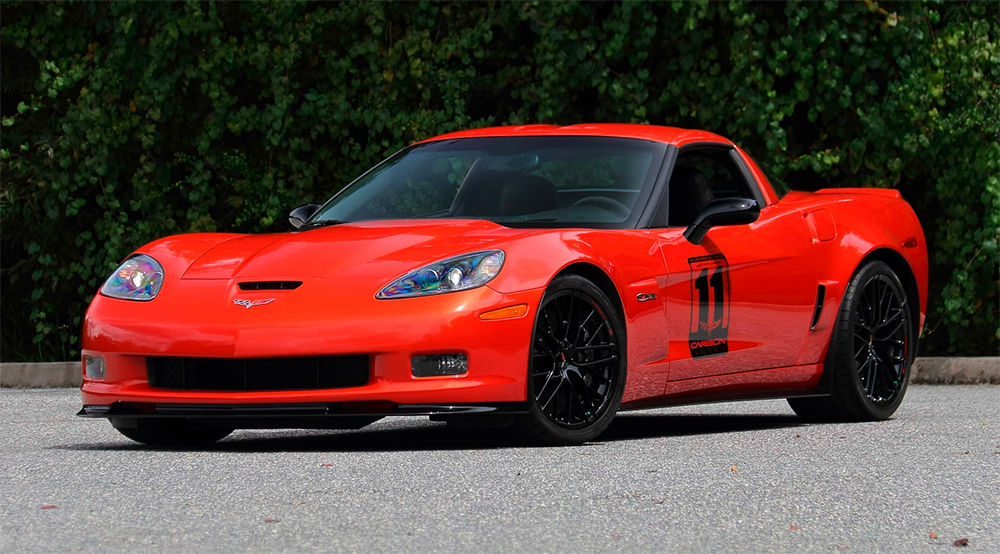 The most apparent change in appearance with the sixth generation Corvette is at the front. For the first time since 1962, the Corvette no longer has pop-up headlamps. It has exposed headlights under glass. Chevrolet also restyled the exterior and made the cockpit larger and more comfortable. In 2006, Chevy came out with the LS7 engine, which was a 427-cubic inch small block V8 that produced a prodigious 505-horsepower in normally aspirated form and was the largest displacement small block V8 ever at the time. The 2006 Corvette also was the official pace car for both the Daytona 500 and the Indianapolis 500 that year. The C6 Corvette offers the absolute latest in terms of supercar technology and design all rolled up and wrapped into an amazingly great value proposition, especially compared to its foreign supercar competitors. Along the road to fame and fortune America's Sports Car has transformed itself into being America and the World's affordable (in comparison) Supercar!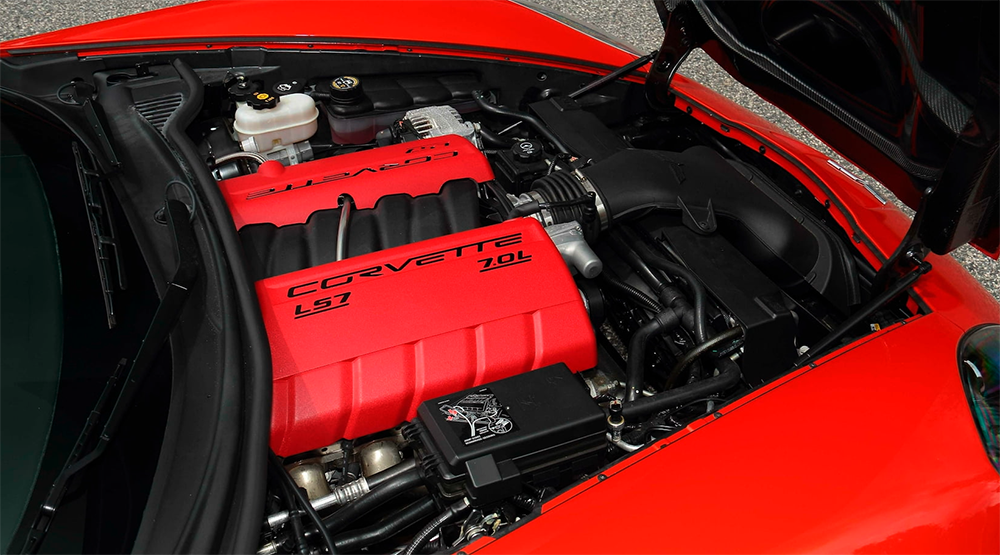 Above: Celebrating the landmark 50th anniversary of the Corvette's debut at the 24 Hours of Le Mans in 1960, Chevrolet released the 2011 Z06 Carbon Limited Edition, with just 535 examples produced. The naturally aspirated 7.0L LS7 OHV V8 engine is rated at 505 HP and 470 lb-ft of torque.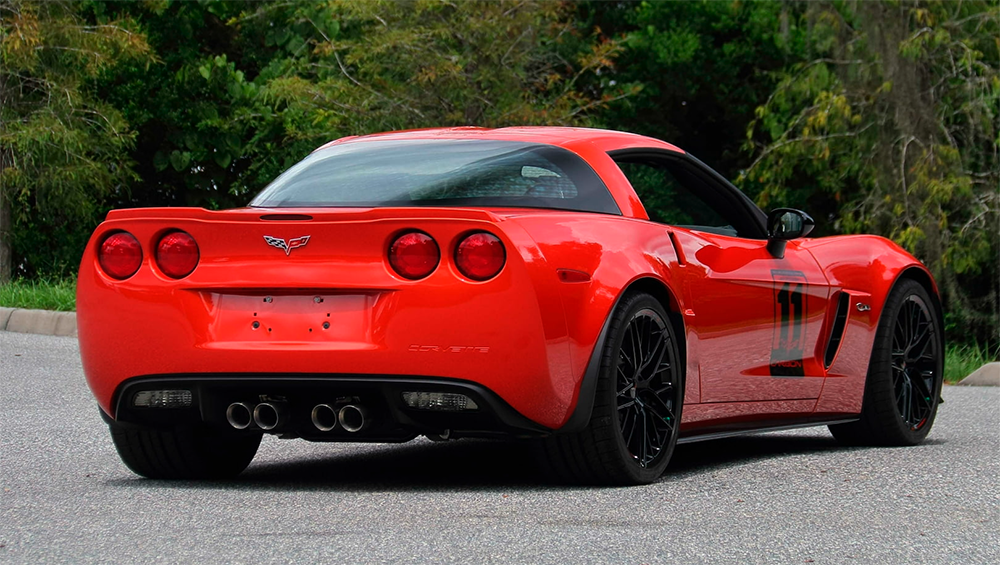 Seventh-Generation Corvette: C7 (2014-2019)
In 2014, this legendary automobile entered its seventh generation with the debut of the Corvette C7. Its exterior, which was designed by Hwasup Lee between 2010 and 2011, became more aggressive and angular than ever before.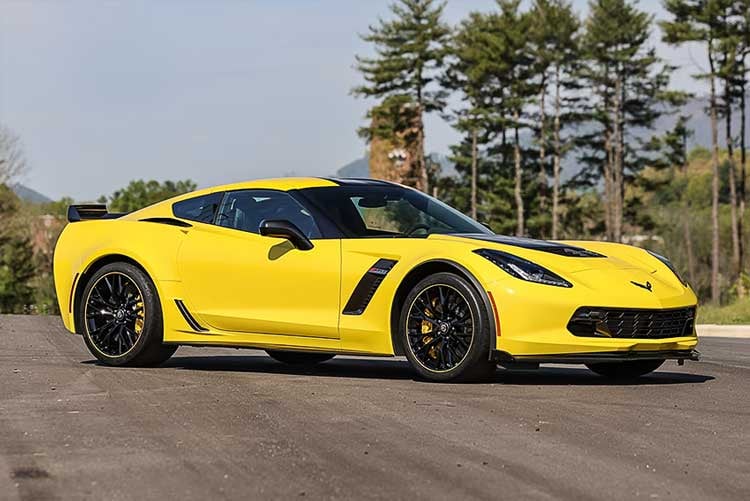 Rather than the round tail lamps seen on previous generations, the seventh-generation Corvette adopted trapezoidal tail lamps that echoed the design of its sibling, the Camaro. Intricate LED-lined headlamps, center-mounted quad exhaust tips, and functional aerodynamic accents also helped the C7 stand out in a crowd.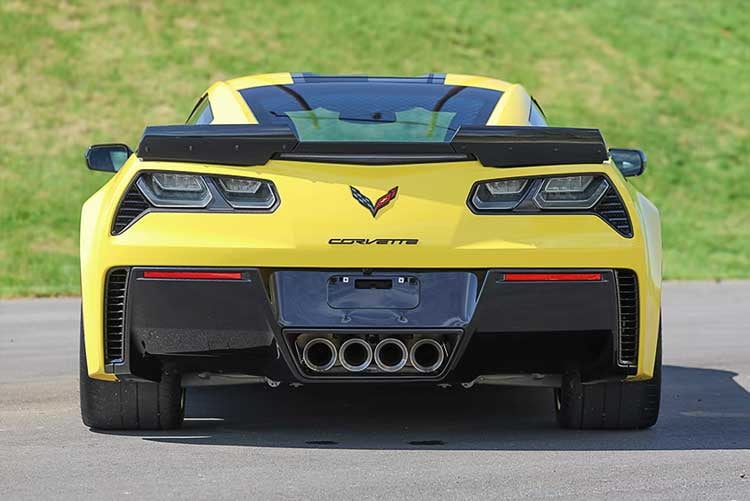 Above: This 2016 Corvette C7.R coupe features Corvette Racing Yellow paint, carbon fiber interior and exterior trim, and a supercharged 6.2L LT4 V8 engine producing 650 horsepower and 650 lb-ft of torque.
The C7 featured an all-new, 455-horsepower 6.2L LT1 V8 engine that propelled the car from 0-60 miles per hour in just 3.8 seconds. For those who wanted even more power, the Z06 and ZR1 received supercharged variants of this fifth-generation small block engine, the LT4 and LT5 respectively. The 2019 Corvette ZR1 offered a staggering 755 horsepower on tap.
Eighth-Generation Corvette: C8 (2020-Present)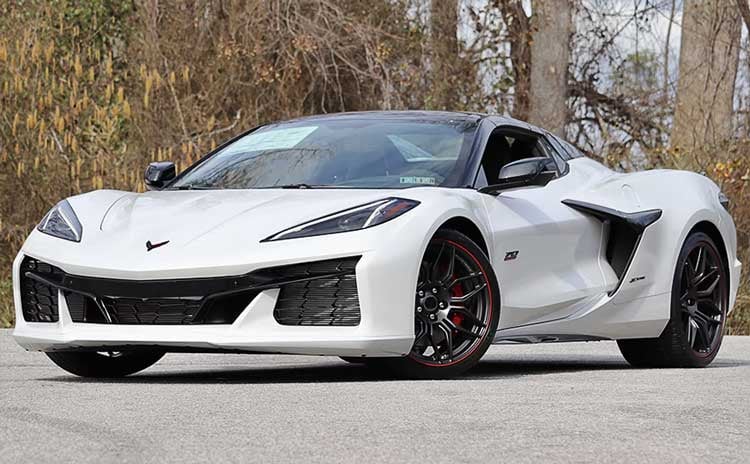 Above: This 2023 Corvette Z06 70th Anniversary Edition features a special pearl white tri-coat paint, white interior with red accents, and 70th Anniversary emblems.
Even today, Corvette history is still being written. The C8 launched in the 2020 model year with a feature Corvette enthusiasts had been circulating rumors about for decades: a rear mid-engine configuration. Just as earlier Corvettes paralleled elements of high-end European sports cars, the mid-engine Corvette C8 has continued to do so with the addition of an all-aluminum architecture, coilover suspension, and even more functional aerodynamics.
The eighth-generation Corvette is powered by a revised version of the C7's LT1 engine known as the LT2. The naturally-aspirated 6.2L V8 produces 490 horsepower and 465 lb-ft of torque.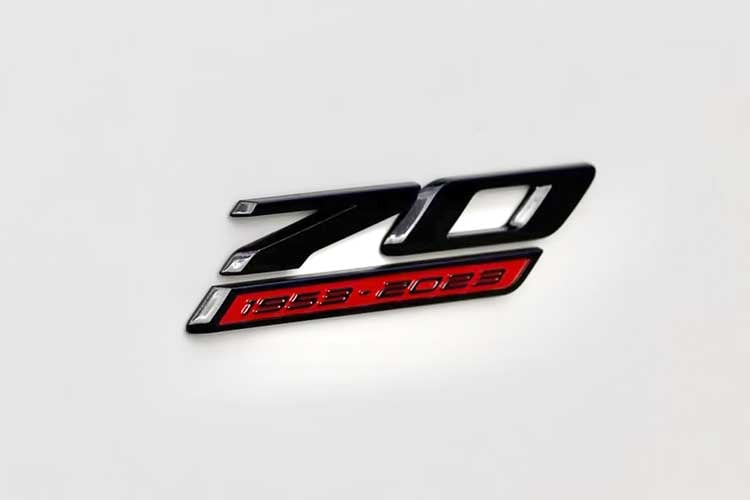 For every generation of the Corvette, from the C1 all the way to the current mid-engine C8, the Corvette has always offered the world an amazingly great value proposition, with plenty of style, high performance, technology, handling, and a great deal of All American Hutzpah!
Get your C1 to C6 Corvette Components & Accessories @ Classic Industries
By clicking on the link just above or at the end of this sentence, you'll go directly to the Classic Industries 1953-2013 Chevrolet Corvette shopping page. On the page you can either shop by year, by product category, or by featured brands. You can also click on the school bus yellow button below.