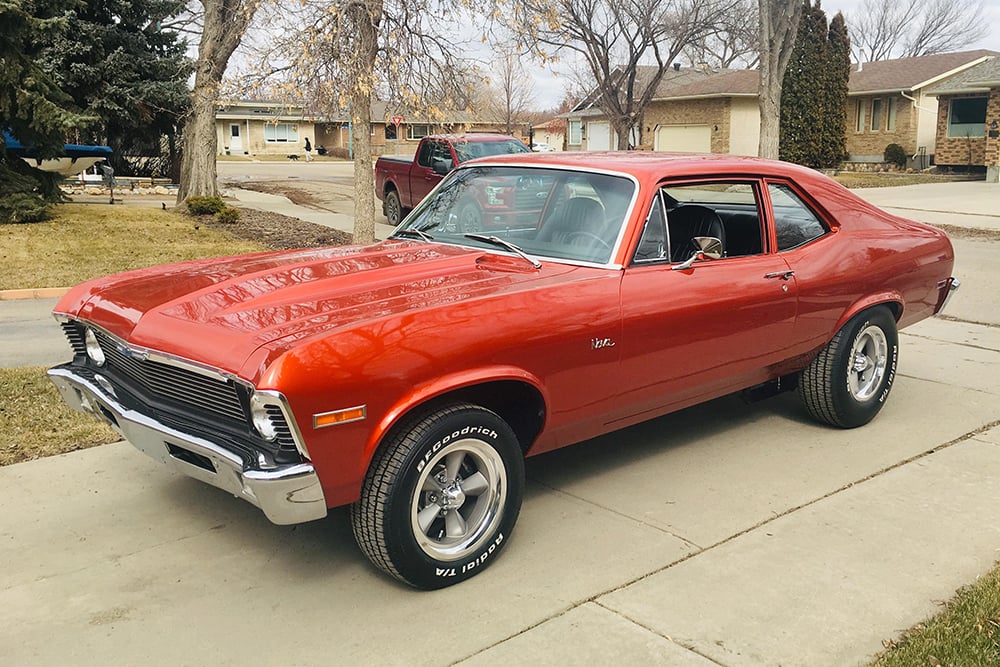 Each week, we write about a customer's classic car restoration project here on our blog. Normally, we speak to the owner, jot down notes, and write about the restoration parts and accessories that we know were used during the build. However, occasionally we meet a customer who does an even better job describing his or her car than we could, so we simply share the story in their own words. That was the case with this 1972 Nova, which belongs to Graham Reimer, of Regina, Saskatchewan, Canada. Read on for his detailed description of the project.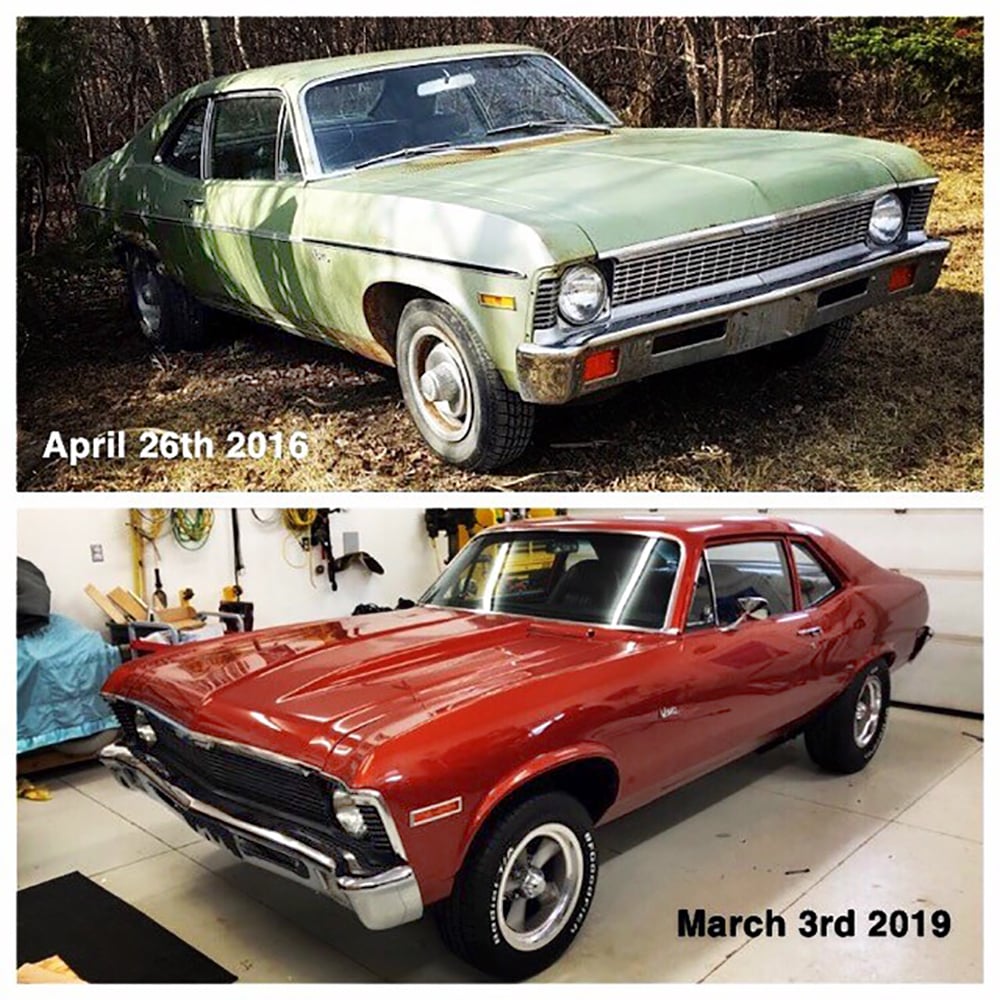 "I am currently the 3rd owner of the car. The original owner bought the Nova new, and drove it right up until the mid 2000s. The car was then sold to the second owner with plans to improve it. When the plans fell though, I purchased the car in 2016. It was all original with only 52,000 miles. It had a faded green interior and exterior, bench seat, and inline 6 cylinder with a 2-speed automatic. The car was the definition of a grocery-getter.
In my mind, the Nova always had the reputation of a family car, never a pavement-pounding street machine, but the body lines and styling made for a great starting point for that.
The restoration was a combination of some original styling with modern touches tastefully added. The start of the restoration was getting the panels sandblasted to see what was left to work with, and the body was chemically stripped."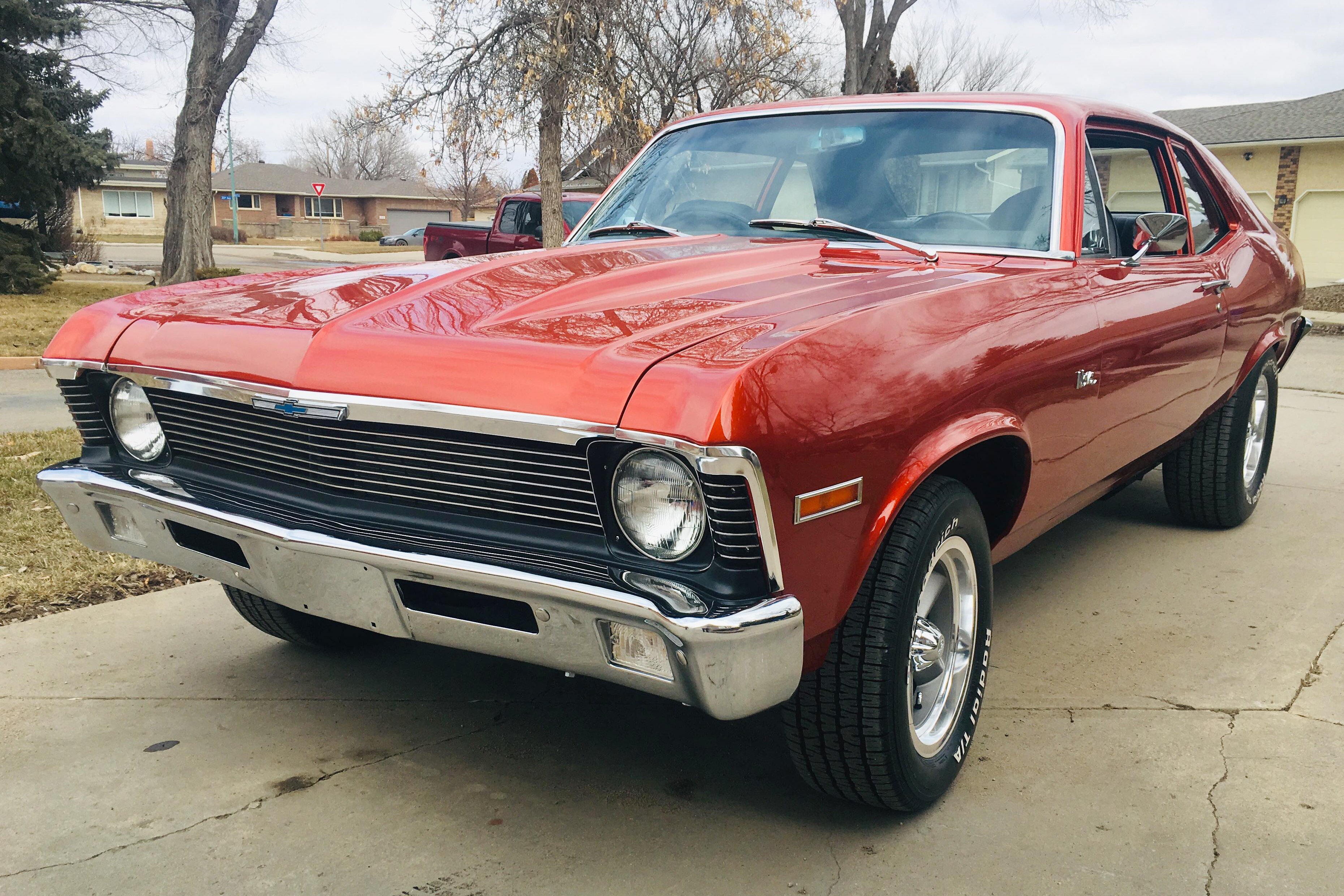 "The car had substantial rust problems being a Canadian car, and never being kept in a garage all its life, as well as rear quarter panel damage from being hit at some point and poorly repaired with copious amounts of filler. The metal work consisted of full quarter panels and quarter drops, wheel tubs, trunk floor, tail panel, rear frame rails, passenger-side floor, front wheel tubs, and the addition of a cowl induction hood. Once the metal work was complete, the car was top-coated with a metallic burnt orange and multiple coats of clear.
The new black vinyl interior presents as generally factory, with new carpet, bucket seats, rear bench, headliner, and dash pad. Modern touches in the interior include Auto Meter gauges placed in a modified gauge cluster housing, Hurst shifter with a line lock T-handle, and the fuel injection controller hidden away in what used to be the ashtray."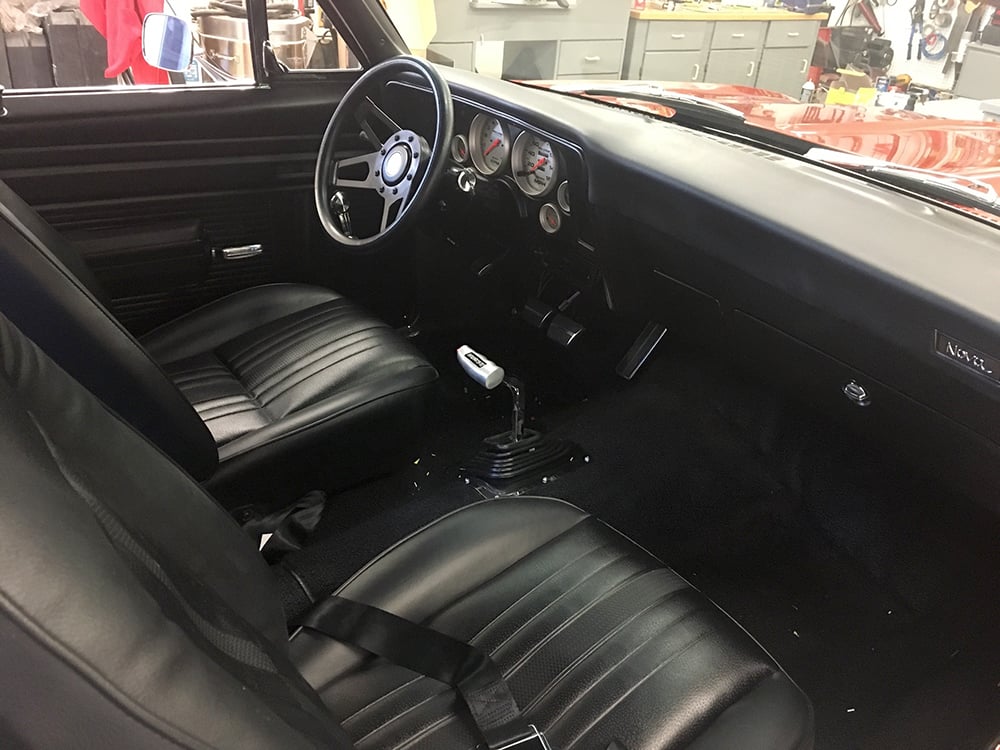 "The car utilizes the factory suspension setup with power steering, power brakes, and 4-wheel Wilwood drilled and slotted discs. The wheels are a classic 5-spoke design with BF Goodrich rubber.
The engine is a small-block Chevy 350 with Edelbrock RPM heads and intake, Comp XE series cam, KB pistons, and MSD ignition. The fuel system is a self-tuning fuel injection unit by FITech. The 350 is backed by an old-school Borg Warner Super T-10 4-speed with a McLeod clutch/flywheel and a hydraulic clutch set-up by American Powertrain. The car uses the factory Chevy 10-bolt rear end, with 3.73 gears and an Auburn pro-series differential."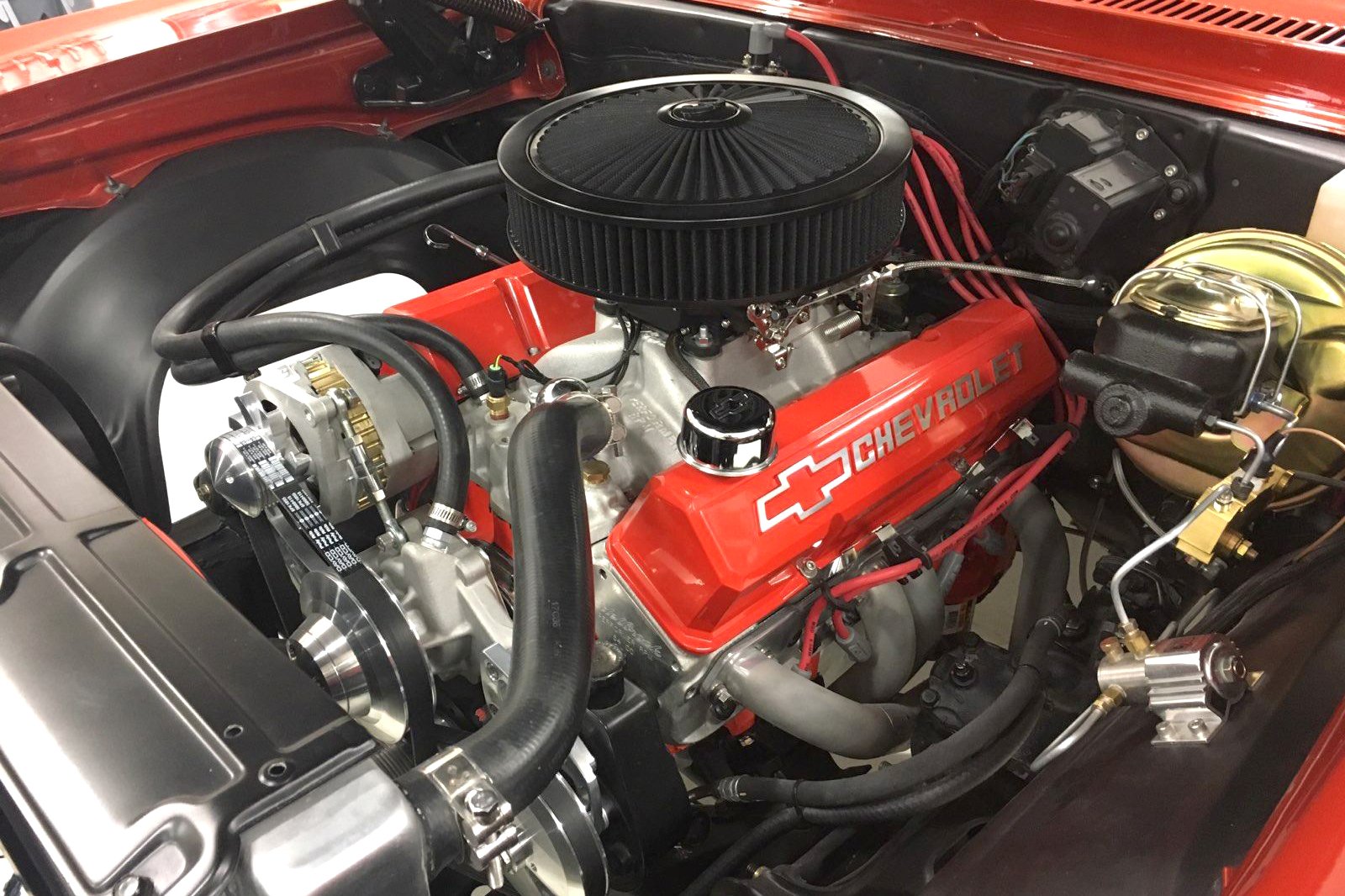 "Once the restoration was complete in the spring of 2019, The car was entered in the local Majestics Car Show, where it received first place in the Street Machine class award.
I think the concern a lot of people have when restoring a classic vehicle is where to find parts. By using Classic Industries, it was not an issue sourcing well-reproduced parts. Classic industries supplied almost all the replacement sheet metal, interior components, exterior trim, badging, and all new weather stripping. Fitment was never a major issue with the quality GM restoration parts and OER equipment."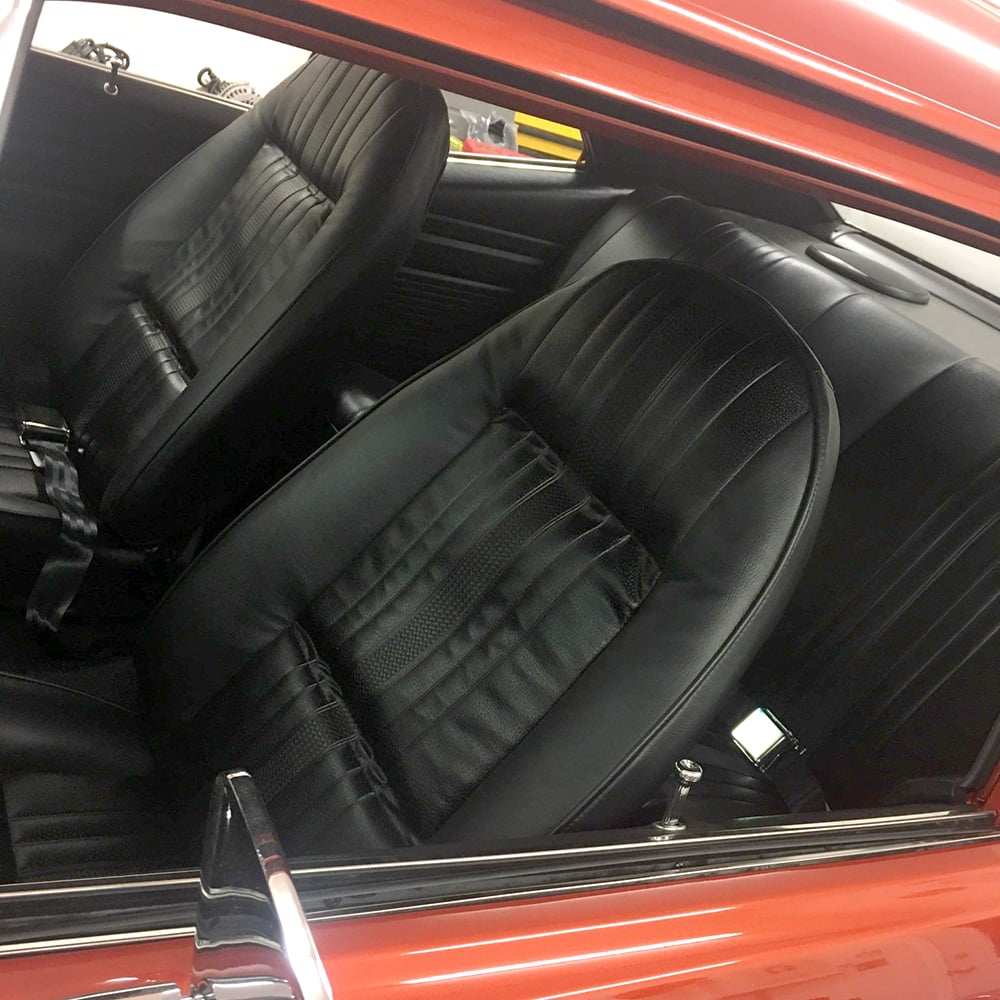 "Apart from having every part needed and a very large inventory, the customer service over the phone was great. Whether it be a modification to an order, return, or a question about a part, they were able to assist. I am currently restoring a 1950 Chevy half-ton truck, and continue to use Classic Industries."
We're thankful that we were able to be a part of this cool project, and that we could help Graham build the Nova of his dreams! We also can't wait to see how his Chevy truck project turns out. Thank you for sharing your story with us, Graham — great job!
If you need help finding parts for your Nova, give us a call or click the button below to get a free Chevy II / Nova restoration parts catalog.