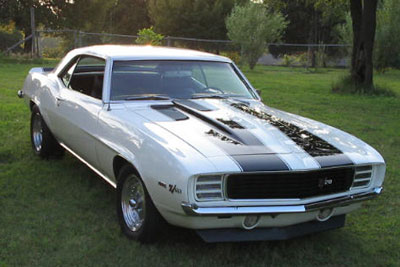 Keith Woolverton of Choctaw, Oklahoma, rescued this 1969 Camaro Z/28 from a field, where it had been disassembled and was in pieces when he found it. It took Keith about a year to complete the frame-off restoration. A journey that has been well worth it.
Some of the parts used on this restoration include: front door panels, front seat covers, window cranks, armrest pads, carpet, glovebox, rubber bumper kit, complete weatherstripping, window felts, wheel opening moldings, pillar molding, headlight door bellcranks, headlight doors with trim, front grill with trim and emblem, front bumper, door handles, lock kit, a new wiring harness, and wiper motor. According to the previous owner, the original 302ci engine met its demise in 1978, but from the engine back it is a matching numbers car. It now sports a 396ci big block taken out .030 over, coupled to a four-speed with a 4:10 positrac.
"I will only use CLASSIC and recommend your parts. When it comes to fit and quality it is hard to beat your products."
Although he was injured shortly after the car's completion, he still continues his love for classic cars by helping his buddies that still 'play' with restorations and 'hot rods'. Such experience is a valuable resource that his friends surely appreciate.
Keith Woolverton
Choctaw, Oklahoma