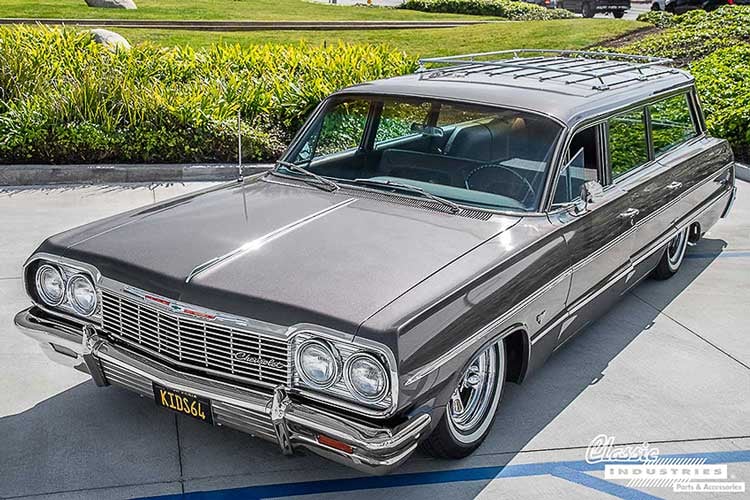 Many parents hope to share their interests and hobbies with their kids, whether it's fishing, sports, music, or cars. For Andrew Barker, of Lakewood, California, an appreciation for classic cars definitely runs in the family. When we met Barker in the parking lot outside our Retail Showroom, we asked him what motivated him to restore this beautiful '64 Impala wagon. His response was simple: his kids wanted a project car, and he was more than willing to oblige. The license plate "KIDS64" is a testament to this backstory.
Andrew's '64 Impala Wagon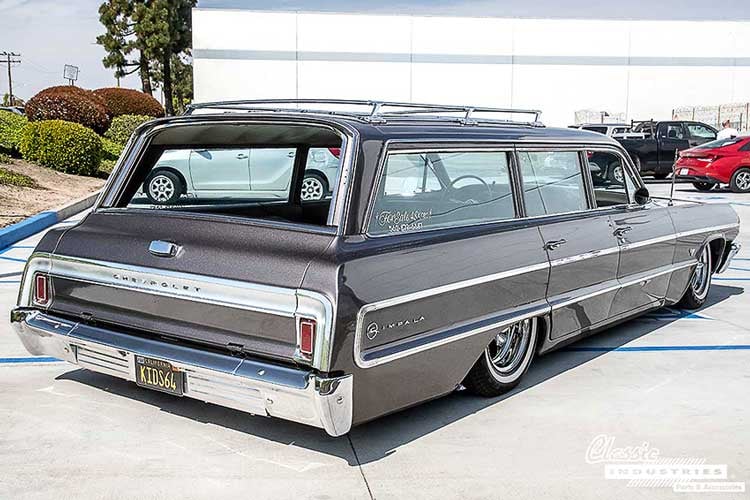 The end result of this project was a low, sleek wagon that rides on adjustable air-ride suspension and has room for the whole family. It even has the rear-facing bench seat, a position many of us recall riding in back when we were kids: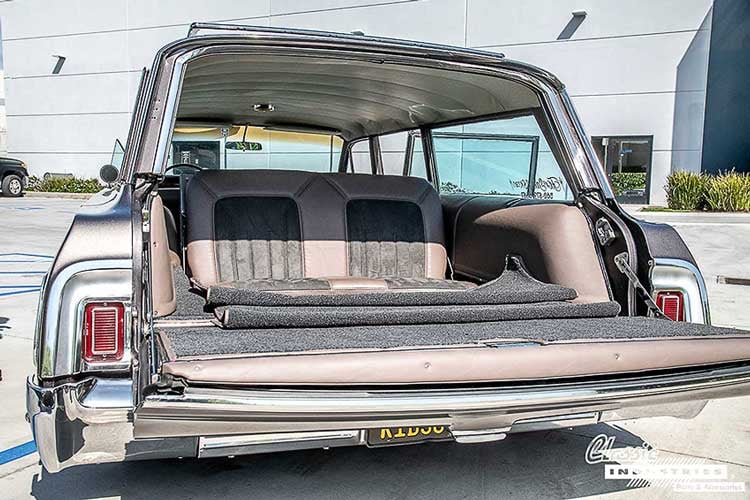 The build began as Andrew and his kids disassembled it, setting aside parts that could be restored and discarding those that were too far-gone. The engine was replaced with a 350ci small block V8 built by Advanced Racing Engines. The frame, inner fenders, and other under-hood components were refinished in satin black, contrasting nicely with the bright red block, heads, and valve covers.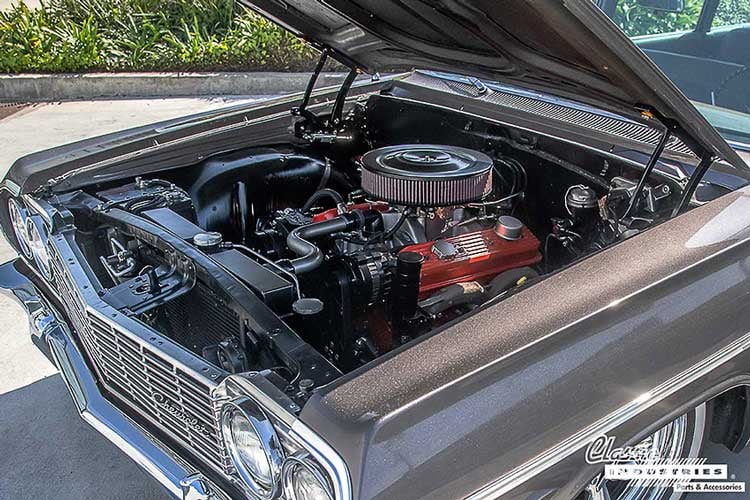 Next, the factory suspension was removed and replaced with air bags, lines, valves, and an onboard compressor. A set of chrome five-spoke wheels and whitewall tires were also installed. When the car is parked and the suspension is aired out, these wheels tuck neatly underneath the Impala's fenders.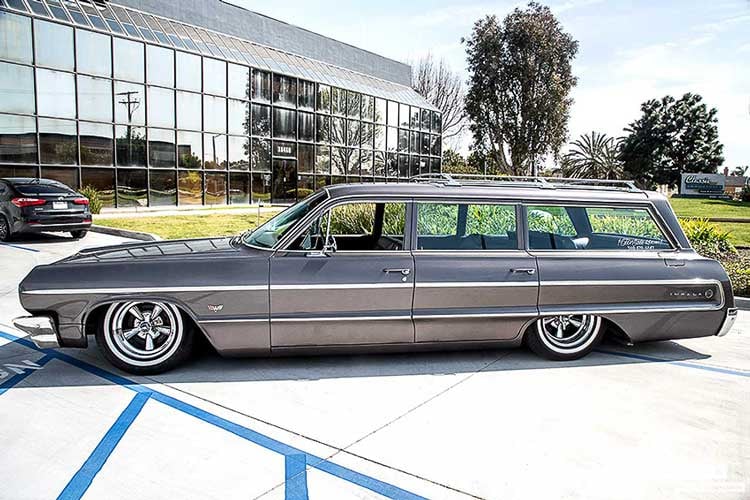 The body of Andrew's '64 Impala was prepped and repainted in elegant Pewter, with abundant metal flake that glitters in the sun. Once the car was back from the paint booth, the family got to work finishing the exterior. New glass was installed, polished trim was attached, emblems were placed on the fenders and quarter panels, and a rack was bolted to the roof to hold cargo on family road trips.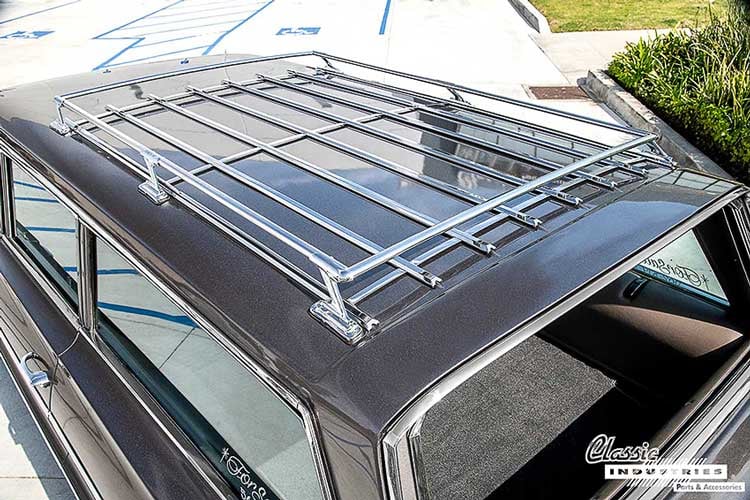 Finally, it was time to finish the interior. Black carpet was installed, and the doors and cargo area were reupholstered in new Saddle color material. The dash and bench seats were reupholstered in matching leather, with black suede inserts on each of the seats.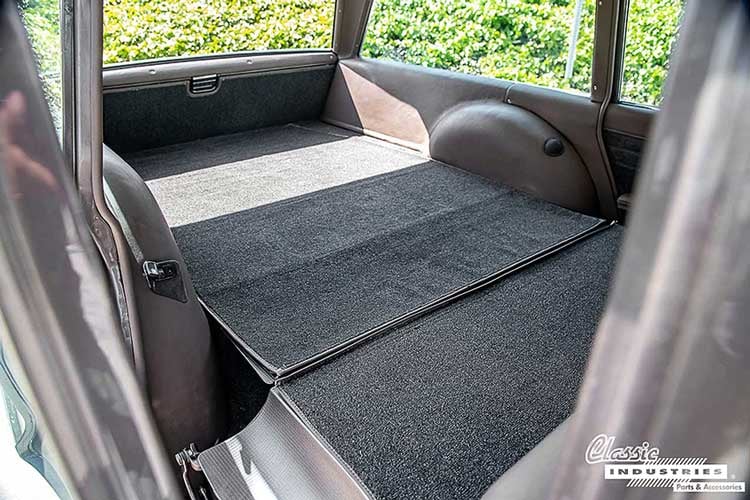 Up front, the dash and instrument cluster were restored to factory condition, with original-style gauges and trim. The steering wheel was also replaced with an OE-style reproduction wheel painted to match the body. It still has the iconic horn ring and Impala logo in the center.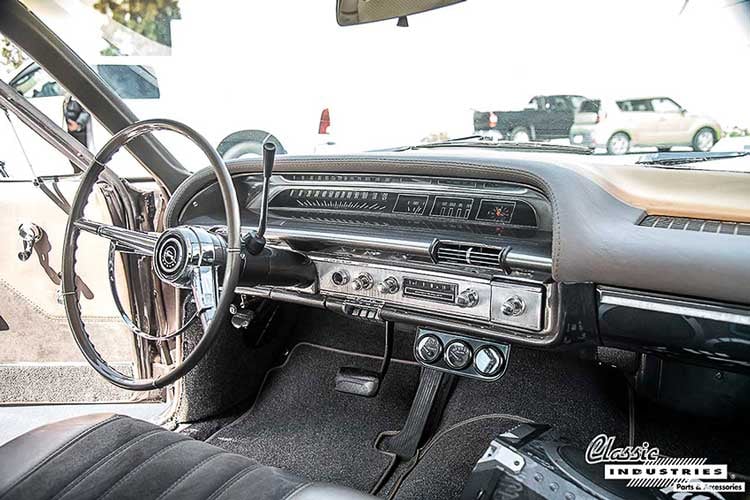 Andrew Barker enjoyed building this '64 Impala with his kids, and we're sure they spent countless hours of quality time together over the course of the project. The result is a cool cruiser that rides smoothly on the highway (thanks to the air suspension) and has plenty of space for the entire family.
Need Chevy Impala Parts?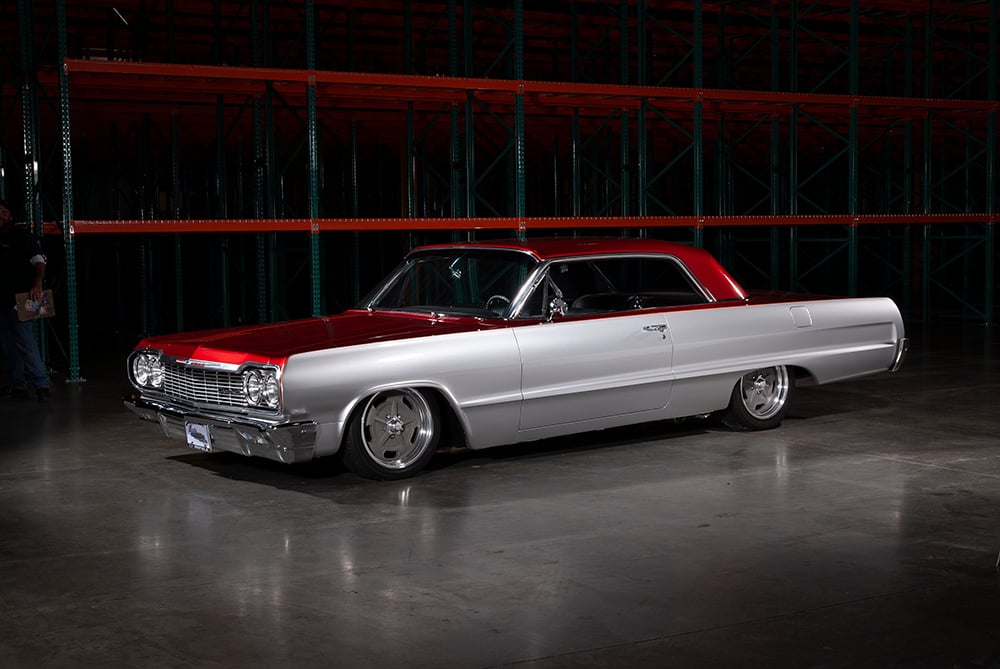 If you own a classic Chevrolet Impala, Bel Air, Biscayne, Caprice, or other Full-Size Chevy vehicle, we'd love to help you find all the parts you need to restore or upgrade it. The Classic Industries Impala/Full-Size catalog is packed with thousands of parts for these timeless vehicles. Click the button below to get a free Impala restoration parts catalog.