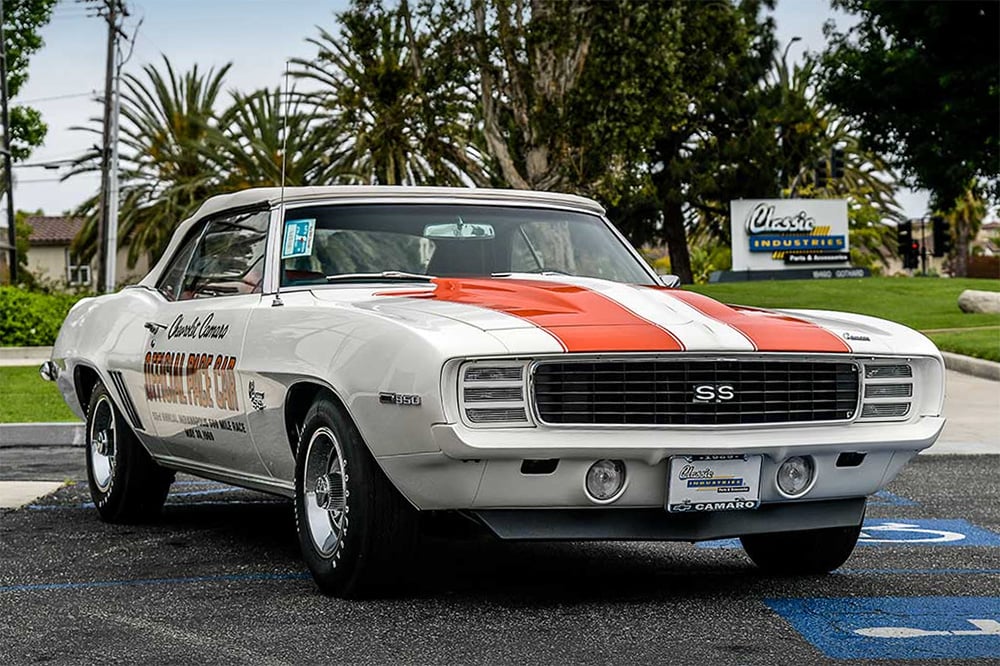 Here at Classic Industries, we're more than just a restoration parts retailer. We're diehard car enthusiasts who enjoy spending time around classic vehicles just as much as you do. As a result, we've developed our own collection of cars and trucks over the years, and many of these can be seen rotating through the display space inside our Retail Showroom. One of these centerpiece cars is our fully-restored 1969 Camaro Pace Car. Read on as we take a look back at the 1969 Camaro Pace Car history and examine some of its finer details.
History of the 1969 Camaro Pace Car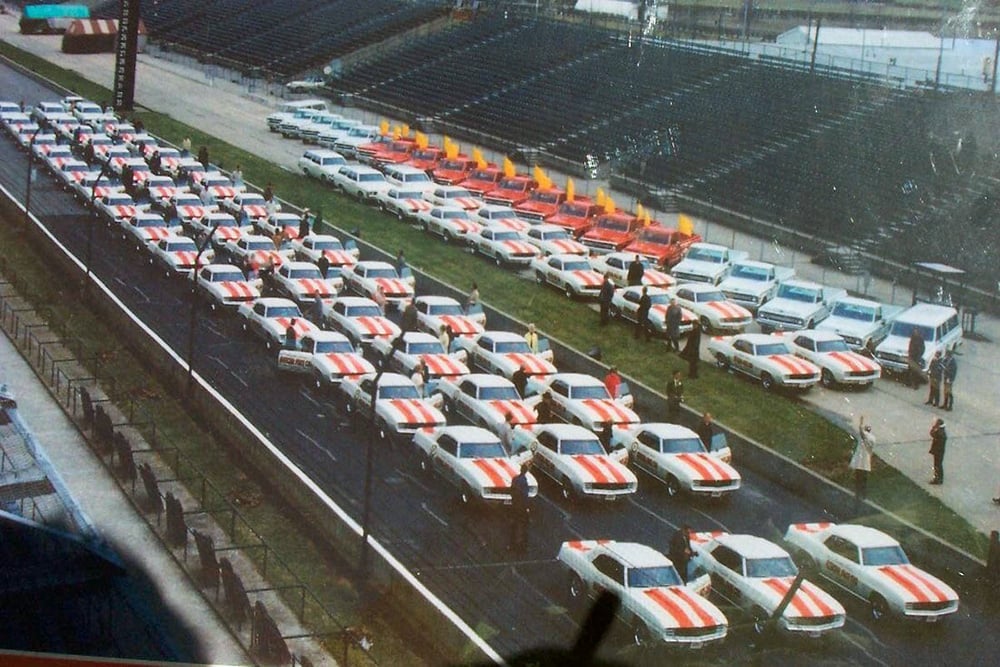 Image courtesy of www.camaros.org
In February 1969, General Motors held a press conference to unveil the modified Camaro SS/RS convertible that would serve as the pace car for the 1969 Indianapolis 500. This was the second time a Camaro would serve in this role, since it had previously done so in 1967. However, this time, GM was pulling out all the stops.
Two cars would be built for the actual pace car duty — a primary vehicle and a backup, each thoroughly inspected and specially modified by top Chevrolet engineers — but GM also built one replica that would be given to the winner of the race. Additionally, a large fleet of 130 replicas and support vehicles (trucks, Suburbans, and Impala wagons) was brought to the track. This fleet was used by race officials, media, and VIPs.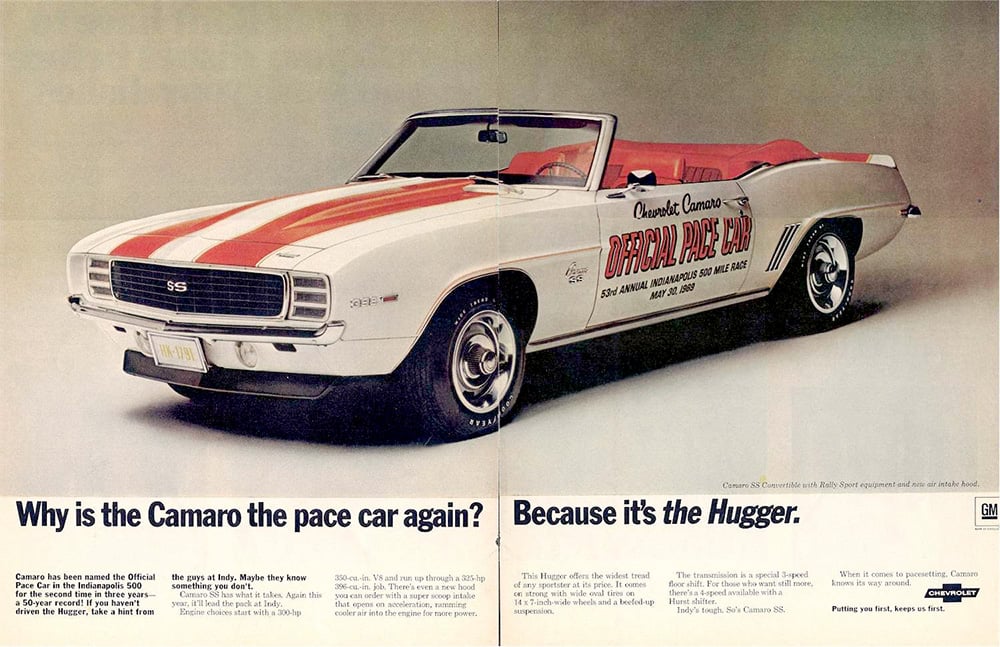 Image courtesy of www.camaros.org
After the Indy 500, Chevrolet dealers offered the Pace Car replica package as option code RPO Z11, "Indy 500 Pace Car Accents." The Z11 package cost a mere $36.90. According to Camaros.org, a total of 3,675 Z11 Camaro Pace Car replicas were produced for the 1969 model year. A Z10 coupe version was also offered at certain dealers in the Southwest; approximately 500 vehicles were built with that option.
A Closer Look at Our 1969 Camaro Pace Car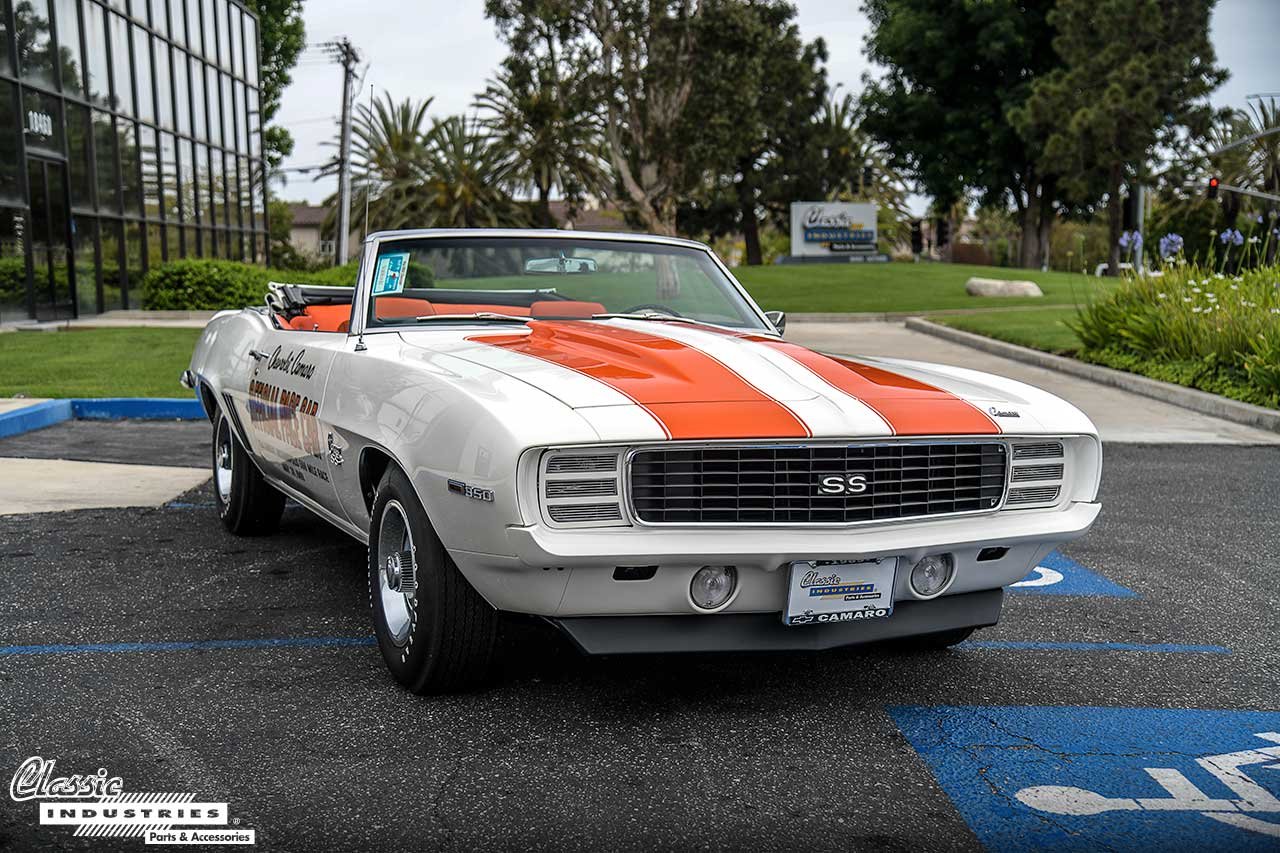 Classic Industries owns the 1969 Camaro Pace Car seen here, and it has been fully rebuilt using parts from our Camaro restoration parts catalog. Every inch of this Z11 car has been painstakingly restored to factory condition, down to the original markings and firewall stamps.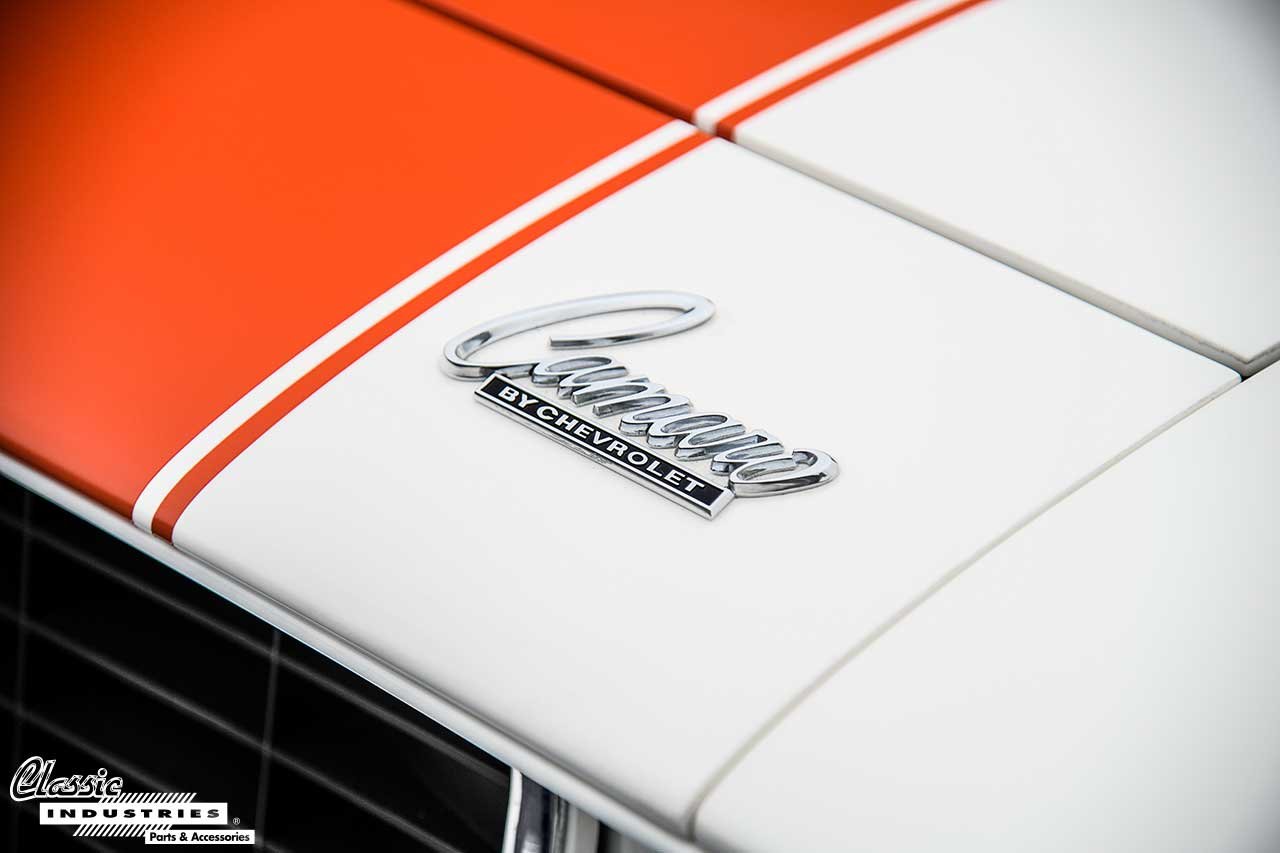 In order to stand out against the black asphalt, Chevrolet painted these Pace Cars Dover White with Hugger Orange Z28-style stripes. The Z11 and Z10 packages were the only way to get these stripes from the factory in 1969 unless you bought a Z28. Every Z11 car came with a white convertible top, ducted hood (commonly known as a cowl induction hood), and the immediately-identifiable "Official Pace Car" door lettering.
Since the Pace Cars were driven with the top down at Indy, each was equipped with a bright orange interior with houndstooth cloth accents (not available on other convertible models). The center console seen here wasn't standard, but was a common option.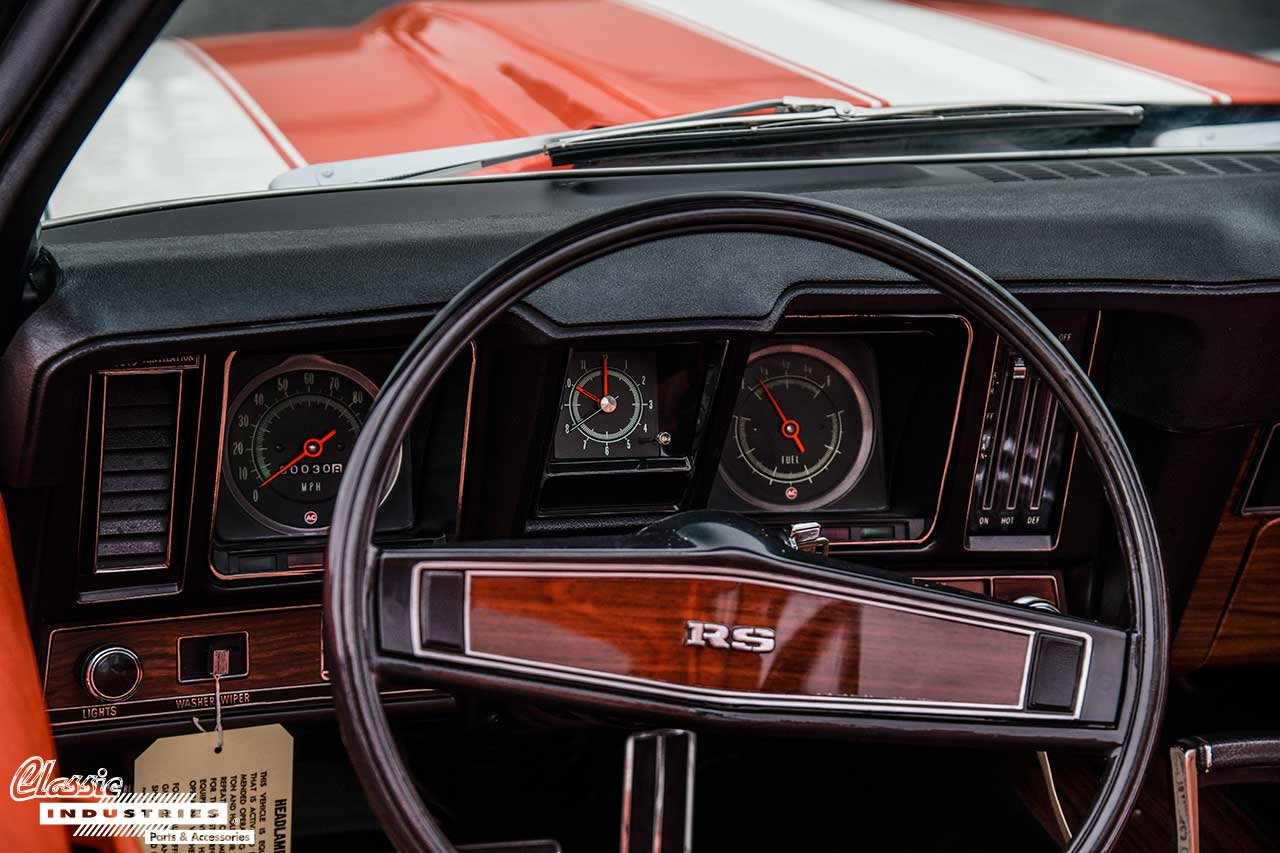 A 350ci small-block V8 and 3-speed manual transmission were standard on the Z11 Pace Car replicas, but these cars could be equipped with any other optional engine and transmission, including a 396ci big-block and 3-speed automatic (as seen in the two original Indy 500 pace cars).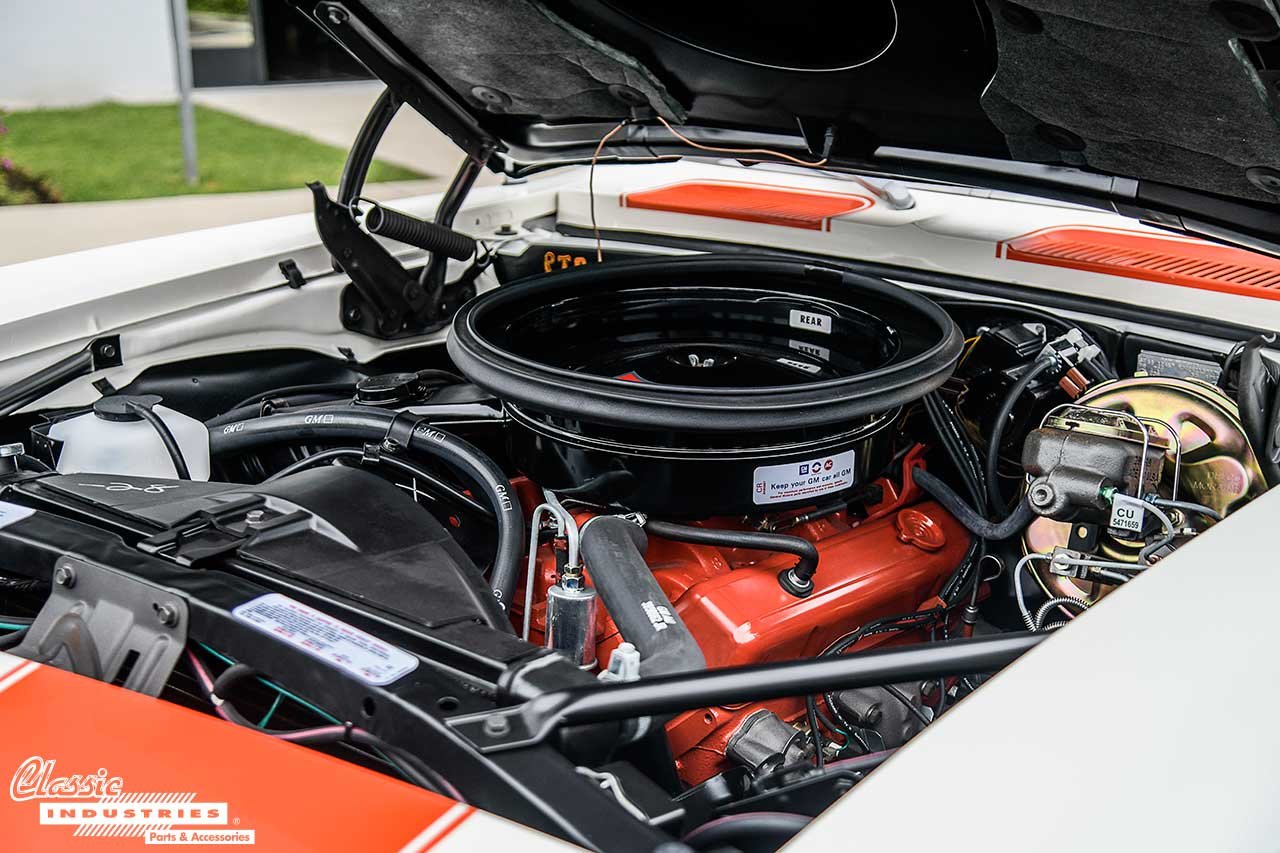 Camaro Restoration Parts
If you're in California and you'd like to come see this 1969 Camaro Pace Car for yourself, you might be able to find it on display at our Retail Showroom at 18460 Gothard St. in Huntington Beach, CA. It is periodically rotated into the Showroom along with other restored vehicles from our collection. When you stop by, you can also pick up a free copy of our Camaro restoration parts catalog if you have a project car of your own.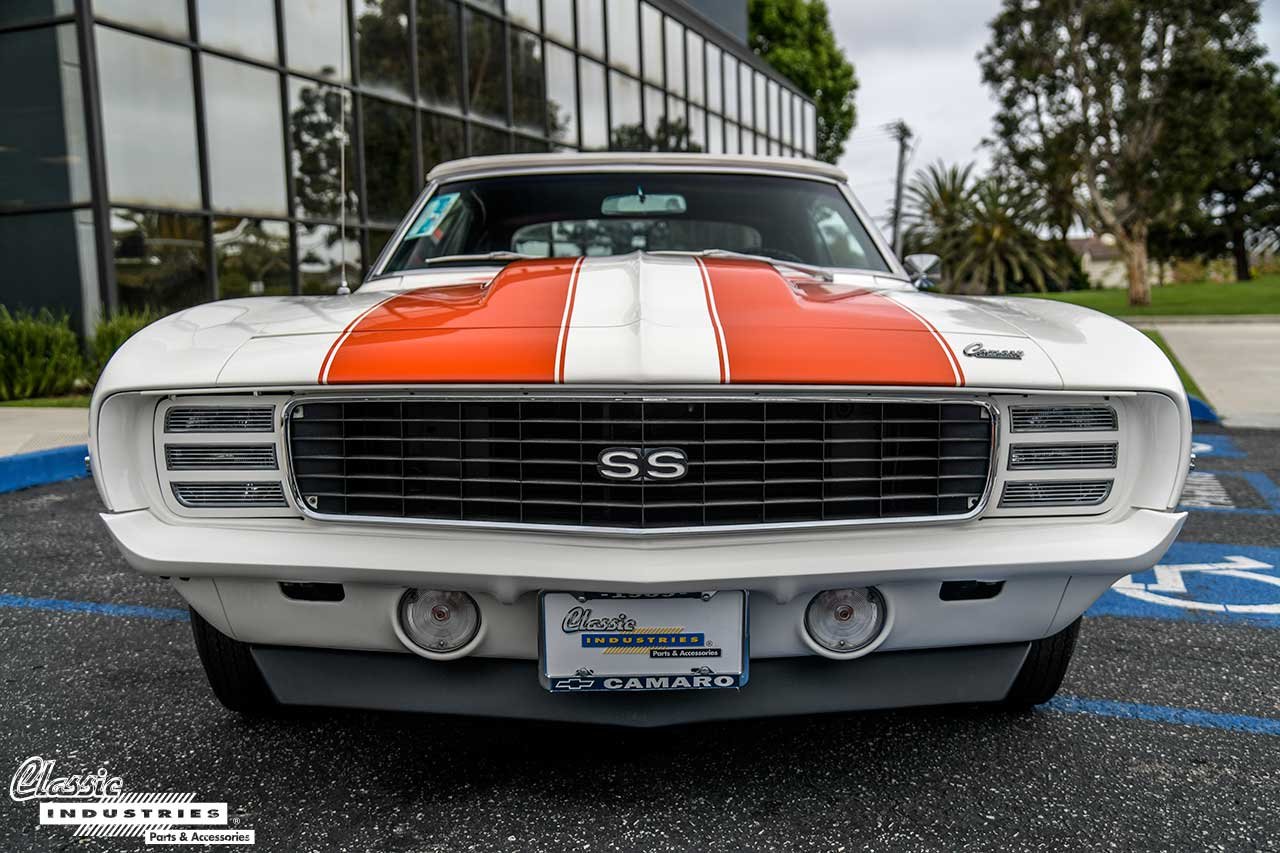 If you're not within driving distance of our HQ, don't worry — we can mail a catalog to your door for free as well. Just click the button below to get your full-color Camaro restoration parts catalog now.