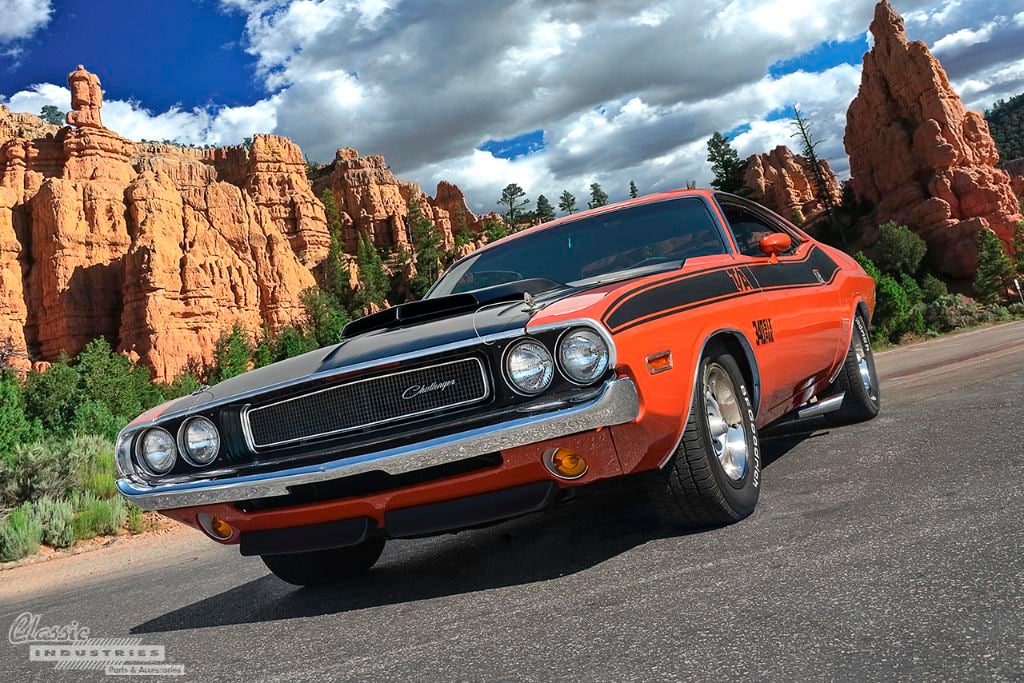 Dodge and Plymouth Mopar cars of the 1960s and 1970s offered a wide array of configurations, from practical family sedans and wagons to aggressive, head-turning muscle cars. This variety of body styles was matched by a variety of colors, from elegant black and white to eye-catching SubLime, Go-Mango, and Panther Pink. Mopar engines were much the same. You could choose from a nearly-indestructible Slant Six, a plethora of small block and big block options, or even the legendary 426 Hemi. Read on as we take a look at classic Mopar engine families and configurations.
Slant Six Cylinder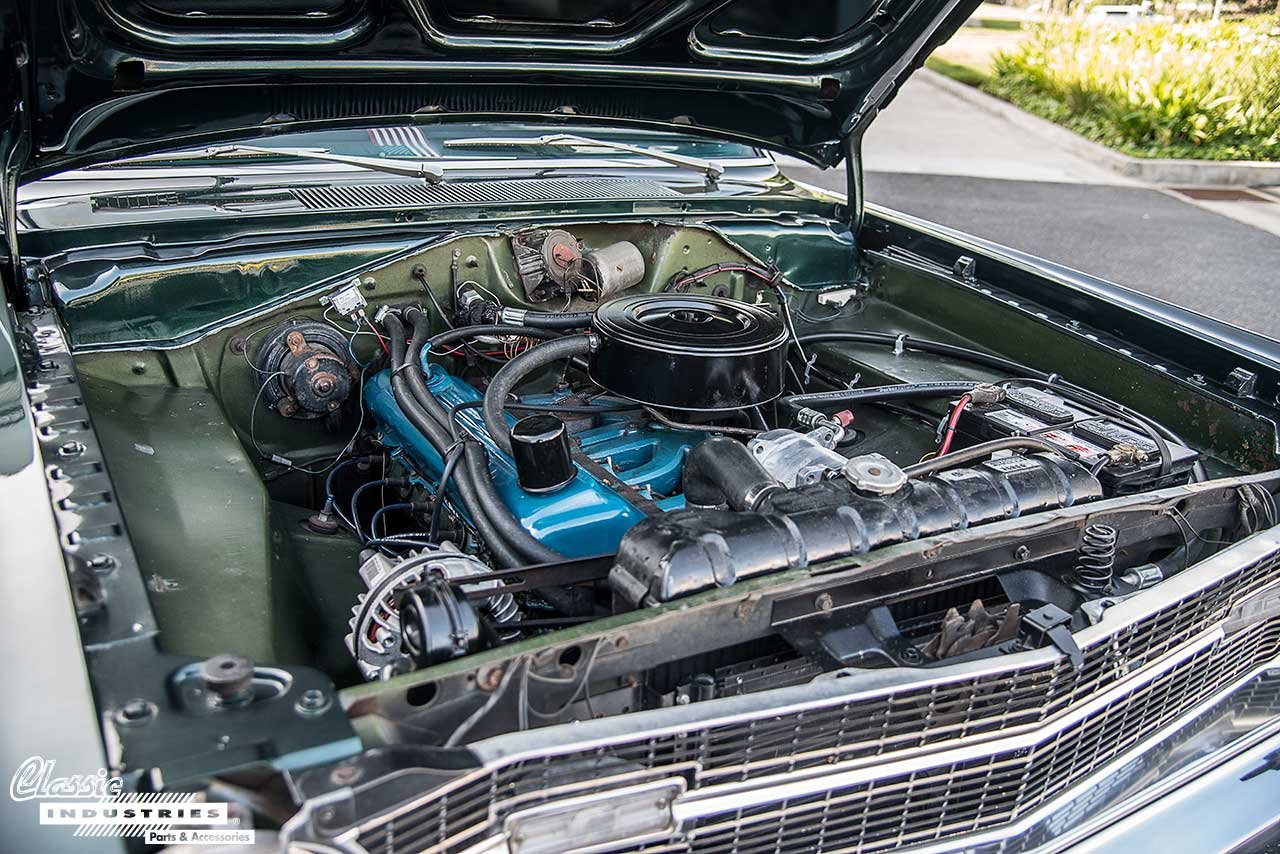 Above: A Classic Industries customer stopped by our Retail Showroom with this 1969 Dodge Dart GT. Its slant six engine had covered nearly 430,000 miles without a single rebuild.
The Slant Six has a legendary reputation for endurance. It also has a hidden secret: strong performance, given the right conditions. Most slant sixes were given a single one-barrel carburetor, but the optional HyperPak kit, which included a four-barrel, pushed out 196 horsepower. To simplify maintenance and reliability, most replaceable parts were relatively easy to reach.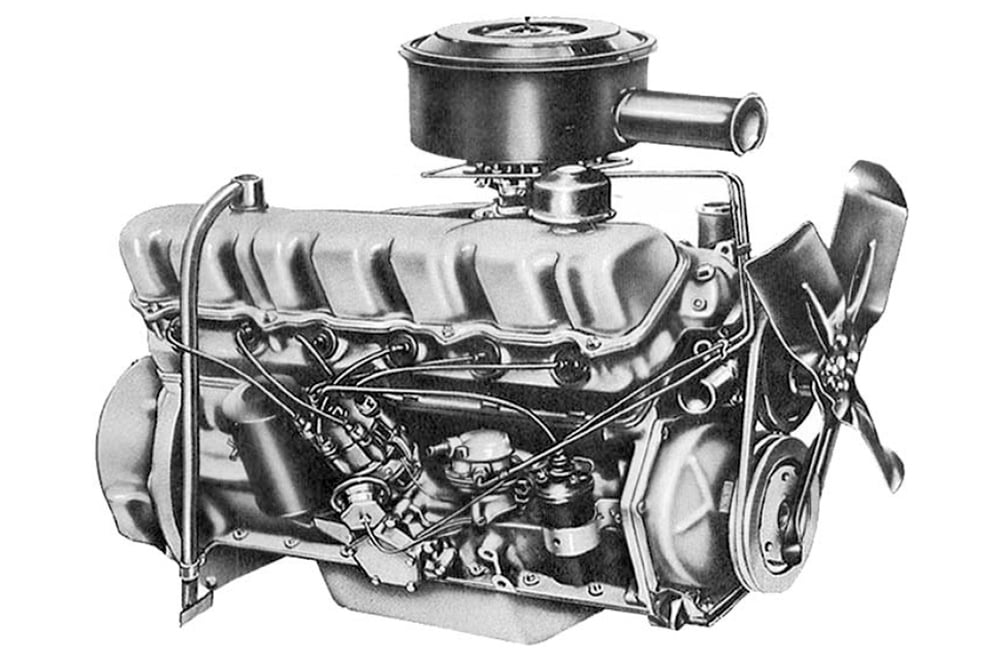 By slanting the engine in the compartment, four distinct advantages were achieved:
• The center of gravity is kept much lower than in upright engines
• A low, stylish hood is made possible.
• Engine accessories are more accessible.
• The water pump can be moved to the side of the engine, reducing the engine's overall length.
The Mopar Slant Six was available in the following variants:
• 170 cubic inch inline-6
• 198 cubic inch inline-6
• 225 cubic inch inline-6
LA-Series Small Block V8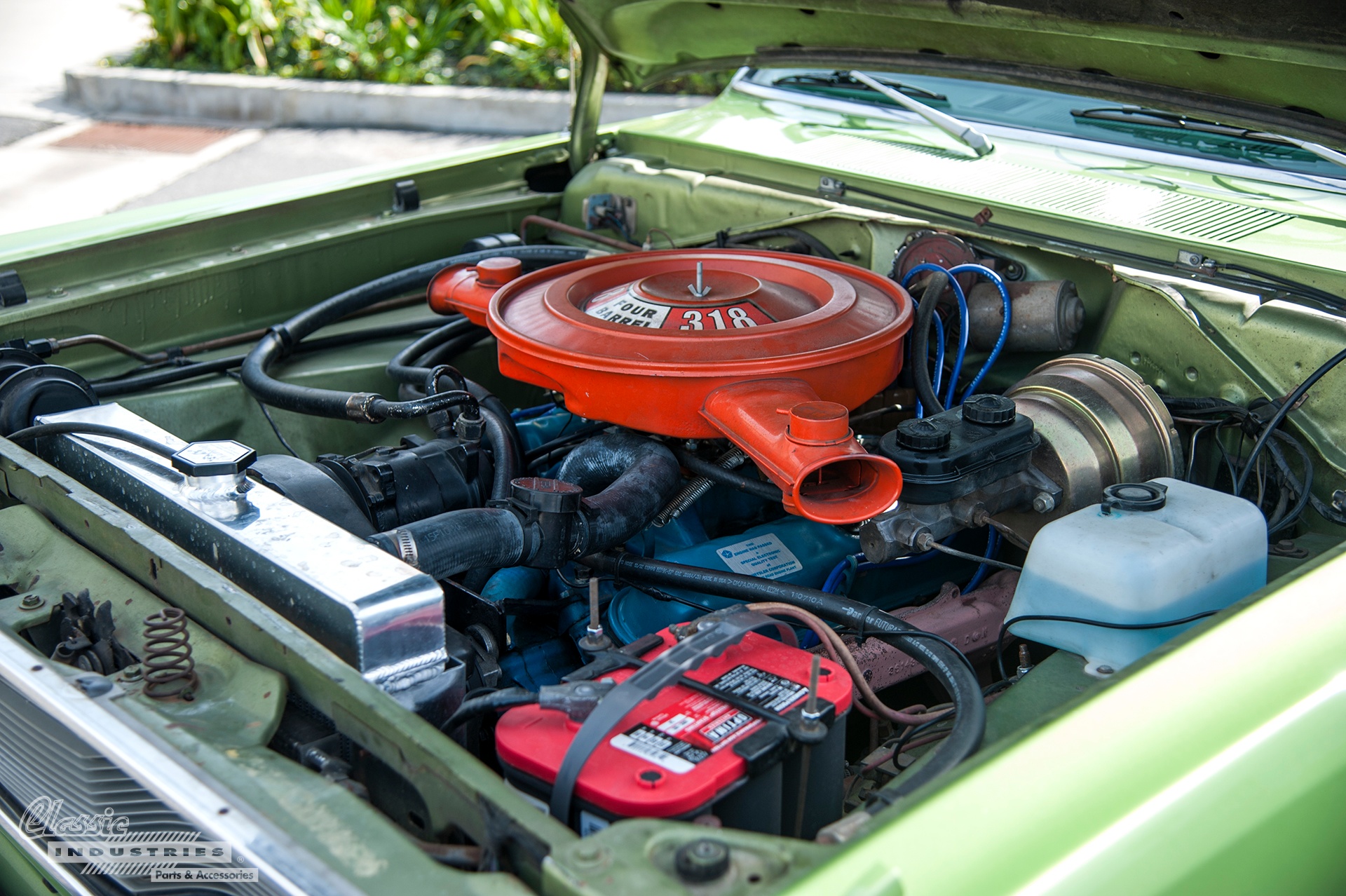 Above: This 318ci LA-series small block motor was found in a Classic Industries customer's 1972 Plymouth Scamp.
The LA engine bore the same basic design as the earlier A-Series small blocks, but were heavily modified. The "L" stood for lightweight, or thin wall casting and heads. These features saved around 50 lbs. This produced a versatile, relatively efficient, and extremely durable engine that became the mainstay of Chrysler cars and trucks for decades.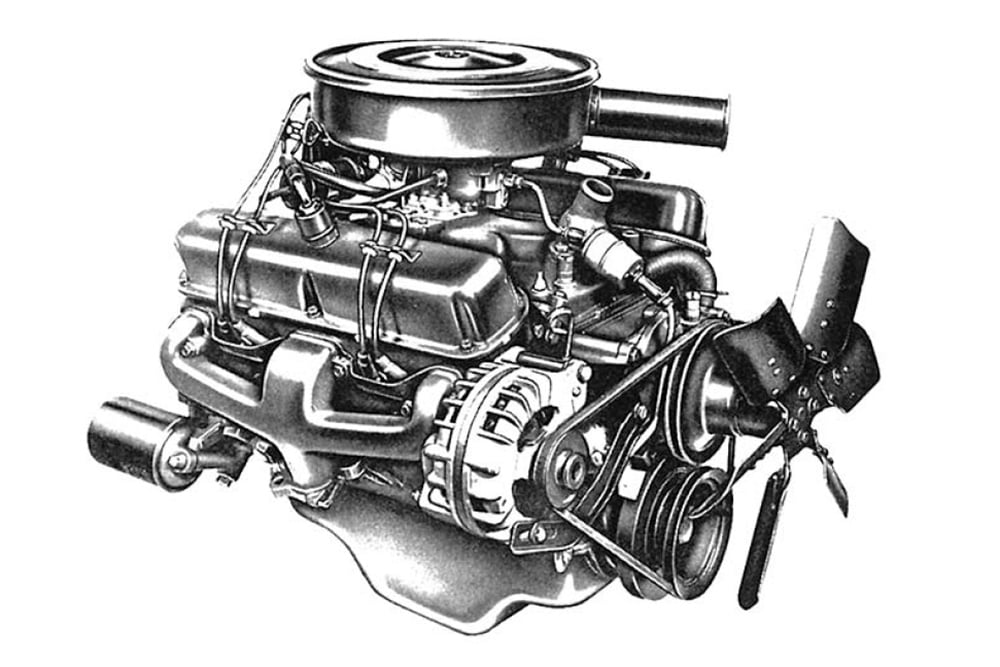 The 340ci engine provided the largest performance from a small block, and with a four-barrel carburetor, put out a healthy 275 horsepower in 1971.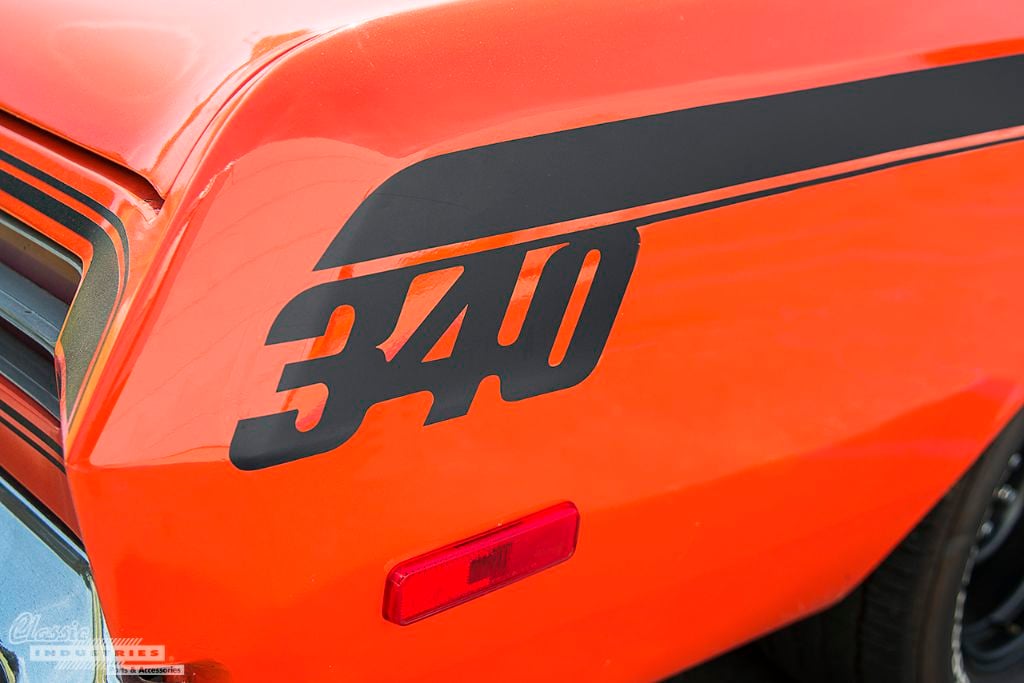 The LA-Series Small Block was available in the following variants:
• 273 cubic inch V8
• 318 cubic inch V8
• 340 cubic inch V8
• 360 cubic inch V8
B-Series Big Block V8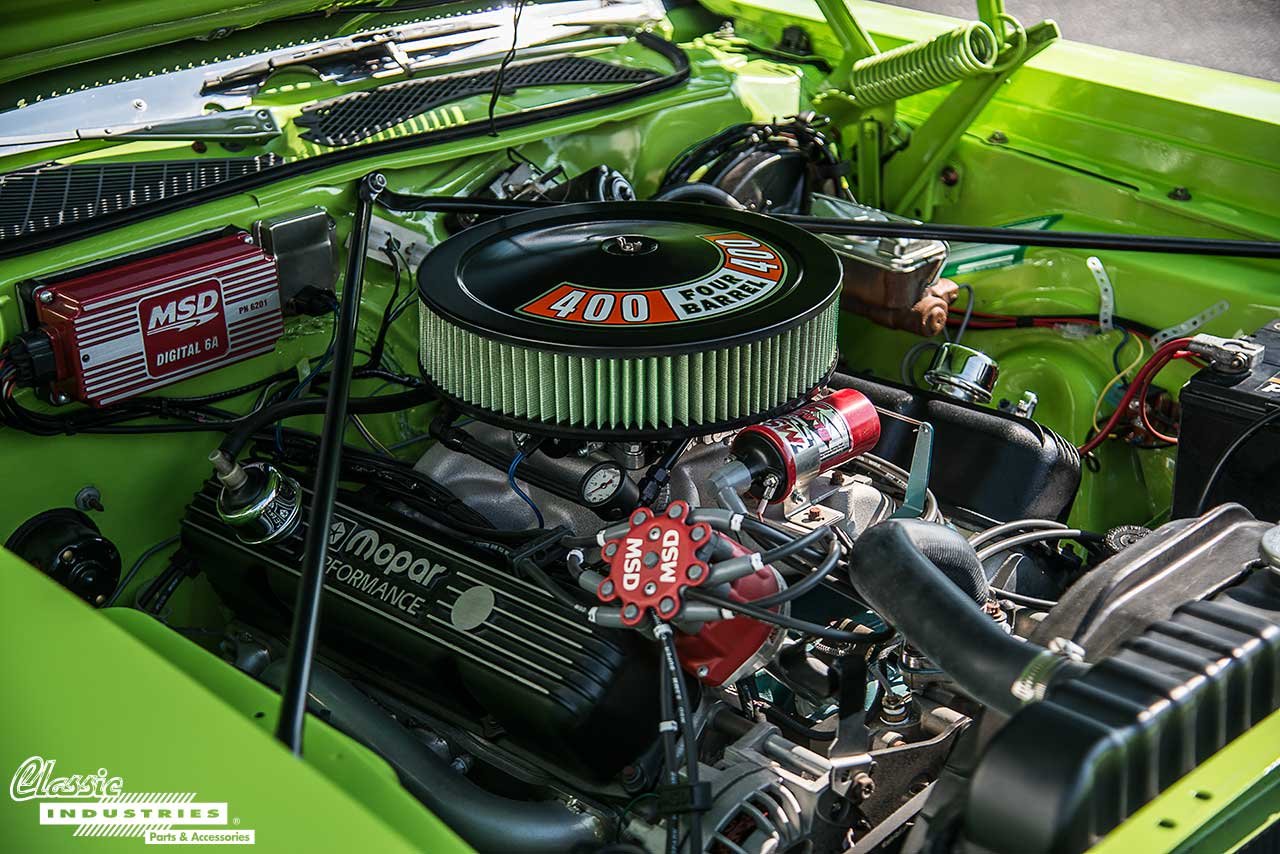 Above: A 400ci Mopar big block found in a customer's 1972 Plymouth Road Runner. This particular example has been heavily upgraded and stroked to 451 cubic inches.
The B-Series debuted in 1958 as the successor to the very successful early Hemi engines. It took several years for the engines to establish a reputation. The 361 was the early high performance version of the B-Series engine, and was put into Mopar muscle cars until 1966. The 383 was produced through 1971, and over 3 million were made. The 400ci engine was introduced in 1972 in standard and high performance versions. It was brought out when interim smog controls were lowering power. It provided a cheap means to increase power, and stayed in the Mopar lineup until much later in the '70s.
The B-Series Big Block was available in the following variants:
• 361 cubic inch V8
• 383 cubic inch V8
• 400 cubic inch V8
RB-Series Big Block V8
Above: This Ramcharger 426 motor was a version of the 426ci Max Wedge V8, with dual four-barrel carburetors atop a short-ram manifold. We found this example in a customer's 1963 Dodge 330.
The RB or "Raised B"-Series V8 engines arrived just one year after the launch of the B engines. 383 RB engines were only available in 1959-60. The 413 was introduced in 1960 with ram induction manifolds and 400 horsepower. Soon after, the "Max Wedge" RB engines came, with two four barrel carburetors and two ram-air intake tubes crossing each other. The 1962 413 Max Wedge produced a stunning 420hp. The 426 Max Wedge picked up where the 413 left off in 1963 and was rated at 425hp. The engine was a success, especially on the track.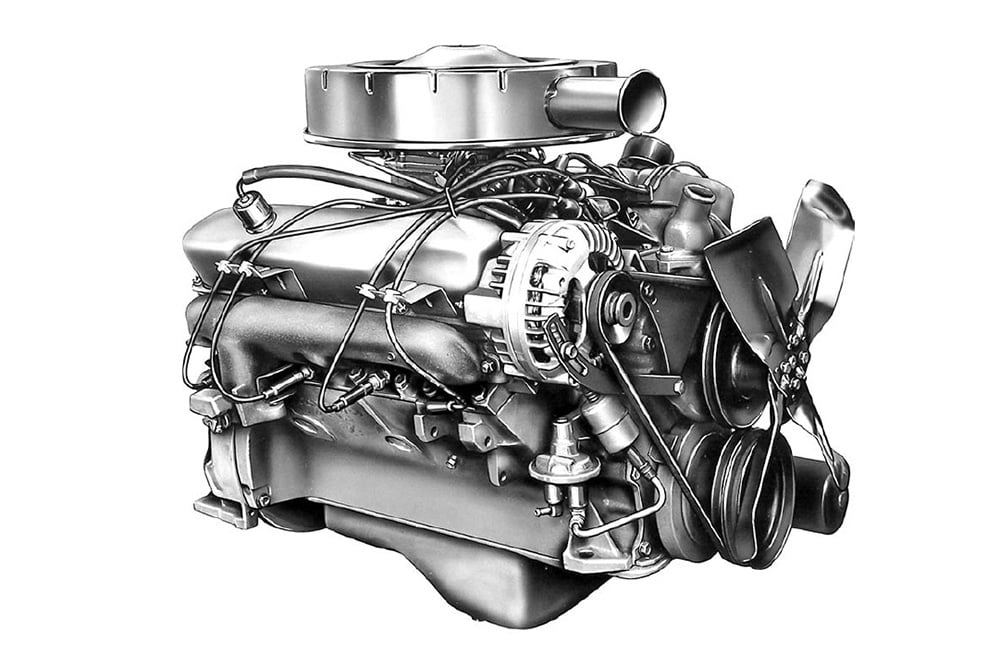 The 440 engine was introduced in 1966, the same year the 426 Wedge was replaced by the 426 Hemi. The 440 quickly became Mopar's high-performance RB engine, and in 1969-1971 could be equipped with the legendary Six Pack, a triad of Holley carburetors atop an Edelbrock intake manifold.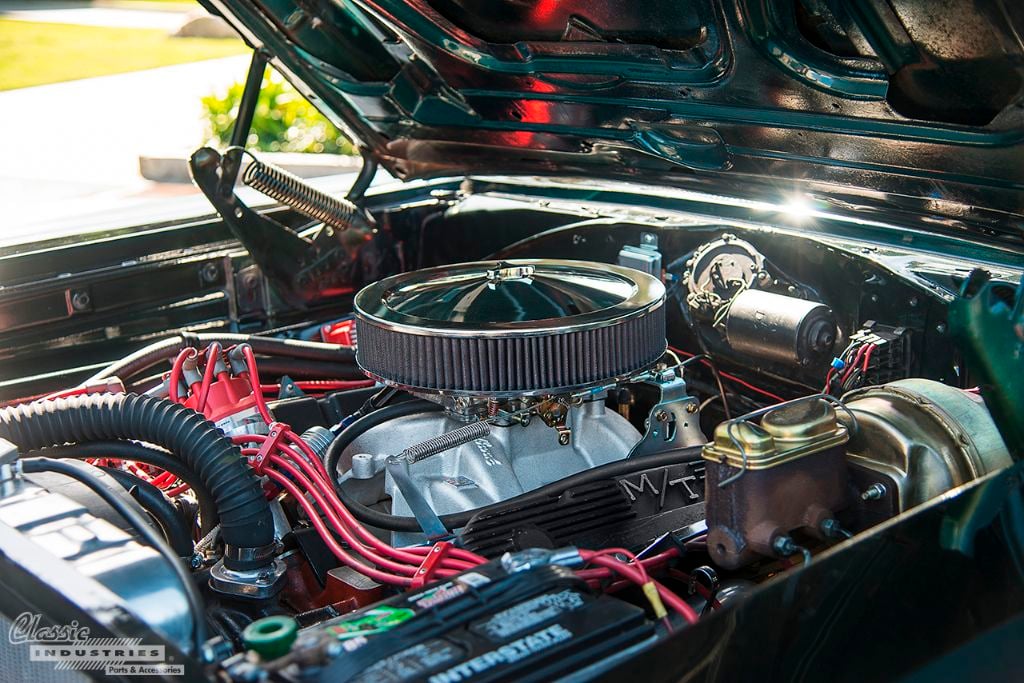 Above: An upgraded 440ci V8 found in a customer's 1969 Road Runner. This car originally left the factory with a B-series 383 V8, but the owner swapped it for this RB-series 440.
The RB-Series Big Block was available in the following variants:
• 383 cubic inch V8 (1959-60 only, not to be confused with the 383 B-series)
• 413 cubic inch V8
• 426 cubic inch V8 aka "426 Wedge"
• 440 cubic inch V8
426 Hemi V8
In 1963, Chrysler's executives approved a program to build a car that could win the 1964 Daytona NASCAR race. Chrysler designers decided to use Chrysler's expertise in Hemi designs rather than working with the Wedge. "Hemi" is a shortened nickname for the hemispherical heads that sit atop a 426ci RB-Series big block V8.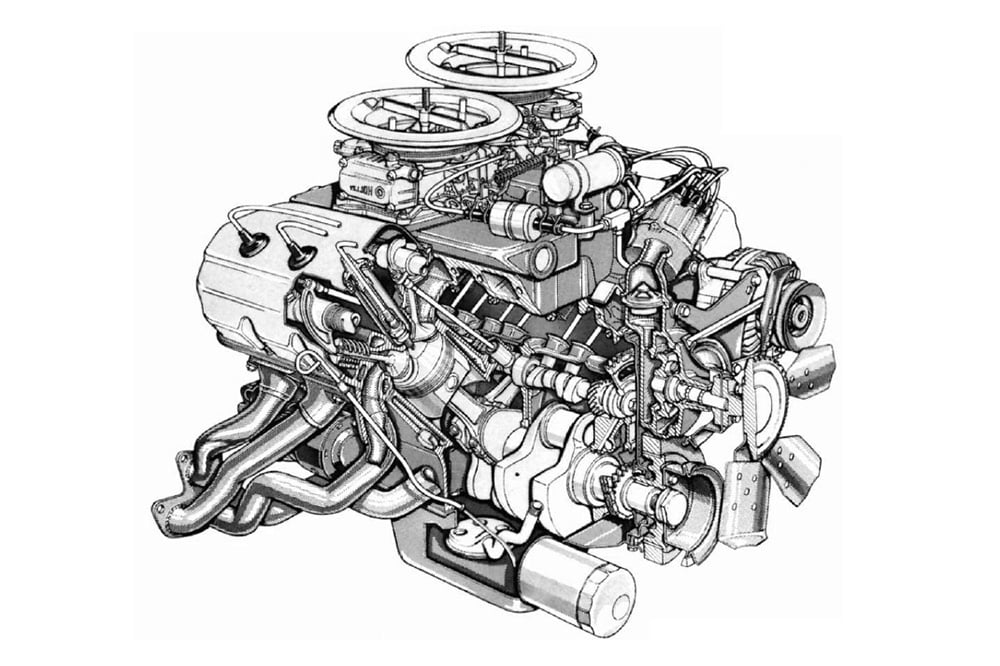 The 426 Hemi was offered in race cars for 1964, with 1966 being its first year in slightly detuned form for street Mopars. The street version had a lower compression ratio than that of the race Hemi, as well as milder valve timing and different intake and exhaust manifolds. Very little changed on the Hemi during its 8-year production life; it put out an advertised 425hp throughout its life. It was ended after the 1971 model year due to rising insurance costs, an impending oil crisis, and poor public response in 1971.
Although the Hemi last rolled off the production line in 1971, the engine design powers many modern race cars, from Top Fuel to Funny Car drag cars.
Mopar Engine Restoration & Performance Parts
Classic Industries offers a large selection of replacement parts and performance upgrades for Mopar engines. Whether you need replacement gaskets or a complete high-performance crate motor, we've got those items and everything in between. Click the button below for a free full-color Dodge and Plymouth Mopar restoration parts catalog.