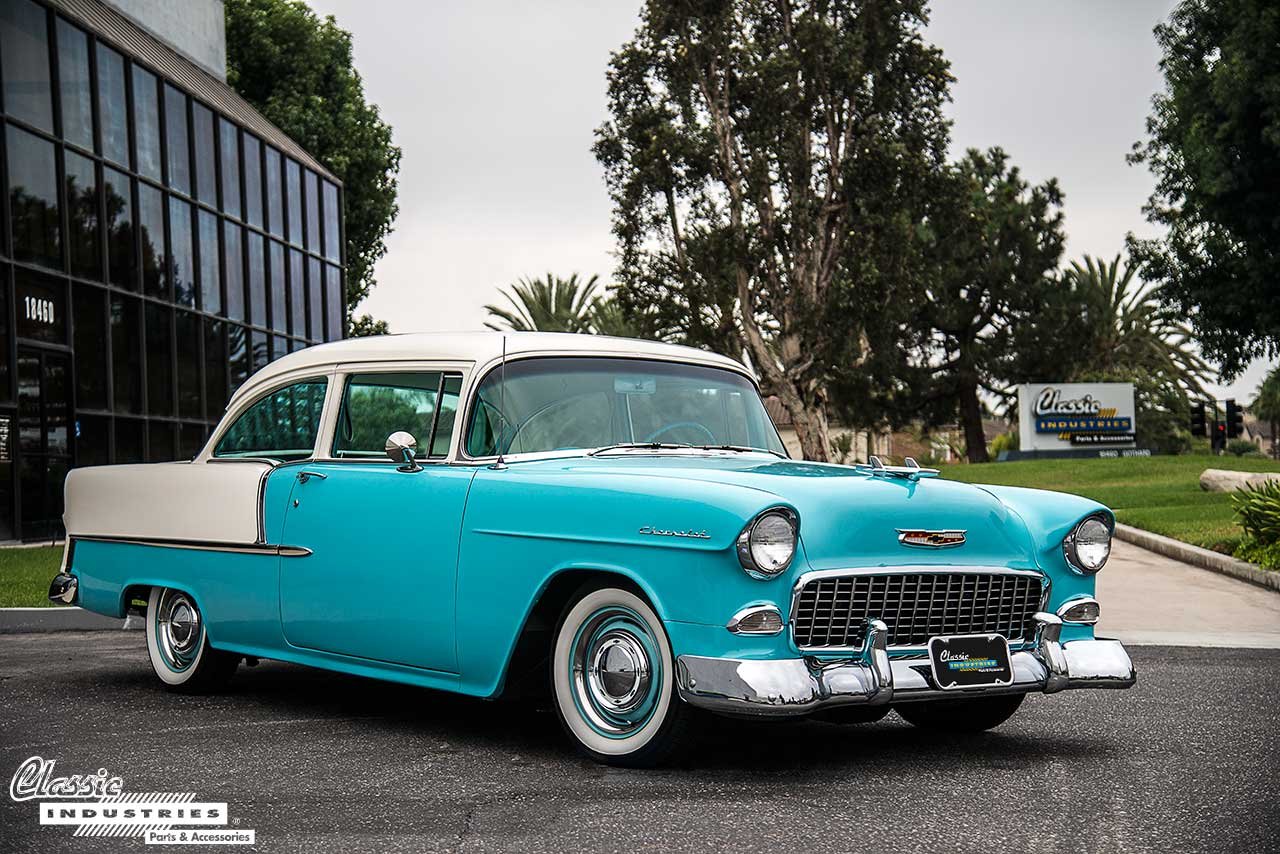 The 1955 - 57 Chevy is one of the most quintessential and beloved American cars of all time. In just three years, Chevrolet changed the course of automotive history with each iteration of the economical 150, elegant 210, and luxurious Bel Air, so it's no surprise that classic car enthusiasts are still enamored with the Tri Five. And more than 60 years later, they're still taking on '55 - 57 Chevy restoration projects to keep these vehicles on the road, with help from parts found in the Classic Industries catalog.
We've seen many beautiful '55 - 57 Chevy restoration builds outside our Retail Showroom over the years, and had the opportunity to photograph several of them while their owners shopped for parts. Today, we'll take a look at six cool examples of the Tri Five lineage — two cars from each model year.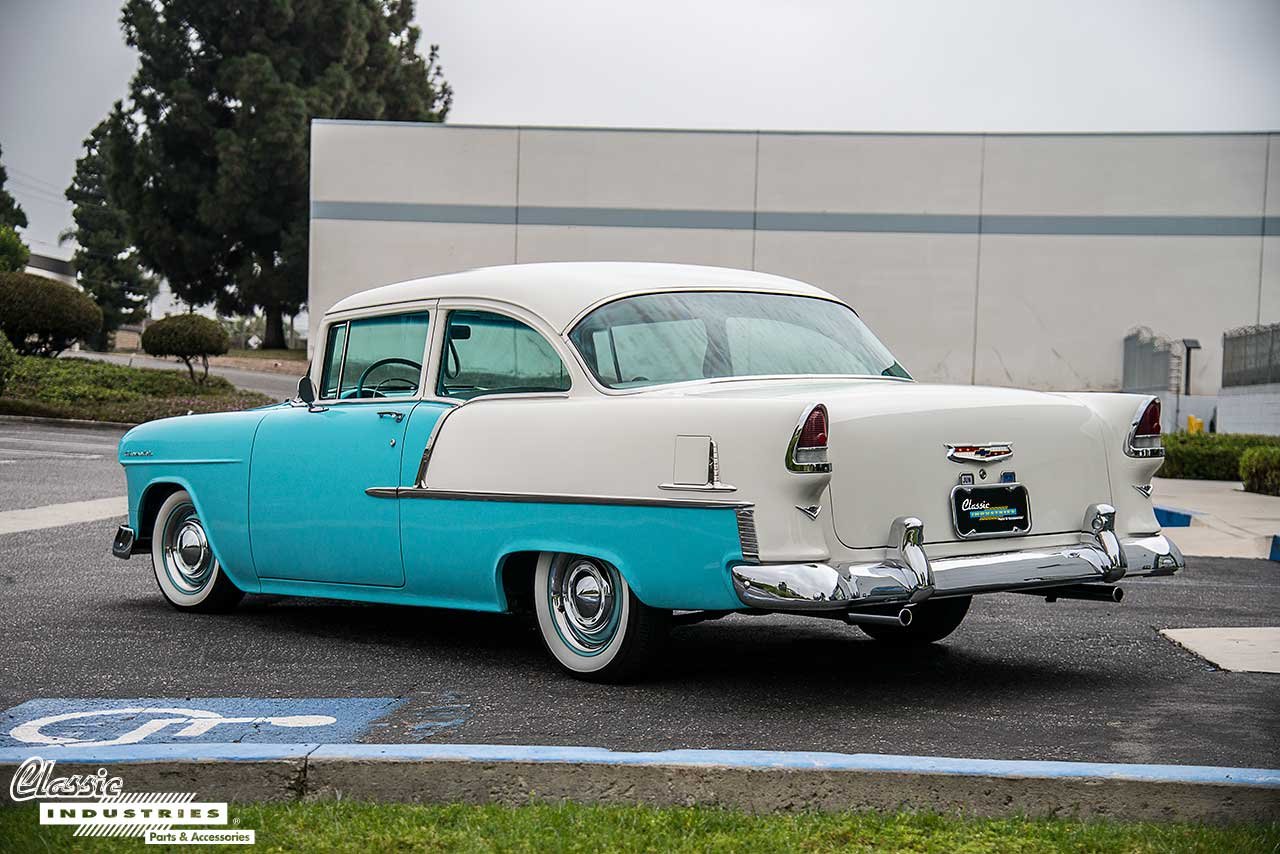 Starting with 1955, this classy '55 210 was driven by Kerry Reid, and had recently undergone a complete restoration. The sheetmetal was smoothed and repainted in a two-tone of Regal Turquoise and India Ivory, split down each side of the body by chrome trim. Matching turquoise steel wheels and wide whitewall tires mimic this paint scheme. This car was built as a gift for Kerry's father. Click here for the full article on this 1955 Chevy 210.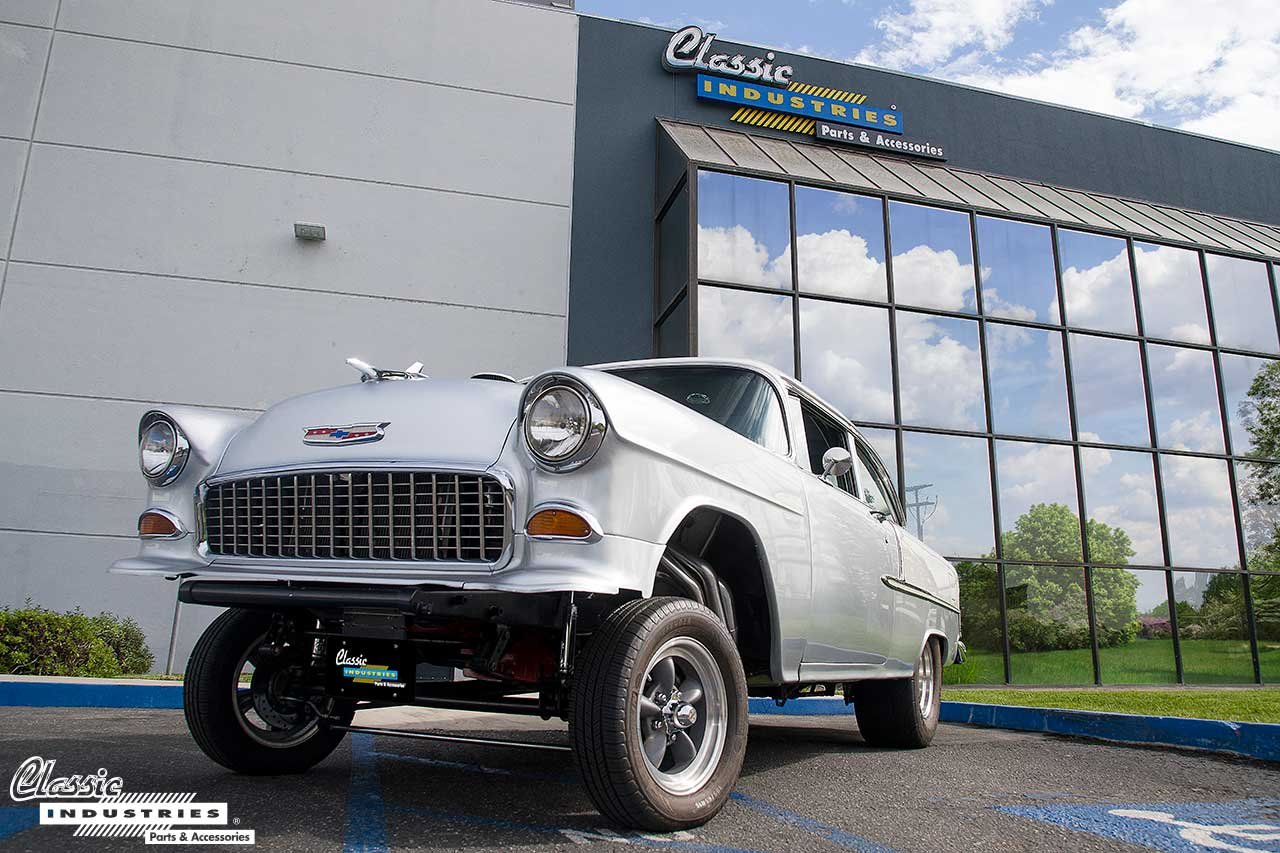 In contrast to the original-style restoration we just discussed, here's a '55 Chevy that's truly wild. It was restored and modified into a "gasser" build — a name for a category of hot rods that became popular in the 1950s and 1960s, which were designed to squeeze every bit of speed out of regular pump gas (as opposed to high-octane race fuel). David Rich, the owner of this car, bought it as a rolling shell with no engine or transmission, and dropped in a mammoth 496ci big-block V8. He also modified the suspension to shift the center of gravity over the wide rear wheels, yielding faster launches at the drag strip. Click here to read the full story about this '55 Chevy Bel Air gasser.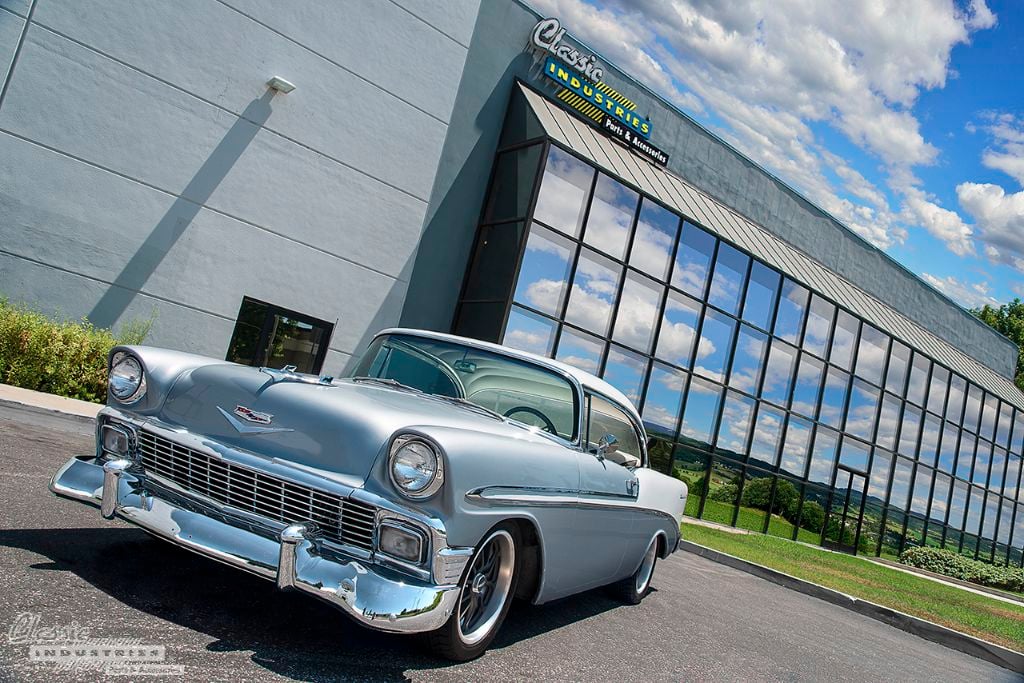 In 1956, Chevrolet tweaked the styling enough to stand out while maintaining the sleek look that buyers fell in love with in 1955. This '56 Bel Air was restored by Greg Irvine, but there's more to it than meets the eye. It features a fuel-injected 430hp 6.2L LS3 engine, upgraded suspension, four-wheel disc brakes, and Budnik billet wheels with sticky tires for aggressive cornering. This resto-mod build seamlessly fuses classic style and modern performance. For more info and photos of this '56, click here.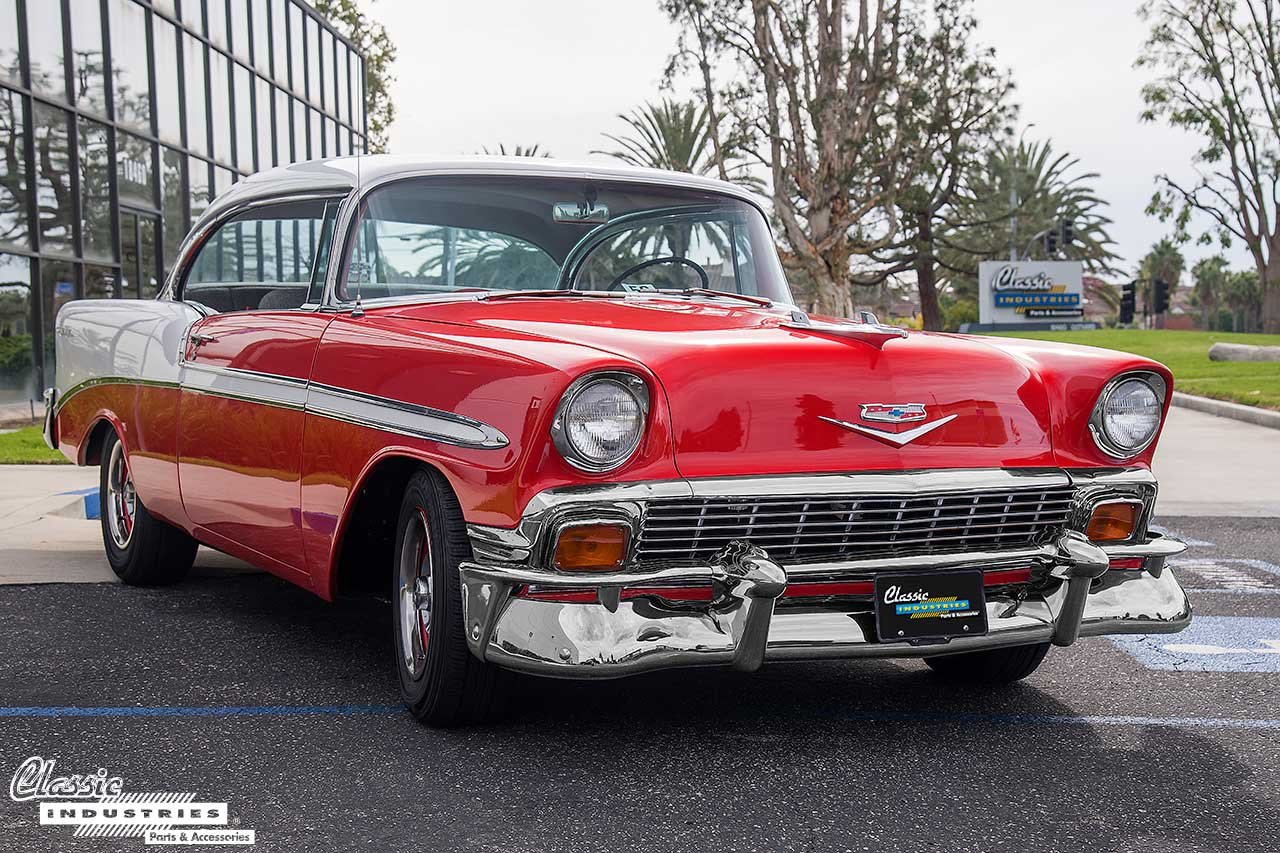 This 1956 Bel Air is one for the traditionalists. Richard Smith purchased the car back in 1976, and spent many years lovingly restoring every inch of it. It does deviate slightly from its original specifications, as a result of the upgraded 327ci small-block V8 under the hood, as well as custom grey and red interior upholstery. But these tweaks pair nicely with the original-style exterior to create a package that almost looks like it could've been a special edition built by Chevrolet themselves. For more details about Richard's '56 Bel Air, click here.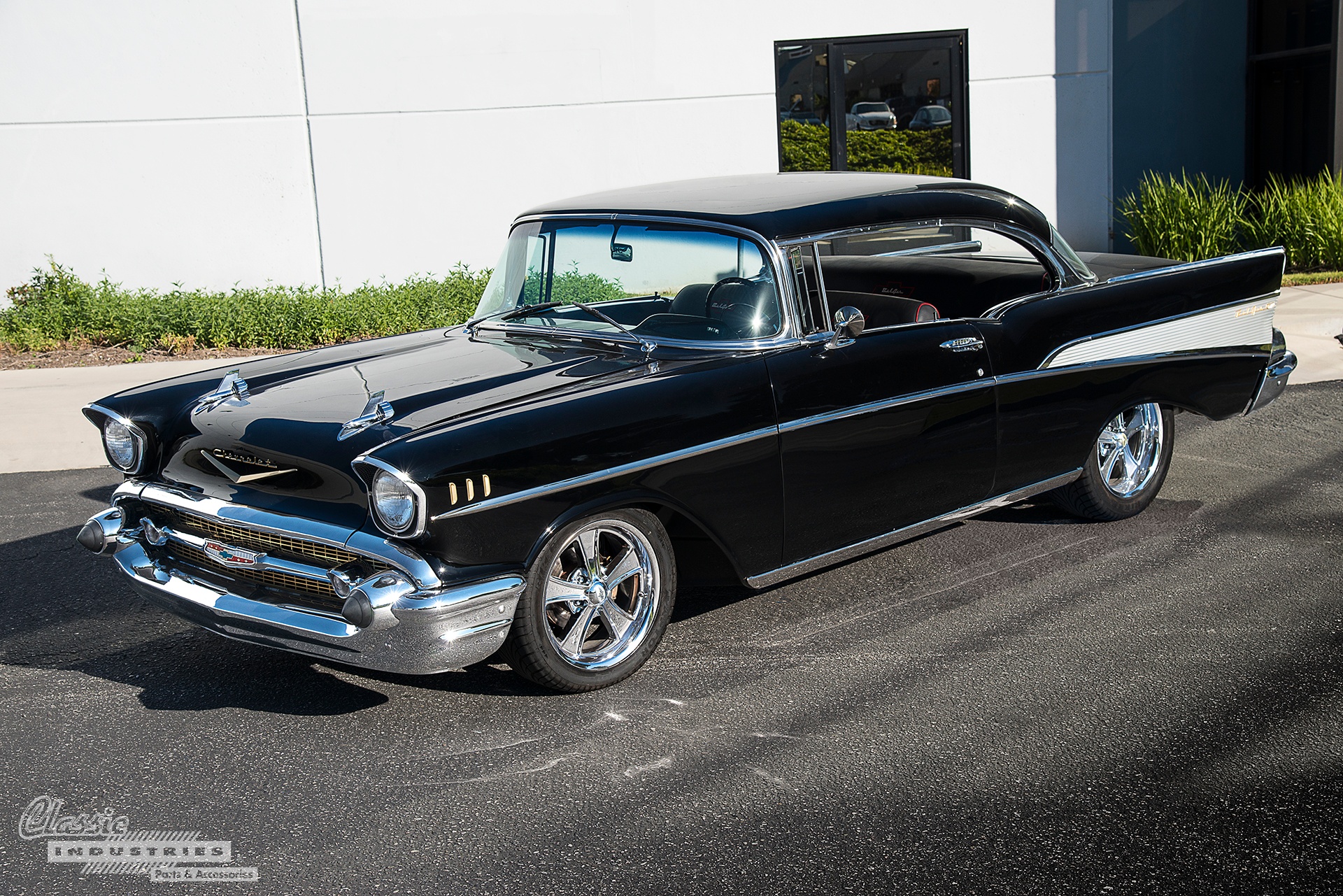 Although all years of the Tri Five are equally classic, 1957 might be the most easily-recognizable to the general public thanks to its numerous pop-culture references. The mere mention of the phrase "fifty-seven Chevy" is enough to get car enthusiasts excited. This gorgeous 57 Chevy restoration project was completed by Rey Padilla, who runs a restoration shop. Its slick black paint makes the sea of polished trim stand out even more, and also accents the gold emblems and red interior upholstery piping. Lowered suspension, billet wheels, and a free-flowing dual exhaust top it all off. For a closer look at Rey's 57 Chevy restoration, click here.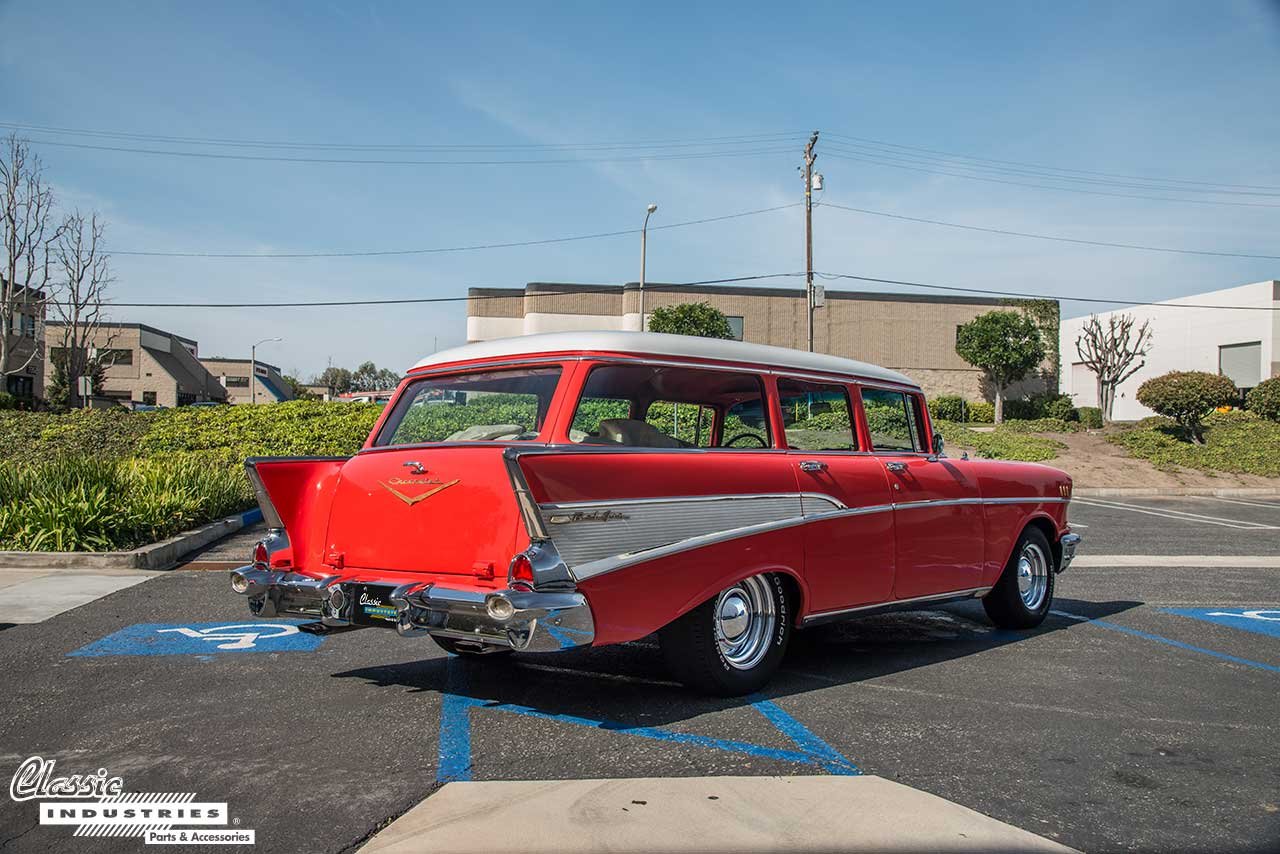 The next 57 Chevy restoration is also a Bel Air, but it might not be what you expect. Rather than the common two-door or even the four-door, this is a 1957 Bel Air wagon — a body style that's not seen very often these days. This differs from the well-known two-door Nomad model, even though uninformed onlookers might assume this is a Nomad at first glance due to the similar rear end styling. Dan Naughton, the owner of this '57 Bel Air wagon, restored it inside and out. He also dropped in a 350ci small-block V8 for a little more power. Click here to read about Dan's 57 Chevy restoration project.
These six examples of 1955 - 57 Chevy restoration clearly show how Classic Industries parts have helped these owners rebuild and upgrade their timeless Tri Fives. If you need some help with a Tri Five Chevy project of your own, be sure to get a free restoration parts catalog by clicking the button below.