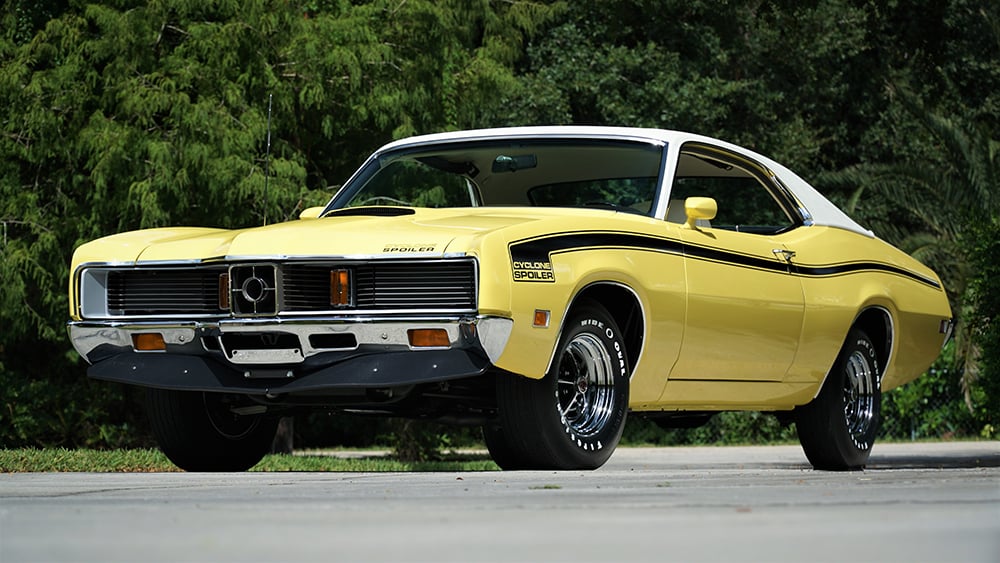 Photos courtesy of Mecum Auctions, Inc.
The great-looking and eventually race-dominating Mercury Cyclone was produced from 1964 through 1972. Formerly known as the Comet with the S-22 performance package, the Cyclone started off life as the performance version of the compact Comet, from 1964 through 1967. In this article, we'll take a look back at Mercury Cyclone history and some of the details that made this model a legend.
Mercury Cyclone History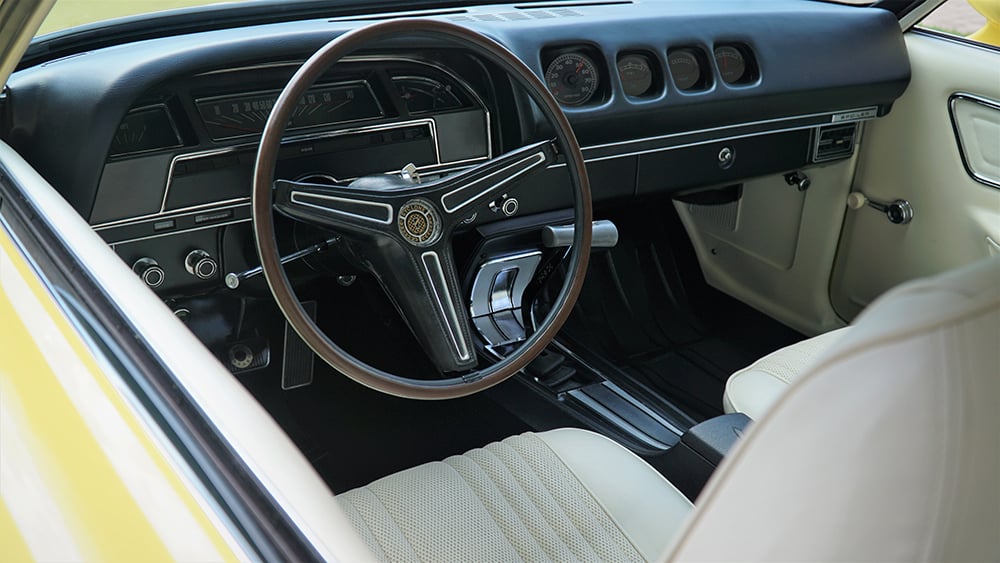 The lead photo and this interior view are of an extremely rare, 4th generation 1971 Mercury Cyclone Spoiler, one of 353 produced. It is one of three produced with a 429 engine in Competition Yellow and white interior. The car sold new at Glasco Motor Company in McAllen, Texas.
First Generation: 1964-1965 Mercury Cyclone
A 210-hp Super Cyclone 289 V8, backed by a three-speed manual trans, chrome wheel covers, three-spoke steering wheel, bucket seats, tachometer, and center console, all standard S-22 package fare, gave the Cyclone some serious street cred. Complete with some chromed out engine dress goodies under the bonnet, Customers could also special order the K code 289 V8 Hi-Po mill for the Cyclone. That was the same top of the line powerplant that gave so many gallops to Ford's ever-popular Pony Car, the Mustang. Not too many folks opted for the solid lifter 289 thumper that also powered the 289 Shelby AC Cobra and 1965 through 1967 Shelby GT350 Mustangs, which makes those Cyclones with the K code V8s some seriously sought after sleeper collectibles these days.
Cyanide Cyclone is one of 15 B/FX Comet Cyclone factory drag racing cars built by Bill Stroppe. The car is equipped with lightweight plexiglass windows and has fiberglass doors, seats, fenders, and hood. For more weight savings, the heater, radio, and soundproofing were removed from the auto. A 289 ci V8 topped by Weber induction made this racer quite competitive back in its hay day.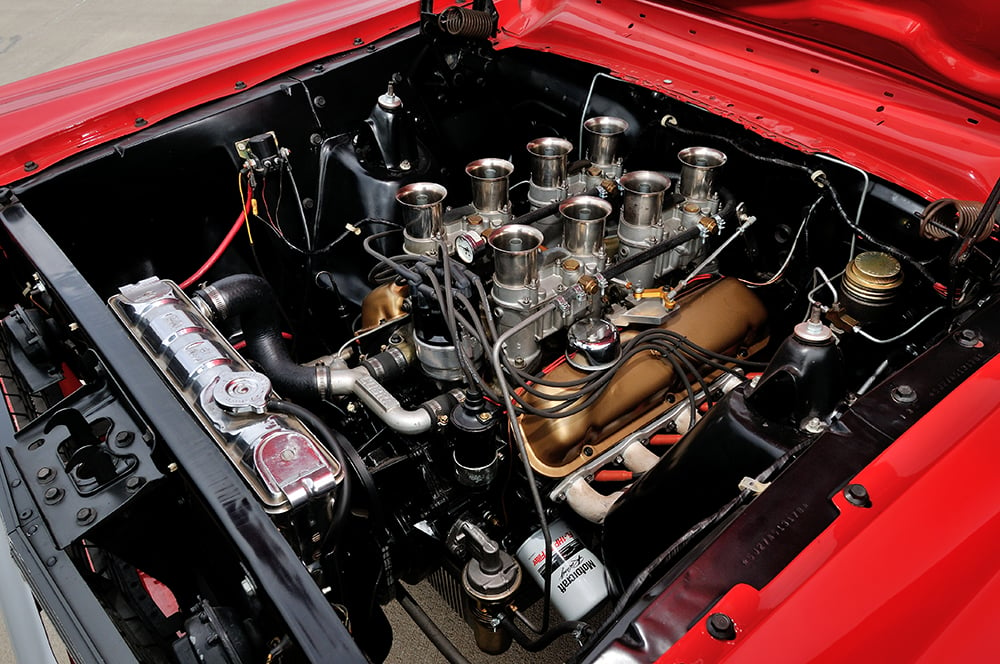 Second Generation: 1966-1967 Mercury Cyclone
Based on the Ford Fairlane's exterior, a significant revamp of the Comet Cyclone's styling gave the car a much more modern and also menacing appearance during these two years of production. Mercury added a convertible to the lineup in 1967. Engine options increased as well. The standard 289 was down 10 horsepower to 200. Gone was the 271-horse K code. In its place customers could opt for a 390 two-barrel carb topped V8. If one-stepped up to the Cyclone GT, a standard 335-hp, 390-cubic-inch V8 with a three-speed manual gave the Cyclone a bit more grunt. A handling package, non-functional twin-scoop hood, and racing stripes completed the GT package. Exclusive to the GT, a three-speed Merc-O-Matic Sport Shift automatic with manual control could also be selected for those who didn't like three-foot pedals to mess with.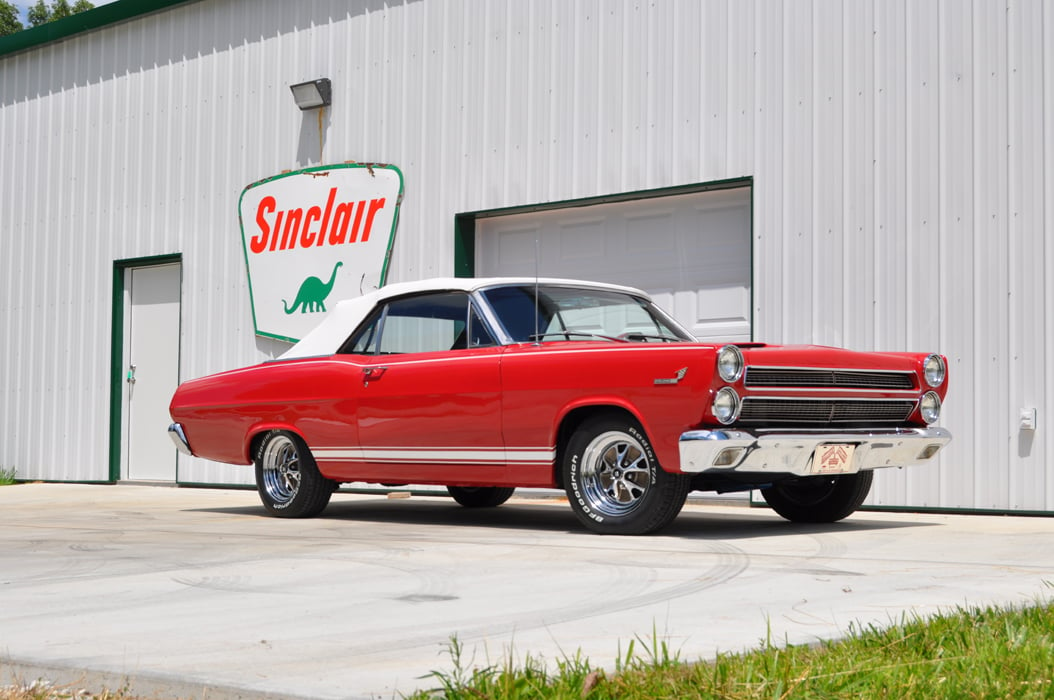 This Official Indy 500 Pace Car is believed to be one of the 33 vehicles used in the Festival Parade laps for the 1966 Indianapolis 500. It's a 1966 Mercury Cyclone 390 GT convertible and one of 100 produced by Ford for the Indy 500.
Third Generation: 1968-1969 Mercury Cyclone
The Mercury Comet Cyclone grew in physical size and demeanor, as well as garnered its own nameplate and unique identity, becoming the Mercury Cyclone in 1968. NASCAR legend Cale Yarborough achieved great victories in Cyclones during this time. Speed merchant accolades aside, Mercury designers treated the exterior to an all-new look, which is very evocative of its fastback Sportsroof brethren, the Ford Torino. Mercury upped the engine ante from the venerable 289 to the then new 302, which it replaced. There were still two 390 big blocks as options, while the new limited production 428 Cobra Jet was added to the mix for those even more inclined to right foot freedom, fuel consumption ignored.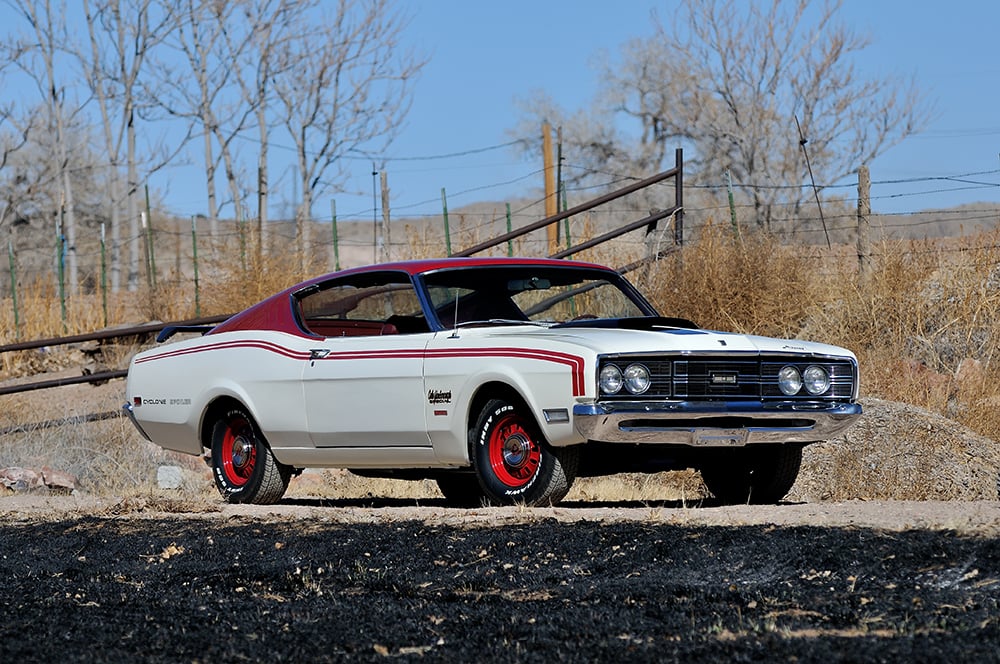 This 1969 Mercury Cyclone Spoiler Yarborough Special has a Ram Air 428 Cobra Jet engine and is backed by a four-speed manual transmission.
Yet another engine option became available in 1969, the 351 Windsor. A two-tone Cyclone Spoiler exterior option package paid tribute to racers Dan Gurney and Cale Yarborough. The Spoiler II, which was a NASCAR homologation special with a more aerodynamic grille, also appeared.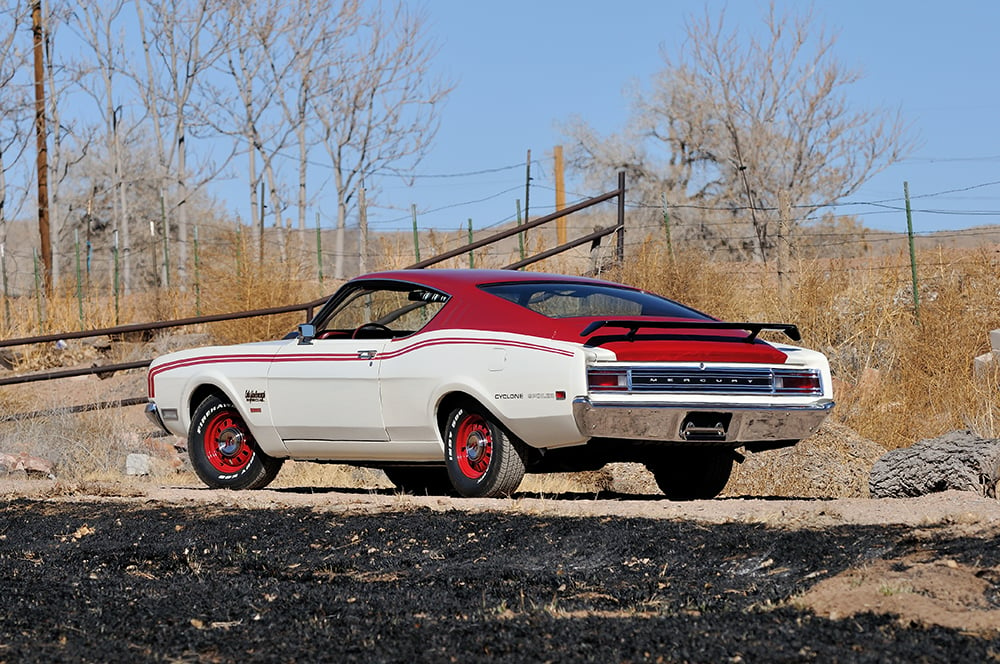 When this car was sold at the Mecum Houston 2013 Auction it had completed just 20 miles after its extensive, nut and bolt restoration.
Fourth Generation: 1970-1971 Mercury Cyclone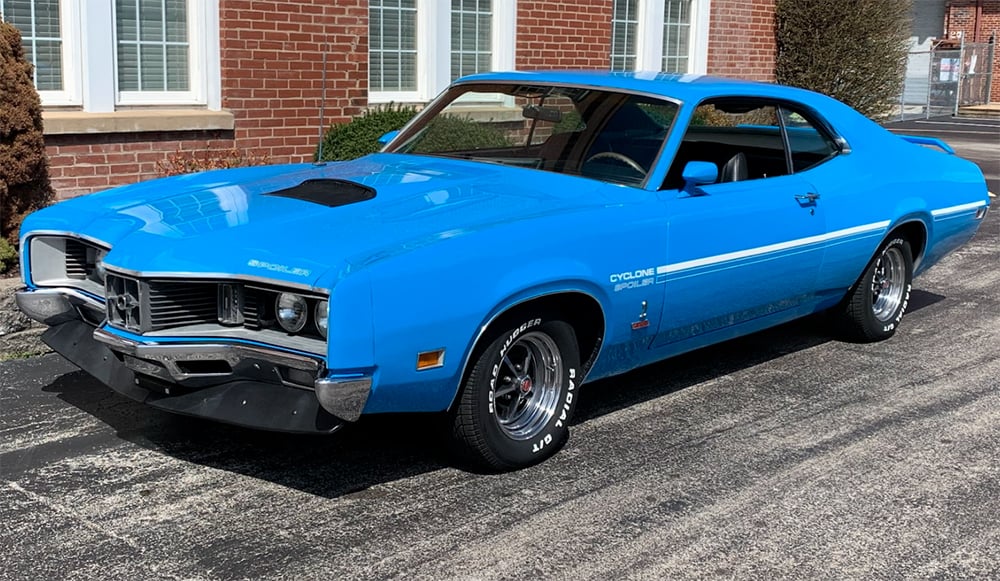 The 1970 Mercury Cyclone Spoiler pictured above features a 429ci V8, automatic transmission, and eye-catching Grabber Blue paint.
Receiving a "gun sight grille" and hidden headlamps made for a dramatic styling change to the Cyclone for 1970 and 1971. Engine choices changed a bit too. The 390 and 428 cubic-inch V8's were gone, while two 351 engines were mainstays. Two 429 powerplants replaced the aforementioned big block V8s. The top of the line for performance was the 429 CJ, which produced 370-horsepower.
Fifth Generation: 1972 Mercury Cyclone
For 1972, the Cyclone reverted back to being a performance option package, but this time it was for the Mercury Montego. A mere 30 Mercury Montego Cyclone performance package cars were produced in 1972, with 20 of them having 429 engines.
Racing Success of the Cyclone
The compact Mercury Comet Cyclone achieved initial success in drag racing. When the Cyclone became a midsize machine, it raced in NASCAR with its siblings the Ford Fairlane and later the Fairlane's successor, the Torino. The fourth generation Cyclone dominated the series, with 18 wins out of 32 races in 1971 for the Wood Brothers Racing #21 Mercury Cyclone.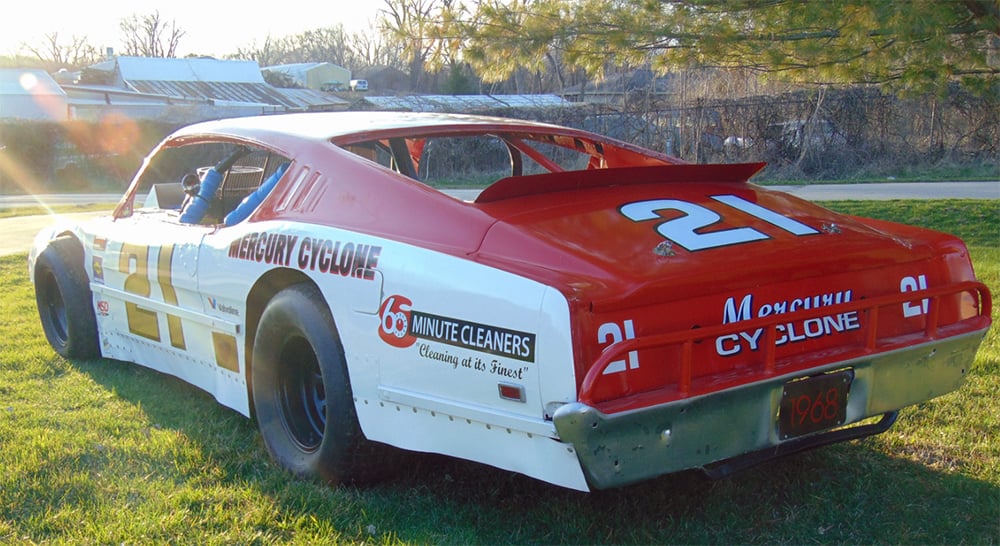 The 1968 Mercury Cyclone pictured above was built as a replica of the #21 Wood Brothers race car driven by Cale Yarborough.
During its nine years of existence, 74,286 Mercury Comet Cyclones, Mercury Cyclones, and Mercury Montego Cyclones were sold. When you consider that a competitor to the Cyclone, the Pontiac GTO sold 96,944 GTOs in one year alone (1966), that is not a great deal of automobiles. However, that's part of what makes the Cyclone a sleeper collectible muscle car today. Add to the limited production, their good looks, dominance in the racing world, and you have a winner when it comes to finding a reasonably priced muscle car to buy, build, drive, show, and enjoy.
More Ford History Articles
If you're interested in learning more about the history of classic Ford and Mercury vehicles, check out some of our other articles below:
Looking for Mercury Cyclone Restoration Parts?
Should you have a Cyclone restoration project underway, there's a great chance that you'll find the parts you need at Classic Industries. Simply follow this link to Shop Mercury Cyclone 1964-1972 Parts.