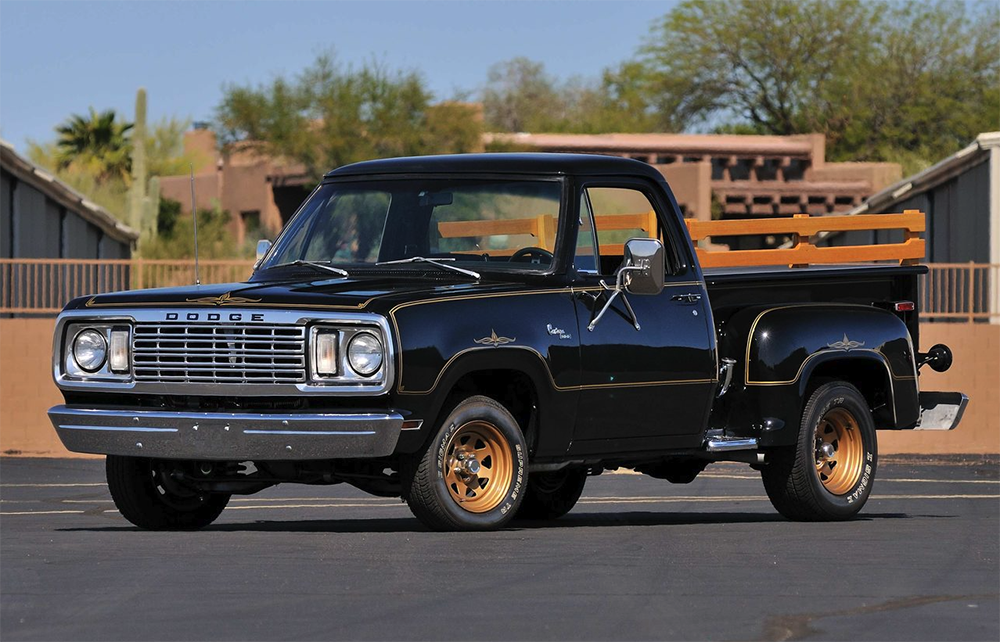 The Dodge division of Chrysler has produced quite a stable of rugged, fast, sleek, and innovative 1/2-ton trucks through the years. Classic Industries has also become a leading supplier of Mopar restoration and performance parts, especially for 1960-76 A, B, and E-body muscle cars. There's a constant clamoring from our customer base for Classic Industries to sell parts for Dodge trucks as well. In fact, the Dodge D Series and W Series pickups from 1961-1993 are being restored and customized in ever-increasing numbers. Accordingly, more and more components are becoming available for these pickup trucks. Read on as we take a look back at Dodge truck history from the 1920s through the 1990s.
When Dodge Trucks First Became Dodge Trucks
The Chrysler Corporation acquired Dodge in 1928, which consisted of Dodge automobiles and Graham Brothers built trucks. Earlier in 1921, Dodge had contracted with the three Graham Brothers to build trucks using Dodge components. Fast forward to 1930, the Graham Brothers trucks became known as Dodge trucks. From 1933 on, Dodge trucks became powered by (then) six-cylinder engines that were beefed up powerplants used in Plymouth cars. Chrysler opened the Warren Truck Assembly Plant in 1938, where Dodge trucks are still produced to this day.
Though Classic Industries doesn't supply parts for the 1930's through the 1950's Dodge trucks currently, Dodge produced some very dependable and stylish pickups during those years. Just below is a 1935 KC Model 1/2 ton pickup. When was the last time you saw wide white tires and a side mount on a vintage pickup truck? Stylish and practical all in one package - Dodge trucks were off to a great start.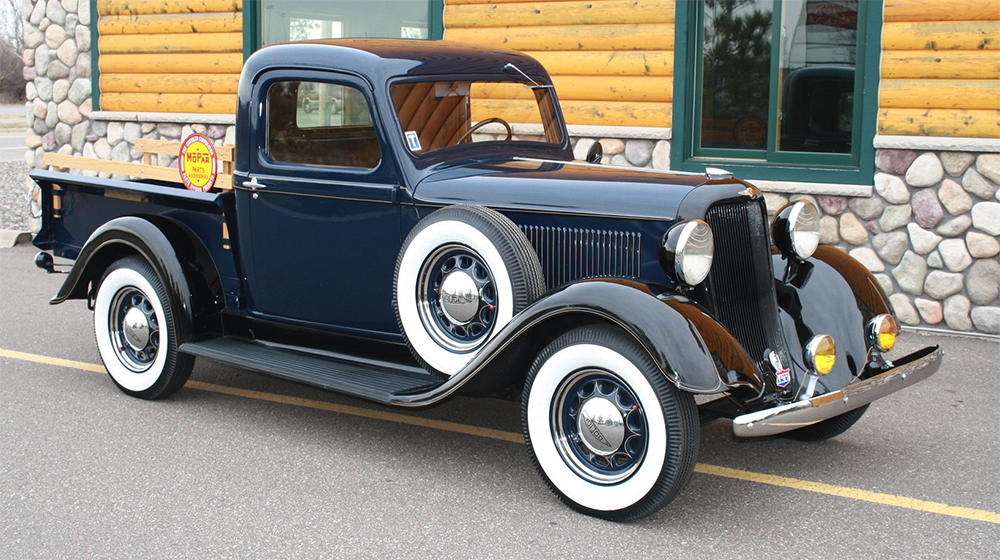 1948-1953 Dodge B Series: The Post WWII Trucks
In 1948, Dodge introduced a very stylish and modern truck, which the company called the B Series. The trucks had larger glass areas that were nicknamed "pilothouses". The cab was more roomy and offered taller, more comfortable seats. The sleek exterior was years ahead of its American competitors, who had some catching up to do. Adorned in bright red over black fenders, the 1950 B-Series Dodge truck below has been impeccably well restored.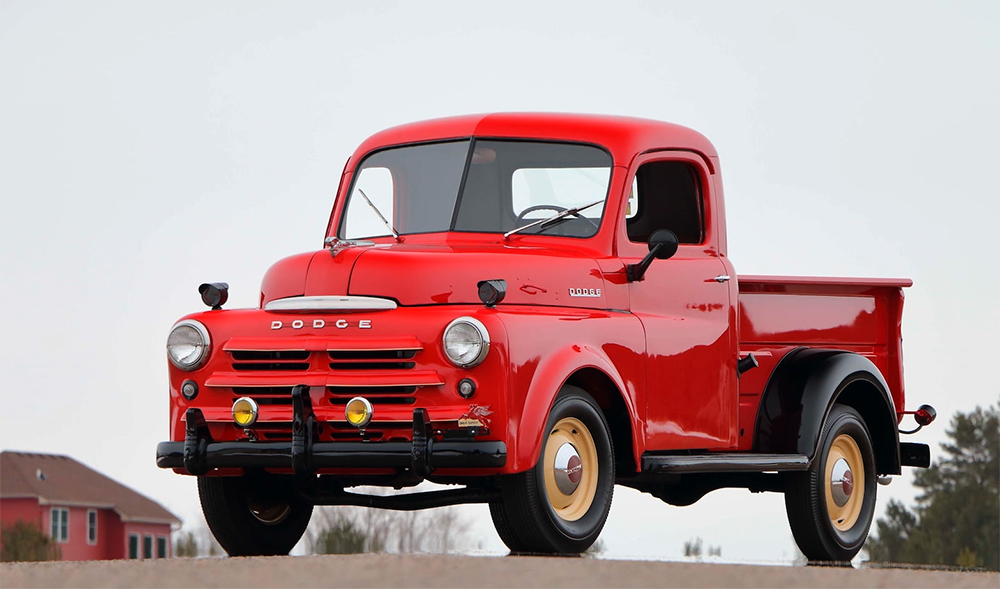 1954-1960 Dodge C Series Trucks
Dodge again made some vast improvements with the C Series trucks. The large "pilothouse" was retained, while a large curved one-piece windshield replaced the two-piece v-shaped B series windscreens. The then known "double-rocker" V8, now referred to as a Hemi V8 made its debut as one of the engine choices for the Dodge C truck. Dodge also lowered the cab, which of course achieved a still more stylish exterior, especially for a work ready pickup. The patina pickup below is a 1955 Dodge C Series with a V8. Nice!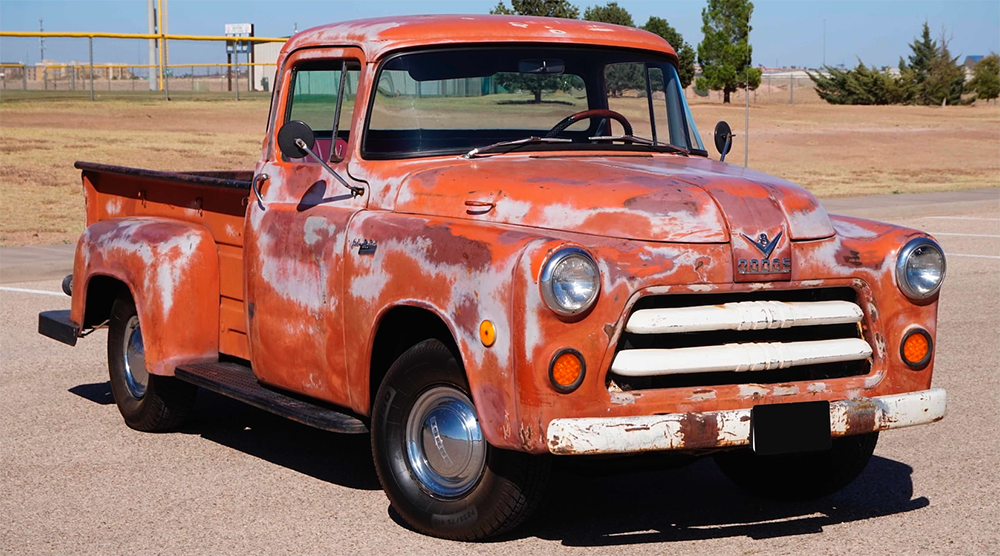 By 1957, Dodge truck designers realized that potential pickup buyers really appreciated high style in their trucks. So, the '57's received an exterior freshening with hooded headlights and two-tone paint schemes being offered. Check out the two-tone 1957 C Series just below. This baby also sports the Sweptline bedsides and the top-of-the-line Hemi V8, with 204-horsepower from 314.6 cubic inches of "Power Giant" (more Dodge marketing lingo) Hemi V8 muscle. You can almost hear Tim the Tool Man Taylor grunting "RRR" in the background.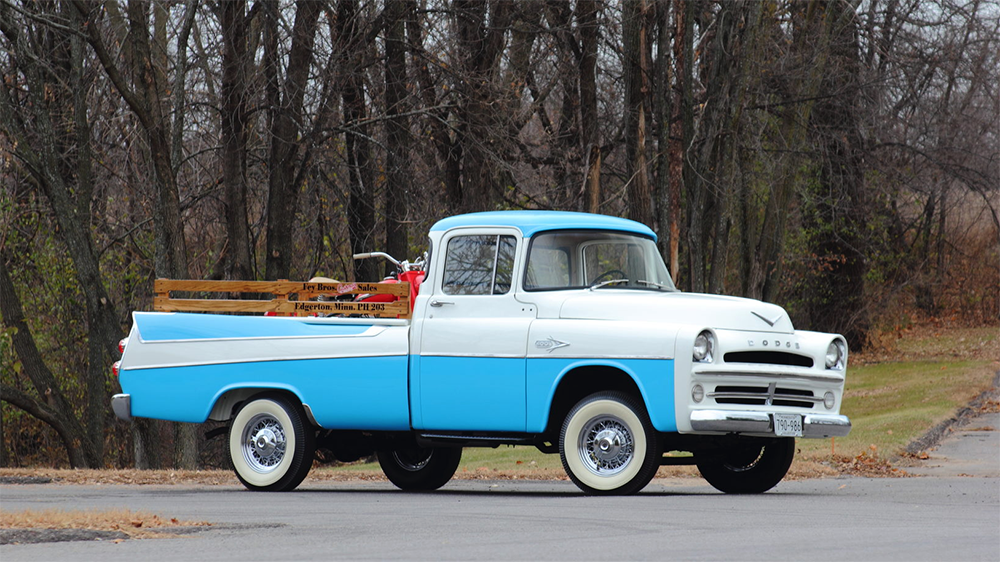 1961-1993 Dodge D Series / W Series Trucks
Development of the all-new D Series and W Series Dodge pickups culminated in 1960 and came to market as 1961 models in October of 1960. The D series pickups were two wheel drive, while the W series were four wheel drive.
First Generation: 1961-1965 Dodge D/W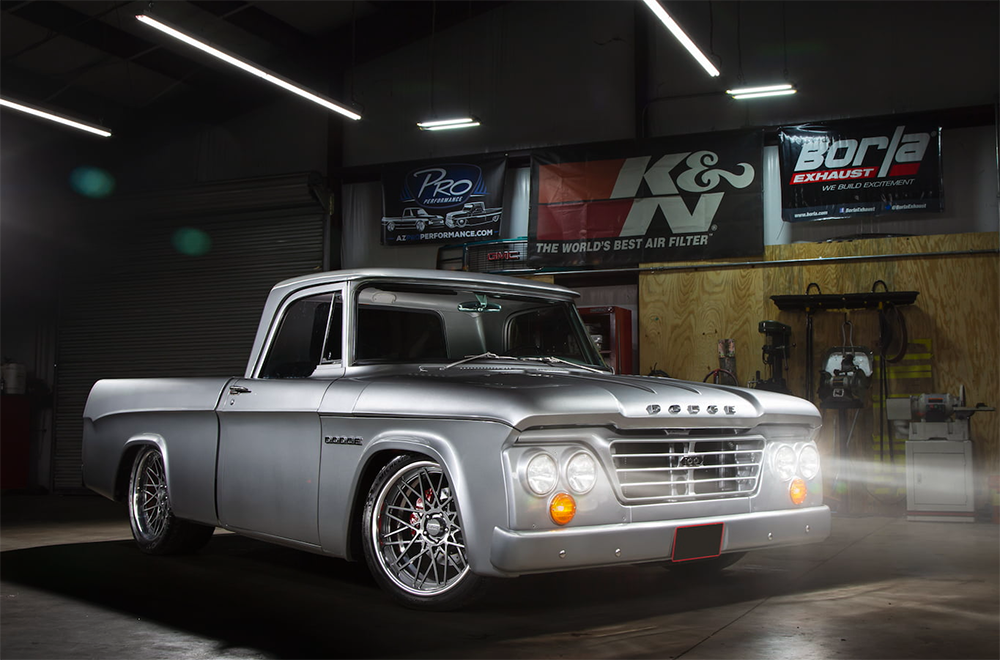 Above and below: This 1962 Dodge D100 Sweptline resto mod has a 6.1L Hemi V8 engine. It's backed by a NAG1 six-speed auto trans with functioning tap shift, keeps comfy with Vintage Air, has a Scotts Hotrod independent front suspension and Ford nine-inch diff/axle optimized with a 4-Link rear with RideTech coilovers. The pickup rolls strong with American Racing VF502 Cross Up wheels shod with Michelin radials, and has custom leather seats, as well as a custom leather covered center console, among many other bespoke interior creature comforts.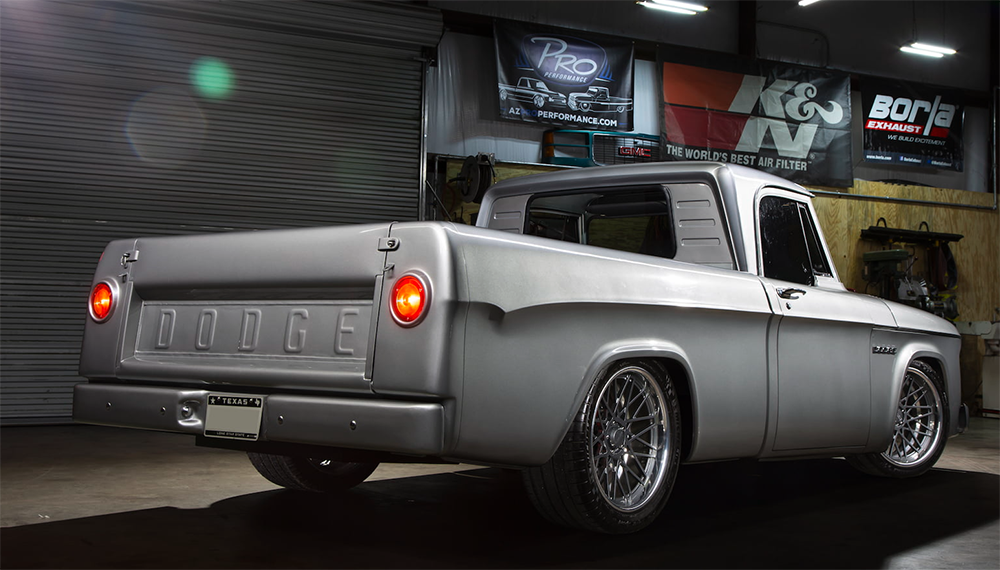 Bigger and beefier are two words to characterize the D/W Series. The frames were stronger, with more durable axles, and had a longer wheelbase. Customers could either purchase a pickup with a flat-sided bed, called a Sweptline, or a step-sided narrow bed, called a Utiline. Three bed lengths were available: 6.5 ft (2.0 m) (D100 only), 8 ft (2.4 m) (D100 and 200), and 9 ft (2.7 m) (D300 only).
By following the lead of the 1961 International Travelette, Dodge introduced a four-door crew cab D Series truck in 1963, and beat the other two of the Big Three to market in the process.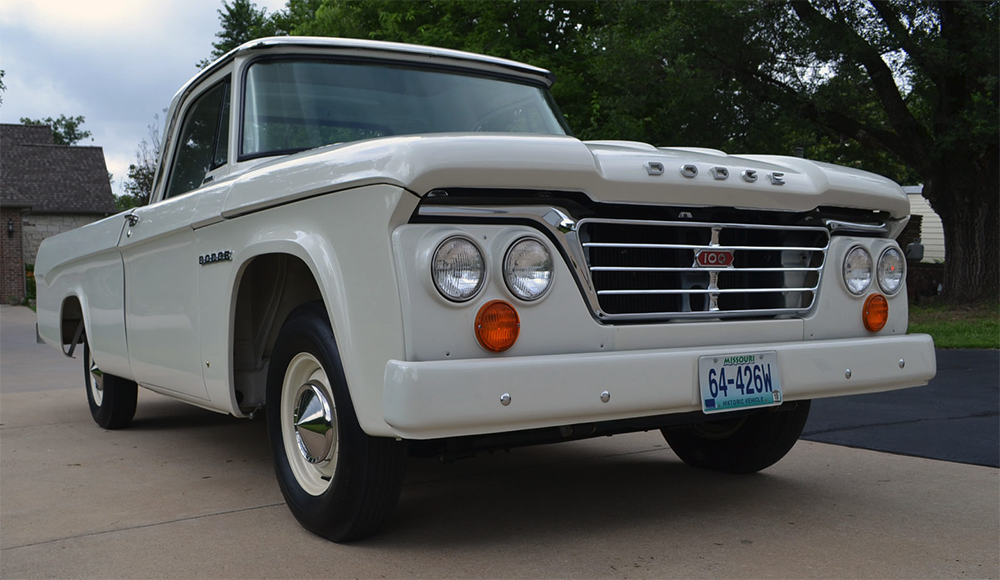 Above and below: Here's a 1964 D100 Sweptline that is a wolf in sheep's clothing. The pickup's engine is the 426 Hemi V8 that delivers 365-horsepower and 407-lb./ft. of torque. Power steering, a Loadflite push button automatic trans, a heavy duty instrument cluster with Sun tachometer, and a dual exhaust round out this pickup's prodigious high-performance appointments.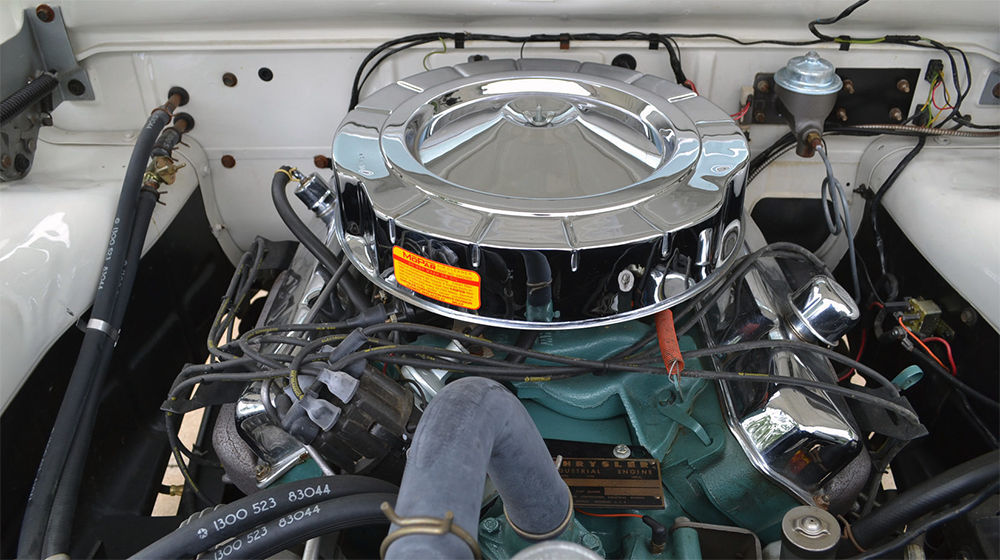 From 1964 through 1967, Dodge produced a small number of D100 and D200 pickups with some high performance add ons that they called the Custom Sports Special (CSS). The available engine upgrade was part of a High Performance Package additional add on to both the CSS and regular D100 and D200 models. A 413-cubic inch (6.8L) V8 wedge-head engine was for the 1964 model and a 426 wedge-head mill was specified for the 1965 through the early 1966 CSS that made 365-horsepower! Other enhancements with the rare CSS included a three-speed automatic transmission, power steering and brakes, a dual exhaust, and a Sun tachometer.
Second Generation: 1965-1971 Dodge D/W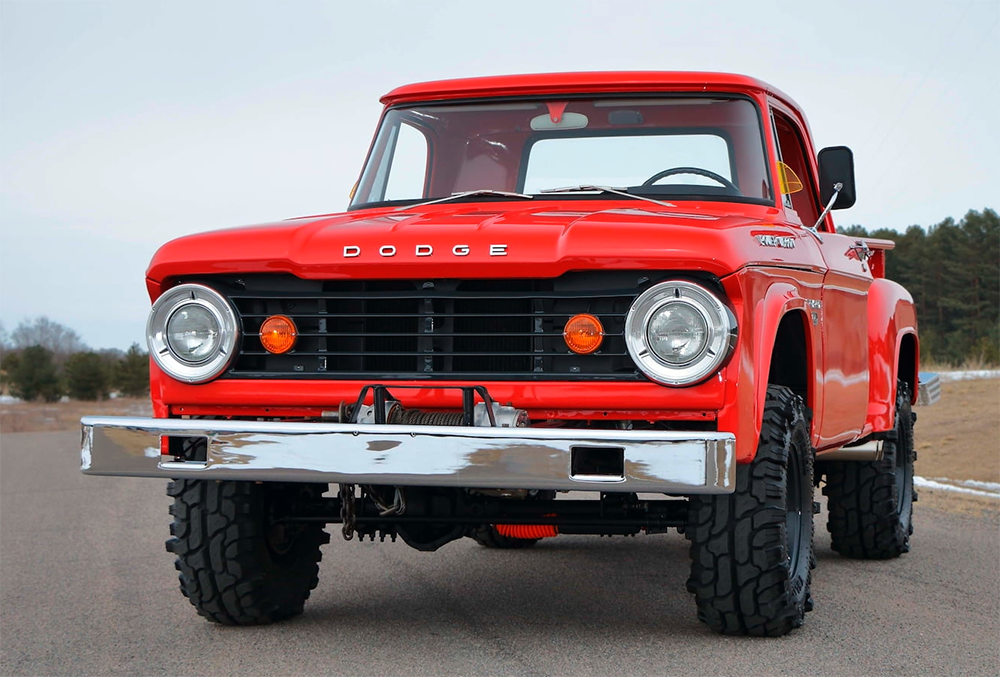 Above and below: The 1967 Dodge W100 Power Wagon 4x4 with the Utiline (stepside) bed has its correct refinished oak wood bed with eight coats of clear to preserve the wood.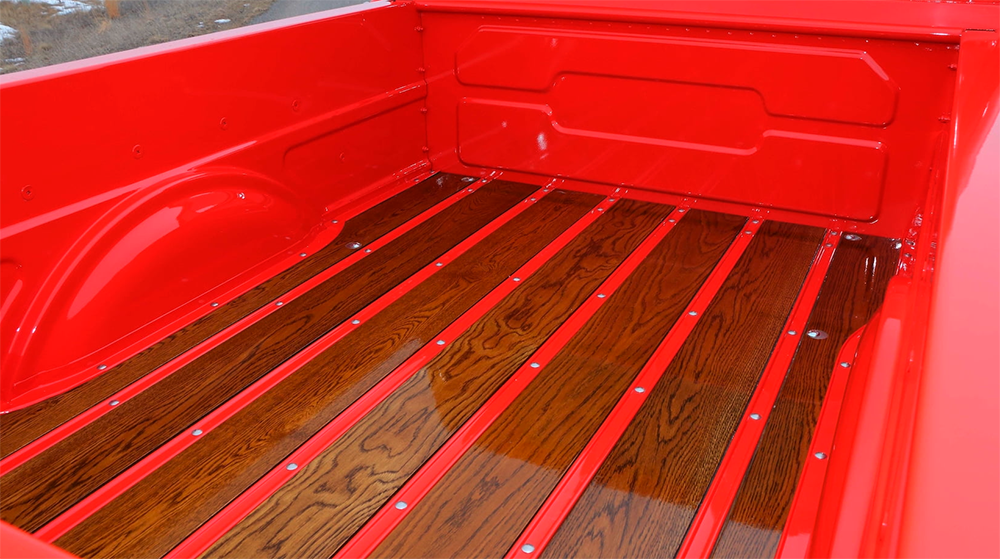 In the Spring of 1965, the D100 received a mild restyle, so there are two 1965 models, one with four headlights and one with two. By 1967, the standard option engine was a 383 V8 with a two-barrel carburetor.
Mid-Generation Refresh (1968-1971)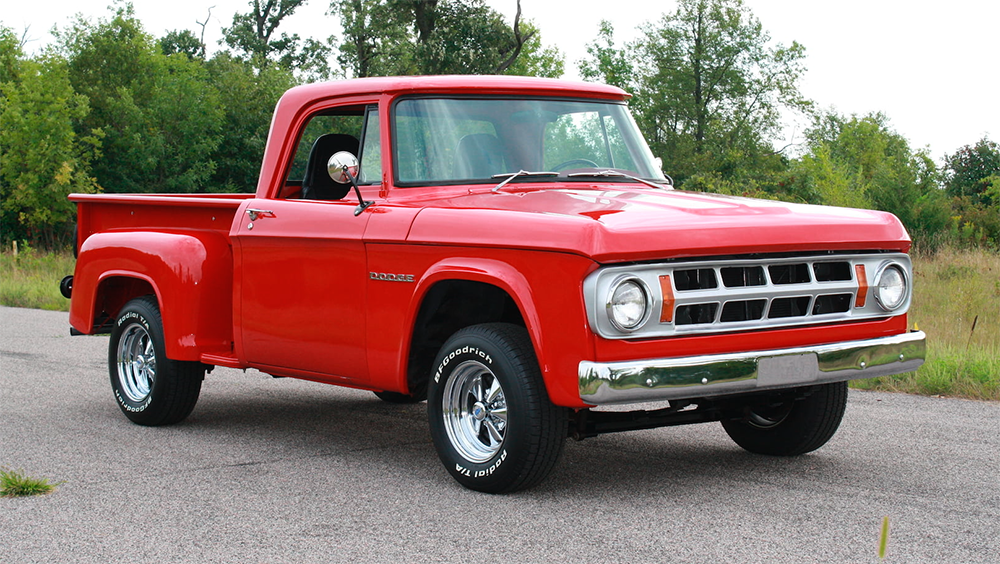 An eight-hole grille refresh set the 1968 D100 apart from its earlier siblings (as seen above). An Adventurer trim package replaced the Custom Sports Special version. By 1970 there were three Adventurer variants: a base Adventurer, the Adventurer Sport, and the top-dog Adventurer SE. The 1970-1971's grille went from eight openings to four (as shown below on this 1970 W100 Power Wagon 4x4).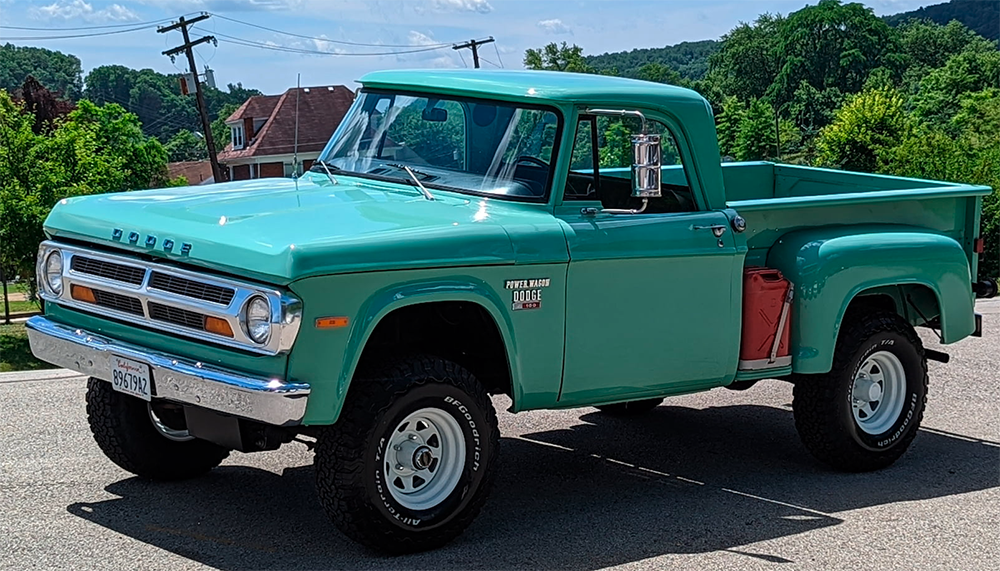 Third Generation: 1972-1993 Dodge D/W
A more rounded redesign of the D100's exterior initiated with the 1972 model and continued with just minor changes through the 1980 model year. Pocketed tail lamps, the more rounded contours, a scalloped hood, and the rounded fenderwells echoed the styling of the popular 1971 Plymouth Satellite, GTX, and Road Runner automobiles. The 1972 Dodge W100 Power Wagon below shows all the rounded contours of the D/W model's redesigned and modernized exterior.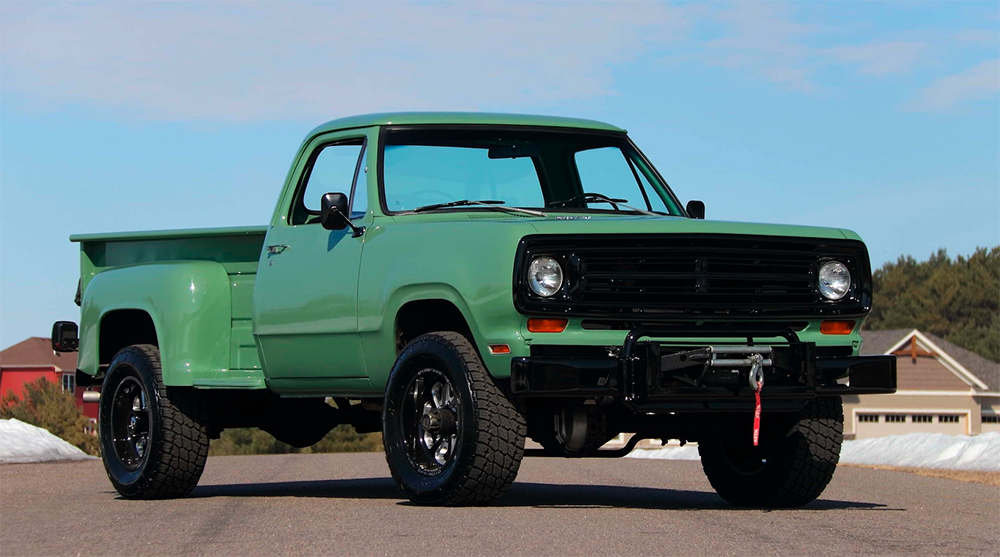 Above and below: Does the 1972 D/W Series Dodge pickup look like a 1971 Plymouth GTX to you?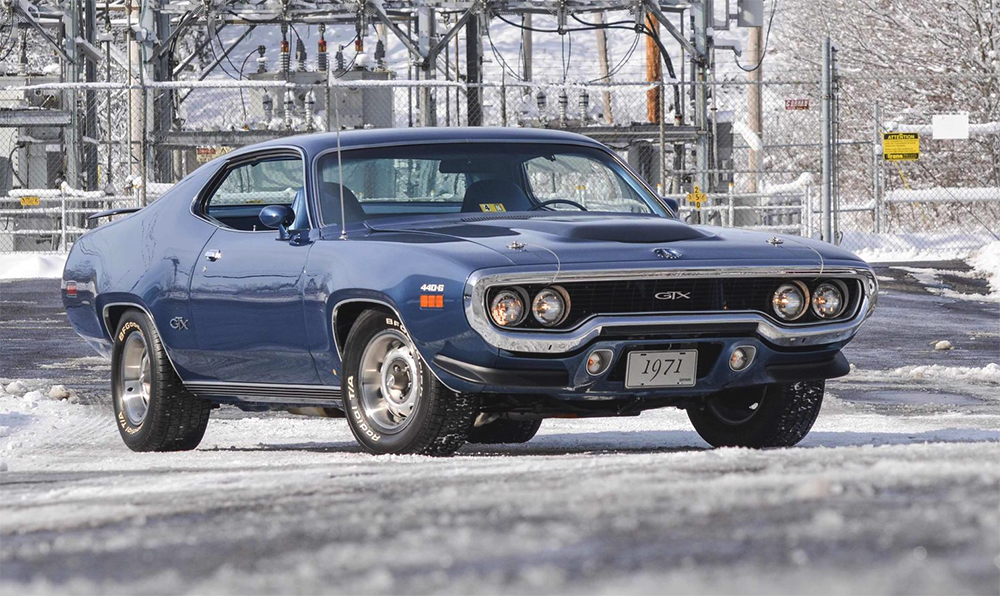 As with the crew cab four-door Dodge pickups beginning in 1961, Dodge also pioneered bringing extended cab pickup trucks to market, in the form of a two-door club cab offering commencing in 1973. Small side windows behind the two doors offered enough room in the extended cab to equip it with two facing jump seats that folded down from the cab walls, thus providing room for two more passengers. Just below is a photo of a 1974 Dodge D200 that shows an exterior side view of the truck revealing the small windows and the jump seat area of the extended cab.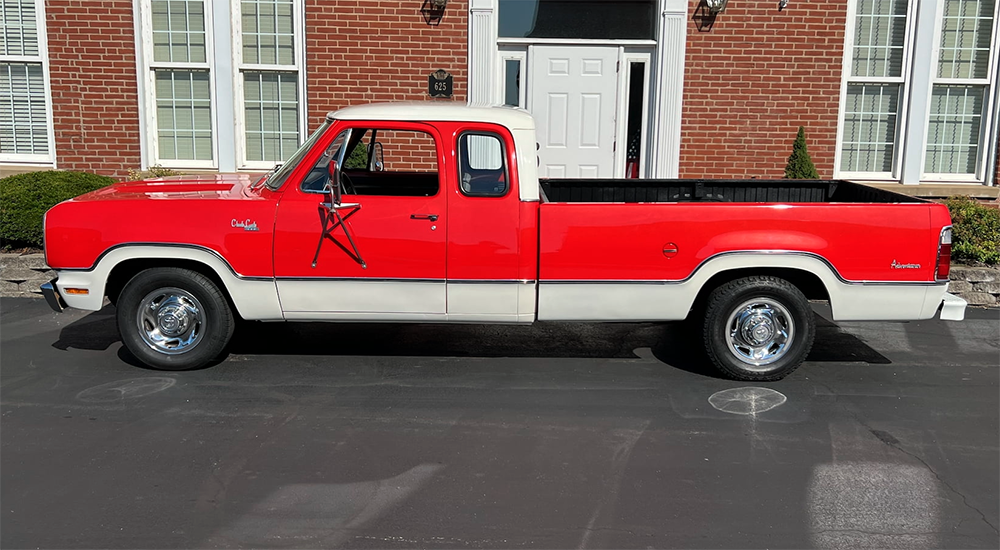 The Li'l Red Express, Warlock, and Other Special Models
In the late 1970's, Dodge pickups were losing market share to Ford and GM. Dodge's marketing department answered this D Series / W Series sales downturn by launching the "Adult Toys From Dodge" campaign to invigorate the sales of its trucks. In 1978-1979, these special pickup models included the Li'l Red Express, the Warlock, the Macho Power Wagon, the Macho Power Wagon Top Hand, the Macho Power Wagon Palomino, and the Adventurer. These trucks were considered personal-use, lifestyle pickups.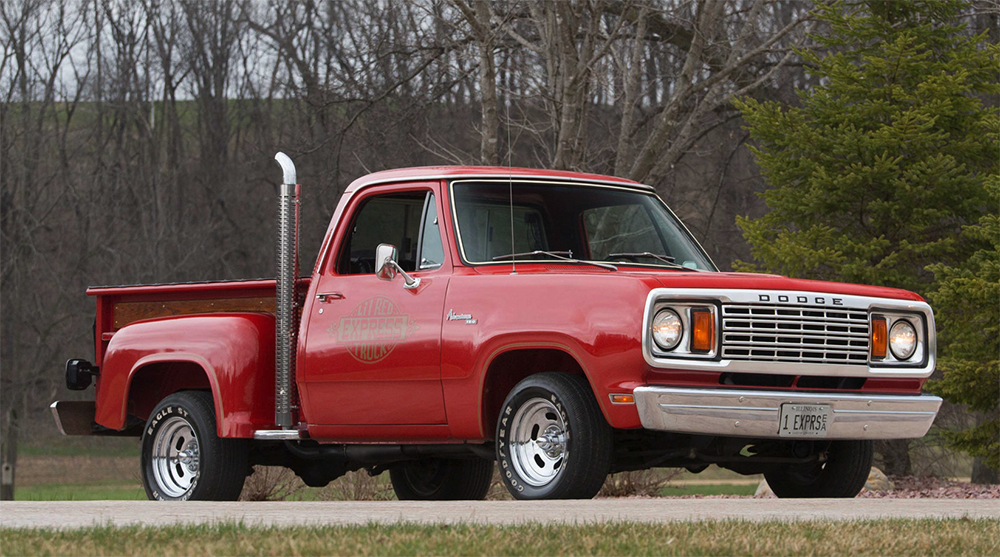 Above and below: The 1978 Dodge D150 L'il Red Express had mag wheels, wood panels attached to the bedsides and tailgate, velocity exhaust stacks, gold pinstriping, and the piece d'resistance under the hood - a 360-cubic inch small block Police Interceptor V8 engine. This powerplant made the L'il Red Express the fastest production vehicle from 0-100 miles per hour, according to 'Car and Driver' magazine at the time. All Dodge truck photos are published with the permission of Mecum Auctions.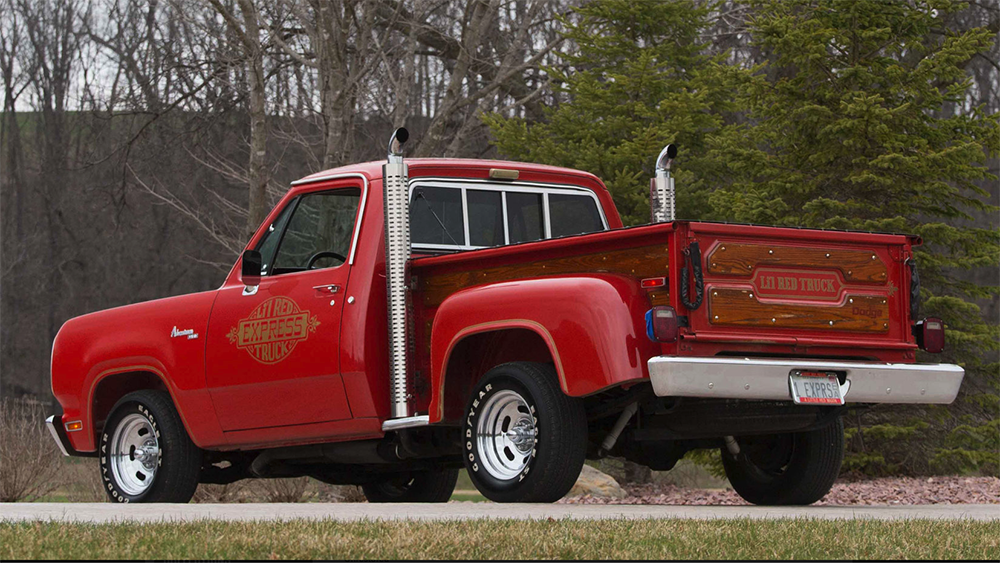 The Dodge Ram: 1981-1993 Dodge D/W
The Dodge D/W series received some minor cosmetic enhancements to the grille and hood, the taillights, the interior, and, of course, the embossed "DODGE RAM" on the tailgate. For 1982, Dodge added still more galvanized sheet metal panels to make it even more resistant to rust and the ravages of time. For the 1971-1993 pickups, most of the body panels are interchangeable. Because of this, it's not uncommon for owners to mix and match panels to suit their individual tastes, if they're building a resto mod, as opposed to restoring their D/W/RAM.
Engine offerings decreased during this period. The 225-cubic inch (3.7L) slant-six was the base engine, with two V8's also offered, the 318-cubic inch (5.2 L), and the 360-cubic-inch (5.9 L). The camper-shell-equipped 1986 Dodge RAM pickup below is believed to have traveled less than 27,000 miles.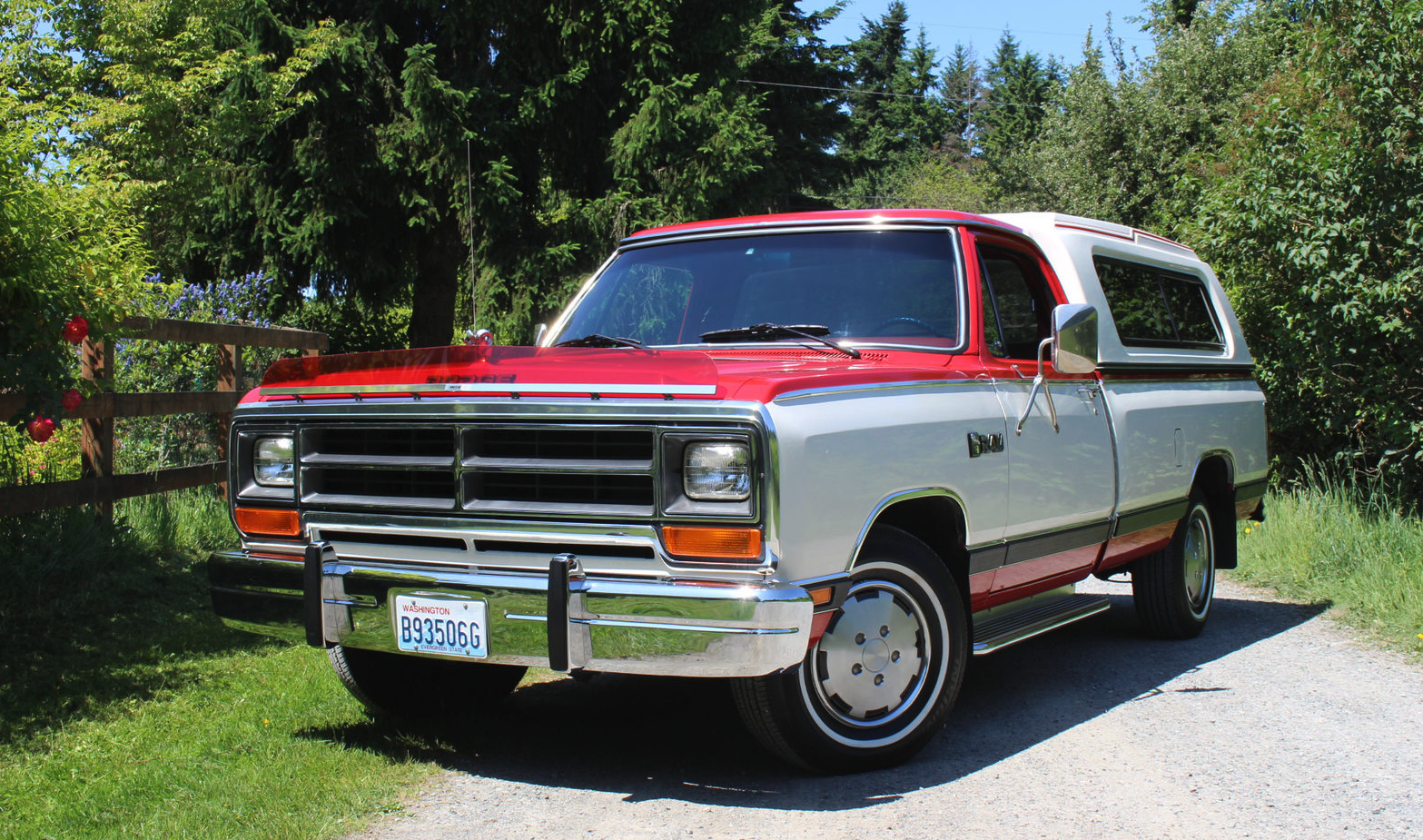 Classic Industries Sells 1961-1993 Dodge D/W Truck Parts
If you have a Dodge D/W truck that's in need of some new restoration, performance parts, and accessories, Classic Industries can certainly help you out. Here's a great example of some new Dodge truck parts from OER, one of Classic Industries' premier product suppliers.
1972-1993 Dodge D/W Pickup Truck Inner and Outer Door Sill Plates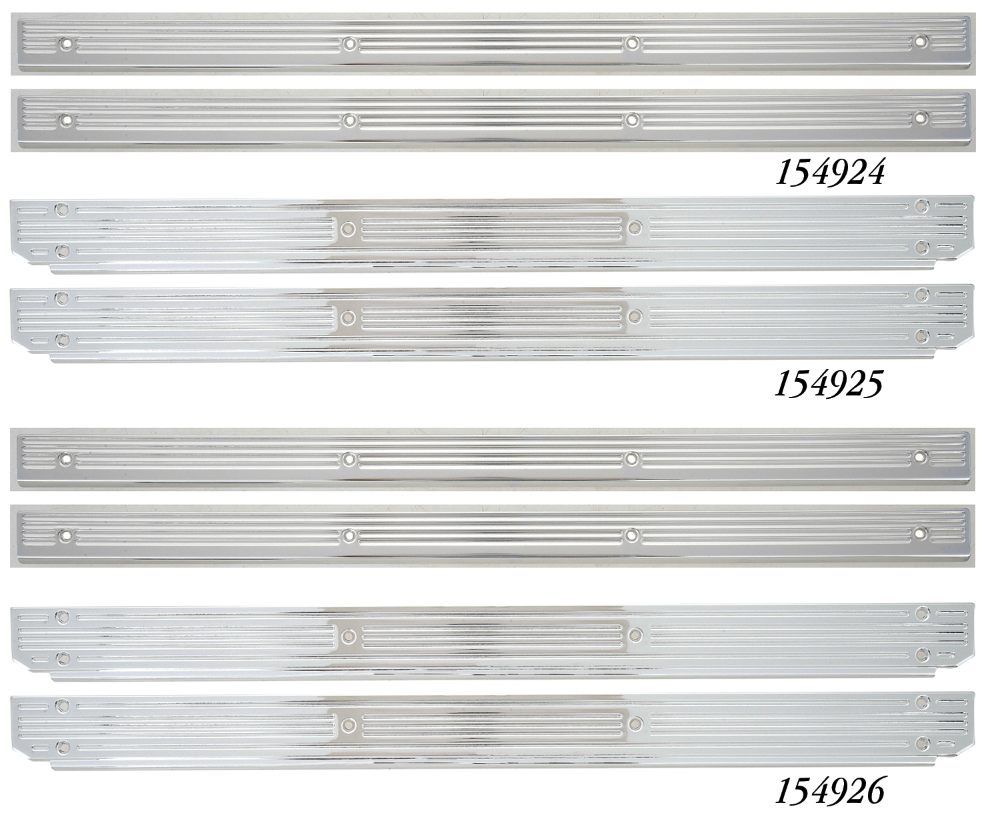 These new OER® inner and outer door sill plates are for 1972-1993 Dodge D/W Series pickup truck models. Each sill plate is manufactured in quality stamped aluminum to the original factory specifications and features a bright anodized aluminum finish. Both the inner and outer sill plates will fit RH or LH sides. The sill plates are sold in pairs of inner (part # 154924), and outer (part # 154925), or in a set of four (part # 154926) with two inner and two outer sill plates.
Classic Industries is adding more 1961-1993 Dodge Truck components all the time to the website. If you have other vintage American muscle car or trucks that you're renewing and enjoying, you can also find those must have components on the Classic Industries website. Simply click the button below to begin searching and shopping.
More Classic Truck History Articles
Want to learn more about the history of classic trucks? Check out our previous articles below: