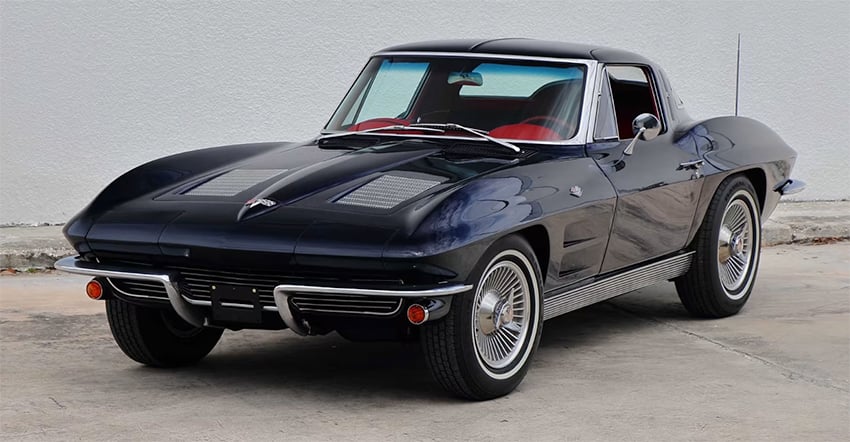 Development of the second-generation 1963-1967 C2 Corvette began in the mid to late 1950's. Ed Cole, Chevrolet's General Manager, called it the "Q-Corvette" project. To achieve better handling, the chassis would have a four-wheel independent suspension system. It should also have four-wheel disc brakes, for better stopping power. For better weight distribution and elimination of the transmission hump, a front engine/rear transaxle foundation was planned. Read on as we take a look back at C2 Corvette history, concept cars, racing development, factory options, and model year changes throughout its five-year production run. We'll even share some data on original pricing and how many were sold each year.
C2 Corvette History & Development
With the Q-Corvette C2 chassis engineering being formulated, it was time to focus on the sports car's exterior. It had to be sleek, elegant, and strikingly beautiful from any angle.
European Inspirations for the C2 Corvette
GM's Director of Styling, Bill Mitchell attended the Turin Auto Show, in Turin Italy, in the summer of 1957. Mr. Mitchell was captivated by the flowing lines of the Alfa Romeo Disco Volante that was on display at the event. He came away with many photographs of this sports car as well as others that he showed to designers that worked in his Studio X.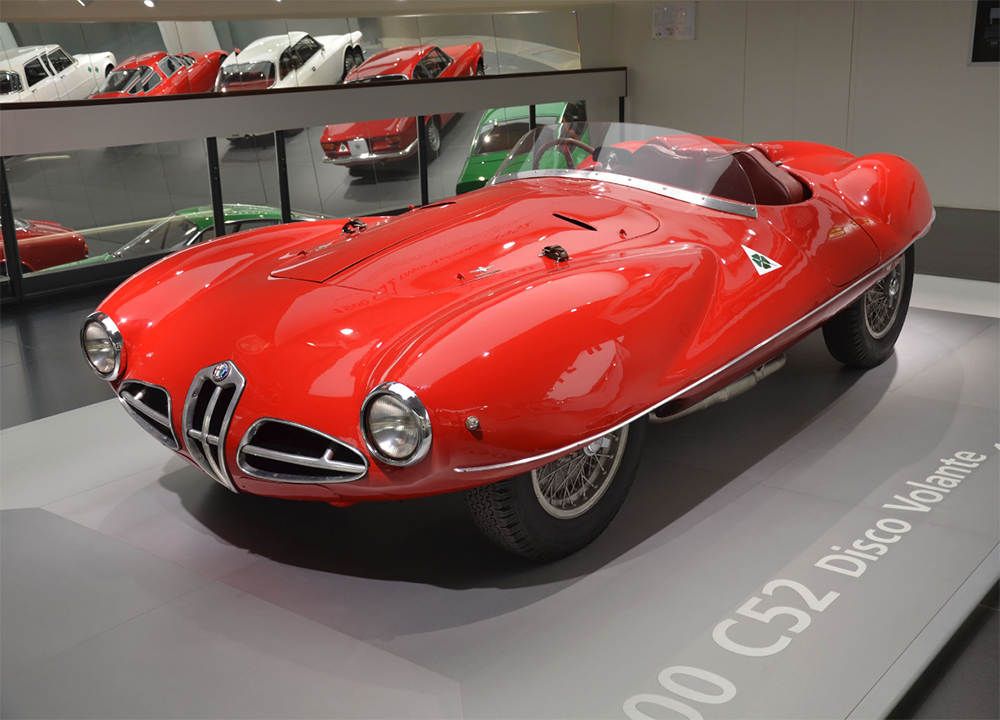 Above: Bill Mitchell's inspiration was predominately the Alfa Romeo Disco Volante Coupe and Roadster. These photos were taken at the Museo Storico Alfa Romeo - Alfa Romeo's official museum, located in Arese. The museum displays a permanent collection of Alfa Romeo cars and engines. After being closed down in 2011, the museum reopened in June 2015. Arese is a comune (municipality) in the Metropolitan City of Milan in the Italian region Lombardy, about 12 kilometers (7 miles) northwest of Milan.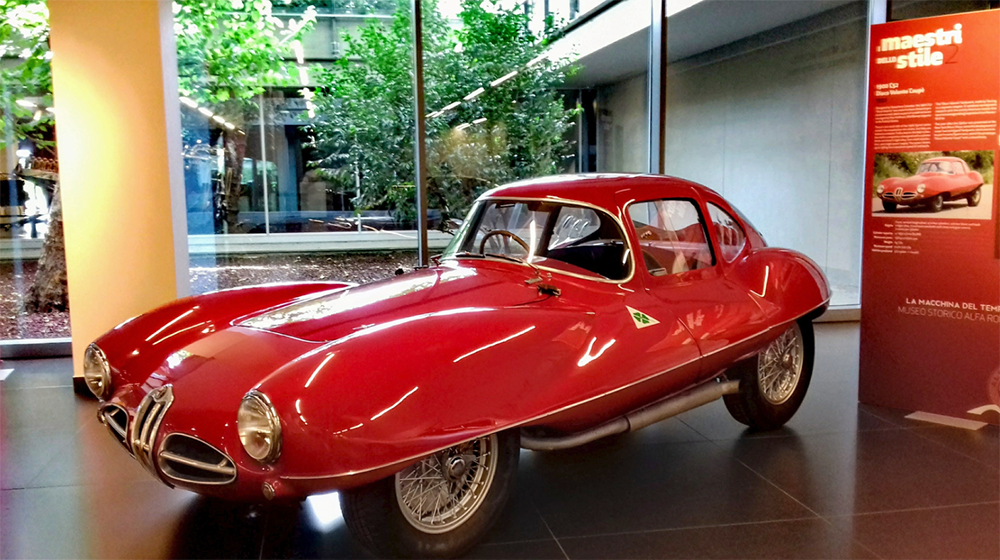 Studio X was also referred to as Research Studio B and was located in a basement at General Motors' Warren, Michigan, technical center. It was a small, internal GM design studio that Mitchell used for special styling projects. Reading between the lines, this is where some top-secret styling exercises occurred, well away from the prying eyes of GMs' bean counters (aka accountants).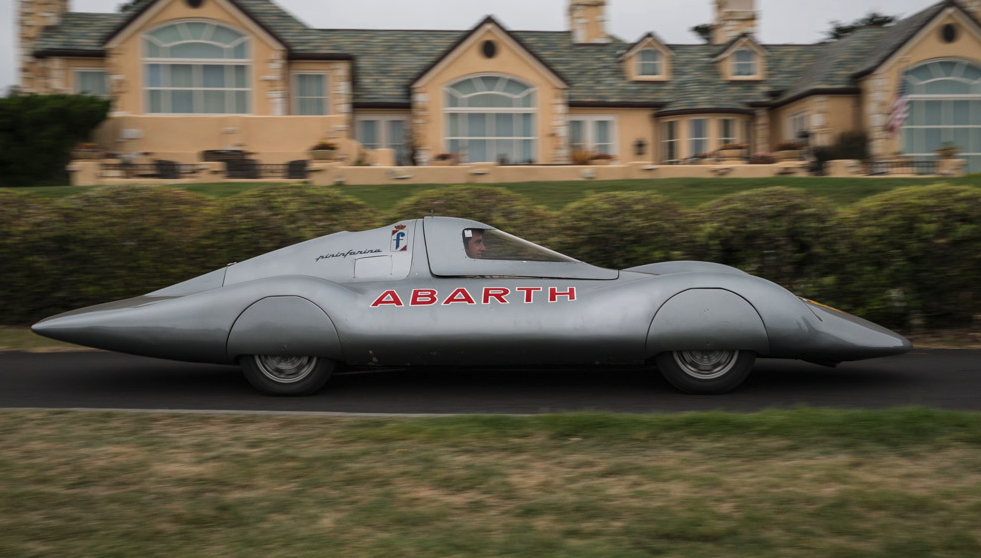 Above: Another design inspiration for the C2 Corvette was the Fiat Abarth 1000 Streamliner. This photo was shot at the 2017 Pebble Beach Concours d'Elegance and is provided courtesy of ultimatecarpage.com.
Mitchell challenged his team of designers to draw their vision of the C2 Corvette and plaster the walls of Studio X with their sketches. A few days later he revisited Research Studio B and studied the enthusiastic designers' creations. While meandering around the four walls of the confined space, a singular rendering captured his attention.
Peter Brock's C2 Corvette Coupe Design Wins!
The drawing just below is from the pencil of Peter Brock. Hired at the young age of 19 to work for GM Design, Brock had interpreted Bill Mitchell's Corvette design ethos wishes to a resounding T!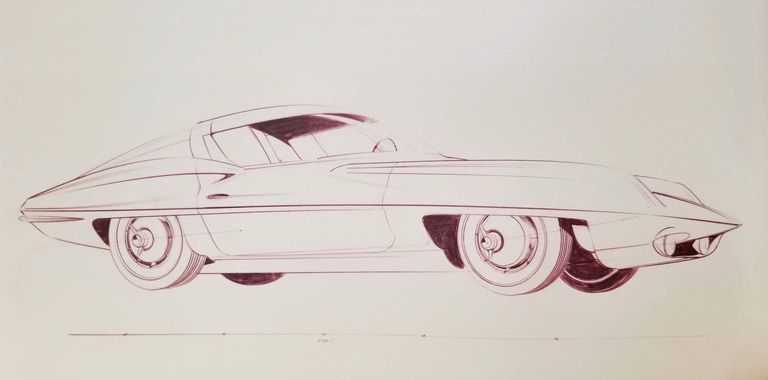 Above: Here is Peter Brock's 1957 sketch of what became the C2 Corvette some six years later (image provided courtesy of the Peter Brock Collection).
AMA Racing Ban Hampers American Sports Car Creation
With the tragic racing accident of racer Peter Levegh's Mercedes 300SLR race car at the 24 Hours of Le Mans in 1955 that killed 83 people, and the AMA racing ban of June 6, 1957, sports car development among the American car companies was definitely on the down low or back burner. AMA stood for the Automobile Manufacturers Association. It was a coalition of American automobile manufacturers that formally banned auto racing as a result of that horrible crash at Le Mans.
Add to the fact that the 1955-1957 two-seater Ford Thunderbird personal car and then the four-seat Thunderbird was leading the two-seat Corvette in new car sales by as much as 15:1, the Corvette was at an imminent risk of being discontinued! Bill Mitchell cried "BS! We're going to continue with the car." But he and his team had to do it in secret. For that reason, Research Studio B was the perfect clandestine place to make the magic happen.
The new chairman of GM, Frederic Donner, in an effort to improve GM's profitability by cutting costs, killed both the expensive Q-Chevrolet and the Q-Corvette engineering projects. The Q-Chevrolet project would have had all 1960 Chevrolet cars equipped with front engines and rear transaxles, including the Corvette.
The C2 Corvette Rescue Plan Goes Awry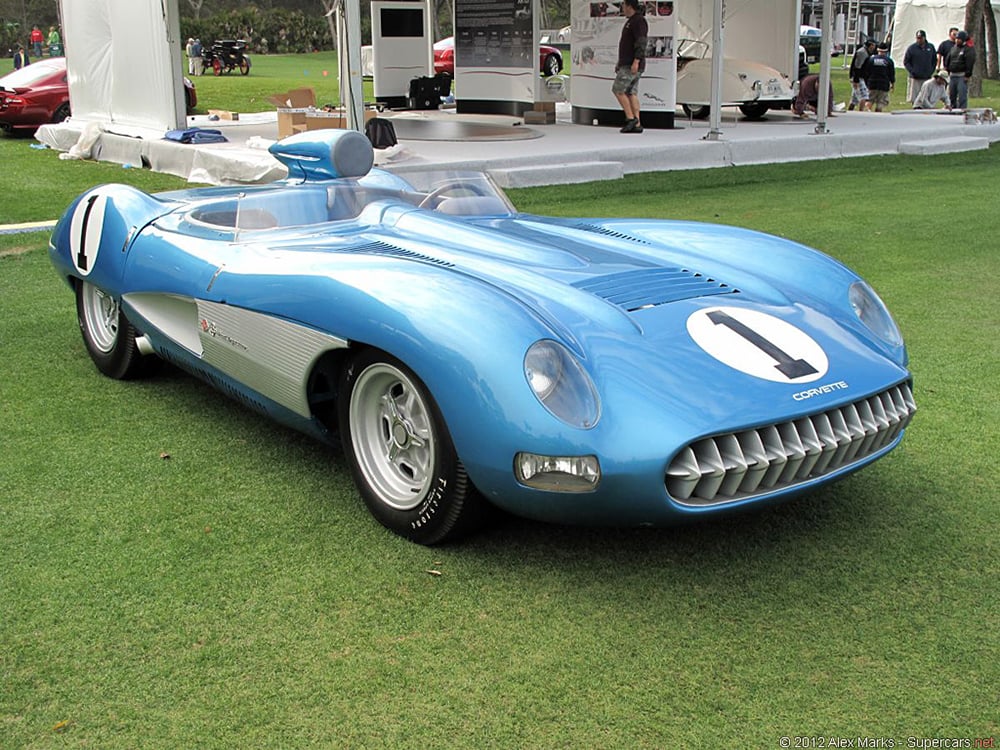 Above: 1957 Corvette SS race car
Part I of Bill Mitchell's Corvette rescue plan was to race the 1957 Corvette SS race car and have it do well at Sebring Raceway in Sebring, Florida in April of 1957. At the beginning of 1957, the SS was a GM-sponsored racing endeavor. As bad luck, or Murphy's Law, or perhaps bad karma would have it, the Corvette SS broke on lap 23 of this 12-hour endurance contest.
To say that the SS failed is an understatement. The race car simply didn't have enough development time into it. The car's Chief Engineer, the famous Zora Arkus-Duntov, made the decision not to use bleeding edge technology disc brakes on the SS, in favor of the tried and true, enormous racing special drum brakes. That decision proved to be a big mistake, as the SS had braking issues from the start, as well as terminal rear end issues, and electrical gremlins. Chevrolet and Bill Mitchell had initially planned on campaigning the SS at Le Mans and winning the 24-hour preeminent race that year, but the AMA ban in June derailed that plan.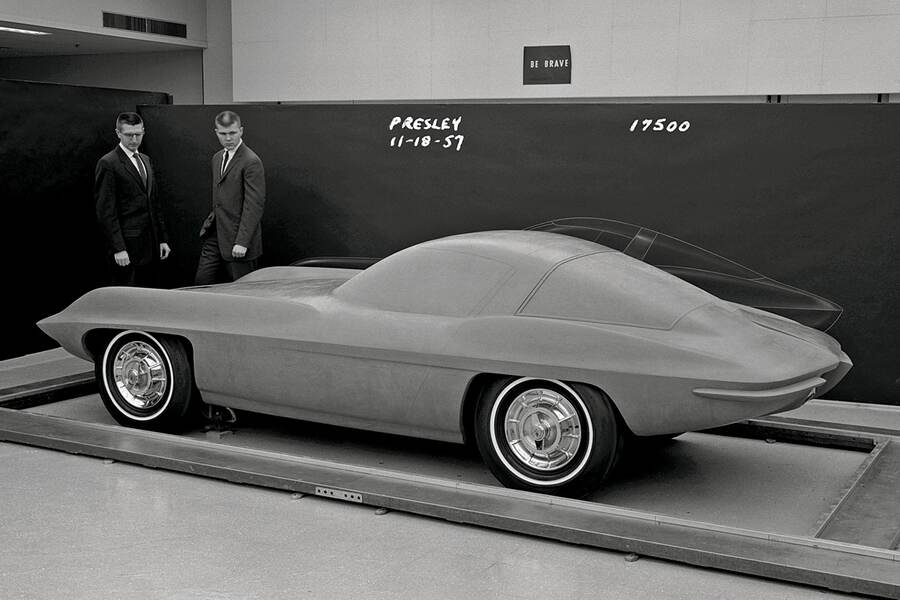 Above: As the date on the chalkboard indicates, the full-size scale clay model of the C2 Corvette coupe concept was finished in November of 1957. Standing by the front passenger fender of the car is young lead designer, Mr. Peter Brock. He was 21 years old at the time.
Mitchell chose Peter Brock to lead the Corvette C2 design project that included studio head Bob Veryzer, Gene Garfinkle, Chuck Pohlman, and Norm Neumann. Specifically, Brock headed up the C2 coupe project, which was given internal project name XP-84. Chuck Pohlman was assigned the convertible project, XP-96. After a 3D scale model was created, VP of Design Harley Earl and Bill Mitchell, his protege, approved going ahead with the full-size models. Clay modeler John Bird then built full-size models of both the C2 coupe and the C2 convertible.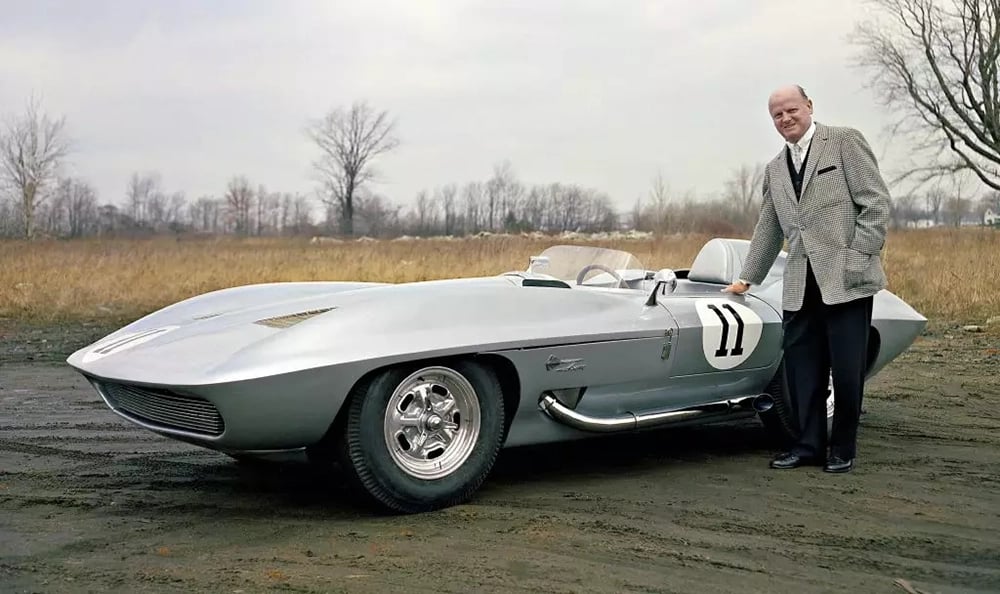 Above: Bill Mitchell, promoted to Vice President of Design for GM in 1958, stands next to his 1959 XP-87 Stingray race car. Mitchell actually funded the build and the Stingray's racing efforts himself.
XP-87 Stingray Race Car Debuts in 1959
Bill Mitchell's personal race car, the XP-87 Stingray, was built using the 1957 Corvette SS race car's chassis and had a fiberglass roadster body, that is the topless version of the Peter Brock design from 1957. With privateer racer Dick Thompson, the racing dentist at the wheel, the XP-87 Stingray won the SCCA (Sports Car Club of America) Championship in 1960. Due to the AMA ban, GM executives prohibited Bill Mitchell from calling his race car a Chevrolet Corvette. The XP-87 Stingray was not a GM-sponsored race car. This was despite the fact that it had a 283-cubic inch small block Corvette V8, backed by a Muncie four-speed manual gearbox, and a GM constructed tubular steel space frame chassis.
With pressure from GM brass, Bill Mitchell retired XP-87 from privateer racing duty and had a passenger seat, a full-width windshield, and some safety equipment added to turn the vehicle into his weekend use street legal road car and later on as a GM concept car. As is readily apparent from viewing the vehicle, it became the basis for the C2 Corvette convertible, as well as the C2 coupe. The stunning design is so spot on and timeless, that elements of Mr. Brock's original rendering and this racing concept car can be seen in every successive generation of the Corvette.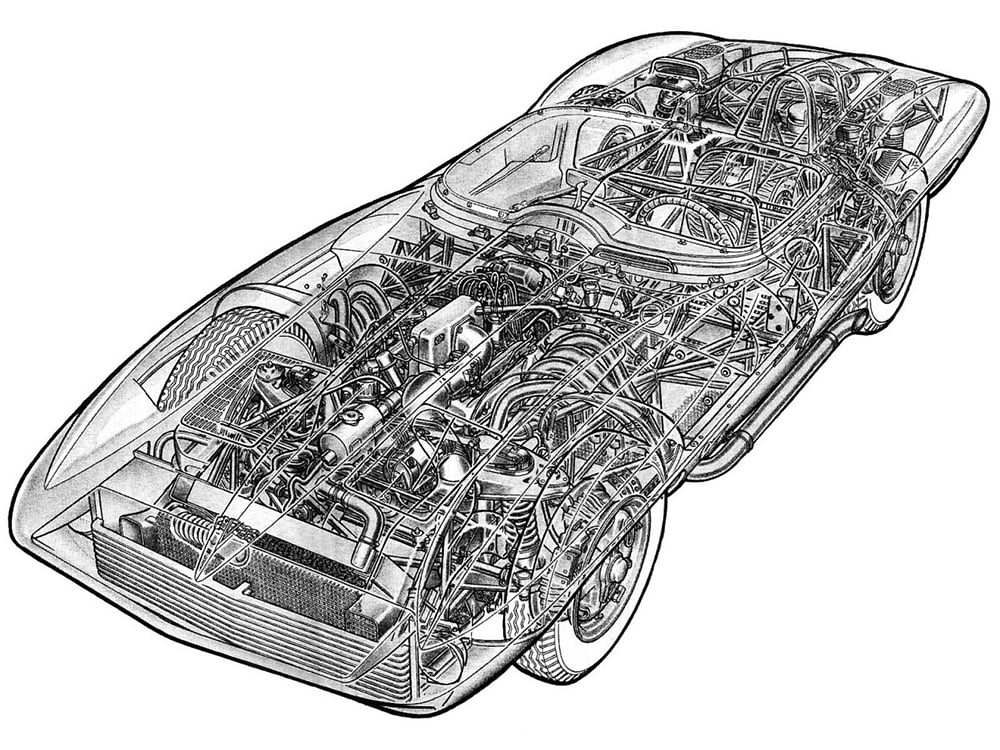 Above and below: A cutaway of Mr. Mitchell's 1959 XP-87 Stingray race car - don't you just love cutaways of cool cars? The XP-87 is at speed, no doubt hunting down some lesser abled competitors.
Designers Larry Shinoda & Tony Lapine Help Bring the C2 Corvette To Market in 1963
Due to the AMA racing ban of June 1957, designer Peter Brock left GM in 1958 to pursue other automotive racing efforts. This was almost five years before production of the C2 Corvette coupe and convertible would commence in late 1962. Thankfully, since designers Larry Shinoda and studio engineer Tony Lapine were heavily involved with the XP-87 Stingray race car, they were instrumental in creating final sketches, production ready changes, and in getting the all-new C2 Corvette to market.
Above and below: Designers Larry Shinoda and Tony Lapine (left to right) are standing on either side of a full-size clay model of possibly some sort of version of a prototype C2 coupe. That rear end has the correct number of taillights. But it doesn't come to a point or a crease as the production C2's do - interesting. The prototype in the background looks more like a Porsche 904 coupe. Later in Tony's career, he was poached by Porsche in Germany, when he was working for GM Opel in Germany. Mr. Lapine wound up designing the Porsche 928, the 924, and the 944. The XP-720 concept below is a much closer clay model to what would become the C2 Corvette coupe.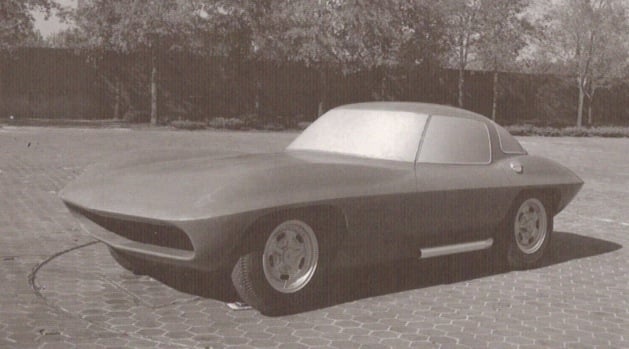 1963-67 C2 Corvette: A Rousing Success!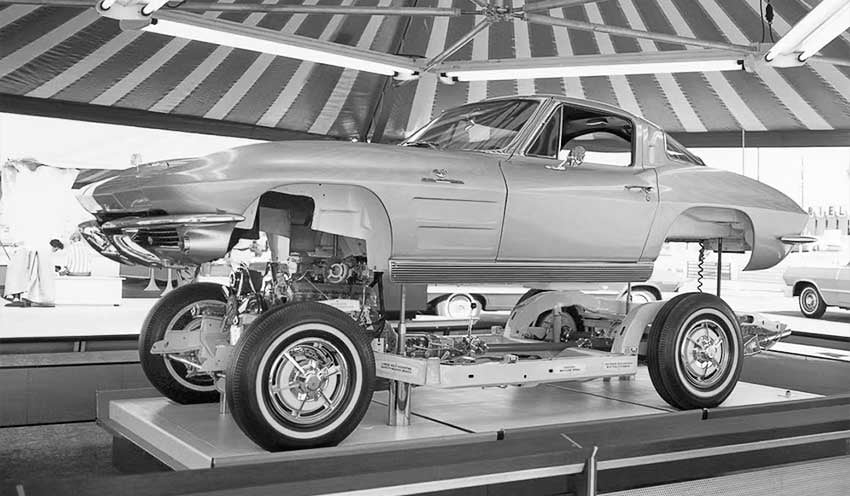 Above: The all-new 1963 Corvette's chassis had a shorter wheelbase, with improved weight distribution. Zora Arkus-Duntov's team of engineers moved the engine back in the chassis and added 80 pounds to the rear suspension, which made for a better front to rear weight balance - practically 50/50 weight distribution. With the incorporation of a single transverse leaf spring and shock absorbers for the rear, the chassis also had four-wheel independent suspension for the first time ever. In addition, the two passengers actually now sat inside the frame rails, which lowered the center of gravity for the Corvette Sting Ray. A brilliant and bewitching form followed a seriously enhanced and innovative function, which transformed the C2 Corvette into a world class sports car!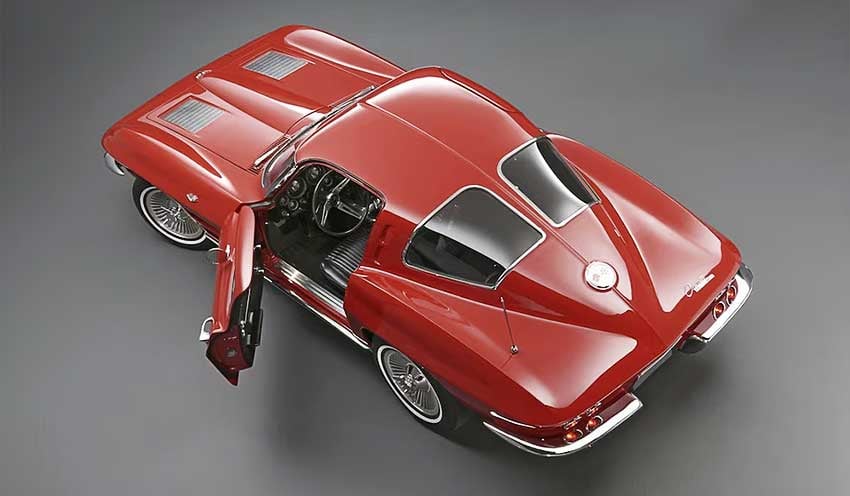 Above: VP of Design Bill Mitchell had a heated argument about the two-pane glass split-window rear windscreen of the 1963 Corvette coupe with Head of Corvette Engineering Zora Arkus-Duntov. Mitchell said that the spine of the coupe was a crucial design element of the C2. Duntov countered that the spine ruined rearward visibility and increased production costs. In the end, the two compromised. Mitchell relented and said that the split-window would only be a one-year feature. Initially, some new coupe owners in 1963 had the spine removed and an aftermarket plexiglass rear windshield installed. Due to its rarity and aesthetic appeal, as most Corvette enthusiasts are aware, this one-year design element plays a huge part in what makes the 1963 Corvette coupe so valuable and collectible today. Sometimes function follows form - with the advantage of hindsight.
When the 1963 Corvette first ever coupe and convertible premiered in October of 1963, they were an instantaneous hit with the public and with the automotive press. The car was praised for its power, handling poise over all road surfaces, and its beautiful shape. The C2 Corvettes sold well throughout their short five-year run, much better than the first-generation Corvettes fared. In doing so, America's Sports Car could continue for years to come, thanks to the tireless efforts of many great dedicated designers and engineers, some of whom are mentioned here.
1963-1967 C2 Corvette Prices & Production Numbers
Year
Production
Base Price
Notes
1963
21,513
$4,037
New coupe body style introduced (only year for split rear window), coupe more expensive than convertible.
1964
22,229
$4,037
Rear window of coupe changed to single pane; hood louvers deleted.
1965
23,562
$4,106
396-cubic inch Big-Block

V8 added; side-discharge exhaust introduced. Last year of

fuel injection

until 1982.
1966
27,720
$4,084
427-cubic inch Big-Block V8 with unique bulging hood; 327-cubic inch

300-horsepower small block V8 standard.
1967
22,940
$4,240
Five-louver fenders are unique; Big-Block hood bulge redesigned as a scoop; parking brake changed from pull-out under dash handle to lever mounted in center console; Solid lifter L88 427/430 would become most sought-after Corvette ever; only 20 were produced.
Total
117,964
1963-1967 C2 Corvette Engine Options
Engine
Year
Power
327ci

Small-Block

V8
1963–1965
250 hp (186 kW)
1963–1967
300 hp (224 kW)
1963
340 hp (254 kW)
1965–1967
350 hp (254 kW)
1964–1965
365 hp (272 kW)
327ci

Small-Block

FI

V8
1963
360 hp (268 kW)
1964–1965
375 hp (280 kW)
396ci

Big-Block

V8
1965
425 hp (317 kW)
427ci

Big-Block

V8
1966–1967
390 hp (291 kW)
1966
425 hp (317 kW)
427ci

Big-Block

Tri-Power

V8
1967
400 hp (298 kW)
1967
435 hp (324 kW)
C2 Corvette Identification Guide & Year Differences
Need help determining which year 1963-67 C2 Corvette you're looking at? Check out the photos and captions below for some key features and design elements that changed over the years.
1963 C2 Corvette: The Start of a Generation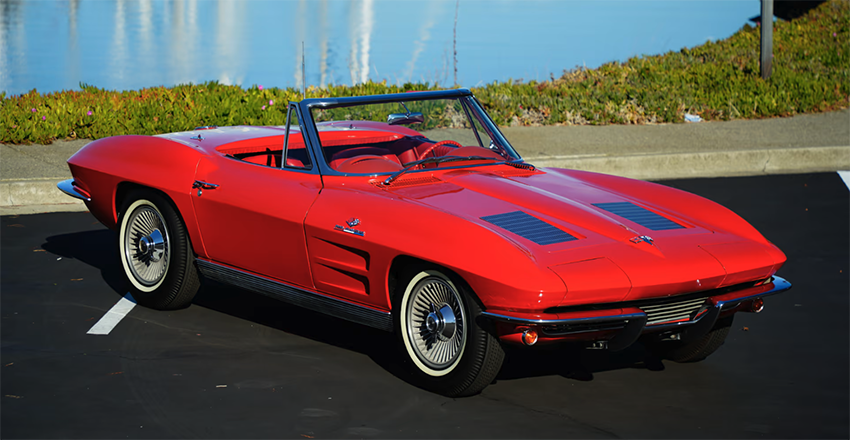 Above and below: This Riverside Red with red vinyl 1963 convertible is the earliest-known second-generation Corvette that was sold to the general public. It's equipped with the 360-horsepower Rochester mechanical fuel-injected 327-cubic inch V8 engine (L84) and backed by a Muncie four-speed manual transmission.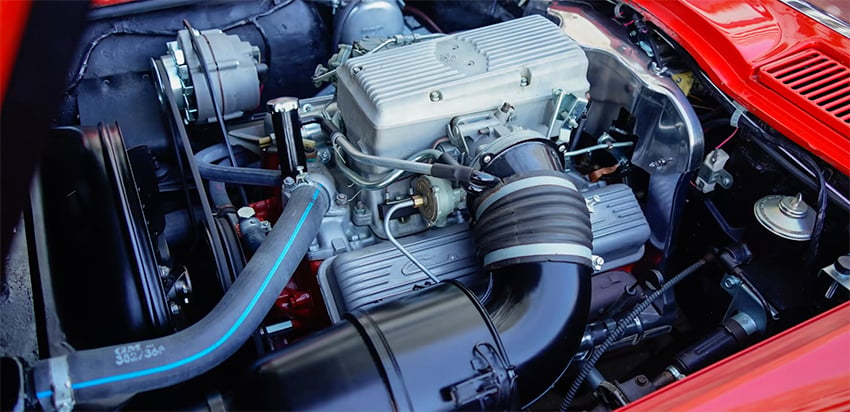 1964 C2 Corvette: No More Split Window
After only one year of production, the distinctive split rear window was switched to a more conventional single rear window. Additionally, indentations were present on the hood where louvers would have been, but no chrome louvers were present. This created a sleeker appearance.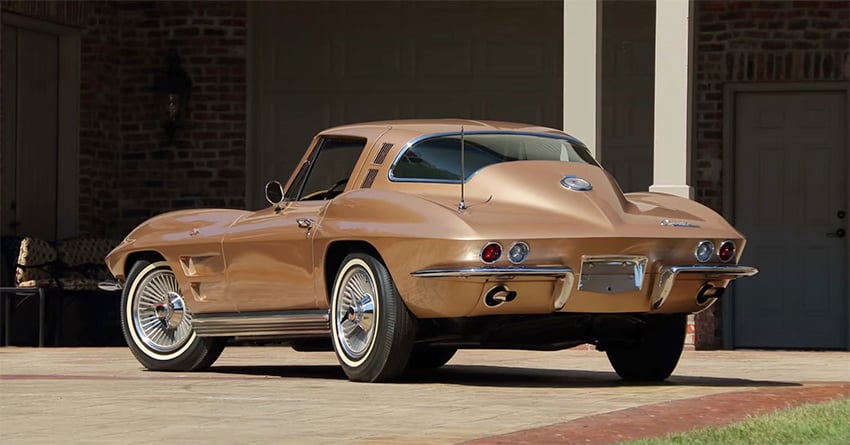 Above and below: Notice that the split window is gone with the 1964 Corvette coupe. This particular coupe has a 327/300 c.i./horsepower V8 engine, power steering, power brakes, power windows, positraction rear end, factory air conditioning, rare Saddle Tan paint with saddle leather interior, knock-off aluminum wheels, tinted glass, backup lights, and a Muncie four-speed manual transmission. Basically, this coupe came loaded from the Chevrolet Corvette factory. The Vette was sold new by Holler Chevrolet in Winter Park, Florida to Hughes Supply Inc. Notice that the 1964 Corvettes have the indentations in the hood for the faux chrome cooling louvers, but they don't have the louvers. The Tuxedo Black beauty below sports a 375-horsepower Rochester mechanical fuel-injection topped 327 ci V8 and a Muncie four-speed manual trans. It's one of 1,325 fuel injected Corvettes built in 1964.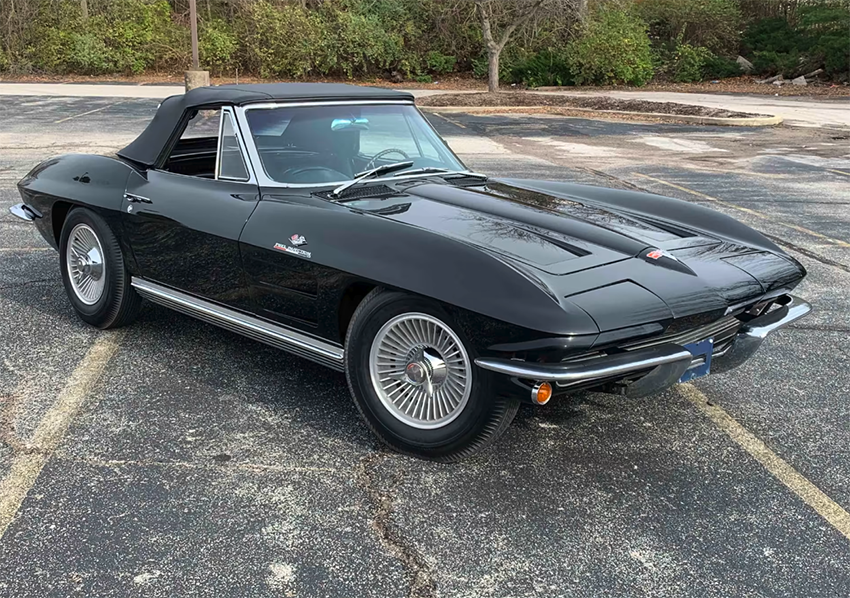 1965 C2 Corvette: Disc Brakes & 396ci V8 Power
Chevrolet made some subtle styling changes to the 1965 Corvette's exterior. They removed the indentations in the hood and front fender sides and added functional cooling gills (louvers) in the front fenders for removing heat from the engine bay. For the first time, side exhaust pipes were also available as an option.
As far as the mechanicals go, customers could now select a big block V8 Corvette. The 396-cubic inch V8 was rated at 425-horsepower. Four-wheel disc brakes were standard starting in 1965, though customers could still order drum brakes all around as a $64.50 credit option. Just 316 of the 23,562 Corvettes built that year came with drum brakes.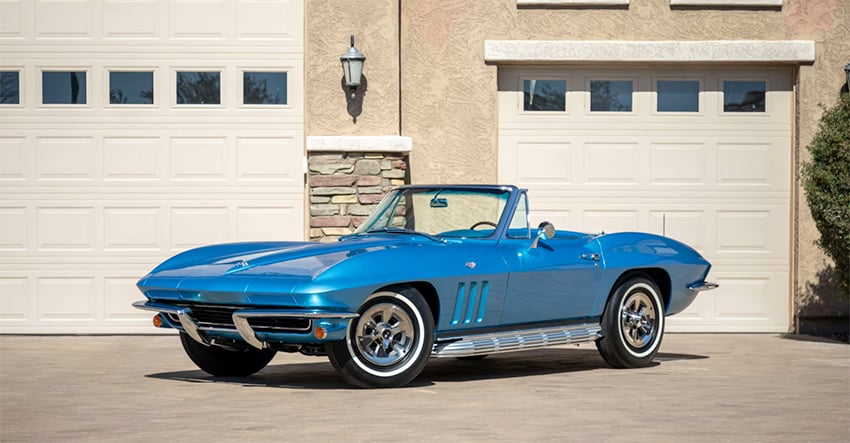 Above and two below: Nassau Blue FF paint code was a newly available hue for the 1965 Corvette. This Vette is powered by a 327 ci V8 that makes 300-horsepower. The engine is mated to a Muncie four-speed manual transmission. The dashboard of the Corvette, with the dual pods - gauges on the driver side and glove box on the right, makes you feel like you're in a fighter jet when you're in the cockpit.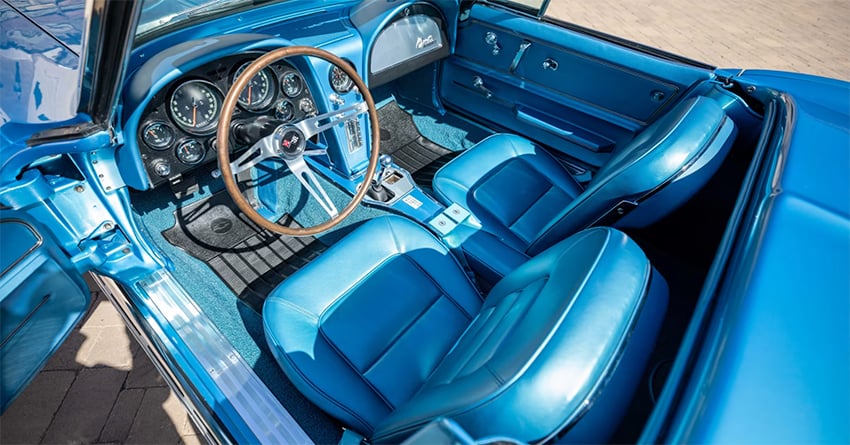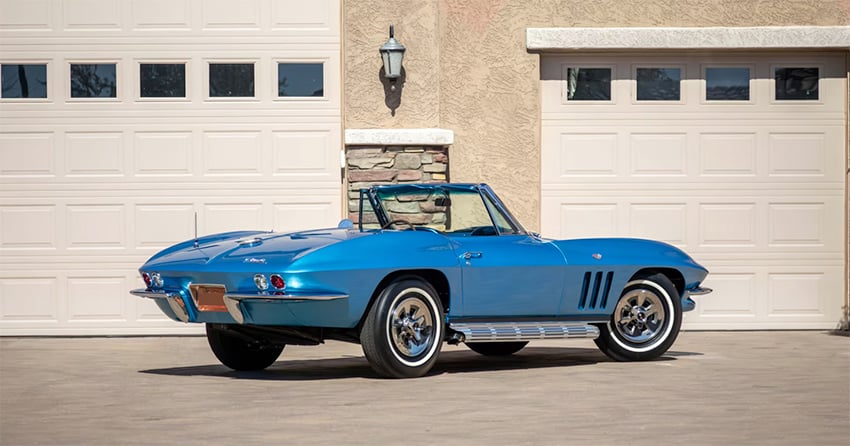 1966 C2 Corvette: Egg Crate Grill & 427ci Big Block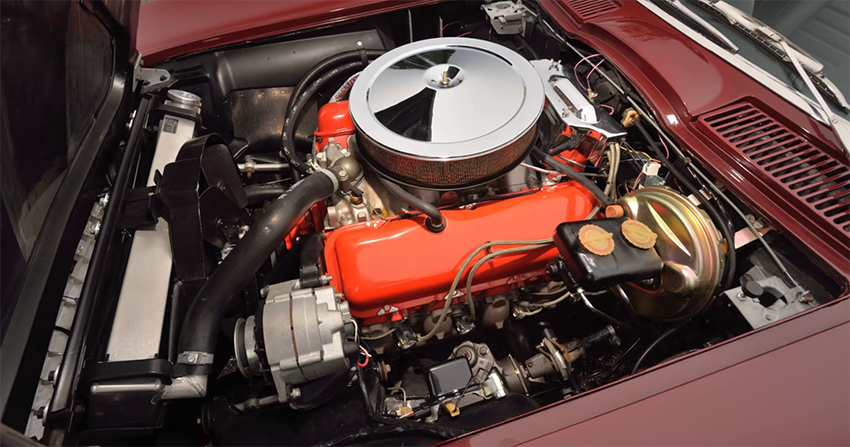 Above and two below: One of the available 427 ci mill's for the 1966 Corvette is depicted here. This one's the more powerful 425-horsepower that makes a prodigious 461-pound-foot of torque. To accommodate the 427's, Chevrolet manufactured a big block power bulge hood. The '66 also received an egg crate grill, as opposed to the horizontal bar grill of 1965. The Marlboro Maroon exterior is stunning! Not many changes were made to the 1966 model, as Chevrolet originally intended to bring out the third generation (C3) Corvette in 1967. Production delays with the C3 thankfully gave us one more year for the C2 in 1967.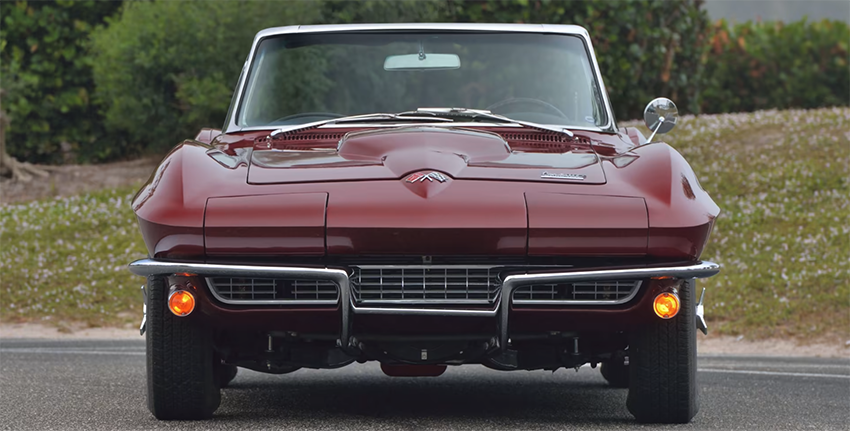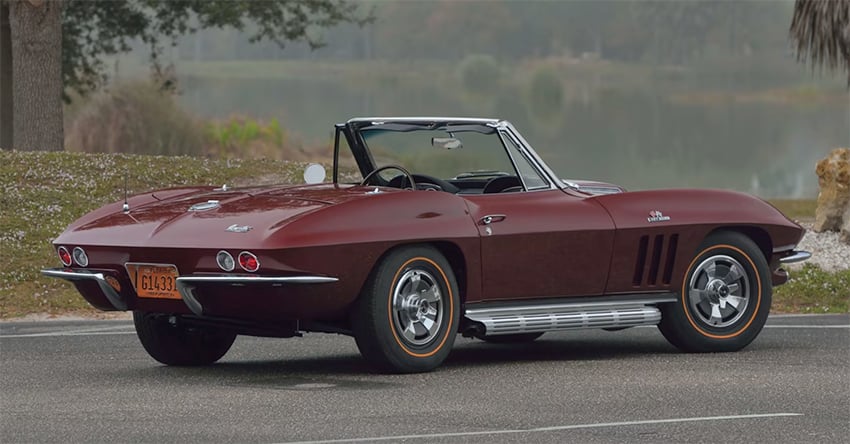 1967 C2 Corvette: Stinger Hood, More Gills, & Optional Hard Top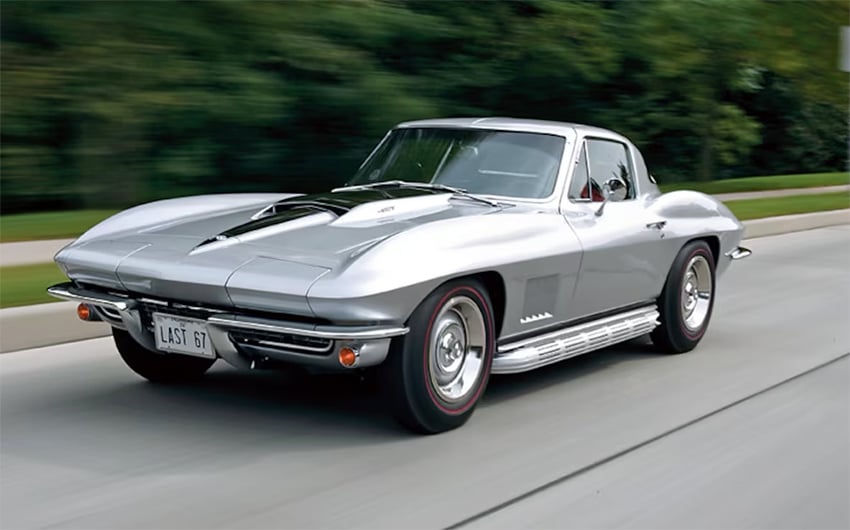 Above and below: Being the most developed C2 Corvette, having the benefit of 10 years of refinement - from concepts, to prototypes, to production - the 1967 C2 Sting Ray is considered the best of the breed. For 1967, the 427 big block powered Vettes received a new fake hood scoop hood that Chevrolet's marketing department aptly named a Stinger hood to accommodate the larger engine. The Stinger would often be painted the color of the seats, but not always. Another cosmetic change was the smaller five cooling louvers (gills) as opposed to the three large ones for the 1965-66 models. If you purchased a convertible C2, you could pay for an optional removable hard top. The first owner of this gorgeous, unrestored Goodwood Green convertible, purchased the vehicle with the hard top and without the convertible top (ordered as a soft top delete). Without the external side pipes, this 427-powered Corvette is a bit of a sleeper, as it's equipped with the 3x2 (three, two-barrel carburetor), solid-lifter, 435-horsepower big block V8. (Several photos are courtesy of the GM Heritage Collection and Mecum Auctions).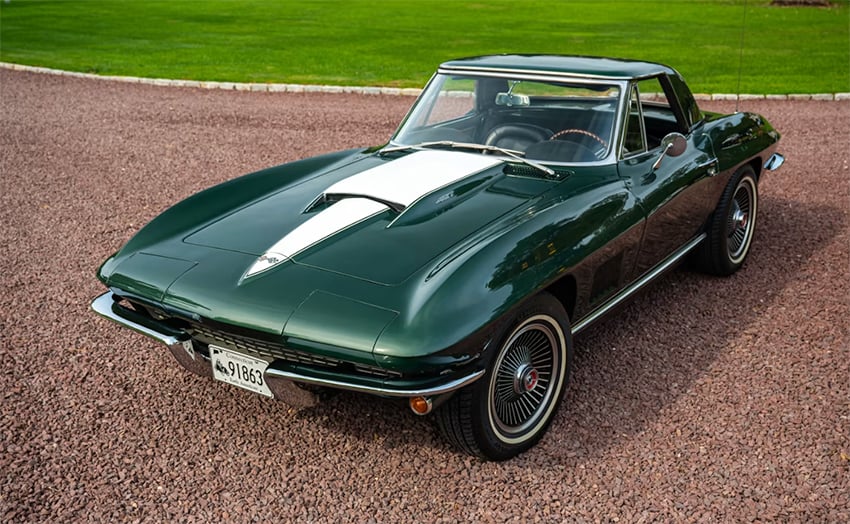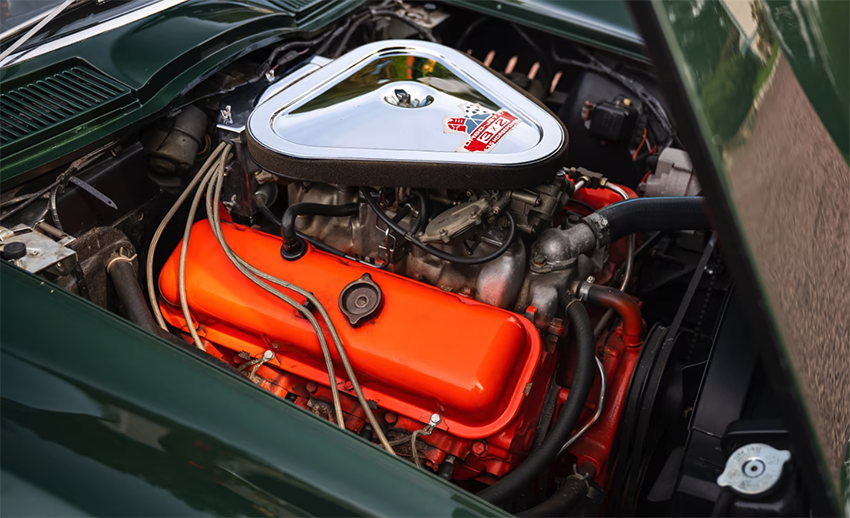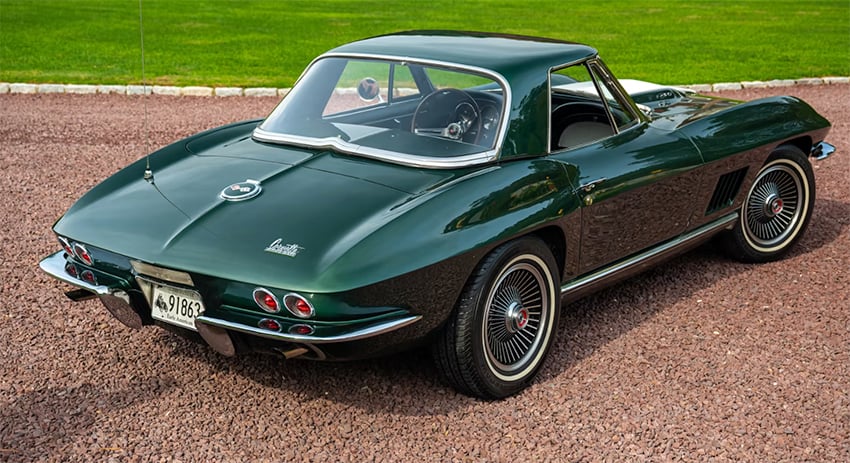 Classic Industries Sells C2 Corvette Parts
Whether you have a C2 Corvette coupe or convertible, there's a great chance that Classic Industries has the parts that you need to complete your Corvette and keep it on the road, at the shows, or on the track for years to come, with miles upon miles of smiles in the process. Simply click here to shop online for those must have parts. Or you can click on the link below:
More Classic Cars & Automotive History Articles
If you enjoy reading about American muscle cars almost as much as you like to drive, work-on, race, and show them, you may find these to be of interest: