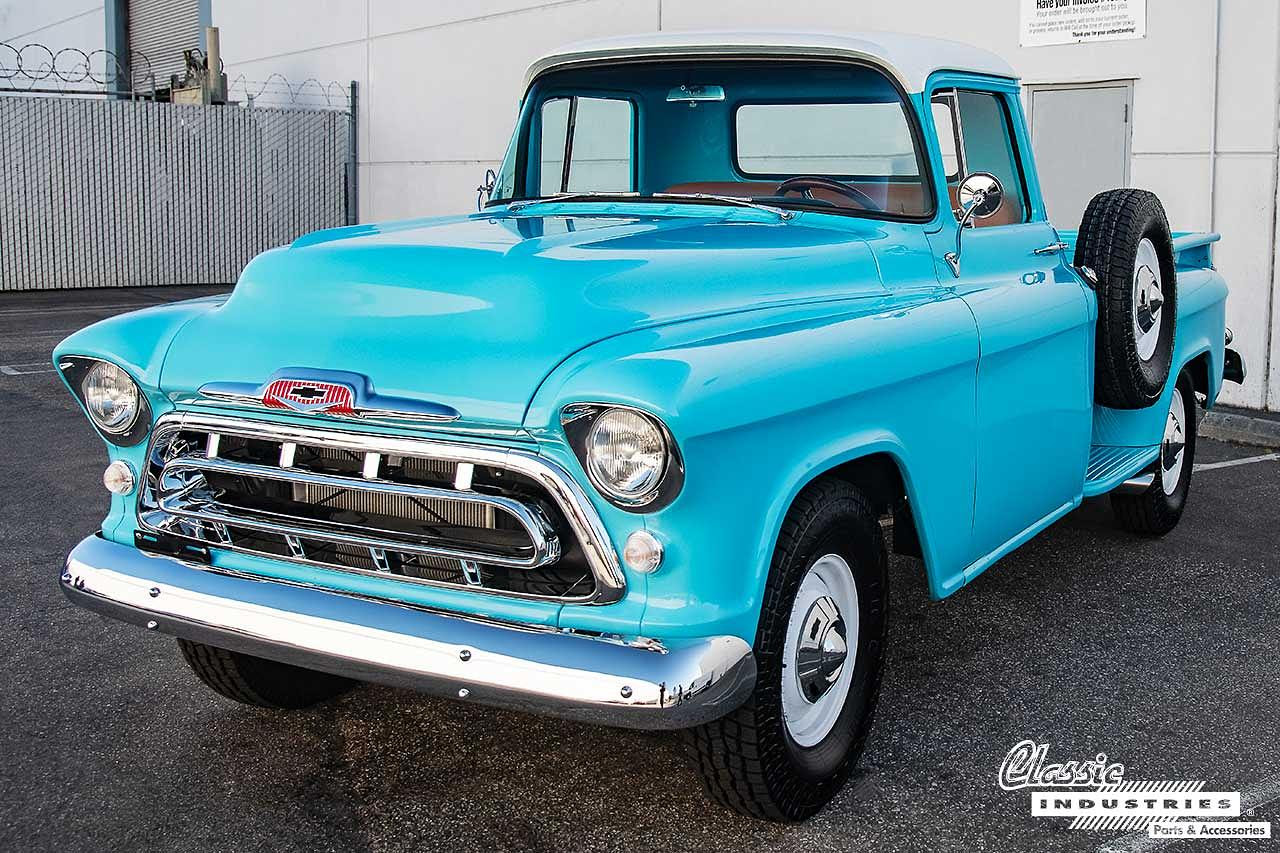 The old car hobby is filled with great stories of father/son builds, family projects, and cars passed down from parents to kids. In many cases the vehicle that is passed down winds up becoming a mechanical member of the family. Old cars and trucks are much more than just family heirlooms. You can get in an automobile and have adventures in it. Take family trips. Even just take a jaunt to the grocery store for some milk and cookies. The family car is a trusty steed that you can rely upon to deliver freedom, adventure, and food for goodness sakes! It's no wonder then that when this trusty companion becomes time worn, the family wants to renew it and keep it on the road, as opposed to selling it off and abandoning it.
Amanda Matuz grew up around cars with her dad. "I always loved them but have grown to appreciate them more now that my dad has passed," she said. Her parents bought her little brother a beautiful red 1967 Dodge Coronet when he was 15 and used the Coronet as a "carrot on a stick." They told him that if he could keep his grades up and get the car running by his 16th birthday, he could keep the car. Amanda shared, "My brother never had a bigger motivation to do well in life. I told my dad I wanted to do the same thing with my kids one day."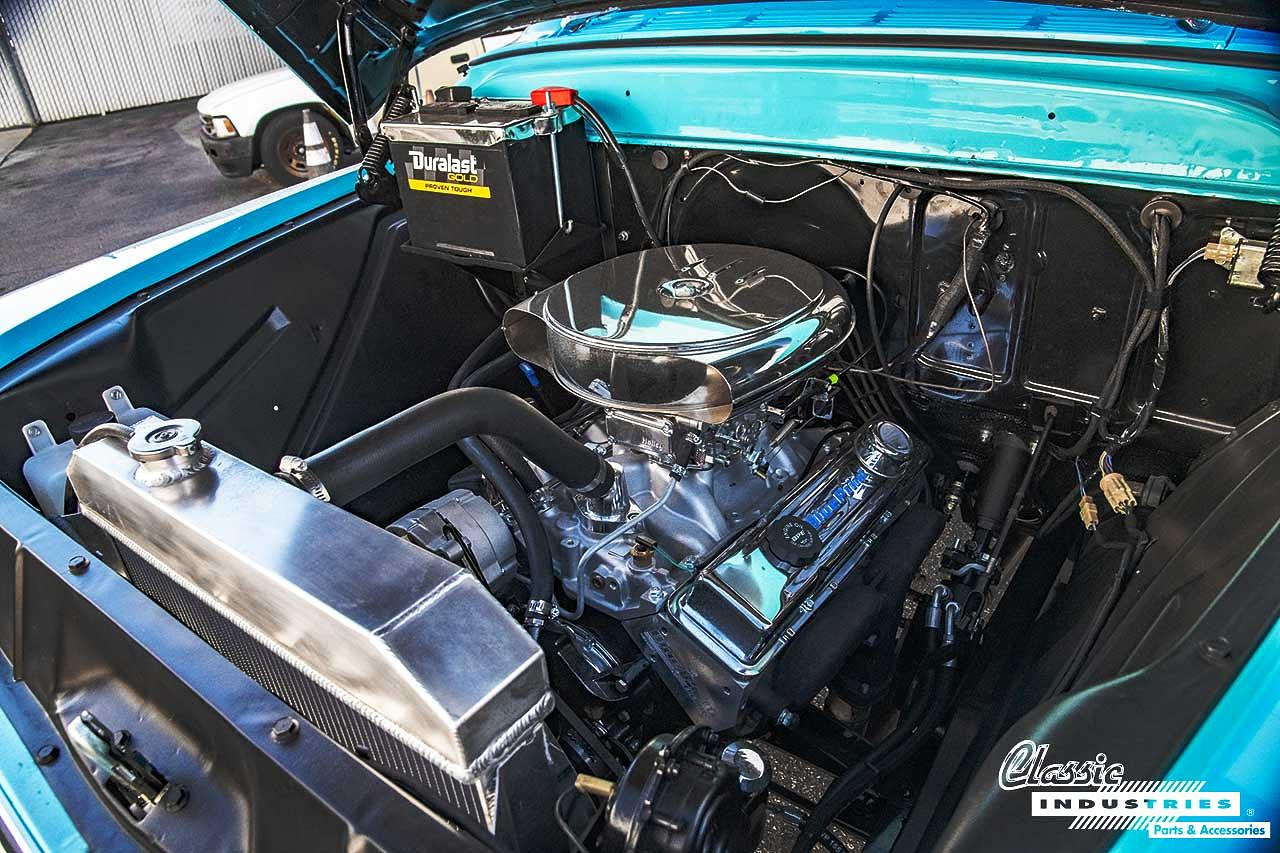 Above: A brand new Chevy 350 ci V8 is a BluePrint Crate Engine that is backed by a TCI Turbo 700R4 overdrive transmission that provides plenty of go power for chasing waves up and down the California coastline.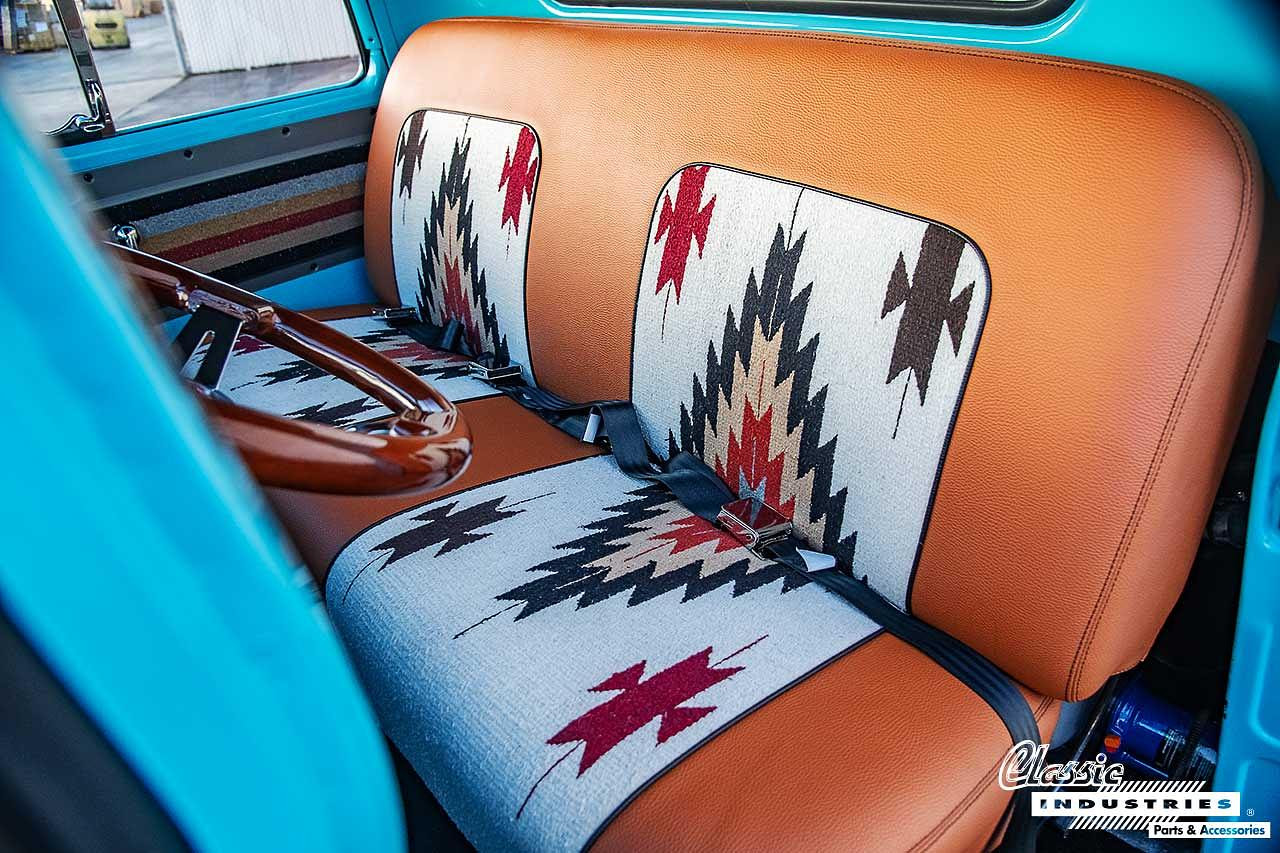 Above: The idea to incorporate a Mexican blanket center section into the bench seat came from none other than Chip Foose. The custom bench seat was built and trimmed by Chip's personal upholsterer. Brilliant!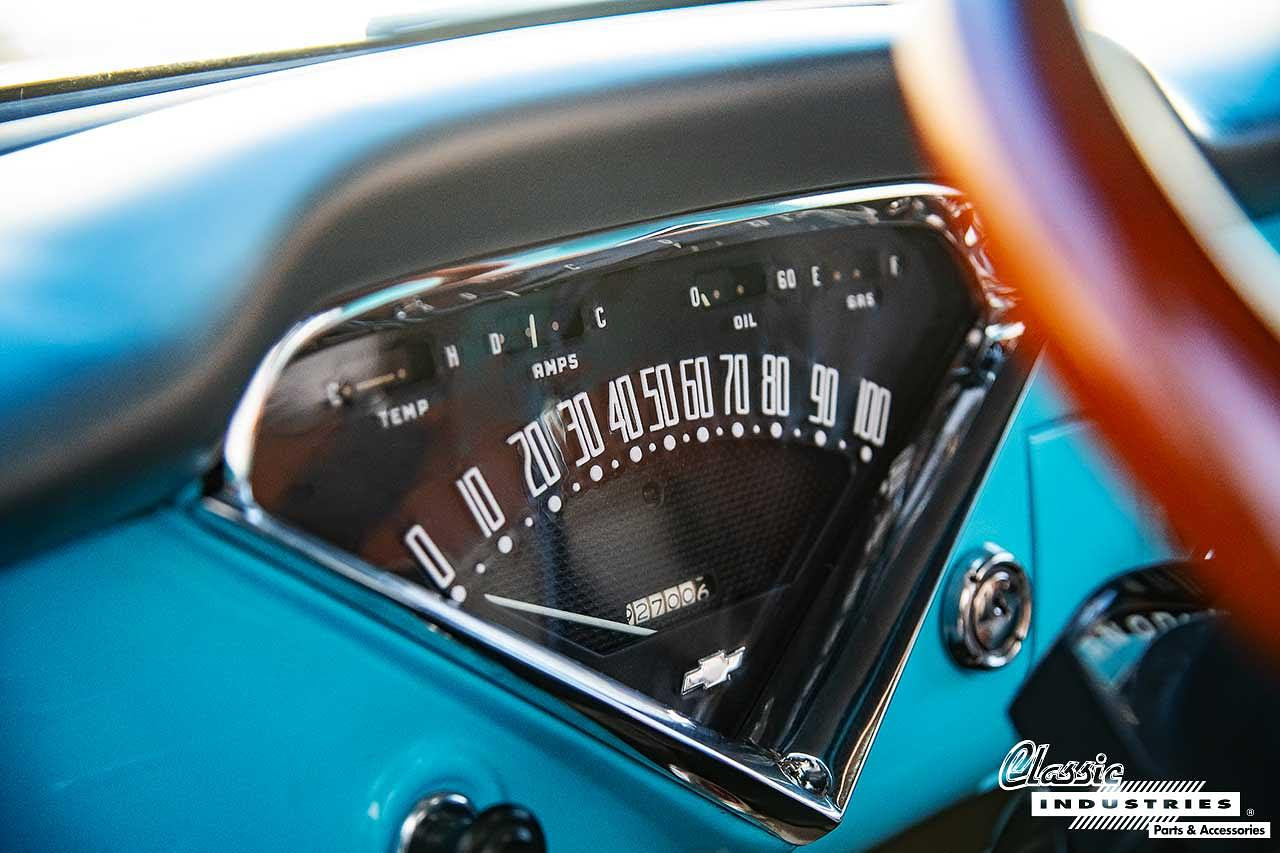 Amanda is a Chevy girl. She decided that the old car project should be a classic Chevy truck. When her dad passed away, she realized she needed to put her parents' plan into action for her sons. So, she started searching for a project pickup. Her wish was to pass on both a love and appreciation for the old car hobby and ultimately a nicely renewed vintage Chevy truck to eventually give to her boys. Being a Huntington Beach resident, also known as Surf City USA, an old Chevy truck would be the perfect beach vehicle for going surfing with her husband and three boys.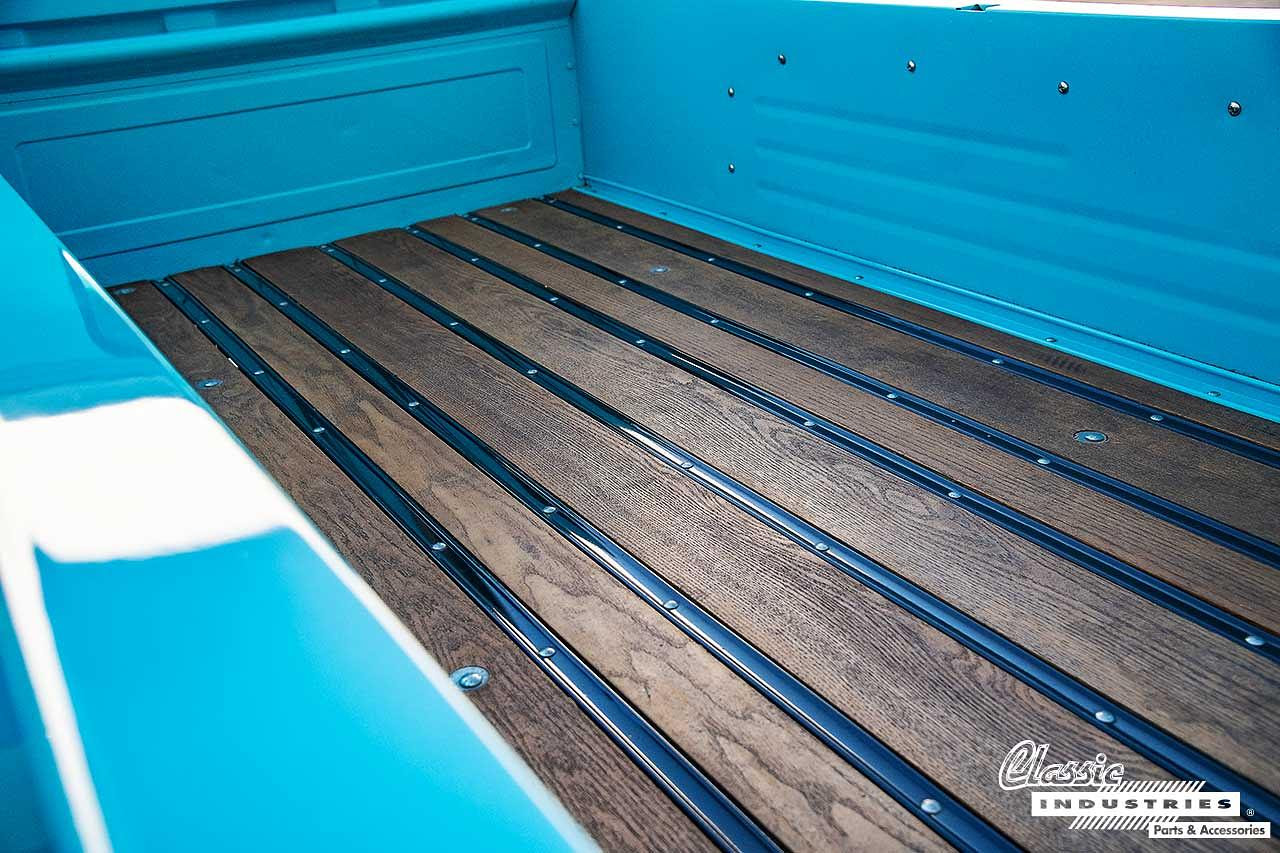 Above: Having a long bed is perfect for fitting all the surfboards and beach gear. In case you're wondering, in surfing parlance, this is what grommet means: "Grommet is frequently abbreviated to grom and refers to a young participant under the age of around 18 that participates in the sport of surfing. The first use of the word in any printed form appears in an article by Nicholas Tomalin in 1964." - from wbsurfcamp.com/what-is-a-grommet-you-ask/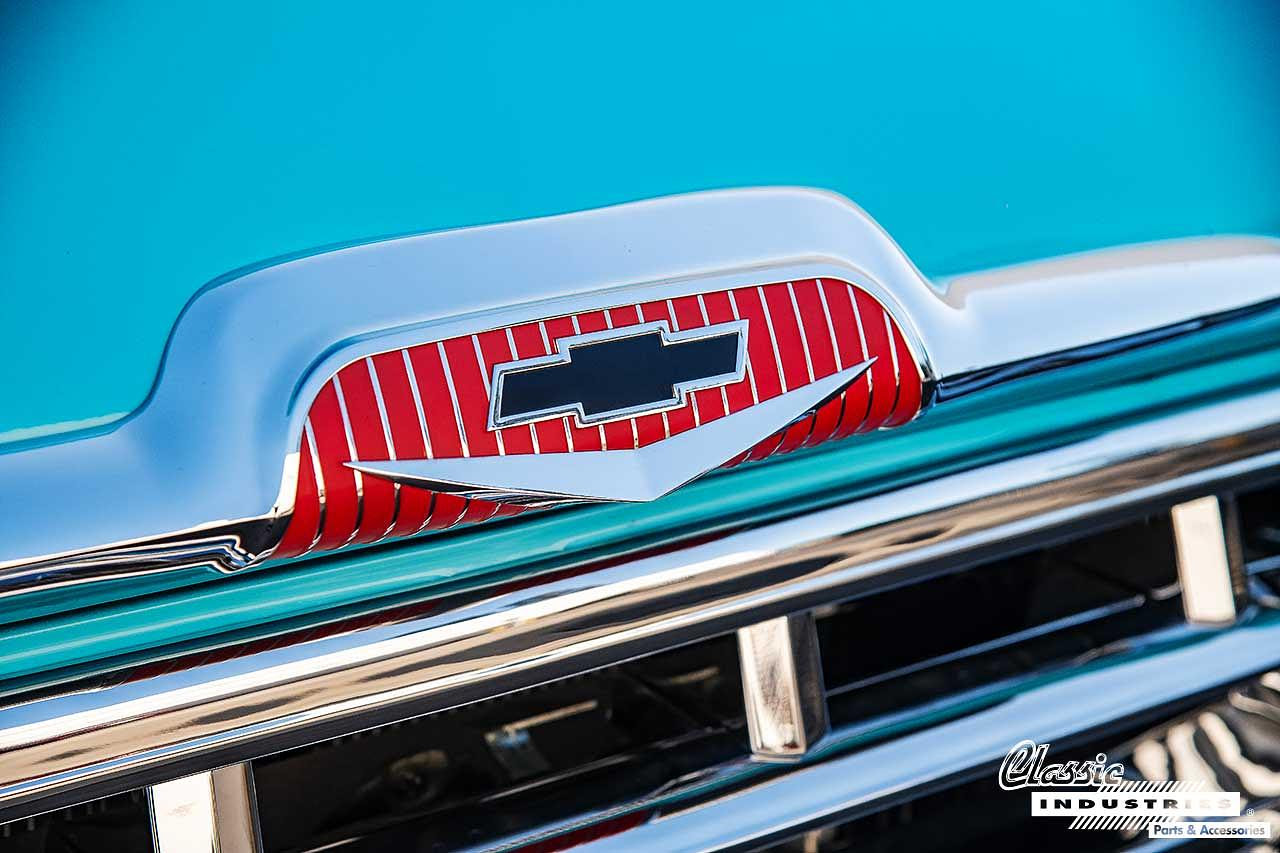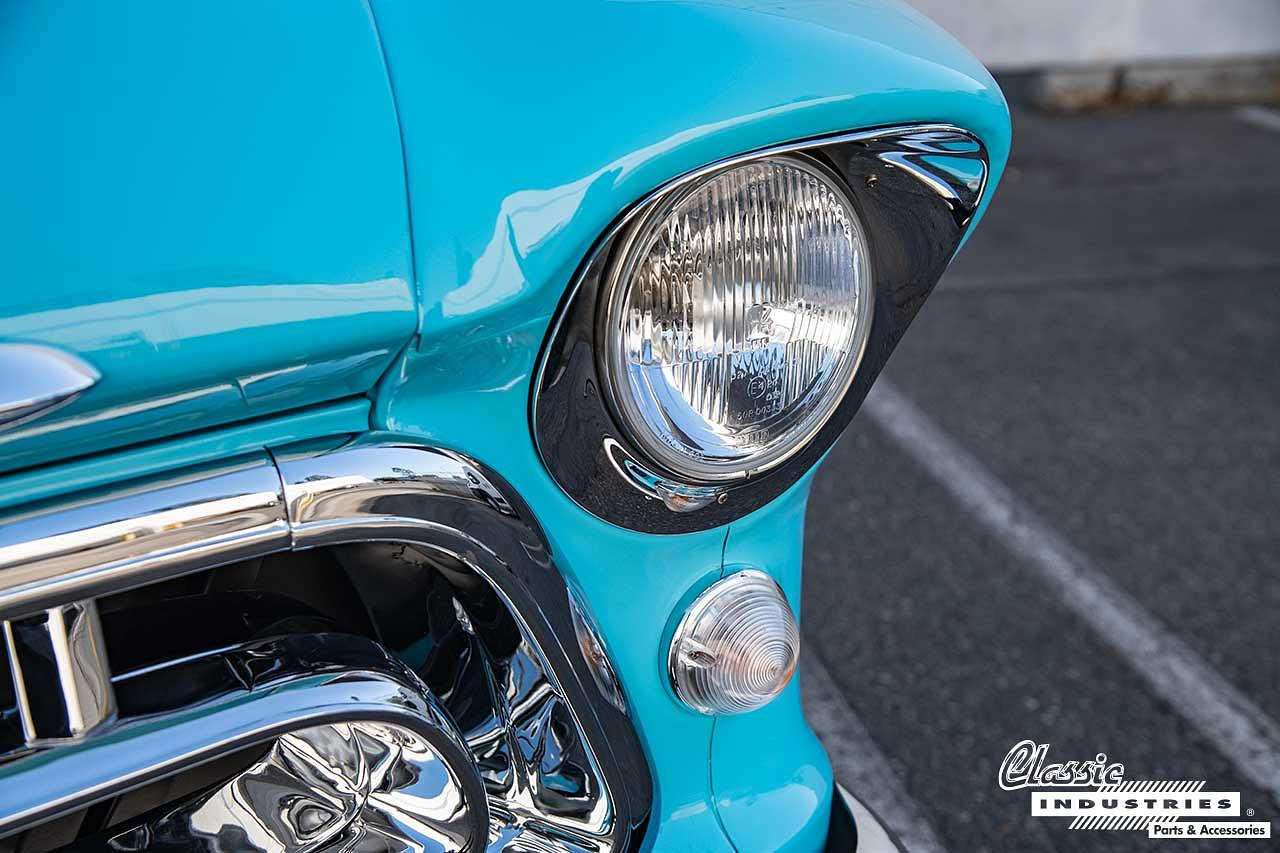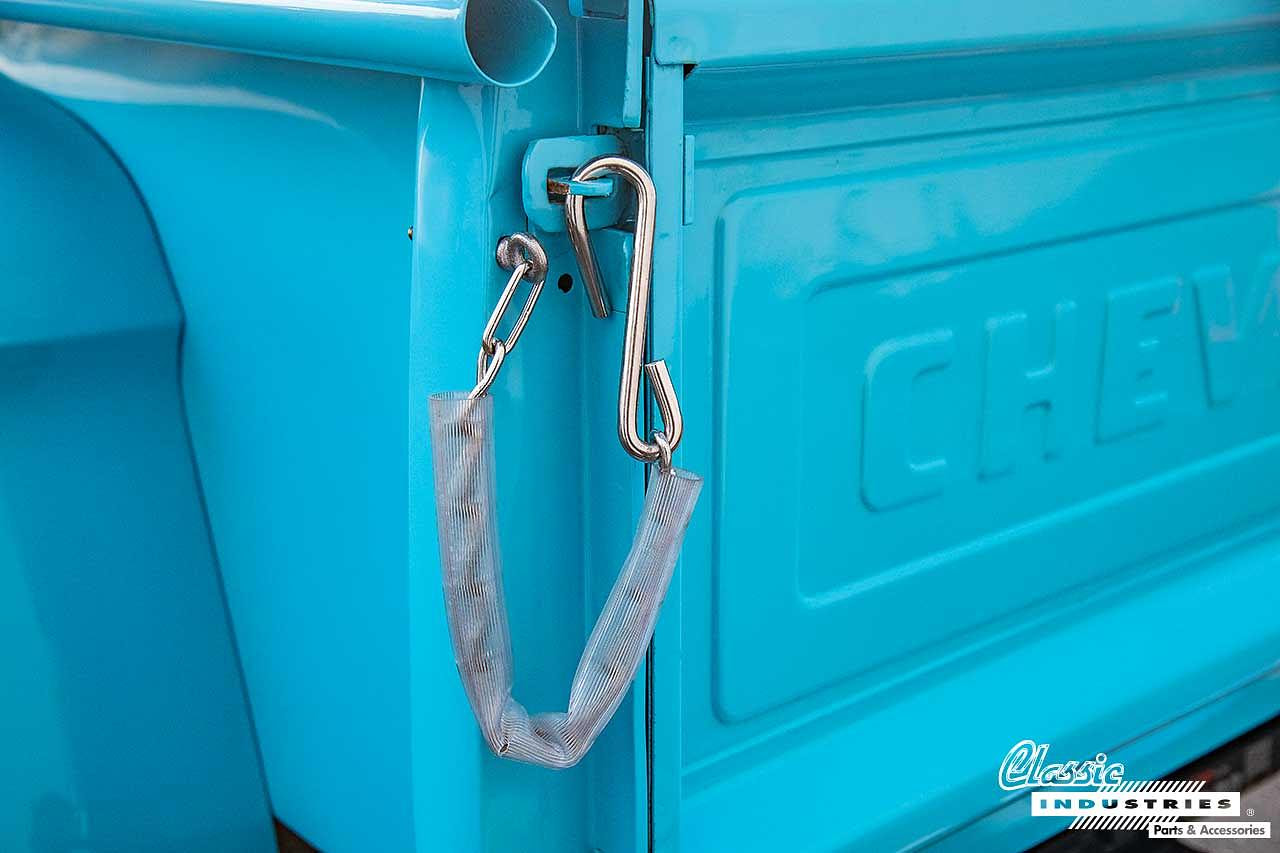 Instead of "it's nice to have friends in high places," it's great to have a buddy who owns a hot rod shop. Amanda's buddy is Steve Pazmany. Steve is co-owner with his Uncle Bird of a shop called Fully Torqued that's also now a reality TV show on the History Channel. Steve and Bird not only helped Amanda find an old 1957 Chevy 3200 long bed that needed renovating; they performed all the work, with some help from another friend, one Chip Foose. Should you wish to see just how Amanda, her husband, and their sons' 1957 Chevy 3200 came back to life, you can subscribe to a streaming service that airs History Channel programs and search for season 2, episode 9 of Fully Torqued.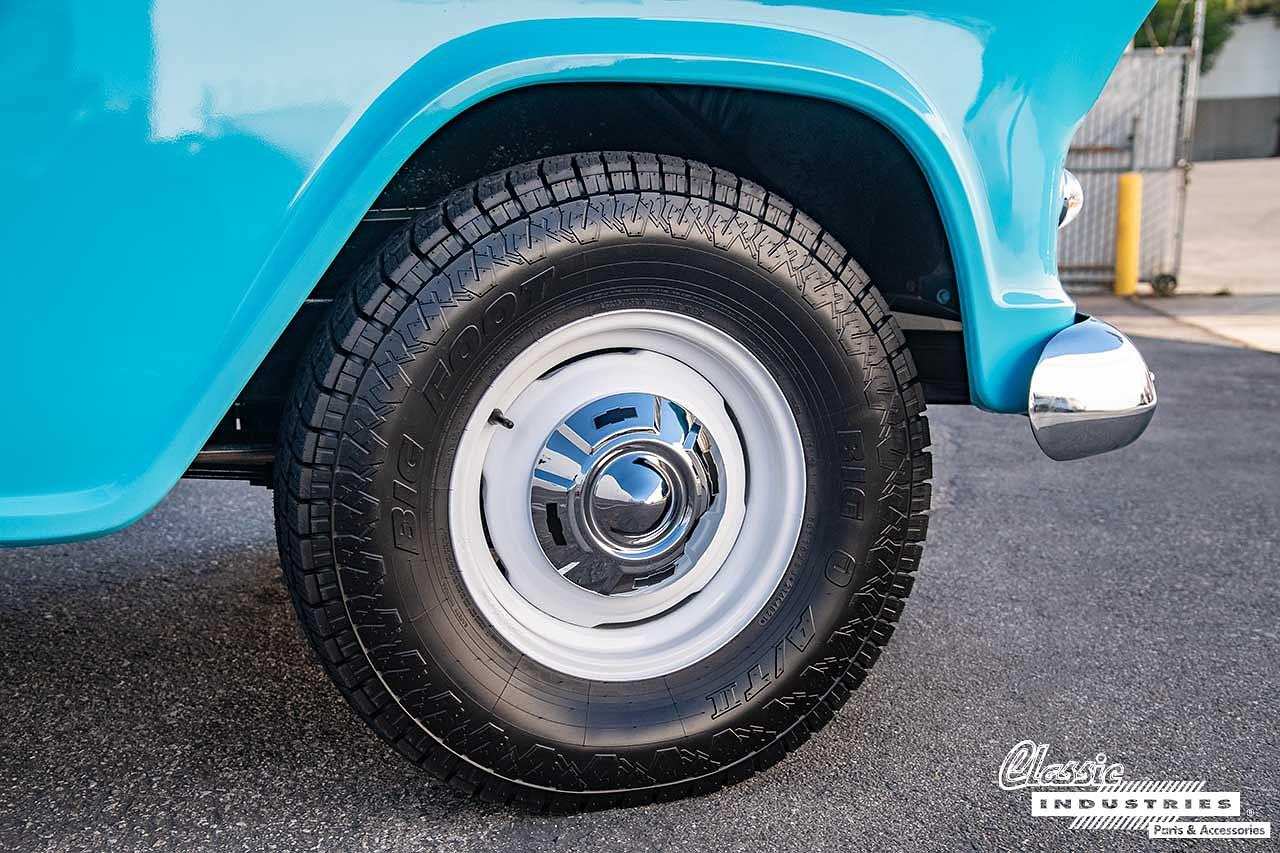 Above: The factory 16" wheels were restored and powder coated gloss white. Fully Torqued converted the front brakes to an all-new disc brake system that of course includes new brake lines, master cylinder, booster, and new drum brakes in the back. The all-new front suspension system was powder coated and installed. As for the foundation, all of the old suspension components came off the frame, before everything was cleaned up, de-rusted, powder coated black, and rebuilt. The steering system was also converted to power steering.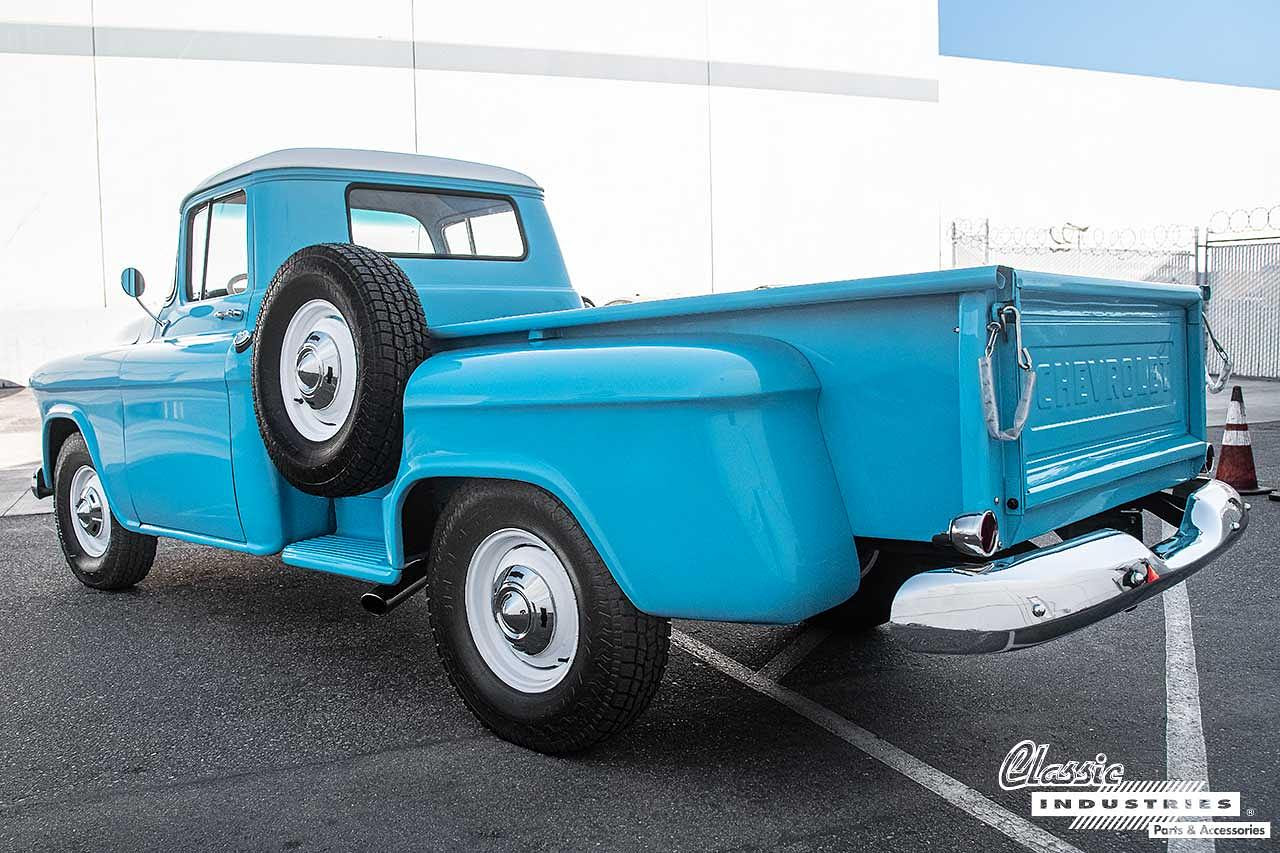 Above: The driver's side spare tire side mount is a nice looking and very functional place to hang the truck's spare tire. It's much more accessible than having the spare hang underneath the pickup bed.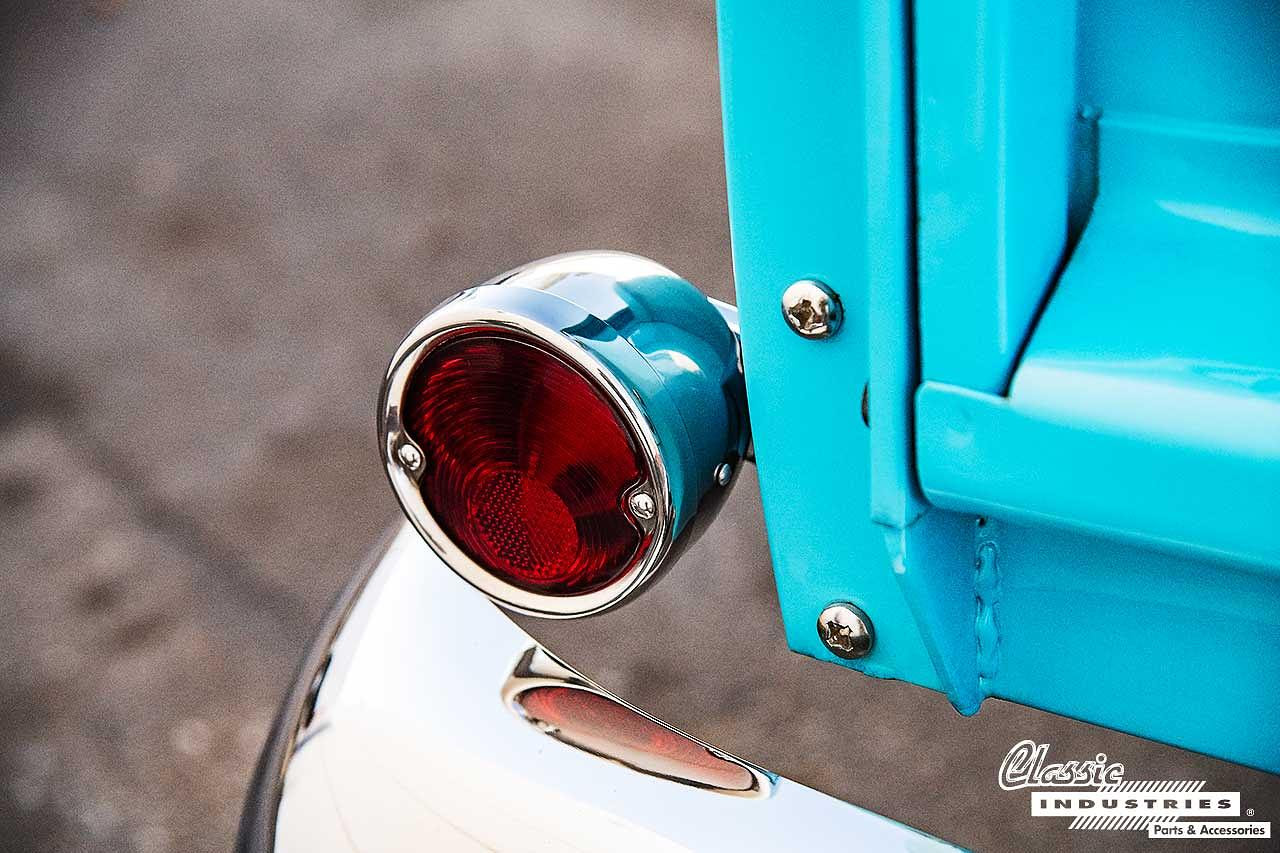 Chevy Pickup & GMC Truck Parts @ Classic Industries
Whether you're restoring or customizing your vintage Chevy or GMC pickup, there's a great chance that Classic Industries has the components to get your truck to the finish line. You can find body panels, fasteners, wood bed kits, crate engines, suspension parts, and pretty much everything else you need by searching on the Classic Industries website or in our comprehensive GM Truck catalog. Simply click the button below to obtain your GM truck restoration parts catalog.