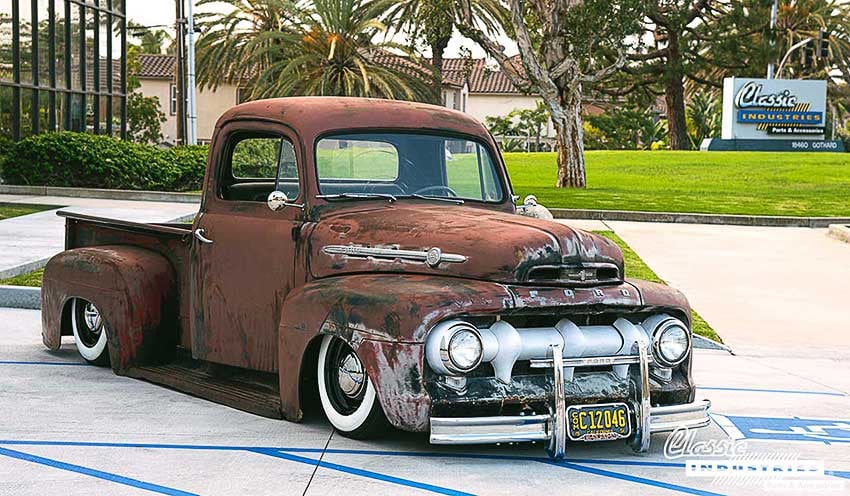 Patina pickups have always made quite a statement without being able to utter a single word. If those red rust worn panels could only talk, they might tell a tale of some hard toil under a California sun at perhaps a vineyard up in Sonoma County where grapes are picked and smooshed to make wine or even just grape juice.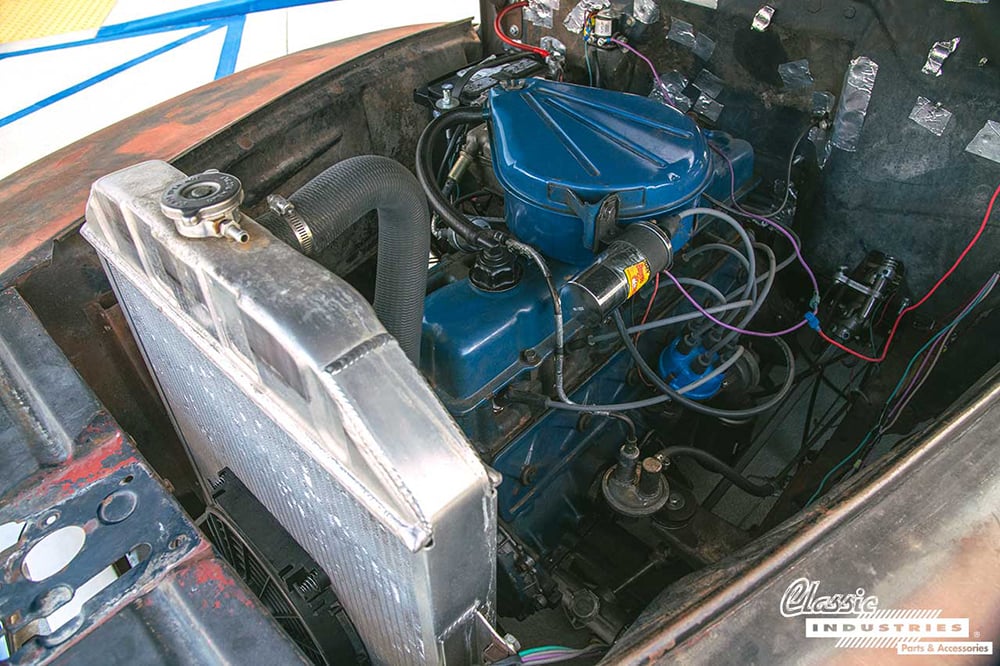 An old truck that you just know has had a life of hard work at some ranch deserves a leisurely retirement. Perhaps the pickup toiled away at maybe a dairy farm, or even at an old drag strip as a tow vehicle or a push truck for the front engine, rail dragsters, like what Don Garlits used to race, or maybe an old 1968.5 Mustang 428 Cobra Jet that has drag raced over 50 years straight (pictured just below popping a wheelie at Summit Raceway Park in Norwalk, Ohio, circa 2018, photograph by Jerry Heasley, automotive journalist).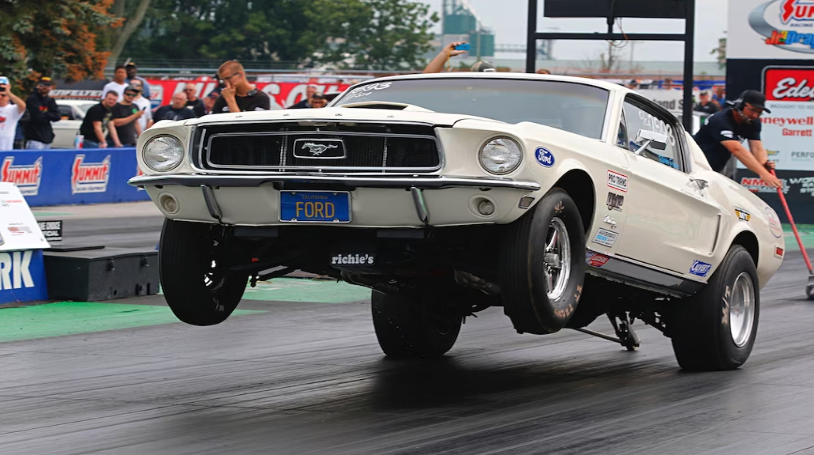 These old work trucks - the stories they could tell, if only they could talk. If an old work truck that's rusting away and not running falls into the right hands, it can come back to life and live to go on many new adventures. Thankfully there are gearheads like Bobby Castorena, of Bellflower, California, that have gobs of creativity and ability to plan, and build, and finish an old patina truck in short order. Often times the pickups can settle into a new life of leisure, where weekend cruises and the occasional car show are the order of the day, as opposed to slaving away in the hot sun five or six days a week.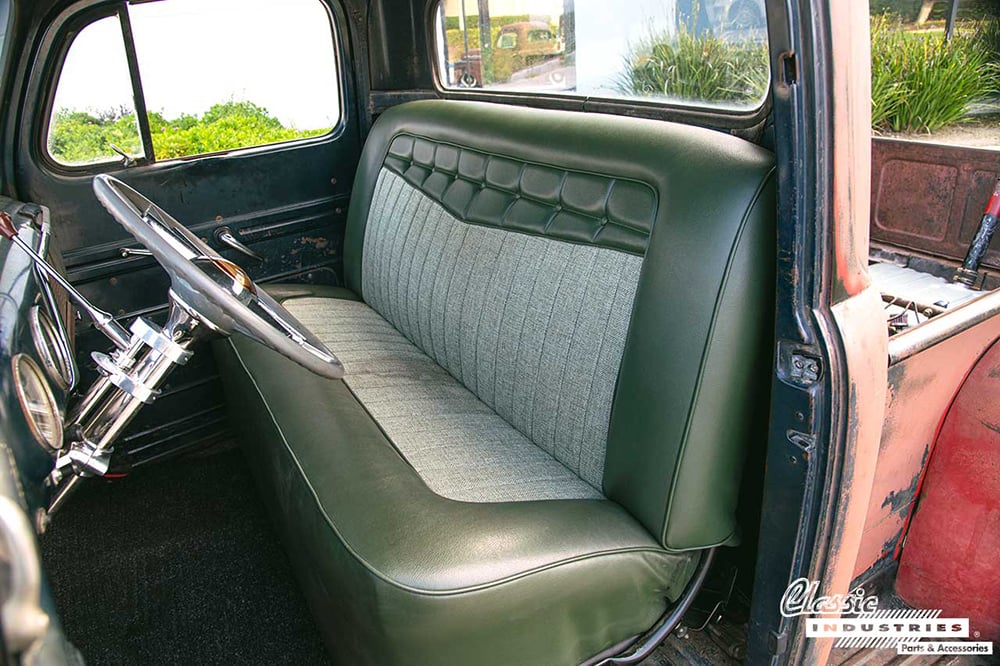 In May of 2019, Mr. Bobby Castorena was working In Daggett, California. Away from home and after his workday, he would browse the 'Cars & Trucks' section of Craigslist to pass the time. He found the 1952 Ford F1 one lucky evening. The next day he went and took a look at it. Bobby negotiated a reasonable price ($3,000), rented a trailer, and brought the truck home to Bellflower.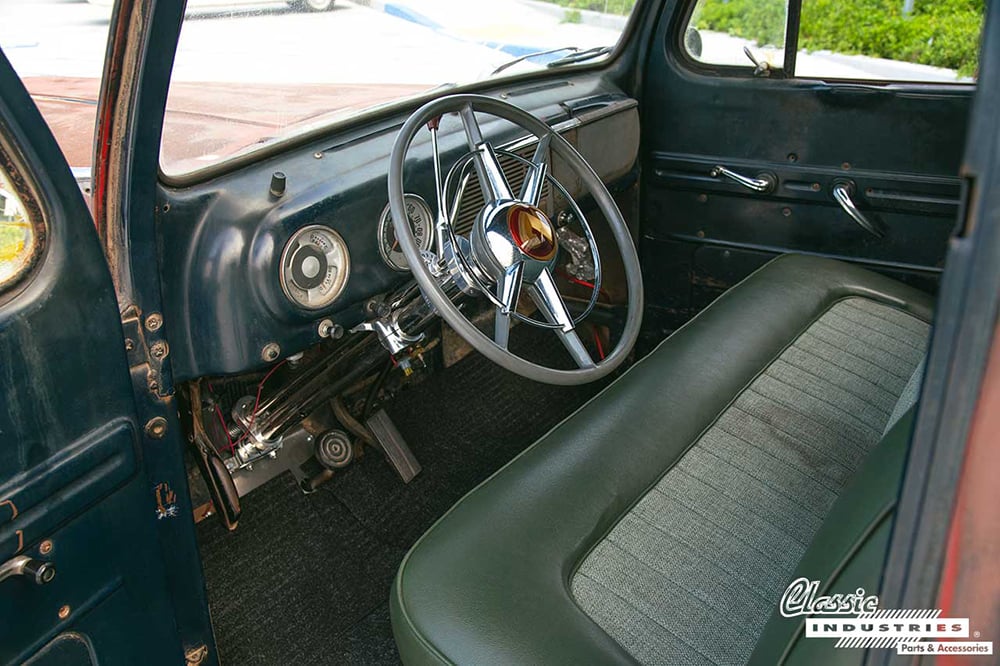 A couple of months later, with the stock Ford six-cylinder engine worn out and beyond rebuilding, Bobby again used Craigslist to find a 240-cubic inch Ford straight six for sale in Beaumont, CA. Around that same timeframe, he discovered a Ford C4 three-speed automatic transmission on a website called OfferUp that was in an old 1971 Mercury Comet. He installed these two Ford drivetrain finds in his new/old truck and had the F1 back on the road running strong by November of 2019.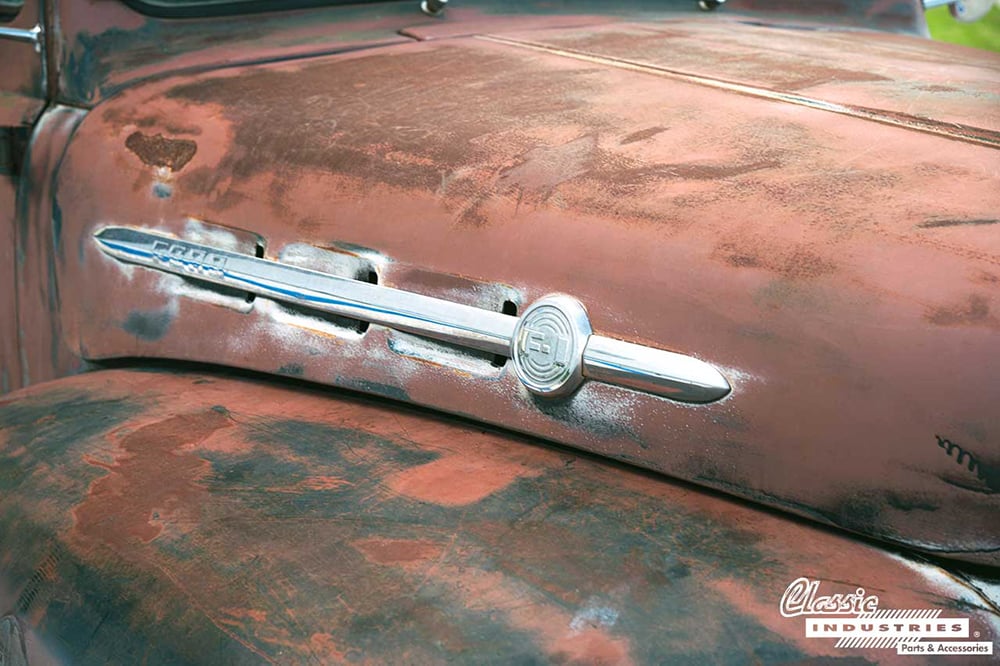 Bobby shared that he drove the F1 a little over a year with the original leaf spring suspension, which was well past its prime. In fact, the front leaf's were broken, and the ride was beyond rough. In February of 2021, he installed a whole new front and rear suspension into the pickup. Bobby selected an Air Ride Mustang II IFS and a two-link rear suspension system and purchased it from Jimenez Bros. Customs in Riverside, CA.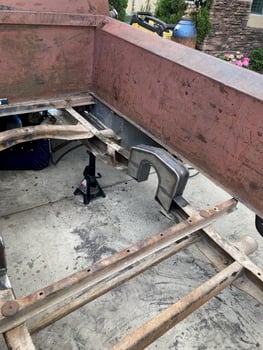 He cut out a section of the rear frame rails and welded in C-notch frame rail sections to accommodate the AirRide suspension system and being able to "lay frame". He then also rescued a Ford nine-inch rear end out of a 1973 Ford Ranchero, at Ecology Auto Parts Recycling Center, a well-known auto salvage yard in Santa Fe Springs, CA. Working on the suspension after work and on the weekends, after three months of wrenching away, the new suspension system was ready again to take on the open road, with Monroe-Matic Plus shock absorbers being installed to assist in smoothing out the bumps.
With the chassis set to rights, new rolling stock and tires would be the finishing touch. Bobby bought new 15" black powder coated steel wheels from the Wheel Smith in Corona, CA. Performance Plus Tires in Long Beach, CA provided the Firestone 5.60-inch wide with wide white sidewalls tires. The wide white spats add a bit of panache to Bobby's resto patina pickup and match the F1's horizontal and vertical front grille face perfectly.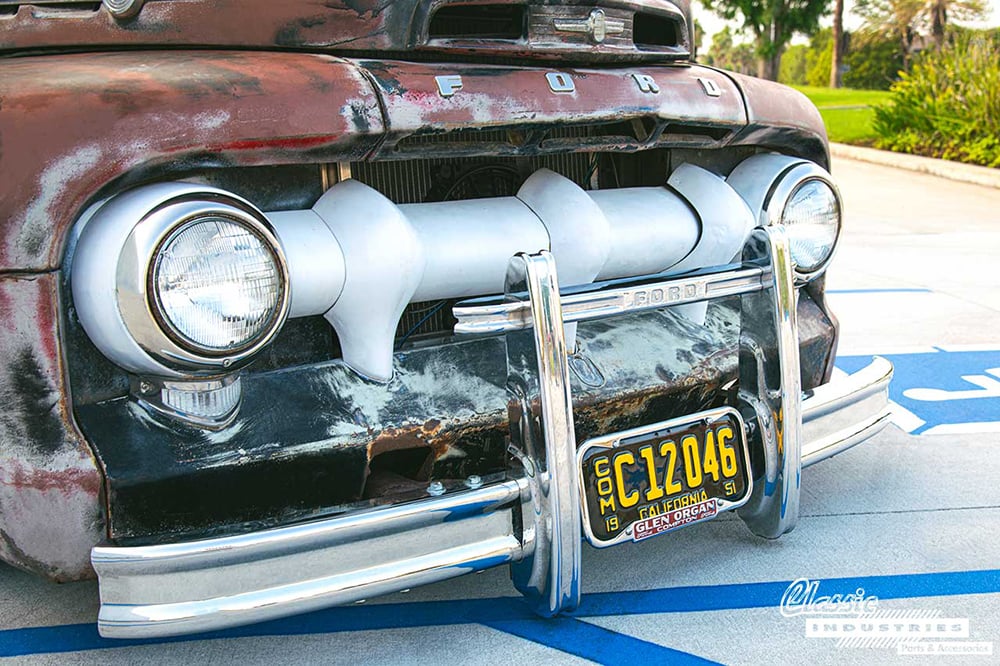 The owner found new chrome bumpers available on eBay. The Ford grille guard, license plate frame, and license plates (that predate the F1 by one year - 1951), he picked up at the Long Beach High Performance Swap Meet.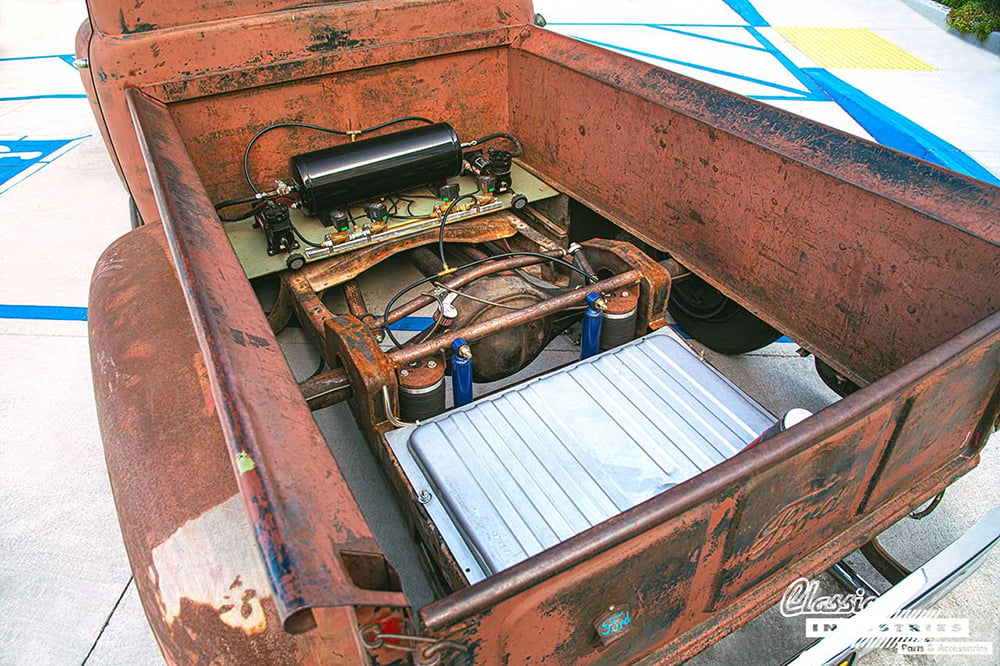 Magic's Auto Upholstery, in Bellflower, CA, sandblasted the F1's seat, painted, and upholstered the bench seat in green synthetic leather and sage green tweed. LimeWorks, in Carson, CA provided the Crestliner steering wheel and steering column.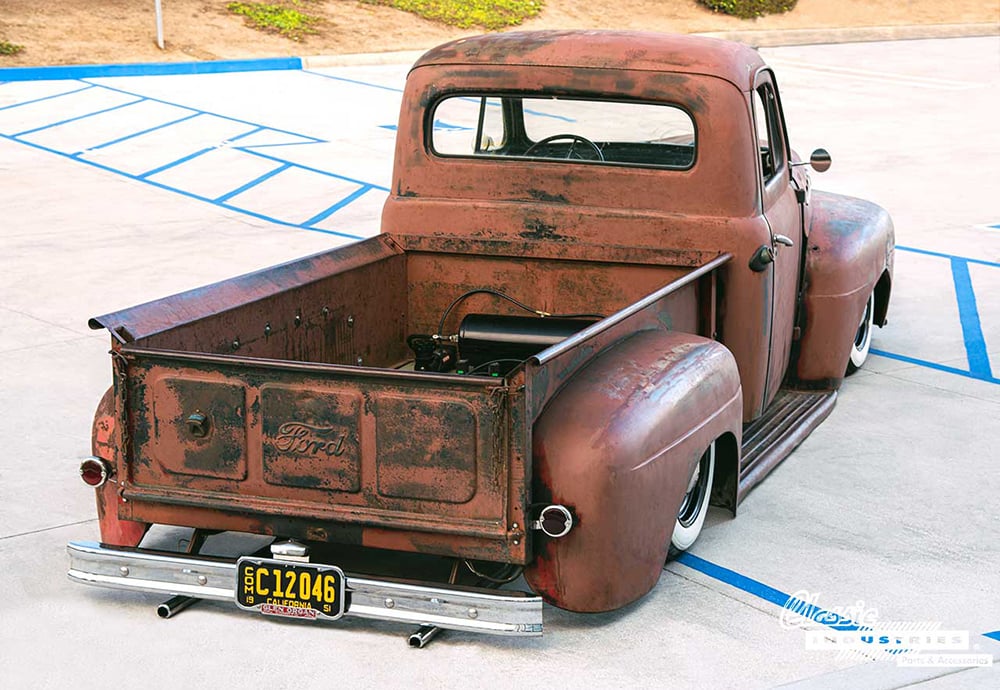 From start to finish Bobby's 1952 Ford F1 project took about two years to complete, 240-man hours of time, a fair amount of primarily Bobby's sweat equity, and another $8,000 dollars to purchase the new and used items. Considering the F1's way cool outcome, for a total monetary investment of $11,000 and Bobby's creativity and hard work, we'd say that's time and money exceedingly well spent.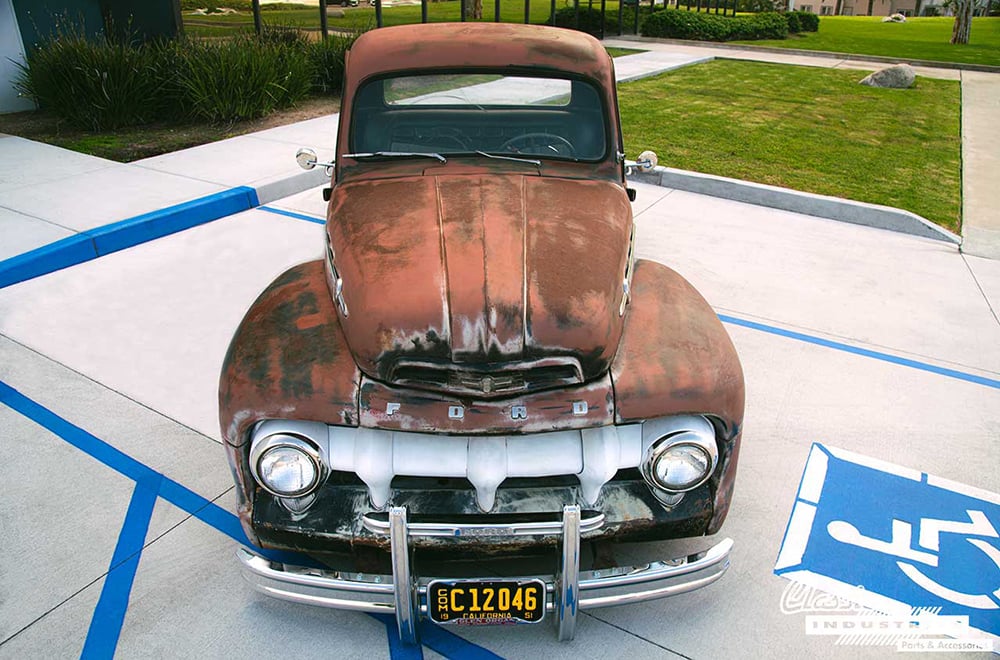 This humble scribe first saw Bobby's F1 at the Cruisin' for a Cure car show at the OCFair and Event Center, in Costa Mesa, CA, in September of 2023. Though his pickup is certainly in the resto patina category, and it was definitely outnumbered by fully restored and restomoded cars and trucks that were painted, polished, and prettied to first class results, the F1 was a total standout at the show. Bobby's 1952 Ford F1 is proof positive that you don't have to spend wheelbarrows full of cash and a seemingly endless amount of time to bring an old workhorse back to life and get her back on the open road for lots of leisure time hijinks. Kudos to Mr. Bobby Castorena and his pristine resto patina Ford pickup truck from 1952. Well done, sir!
Classic Industries Sells Ford Truck Parts
If you have a soft spot in your heart for those Ford hot rod haulers from 1932 all the way to 2017, and you'd like to build and/or buy one for yourself, Classic Industries can supply many of the components that you may need. To get started simply click here. Otherwise, you can click on the yellow button below to get taken to the same place.
Classic Industries Ford Truck Library
In addition to the Ford pickup parts that are being added to the Classic Industries warehouses of American muscle car and truck parts on a weekly basis, Ford pickup articles are also being written for the CI archives. Check them out, if you have some free time on your hands: