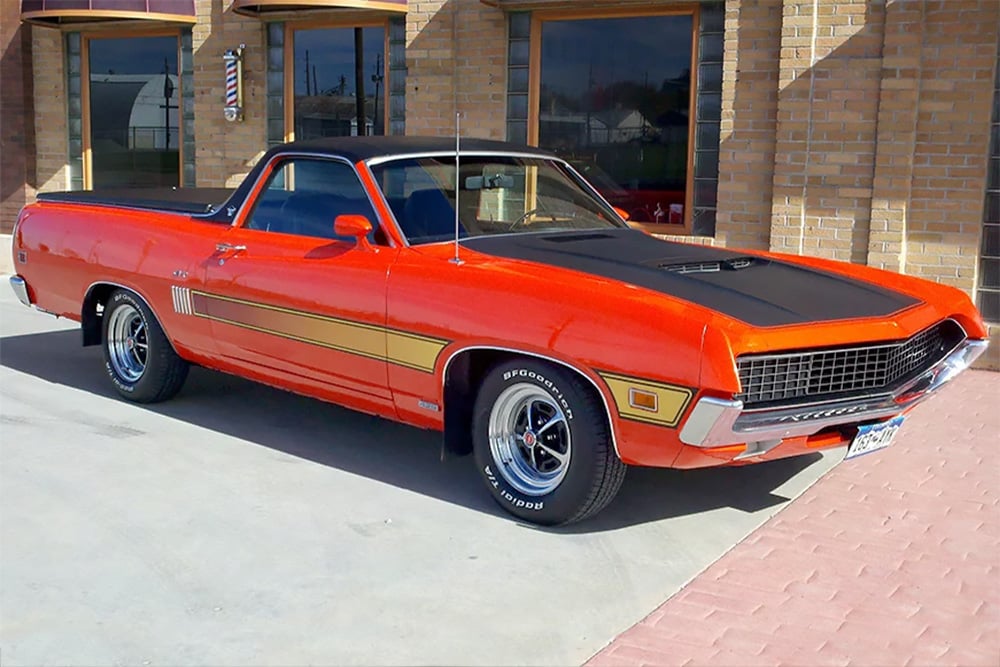 Ford introduced the Ranchero, a vehicle classified as a coupe utility, at the New York Auto Show on December 8, 1956. Though this was a new vehicle for the American market, some 22 years earlier Ford of Australia designer, Lew Bandt penned the first coupe utility in 1934. This was in response to Australian ranchers, who desired a vehicle that was rugged enough to haul livestock during the week and sufficiently elegant to go to church with the spouse on Sunday. This coupe utility became known as a ute in Australia. With a production run of 82 years (1934-2016), the ute was a smashing success down under. Read on as we take a look back at Ford Ranchero history from 1957 through 1979.
The lead photo above shows a Calypso Coral 1970 Ford Ranchero GT that has a numbers matching 429 CI V8 mated to a four-speed manual transmission. Don't you just love those hideaway headlights? (Photos Courtesy of Mecum Auctions, Inc.)
Ford Ranchero History
In comparison to the groundbreaking success of the Australian ute market, the Ford Ranchero had a much shorter and less lustrous run in the U.S., with a modest 508,355 units sold from 1957-1979. However, there were certainly some cool vehicles created during this 22-year production run, and many of them are still prized by classic car enthusiasts today.
First Generation: 1957-1959 Ford Ranchero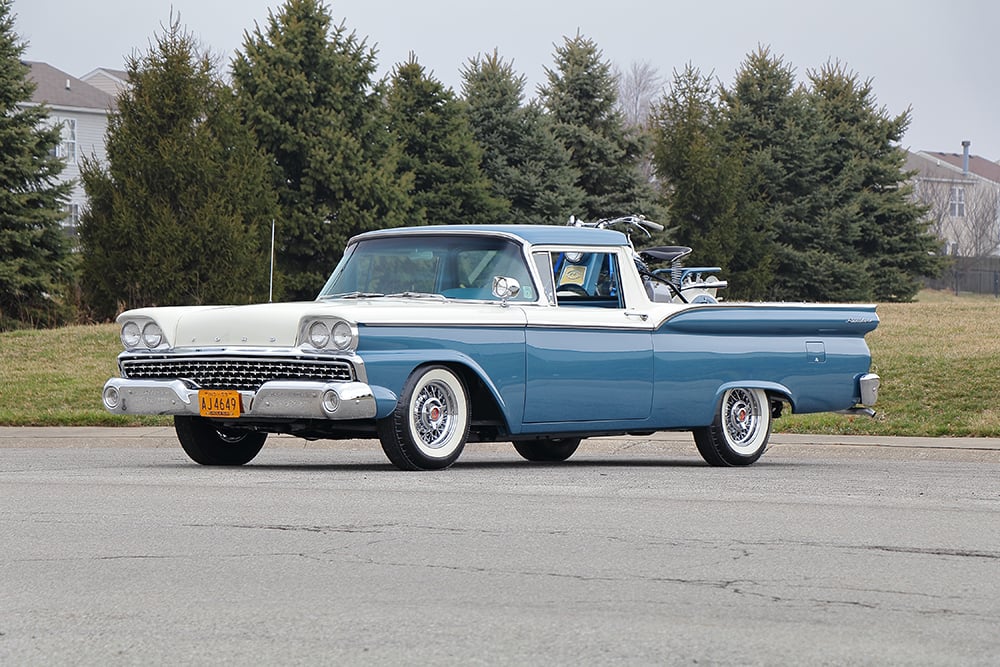 This 1959 Ranchero is powered by a 352 CI V8 and backed by an automatic transmission. The ute received a nut-and-bolt restoration by Ray Skillman Classic Cars and is believed to have 31,005 miles. There's a Cushman Scooter in the pickup bed that was painted to match the Ranchero. Nice!
The Ranchero's underpinnings began with the chassis of a full-size two-door Ford station wagon, the Ford Courier. It was basically a Courier with an open-top truck bed, and although it was built on that car's assembly line, it was sold as a truck. Two variants were available: the Standard base model, which was designed for pure utility, and the Custom, which offered two-tone paint and upgraded accessories from the Ford Fairlane line.
Second Generation: 1960-1965 Ford Ranchero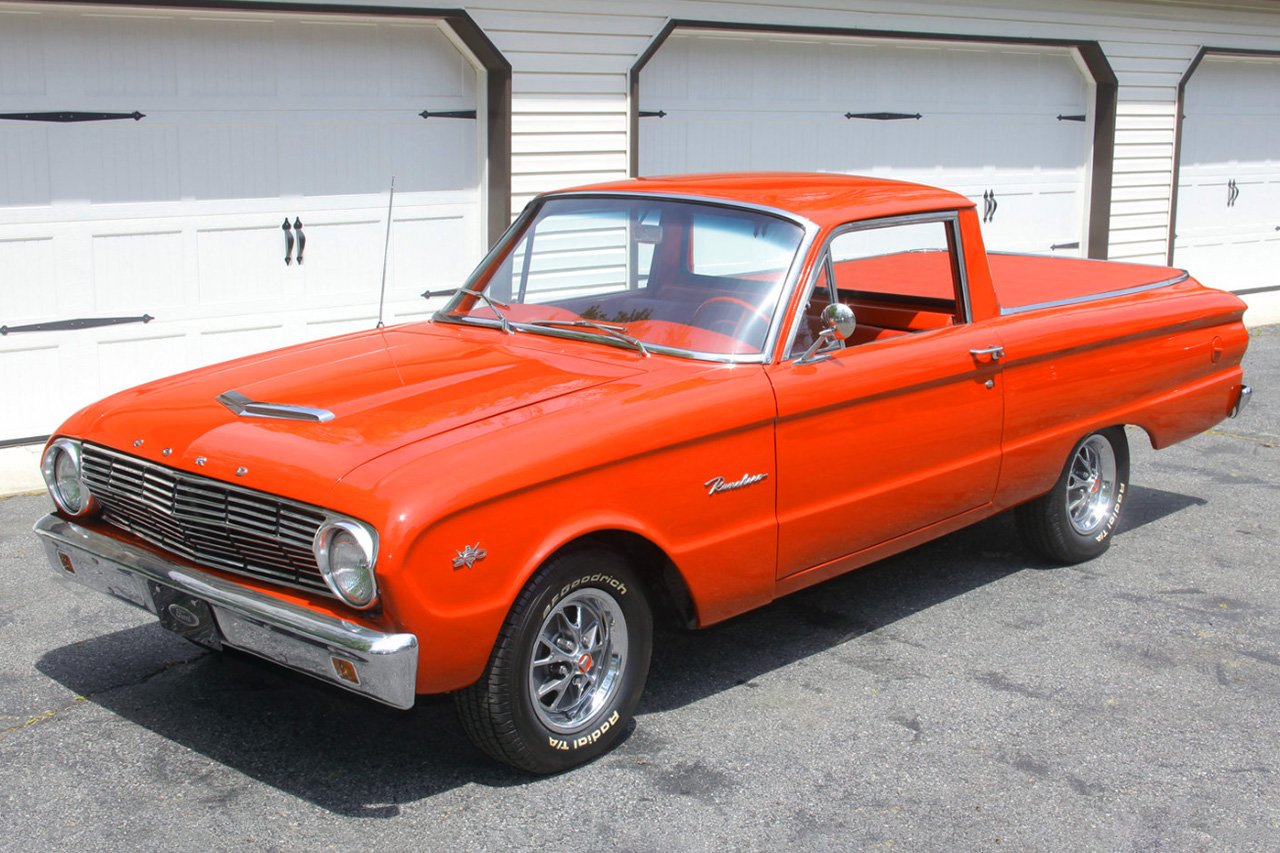 The restored 1963 Ford Falcon Ranchero seen here features a 260ci V8 engine, four-speed manual transmission, and air conditioning.
In 1960, the Ranchero went from a full-size car to a compact car, by utilizing the recently-introduced compact Ford Falcon. The Falcon was Ford's answer to the recession that the U.S. endured in the latter 1950s and American families desire to purchase an economical, fuel thrifty second car at that time. The Ranchero remained a compact car through 1965.
Third Generation: 1966-1967 Ford Ranchero
The 3rd generation of the Ranchero lasted just one year, 1966-1967, as the Falcon and Fairlane were re-engineered onto the same platform. In essence though, there were two distinct model years in that span of time. While the '66 Ranchero wore a Falcon grille, front sheet metal, and interior trim, the late '66 model and through 1967 Ranchero sported a Fairlane front clip, with the stylish vertically stacked headlights, Fairlane interior appointments, and trim. Ford branded this model the Fairlane Ranchero, and added a 390-ci big block V8 to the cadre of engines available.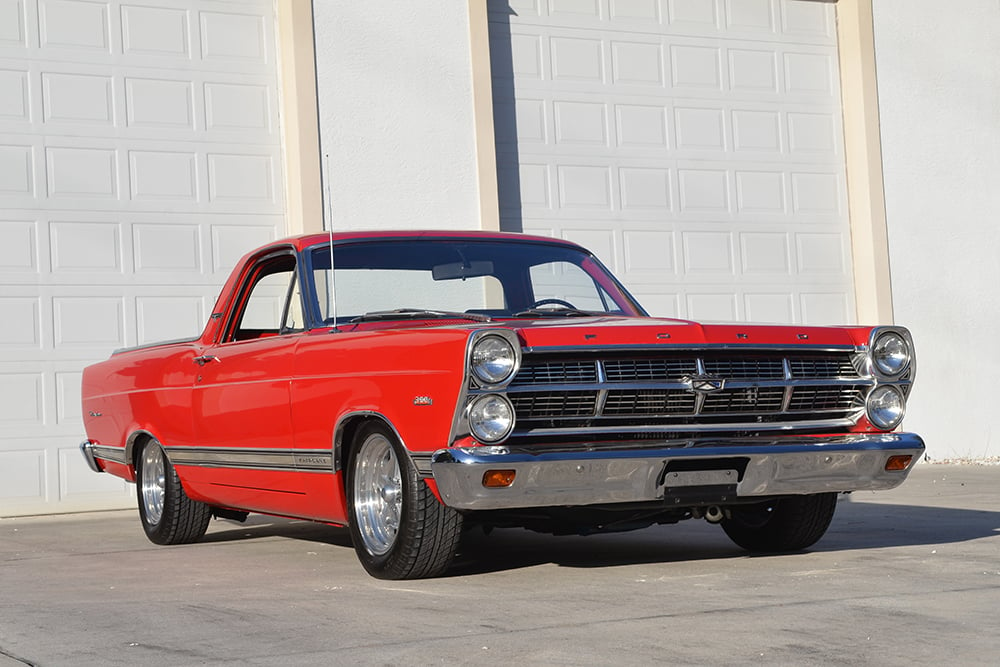 The stance of this third generation 1967 Ranchero is superb. There's a 390 CI V8 under the hood that's attached to a three-speed automatic.
Fourth Generation: 1968-1969 Ford Ranchero
For the 4th generation (1968-1969), the Ranchero grew a bit yet again, since it shared the new larger Fairlane Torino model's more angular and muscular looks. The muscle wasn't just on the surface, either. Three more V8 powerplants, with two small blocks, 302 and 351 Windsor's, and a 428 big block were added to the 250 ci straight six and 289 ci V8 to complete the engine lineup at that time. Three- or four-speed manual transmissions or three- and four-speed automatics could be selected to back the aforementioned powerplants.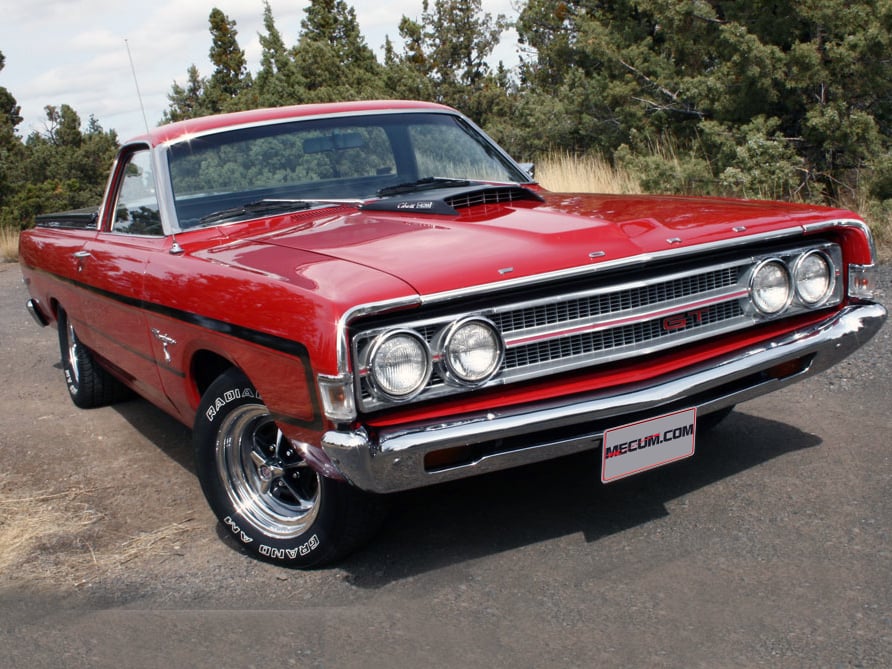 Every generation of the Ranchero looks great. Here's a fourth generation 1969 Ranchero that is powered by its factory R code 428 CI Cobra Jet engine and fed by a Ram Air induction system. A four-speed manual transmission makes the gear changes fun and sporty.
Fifth Generation: 1970-1971 Ford Ranchero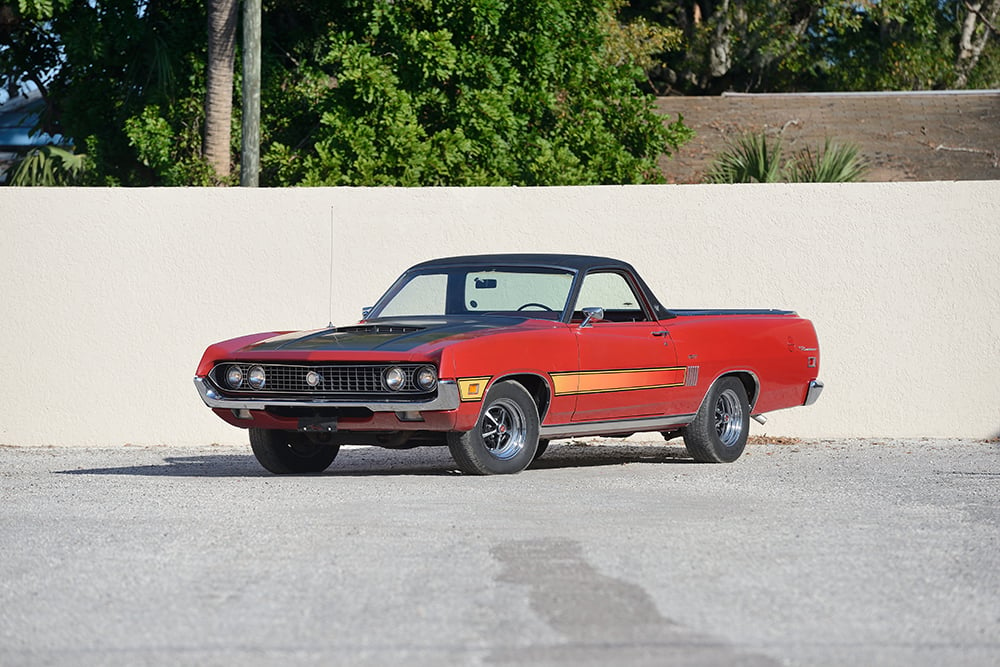 A 351 CI V8 Cleveland engine powers this fifth generation 1970 Ranchero.
Exterior styling changed yet again for the 5th generation Ranchero (1970-1971). Ford designers went with the Torino's aerodynamic grille and front end with a coke bottle styling influenced racy silhouette. Customers could even opt for hide-away headlamps in the grille and a large hood scoop, which was a standard item on the Torino GT.
Sixth Generation: 1972-1976 Ford Ranchero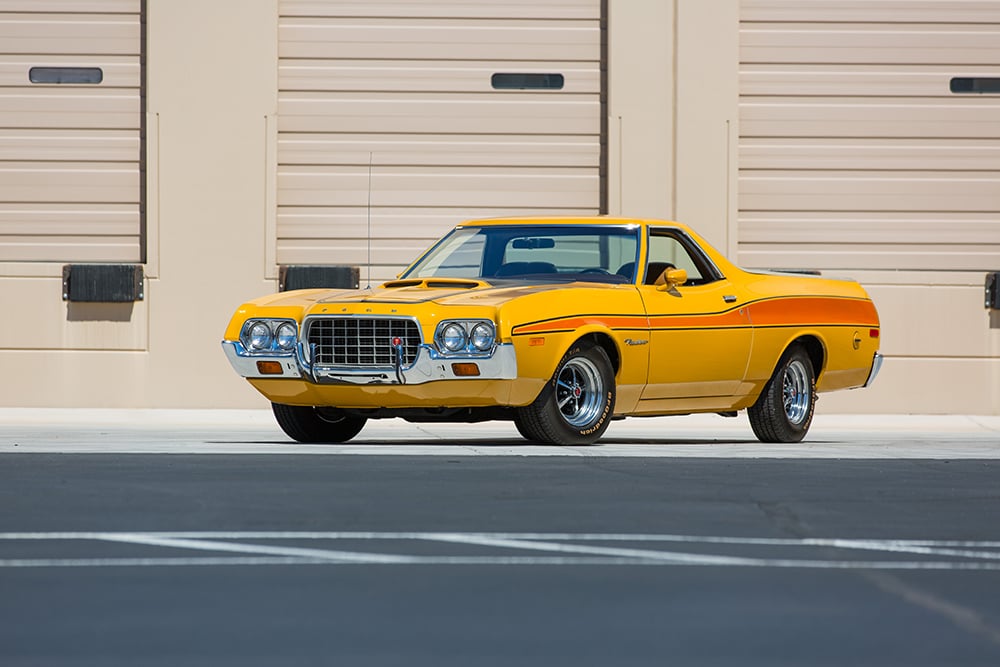 This sixth generation 1972 Ranchero is well-equipped with a 351 CI V8, a C6 automatic transmission, power steering, power brakes, air conditioning, and a stereo AM/FM 8-track player.
Styling of the 6th generation (1972-1976) changed yet again. Ford transformed the Torino and Ranchero from more aerodynamic and sleek to more prominent and muscular. The semi-oval egg crate shaped grille evoked images of a jet engine's intake, and the Ranchero was back to being a body on frame design.
Sixth Generation: 1972-1976 Ford Ranchero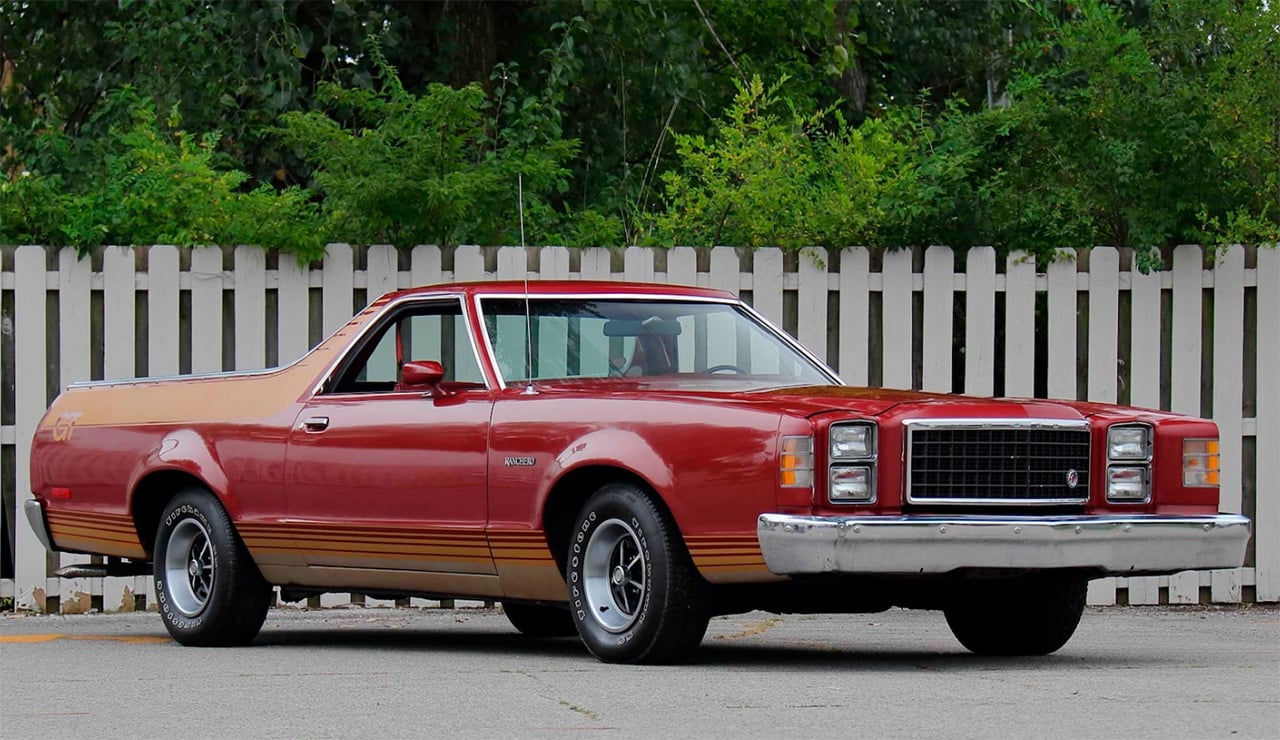 Here's a restored 1978 Ranchero GT, featuring a 351ci V8, automatic transmission, and red paint with gold graphics.
Because Ford ended Torino production after its 1976 model year, the 7th and last generation (1977-1979) Ranchero shared the Ford LTD II's styling and mid-sized platform from the defunct Torino. Due to a shortage of oil and an increase in government restrictions, cars were getting smaller at this time. Ford ended the Ranchero's production after the 1979 model year and went on to manufacture smaller, more fuel-efficient cars and trucks like the Ford Ranger pickup truck.
More Ford History Articles
Fans of classic Ford vehicles should be sure to check out some of our articles about the history of other Ford models:
Need Ford Ranchero Parts?
All seven generations of the Ford Ranchero were stylish, multi-purpose, well-built vehicles that could work hard five days a week and could whisk you and your significant other away for a weekend for an all-too brief vacation, and then do it all over again the next seven days. Should you have a Ranchero that's in need of restoration or maintenance, you can Shop Ford Ranchero 1957-1979 Parts at Classic Industries.