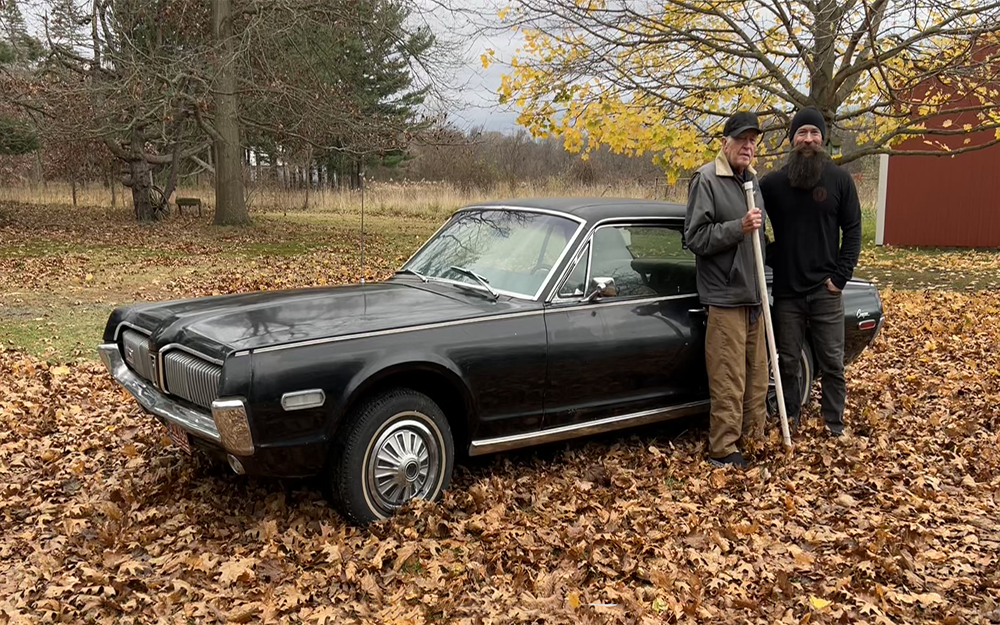 Waylon Krumrie has been a classic car enthusiast since he was seven years old. His pony car passion began when he first saw his grandfather, Rex Krumrie's, 1968 Cougar XR-7. The elder Krumrie purchased the Cougar from his former boss way back in 1971, when the cat had just a scant 30K miles. Waylon's grandmother, Sallye, mainly drove the car.
"I can remember being seven or eight years old and admiring this car, peeping in the garage whenever I could to imagine it rolling down Michigan back roads. I'm 41 now, but I know this is the car that started it all for me. Fueling the fire was the fact that my father, Douglas Krumrie, worked in a body shop and always had a cool classic around. I can remember Galaxies, Mustangs, Thunderbirds, and Camaros always being around," recalls Waylon.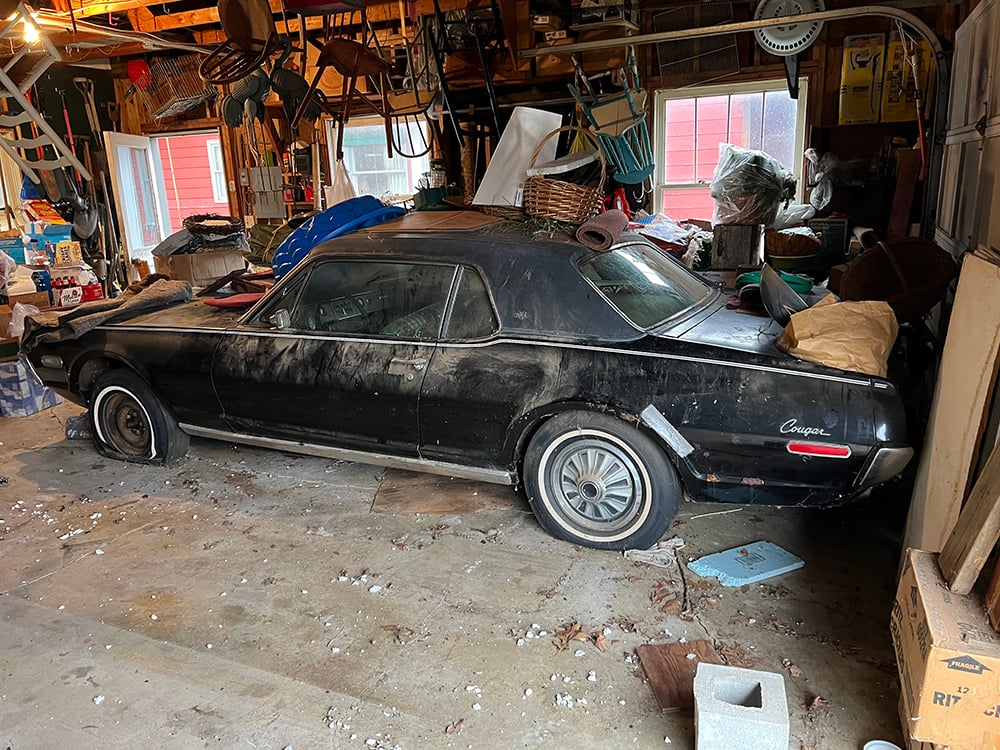 The car was parked and stored in his grandparents' Michigan detached garage in 1977. There the Cougar slept until roughly 1998, when Waylon pulled up in his 1970 Cutlass and saw his grandfather had pushed the car out for a wash and to show it to him.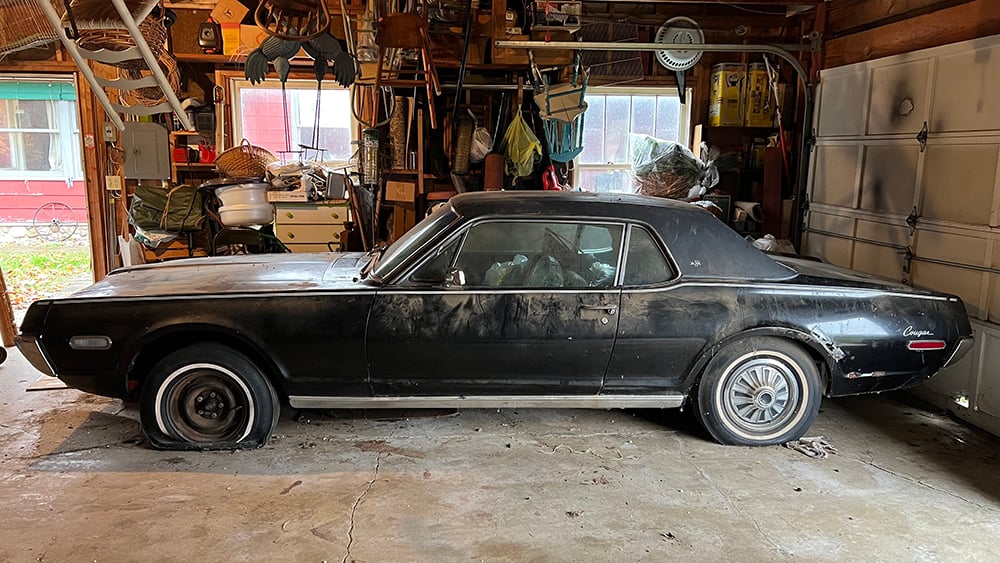 Waylon's grandfather called him last year and offered to give the car to him, if he could drive up from his Georgia home and retrieve the Cougar from its man-made cave. With excitement and disbelief on his 41st birthday weekend, Waylon raced up to Michigan with his empty trailer in tow.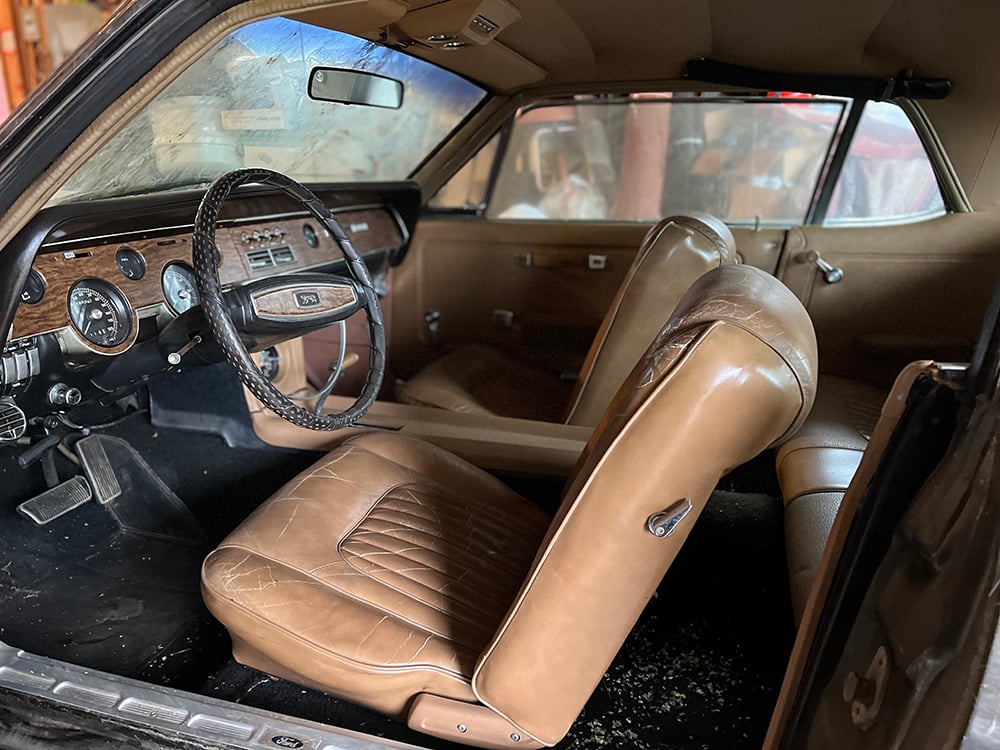 He made quick work of the items that had been 'temporarily stored' on the car that freezing Michigan winter day and had the 1968 Cougar and its cellmate, a 1986 Cougar ready to see daylight. His grandfather was thrilled to see the cat out in its natural habitat and looking a bit like its former self. After snapping one frozen hose in half, Waylon was able to get some water flowing and some dish soap to give the elderly cats a bath. "The photo of the cars sitting side by side was right after I washed them and right before it started snowing," said Waylon.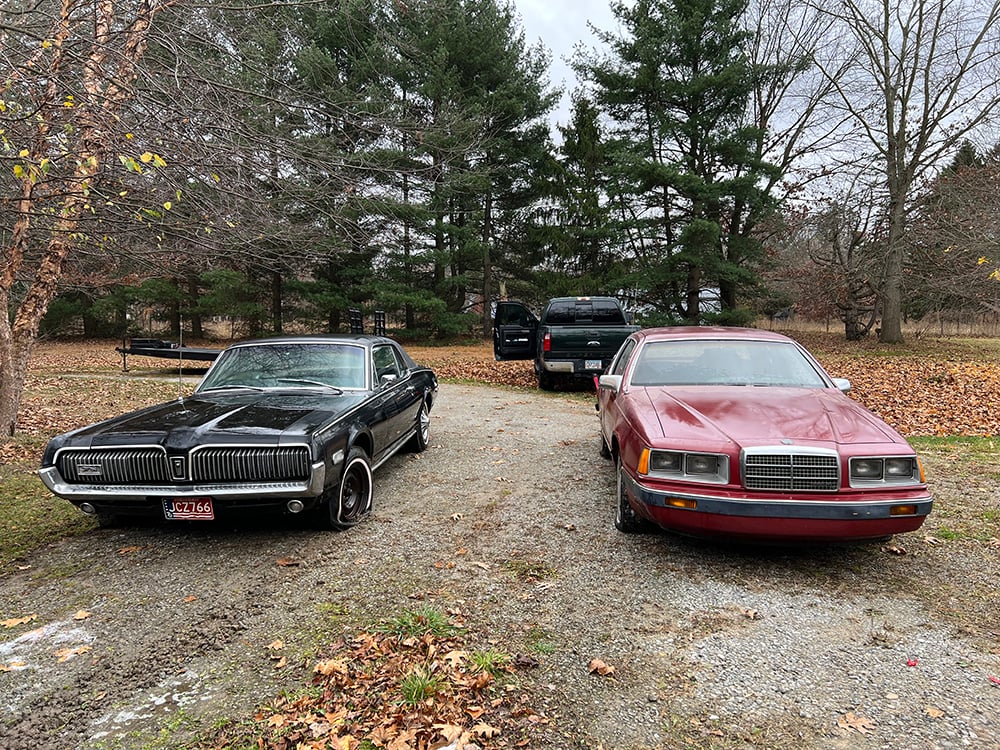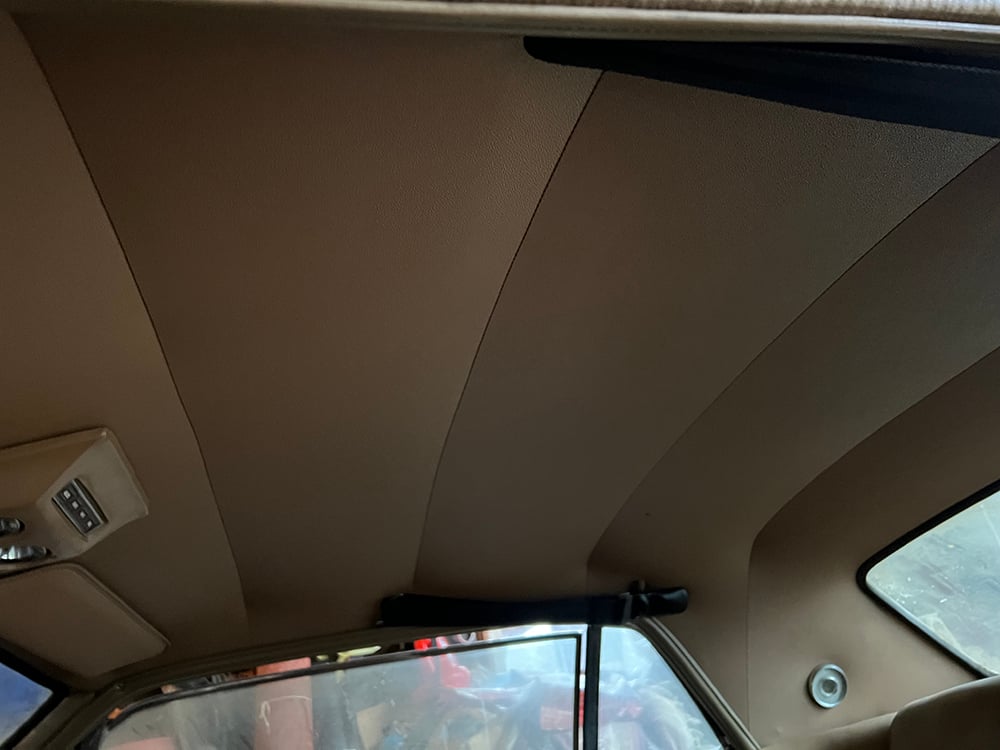 Waylon's favorite hobby is detailing and polishing cars inside and out. Before he dove under the hood, he wanted to get the original single stage paint back to as much of its former glory as he could. "It was so rewarding to start seeing my reflection come through that black paint job. I'd be lying if tears were not shed as I stood back and viewed the car after that first polish," recounted Waylon.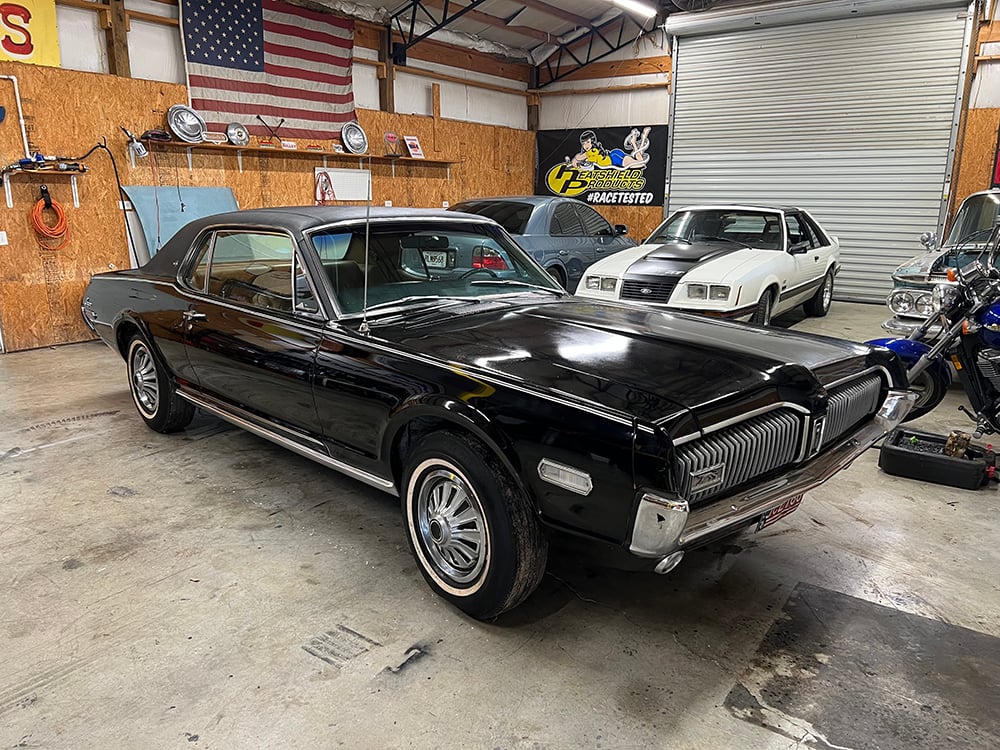 The interior is a time capsule - with the installation of a fresh battery, all interior lights, dash lights, and radio turned on with the single push of the switch.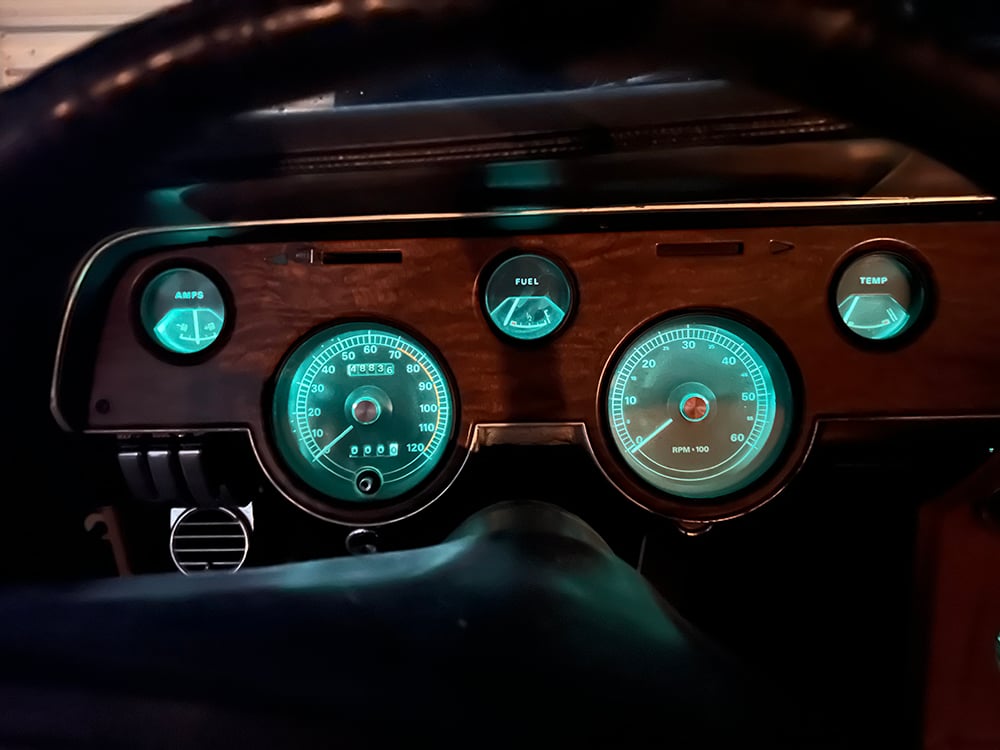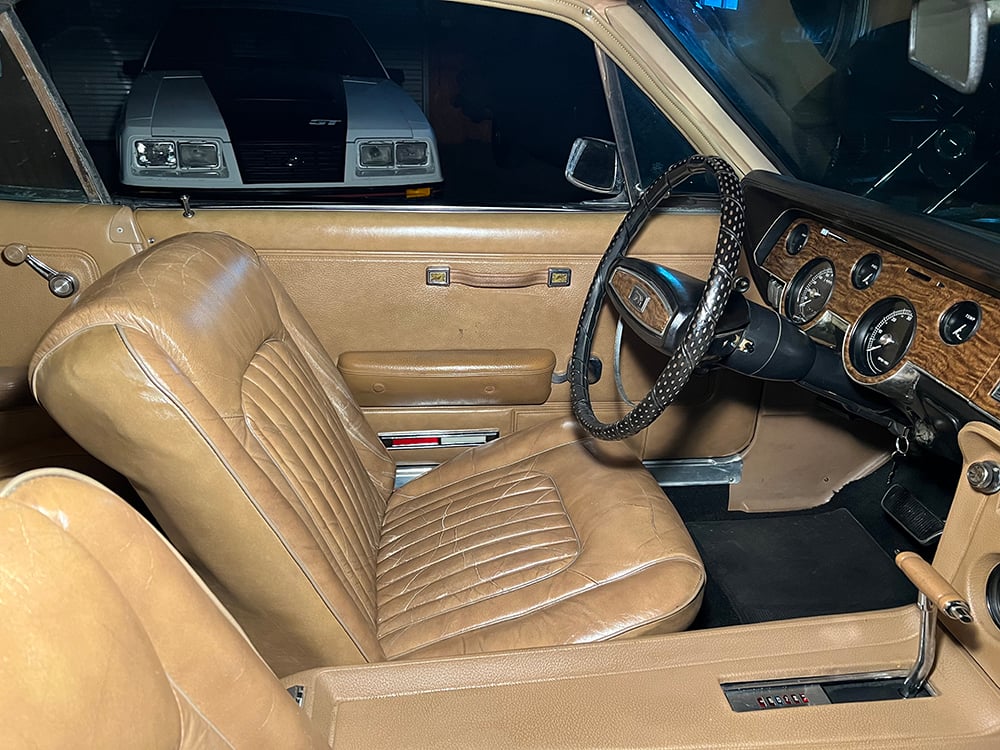 The 48K mile car still had the dealer floor mat on the passenger side. In the glove box, was his grandfather's registration from 1977, which also included a '73 F100, a '72 Buick LTD, and a 73 Maverick. There were also bills for all of the Cougar's documented oil changes, which totaled a whopping $12.
After rebuilding the two-barrel carburetor atop the 302 V8 and replacing the standard items that had aged over time, Waylon got the cat breathing its first breath in 45 years on just the second day he had her home. Waylon recalls, "It was late at night, but I made sure my first call was to my grandfather to let him know his Cougar was once again on the prowl. The Cougar has a long way to go before she's back to being roadworthy. My original goal was to have the car back on the road by springtime, but a recent weightlifting injury I suffered will more than likely set that goal out a bit more."
Rex and Waylon wish to keep the car original. Waylon's brother-in-law, Jim Burkhart, owns Rivermont Paint & Body in Hixson, Tennessee. "He'll repair the minor rust that set in, but the original single stage paint will stay. I want this car to look, sound, and feel like a time capsule back to 1968," Waylon shared.
Rex told Waylon the car was always arranged for him to inherit. "It means the world to me to get the car from my grandfather himself, to be there together when it was brought out of hibernation, to get these photos together. And hopefully I'll be able to get it roadworthy and back up to Michigan (in the SUMMERTIME next time) to take Rex for a ride in his Cougar. This car will remain in my family for generations to come, but it'll always be Rex's car."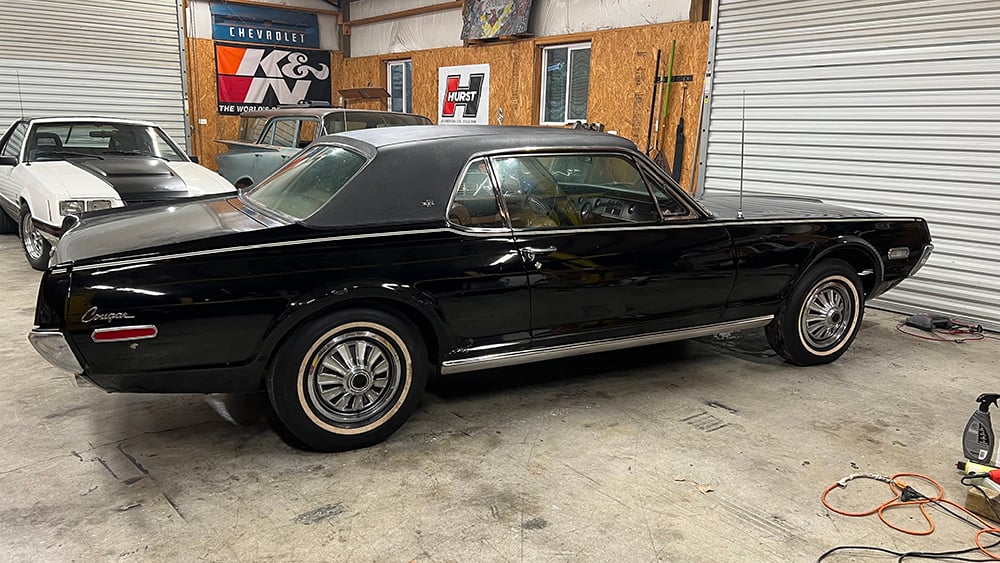 Classic Industries Sells 1967-2002 Cougar Parts
Whether you're like Rex, Sallye, and Waylon, and you intend to keep your Cougar prowling the pavement as a time capsule, or you wish to restore or resto mod your stylish cat, there's a great chance that Classic Industries can help you. Mercury Cougar restoration, customization, and performance parts can be found by following this link: Shop Mercury Cougar 1967-2002 Parts.
More Mercury Articles
Would you like to learn more about the Mercury Cougar and other Mercury vehicles? Check out some other Mercury articles in the Classic Industries Library below: