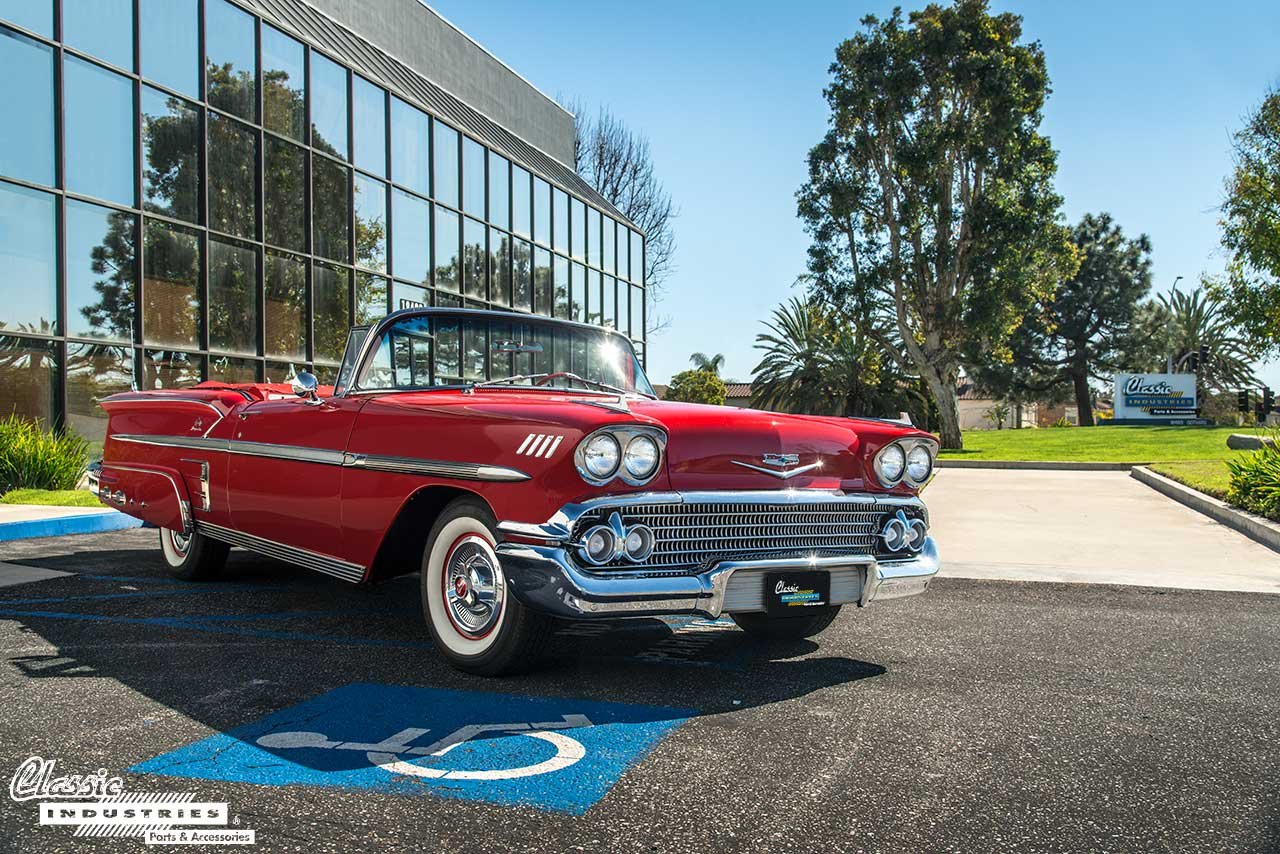 The Chevy Impala is a timeless classic that's beloved by many different groups of car enthusiasts. These include purists who carefully restore every bolt to original condition, hot-rodders who want to squeeze every last bit of horsepower out of their engines, and lowriders who build them into custom cruisers with dazzling paint colors. From the day this model was launched in 1958 to its transformation into a stealthy four-door muscle car by 1996, the Impala has had something for everyone. Today, we'll take a look back at five Chevy Impala builds that have been restored and modified using parts from the Classic Industries Impala / Full-Size Chevy catalog.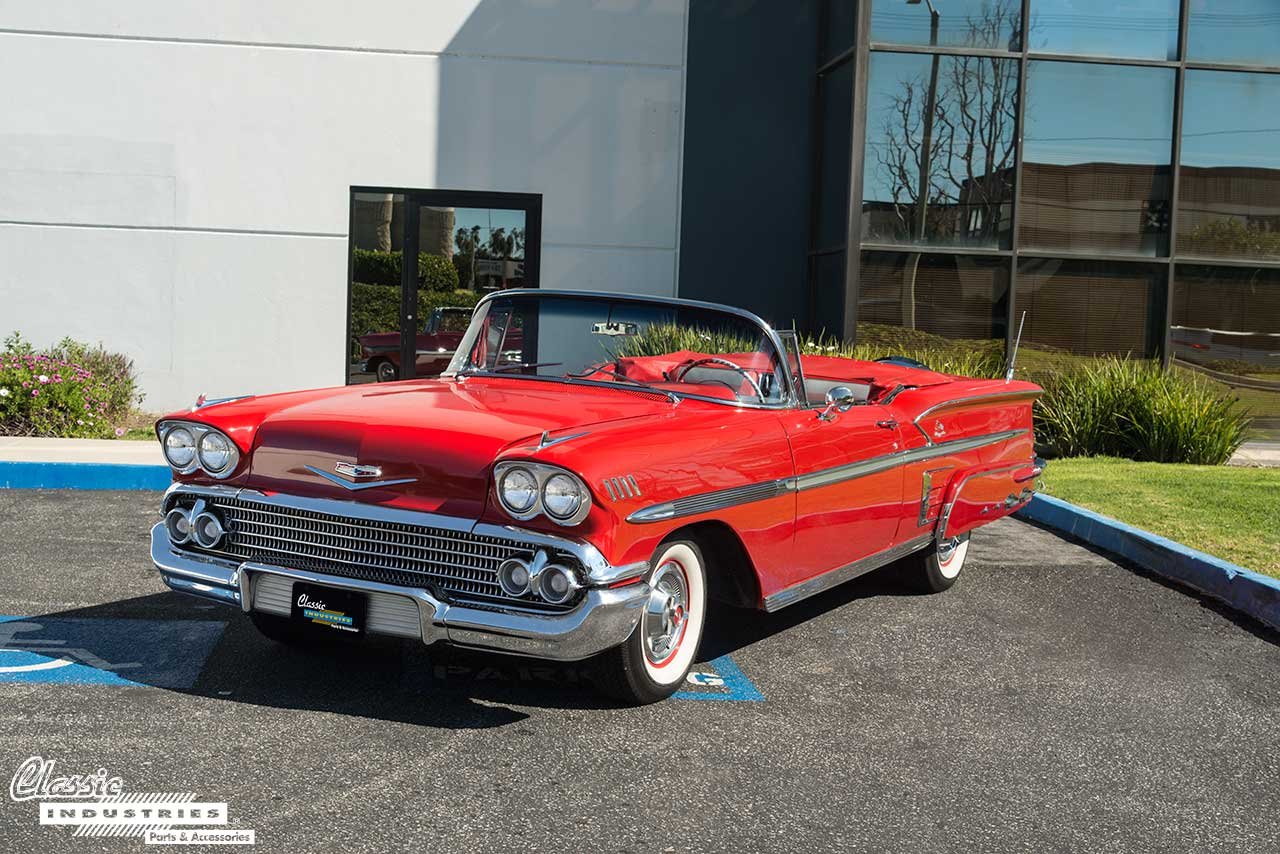 It seems fitting to start at the beginning, so the first of these vehicles is a stunning red '58 Impala convertible. Its owner, Mike Hidalgo, of Inglewood, California, completed a full frame-off restoration after purchasing it. After repainting the sheetmetal panels in glossy red, he installed reproduction chrome bumpers, grille, emblems, trim, headlamps and tail lamps. A new vinyl convertible top covers the immaculate interior, which features reproduction seat upholstery and carpet. Click here to read more about Mike's '58 Impala.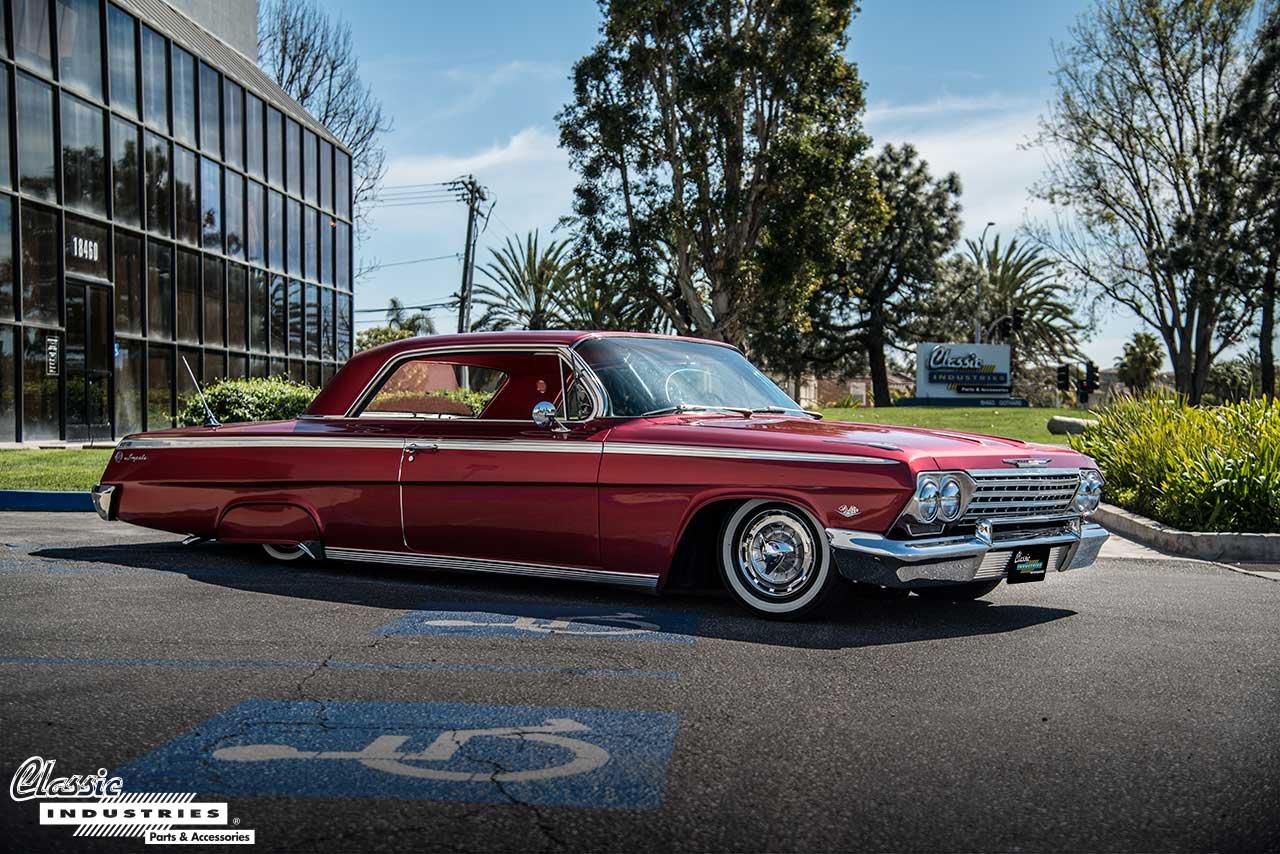 Just four years later, the 1962 Chevy Impala had already changed drastically. Its ornate, aircraft-inspired fins and curves were streamlined into a sleeker, more angular design. Sammy Covarrubias, the owner of this '62 Impala SS, inherited it from a family member and plans to pass it on to future generations someday. He restored it and added some modifications to suit his taste — maroon metallic paint, fender skirts, adjustable air suspension, and some performance upgrades for the 283ci V8. Read the full story about Sammy's '62 Impala here.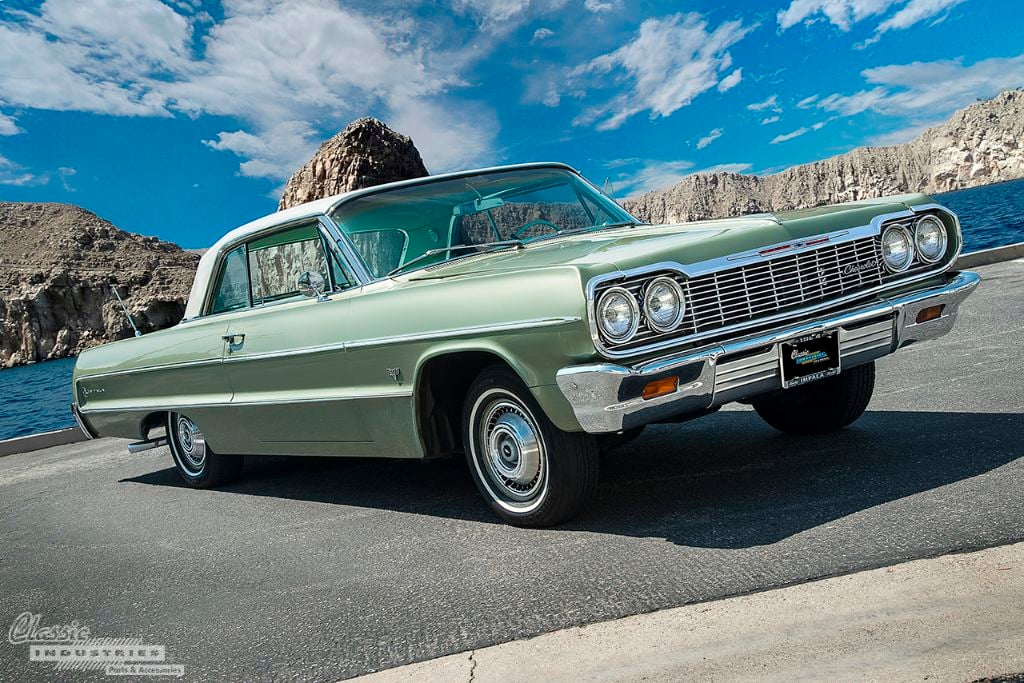 Although the 1964 Chevy Impala is one of the most popular among lowriders, hot-rodders, and others who wish to heavily modify their vehicles, there are still those who keep them looking all-original. Jonathan Pompey spotted this '64 Impala while walking his dog, and after several years of asking the owner to buy it, was finally able to purchase the car. He then fully restored it, from the chrome bumpers and sparkling green paint to the original-style interior upholstery, door panels, and carpet. Click here for more photos of Jonathan's '64 Impala.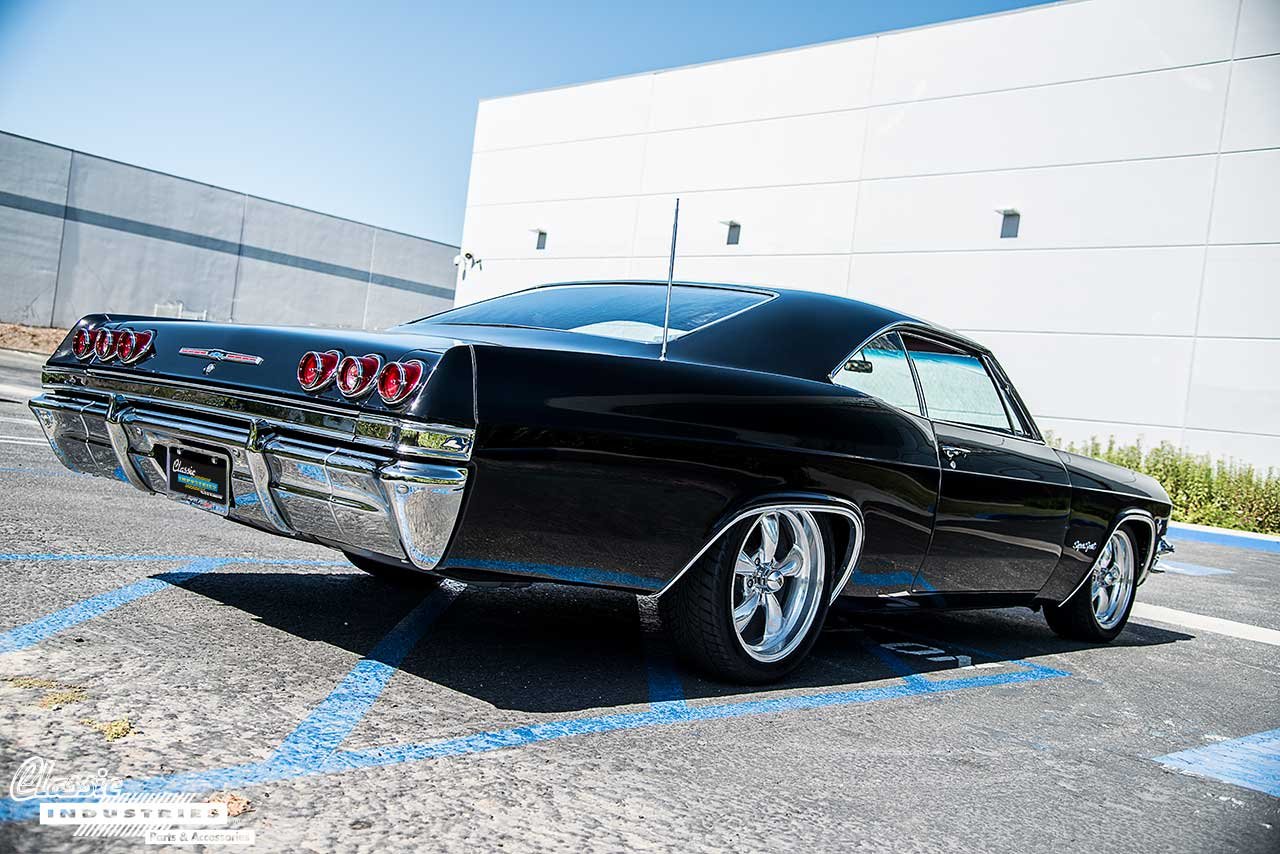 The following year, the Chevy Impala underwent yet another complete redesign, resulting in an even more muscular look. Francisco Ferrer loved this style, especially when paired with sinister black paint and a lowered suspension. So, that's exactly how he built his 1965 Impala SS. It rides on 5-spoke Rev wheels with drilled and slotted disc brakes, a modified 327ci V8, and a TH-700R4 transmission. Click here to read more about Francisco's Impala build.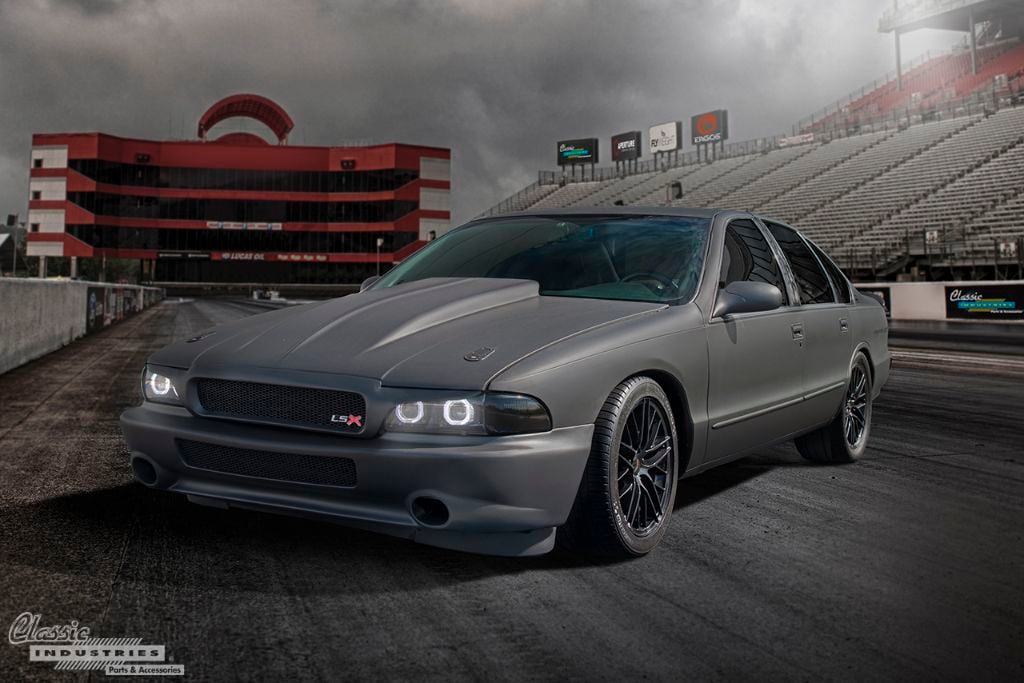 Even though the original production run for the Chevy Impala SS spanned from 1961 to 1969, the Impala SS name was revived in 1994 to create a vehicle that would develop its own cult following. The 1994-1996 Impala SS was an aggressive four-door muscle car, and the 1995 Impala seen here takes that muscle to a new level. Eric Vanwaardenburg swapped the 5.7L LT1 motor for a monstrous supercharged LSA engine and 4L80E transmission from a Cadillac CTS-V. This setup produces 715 horsepower at the crank, but Eric says he still drives it on the street frequently. For more details on this havily-modified Impala SS build, click here.
If you own a classic 1958-1996 Chevy Impala or other Full-Size model, such as the Caprice, Biscayne, or Bel Air, check out the Classic Industries Impala / Full-Size restoration parts catalog. It contains thousands of items that can help you restore your classic car from bumper to bumper, inside and out. Click the button below to get your free full-color catalog.