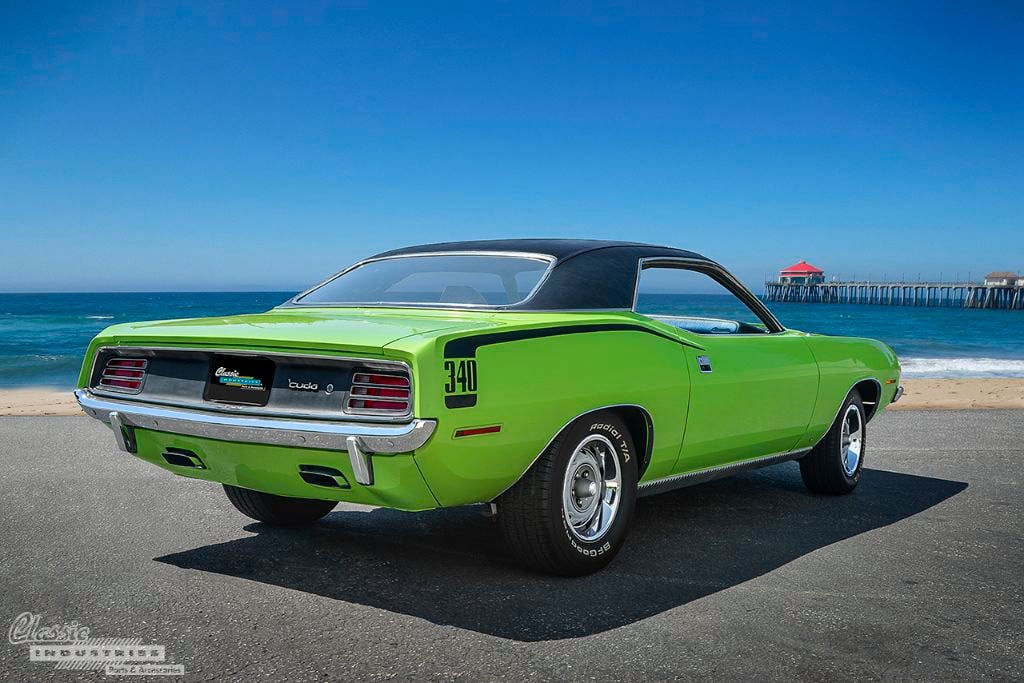 The late 1960s and early 1970s were a groundbreaking time for American culture, music, and of course cars. Many consider this to be the pinnacle of the muscle car era, a period when vehicles were getting wilder than ever before, with aggressive styling, raucous V8 engines, and eye-catching color schemes. Mopar cars were at the forefront of this movement, and have become famous for their High-Impact colors that debuted between 1969 and 1971. Today, we'll be looking back at these High-Impact Mopar paint colors, as well as the meanings behind their creative names and the years they were available.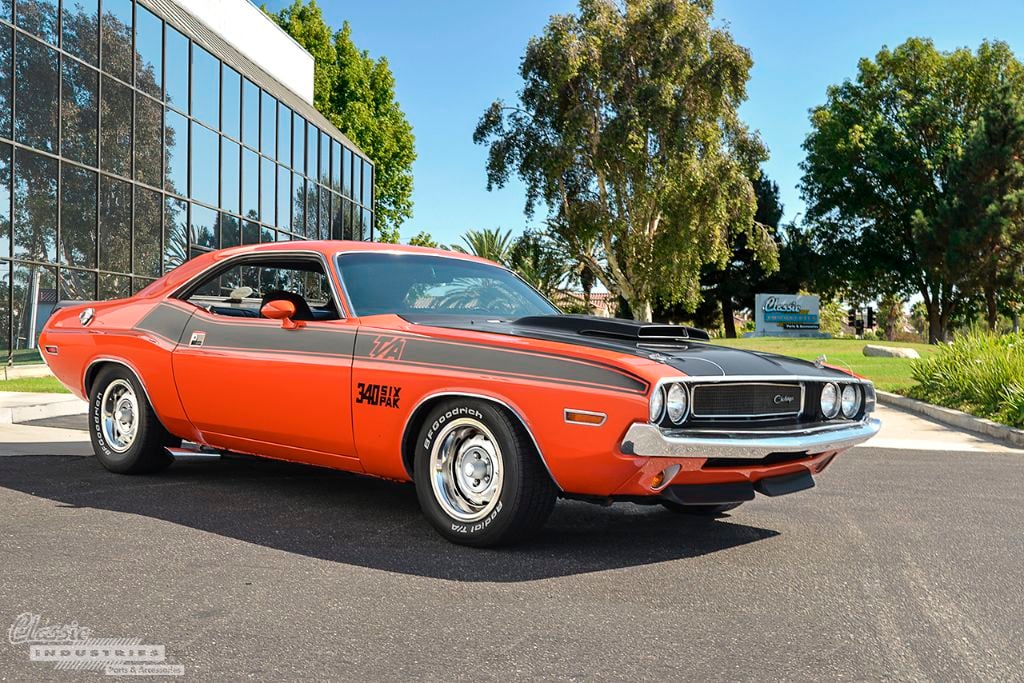 The three-character identifier for each color below will be found on a vehicle's fender tag, indicating the color that it was originally painted. Color codes beginning with an E were released in 1969, F were released in 1970, and G were released in 1971, although many were available for several years after their release. In cases where colors were special-ordered, the fender tag may read 999.
Note: Dodge and Plymouth had their own names for each of these colors, but the paint code was the same across both brands. For example, you might hear someone incorrectly refer to the color of a Road Runner as Plum Crazy, but that name was only used on Dodge models — Plymouths used the name In-Violet, even though it was technically the same color.
The reference photos below are courtesy of Mecum Auctions.
EF6 Mopar Paint - Bright Green / Rallye Green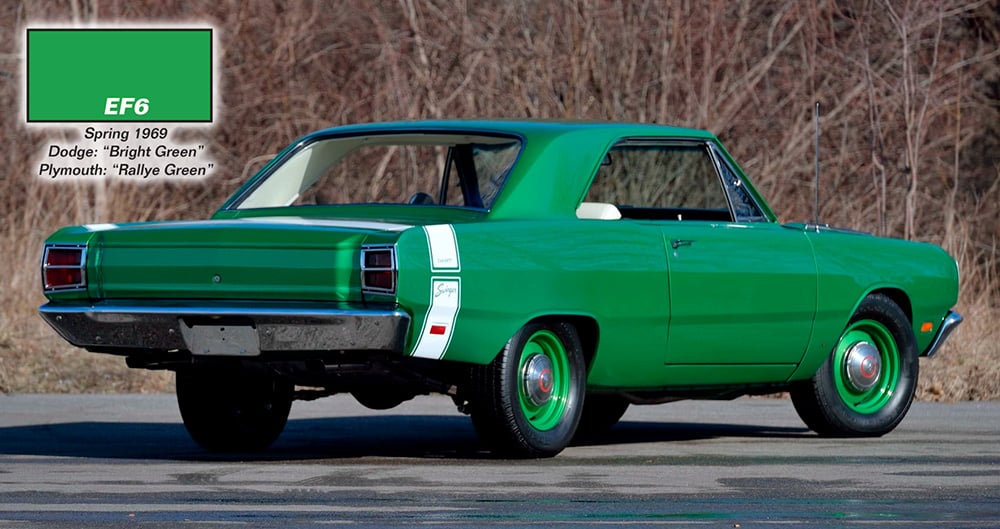 Available: Spring 1969 only
One of the first of the High-Impact Mopar paint colors, this vivid green hue was released in Spring of 1969. It was only available for a short time, making it a rare find. Dodge referred to this color as Bright Green. For Plymouth models, it was referred to as Rallye Green; some sources indicate Plymouth cars painted this color were coded 999 to indicate a special-order color code.
EK2 Mopar Paint - Go-Mango / Vitamin C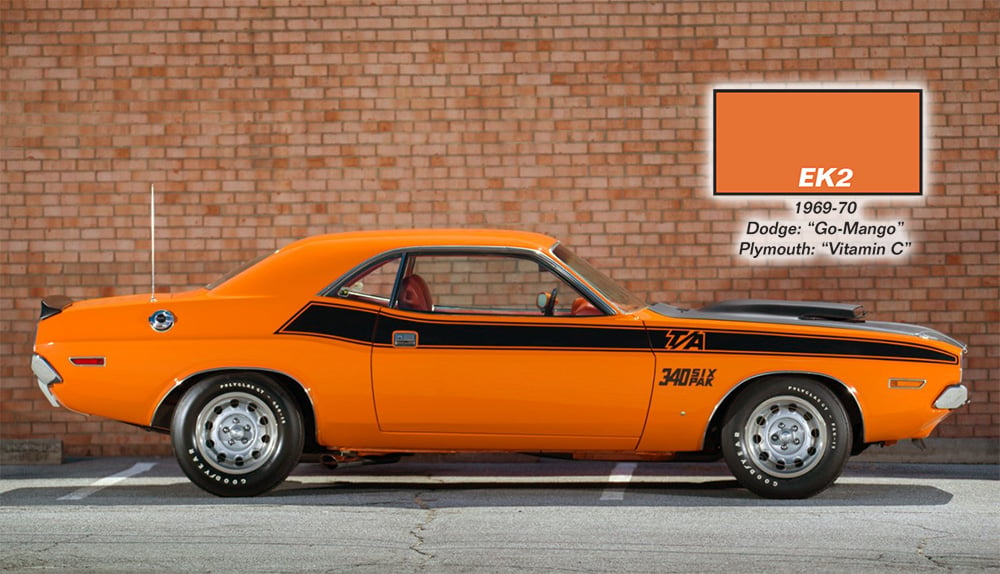 Available: 1969-70
This bright orange hue was available for two model years, and featured a pair of delicious-sounding names inspired by fruit. Dodge models called it Go-Mango (a spin on the phrase "go man, go!"), and Plymouth models called it Vitamin C.
EL5 Mopar Paint - Butterscotch / Bahama Yellow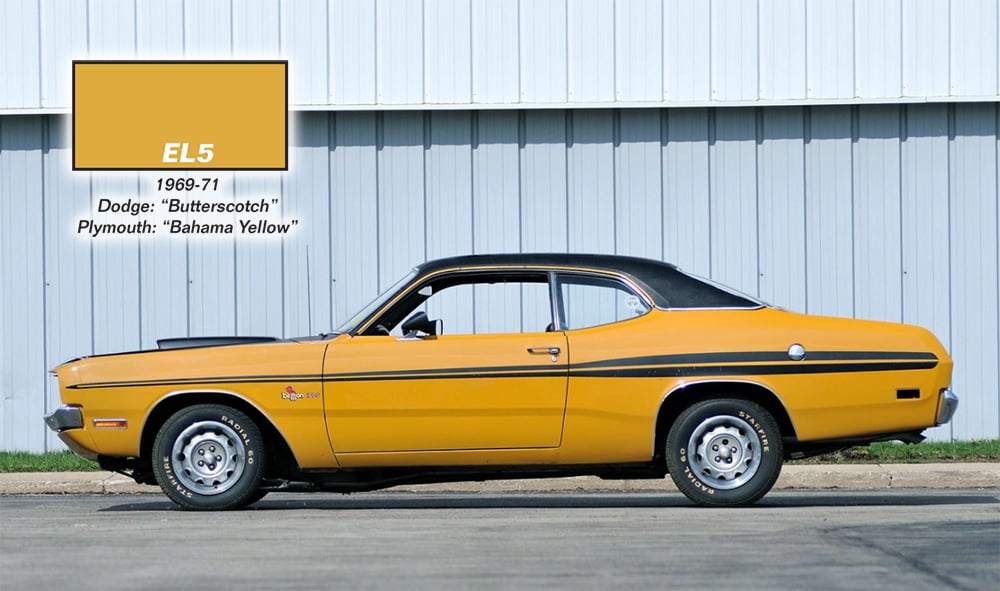 Available: 1969-71
Although it was the darker of two High-Impact yellow colors offered on Mopar cars of this era, EL5 was no less vibrant. On Dodge models, it was called Butterscotch after the candy; on Plymouth models, it was a tropical Bahama Yellow.
EV2 Mopar Paint - Hemi Orange / Tor Red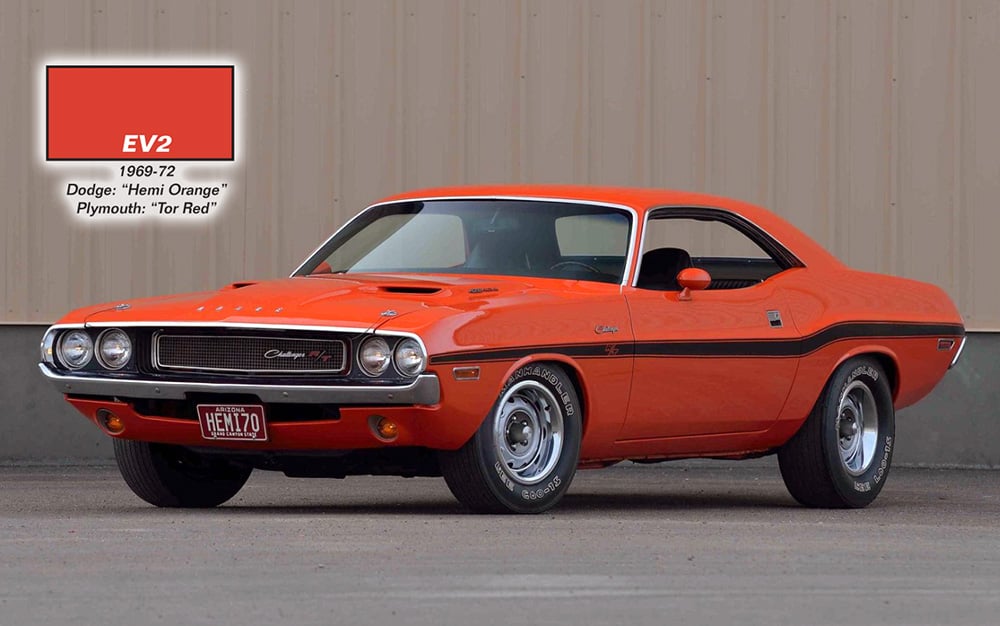 Available: 1969-72
One of the longest-running High-Impact paint colors, EV2 has a somewhat confusing pair of names. Dodge called it Hemi Orange, while Plymouth called it Tor Red. The latter is a play on the word torrid, which means "parched with heat, especially of the sun" or "giving off intense heat; scorching" — that sounds about right for this intense red-orange color.
FC7 Mopar Paint - Plum Crazy / In-Violet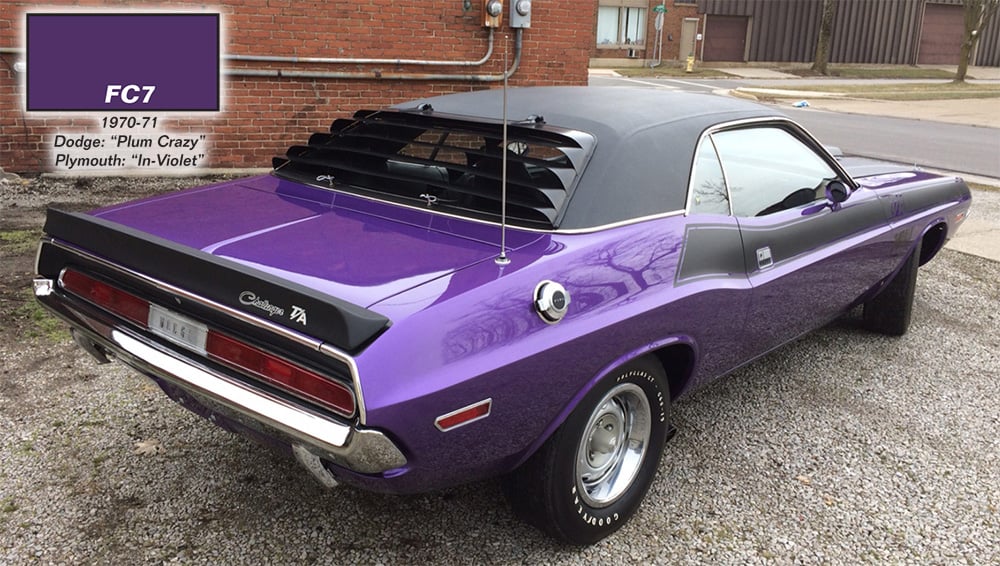 Available: 1970-71
This iconic purple color was referred to as Plum Crazy on Dodge models, in reference to an old idiom meaning absolutely bonkers. Plymouth called it In-Violet, which may be a play on the word inviolate (meaning safe or unharmed) as well as a reference to the flower of the same color.
FJ5 Mopar Paint - SubLime / Lime Light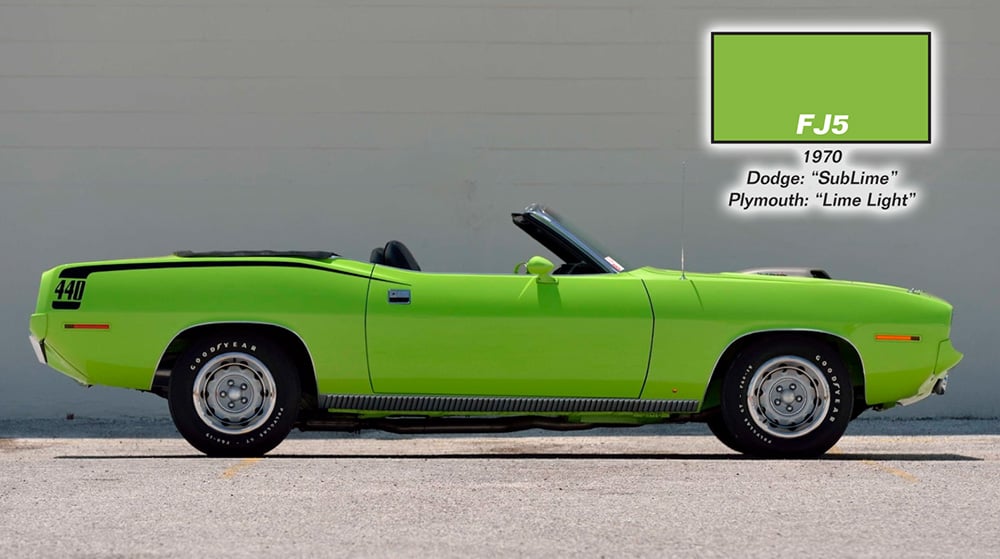 Available: 1970 only
This acidic-looking yellow-green color was matched by a pair of names that tied in citrus fruit. Dodge called it SubLime, which was also a reference to the word that means excellent and awe-inspiring. Plymouth called FJ5 Lime Light as a nod to the "limelight" stage lighting that illuminated an actor or performer in front of a crowd.
FJ6 Mopar Paint - Green Go / Sassy Grass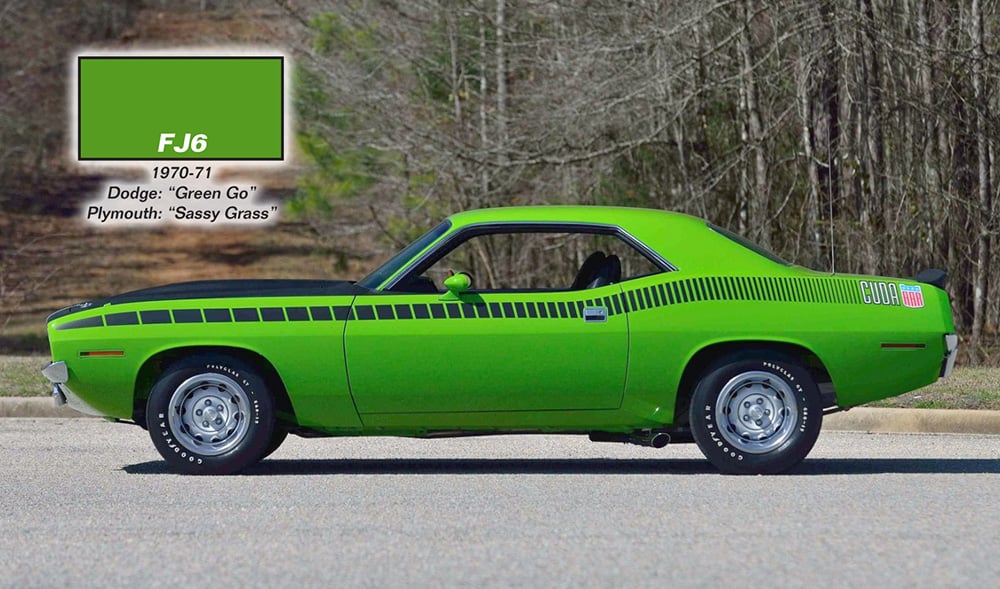 Available: 1970-71
FJ6 was more of a neutral green than the yellow-tinted FJ5 color above, but it was still bright and eye-catching. Dodge called this color Green Go after the color of traffic lights. Plymouth called it Sassy Grass as an indication of the lively character of this hue.
FM3 Mopar Paint - Panther Pink / Moulin Rouge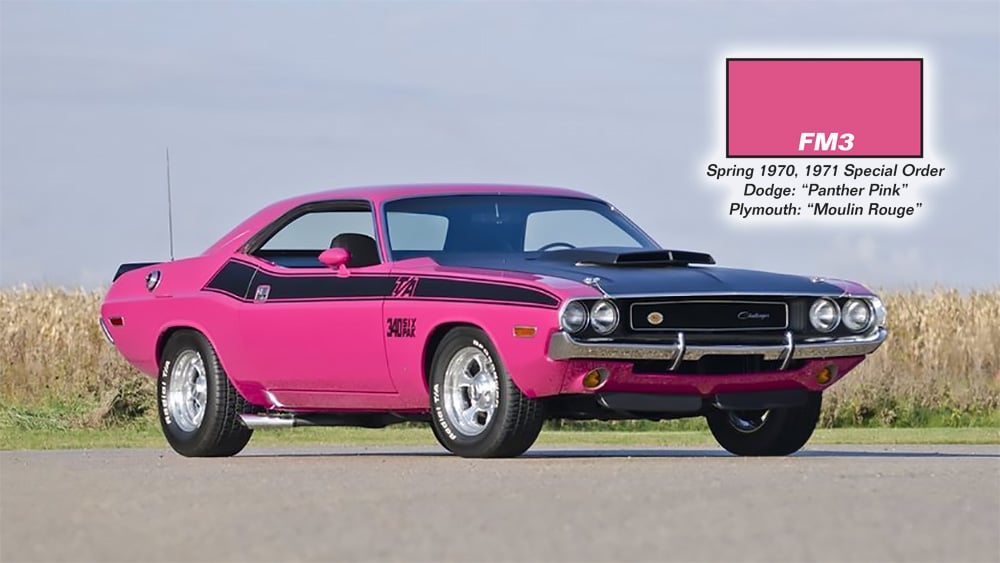 Available: Spring 1970, special order in 1971
Perhaps the most vibrant and controversial of the Mopar High-Impact paint lineup, FM3 is instantly recognizable, even among the other bright colors seen here. Dodge called it Panther Pink after the classic 1963 film, The Pink Panther. Plymouth called the color Moulin Rouge, referring to the famous cabaret in Paris where the can-can dance was born.
FY1 Mopar Paint - Top Banana / Lemon Twist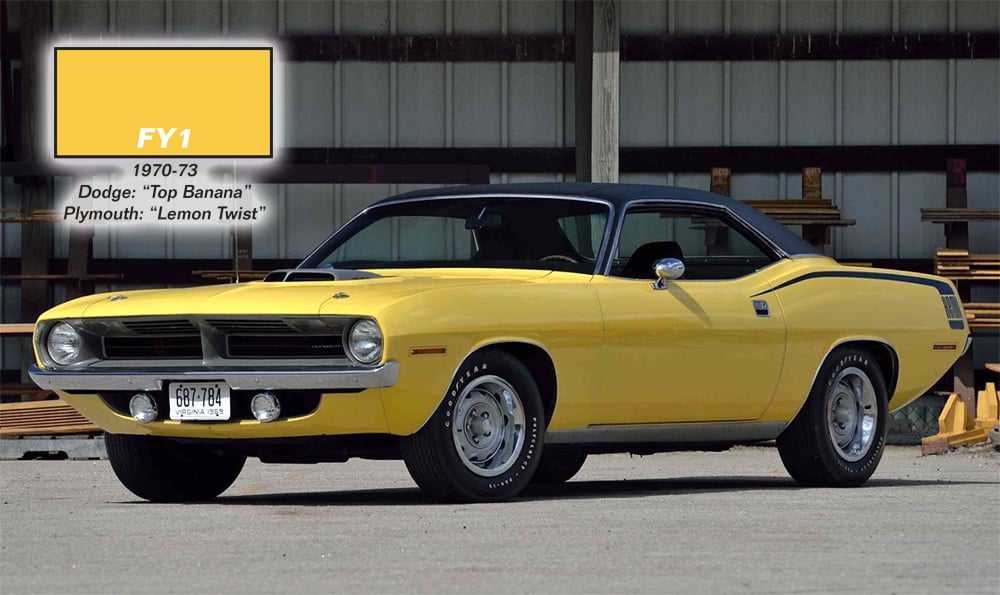 Available: 1970-73
Another long-running High-Impact paint color, this bright yellow hue looked like it belonged on a tree in the tropics. Dodge called it Top Banana; Plymouth called it Lemon Twist after the aromatic drink garnish.
GY3 Mopar Paint - Citron Yella / Curious Yellow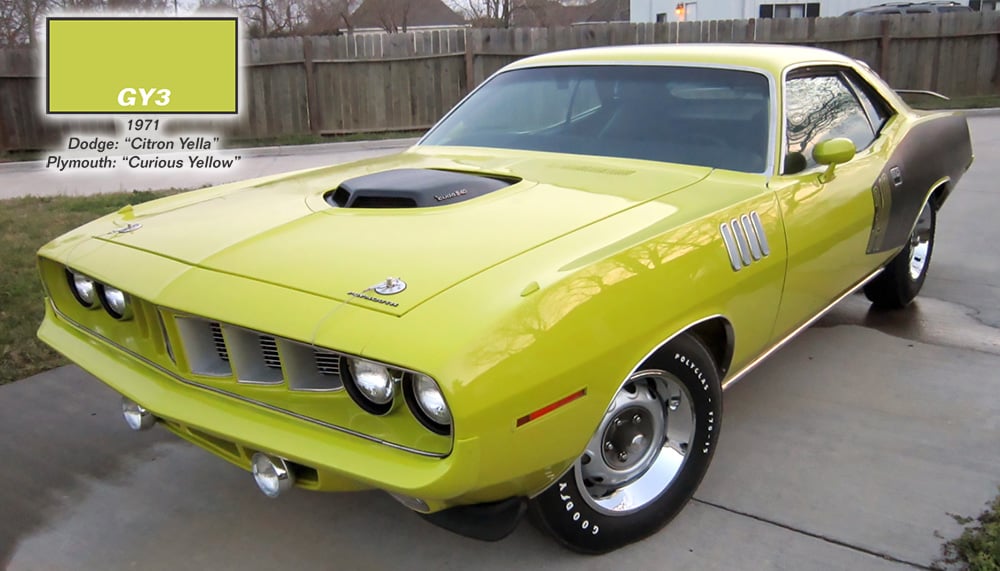 Available: 1971 only
This color wasn't quite yellow, but wasn't quite green either. Dodge called it Citron Yella, a clear reference to the fragrant citronella oil derived from the lemongrass plant. Plymouth called it Curious Yellow — this appears to be a nod to the Curious George children's book series, as well as a quip about the atypical yellowish hue.
Need Dodge and Plymouth Restoration Parts?
Now that you know more about High-Impact Mopar paint colors, you may be preparing your A, B, or E-body Mopar project car for a trip to the body shop. Classic Industries can help you find all the sheetmetal body panels, trim, decal kits, and other accessories you need to complement your car's fresh coat of paint. Click the button below for a free full-color Dodge and Plymouth restoration parts catalog.