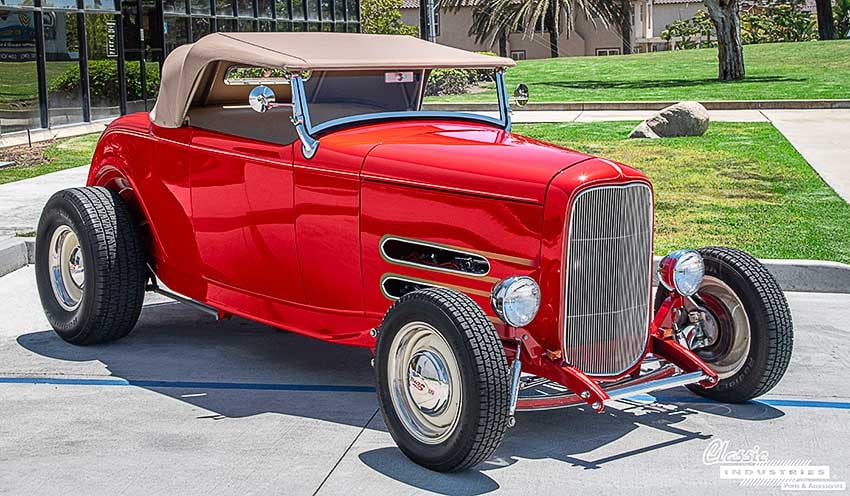 The 1932 Ford, especially the full-fendered roadster and the no-fender highboy variants, are the most built and/or replicated classic cars in existence. These '32's aren't just built back to stock either. There are hot rods, street rods, restored, and restomod varieties to plan and build as projects, or to hunt down and find finished.
Huntington Beach, CA resident and great Classic Industries' customer Steve Royle thought he was taking the second path. He found a freshly finished 1932 Ford highboy roadster for sale up in Oregon about 10 years ago. Steve purchased the '32 from an online classified listing. Not long after taking delivery of the car in Surf City USA, he tuned up the engine before starting her up. When he first turned the ignition key, a fire erupted inside the engine bay. Whoever had initially electrically wired and built the street rod hadn't properly grounded the fiberglass-bodied roadster's 12-volt electrical system.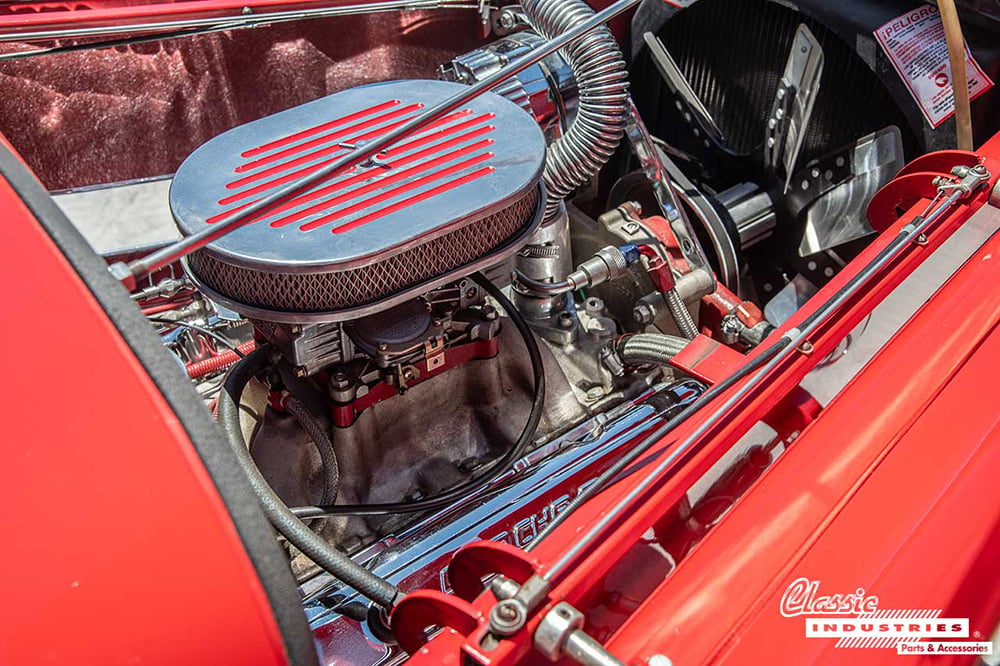 Above: The Chevy 350-cubic inch V8 mill's backed by a Corvette 700R4 four-speed automatic short tail transmission. A Walker aluminum radiator keeps the V8 cool. With the wiring system now well-grounded, an Optima 12-volt battery safely delivers the juice where it's supposed to go. As you might imagine, this light, little deuce highboy roadster can scoot.
The fire's carnage was limited to the engine and the electrical wiring. No body or paint damage occurred from the blaze, thankfully. Though Steve had wanted a highboy hot rod to drive and enjoy, while he was also finishing his 1st generation Chevy pickup truck, he wound up with two project vehicles to finish.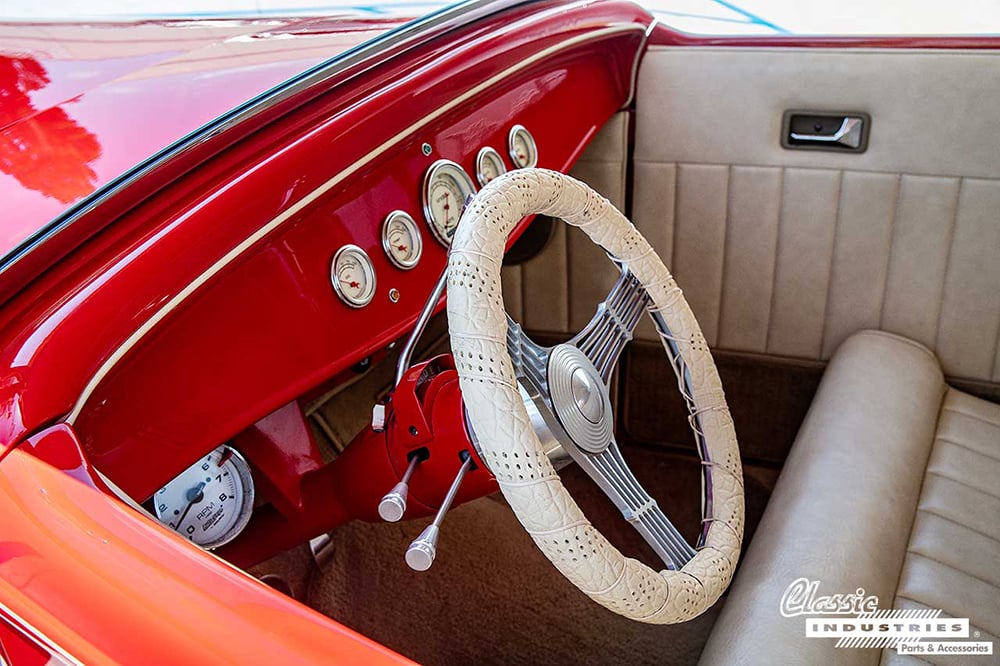 Above: The Classic Grip banjo steering wheel crowns Classic Instruments analog gauges.
Steve has worked on both machines a little bit at a time over the years. He finished the highboy in 2022 and has just a few more projects for his stovebolt 6 powered Chevy pickup. When he's tooling around the streets of HB in his hot rod, we'll usually hear him coming before we see him zoom by. The sounds emanating from the Chevy small block V8 fed exhaust pipes are sweet music indeed for any American hot rodders ears. Even the Ford in a Ford fans can't argue with that Bowtie melody coming from a Blue Oval. Ford and Chevy are in perfect harmony within Steve's highboy hot rod roadster.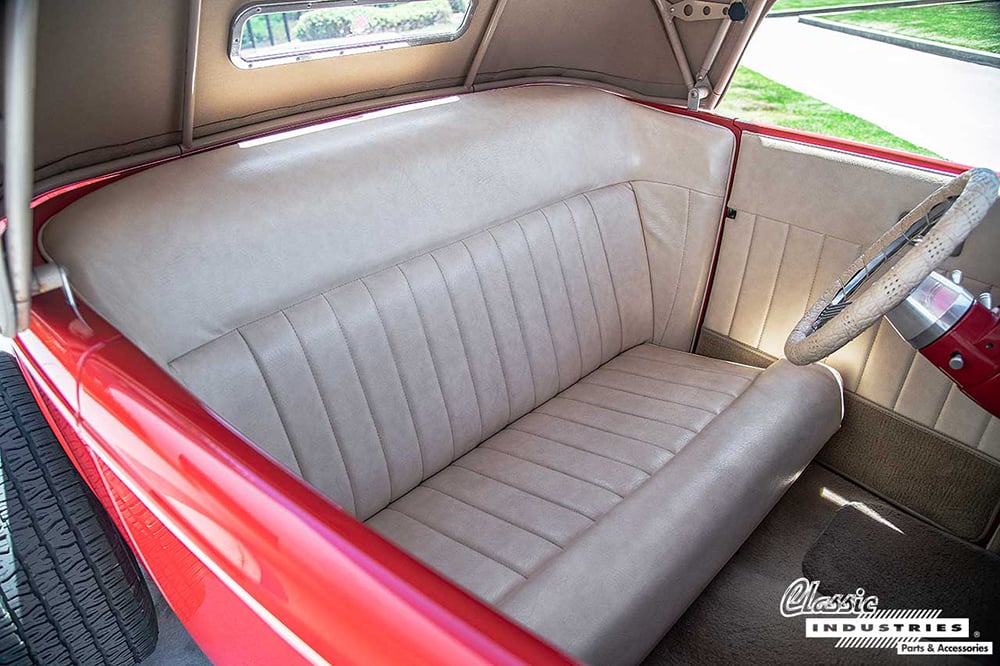 Above: The tan vinyl bench seat looks cozy and comfy and is complemented by tan vinyl door panels. Going topless is accomplished by removing the lift-off, non-folding tan canvas roadster top.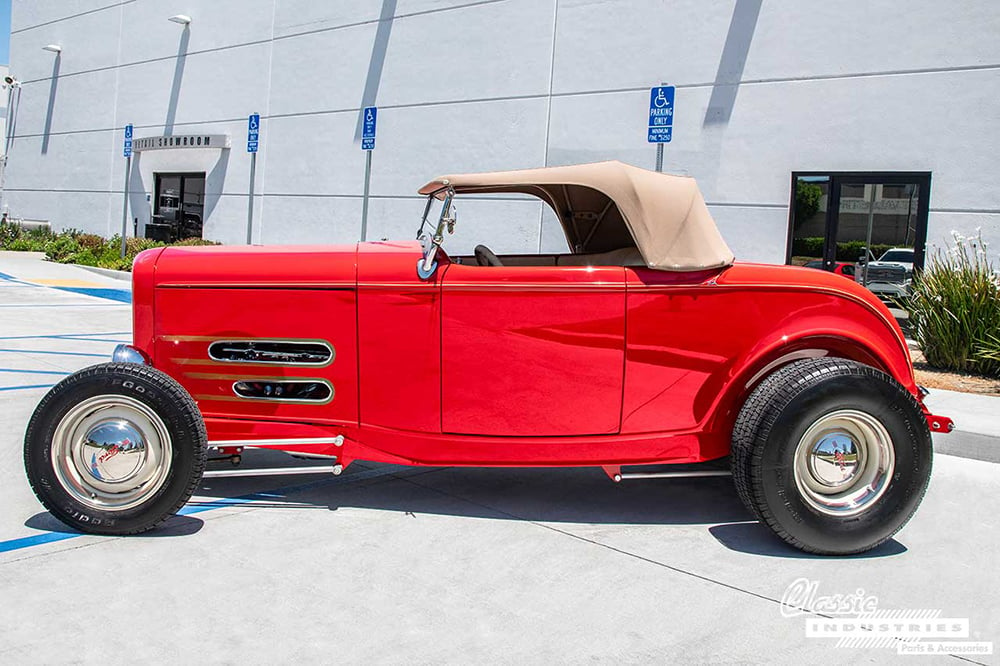 Above: A drilled I-Beam front axle from Super Bell Axle Company has Pro Street Rod shocks, Ford steelie 15-inch wheels, and BFGoodrich Radial rubber for the front suspension, and Pro Street Rod shocks, a Speedway Motors nine-inch differential with BFG larger diameter meats and Ford steelies for the driven side. The hot rod's stance forms the perfect highboy rake down to the front.
The '32's trunk and passenger seat are typically large enough to accommodate most parts that he needs for his Chevy, so it's not unusual to see the roadster in the Classic Industries' retail showroom parking lot when he's on parts runs. Of course, we'll typically hear the roadster before we see it parked in the showroom lot.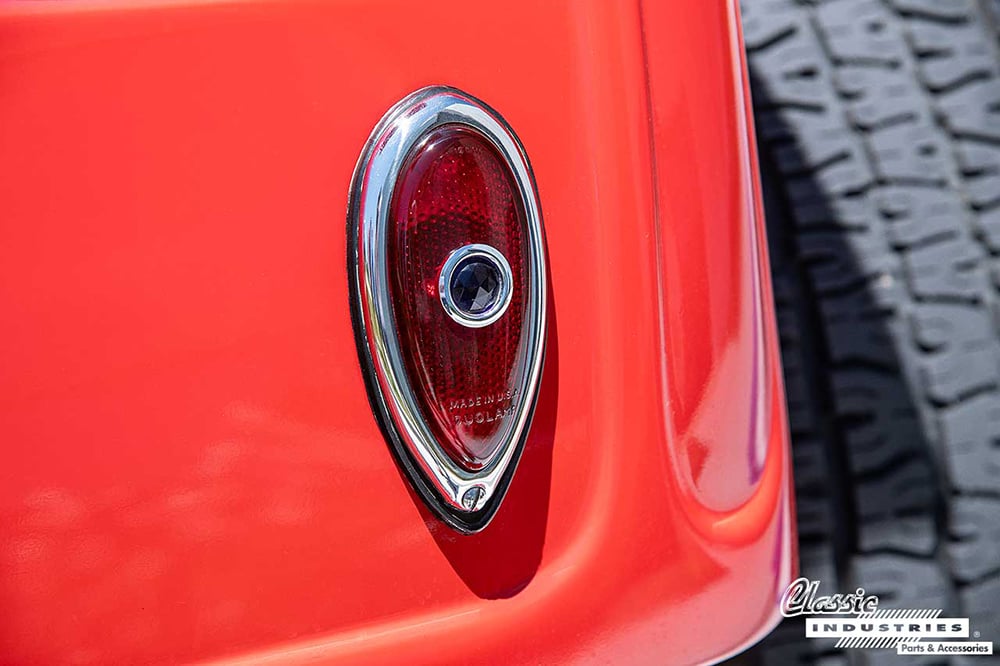 Above: Ford's 1938-39 blue dot teardrop taillights are a natural choice for most any 1932 Ford hot rod.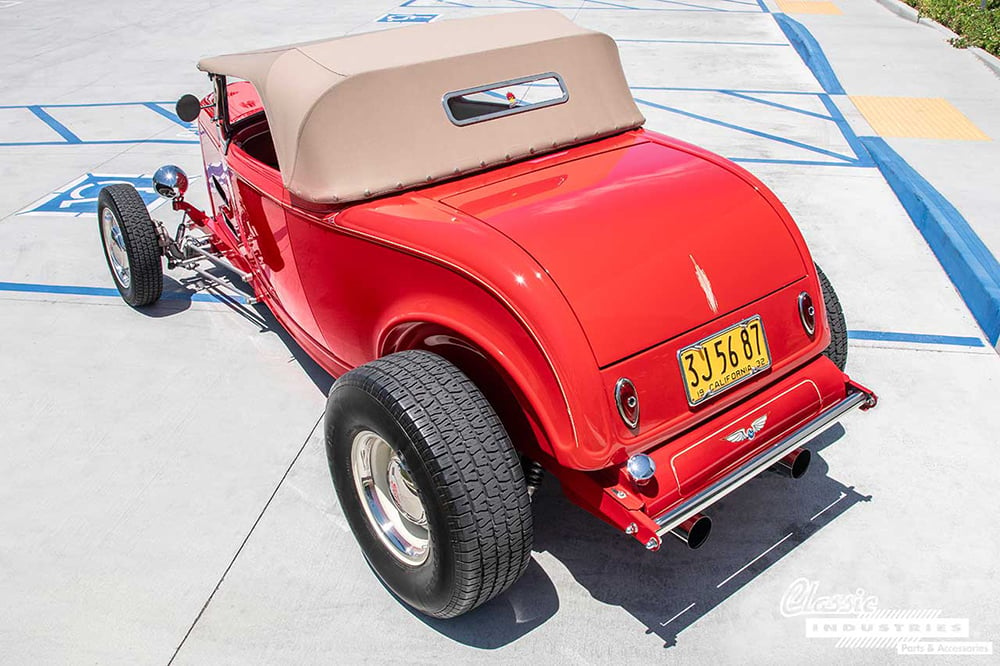 Above: The fuel tank will hold 10 gallons of fuel. At speed that petrol must be gone pretty darn fast and in a hurry. Mr. Royle's roadster is painted a racy Corvette Red.
American Muscle Car Parts Available at Classic Industries
Classic Industries has a huge inventory of American muscle car restoration, restomod, and performance parts available for shopping online.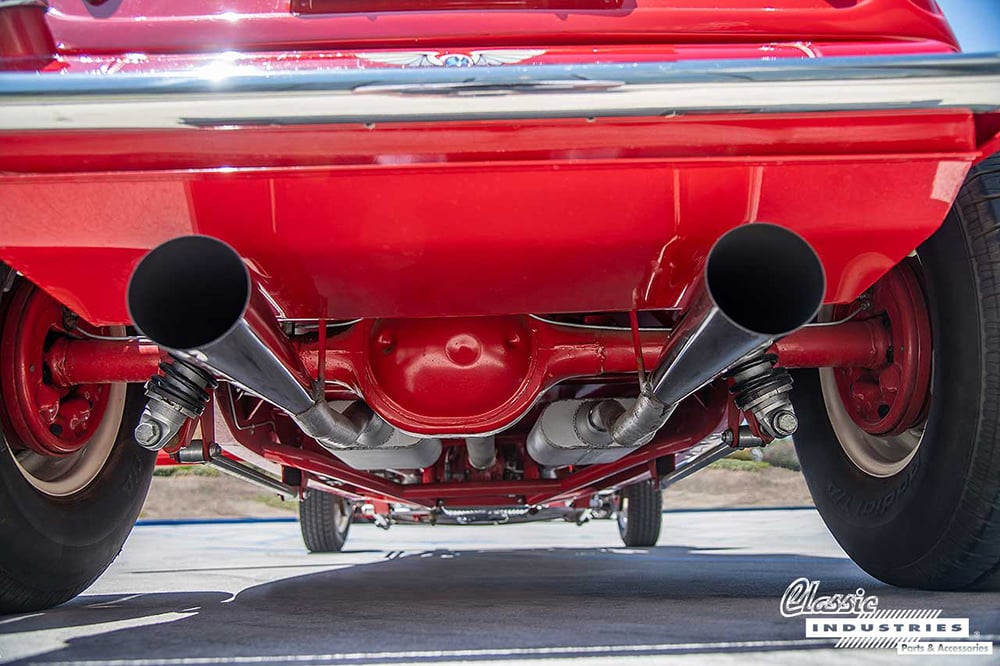 Above: Small block V8 Tight Fit headers expel the spent fumes back through a Tru Ram stainless steel exhaust system.
If you're renewing a vintage Chevy truck like Mr. Royle, you can shop for components online here. You can also "let your fingers do the walking" by having Classic Industries mail you a free printed GM Truck catalog. Simply click the button below and fill out the form.
Classic Industries Article Archives
Should you be on the hunt to find the American muscle car or truck of your dreams, below are a few articles that may well be of value to you: