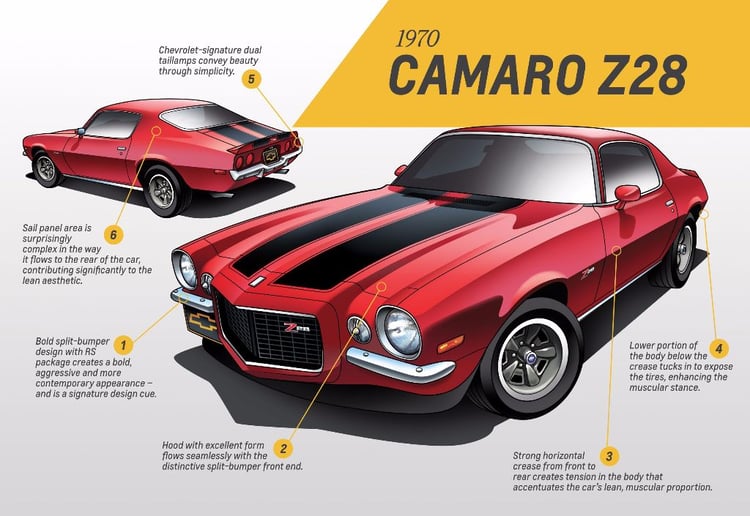 There's no doubt the Chevrolet Camaro is a masterfully-designed piece of engineering. After all, this eye-catching appearance is one reason why it has stood the test of time, and captured the hearts of enthusiasts for more than half a century. But, have you ever wondered how each of the six iconic generation designs came to be? GM designers have given us a rare look behind the curtain, so we can better understand the design elements and Camaro history.
Camaro infographic images courtesy of General Motors.
Chevrolet Camaro History
These styling infographics from GM give us insight into the Camaro's evolution, and help us better understand each generation's distinct characteristics. Ed Welburn, vice president of GM Global Design, writes: "While Camaro has evolved with cultural and design trends, it has consistently represented the approachable, attainable sports car with an emphasis on fun that's evident in its styling. As a result, each generation of Camaro has evoked an emotional connection with enthusiasts – connections spanning 48 years, and five generations."
1967-69 Camaro - First Generation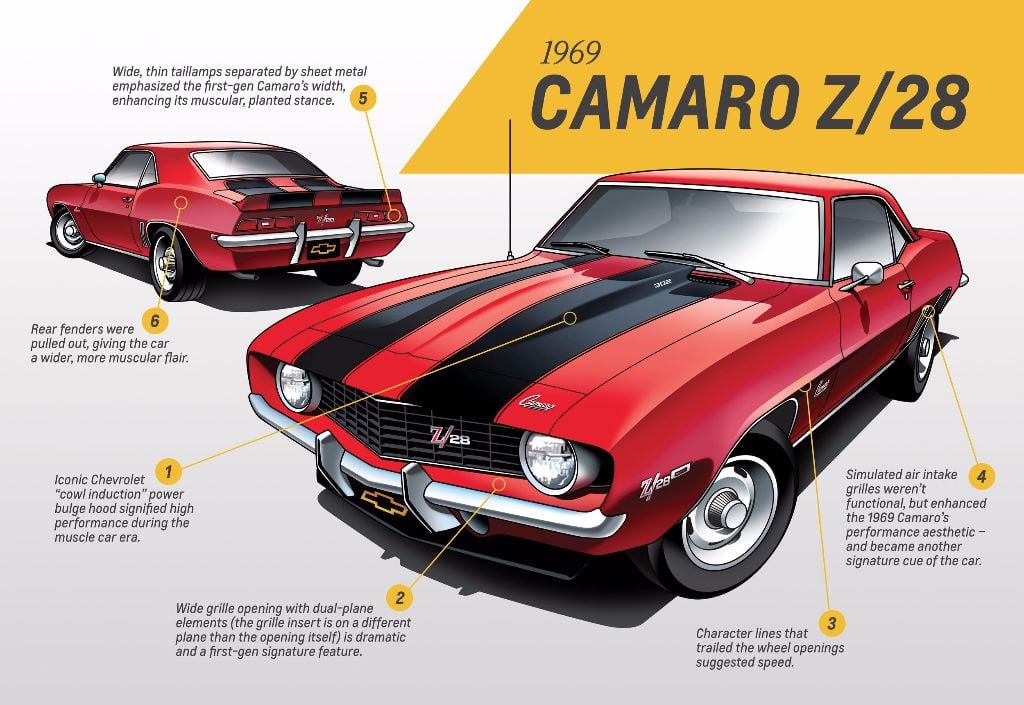 Regarding the first-gen 1967-69 Camaro's design, Welburn writes: "The 1969 model is the iconic Camaro to me. From the dual-plane grille design and speed lines stamped into the fenders and doors, it was original and distinctive. It didn't borrow from any other design and all these years later, it still looks fresh."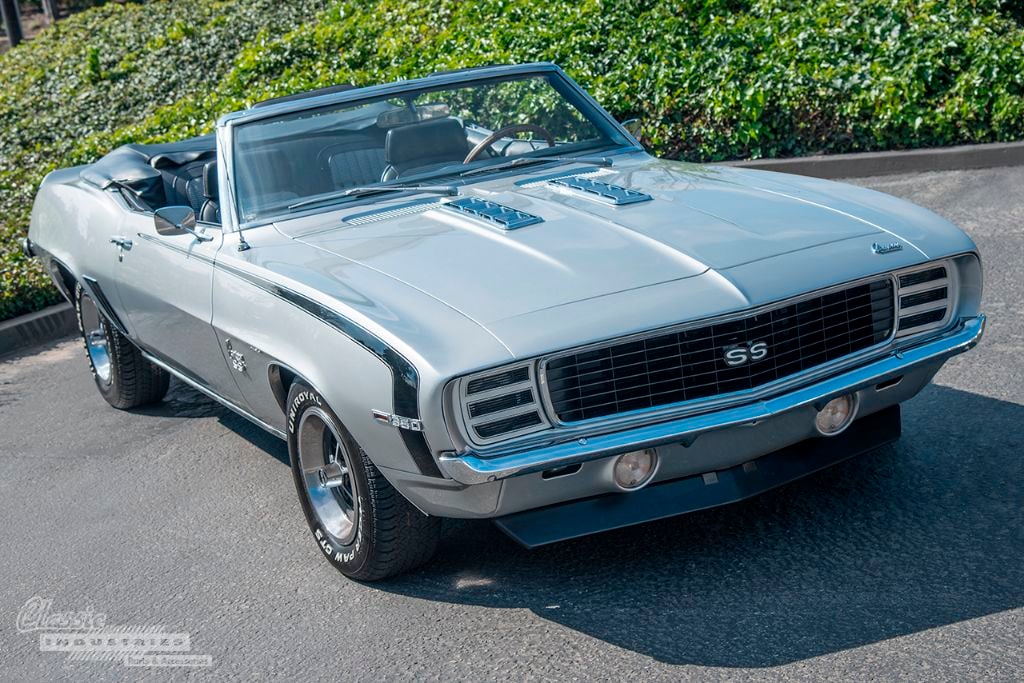 1970-81 Camaro - Second Generation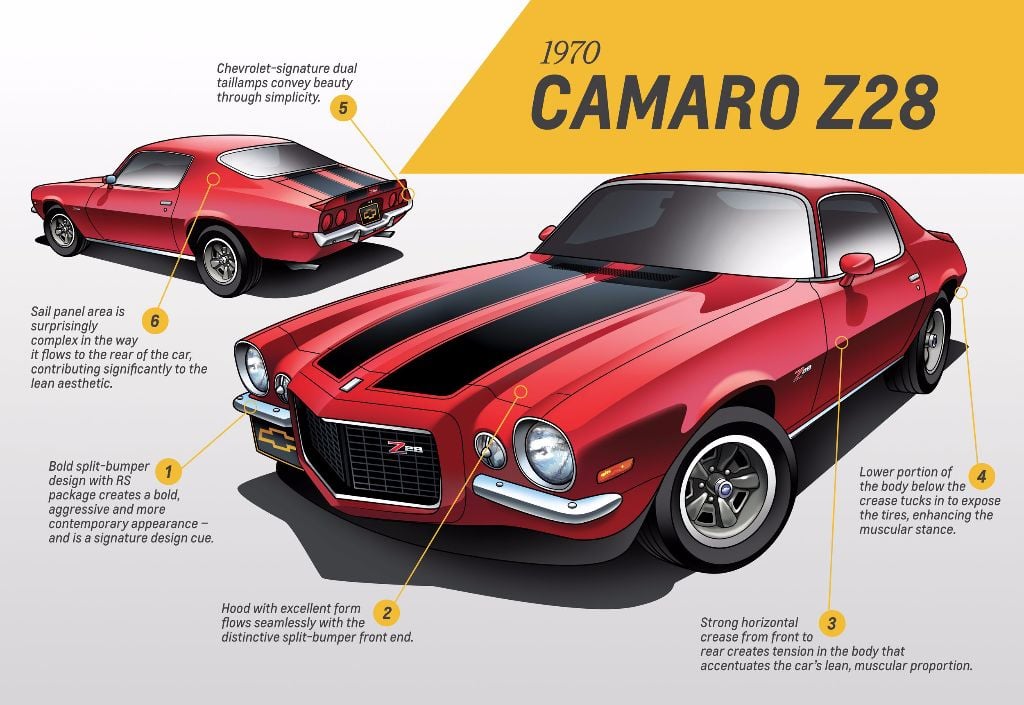 The second-gen 1970-81 Camaro was examined by Ken Parkinson, the executive director of design for Chevrolet Trucks and Global Architecture at GM. Ken writes, "I've always loved the '68 Camaro, but for some reason it was the second-gen car I'd find myself sketching during high school math. It was a radical departure from the first-gen. For the first time, it was built on its own dedicated architecture, which gave the design team the freedom to create a pure expression. What that team created was a powerful expression of American muscle, influenced by a European grand-touring aesthetic. There was simply nothing else like it. The second-gen car is pure Camaro, with a dramatic proportion and lean, muscular form."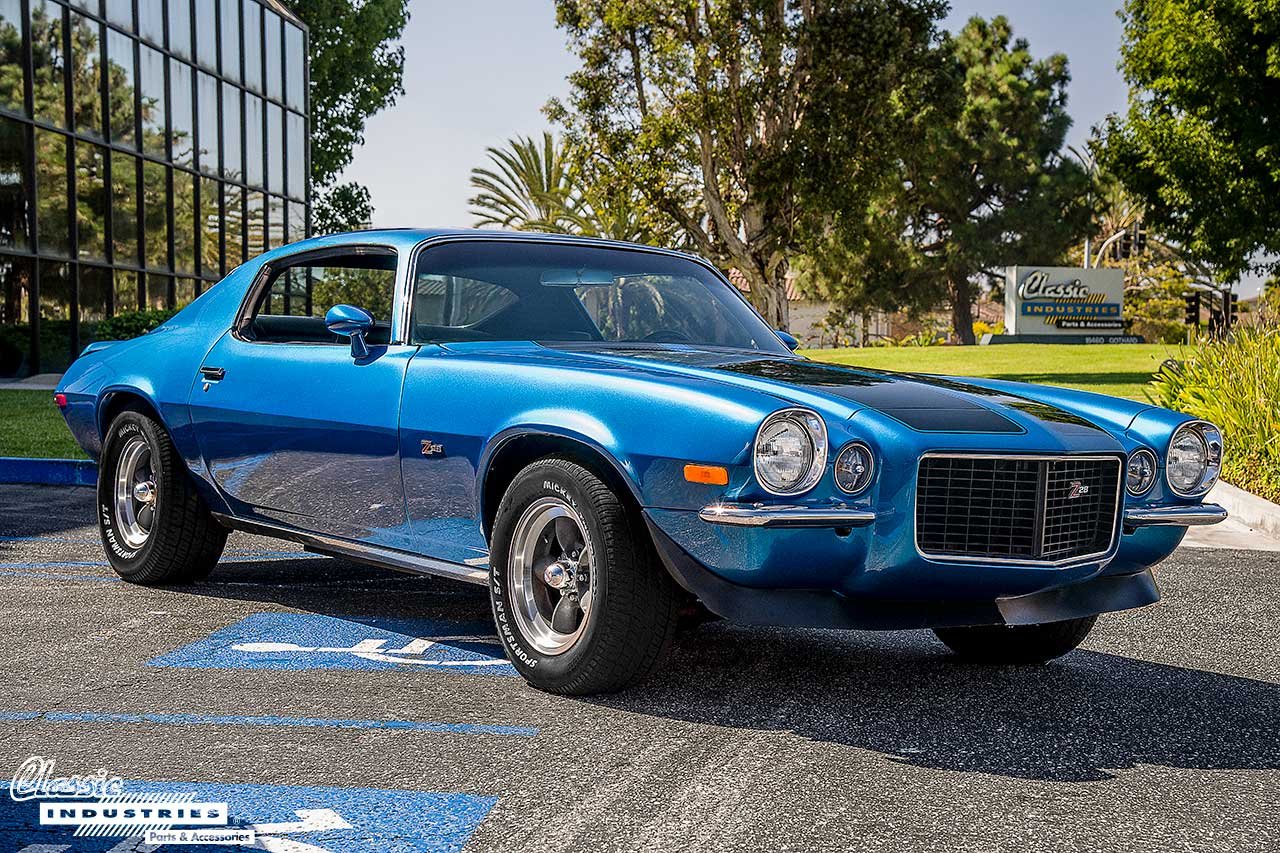 1982-92 Camaro - Third Generation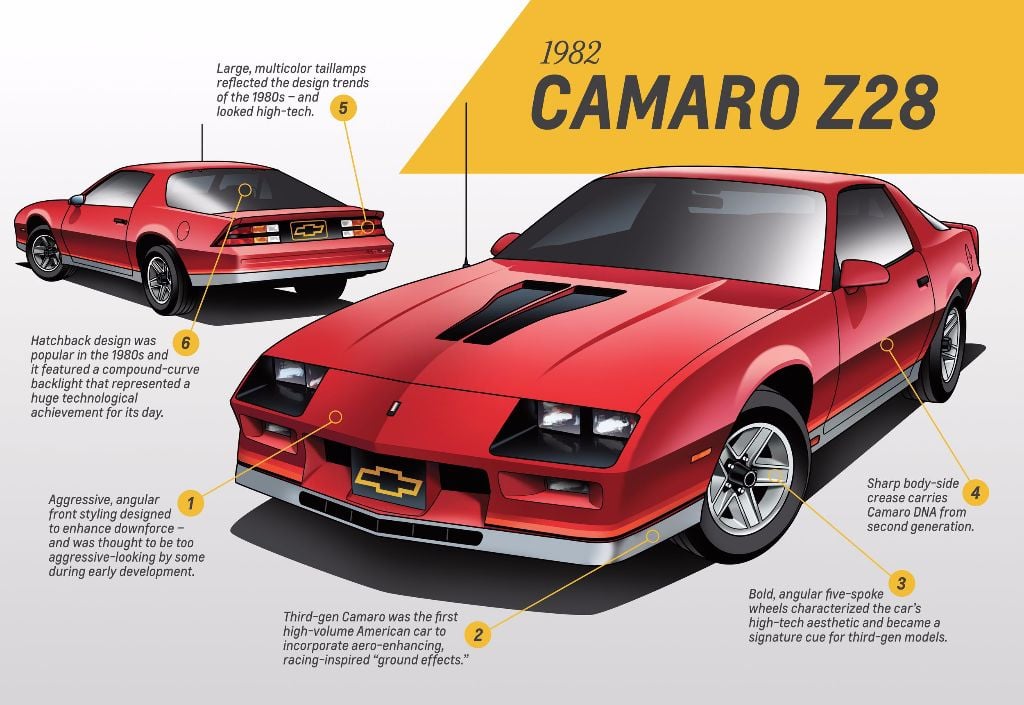 The third-gen 1982-92 Camaro styling was analyzed by John Cafaro, the executive director of Chevrolet Global Car Design. John writes, "The third-generation Camaro will always be a cultural symbol of the 1980s because its design epitomized the era's high-tech cultural trends. It also grew into more of a serious sports car and with that, its form was wrapped around a chassis system designed for a new level of function."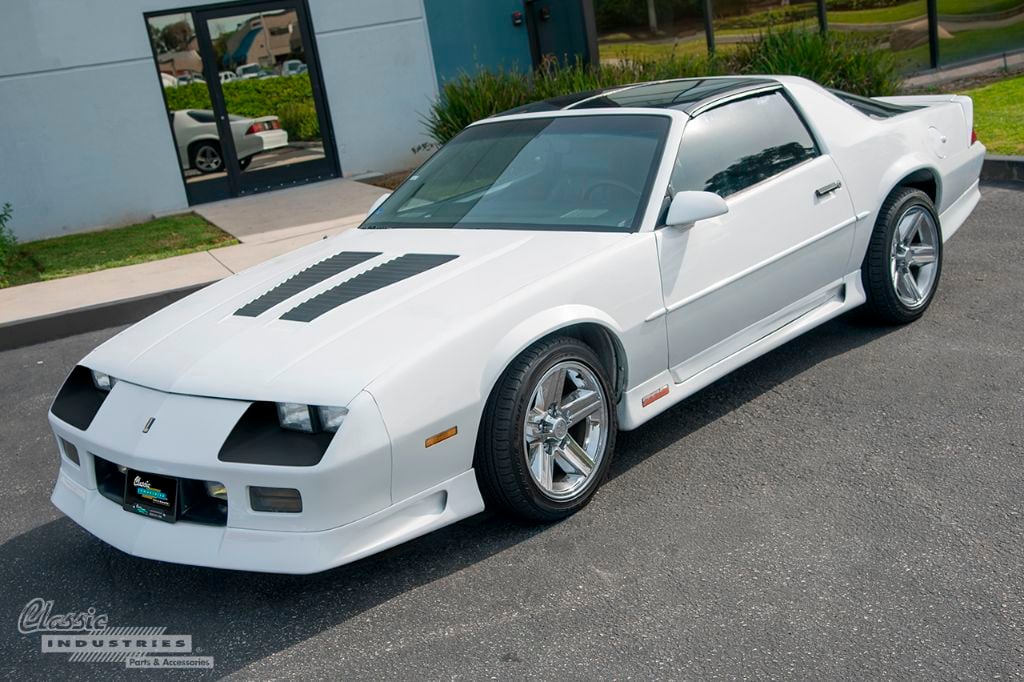 "The third-generation Camaro represented a distinct breakaway from the previous generations, which were undeniably influenced by European grand touring cars," said Cafaro. "This was a uniquely American design with a form developed for function – and its aggressive front-end styling was deemed almost too aggressive by some in the company."
1993-02 Camaro - Fourth Generation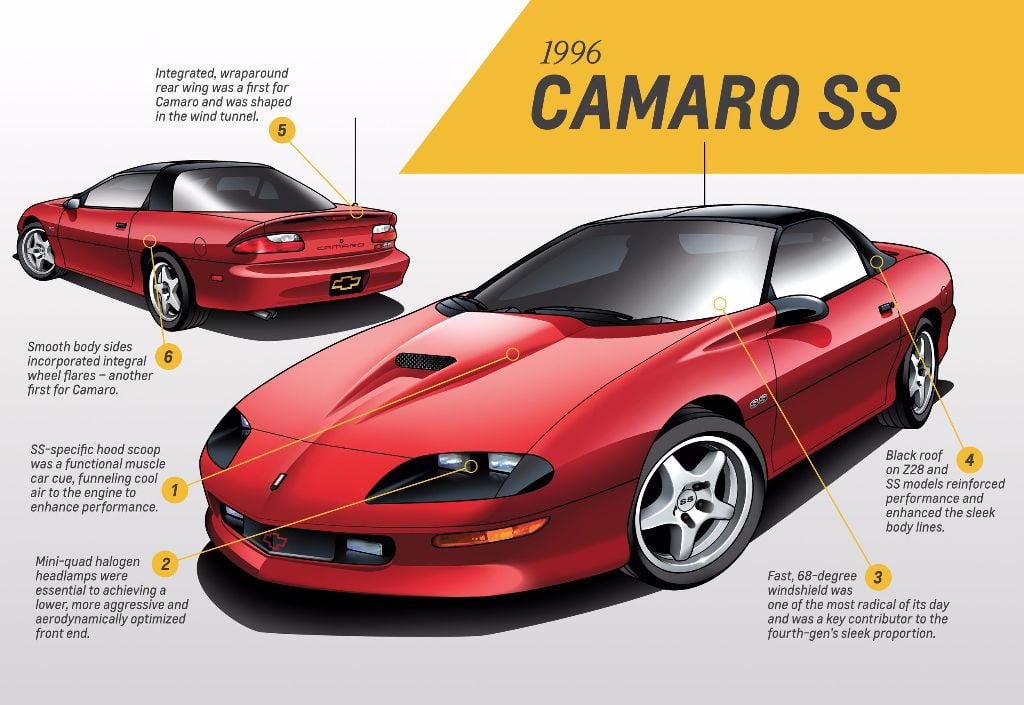 The fourth-gen 1993-02 Camaro was examined by Kirk Bennion, the Chevrolet Camaro exterior design manager. Kirk writes, ""More than 20 years after its debut, the fourth-generation Camaro still looks as sleek as anything on showroom floors today. It was a very aggressive design intended to evolve the proportion from the third-generation car with a provocative exterior and greater aerodynamic performance. It has a very sculptural form vocabulary that was definitely all-new for the Camaro."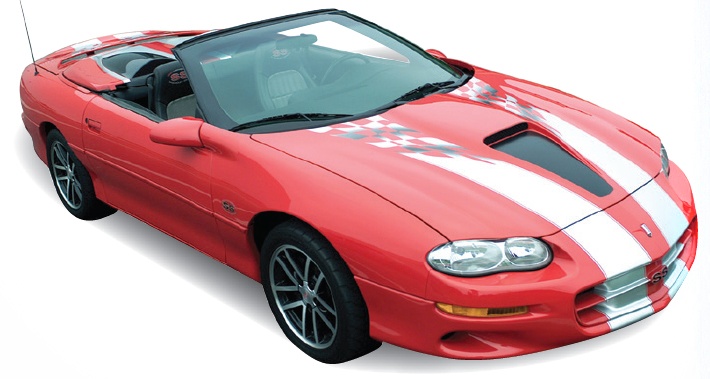 The fourth-gen Camaro also featured a distinctly wedge-shaped side profile. "Having a low front end was important to the design," says Bennion. "It really worked with the high deck lid rear spoiler to enhance the appearance of motion. All these years later, it still looks contemporary – and fast!"
2010-15 Camaro - Fifth Generation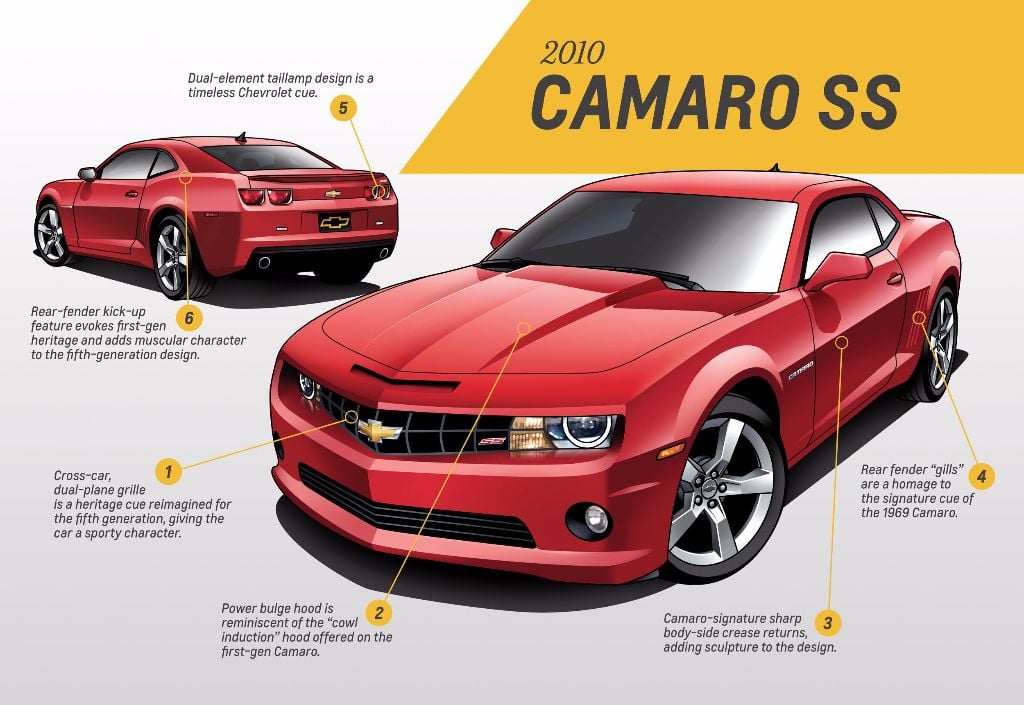 The fifth-gen 2010-15 Camaro was described by none other than Tom Peters, the Chevrolet Camaro exterior design director. Tom writes, "They say absence makes the heart grow fonder and that couldn't have been truer than as demonstrated with the enthusiasm that followed the introduction of the fifth-generation Camaro," said Peters. "After an eight-year absence, the return of Camaro was a thunderbolt that reignited the passion of Camaro enthusiasts around the world. It's a car design for those who like to drive, and its elegant design makes you smile every time."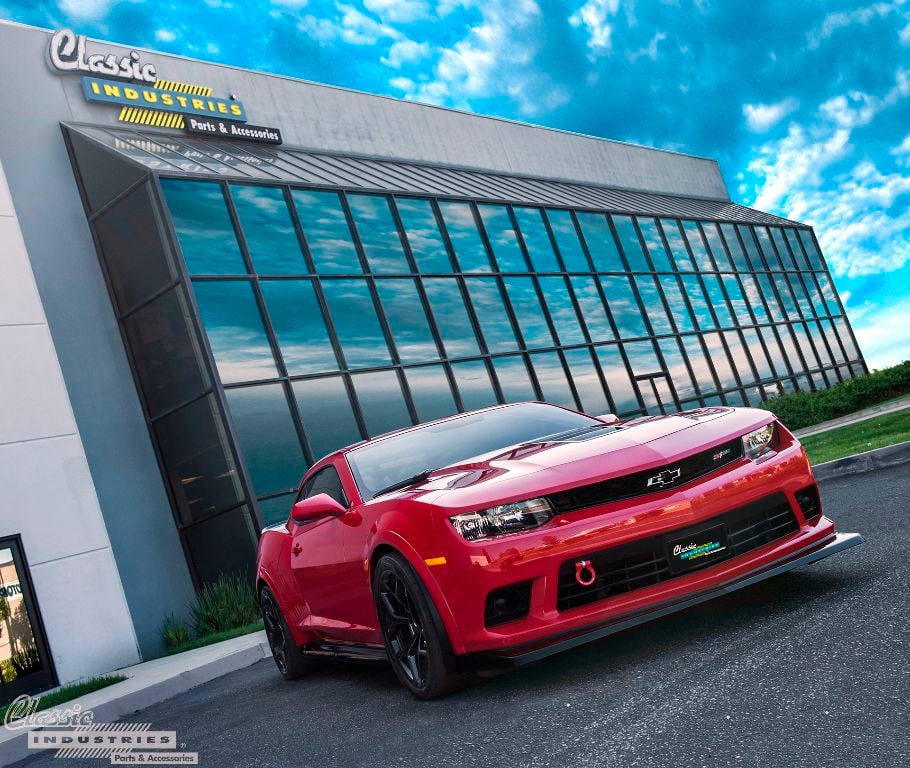 Although the fifth-gen Camaro was clearly inspired by the first-gen car, the fifth-gen also aimed to remain original and fresh. "Distilling the timeless essence of the design and translating into a fresh, contemporary Camaro was a challenge. The final design perfectly straddled that razor-sharp line between heritage and retro – and with five straight years at the top of the segment, clearly the fifth-generation Camaro connected with a whole new group of enthusiasts."
2016-Up Camaro - Sixth Generation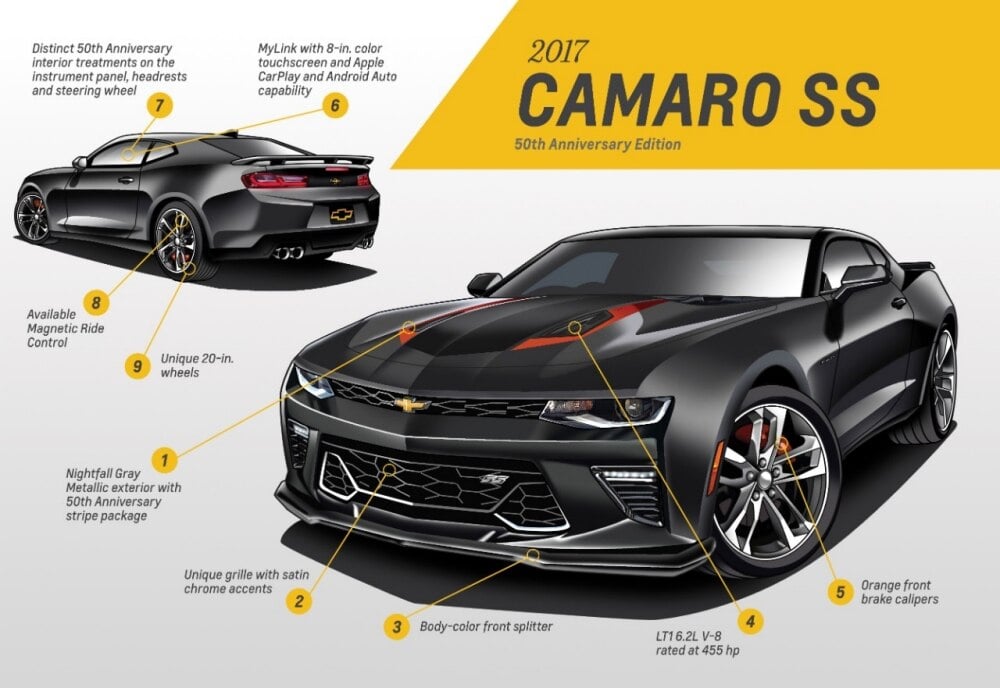 In 2016, GM introduced the sixth-gen Camaro, which was built on the new Alpha platform. The following year, a special-edition 50th Anniversary version was introduced, as seen in these images. It featured special interior and exterior accents to commemorate five decades of heritage. Since then, Chevrolet pushed the limits of the platform with the high-performance supercharged ZL1, and revised its styling with a mid-cycle redesign in 2018 and an updated front end in 2020.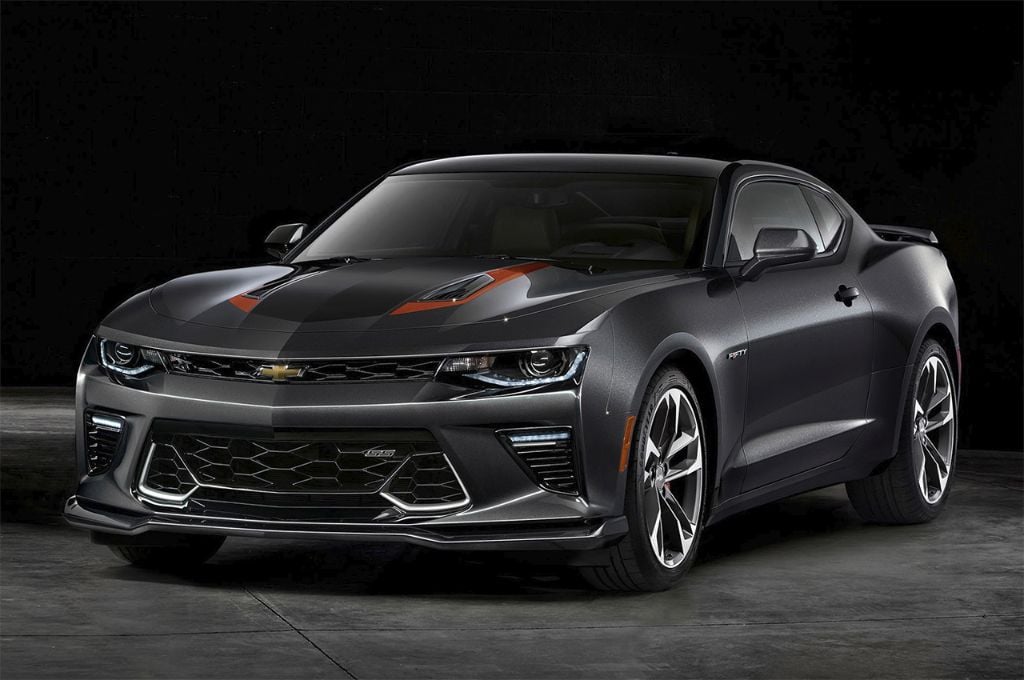 More Chevrolet History Articles
Want to read more about Camaro history and the design logic behind each generation of Camaro? Check out the original article here on the GM News & Information Blog. We have also written several previous articles about the history of other Chevrolet classic cars — click the links to read them:
Need Restoration Parts for Your Classic Camaro?
Whether you have a 1967 first-gen Camaro, a new sixth-gen Camaro, or anything in between, Classic Industries has a variety of restoration and performance parts available for your car. Click the button below for a free parts catalog.