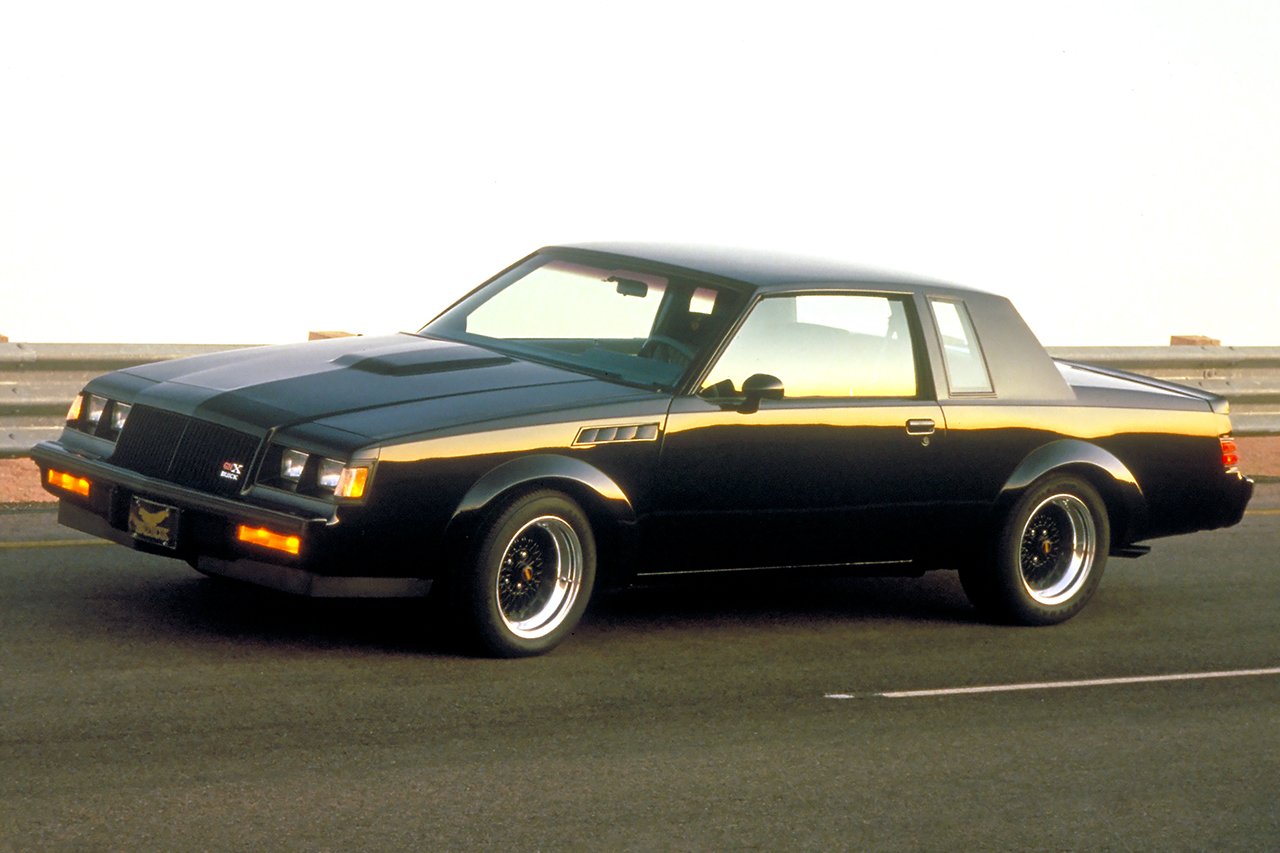 The year was 1987, and General Motors was preparing to phase out the popular rear-wheel-drive G-body chassis. In order to give this legendary platform a fitting send-off, Buick engineers got to work to create what some have called one of the most menacing cars to ever roll out of Detroit. The result was known as the Buick GNX, short for Grand National Experimental. A total of 547 GNXs were produced, and each began life as a fully-optioned Grand National. So, what's the difference between a Grand National and GNX? Read on as we take a detailed look at the '87 Buick GNX specs.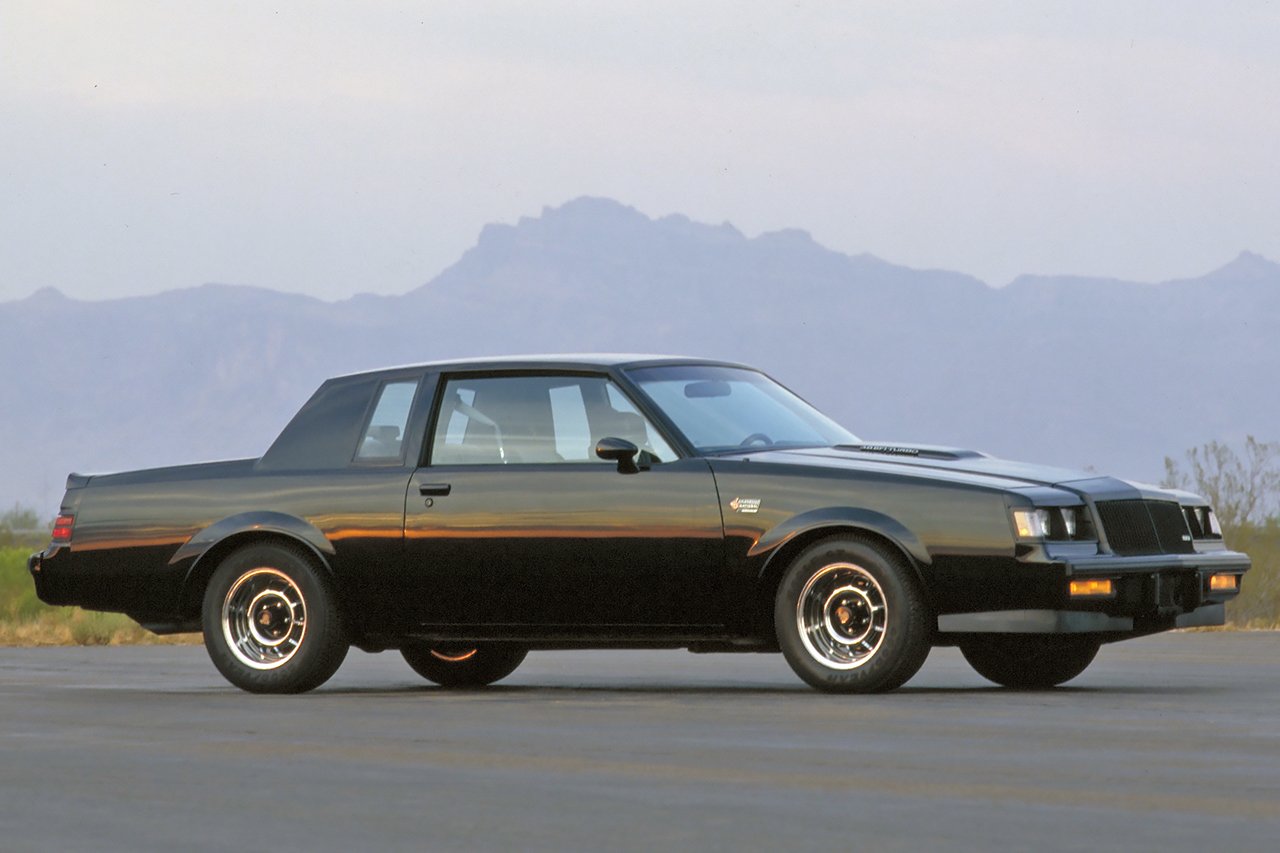 Above: A 1987 Buick Grand National would serve as the starting point for every GNX. (Photos courtesy of General Motors)
The standard 1987 Grand National, pictured above, was powered by a turbocharged 3.8L V6 rated at 245 horsepower and 355 ft-lbs of torque. 547 Grand Nationals were sent to ASC/McLaren for extensive modifications inside and out. These included performance upgrades to amplify the potency of this motor even further, as well as several suspension, interior, and exterior upgrades. Let's take a look at exactly what sets the GNX apart from all other Buick Regals:
Buick GNX Specs - 3.8 Liter V6 Engine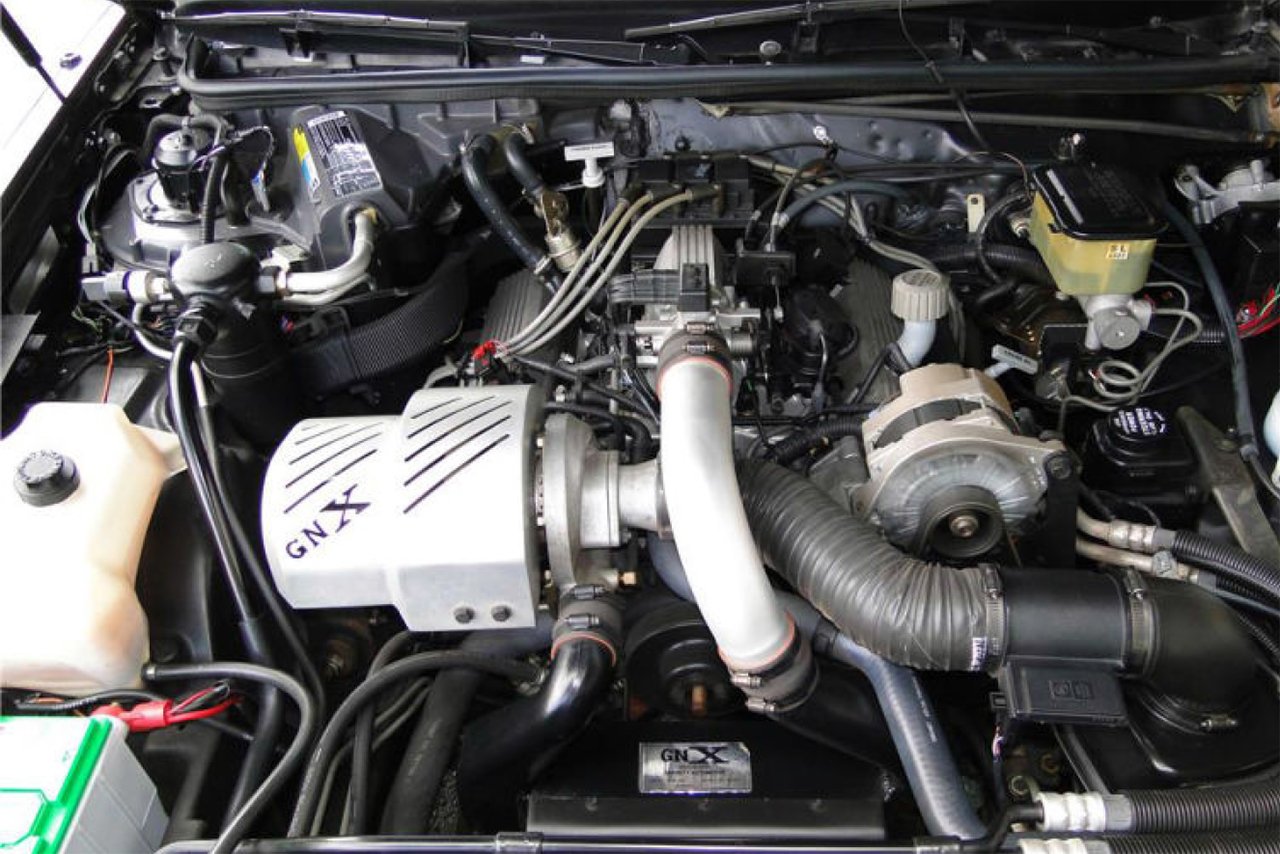 The GNX was officially advertised at 276 horsepower and 360 ft-lbs of torque, but these numbers were soon found to be understated. Third-party testing revealed that the GNX's turbo V6 actually produced more than 300 horsepower and 400 ft-lbs of torque at 3,900rpm. This allowed the GNX to outrun contemporary models from Ferrari and Porsche, and made it one of the world's fastest production cars at the time. Specifically, the 3.8 V6 received the following upgrades:
• New Garrett Hybrid turbo featuring a super-lightweight ceramic impeller
• Maximum boost set to 15 psi
• Special dynamic turbine shaft seals to reduce drag on the shaft
• Redesigned turbine housing included contamination trap to keep solid particles from damaging the turbo internals
• More efficient Garrett air-to-air intercooler with higher fin count for additional cooling capacity
• Specially coated intercooler-to-engine pipe for a cooler and denser charge of air
• Functional vents installed on the front fenders to pull heat away from the engine compartment
• Beefed up TH200-4R transmission
• Special front-mounted auxiliary oil cooler
• Special turbocharger heat shield with exclusive "GNX" stamped design
• Recalibrated Engine Control Module (ECM) specifically for the GNX.
• Better flowing dual exhaust with low restriction mufflers, also designed to clear the new suspension components
Buick GNX Specs - Suspension

To cope with the additional power and maintain traction, the GNX received a few important suspension upgrades:
• Aluminum rear axle housing cover. A GNX-embossed, beefed-up housing that not only provides additional rear axle rigidity, but a solid mount for the Longitudinal Torque Ladder Bar listed next. It's very noticeable from behind.
• Longitudinal Torque Ladder Bar. This extremely beefy bar reaches forward and mounts to specially reinforced bracing just behind the rear seat. The result is a component that is very effective in planting the rear tires and applying full power to the ground during a launch. Also included is a panhard rod and track rod to keep the axle located in place when cornering.
Buick GNX Specs - Interior Modifications

• The GNX has all the interior features of a fully loaded Grand National, except for T-tops or a sunroof/moonroof (to increase structural integrity), although some customers may have opted to have a sunroof or T-tops retrofitted.
• The standard Buick slide-rule speedometer and warning lights were replaced with a full complement of Stewart-Warner gauges, that included a 160 MPH speedometer, 8,000 RPM tachometer, turbo boost gauge, oil pressure gauge, fuel level gauge, and water temperature gauges.
• The seats were standard-issue Grand National type, but the interior was accented with special GNX emblems and finished off with a special numbered plaque mounted on the passenger side of the dash.
Buick GNX Specs - Exterior Modifications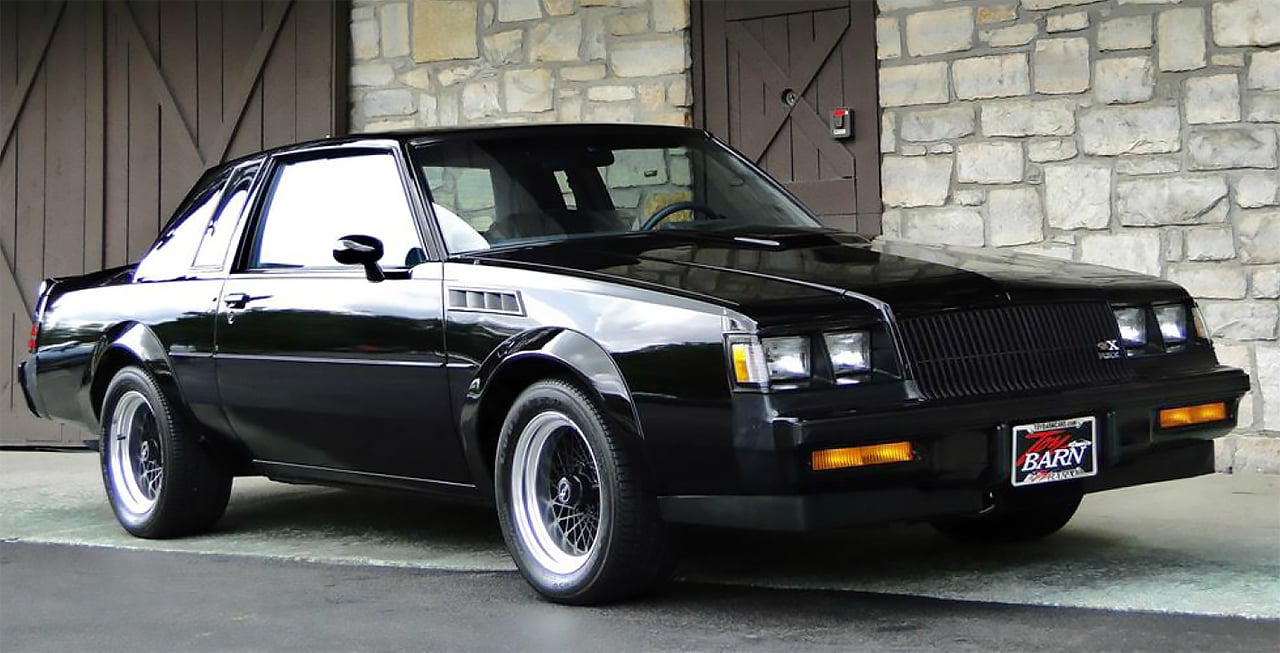 To an untrained eye, the outside of a GNX may not look very different from a regular Grand National. However, there are a few key differences:
• Front fender vents. These vents are functional and help keep the engine compartment cool.
• Special composite fender flares were fitted to the wheel wells to make room for the beefy wheels and tires, as well as making the car more recognizable.
• 16" x 8" black mesh wheels with 245/50/16 tires up front and 255/50/16 tires out rear.
• Blacked out trim
• GNX emblems placed on front grille, rear deck lid, and wheel centers
GNX and Grand National Restoration Parts
Unsurprisingly, the 547 original GNXs are rare and desirable today — a mint condition GNX recently sold for $200,000. Whether you're lucky enough to own one of the originals or you're looking to build an affordable clone/tribute car, the Classic Industries Regal catalog can help you find the parts and accessories you need.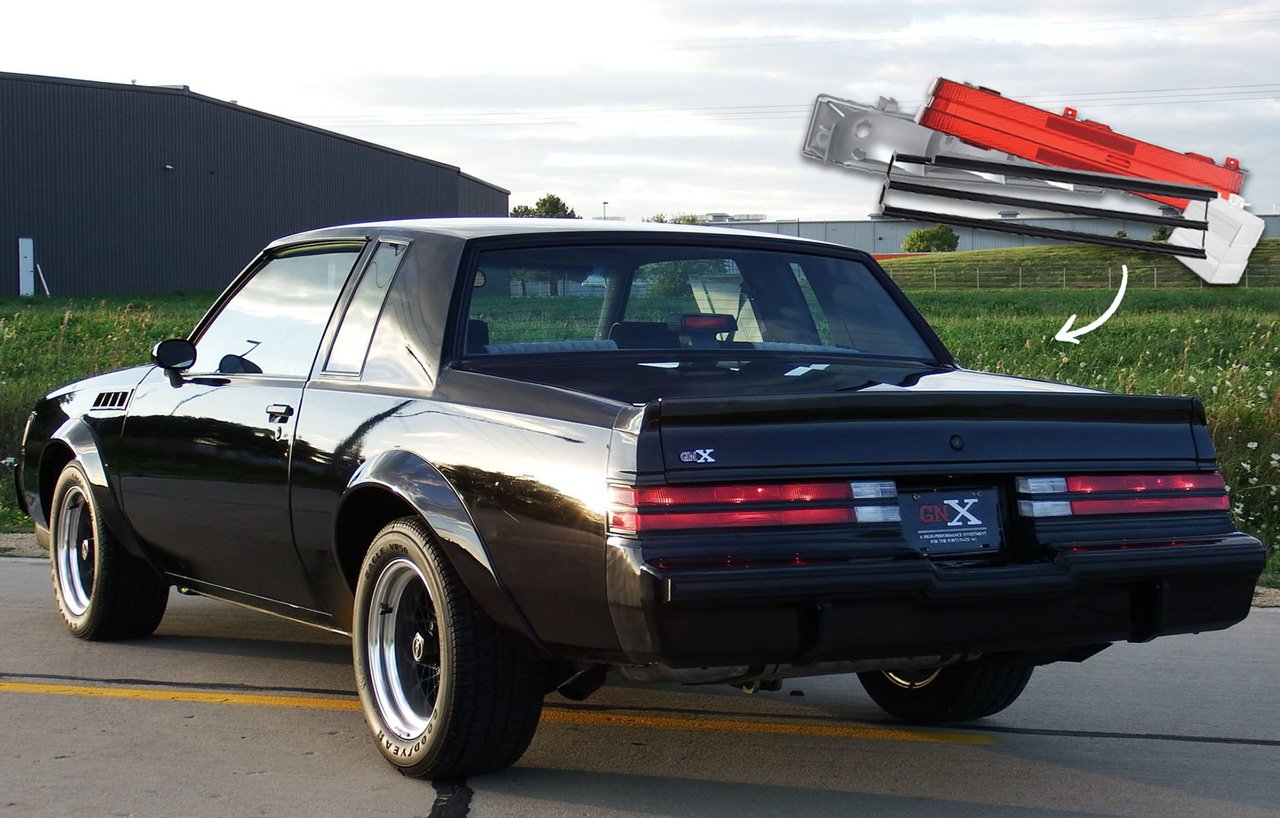 Photo courtesy of Mecum Auctions
The OER tail lamp parts pictured above are some of the latest items we offer for the Buick Regal and GNX. They're manufactured to replicate the original GM parts down to every last detail, and they fit as original too. These new OER components include the following items:
Of course, Classic Industries offers much more than just tail lamp parts — you'll also find body panels, glass, emblems, trim, interior upholstery, and many other parts. Click the button below for your free Buick Regal, T-Type, Grand National, and GNX restoration parts catalog: