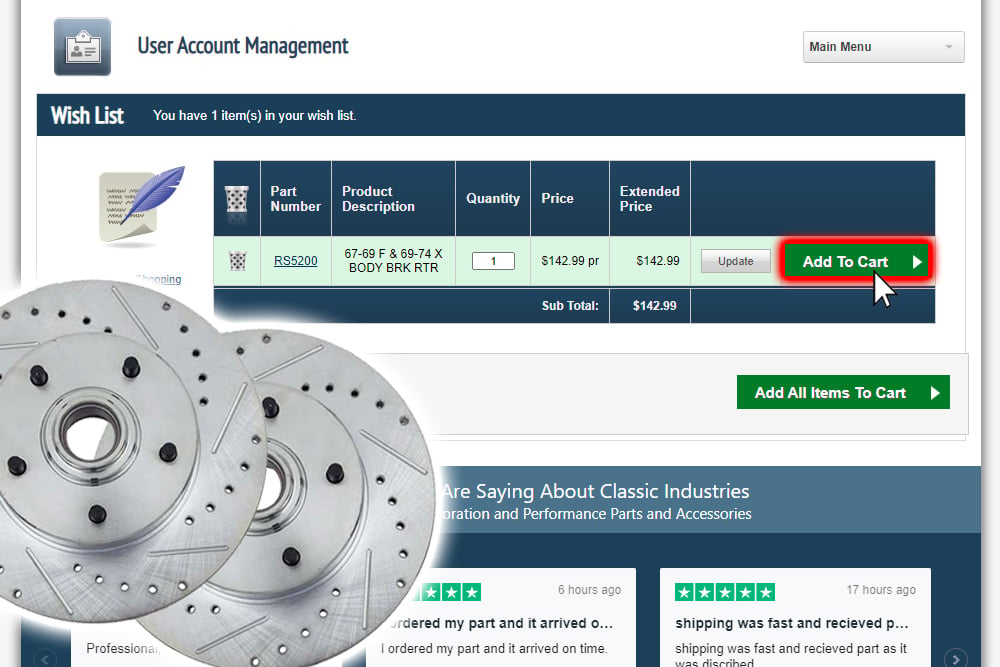 Restoring a classic car involves a lot of moving parts, both literally and figuratively. You've probably experienced the frustration of working on a project only to find you're missing a necessary component or tool. As the saying goes, "proper planning prevents poor performance." Making a complete list of parts and checking it twice before you begin will help your restoration work go smoothly. The Classic Industries Wish List function is an easy way to do this on a PC or mobile device.
How to Create a Wish List
It's simple to make a wish list on ClassicIndustries.com, but it's a feature that might be easy to overlook. So, today we'll show you how to use the wish list function on our web site.
Set Up an Account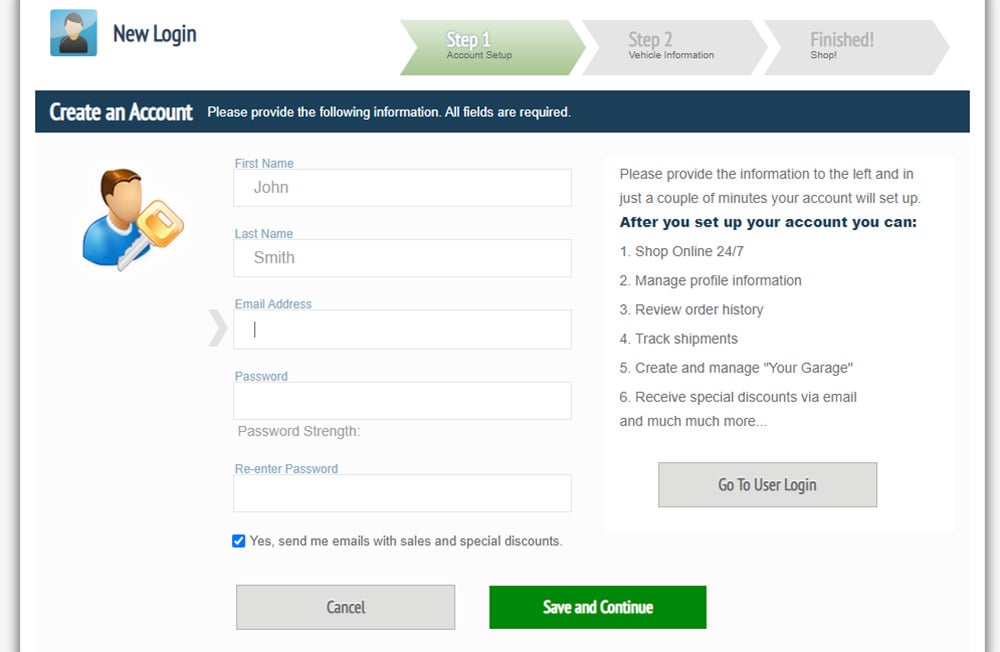 If you already have an account on ClassicIndustries.com, make sure you're logged in. If you don't have an account yet, you'll need to create one. To do this, click the "Create an Account" link on the right side of the blue bar at the top of the screen. This will take you to the account creation screen pictured above. Enter your name, email address, and password, then click "Save and Continue."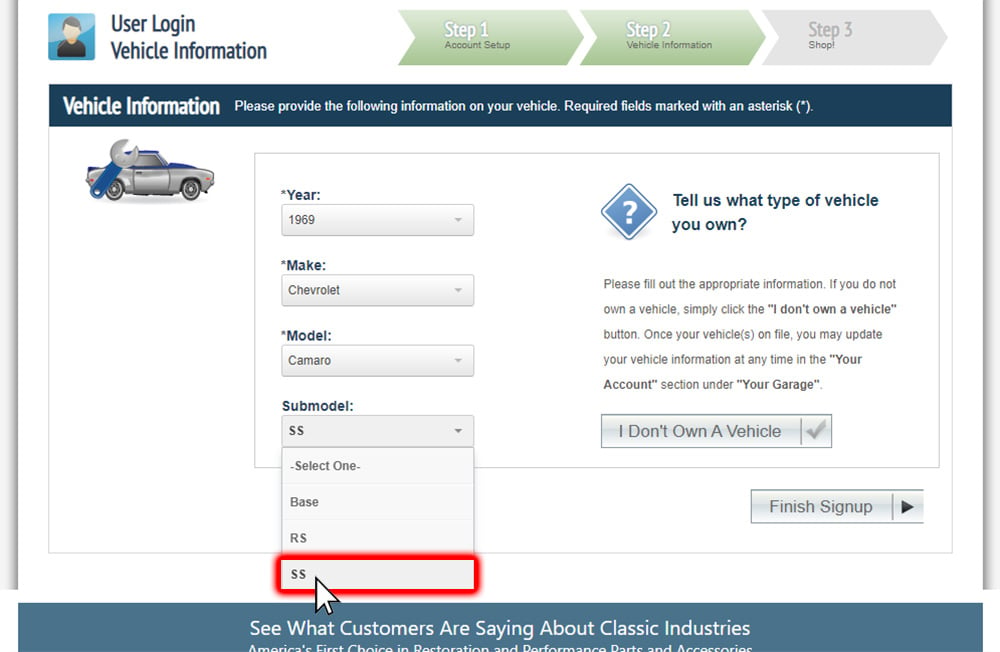 Next, you can enter the vehicle year, make, model, and submodel to help us narrow down search results. Refer to our Search Function FAQ article for more information on why this is important.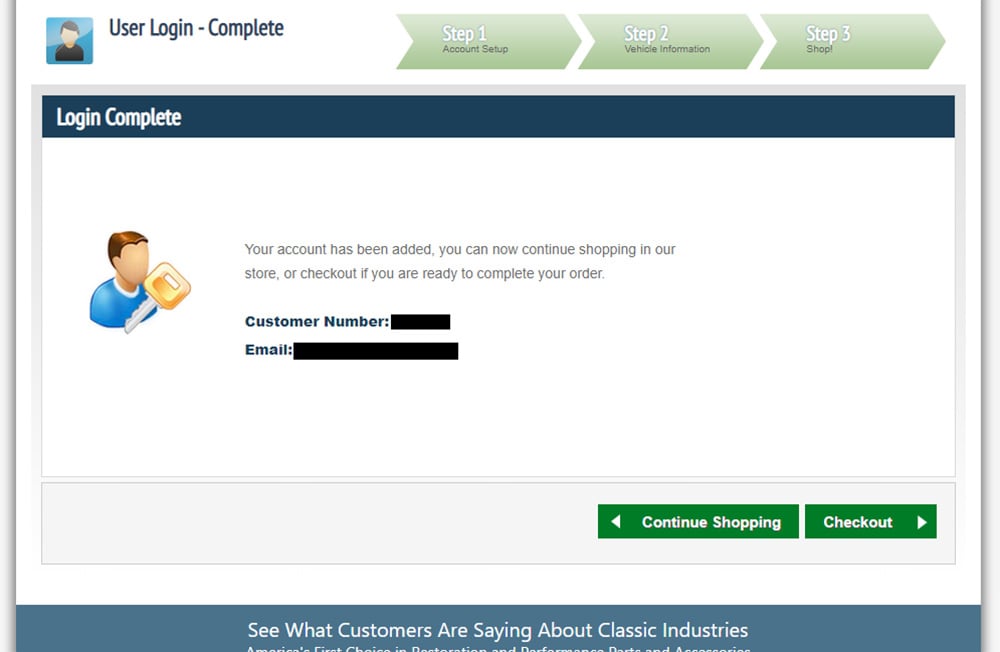 Finally, you'll see the screen above confirming your customer number and email address. Now you can hit "Continue Shopping" to browse for the parts you need.
Add Parts to a Wish List
Once you've found a part you'd like to add to your wish list, click through to the product page, and look for the "Add to Wishlist" link highlighted above.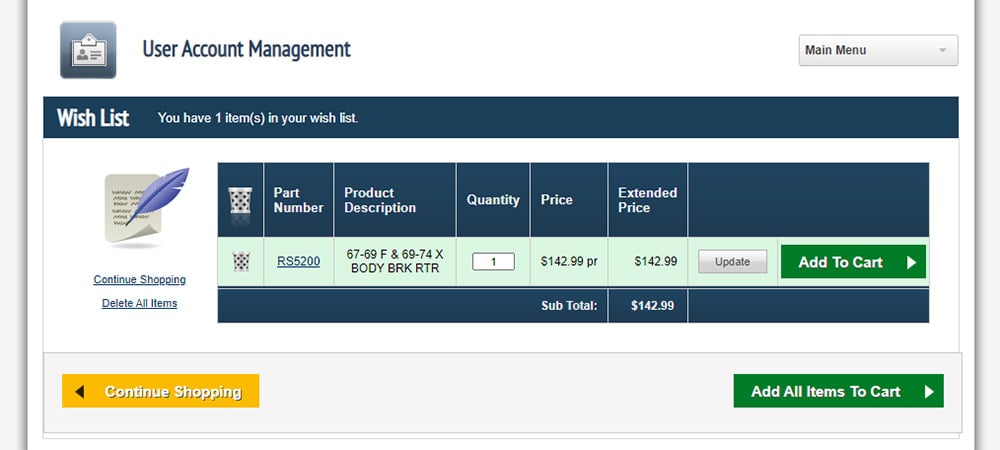 Clicking that link will take you to the wish list page as seen above. Click the yellow "Continue Shopping" button to return to the web store, and repeat as necessary to continue adding parts to the list.

Any time you want to return to your wish list, click the "Your Account" dropdown menu at the top of the screen and select "Wish List."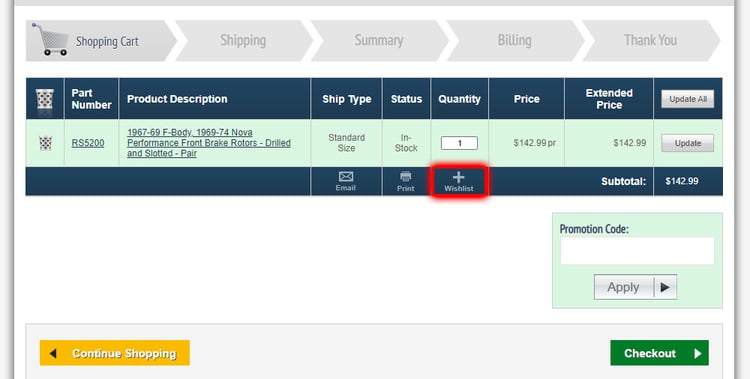 Once you're certain you have the items you need in your list, you can instantly add them to your cart by clicking the green "Add All Items to Cart" button. Items in the cart can be added back to the wish list by clicking the "+" button highlighted above. Items you no longer need can be deleted using the trash can icon on the far left.
Next time you're making a plan to work on your car, consider using the wish list function on our site to create a checklist of everything you need to order.
Other Ways to Order Parts
If you need one-on-one help finding parts and placing an order, give us a call at 1-800-854-1280. We also offer free full-color parts catalogs so you can flip through the pages to find what you're looking for. Click the button below to get a free restoration parts catalog for your classic car.