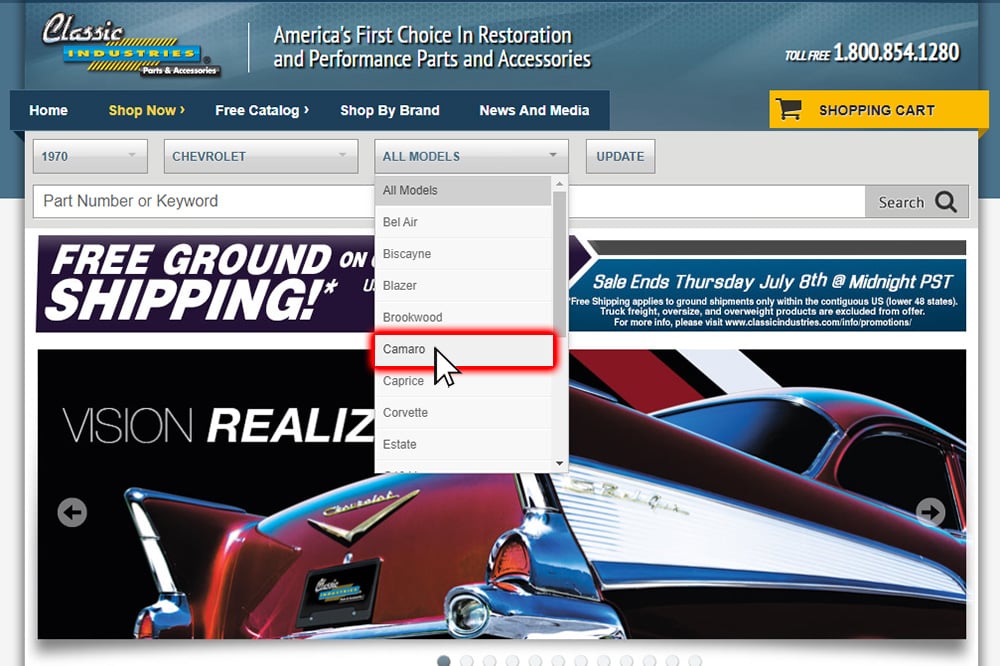 We often hear from customers who have questions about how to find the parts they need on ClassicIndustries.com. So, we created a quick-reference guide that explains how to use our search function. If you ever have trouble finding a certain part, be sure to remember the following tips from our Search Function FAQ.
How to Use Our Search Function
Set the Year, Make, & Model

Before entering any search terms, we recommend you first select the appropriate year, make, and model of your vehicle. This will narrow down the search results to parts that fit your vehicle, so you'll be able to find the appropriate parts faster.

Important Note: Don't forget to reset the year, make, and model selection if you need to find parts for a different vehicle. Just click the "Modify Vehicle" button, as seen above.
Type in a Keyword (or Several)

Once the model is selected, simply type in a description of the part you're looking for. This can be one keyword, as pictured above, or several words (i.e. a key phrase), as pictured below:

Using multiple specific keywords will help our site deliver the most relevant results quickly. We recommend using 2-4 keywords in most cases.
Optional: Type in a Part Number

If you happen to know the exact part number or product number you're looking for, type it in. In many cases, you can also find the correct item by typing in the OE part numbers that are printed or stamped on parts that came with your vehicle.
Synonyms and Abbreviations

There are often instances where several different names are used for the same part (e.g. headlight and headlamp), or where parts are abbreviated (e.g. cam/camshaft or carb/carburetor). Our search function will do its best to generate appropriate results with any of these terms, but it doesn't always know every possible nickname and synonym. If you're not seeing the parts you're looking for, try searching for the most common synonyms or non-abbreviated part names.
More Search Tips

If one of the keywords you used turns up no results, don't worry — our search function will show products related to the other keywords. But, if none of the keywords generate any results, you'll see the message above. Consider these tips for your next search:
• Make sure all words are spelled correctly.

• Try a different spelling and/or spell out abbreviations.

• Make sure the product number is typed in accurately.

• Make sure that the correct model is selected for the product you are searching for.

• Try different keywords.




• Try more general keywords.

• Try a different year - make - model combination.

• Try a broader search by searching all vehicles.
Other Ways to Order Parts
If you need one-on-one help finding parts and placing an order, give us a call at 1-800-854-1280. We also offer free full-color parts catalogs so you can flip through the pages to find what you're looking for. Click the button below to get a free restoration parts catalog for your classic car.