Among the rich and famous, there are many who have nice cars, but far fewer who seem to be true automotive enthusiasts. From what we've seen, renowned podcast host and comedian Joe Rogan falls into the latter category. In a previous article, we wrote about his gorgeous black 1969 Camaro built by Roadster Shop. That car features an 860-horsepower LSA V8 and a manual transmission. Rogan was clearly pleased with how it turned out, since he also handed over the keys to his custom 1970 Plymouth Cuda. The stunning results of this build were documented in a recent video by Autotopia LA.
The Roadster Shop "Sickfish 2.0" Cuda Project
This isn't the first time this 1970 Cuda has gone under the knife. It was originally built about 20 years ago by the famed Troy Trepanier of Rad Rides by Troy. The tastefully-modified exterior includes custom-molded front and rear spoilers, tucked bumpers, a custom-fabricated diffuser and exhaust tips, and sleek silver paint. The crew at Roadster Shop left it mostly unmodified, citing the quality craftsmanship, but added a set of exterior door handles to the previously shaved doors.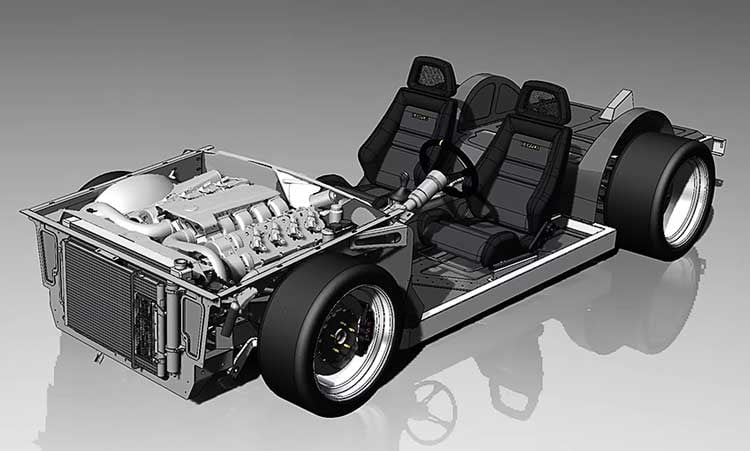 However, under the surface, every bit of this Cuda has been rebuilt from the ground up. Roadster Shop spent hours in CAD software mapping out a completely new chassis that accommodates a new engine and rear-mounted manual transaxle attached via a torque tube. Specifically — and this may feel like sacrilege to some Mopar enthusiasts — the car is powered by a Mercury Racing SB4 7.0L crate engine based on GM LS architecture. But even if you're a Hemi fan, you've got to respect this naturally-aspirated engine's 11.7:1 compression ratio, 8,000rpm redline, and 750hp output on pump gas.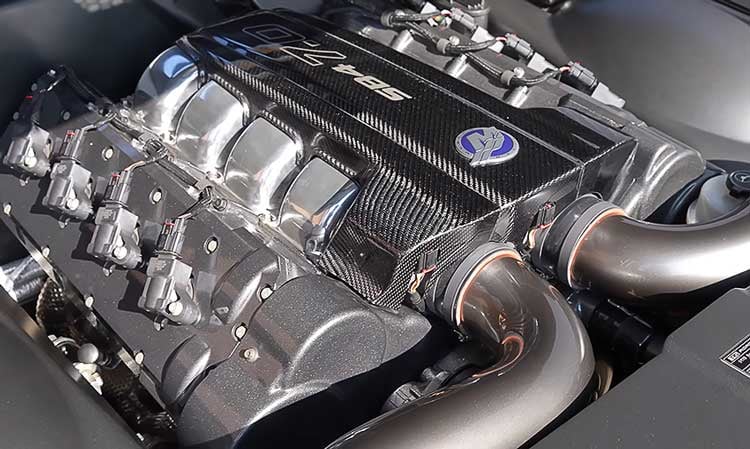 Roadster Shop paired the engine with a six-speed manual transaxle built by Bowler Transmissions. Since it's mounted between the rear wheels, there's a lot more pedal and leg room up front, producing a more comfortable driving experience. It's also beneficial for weight distribution and handling.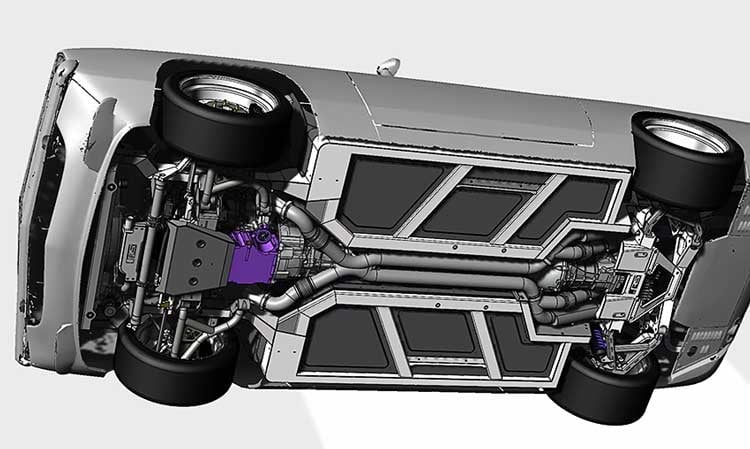 No expense was spared to create the most precise and comfortable road feel. And with extremely wide front and rear tires tucked under the body, it has plenty of traction to make 750hp feel easily controllable.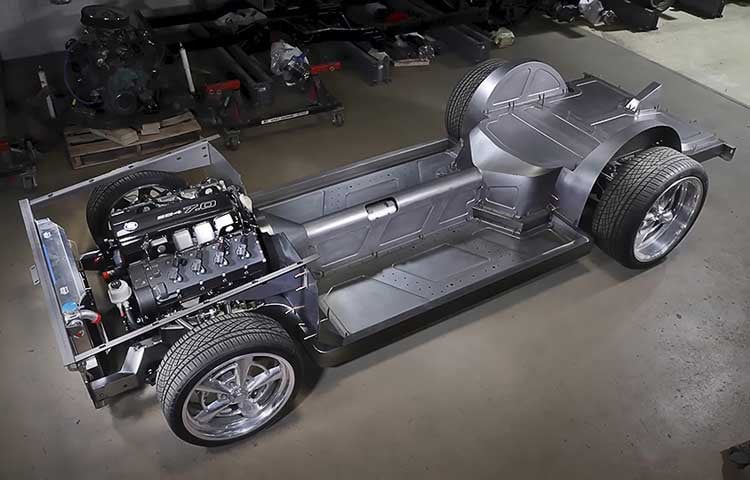 Take one look at the underpinnings of the Cuda's body, and you'll see thousands of man-hours were put into making Version 2.0 of Joe Rogan's "Sickfish" Cuda even better than it was when it was first built back in 2003.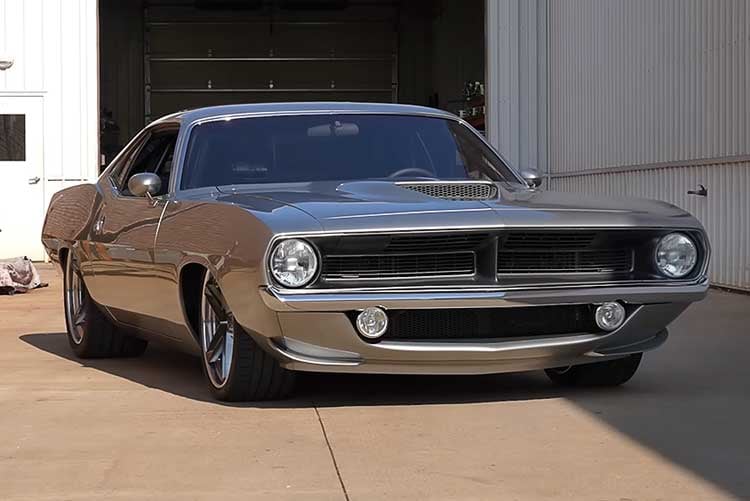 We highly recommend watching the full video from Autotopia LA for a closer look behind the scenes of this build, with a deep dive into all the small details. And of course, you've got to hear that 7.0L engine sing at 8,000rpm:
Need Parts for Your Mopar Muscle Car Project?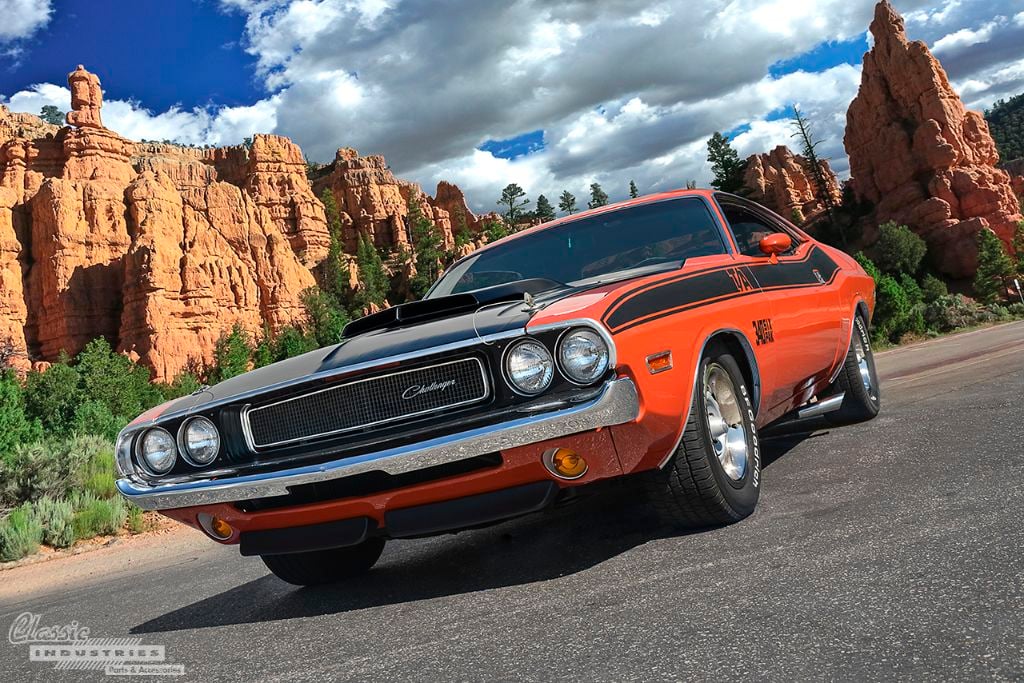 If you're working on a classic 1960-76 Dodge or Plymouth muscle car build, Classic Industries can help you find the parts you need to complete it. This includes body panels, trim, suspension parts, wiring, and even complete crate motors. Click here to view our Mopar parts online, or hit the button below to get a free full-color Mopar parts catalog.