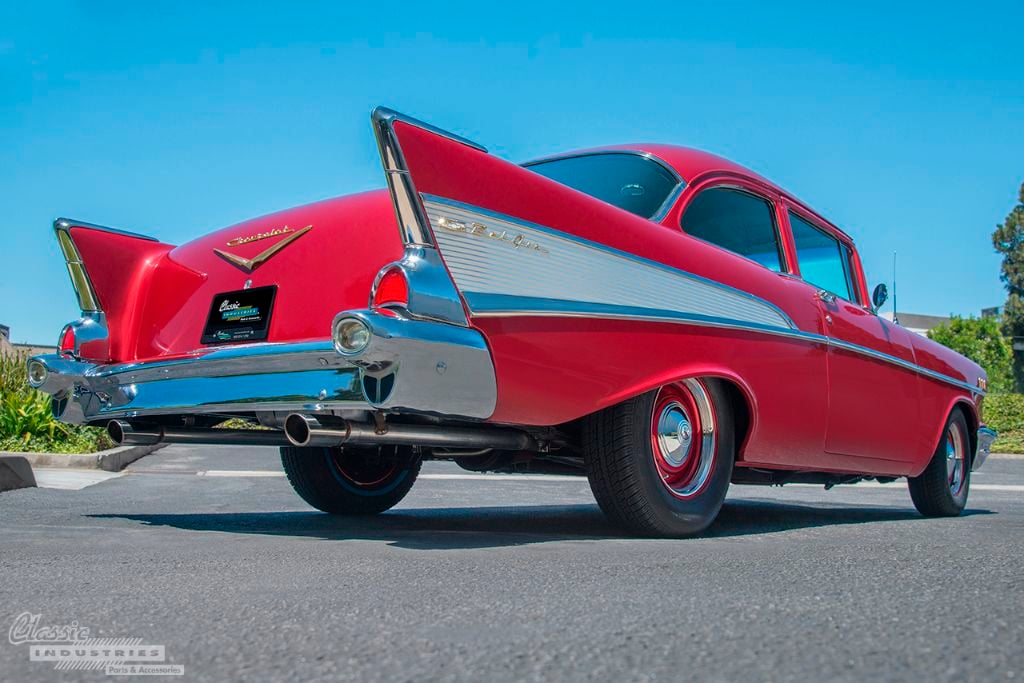 Many who are new to the classic car world have wondered, "what is a Tri Five Chevy?" The nickname Tri Five is used to represent a specific set of classic Chevrolet vehicles, namely the iconic 1955, '56, and '57 Chevrolet cars. This includes the well-known One-Fifty, Two-Ten, Bel Air, and Nomad models, as well as lesser-known sub-models such as the Delray coupe, and Handyman, Townsman, and Beauville wagons. In this article, we'll take a detailed look back at the various configurations, paint codes, and some noteworthy optional accessories for the 1955-57 Chevy Tri Five.
1955 Tri Five Chevy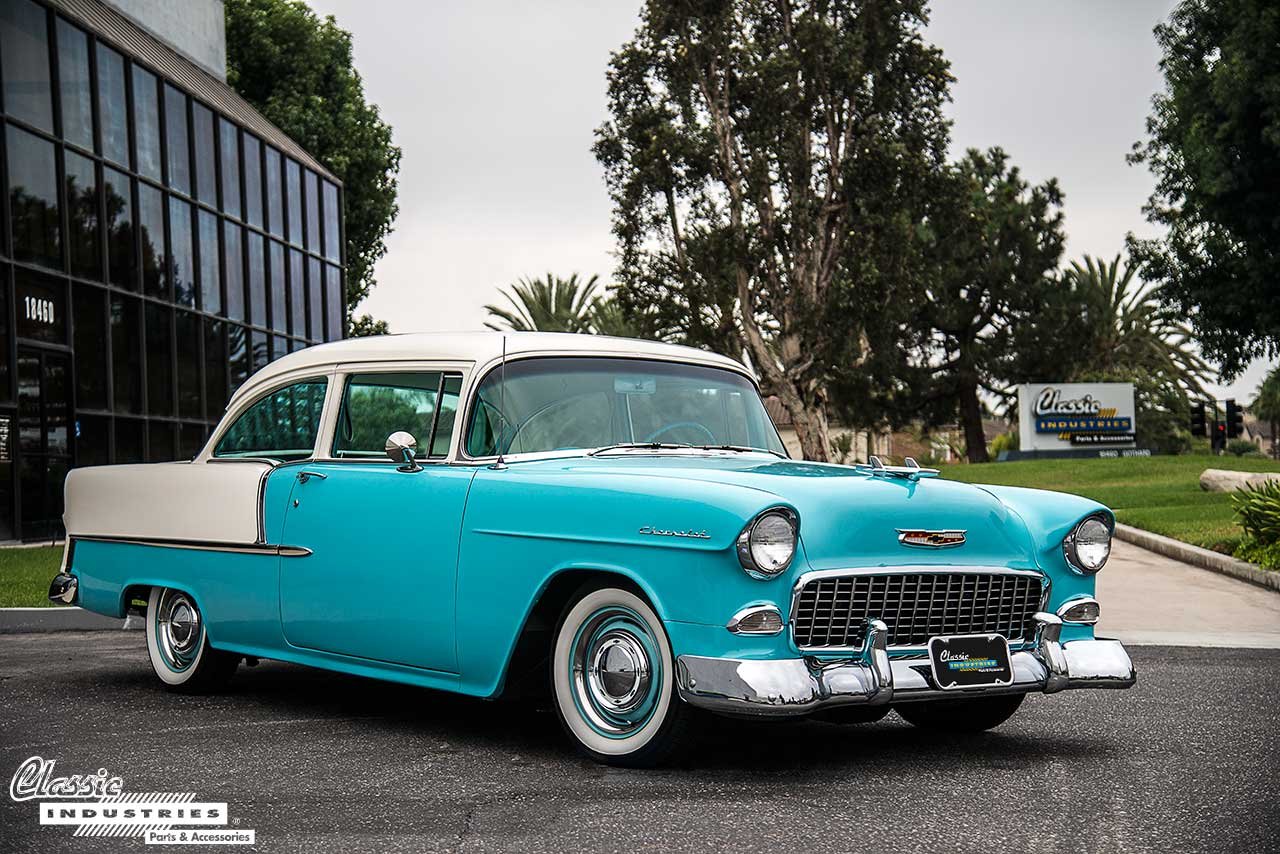 The 1955 Tri Five Chevy was an all-new redesign. Each passenger car could be had with a 235ci L6 or 265ci V8 with 3-speed manual, 3-speed manual with overdrive, or 2-speed Auto (Powerglide).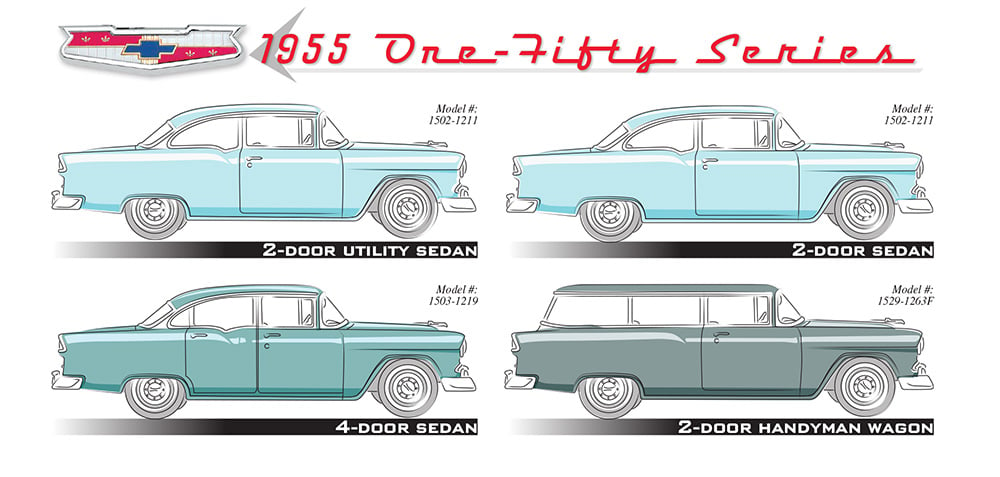 The 150 level came with the essentials and almost nothing else. It had rubber floor mat instead of
carpets, 2-spoke steering wheel with a horn button (no ring), no passenger sun visor, small hubcaps, and very little exterior trim. The ashtray, cigarette lighter, coat hooks and armrests were optional equipment.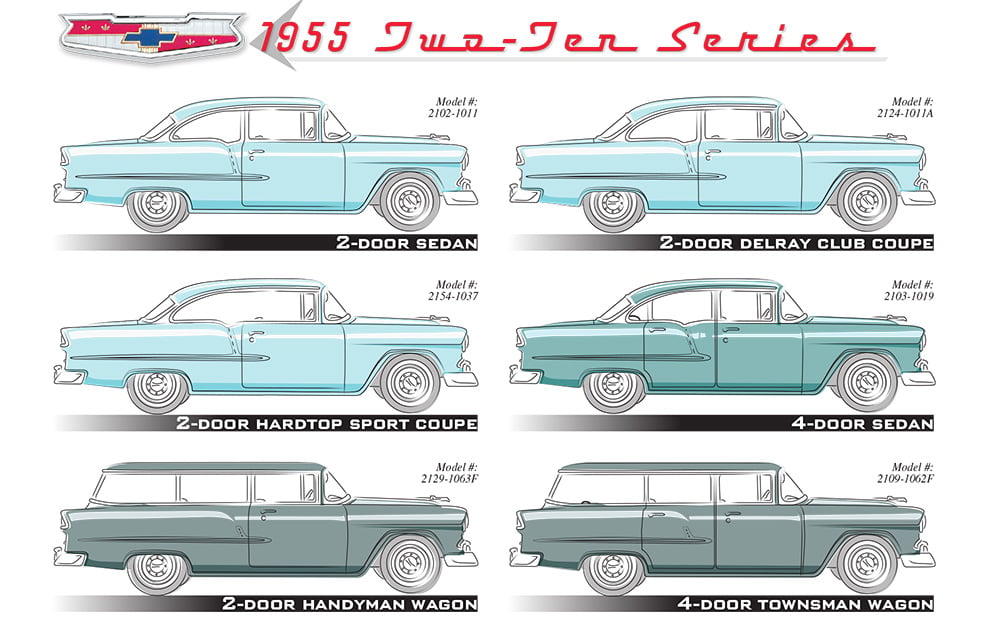 The 210 level still had rubber mats instead of carpet, but it featured stainless window trim, moderate exterior side moldings, seat moldings, glove box light, cigarette lighter, ashtray, automatic dome lights, and a horn ring.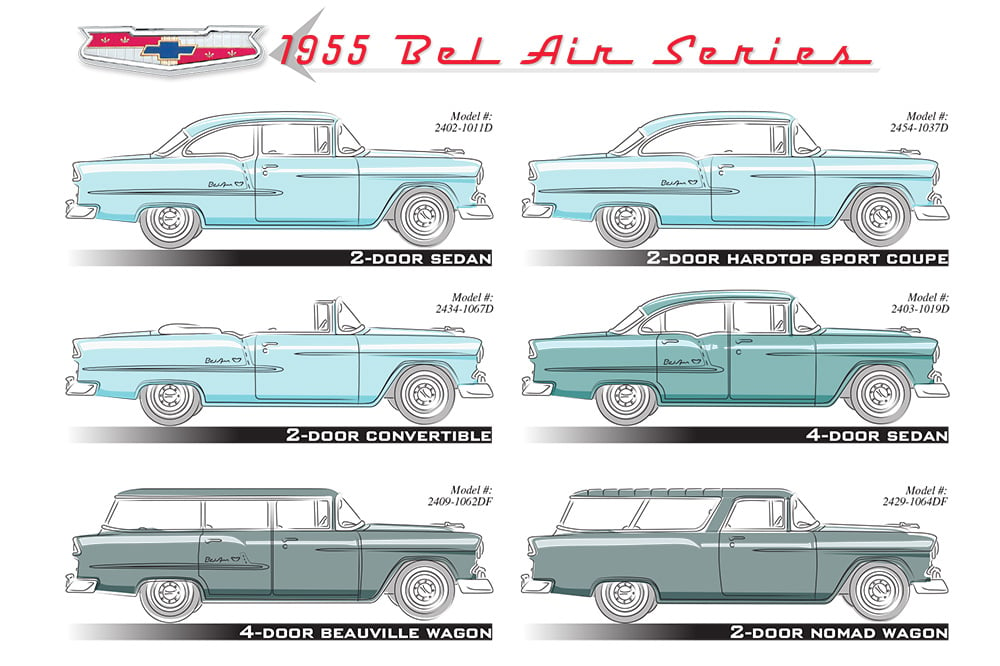 The Bel Air came with the maximum amount of exterior chrome and bright trim, unique exterior emblems, and the full complement of interior features such as a 3-spoke steering wheel with horn ring, floor carpet, electric clock, ash trays, arm rests, etc.
1955 Chevy Paint Codes: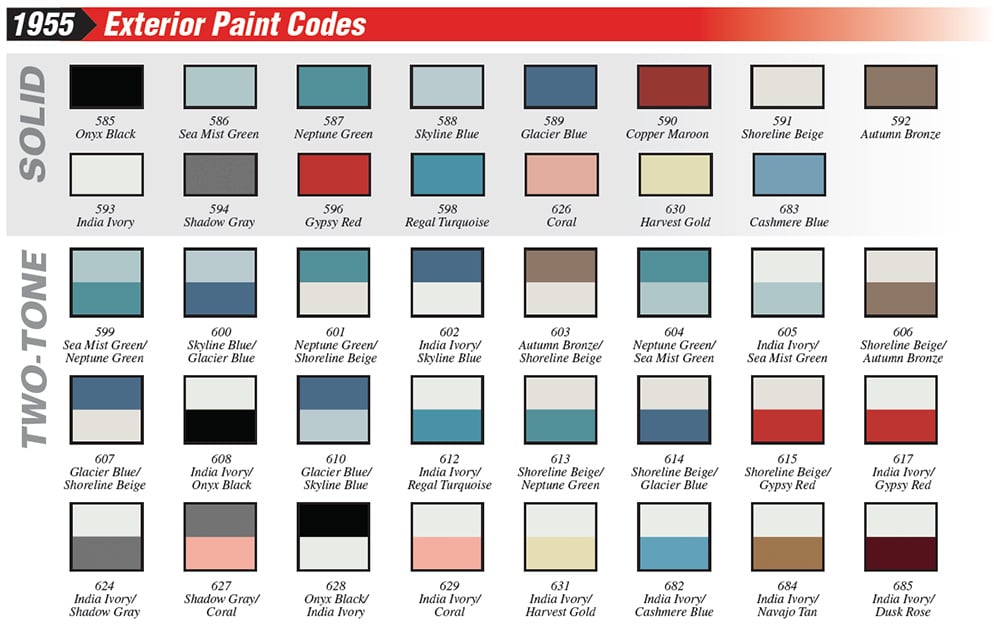 1955 Chevy Accessories:



Back-Up Lamps - "Reverse lamps light automatically when the car is shifted into reverse. Permits safe backing in dark areas."
G.M. Electric Shaver - "A four-contour shaver plugs into cigarette lighter socket. For use in car and home. Operates on 12-volt battery or 110-volt AC."
Automatic Top Raiser - "A new modern electronic device that will automatically raise a convertible's top at the first drop of rain when the car is unattended."
1956 Tri Five Chevy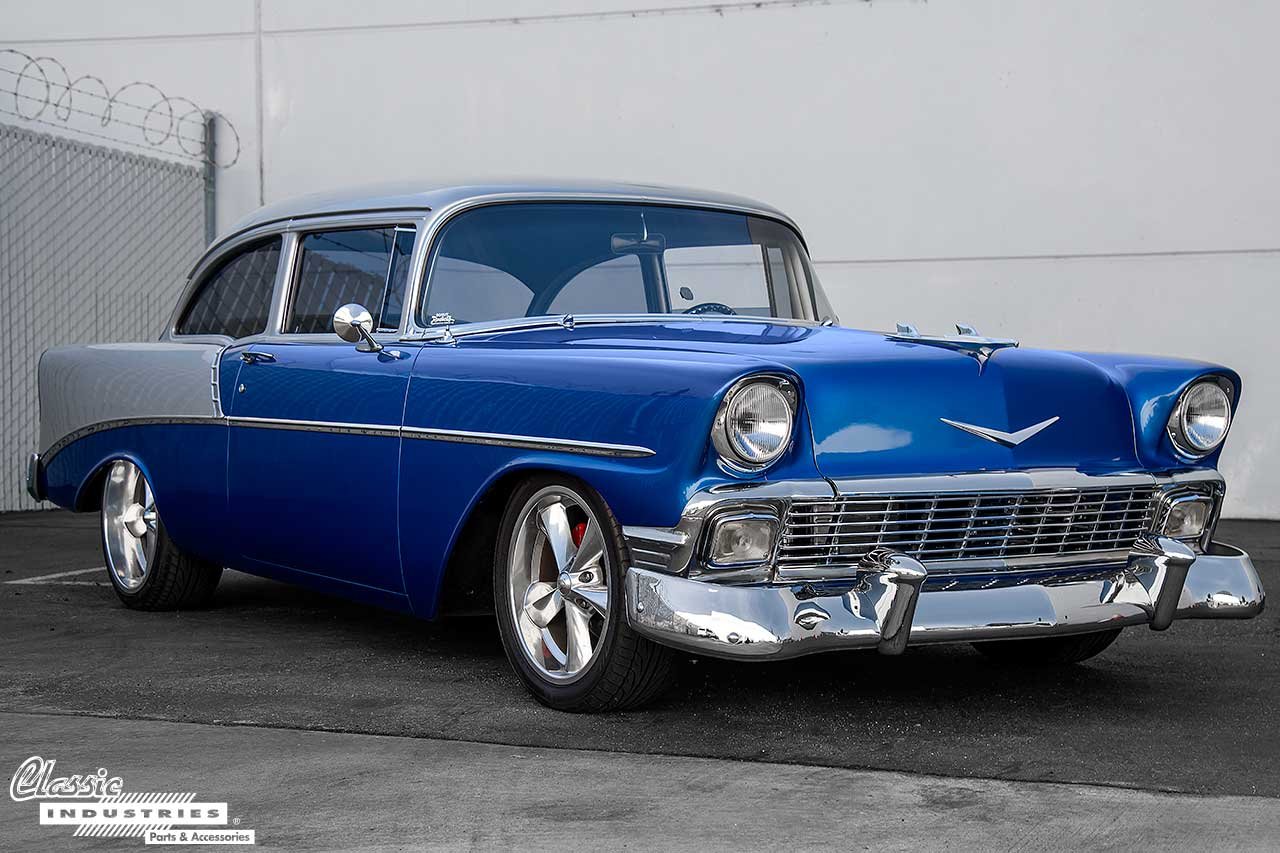 1956 Chevy Tri Five cars were 2-3 inches longer and received a new full-width front bumper, new wheel openings, and a fuel cap hidden behind the driver side tail lamp. Horsepower went up for all engines and V8s received oil filters.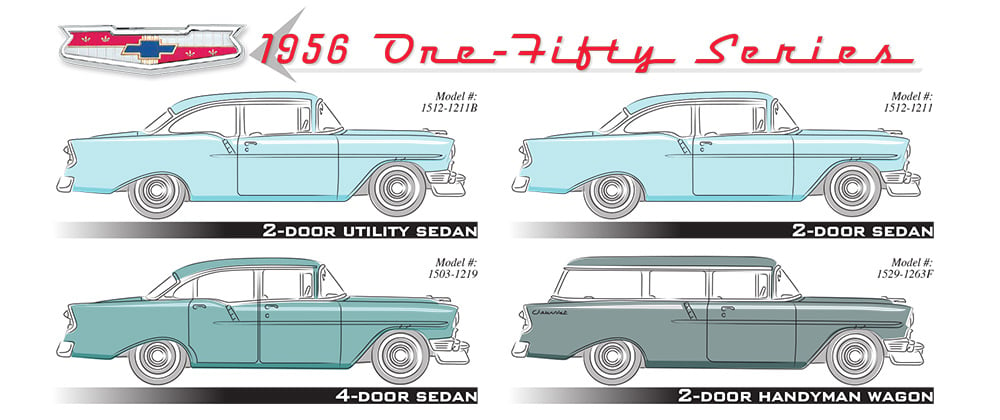 The 1956 150 was spruced up with gold vinyl interior trim, bright windshield trim, and simple stainless steel side moldings. It still had rubber mats instead of carpet, and it still only had a driver side visor.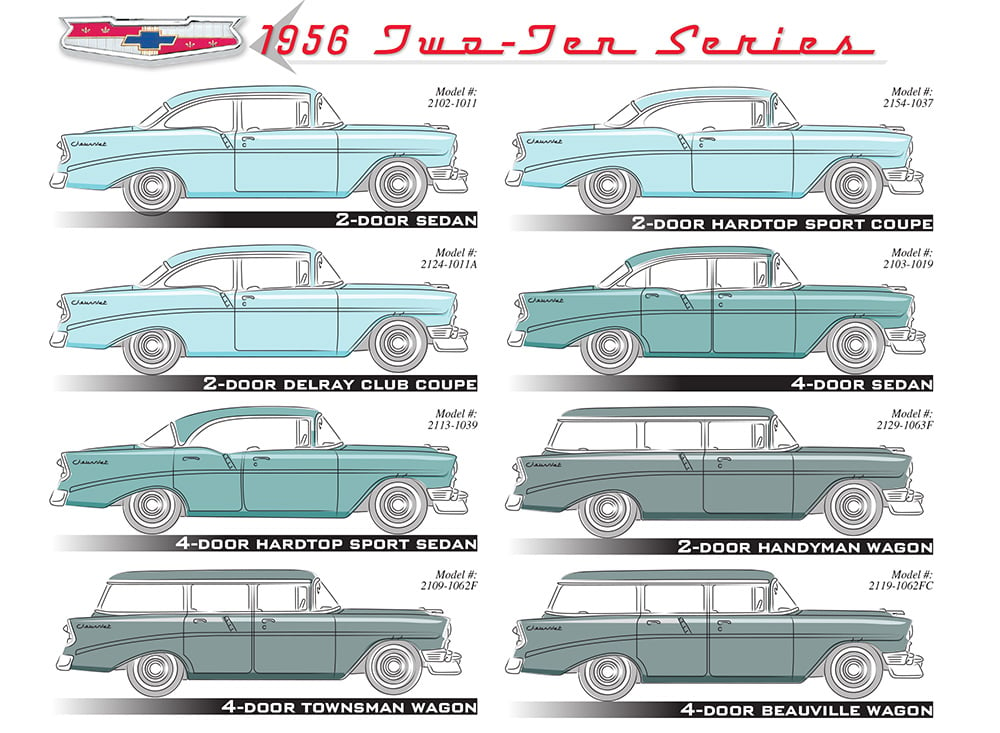 The 1956 210 was offered with new upholstery material, different exterior trim, and a "Beauville"
9-passenger wagon was added.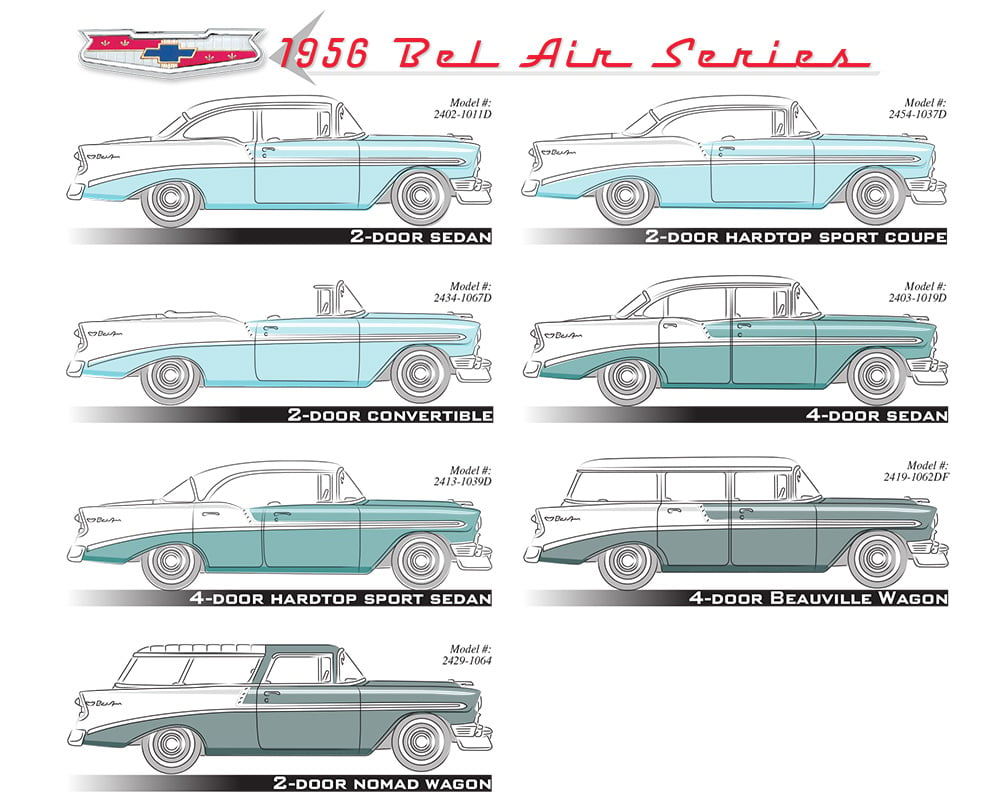 The 1956 Bel Air once again came with the most standard features and the greatest amount of exterior trim. A 4-door hardtop (sport sedan) was added.
1956 Chevy Paint Codes: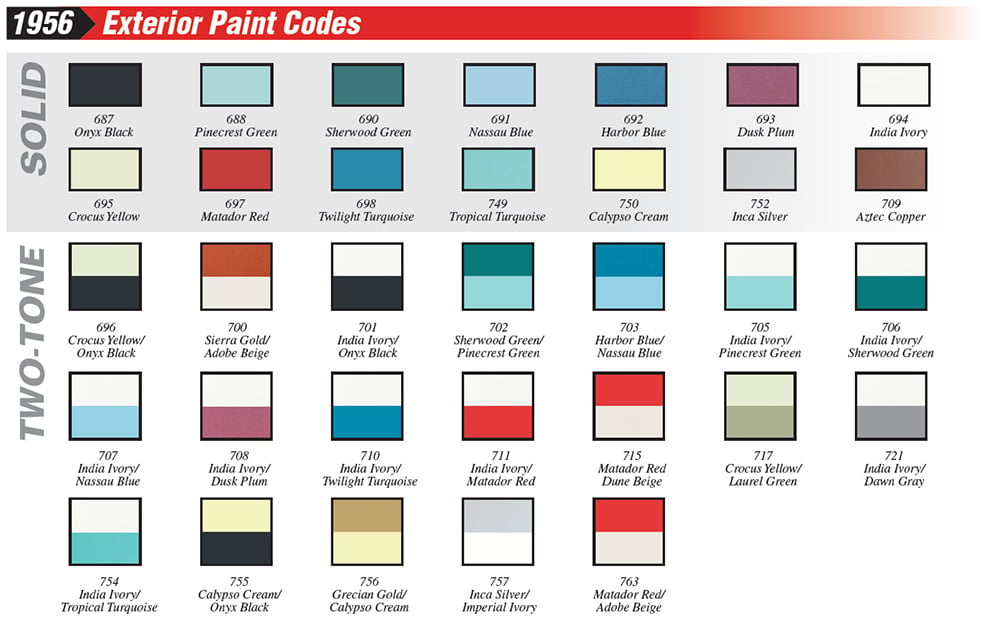 1956 Chevy Accessories:

Rubber Floor Mats - "These large colorful all-rubber mats (above) size 16" x 18", come in Blue, Green, Red or Black and can be used in the front and rear of all 1956 models."
Rear Seat Speaker - "This larger 6 x 9 inch speaker used in conjunction with the speaker in your radio gives you a combination of speakers for excellent tone distribution and tone quality throughout your car, for your extra motoring pleasure."
Power Windows and Seats - "At the touch of a fingertip you can power-position all four windows and adjust the front seat for best driving comfort. All the work is done for you by powerful compact electric motors, extremely simple and trouble-free."
1957 Tri Five Chevy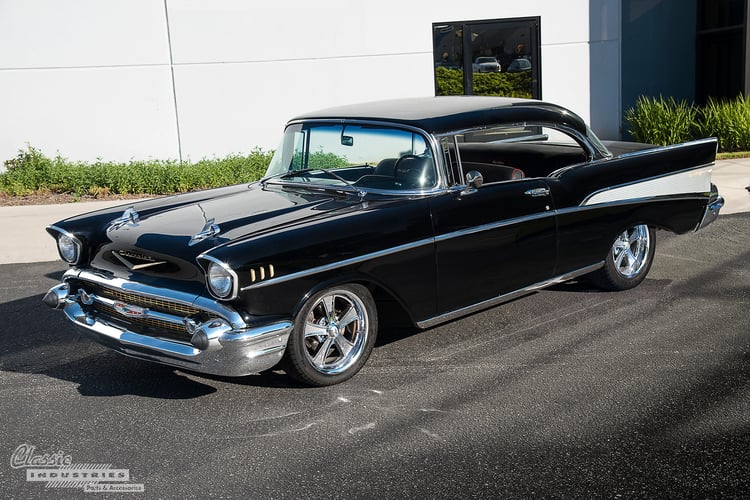 1957 Chevy Tri Five cars were a substantial redesign, sharing only the roof, doors, and trunk with the previous years. The bumper and grille were integrated and a new gauge cluster was introduced. A 283ci V8 was offered and could be had with mechanical fuel injection. A Positraction limited slip rear axle was available for the first time.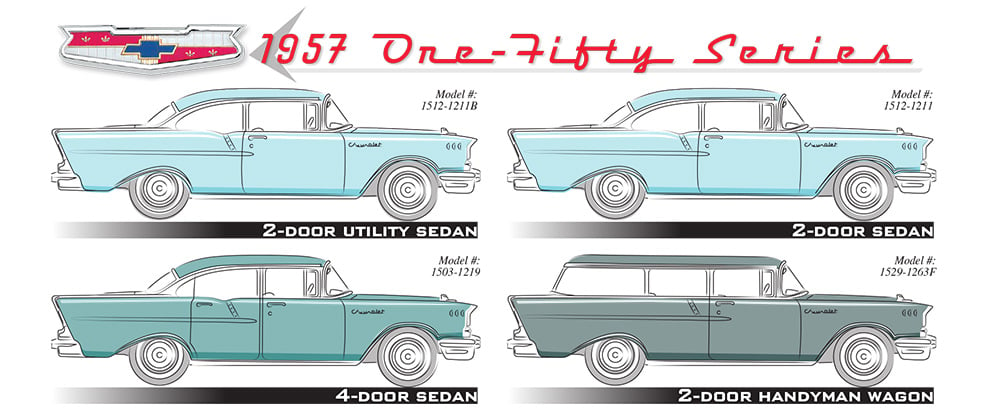 The 1957 150 was still very plain with a bright windshield surround and minimal interior and exterior trim, but finally offered an ash tray as standard equipment.
The 1957 210 carried over all the features from previous years. Cloth and vinyl interiors were used in everything besides the Del Ray and wagon models, which were all-vinyl.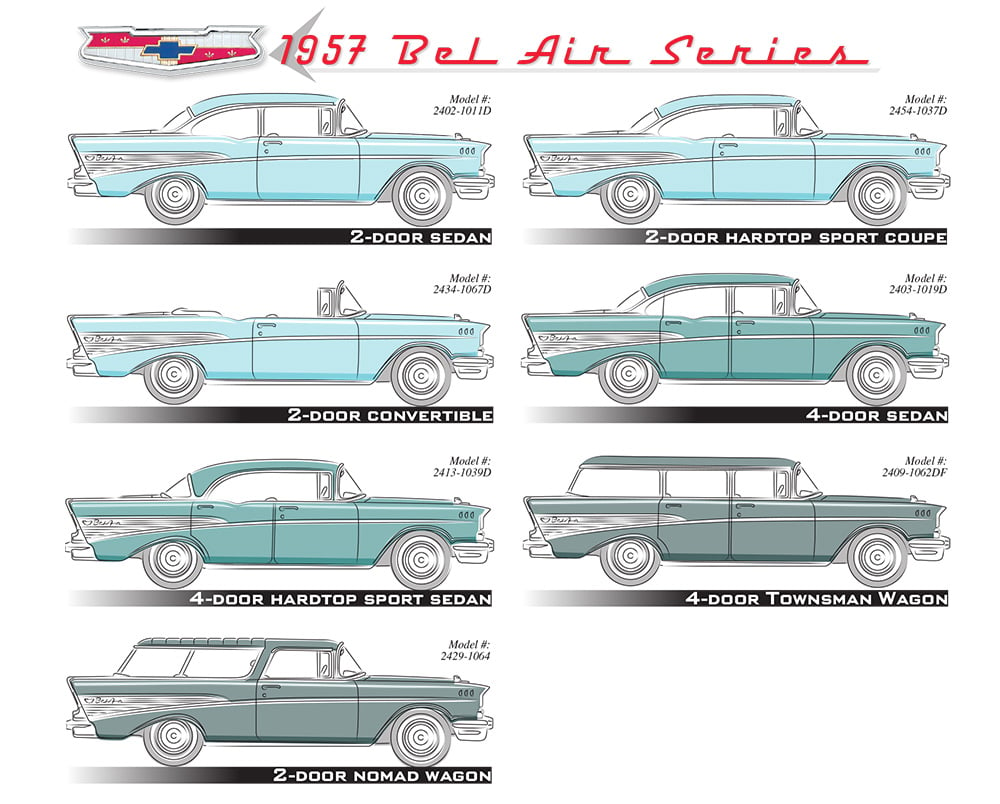 Bel Air once again came with the maximum amount of interior and exterior trim, adding gold accents for 1957.
1957 Chevy Paint Codes: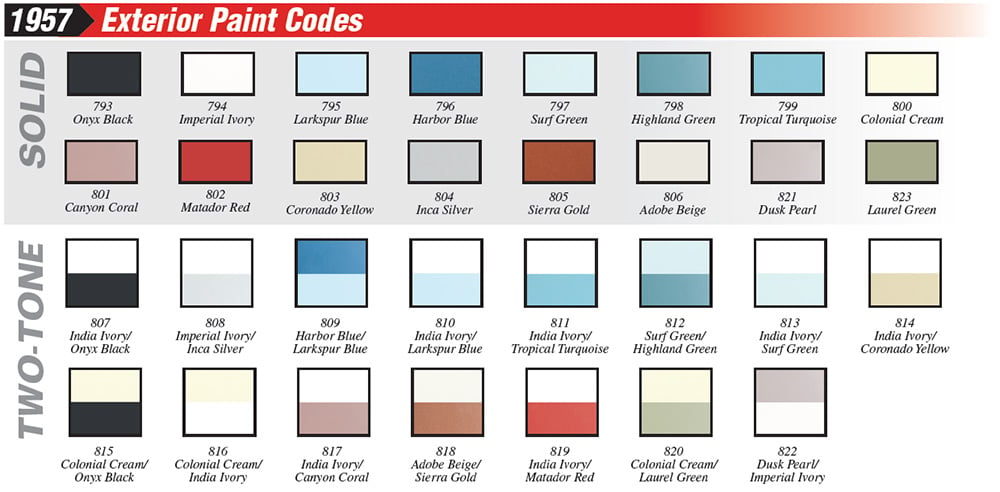 1957 Chevy Accessories:

De Luxe Heater - "Enjoy living room comfort in your car with a complete change of air every sixty seconds! This highly advanced all-weather system heats, defrosts and ventilates."
Ramjet Fuel Injection - "Fuel injection is here and Chevrolet has it! Instant throttle response from the moment you press the accelerator and a resulting sense of sensational smoothness! Greater overall fuel economy!"
High-Volume Ventilation - "Chevrolet's all new high volume ventilation system makes driving refreshing in any climate. It's the finest in its field! Special intakes at the headlights deliver air in large amounts taken in, above road dust and fumes."
Tri Five Restoration Project Examples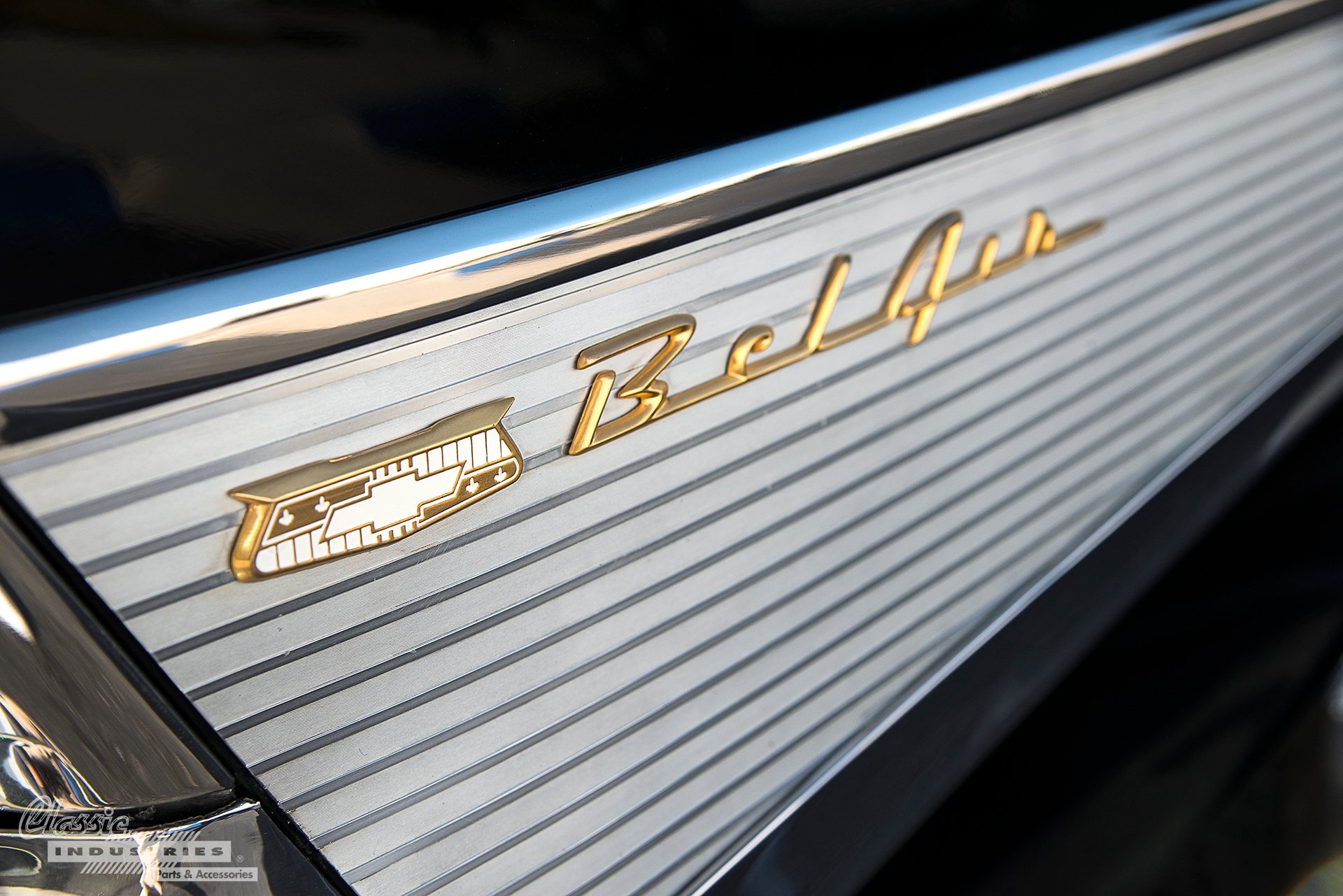 Many Classic Industries customers have stopped by our Retail Showroom in their restored 1955, '56, and '57 Tri Five Chevy cars. We collected some photos of a few of our favorite examples here: 1955-57 Chevy Restoration: 6 Timeless Classics
Tri Five Chevy Parts
If you're looking for replacement parts, performance upgrades, or maintenance and cleaning supplies for your Tri Five, we'd be happy to help you. Click the button below for a free full-color Tri Five Chevy restoration parts catalog.