By the early 1960s, Dick Harrell was a racing champion, setting records left and right behind the wheel of Chevrolet cars that he had substantially modified. When General Motors discontinued its racing support in the mid-1960s, many racers abandoned Chevrolet in favor of alternatives from Ford and Chrysler, but Harrell continued undaunted. He had already earned many nicknames, but this commitment earned Harrell the moniker that would stick with him: "Mr. Chevrolet."
Dick Harrell and the 427 Camaro
When the Camaro was introduced as a 1967 model, Harrell teamed up with dealers such as Yenko Chevrolet and used the Central Office Production Order (COPO) process to have the largest V8 engines available installed in the nimble Camaro. These COPO 427 Camaro models became some of the most sought-after vehicles from the original muscle car era. According to DickHarrell.com, "It is believed Harrell was the first to install a 427 into a Camaro for a dealer, Nickey Chevrolet, to be sold to the public as a dealer-installed new car."
Harrell used his reputation to convince the American Hot Rod Association (AHRA) to create a special Pro-Stock racing class for these COPO 427 Camaro models.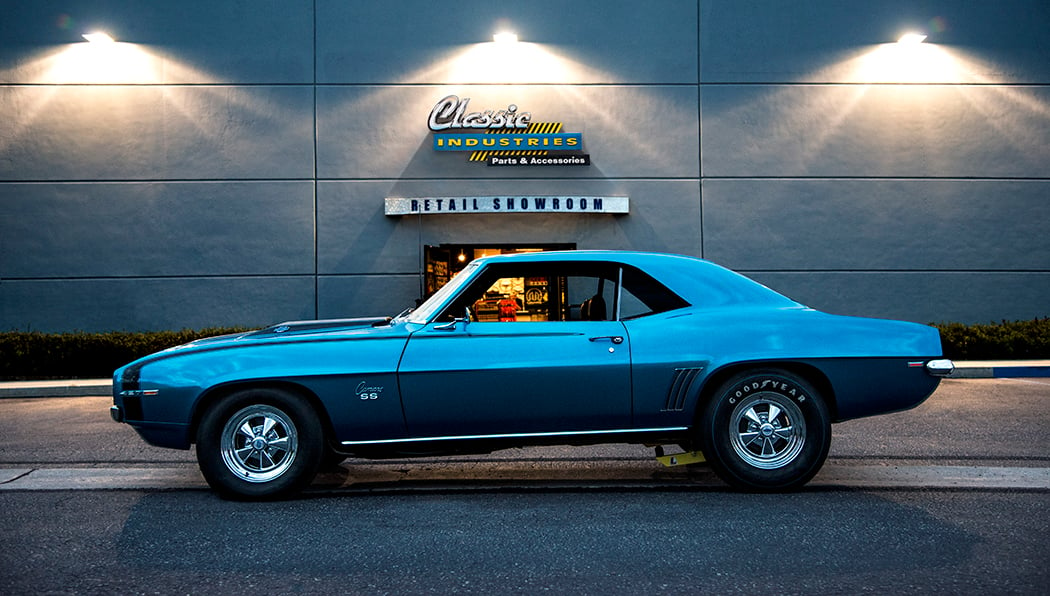 Above: This 1969 Camaro left the factory with a 396ci V8, but the Harrell Performance Center immediately replaced that engine with a 427ci big-block before it was sold to the public.
By 1969, Chevrolet had taken notice and enlisted Harrell's help for the development of their ZL1 427 aluminum big block V8 for Can Am racing. The ZL1 would find its way under the hood of select Chevrolet cars. The 1969 ZL1 Camaro would prove to be the quickest production Camaro models that would leave the factory for decades to come.
A Tragic End
Harrell 427 Camaro: A Piece of History
Classic Industries recently added a very special 1969 Camaro that was built by "Mr. Chevrolet" to the collection of display cars.
"When I first came across this rare 1-of-10 427 Camaro at Barrett Jackson, I knew it was a unique opportunity,"

- Jeff Leonard, Classic Industries CEO.
This Camaro started life as an SS 396 car and was immediately sent to the Dick Harrell Performance Center to be upgraded with the best components of the day, including an iron-block 427ci with a ZL1 camshaft, 4.56 gears, and Lakewood traction bars.
This video tribute is dedicated to the man who put together such remarkable vehicles:
The Enduring Legacy
Dick Harrell, the loving husband and father, remains in the private memories of his family and friends. "Mr. Chevrolet," the legend behind some of the innovations that made Chevy the force that we know today, will live on in the hearts and minds of enthusiasts forever.