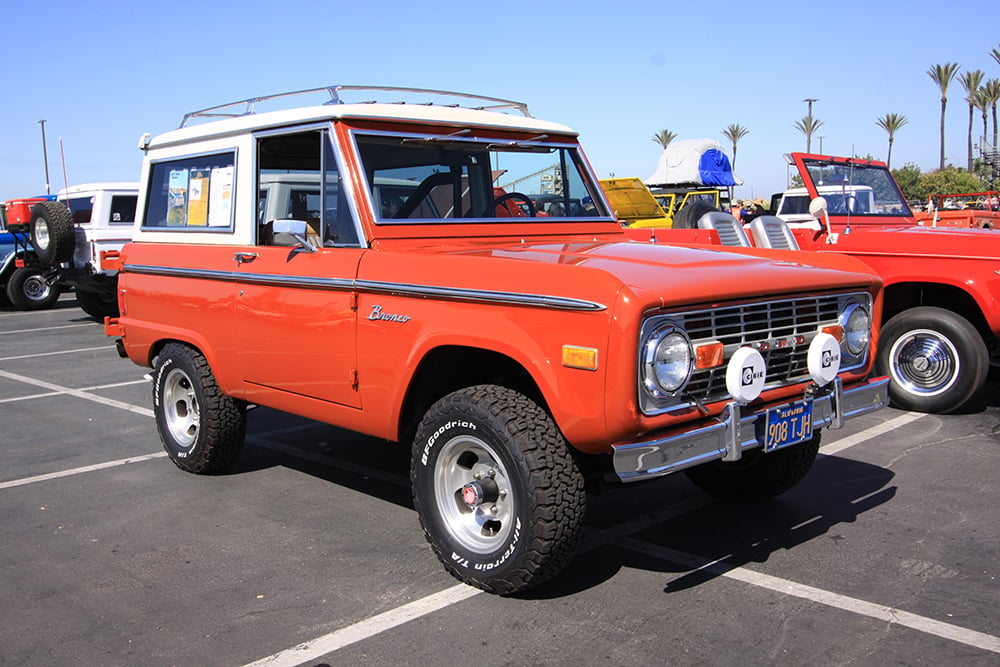 Some collectible cars and trucks lead charmed lives. They have been driven, pampered, and renewed over the years by the people who have been and who currently are their caretaker. Such is the case with a very solid 1977 Ford Bronco Ranger, owned for the last 16 years by Mr. Dave Kunz of Glendale, California.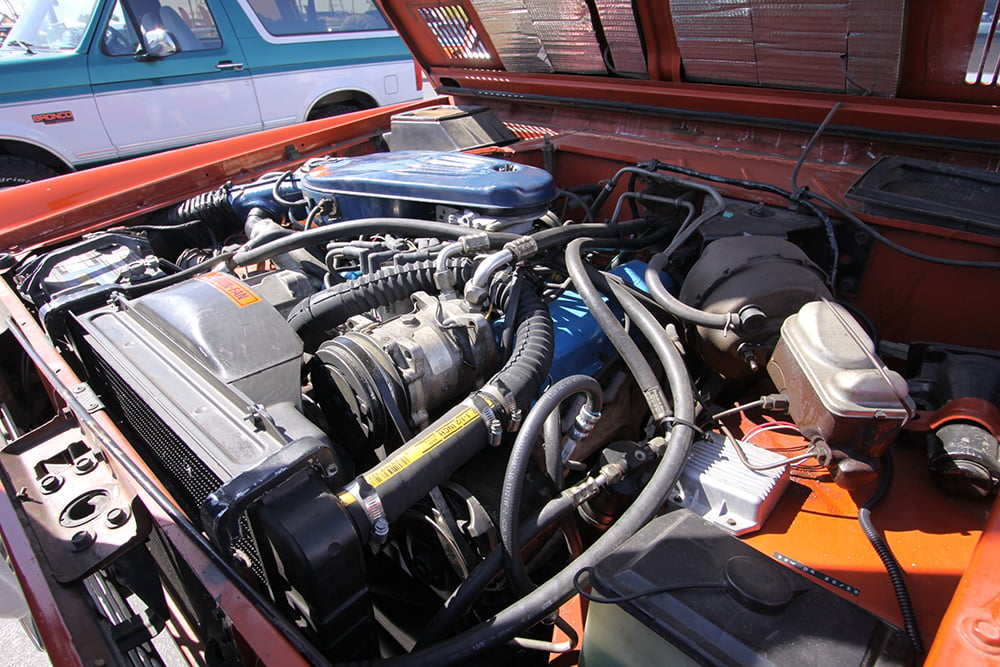 The numbers matching 302-cubic inch V8 and C4 automatic transmission still runs strong. The air conditioning system was dealer installed back in 1977.
His Bronco was built in June of 1977, making it one of the last first-generation Broncos to roll off Ford's assembly line before the larger second-generation Broncos began production. A couple months later it sold off the showroom floor at Chino Hills Ford in Southern California.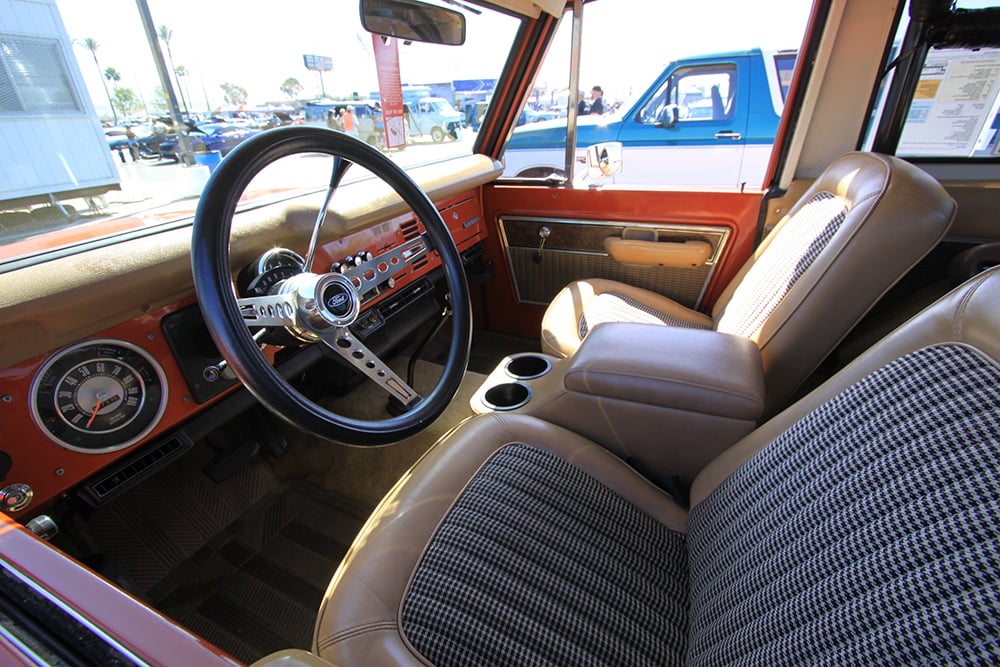 Dave added the smaller, padded three-spoke steering wheel and the Autometer short-sweep tachometer, two items that would have been available in period off-road accessory catalogs. He also installed a custom made center console from Classic Consoles that matches the factory tan interior perfectly. A reproduction dash pad replaced the cracked one.
Bronco collector George Wright purchased the SUV from the original owner in the early '90s and proceeded to repaint it himself in its original hue of Medium Copper. This was by no means a difficult task for George, since he was a retired painting contractor. While he was at it, he had a professional upholsterer repair and renew the factory houndstooth seats, which was a feature of the Ford Bronco Ranger trim package. Several years later, it joined other Broncos in George's collection at his ranch in Grand Junction, Colorado.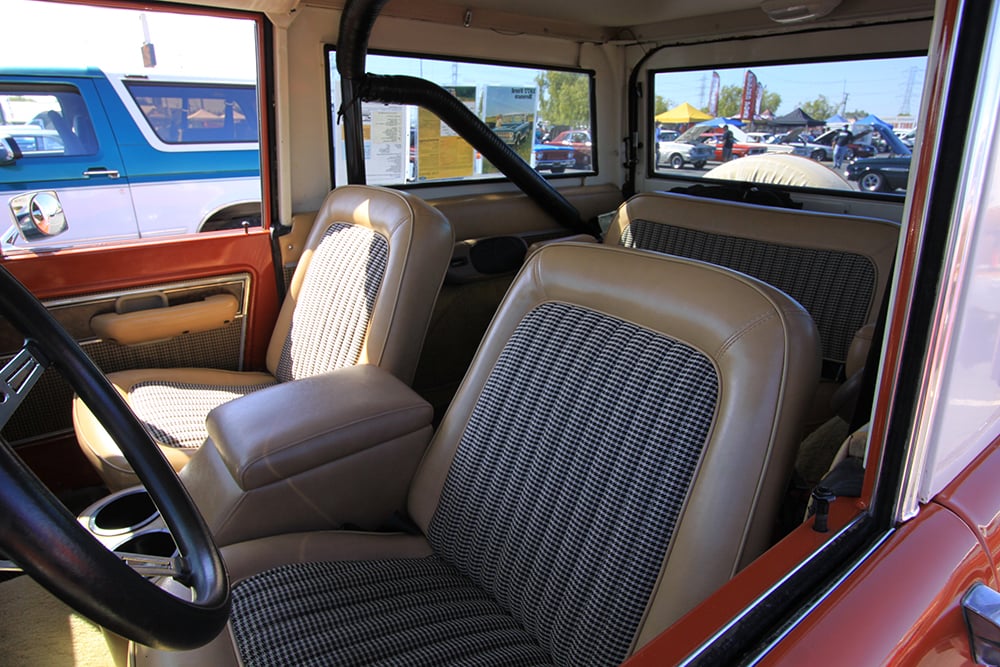 Accomplished vintage off-road journalist Jim Allen included several photos of the Bronco in a book and magazine article that he created not long after the vehicle had been freshened up. Despite the fact Mr. Wright collected these rambunctious vehicles, he also put them to great use. George drove the Bronco for bird hunting expeditions, pulled his fishing boat with it for fishing trips, and towed the Bronco behind his RV for camping vacations with the family.
The Cibie spotlights were a common accessory on the Bill Stroppe Baja Broncos, which were sold new through Ford Dealers from 1971-1975. The Bronco's current caretaker became intrigued with the Bill Stroppe Baja Bronco look in 2009, so he added some elements to his Bronco, like these spots.
After George's passing in 2005, his son Jim Wright, a California resident, listed the Bronco for sale in the online Auto Trader Classic classified ads. Dave had already been searching several months for a first-generation Bronco when he saw the vehicle listed one Sunday morning. He called the Santa Clarita Valley phone number before anyone else and learned when talking to the young Mr. Wright that the Bronco was still located in Colorado.
During Dave's 45-minute phone conversation with Jim, and learning about the rich history of George owning, using, and collecting various first-gen Broncos, Dave decided to purchase the SUV sight unseen. The two agreed to a verbal handshake price over the phone of $11,500. Jim had already been planning to bring his widowed mom to California to live with his family, so he decided to also haul the Bronco on a flatbed trailer behind his Ford F-250 pickup in the next couple weeks.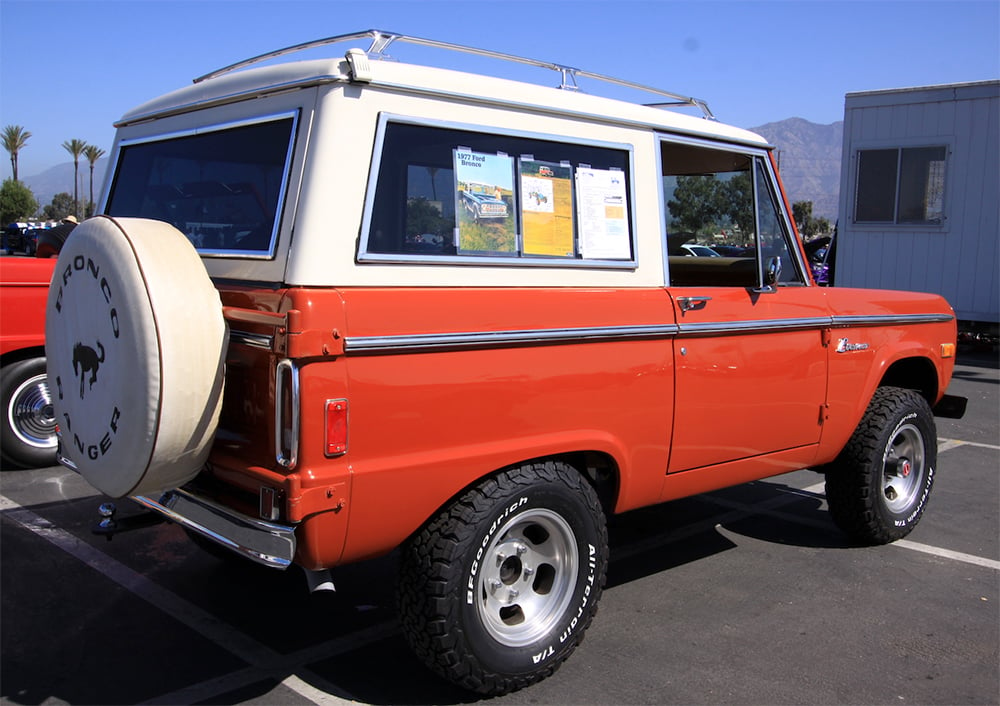 The slotted mag wheels were another Baja Bronco item that add to the truck's subtle theme. Dave saved the original wheels and covers for returning the SUV to stock, if he ever wishes to do so. Notice that the rear wheel wells are uncut. Many Broncos have had the rear wheel arches relieved to make room for more meaty off-road tires and a lifted suspension. It's nice to see a Bronco that has a factory fresh appearance.
Once the Bronco was back in its home state of California, Jim phoned Dave and conveyed that the Bronco was running rough. He told him that he'd have his mechanic fix the problem. Dave shared that he was excited to see the car in person, so he drove over to Jim's house in Newhall, California. He started the car and agreed that something was amiss, yet Dave knew when he first saw the Bronco that he had made a very wise purchase decision.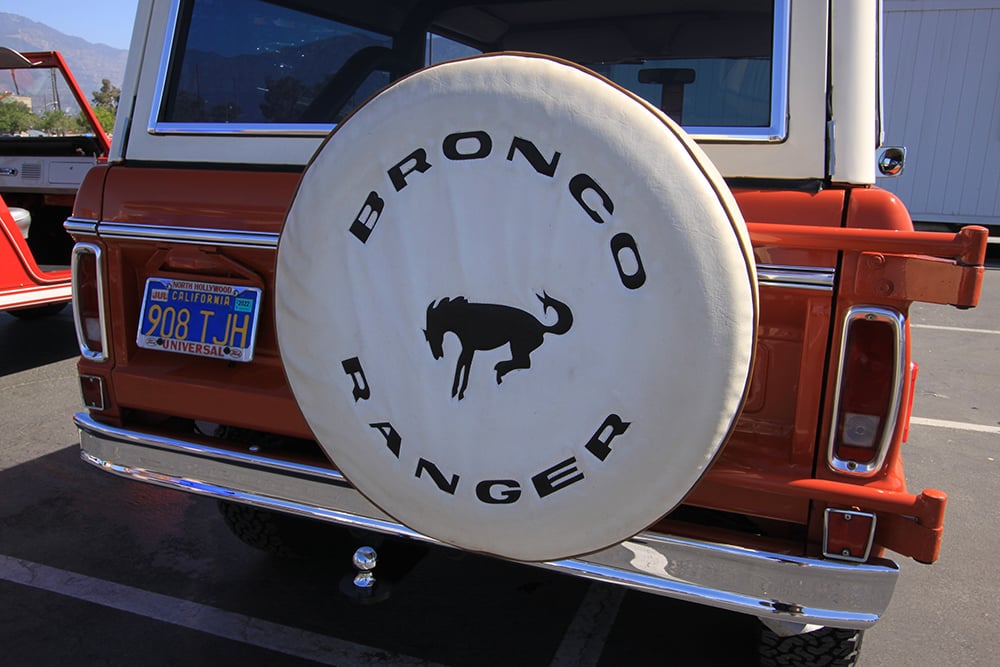 Several days later Dave went back to Jim's house. He gave Jim's mom a cashier's check and took possession of the signed over pink slip and DMV paperwork. The SUV now ran great again, since Jim had his mechanic mount a new distributor and re-install the original smog system that's only necessary in the Golden State due to more stringent anti-smog laws. Dave started her up and drove straight to his San Fernando Valley home, undoubtedly grinning ear to ear the entire way. This was the first time Dave had ever driven a Ford Bronco!
The Bronco starred in an episode of "Jay Leno's Garage." Enjoy! It also appeared in a Hagerty Collector Car Insurance commercial. In addition, the well-chronicled SUV received a page of coverage in noted Bronco historian Todd Zuercher's comprehensive book, "A History of Ford's Legendary 4x4 Ford Bronco".
With Dave's ownership of the Bronco Ranger, the SUV's still being driven, shown, pampered, and improved. A necessity, Dave added a catalytic converter to the exhaust system to pass California's bi-annual smog tests. He replaced the windshield and had the rear windows tinted, since first-gen Broncos all had clear greenhouses. He had some rust in the tailgate repaired and replaced a cracked dash pad.
These days the Bronco gets driven regularly around town and has been a trusty steed on weekend junkets to Pismo Beach, Big Bear, and Palm Springs. By all accounts Dave's sight unseen purchase of this well-kept, well-used 1977 Ford Bronco Ranger has been a bases loaded, grand slam home run. Well done, Dave, Jim, Jim's mom, George, and the Bronco's first owner! Thanks to your collective efforts this 1977 Ford Bronco Ranger continues to enjoy an enchanted existence.
If you need some Bronco parts, there's a great chance that you'll find them at Classic Industries. Simply click the button below to shop for Ford Bronco parts.