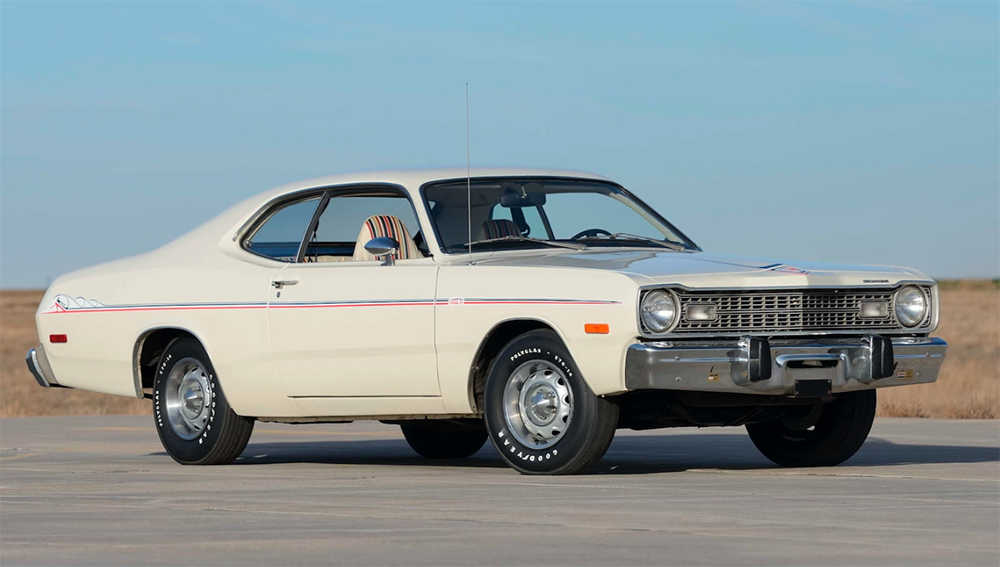 Automotive designers and automotive aficionados around the world know that the most dramatic and important feature to a car's overall look is the grill or the nose. Of course, every aspect of a car's design has to form an overall cohesive design aesthetic for the automobile to have a chance at being a winner in terms of units produced and sold. What's more, the car has to be well engineered and comprised of quality components for it to be considered a success while it's being sold and when it gets collected and chronicled in American pony and muscle car history.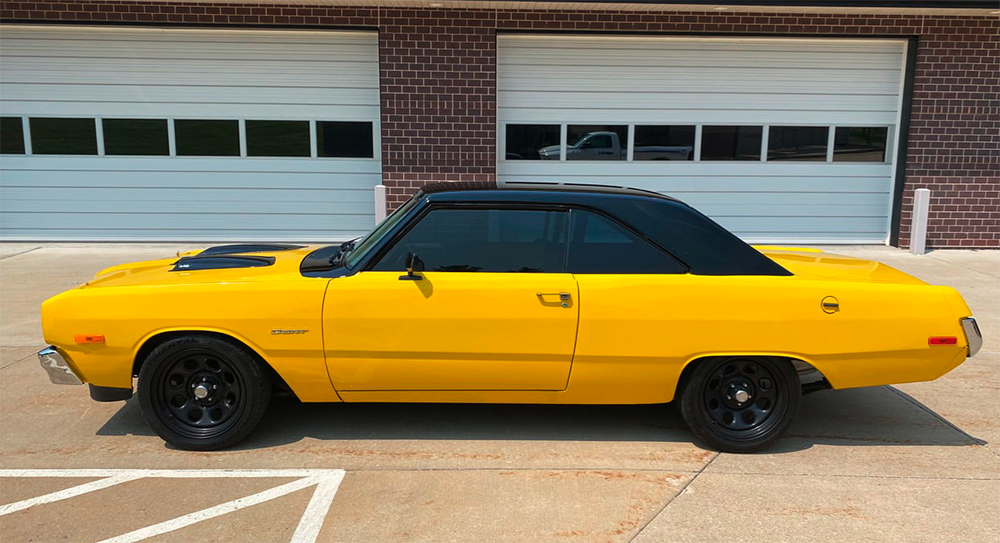 Above: 1973 Dart two-door hardtop
From 1960-1976, the Chrysler Corporation produced five distinct generations of the Dodge Dart. The fifth generation of the Dart was produced from 1970-76.
If you have a 1973-74 Dodge Dart, there's a great chance that its distinctive grill has seen better days. That's precisely why OER is now reproducing the front grill and the front grill kit for these stylish, collectible vehicles.
OER 1973-74 Dodge Dart Grill & Grill Kit

Above: 1973-74 Dodge Dart Front Grill; OER (part # 3691476)
The grill is manufactured in injection molded ABS and finished in argent silver in the accent areas just like the original factory item. The center grill component features the correct Pentastar markings in the proper locations for authenticity.
OER 1973-74 Dodge Dart Front Grill Kit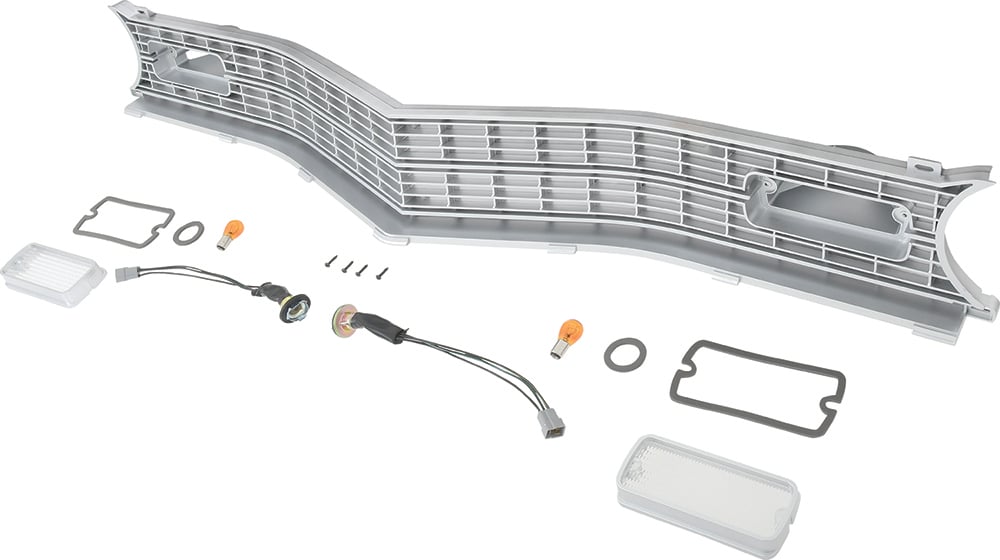 Above: 1973-74 Dodge Dart Front Grill Kit; OER (part # MA3005A)
Each grill kit includes the center grill, park lamp lenses with integral bezels, park lamp gaskets, park lamp sockets with pigtails, and park lamp bulbs for a near-complete replacement. Includes 15 components for the front end. Note: Does not include the headlamp bezels, or the lower grill molding.
Four 1973-1974 Dodge Dart Models
For the 1973 model year, the Dart received an extensive restyling. New front fenders, a redesigned front grill, a new header panel, and a new hood were all part of the Dart's revamp. This was in addition to the federally mandated beefier front bumper to comply with new safety regulations. Since the Dart was a compact-sized American muscle car, these new design elements didn't detract from the car's overall appearance or performance. Thankfully, depending upon which powerplant and transmission you chose, there was still plenty of punch available under the hood for these well-handling, relatively lightweight (approximately 2,800 pounds), and attractive automobiles.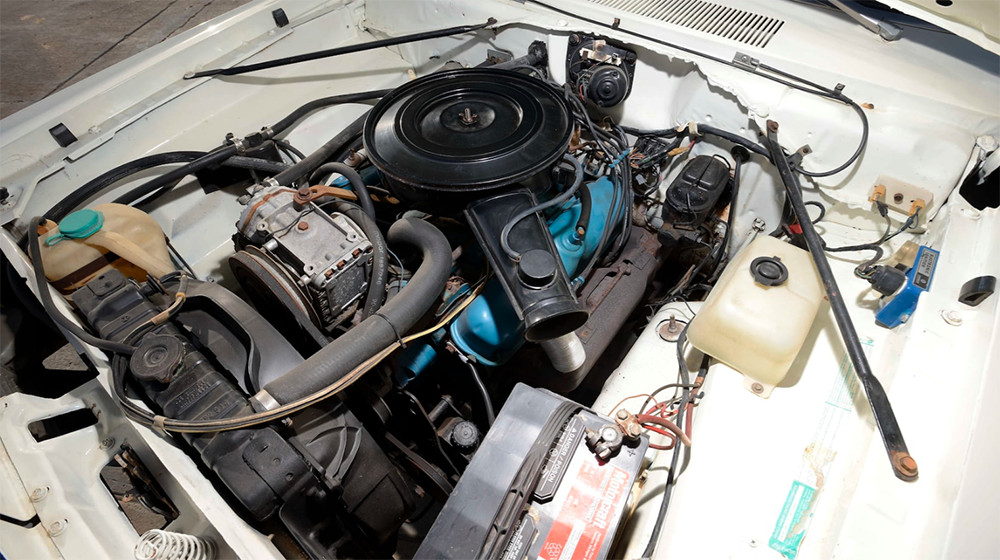 Above: This 318-cubic-inch Dodge V8 engine is sitting pretty in the low-mileage and rare 1974 Dodge Dart Hang Ten that is also the lead photo vehicle of this article.
Dart customers could opt for two fuel-thrifty straight-six-cylinder engines, a 198-cubic-inch or a 225-cubic-inch slant-six mill. For more grunt, a 318 ci V8 or a 340 ci V8 could be selected. Three different transmissions were available, a four-speed manual, a three-speed manual, and a three-speed Torqueflite automatic.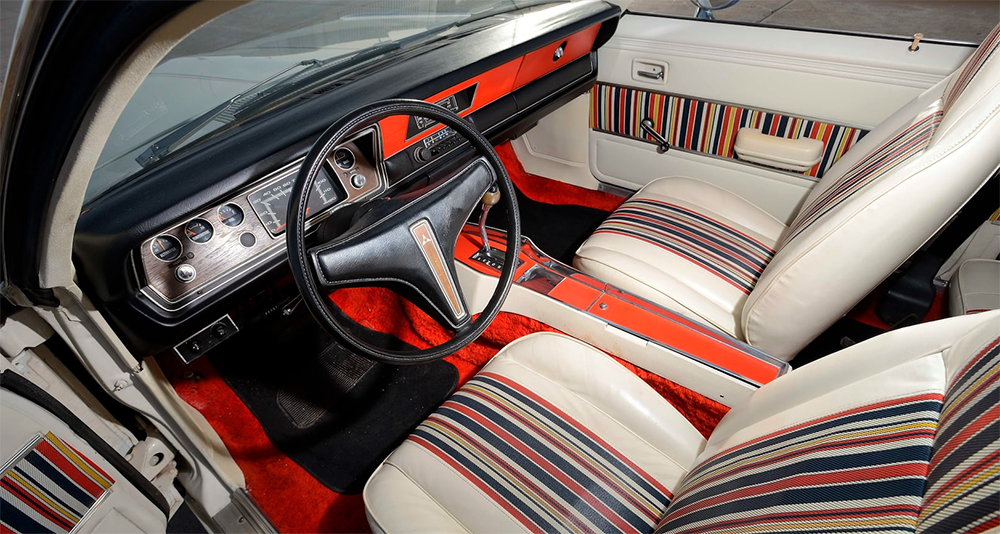 Above: For the Hang Ten's interior, swimsuit material was used to cover the seats and door panels with various colored vertical stripes. An orange carpet covered the floor, complemented by orange panels in the center and on the passenger side of the dash.
In terms of the bodies that a customer could select, there were three, 'er in fact four that Dodge Dart customers could choose from by the 1974 model year. These were a four-door sedan, a two-door hardtop, a two-door Sport coupe, and for the 1974-75 model years, a Convertriple. The Convertriple option on the Dart Sport coupe included a manually operated sunroof and a fold-down rear seat. Dodge advertised the car as "Three cars in One" – a roomy station wagon with its practical fold-down rear seat, a convertible alternative with the manual sunroof, and an economy compact with the sporty two-door configuration and fastback roofline.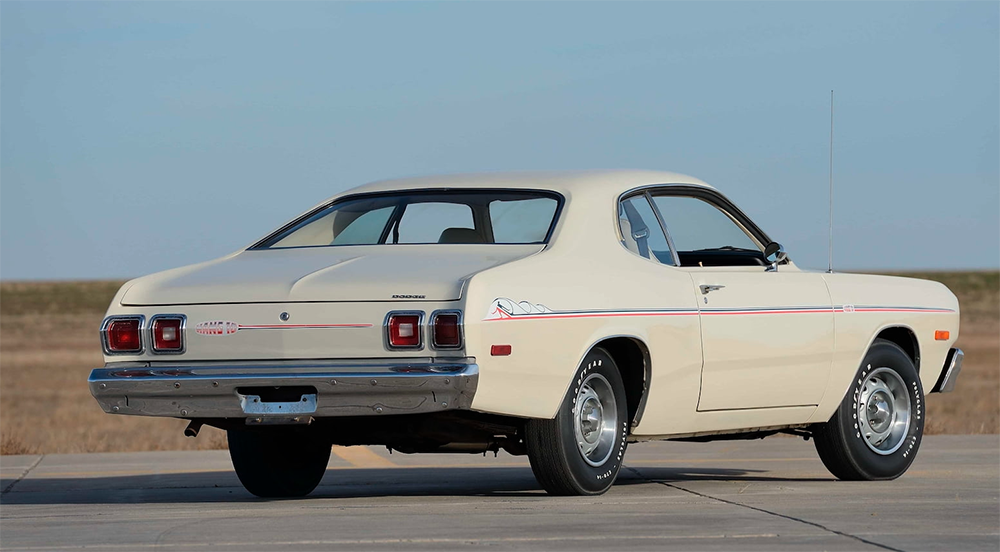 Above: The 1974-75 Dodge Dart Sport Hang Ten Convertriple model had red and blue pinstriping, with a surfer graphic and the words HANG TEN on the hood, the body sides, and the tail panel. The first, second, fifth, sixth, and seventh photos are courtesy of Mecum Auctions.
The Hang Ten was the basis for the Convertriple. This was a model that Dodge target marketed to U.S. board surfers. As most ocean swimmers, body surfing, and board surfers know, the term hang ten refers to those talented board surfers who could hang or curl all ten of their toes over the nose of their longboard surfboards. Over its two-year production span, the 1974-75 Dodge Dart Sport Hang Ten Convertriple was a limited production vehicle, with just some 700 plus or minus units manufactured.
If you're building and/or maintaining a Dodge Dart, Classic Industries has the parts that you need to keep it going strong. Browse our selection of Dodge Dart parts online. You can also find parts for your Dart or other 1960-76 Mopar models that you might have in our free full-color Mopar parts and accessories catalog.