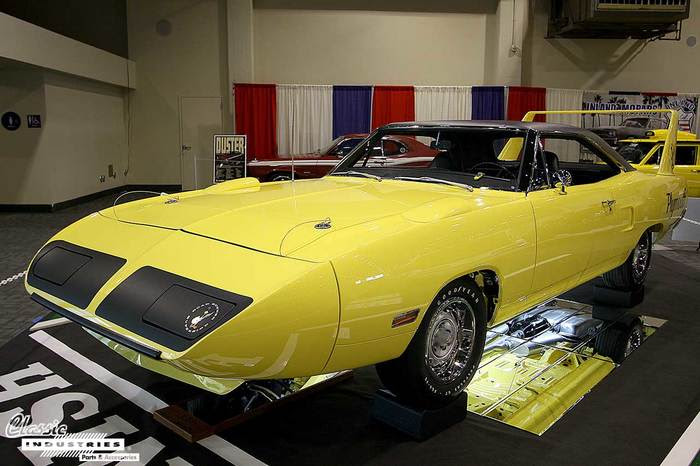 Everyone from Classic Industries who saw this '70 Plymouth Road Runner Superbird at the 2020 Grand National Roadster Show was amazed at how great the car looked. The Road Runner was so nice we wondered whether any Classic Industries parts were used in the restoration of the car. We hoped so, because we'd use that as leverage, so that we could snap some photos and write an article for posting on the Classic Industries website.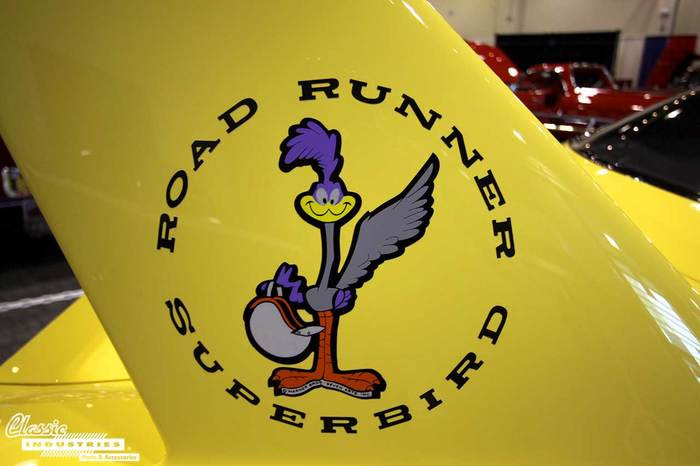 "If you're on a highway and Road Runner goes beep beep.
Just step aside or you might end up in a heap.
Road Runner, Road Runner runs down the road all day.
Even the coyote can't make him change his ways."

source: https://www.lyricsondemand.com/tvthemes/roadrunnerlyrics.html
Janice Sutherland and Larry Snow, of Red Bluff, California, first found the 1970 Plymouth Road Runner Superbird for sale in the classified section of a bi-monthly newsletter they get called Winged Warriors. With a claimed odometer reading of 39,000 miles and change, the Mopar sounded like it might be worth going for a drive and checking it out.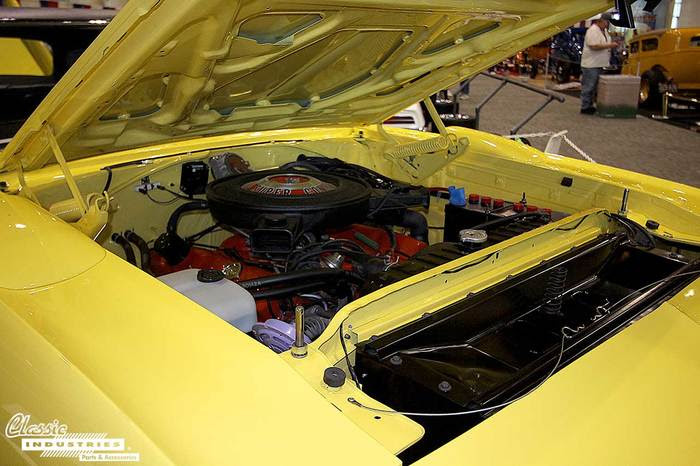 Thanks to a bone stock rebuilt, balanced, and blueprinted numbers matching 440-cubic inch big block Mopar V8, backed by the original four-speed manual transmission and the Dana 10-inch rear end, this Superbird runs mighty strong.
Upon first peek, the couple guessed that the true mileage was probably 139,000 miles. But upon further inspection of the body panels, which were rust free, the manifolds that had light surface rust, and the tell-all signifigance of the condition of the rear shock mounts, which were pristine, the couple realized they had a true barn find car in good original low miles condition.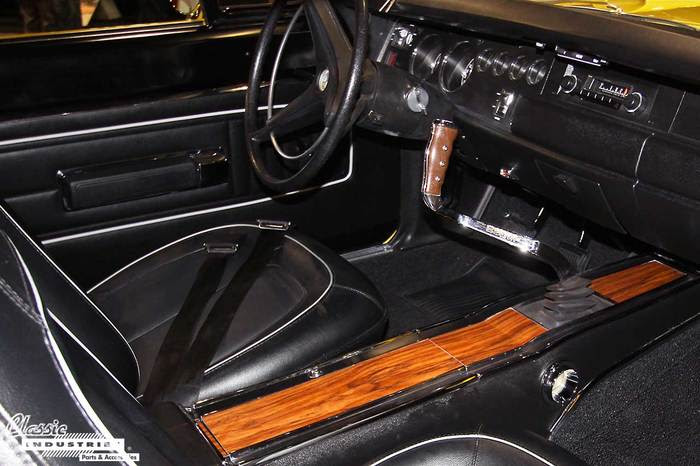 Janice and Larry's Road Runner originally sold at a Plymouth dealership in South Carolina for $4,800. It came equipped with three options: a center console, an AM radio, and bucket seats.
After a quick Mopar car couple consult, Janice and Larry decided to purchase the Superbird to add to their growing vintage Mopar muscle car collection.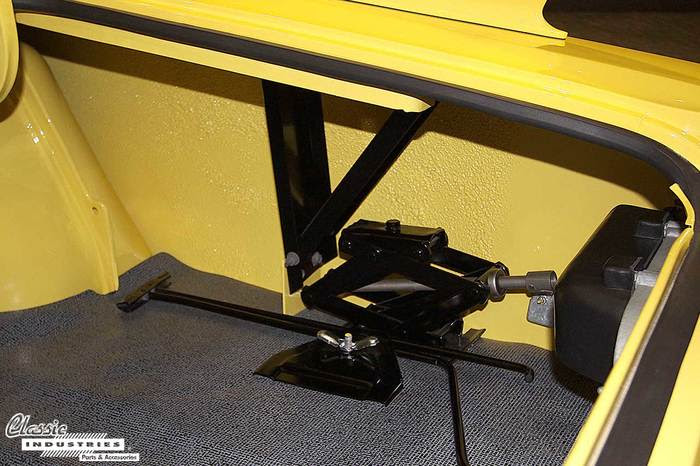 The NASCAR winged Daytona Chargers and the Plymouth Superbirds achieved speeds of up to 200 miles per hour in 1969 and 1970 at the Daytona Speedway. At that rate of speed, 600 pounds of down force is holding the rear of these cars onto the road. That's why every real winged Daytona Charger and Plymouth Superbird has two wing braces in the trunk, one on each side supporting the wing and the rear fenders. All of these winged flyers also get two jacks, a scissors jack that goes under the frame and a bumper jack.
Despite the Superbird being a rock solid survivor, Janice and Larry ordered a rotisserie restoration from good friend and pro builder Dan Lawson, the owner of Dan Lawson Customs in Anderson, California. Dan and his crew went right to work and finished the Road Runner in about a year's time, with approximately 1,100 hours of time being logged on the car and a bunch of Classic Industries components going into its completion.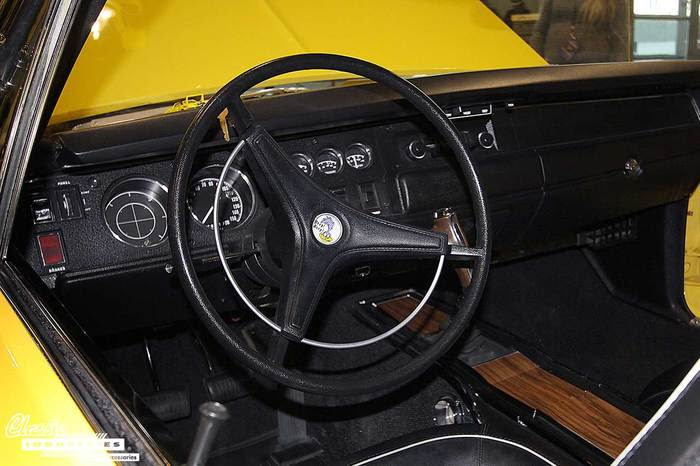 If you look closely at the top of the dash in front of the steering wheel, you'll see the Road Runner ignition key dangling from a Lemon Twist hued 1:43-scale 1970 Plymouth Superbird keychain fob.
1970 Plymouth Road Runner Superbird in NASCAR
In 1970, Plymouth produced 1,920 Plymouth Road Runner Superbirds. NASCAR required that one Superbird for every other Plymouth dealership in the U.S. needed to be built to be able to homologate the Superbirds for racing in the NASCAR series. Plymouth and Dodge constructed these winged warriors to lure NASCAR racing legend, Richard Petty back to Plymouth from Ford Racing in 1970. Richard drove 1970 Plymouth Road Runner Superbirds to Grand National NASCAR victories 18 times during the 1970 season.
Mr. Petty's famous '70 Plymouth Superbird is on display at The Richard Petty Museum in Randleman, North Carolina. The Petty Blue #43 car was also depicted in the animated Pixar film called Cars. Richard and Lynda Petty (his wife) both had voice roles in the flick. Still running Plymouth Road Runners in 1971, but the non-winged variety, yielded Mr. Petty and Plymouth Mopar Racing 21 wins in the NASCAR Grand National Series and his third Championship.
1970 Plymouth Road Runner Superbird Wins at the Grand National Roadster Show
Janice and Larry earned a Best of Class award and a Best Restored Car prize at the Grand National Roadster Show in 2020 for their admittedly over-restored Road Runner Superbird. This very week the Plymouth will be shown at the 66th Sacramento Autorama. Who knows how many prizes will be won at that event? We only know from talking to the owners that the Road Runner won't be running away from any Coyote powered Mustangs until it's retired from the American muscle car show circuit. As you might imagine from looking at the photos of the undercarriage of the car in the floor-mirrored car show display, It takes too long to clean up the Superbird's belly after a bit of cruising. Thank you Janice and Larry for permitting Classic Industries to feature your beautiful Mopar on the Classic Industries site.
If you too are restoring or restomodding a Mopar, you can shop for Mopar parts by following the banner link below.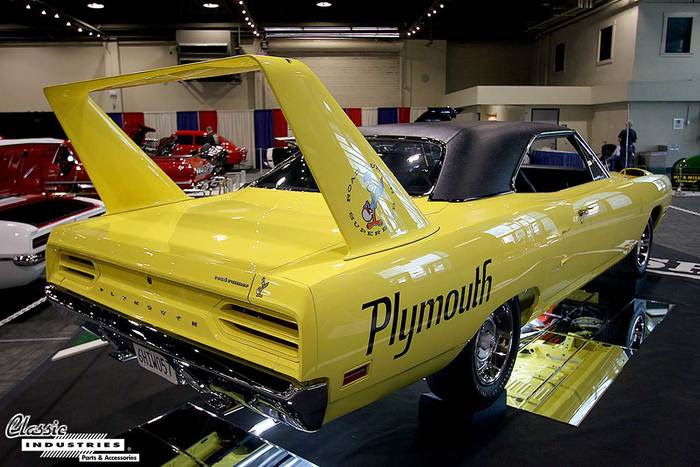 Dan Lawson Customs, of Anderson, California, performed a meticulous rotisserie restoration of the '70 Road Runner Superbird. Dan Lawson Customs' professional painter, Eric Sanderson, sprayed the Plymouth to a show-winning finish in the color the car was born with, Lemon Twist. Mr. Sanderson has also painted four other Mopars and two other American muscle cars for Janice and Larry.