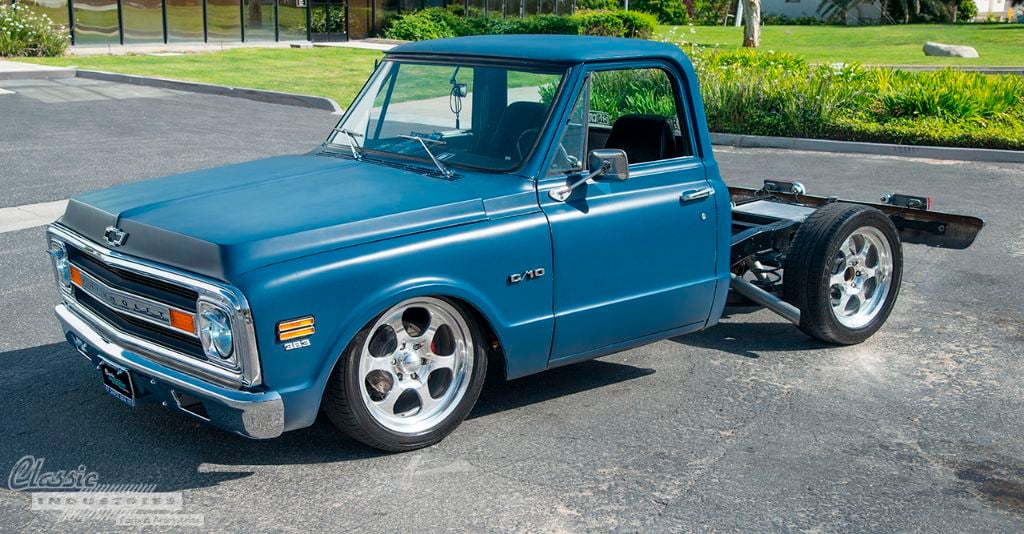 Here at Classic Industries, we like to see projects in all stages of completion. Sometimes we'll see customer cars that are still covered in cobwebs after being rescued from a dark garage, and other times we'll come across builds that are completed and polished down to every last detail. It's all part of the classic car restoration process.
The 1969 Chevy C10 seen here is clearly still a work in progress, as evidenced by the missing bed and exposed frame rails. After talking to the owner—Edward Gonzalez, of Santa Ana, California—we got some insight into why it's like that at the moment.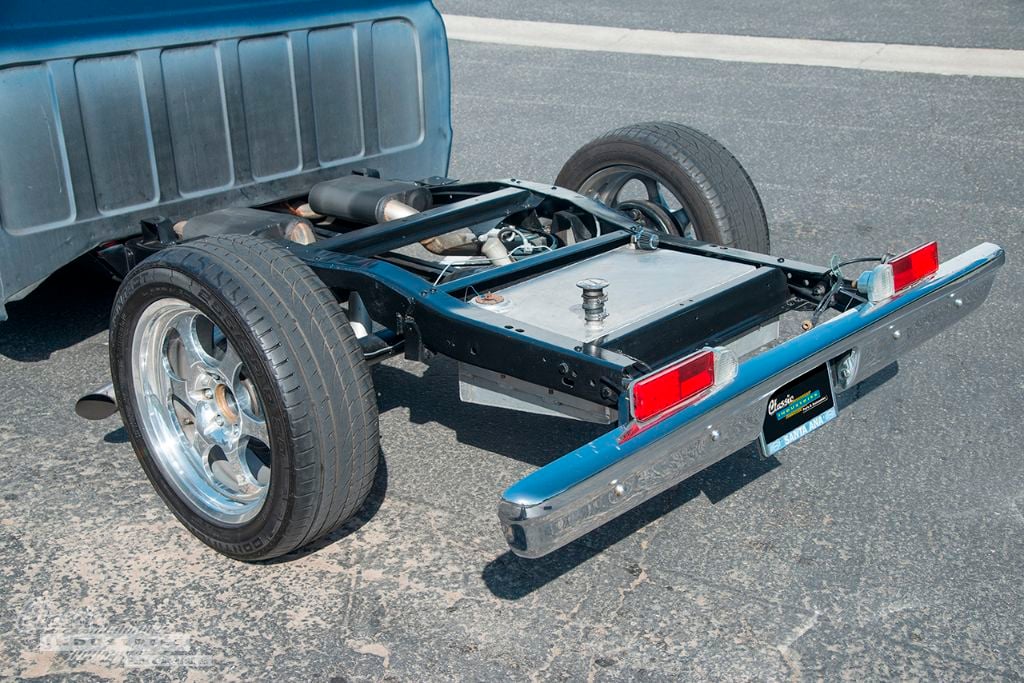 Edward tells us that the C10 used to be a long bed, and that the original bed was removed so the frame could be cut, shortened, and re-welded. This can be a cost-effective way to end up with a short-bed truck, since finding a good condition long-bed truck and some replacement panels is usually less expensive than buying a factory short-bed model. While the bed was off, Edward added C-notches for suspension clearance, and also installed a new fuel cell.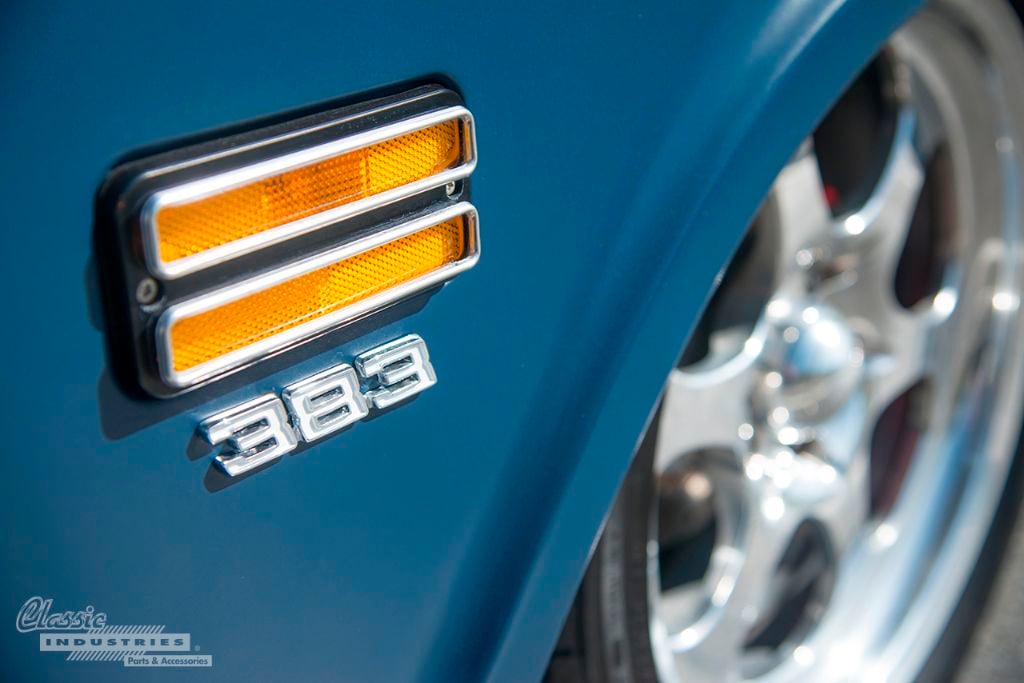 Although Edward is still working on getting a replacement bed, he has still been working hard on the rest of the truck in his home garage. A new grill, bumpers, and LED lighting were added, and the cab was painted Hot Rod Flatz Midnight Blue. Billet wheels and a lowered suspension give the truck an aggressive stance, and a heavily-upgraded 383 stroker and TH-400 transmission help the truck accelerate like a true muscle car.
Edward tells us he has owned the C10 for 5 years now, and has been working on it with his son as a family project. They just need to find and paint some bed panels, install a bed floor, and finish up a few odds and ends. In the mean time, we've been helping Edward find the items he needs at our Retail Showroom.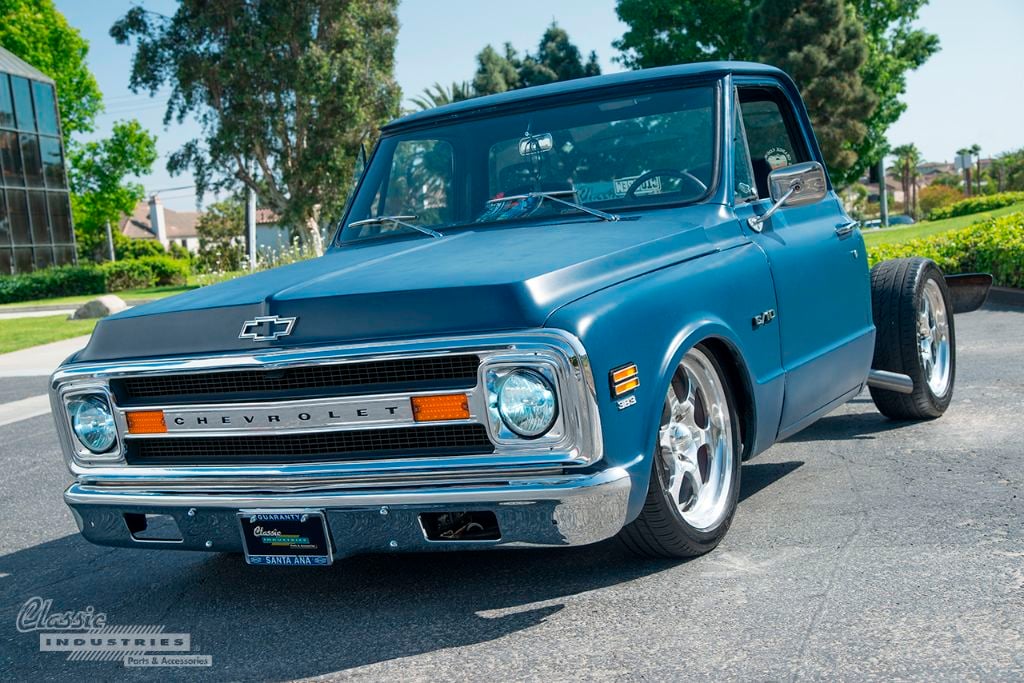 If you've got a classic Chevy or GMC truck that's a new project, a work-in-progress build, or a complete show vehicle, Classic Industries can help you find the parts and accessories you need for it. Click the button below for a free Chevrolet and GMC truck parts catalog.