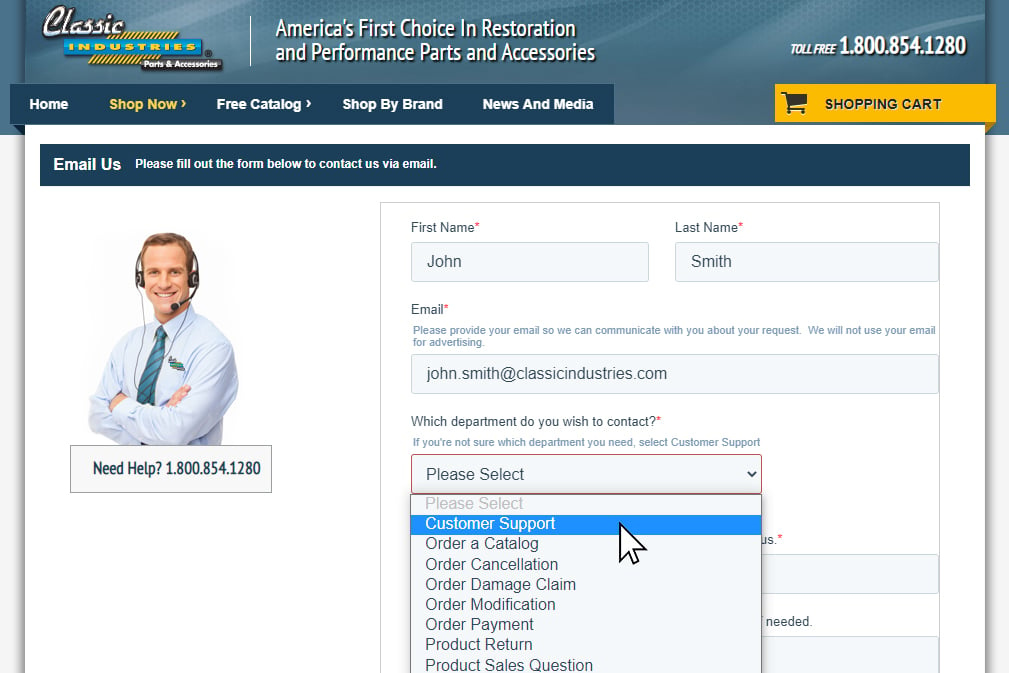 Restoring a classic car is a labor of love, and it's not always easy. You may run into problems while you're installing a part you've already purchased, have questions about which parts to get, or need help requesting a catalog. Either way, Classic Industries customer service representatives are standing by to assist you. In this article, we'll take a look at three ways you can contact us: phone, email, or face-to-face at our Retail Showroom.
How to Contact Classic Industries

For a quick overview, you can scroll to the bottom of our site and click Contact Us, or simply go to www.classicindustries.com/contact. Read on as we provide more details about each option.
1. Call Us
The easiest way to contact us is over the phone. If you're in the United States, call our toll-free number: 1-800-854-1280. If you're in Canada, Puerto Rico, or any other country, call our international line: 001-714-847-6887.
Keep in mind that our representatives will only be available during business hours, as listed on our Contact Us page. If you're outside the United States in a different time zone, it may be easier to contact support via email.
2. Email Us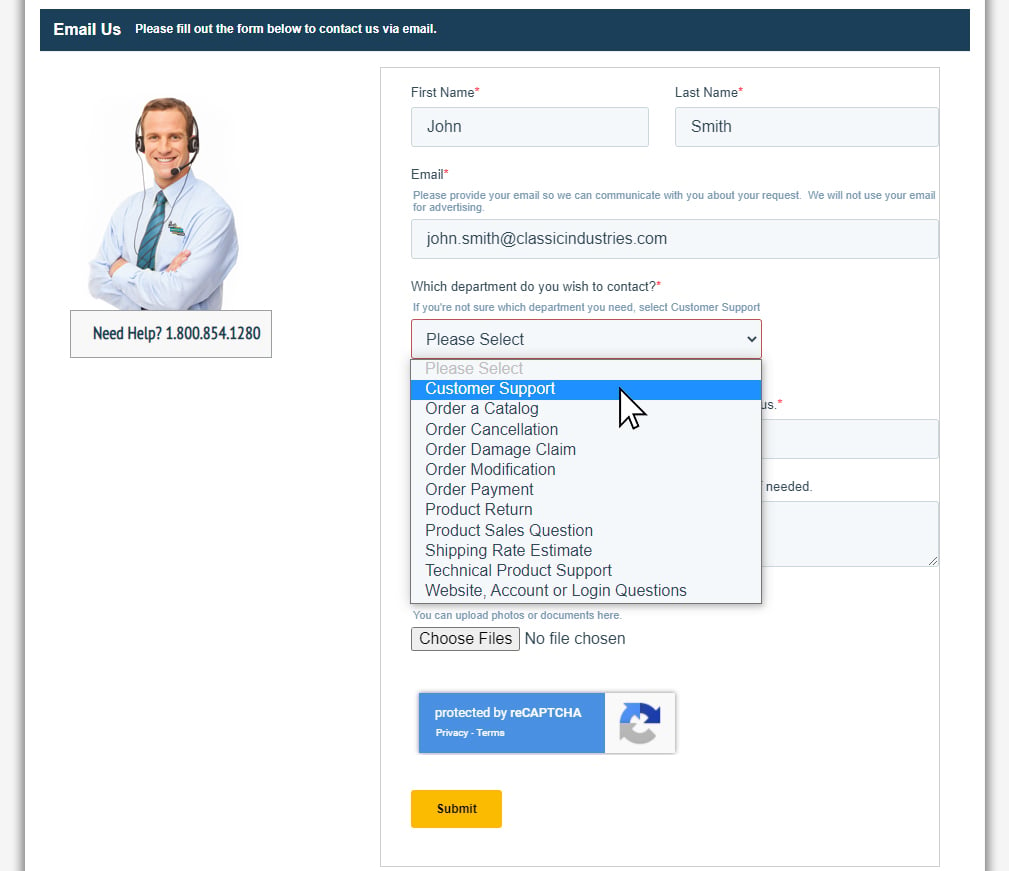 To send us an email, please scroll down on the Contact Us page until you see the form pictured above. Fill out your name and email address, making sure there are no typos, and then choose the appropriate option from the drop-down menu. Here's a brief explanation for each:
•

Customer Support – General questions related to items you've purchased from Classic Industries.

•

Order a Catalog – Get help placing an order for one of our print catalogs. You can also do this through

our Catalog page

.

•

Order Cancellation – Cancel an order that was recently placed. Please include an invoice number.

•

Order Damage Claim – Report parts that arrived damaged. Please include an invoice number and attach photos of the damage if possible.

•

Order Modification – Ask for a modification to an existing order, such as adding or removing an item. Please include an invoice number.

•

Order Payment – Provide updated payment info for an existing order. Please include an invoice number.

•

Product Return – Start the return process for an item you already received. Please include an invoice number.

•

Product Sales Question – Ask a question related to items you're considering purchasing.

•

Shipping Rate Estimate – Request an estimate for shipping products, most commonly used for international orders. Please include all part numbers and your full shipping address.

•

Technical Product Support – Ask a question about product selection, installation, or fitment on your specific model. These emails go directly to our technical experts. Please include as much information as possible, and attach photos if possible.
• Website, Account, or Login Questions – Get help with your Classic Industries account, or report a problem you're experiencing with our web site.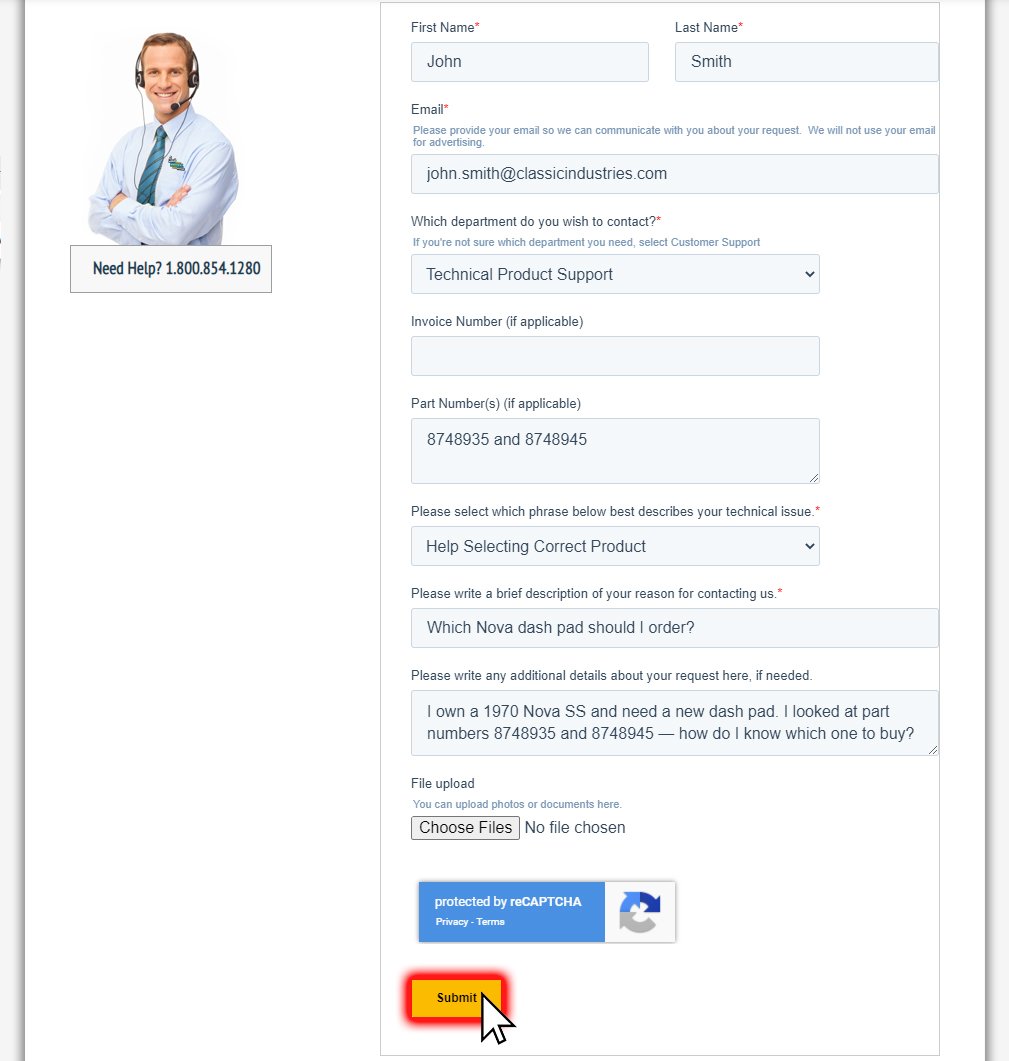 Here's an example of a product support email form. Note that we chose "Technical Product Support" from the drop-down since we had a question about two specific parts, and then provided the part numbers in the appropriate field. In the second drop-down, we chose "Help Selecting Correct Product" to narrow down the topic.
Click the yellow Submit button when you're ready to send your support email. Our representatives will respond as quickly as possible — please keep in mind that detailed technical questions and shipping estimates may take a little longer due to the research involved.
3. Visit Our Showroom
If you're in the Southern California area, feel free to stop by our Retail Showroom during normal business hours (as seen on the Contact Us page). It's conveniently located about 20 minutes from Disneyland and Angel Stadium!
Click here for a Google Maps link, or look up the address:
18460 Gothard Street
Huntington Beach, CA 92648
To check if the Classic Industries Showroom is open or busy prior to your visit, you can call our local number, 714-848-9501. Our on-site staff will be happy to provide a free catalog, help you place an order, or answer any questions you may have.