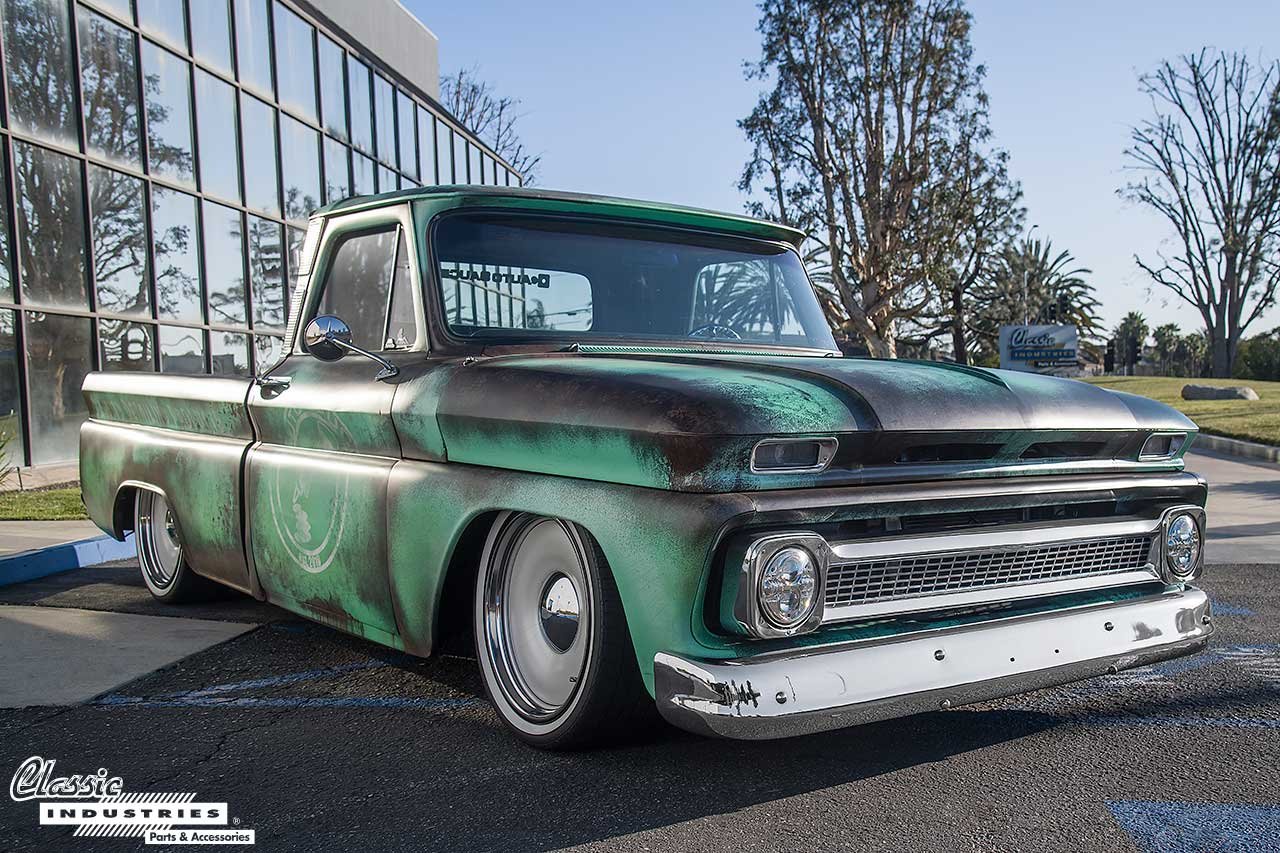 You may have heard the claim that lowering a truck makes it less useful, but that's not necessarily the case. Sure, if you're planning to go off-roading, reduced ground clearance isn't advantageous. However, if your truck's primary purpose is to haul items around town on paved streets, a lower bed floor can actually make it easier to load and unload. Adding an air suspension system can also offer a smoother ride and on-the-fly adjustability for a variety of practical tasks. Jeff Sharell's 1965 Chevy C10 is a good example of this build style, and gets used every day as the shop truck for his auto detailing products company.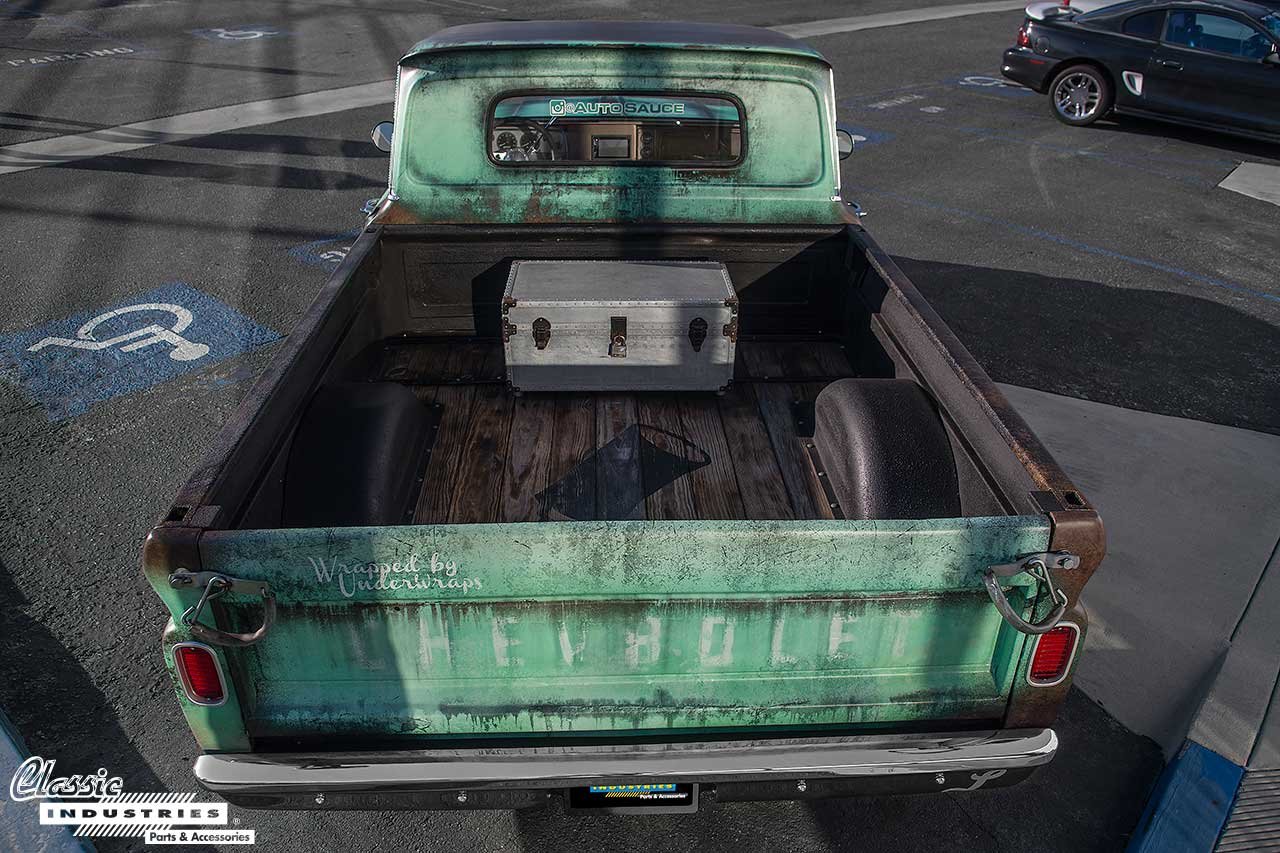 Jeff stopped by our Retail Showroom in Huntington Beach recently, and was kind enough to let us snap some photos of his '65 C10. He told us that it's "absolutely a daily-driver" — he uses it to carry boxes of detailing supplies, pick up parts, and run errands throughout the week. Thanks to its head-turning appearance, it also serves as a rolling billboard for his company, Auto Sauce car care products.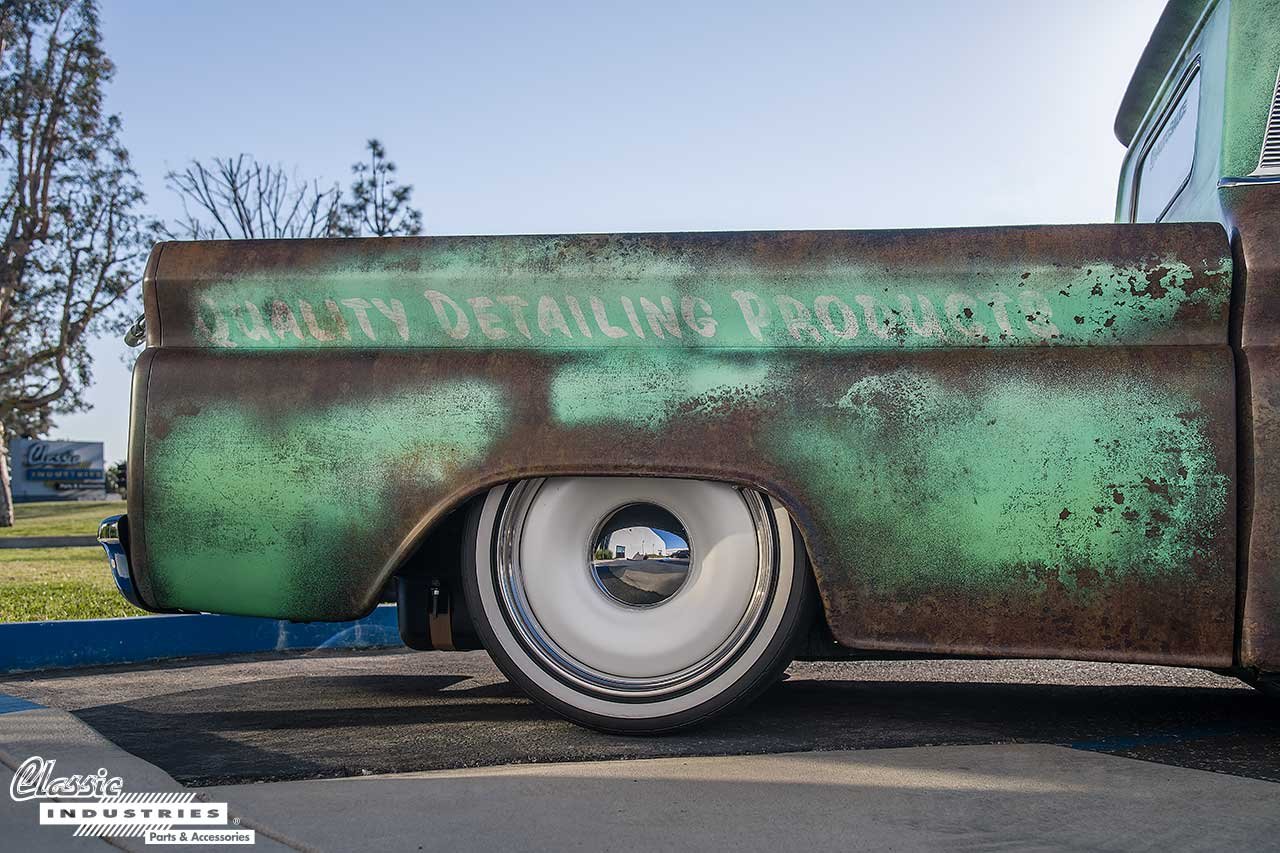 The first thing you'll notice about this C10 is its "rusty" appearance. We use quotation marks because there's not a speck of actual rust to be found on this pickup's body. Instead, the aged patina comes from a full vinyl wrap by UnderWraps.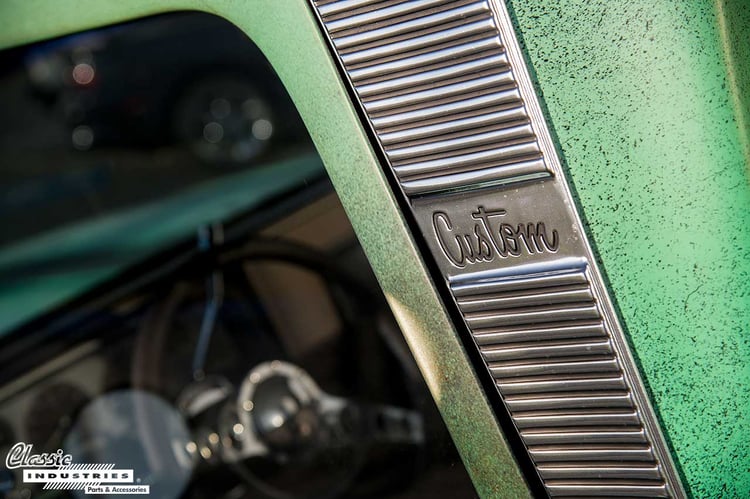 The truck rides on air suspension, which allows it to tuck its white "smoothie" wheels under its fenders. Those wheels are finished with chrome center caps and wrapped in whitewall tires.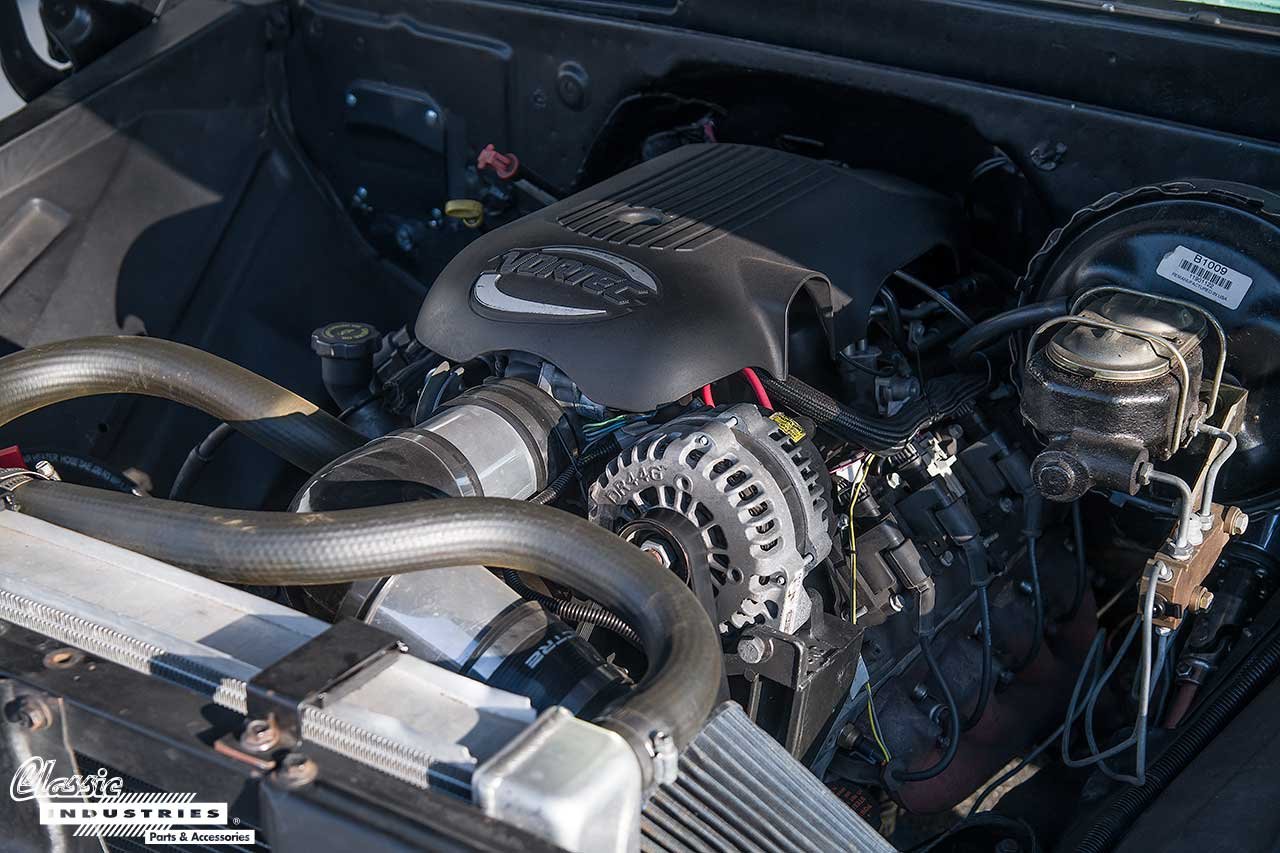 When Jeff built the truck, he decided to swap in a newer fuel-injected LS variant, namely a Vortec 5.3L V8. This motor is fitted with an aluminum radiator, short-ram air intake, and a free-flowing exhaust, but it's clearly intended to maximize practical reliability rather than all-out power. It's an approach that makes a lot of sense, given this C10's utilitarian purpose.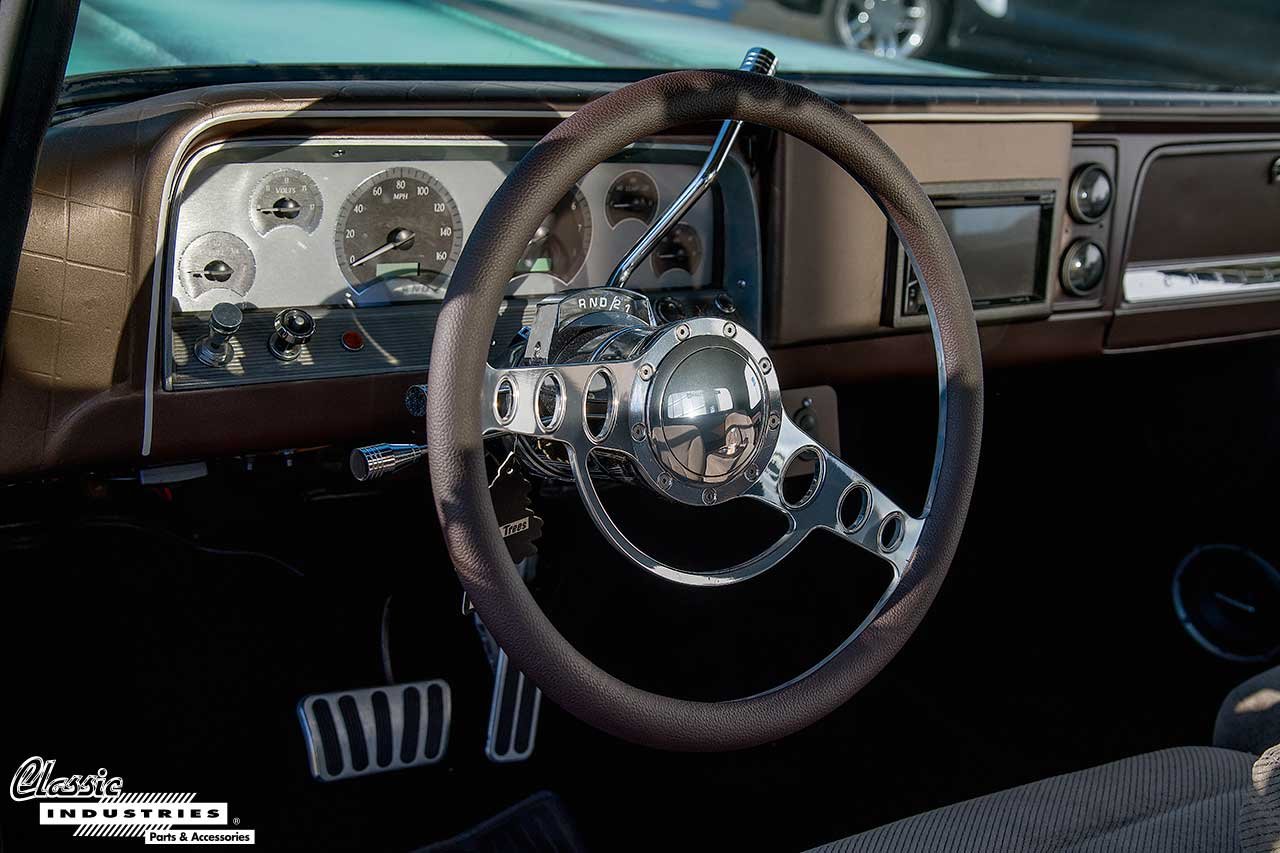 The Chevy's interior has been refreshed with new carpet, cloth bench seats, and several billet parts such as the steering wheel, column controls, and pedals. The glass, seals, and trim have also been replaced to keep the elements out on rare southern California rainy days.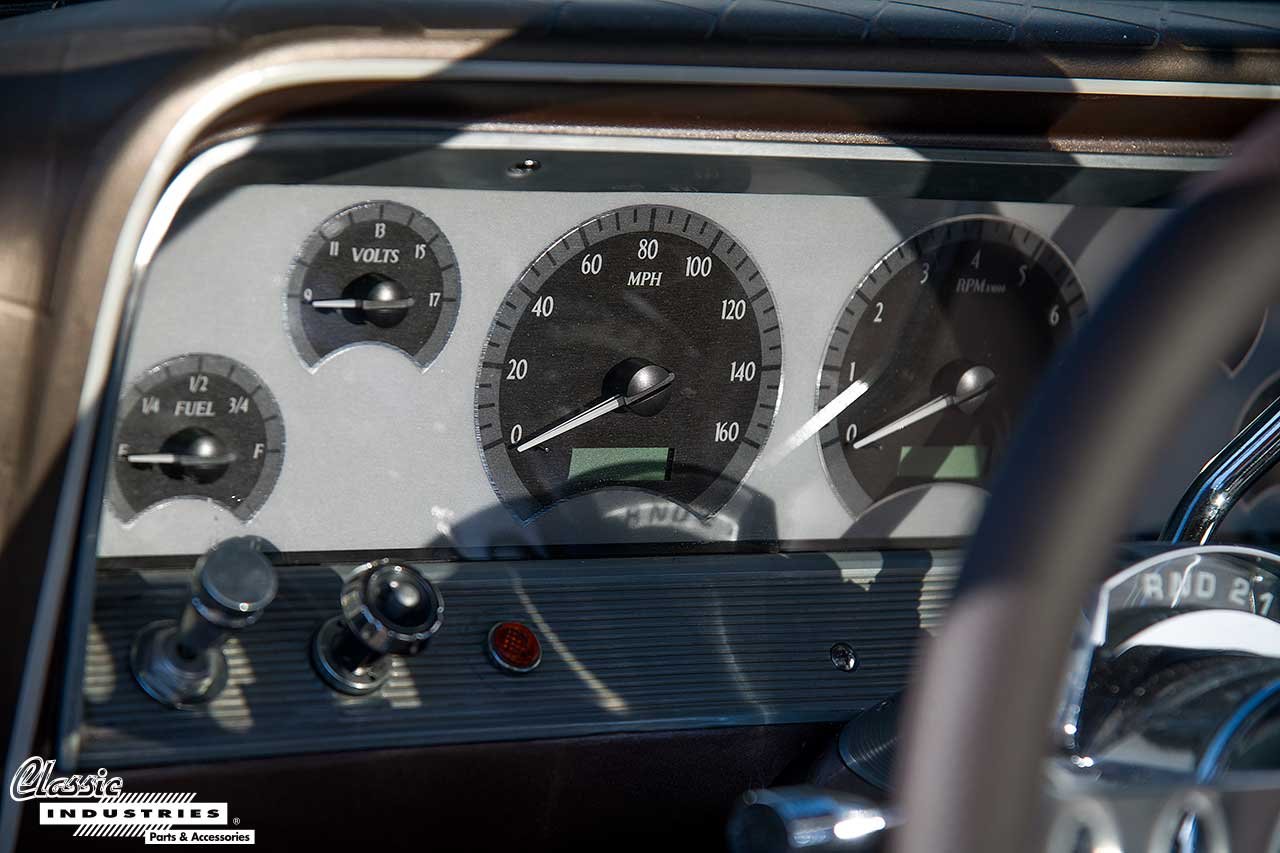 An updated Dakota Digital VHX gauge cluster provides a clear readout of essential information, and a modern stereo system with touchscreen display makes long drives more enjoyable.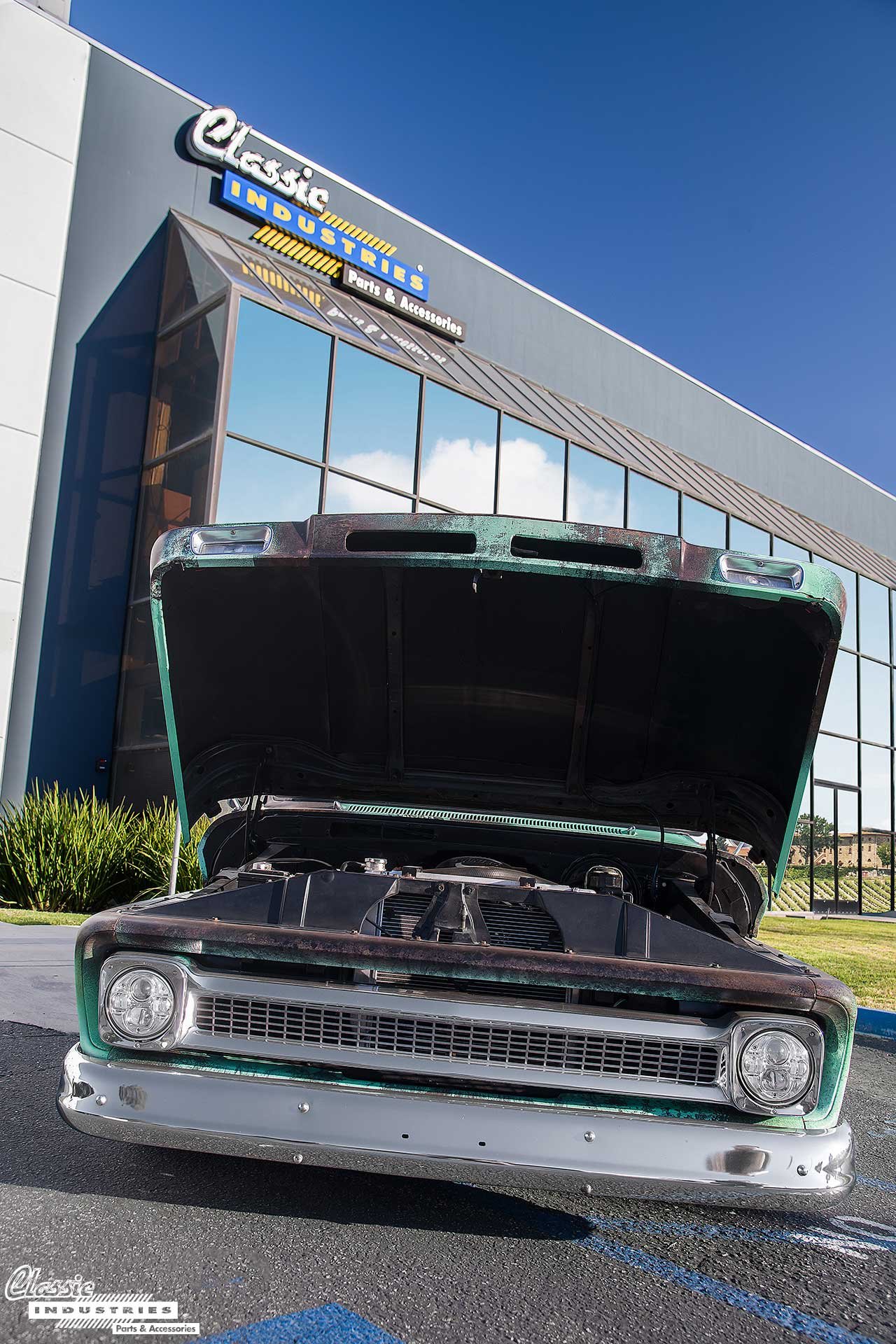 Jeff's 1965 C10 serves as a trustworthy shop truck during the week, and also makes the rounds to local shows on weekends with car care supplies in its bed. Although it's primarily a work vehicle, he clearly has a lot of fun behind the wheel as well, and it's not hard to see why.
If you own a classic Chevrolet or GMC truck, the Classic Industries truck parts catalog contains all the body, engine, suspension, and interior parts you need to restore it to original condition. Or, if you prefer to restomod it or build a radical custom, we've got the parts for that too. Just click the button below to get your free classic GM truck parts catalog.