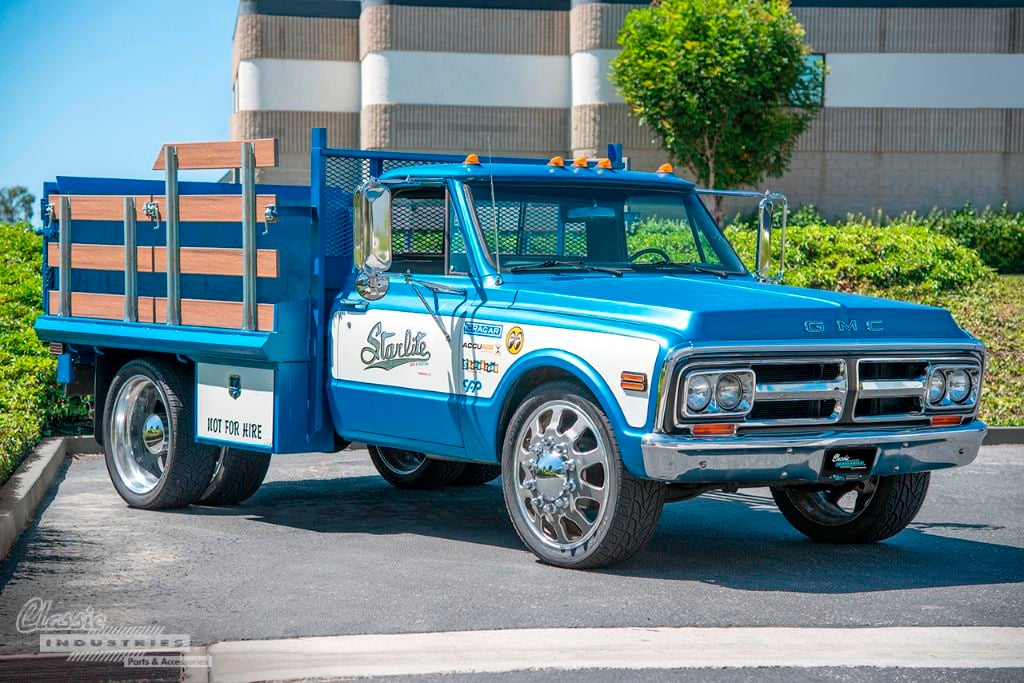 If you owned an auto restoration shop, how would you advertise your skills? Sure, you could spend big bucks on billboards, TV commercials, and print ads, or you could cut to the chase and build a vehicle that shows off what you can really do. That's exactly what Edgar Hernandez did to promote his business, Starlite Rod & Kustom Shop, in Torrance, California. The slick customized '72 GMC C30 dually seen here is the result of his efforts. Even better, it's not just a show vehicle. It also serves as the parts hauler for the many restoration projects he works on.
Edgar pulled into our showroom parking lot to pick up some parts for a build, and we took the opportunity to get a closer look at his GMC. The first thing we noticed was the intricate custom wheels—they are hard to miss, after all. Edgar tells us the wheels are actually 24-inch billet models designed for use on full-size semi trucks, and he had them powdercoated in matte grey, then custom-machined to add polished accents and fit the '72 truck.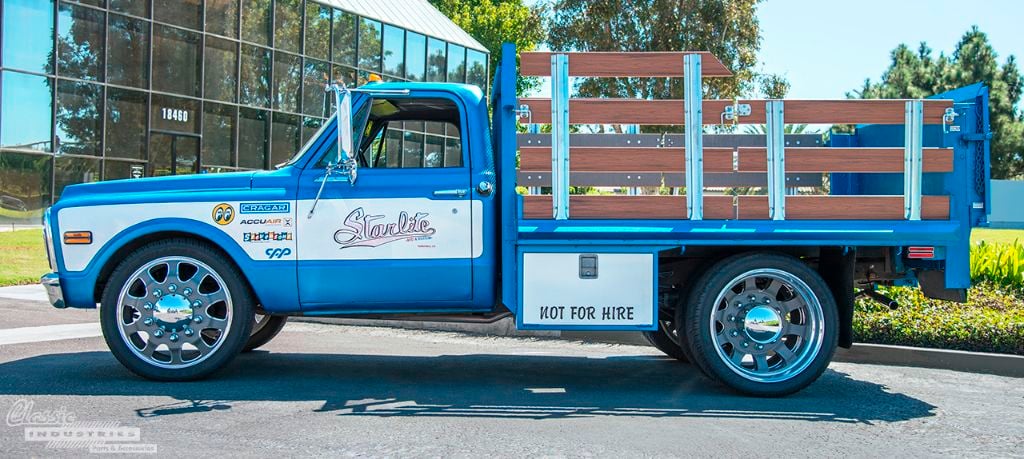 The remainder of the GMC truck was painted in a unique satin blue metallic, including the flatbed and rear lift gate. White accents with black pinstriping were layered on top, and finished off with the Starlite script logo on each door in eye-catching silverleaf. Finally, "Not for Hire" lettering was added, as well as several brand logos to show off the parts Edgar uses on his project cars. The GMC also features a variety of Classic Industries restoration parts, including the grill, hood emblem, billet dash panel, marker lights, and window seals.
Under the hood, the C30 retains its original 350ci small-block V8 and TH400 automatic transmission, albeit with a few cosmetic upgrades. Edgar tells us it won't be there for long, however, since he's building a supercharged 6.0L LS engine to replace the 350. We imagine the blown 6.0 will provide more than enough thrust to get this big dually up to speed with ease. We can't wait to check it out! Edgar also tells us he built a matching trailer with the same paint scheme to tow customer cars, so we're looking forward to seeing that someday soon, too.
Building this pickup has been a year-long project for Edgar, but he tells us it pays off every time it gets attention and refers people to his shop. This GMC truck is not only a functional parts hauler, but it's also a cool classic truck in its own right. Advertising doesn't get much better than that.
If you have a 1967-72 Chevy or GMC C10, C20, C30, Blazer, or Suburban, Classic Industries has all the restoration and performance parts you need to make it look its best. Click here to get your FREE Classic Industries GM Truck parts catalog now.