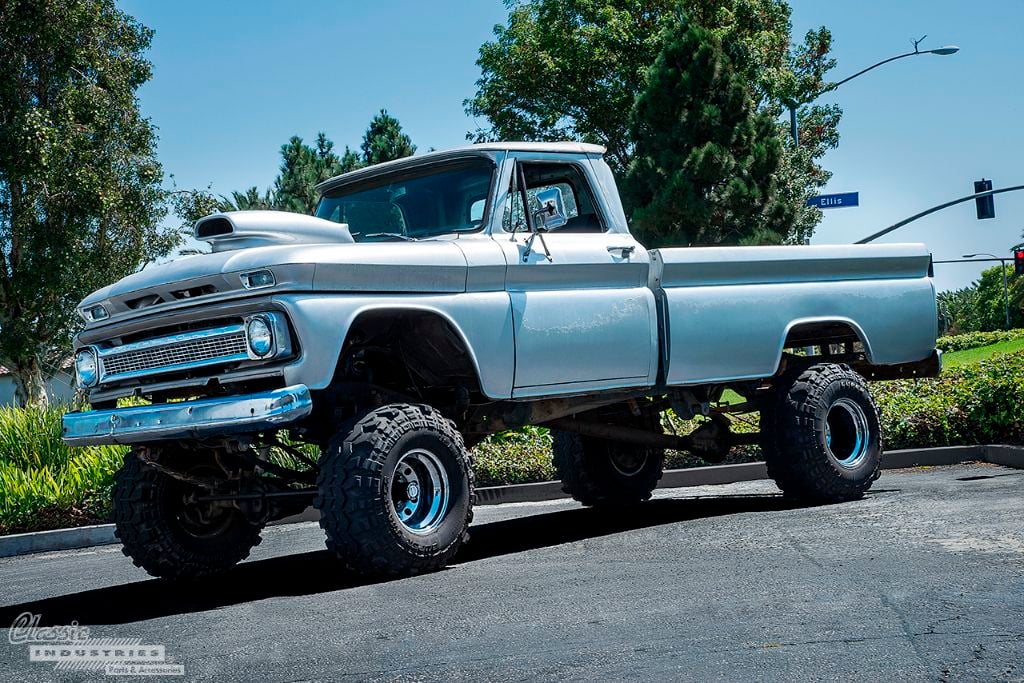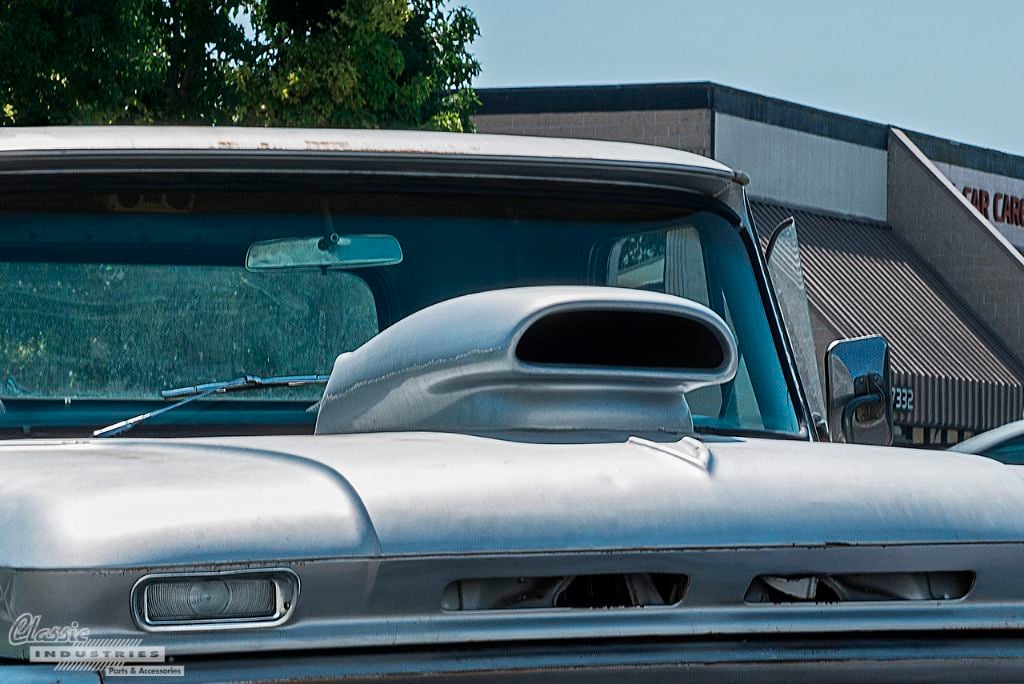 Although we know that deep down, cars are purely mechanical, it seems as though certain classic cars have something that transcends technology: personality. A sleek black Impala with chrome hubcaps has the air of a dignified gentleman, while a bright red Camaro with drag radials and dual exhaust tips exudes machismo. By this same logic, the '64 Chevy truck seen here reminds us of a grizzled boxer. It bears the scars and imperfections of a long, hard life, but still bulges with aggression and muscle after all these years. Some might see this colossal Chevy as cartoonish, but we love its unabashed "come git some" demeanor.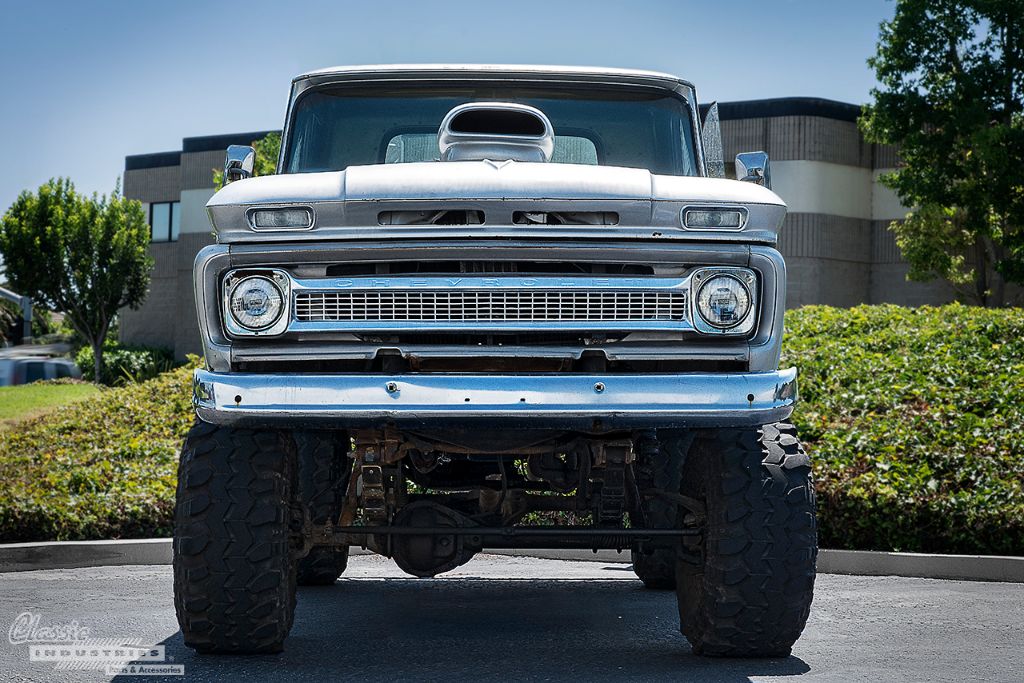 The big silver Chevy is owned by Richard Schock, who pulled it into our showroom parking lot recently. This is one pickup that's hard to miss, so we headed out to meet him and learn more about it. Richard tells us the '64 Chevy truck originally belonged to his father, and has been in his family for many years. When he took ownership of the truck, it was stock, but it didn't stay that way for long.
Richard started the project by removing the truck's body from its rusty stock frame, and setting the cab and bed aside. He then procured a more structurally sound frame from a 1972 K20 long-bed truck, and bolted the '64 cab and bed on top. Then, he lifted the four-wheel-drive truck's suspension a staggering 14 inches, and added 15-inch wheels and 35-inch mud tires. With this setup, the old truck is practically unstoppable—on or off-road.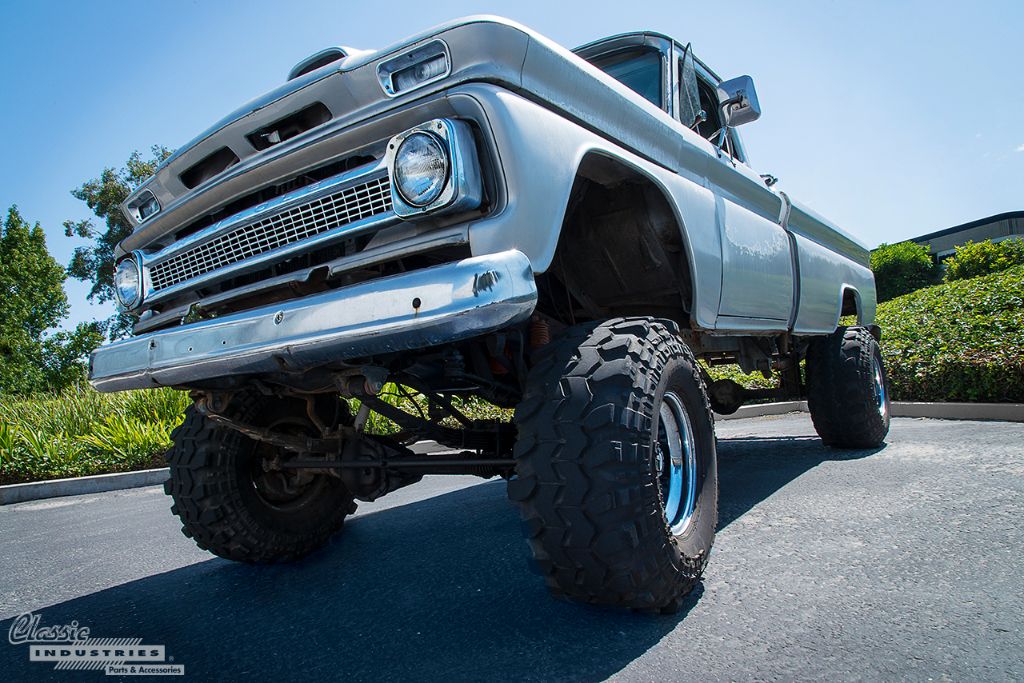 Under the hood of this beast lies a rebuilt 396ci big-block mated to a TH-350 automatic transmission. This setup puts plenty of torque down to all four wheels to get the big Chevy up to speed. Visually, the truck remains mostly stock, with the exception of a prominent hood scoop and some fading silver paint. Even its slightly imperfect front bumper juts out like a square chin, further lending to its anthropomorphic appearance. While this drastically modified truck may not be for everyone, Richard really appreciates it, and so do we. It's hard not to like a truck that has this much personality.
If you have a classic Chevy truck, whether it's a 1947 or a 2008 model, Classic Industries has a wide selection of restoration and performance parts available for it. Click here to get a free parts catalog and see what we have in store.