This week's featured customer car story is a little different. We received the following letter from Steve Martinson, of Idaho Falls, Idaho. The Martinson family (Robert, Steve, and Darcie) owns the stunning blue 1968 C10 restoration project seen here, and Steve described the build so perfectly, we decided to share his words verbatim. Enjoy!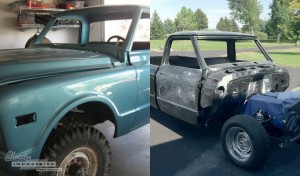 "Restoring a '67-'72 Chevy truck was a dream of our son Robert. Robert was diagnosed with muscular dystrophy as a child and is wheelchair-bound. About the time Robert was 21, we decided to make his dream a reality. We landed on the idea of building a 1968 pro street pickup with a big block engine. We couldn't find a '68 short box suitable as a starting point for the project, so we set our sights on finding the cleanest cab and front sheet metal we could. We ended up using—of all things—a 1969 GMC 3/4-ton 4-wheel-drive pickup as our donor. The truck had undergone a partial restoration, and the cab and front sheet metal were in great shape. We used those pieces and sold the chassis and associated long box.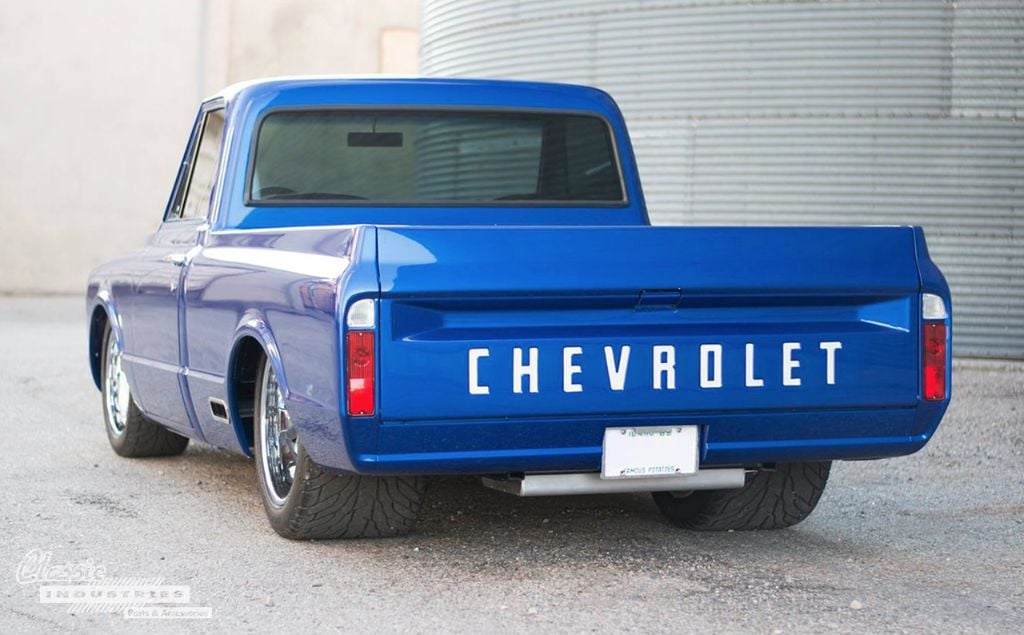 The project took 6 years to complete. The chassis is a custom piece built by No Limit Engineering, and features a 4-link rear suspension with a narrowed posi-traction Currie 9-inch Ford rear end running hardened 3.73 gears. The front suspension is independent with adjustable coilovers and a Mustang II steering setup. The brakes are Wilwood 13-inch slotted units.
The engine, built by our company, Thunder Custom Auto, is a 572 cubic inch Merlin III big block with World Products Merlin CNC heads. The induction setup is a fuel injected Edelbrock intake topped by a Holley Dominator throttle body, all controlled by a Holley HP ECU. The engine is backed by a custom polished GM TH400 transmission. The exhaust system uses Dr. Gas boom tubes also found on NASCAR cup cars, exiting in front of the rear tires.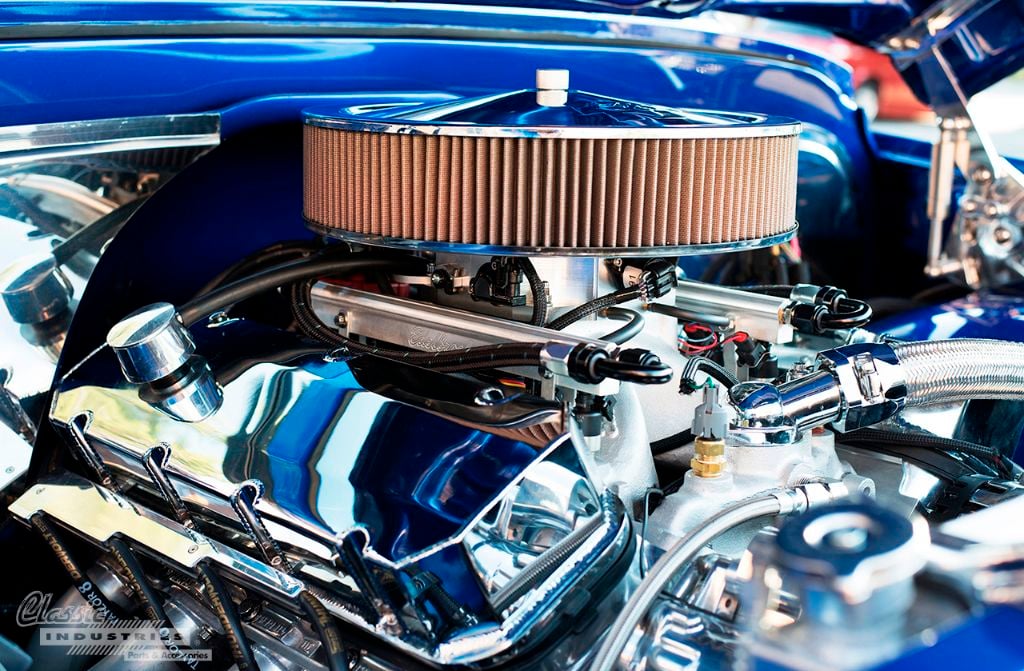 The wheels are custom built by Foose, 18x10 on the front and 20x15 on the rear. Tires are Mickey Thompson Sportsman S/R, 10 inches wide up front and 16 inches wide in the back.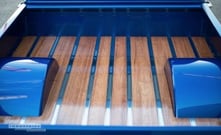 With the exception of the door handles, the body has been completely smoothed including removal of the cab drip rail and filling the factory gas cap, bed stakes, and side marker lamps. The 1969 hood was removed in favor of a '67/'68 hood. The box was tubbed with the bed floor raised 4 inches to accommodate the massive tires. The bed wood is hickory with stainless steel bed strips, all with hidden fasteners. The beautiful blue paint was laid down by Tom Valiquette of Tom's Classy Customs in Idaho Falls, ID. Tom also expertly handled all of the body work and fabrication for the project.
The truck's interior is completely custom with premium carpet and leather imported from Scotland. The interior features a 7" Pioneer touch screen display with DVD and navigation. All gauges are Auto Meter.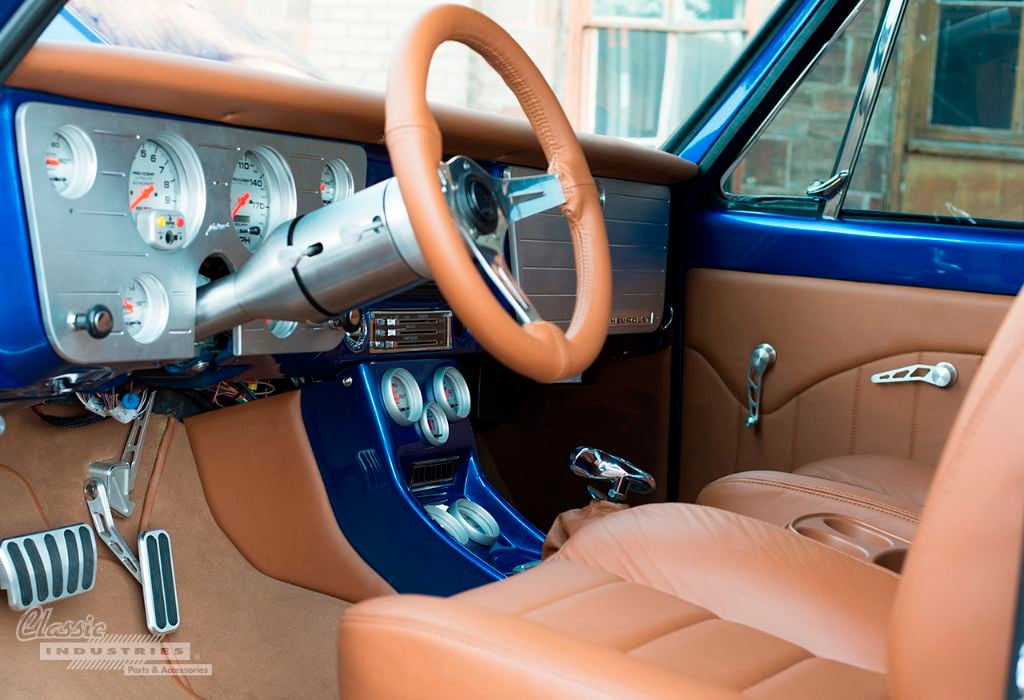 The build was just recently finished, so it has not been driven substantially yet. We have attended one car show, however, and it was a big hit! We plan on showing it every chance we get, as it is so rewarding seeing how much people enjoy the truck. It will also be displayed at the SEMA show this November.
Classic industries was instrumental in providing us many parts we needed along the way including the rear sheet metal, tailgate, and roll pan. In addition, we used many Classic Industries trim and hardware items. The fit and finish of everything we purchased was excellent! Customer service was also excellent and returning items was a breeze.
Thanks! - Steve"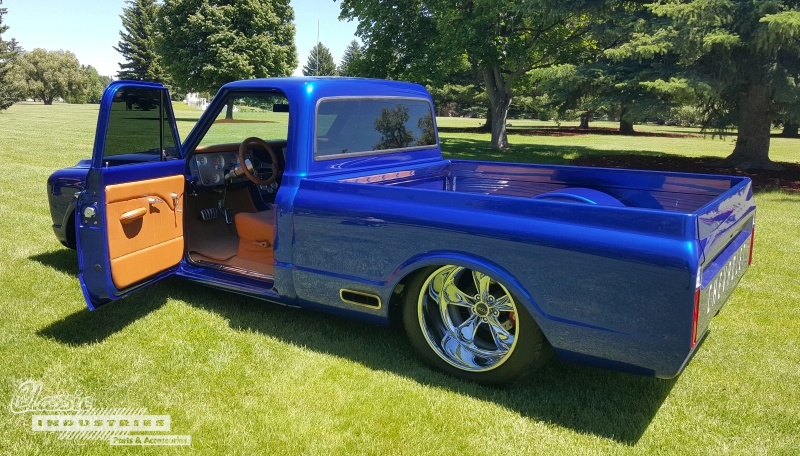 ---
To the Martinsons, we'd like to say a big thank you for choosing Classic Industries as a part of your build. The finished truck looks awesome, and we hope you all enjoy the results of your hard work. We'll also keep an eye out for it at the SEMA show this year!
To the rest of you readers who have classic trucks in need of restoration, check out what Classic Industries has to offer for your pickup! Click the button below for a free full-color restoration parts catalog.