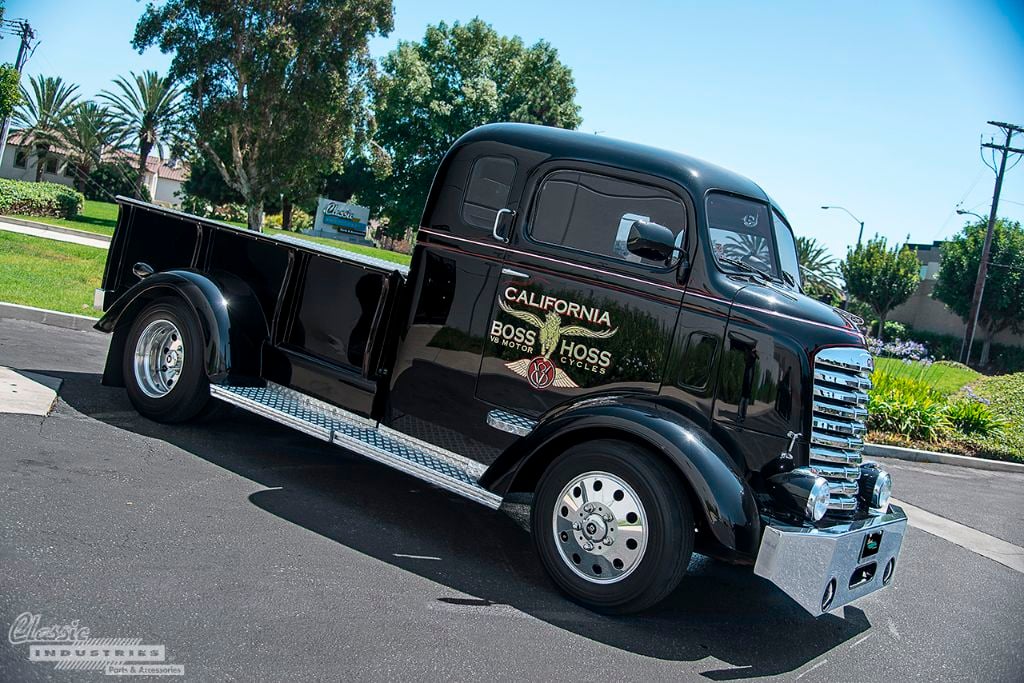 Here at Classic Industries, we're privileged to get to see all kinds of beautiful classic cars on a daily basis, from pristine restorations to custom cruisers and hot rods. However, every so often, something comes along that leaves us simply awestruck. Just when you think you've seen it all, something like this 1947 GMC COE pickup pulls into the parking lot.
Many readers may not even know what a COE is, as vintage examples are quite rare these days. COE stands for Cab Over Engine, often also called cabover or cab-forward. As you may have guessed, the cab and passenger compartment sits on top of the truck's engine, creating a tall seating position and short hood. These trucks were often used for heavy-duty jobs, much like a modern semi-truck, since the cab configuration kept the wheelbase as short as possible and provided more room for a longer bed or cargo box.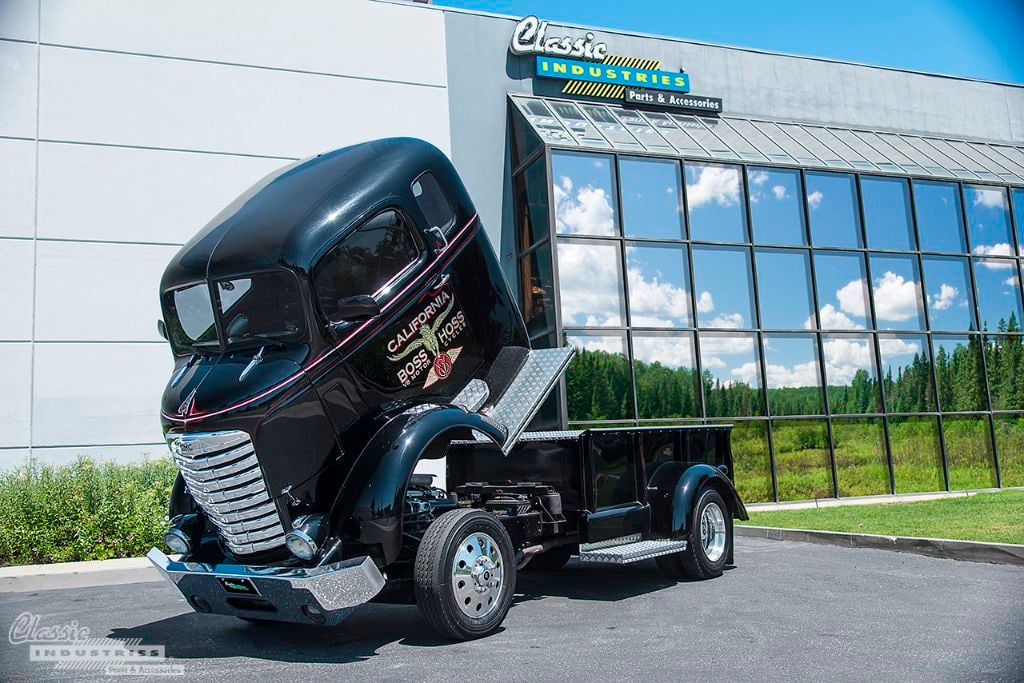 This one-of-a-kind cabover belongs to Victor E. Vert, of Los Angeles, California. He tells us he can only take partial credit for the build, as most of the work was done by the truck's previous owner and builder, a semi truck mechanic. The talented builder left no aspect of the original 1947 GMC untouched, fabricating a custom frame based on a motorhome chassis, which he then heavily chopped, sectioned and stretched. Much of the bodywork was also meticulously custom-fabricated, with diamondplate steel imported from France, beautiful welding beads, and gaps and tolerances that Victor says are "like a Swiss watch".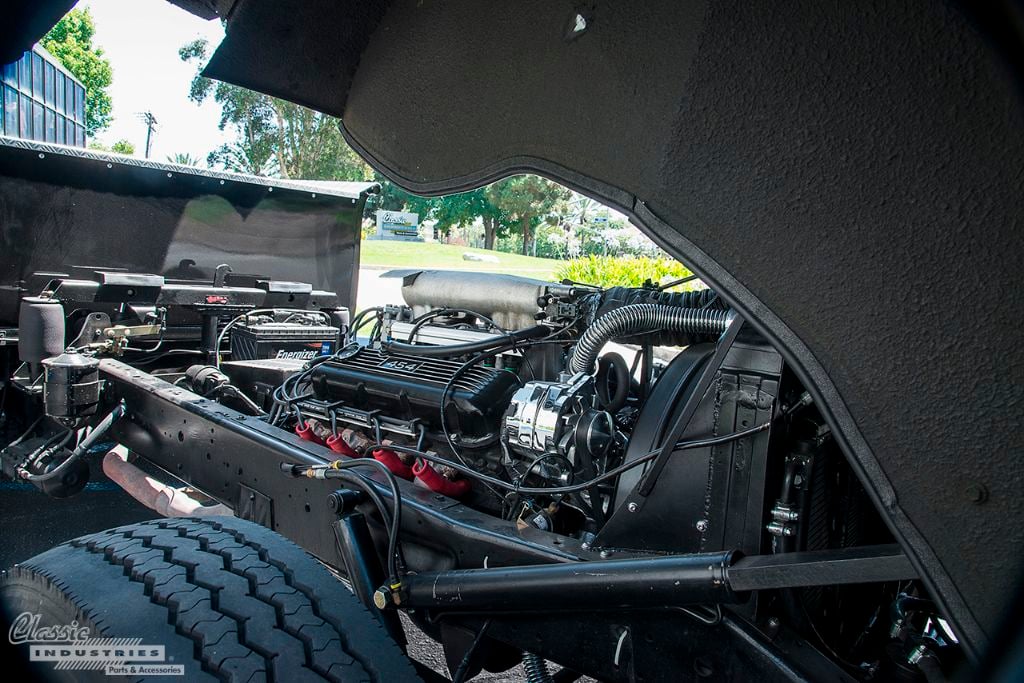 The cab features an air-ride suspension system of its own, much like that of a semi truck, so it rides smoothly at highway speeds. It also has a hydraulic lift system, which tilts the cab forward for access to the engine underneath. Speaking of the engine, the truck is powered by a 454 Chevy big block, with fuel injection for reliable power. Victor says he drives the truck "every day for months at a time" and that it's totally dependable. Clearly, this truck was built to drive, not just to sit on display.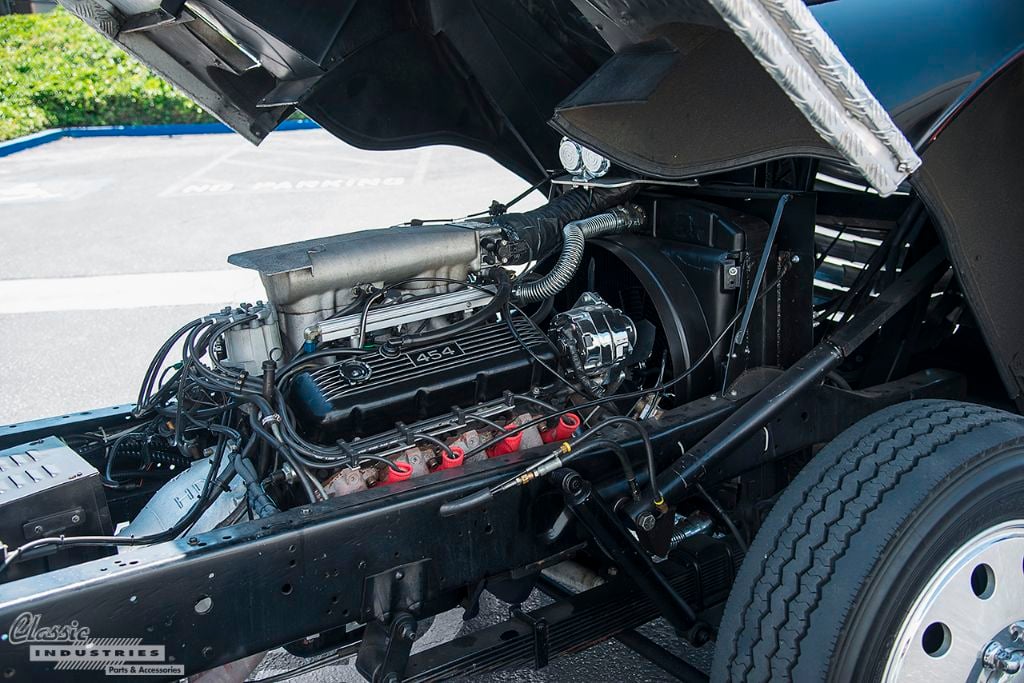 With the custom-painted logos on each door, this truck serves as an effective rolling billboard for Victor's business, a custom V8 motorcycle and trike shop. Since purchasing the truck, Victor has updated a few items, and he plans to replace the 454 with a Duramax/Allison turbo-diesel powertrain for more pulling power and torque.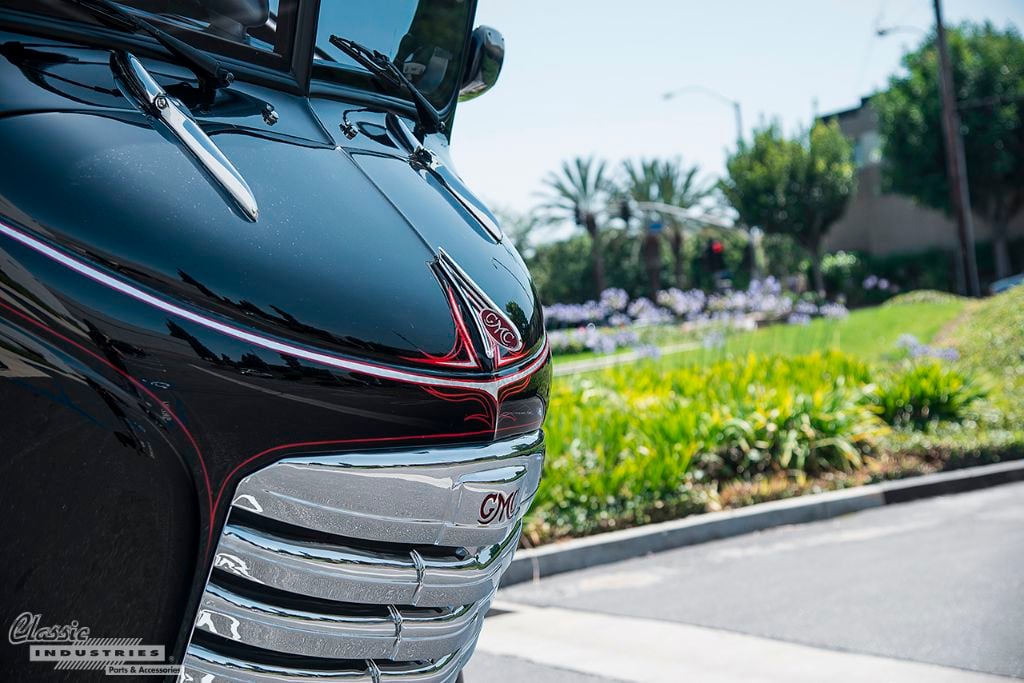 This is one build we won't forget any time soon, and it's really a testament to how far some custom builders can take a humble work truck. We can't wait to see the results once Victor installs the new diesel engine.
If you've got a classic Chevrolet or GMC truck, whether it's a work-in-progress or a full custom build, Classic Industries has the parts you need to keep it running strong and looking good. Click the button below for a free full-color GM truck parts catalog.