Here at Classic Industries, we are always looking to provide superior service, and help you find the restoration and performance parts you need for your classic car or truck. Searching for these parts should be fast and easy, so we've been working hard to make major improvements to our ClassicIndustries.com search feature. These improvements make searching for parts much more intuitive, allowing you to quickly find the parts you're looking for.
That said, here's a list of some of the search feature updates we've added for 2016. Next time you search for restoration parts on our web site, keep these new tips and tricks in mind!
---
1. Speed and performance have improved dramatically.
With improvements to our search engine's backend software, the results of your search should appear faster than ever before. This means less time spent waiting, and more time spent looking at parts and accessories.
---
2. Our search engine just got smarter.
The automotive world is full of abbreviations, slang terms, and nicknames for parts. So, we made sure our search engine knows how to interpret these terms. For example, if you're searching for the abbreviation "SBC", our search engine now understands you're looking for Small Block Chevrolet parts. If you search for a "carb", the search knows you want to see carburetor parts, and so on.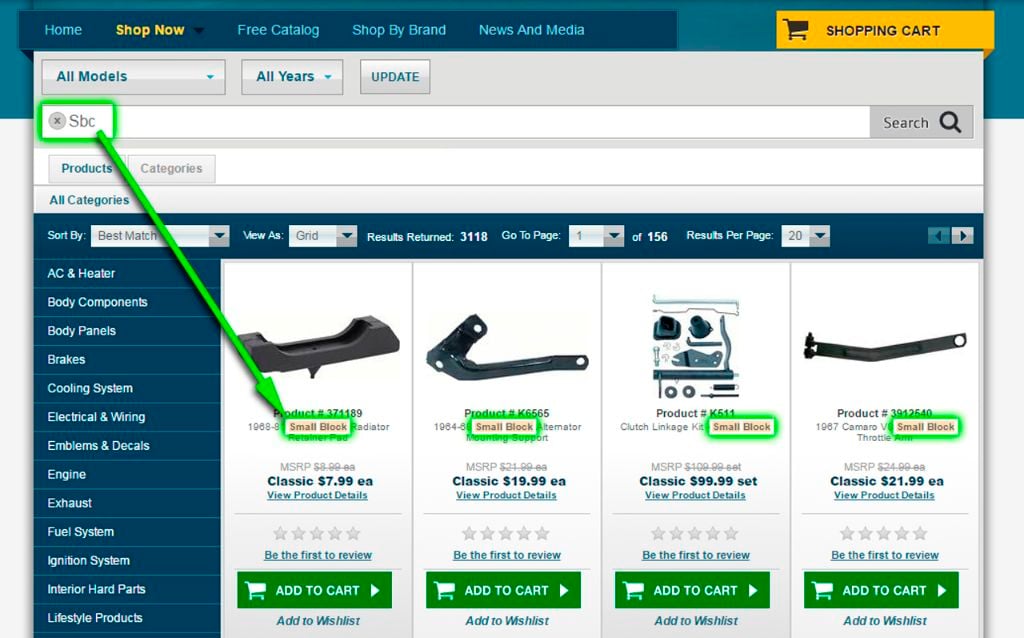 If you notice that a common abbreviation isn't showing the results you were looking for, please let us know by using the Email Us form and selecting "Webmaster". We welcome these suggestions, and will use them for ongoing improvement of our search feature.
---
3. We added a new way to search by Year and Model.
In the past, you'd need to select your vehicle's Model and Year from the drop-down menus, then enter your search term in the search bar. Now, you can continue to use that method, or you can skip the drop-down menus and simply enter the year (in two digit or four digit format) and model into the search bar, along with your other search terms. It's up to you—both methods will show you the parts you're looking for.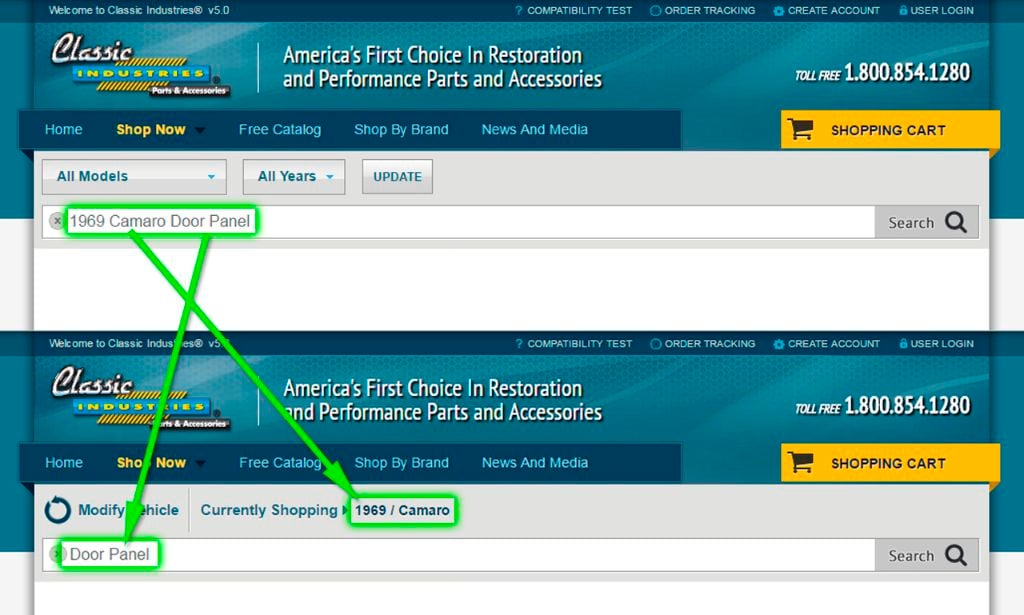 Note: Currently, searches for Mopar models use the drop-down menus to select body style (A, B, or E Body) and/or sub-model (Charger, Challenger, 'Cuda, etc.) instead of the year. To search for a part for a specific year of Mopar model, you can simply type the year into the search bar (in two digit or four digit format) along with your other search terms, which can include your body or sub-model type. However, for the best accuracy, it is recommended that you select these from the drop-down menu. Body and sub-model information is also searchable for Tri-Five Chevy parts.
You will find the list of all available sub-models for both of these models on the "This Fits" tab when viewing the product details, so be sure to always verify that your vehicle is listed as supported before purchasing. We'll be adding this feature to more vehicle lines in the future.
If you're still having trouble finding the parts you need using our search feature, call us at 1-800-854-1280.
---
4. Search results are ranked more intuitively.
When you use the default Best Match sorting method, our search engine now ranks the search results based on their relevance. The search feature looks at where your search terms appear (in the part title or its description), and how they are combined (one after the other, or with other words in between). This means that you'll be able to see the most relevant parts at the top of the search results page.
Parts will also be ranked by popularity, so if many of our other customers have bought a certain part, it will show up near the top of the results page. This can help you choose the best parts for your restoration project. Additionally, we offer the option to sort by Price and SKU.
---
5. Search terms will be highlighted within the search results.
When you search for a specific keyword or keywords, items containing these words will be highlighted on the search results page. This can help you visually identify the parts that contain all the keywords you searched for.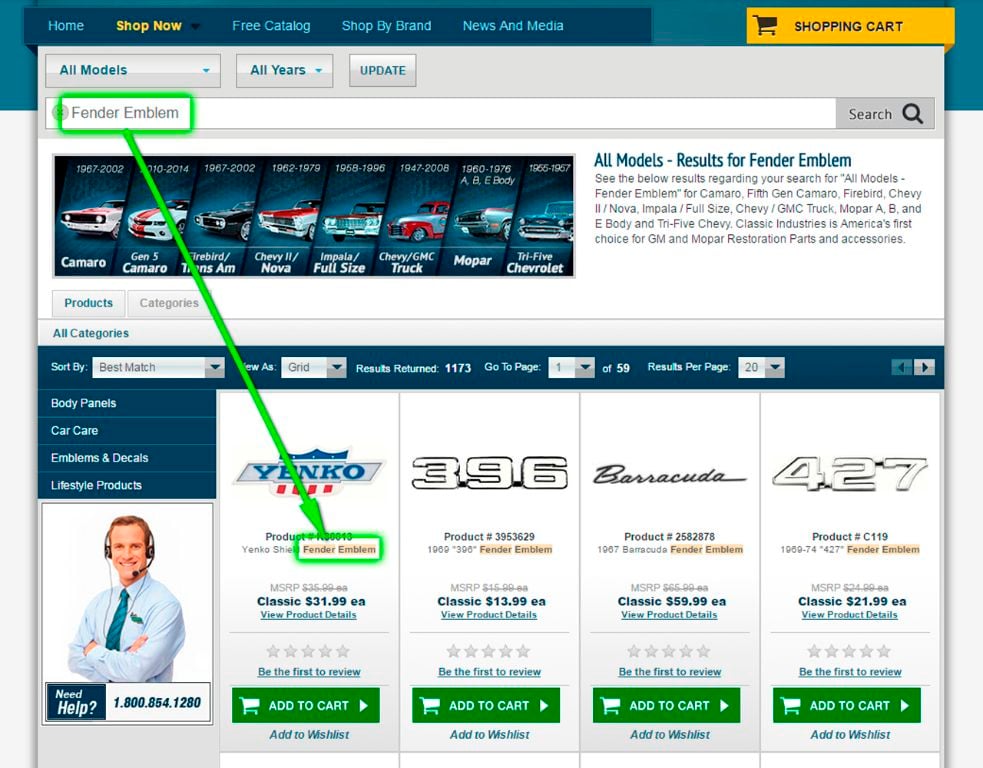 This change also applies to Detail view, which can be selected from the drop-down menu highlighted in the image below. Detail view shows the search results in a list format, with product description information that isn't visible in Grid view. If you're choosing between several similar parts, Detail view is a fast way to see the differences listed on a single page.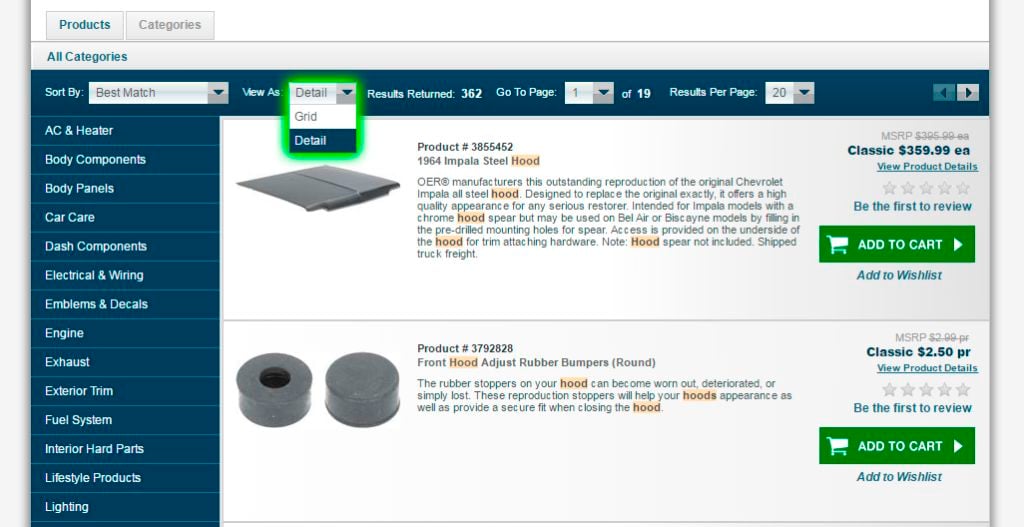 ---
6. Can't find what you searched for? We'll suggest other options.
If our search engine isn't finding any results for all the terms you entered, it will now show items that match at least some of your terms. Also, if terms are misspelled or not found, the search engine will try to find the closest match, or suggest a different search to try instead. In some cases, it will even offer the option to widen the search to find additional matches.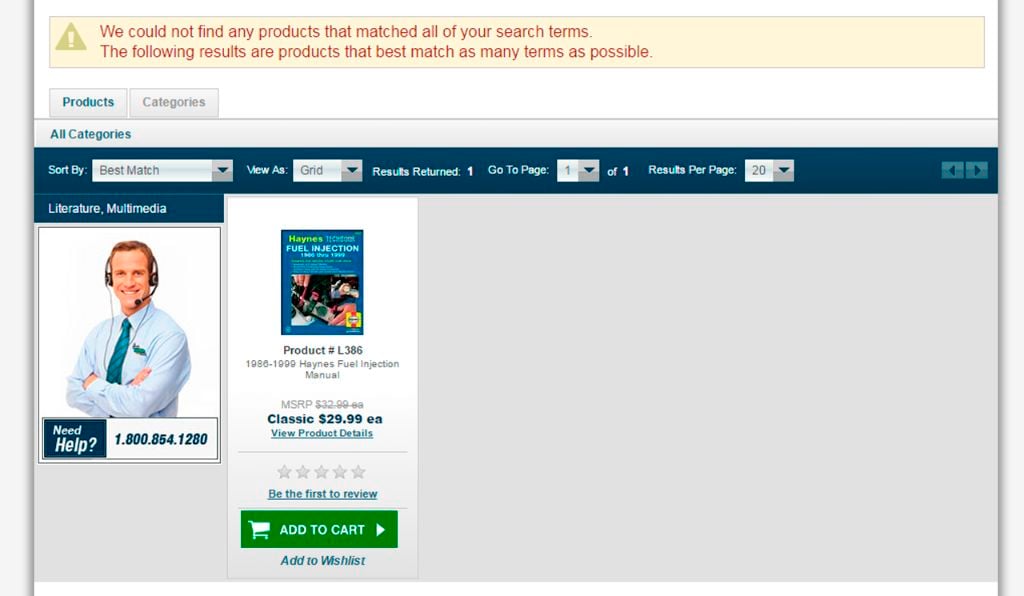 ---
So, feel free to try out our new and improved search function. If you encounter any issues or have suggestions on how we can continue to improve, we'd love to hear them. Please use our Email Us form and select the "Webmaster" option to send us feedback.