Don Hilderbrand's '73 Camaro Z28 L82, a High School Sweetheart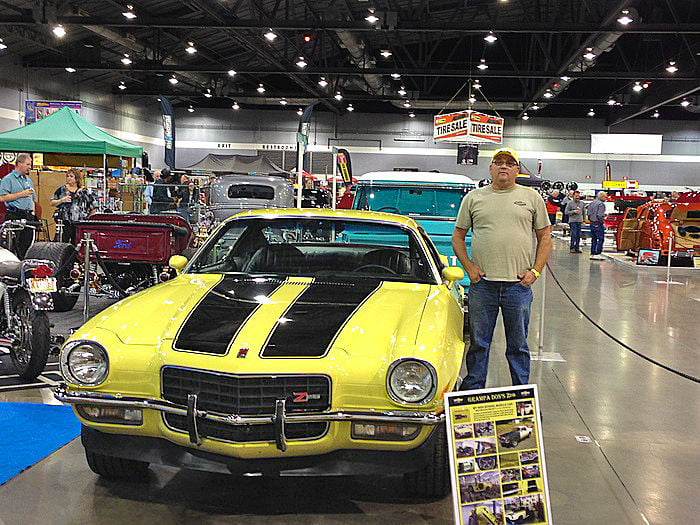 For those of us who grew up in the sixties and seventies, Chevy's Camaro has been the ever constant familiar face in a frequently changing automotive climate. We've ridden the tides of change, from hot factory high-performance cars in the 1960s, to the decidedly lame Detroit iron of the 1970s. It was a long dry spell before the lords of Woodward Avenue and Van Nuys Boulevard would get back to the business of burning rubber from traffic light to traffic light in the mid-1980s.
Despite pressure from the government and the insurance industry in the mid-20th century, GM divisions like Chevrolet and Pontiac kept their foot in performance with hot F-body models even though it was politically incorrect at the time. Washington wanted cleaner emissions and better fuel economy. Insurance companies wanted low-performance cars that could barely keep up. Nevertheless, these two divisions stayed with high-performance car buyers like Donald Hilderbrand who wanted something exciting to drive.
Donald managed to capture the last big wave of Bow-Tie break-neck performance in 1973 when he took delivery of this '73 Camaro Z28 L82 in February of that year. He was 16 at the time - a young man who understood the anticipation of getting a driver's license and driving an automobile for the first time. Donald strapped a new Z28 Camaro to his backside and hit the road with a dreamy euphoria unmatched in the years since.
High school was never this good for a lot of folks and Donald never forgot. The L82 Chevrolet 350ci for '73 was basically a detuned LT1 with iron induction, a Rochester Quadrajet, and the hottest hydraulic cam Chevy could get away with. Compression was down along with horsepower and torque. Yet Donald made the most of it with groovy aftermarket parts that enhanced performance.
There have been many times over the last 41 years when Donald considered selling his Z28, but he never could. When you've owned a car you purchased new all that time, there comes a moment where you know you know it will be with you for life. Donald hauled his Z28 to Mike's Restorations in Amboy, Washington and set forth a plan to perform a complete restoration back to what it was in 1973.
Donald sat down with Mike Johnson and pieced together a Christmas list from the pages of the Classic Industries Camaro catalog. What concerned Donald most was getting a high quality restoration without selling off the farm. Mike Johnson delivered the kind of close attention to detail Donald needed along with the acquisition of parts that were true to the Camaro Z28's authenticity.
Donald's Z28 still has its original L82 engine and Turbo 400 transmission splined into a 10-Bolt GM Posi-Traction rear end. When we asked Donald why he has kept the car all these years, he told us he honestly didn't know why, making this original owner story all the more powerful. He adds the greatest challenge he's ever had with this car was finding just the right person to perform the restoration and the right Camaro parts.
Looking back, he laughed as he told us the funniest experience he ever had with the car was getting a speeding ticket right after getting his driver's license, "Dad was not happy about that..."